My Vegan Mofo theme is Suitable for Non-Vegans: delicious, non-scary food you can feed your non-vegan friends and family — food that will show them that you're not crazy (well, not crazy for being vegan!). Like my page on Facebook to get the latest Mofo/Suitable for Non Vegans posts.


"Who doesn't love fresh pasta?" – quote from my new pasta machine (may not be an exact quote)
My pasta machine, whilst biased, is telling the truth.  So, with that in mind, and eager to try out my brand new pasta machine, I set out on an epic ravioli making mission Sunday night.  Joining me in my mission was my boyfriend (aka my official taste tester for the Suitable for Non Vegans month!).  It's much easier to use a pasta machine with two people!
I was so excited to be making ravioli with the new machine, rather than by
hand
, that I may have pushed it a bit.  In total, we made three separate batches of ravioli with three different fillings and three different sauces!  So, this week will be ravioli week here, with a different recipe each day.  Day 1 is spinach and ricotta ravioli with a tomato sauce.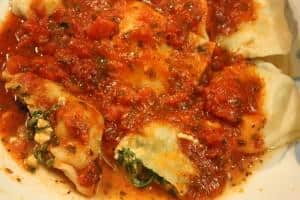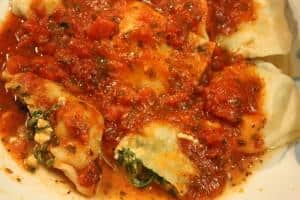 I've made this ravioli before — it was the first type of ravioli I made, and it remains my favourite — but I've only ever made it using minimal kitchen equipment (a wine bottle as a rolling pin, and a candle holder as a ravioli cutter).  It was delicious, but it was hard to roll the dough out thin, and my ravioli turned out a bit thick.  The new machine turned out ravioli with the perfect thickness, although it wasn't shaped very well because the dough came out oblong, and when I folded it in half and cut into squares the "squares" on the end had rounded edges.  I fixed that by trimming the edges with a knife.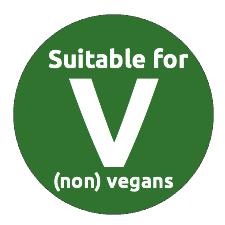 Spinach & Ricotta Ravioli
Makes approx 3 dozen ravioli

Ingredients
2.5 cups flour or preferably '00' grade pasta flour
1 cup water
1 tbsp olive oil
1 recipe vegan ricotta, recipe follows
1-2 tbsp olive oil
1 clove garlic
125 g spinach
Instructions
To make the ravioli dough, form a mound of flour on a clean counterspace.
Form a well in the flour and fill with the oil and some of the water.
Mix the water into the flour, and repeat step 2 (forming a well, filling with water, and mixing the flour and water together) until all the water is incorporated into the dough.
Knead the dough for a minute or two and form into a ball.  Cover in cling film (Saran wrap) and leave to rest 30 minutes.  In the meantime, you can prepare the spinach and ricotta filling.
To prepare the spinach, heat a tablespoon or so of vegetable oil over medium heat in a frying pan or wok.  Once the wok is hot, add the minced garlic and sauté until just browned.  Add the spinach and stir, stir frying until it wilts, then remove from heat.  Squeeze out the water and mix the spinach into the ricotta recipe (which follows).
To roll out the ravioli dough, divide the dough into 3 sections.
Sprinkle some flour on a clean counterspace.  Put the first third of the dough on the counter, sprinkle some more flour on top, and roll out the dough with a rolling pin, as thin as you can roll it.  If you have a pasta machine, follow the instructions on your machine to roll out the dough.
Place 12 spoonfuls of the spinach-ricotta filling on the dough, stopping half along the length of the piece of dough, and keeping it as evenly spaced as possible. You'll probably want two rows of 6.  Now, fold the piece of dough in half, so the half without fillings on is resting on top of the piece with the fillings.
Press down and around each dollop of filling, pressing the air out and sealing the two pieces of dough together, creating pieces of ravioli.
 
Now, with a knife or ravioli cutter, cut out squares of ravioli along each piece of filling.
Repeat steps 7-9 each each other piece of dough.  Cook the ravioli in boiling water as soon as possible after cutting them.  If you're not going to cook them immediately, you can freeze them.
To cook ravioli, place in a pot of boiling water.  The ravioli is ready when it floats to the surface (which should happen in 2-3 minutes).  Serve with a simple tomato sauce (whatever is your favourite!).
Vegan Ricotta
1 package (approx 1 lb) firm tofu, drained and pressed
1/2 cup cashews
2 teaspoons lemon juice
2 teaspoons olive oil
1 garlic clove, chopped
1/4 teaspoon salt
1/4 cup nutritional yeast flakes
1 tsp tahini, optional
1 tsp white miso, optional
10 fresh basil leaves, chopped
fresh black pepper to taste
Italian dried herb mix to taste
Instructions
In a spice grinder, grind cashews until fine.
In a food processor, blend cashews, tofu, lemon juice, olive oil, garlic, salt, nutritional yeast, tahini, miso, basil, black pepper, and Italian herb mix until it forms a thick paste.
Adjust seasonings to taste.
Stay tuned for tomorrow's recipe: walnut ravioli with a vodka cream sauce!