Looking for something vegan, hearty and non-Tofurkey to serve for Christmas dinner? Look no further!
When I was approached by the creators of The Vegan Kind monthly box and asked to develop a Christmas recipe for their December box, I jumped at the chance! I'd recently seen a fantastic-looking twice-baked butternut squash recipe on Luminous Vegans, I knew I had to try the twice-baked butternut squash idea (I have recently developed a slight butternut squash obsession). Have you ever had twice baked potatoes? They're like normal jacket potatoes (baked potatoes), except after cooking them in the oven, you remove them, remove the insides and mash them up and mix in butter and/or cheese, and then return the filling to the skins and bake again. They come out crispy on the outside and soft and fluffy inside – absolutely fantastic, in short.
Inspired by the idea of a twice-baked butternut, I decided to dress up the squash with Christmas-y flavours, like walnuts, cranberries and wintry spices like cinnamon and nutmeg. With those flavours, it tasted like Christmas, and it would make a great Christmas meal centrepiece as it's also quite a large and colourful dish. It went well with roast potatoes and Brussels sprouts with gravy (English Christmas staples). And the many non-vegans I told about it/showed pictures to were drooling over it, too! This recipe has also been tested on my usual non-vegan taste-tester (my boyfriend), who heartily approved, making this recipe Suitable for Non Vegans certified.
To make this you'll need a blender or food processor — I recommend having both in your kitchen! If you want to learn more about what makes the best blender for vegans, I've got a guide here, and you'll find my food processor reviews here.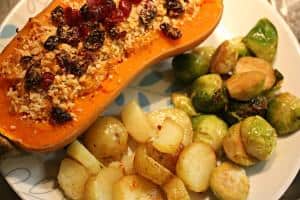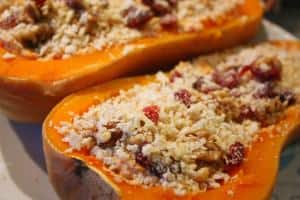 Twice-Baked Butternut Squash with Cashew Cheese, Cranberries and Walnuts
Serves 4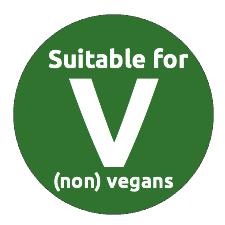 Ingredients
2 butternut squash, halved and seeds removed
40 grams (1/3) chopped walnuts, halved
40 grams (1/3 cup) dried cranberries, halved
1 teaspoon cinnamon
1/4 teaspoon nutmeg
Cashew cheese, recipe below
20 grams (1/4 cup) breadcrumbs
Instructions
Pre-heat the oven to 230 degrees Celsius.
Chop the butternut squash in half and remove the seeds and the stringy bits from around the seeds.
Fill a roasting tin with 1/4 inch of water, then the put the squash halves in it. Cover the tray with aluminium foil and bake at 230 C for 35-45 minutes, until the squash are easily pierced with a fork.
Remove the squash from the oven and allow to cool down a bit. Once the squash are cool, scoop out the flesh from inside and place in a mixing bowl. Mash the squash like you would a potato, and mix with half the chopped walnuts and half the dried cranberries, the cinnamon, the nutmeg, and the cashew cheese.
In a small bowl, mix the breadcrumbs and the rest of the walnuts and cranberries.
Spread the breadcrumb, walnut and cranberry mixture on top of the butternut squash halves and bake for another 20-25 minutes or so.
Serve with roast potatoes, Brussels sprouts, gravy and whatever other trimmings you fancy!
Cashew cheese
You can either soak the cashews in water overnight and then blend with the rest of the ingredients, or you can skip soaking and instead put unsoaked cashews in a spice grinder and grind to a fine dust before blending with the rest of the ingredients. I find that unless you have a high-speed blender, it's difficult to get all the cashews blended finely, so I prefer the method of grinding unsoaked cashews in the spice grinder first.
Ingredients
55 grams (1/2 cup) cashews
400 grams (1 lb) firm tofu
2 teaspoons lemon juice
2 teaspoons olive oil
1/4 teaspoon garlic powder or 1 clove garlic, minced
1/4 teaspoon salt
15 grams/4 tablespoons nutritional yeast
1 teaspoon tahini
1 teaspoon white miso
Instructions
Soak cashews in water overnight and then drain or, if you prefer, don't soak them and place the unsoaked cashews in a spice grinder and grind to a fine dust.
Place cashews and the rest of the ingredients in a blender or food processor and blend until it has formed a fine paste, stopping to push the mixture down the sides occasionally.
This cashew cheese is great in ravioli or lasagne in place of ricotta, as well as in the twice-baked butternut squash!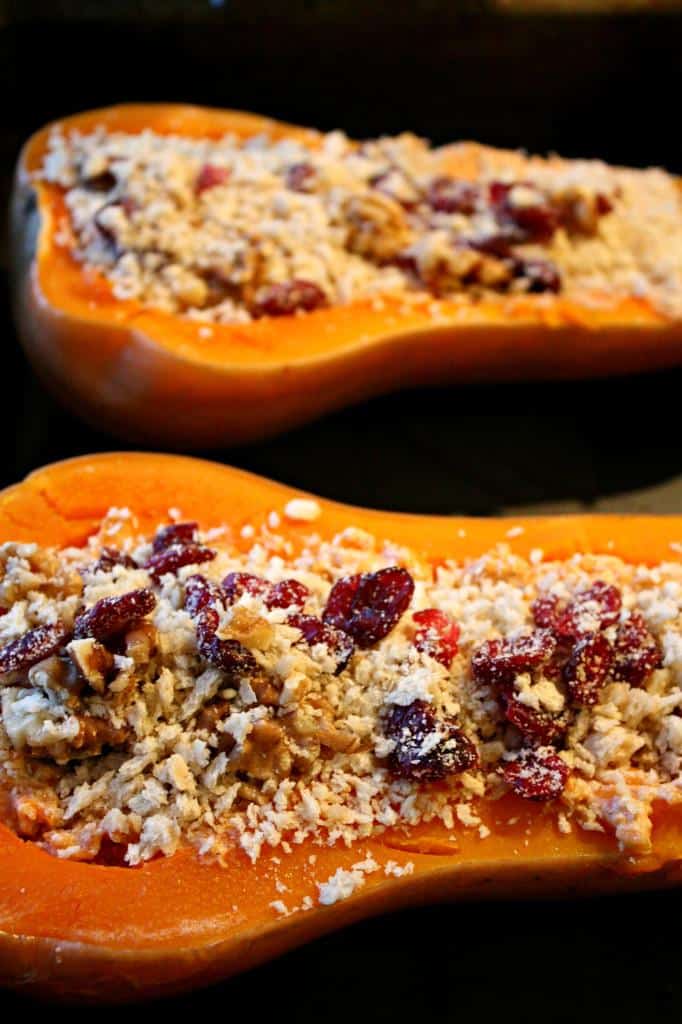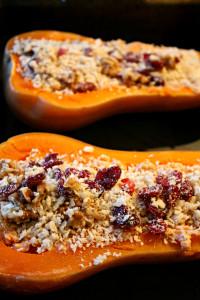 Looking for more recipes? Check out all my vegan recipes here.
Want to improve your vegan cooking skills? Having the best cooking equipment helps! Find my vegan product reviews here.
The Vegan Kind box creators kindly paid for my ingredients in order for me to create this recipe. The recipe was originally printed on recipe cards inside the December box.