In my five years of being vegan, one thing I've noticed is the most common concern with new (and old) vegans is dealing with friends and family. What do you tell them about being vegan? What do you do in social situations, like your best friend's dinner party or Christmas dinner at your great aunt's – do you bring your own dish for yourself, do you tell them you're vegan and let them cook for you? And how do you go about convincing the skeptics that you're not so crazy (well, at least not crazy for being vegan)?
I think the answer lies in cake. Or in really, really good food. Many non-vegans, myself included in my pre-vegan days, think that vegan food is dry, dull and tasteless. But by feeding amazing and delicious food to your non-vegan friends and family, you can show them that:
You're not crazy (well, at least not crazy to be vegan)
Vegan food is tasty after all
Hey, maybe this vegan food isn't so bad and they can hack eating vegan sometimes
But what should you feed the non-vegans in your life? How do you know if a recipe is suitable for non vegans? For example, you probably wouldn't want to start them on baked tofu — as yummy as that can be, some non-vegans may have never had tofu and they might be scared of it. Or worse, they may have had bland, inedible and unflavoured tofu before, which has made them never want to eat tofu again. Finding a good introductory dish is hard, which is where my mofo theme comes in. All month, I'll be posting recipes that I've tested on non-vegans and which got their seal of approval.

My non vegan boyfriend has very kindly agreed to taste test for me this month and give me his seal of approval. It might be difficult, but I guess he can manage. ;) I frequently subject him to my cooking and despite his skepticism when we first started seeing each other, he's discovered that vegan food can actually be nice! So get your food processors and your pans ready, make sure your non-vegan friends and family are hungry, and stay tuned for my Mofo series, Suitable for (non) vegans. All recipes will be marked with the logo I created (thank you Pixlr) below!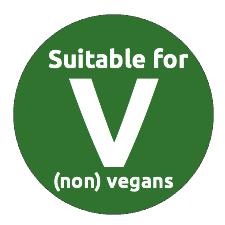 To kick off the month, I've got a simple recipe (perfect for a lazy Sunday evening) for penne alla vodka, kicked up a notch with some roasted broccoli. The roasted broccoli give it a more complex and interesting flavour and add a slightly crunchy texture. It's a great dish to cook when you're visiting a non-vegan's house, as long as you bring some vegan cream or cashews to make cashew cream (all the other ingredients could be bought in any shop).
Penne alla vodka with roasted broccoli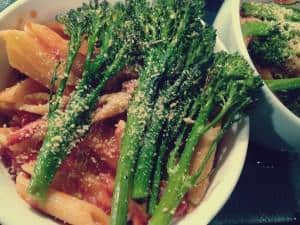 Ingredients
4.4 oz (125g) broccoli florets
1.1 lb (500 g) dried penne pasta (or your favourite pasta shape)
4 tablespoons olive oil, divided
1 onion, diced
1 teaspoon dried Italian herbs, optional
28 oz (800g) tinned chopped tomato
1/2 cup (120 ml) vegan single cream / plain soy creamer (or make your own cashew cream if you can't easily buy vegan cream where you live)
1/4 cup (60 ml) vodka
2-3 tablespoons chopped fresh basil, optional
Instructions
Preheat oven to 220 C / 425 F.
Toss chopped broccoli florets with 2-3 tablespoons of olive oil, or enough to coat. Roast in the oven for 15-20 minutes, until just beginning to brown and turn crispy.
Heat olive oil over medium high heat. When the oil is hot, add the diced onion and cook until the onion begins to brown slightly. Add dried Italian herbs if desired.
Add the chopped tomatoes and cook for 4 to 5 minutes over medium heat; it should be simmering gently.
In a separate pan, boil water for the pasta and add the pasta when the water is boiling. Cook according to instructions on packet, and drain when done.
Add the cream to the pan of tomato sauce and cook for an additional 2 to 3 minutes.
Add the vodka to the saucepan, and cook for another 3 to 4 minutes. Add the basil if desired.
Remove the sauce from the heat, and stir in the cooked and drained pasta. Stir to coat with sauce, and top with roasted broccoli. I also topped mine with a bit of vegan parmesan from the Artisan Vegan Cheese recipe.