Autumn might be upon most of us in the Northern hemisphere, but that doesn't mean we can't cling to the very last few summery days until every single leaf has dropped off the trees in our city.
Because I spent the last couple of weeks in warmer climates (Santorini, Greece, followed by Barcelona), I'm finding myself even more reticent than usual to accept the fall.  There's a chill in the air, and I've had to dig a coat and scarf out of my closet, it's getting dark soon after I leave work and I'm finding myself craving roasted butternut squash soup, but there's still a part of me that refuses to put my sundresses away and insists on eating ice cream.
If you don't want to let go of summer yet either, then you should definitely make this ice cream.  And eat it while imagining sitting on a warm beach somewhere on the Mediterranean.  Or eat it in the rain – you need to eat this ice cream even if it's not ice cream weather.  Because simply put, this is my favourite ice cream (vegan or not) I've ever had.  It combines so many of the best ingredients into one decadent, incredibly creamy and slightly alcoholic ice cream (which reminds me a lot of gelato!)…
Coconut milk to make it creamy and rich and give it a slightly tropical, summery feel.
Chocolate because chocolate should be in everything and double chocolate? Even better.
Kahlua – since alcohol and coffee make everything better, and a coffee-flavoured liquer is the best of both worlds.  Plus alcohol makes your ice cream stay a little softer!
Corn syrup makes your ice cream creamier – but use another liquid sugar (like agave or maple syrup) in its place, or plain old sugar, just be warned a solid sugar will make your ice cream a touch less creamy.
Brownie chunks because as hard as it is to save these for your ice cream and not eat them all, it makes ice cream oh so decadent.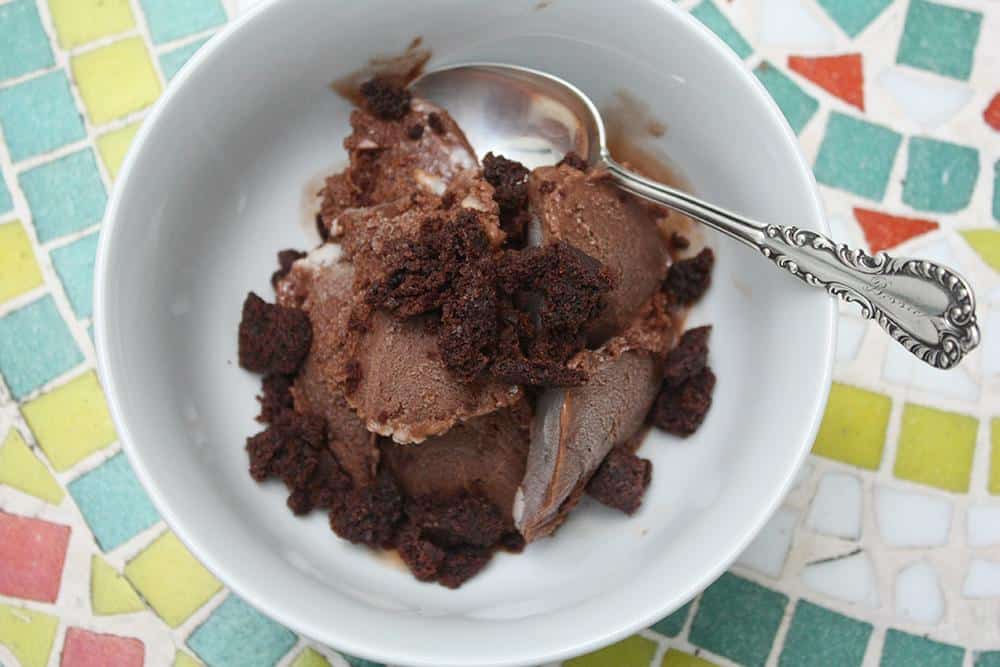 Chocolate Kahlua Brownie Chunk Ice Cream
Ingredients
1 can (15 oz/400 ml) coconut milk
1 small can (5.4 oz/160 ml) coconut cream
1/4 cup (approx 50 g) sugar
1/4 cup (62.5 ml) corn syrup
4 tablespoons cocoa powder
2 tablespoons corn starch
1 teaspoon vanilla extract
1/4 cup (62.5 ml) kahlua
Handful of crumbled brownie chunks
Instructions
Freeze your ice cream maker overnight according to the ice cream maker's instructions.
The next day, blend coconut milk, coconut cream, sugar, corn syrup, cocoa powder, vanilla extract and corn starch.  Pour into a saucepan.
Heat over medium heat in a saucepan until it begins to bubble.  Remove from heat and cool in the fridge for at least 4 hours.  After it's cooled down, add the kahlua and mix.
Make ice cream according to your ice cream maker's instructions.  About 5 minutes before the ice cream is done, add the brownie chunks.  You stir more swirls of brownies into the ice cream after it's done, if you wish.
When done, the ice cream straight out of the ice cream maker will be a texture similar to soft serve.  You can eat it as soft serve now if you prefer, or freeze it in a container for a few hours before serving for a harder ice cream.