I've never watched Great British Bakeoff before but this year someone alerted me to the apparent presence of a vegan in the competition. Excitedly, I started watching…only to find that he kept using eggs in his bakes. Huh?
As it turns out, Rav, the contestant in question, did a vegan challenge a few years ago and was vegan for a short time, but no longer is. He does still say he's inspired by vegan baking, but his baking on the show certainly wasn't vegan.
A friend challenged me to veganise the bakes from Bakeoff and so these mini lemon meringue pies came about.
I've wanted to experiment with aquafaba for awhile now but the whole 'aquafaba revolution' occurred when I was in Barcelona and I never bought tins of chickpeas there. Instead I bought all my beans cooked fresh daily from the bean stall. I briefly contemplated requesting vast industrial quantities of chickpea brine from the bean stall, but dreaded the weird looks they'd give me. Eventually I gave in and bought a tin of chickpeas to make aquafaba, but didn't have the right equipment (I was trying to whip it up with a fork!) Now that I'm in London I figured I'd finally have the chance to try aquafaba, so I headed to Argos and got a £4.95 hand beater and here we are. My first meringue!
Making the aquafaba meringue was quite magical — I can't believe just how much you can whip up some chickpea liquid.
In the spirit of Bakeoff (adding odd shit to your food), I decided to add an unusual ingredient — fresh pistachios. I acquired these at a local Middle Eastern shop, whose proprietor gave me a lesson in pistachio shelling while describing how pistachios are dried and prepared to be sold.
Fresh pistachios are quite pretty. They look like tiny pink fruits, but inside there's a pistachio shell (which looks familiar) and pinkish, greenish hued nut.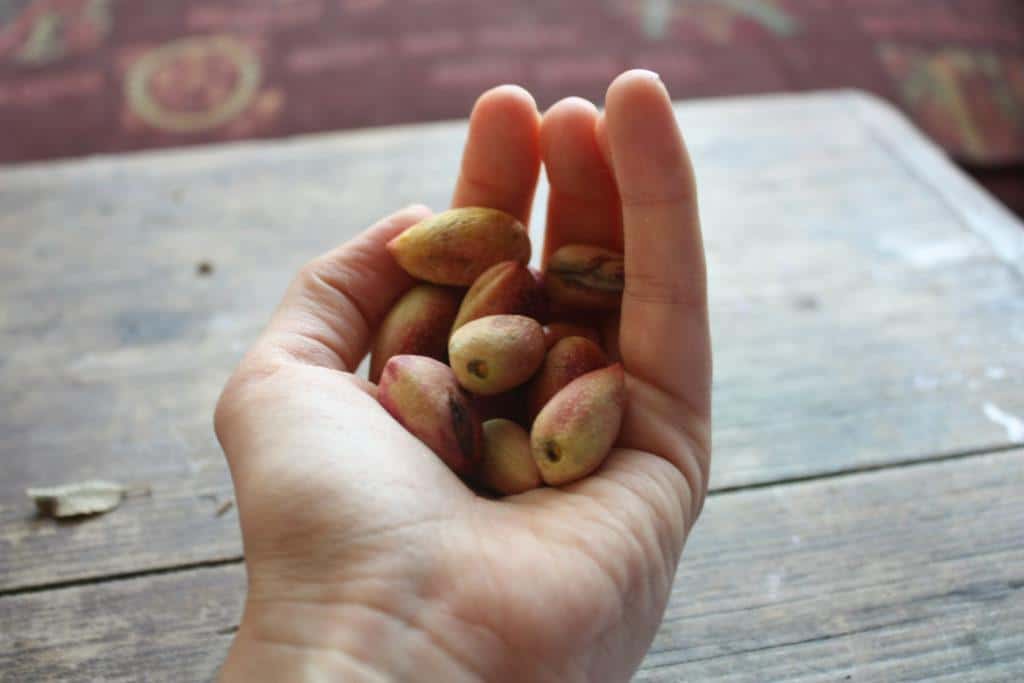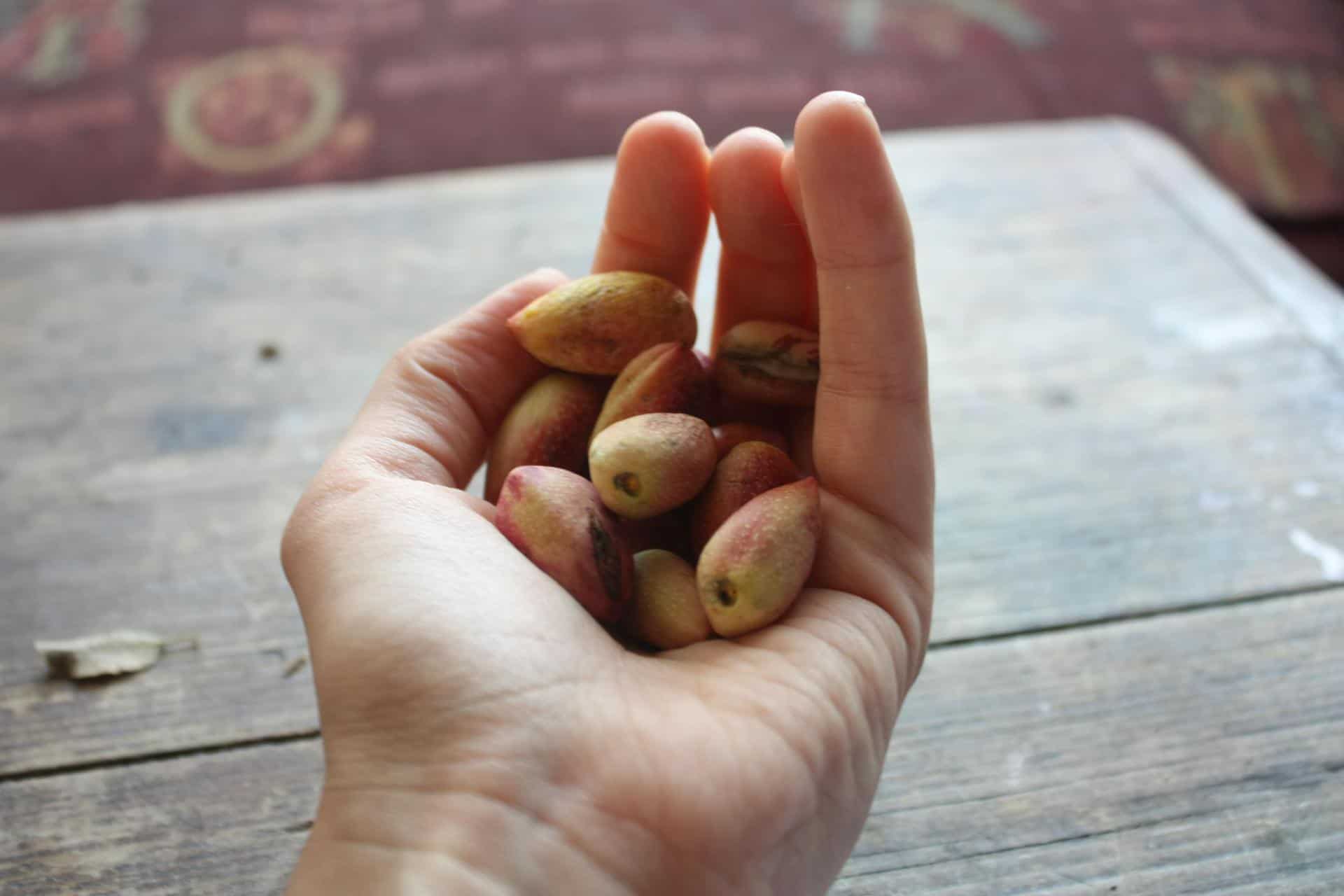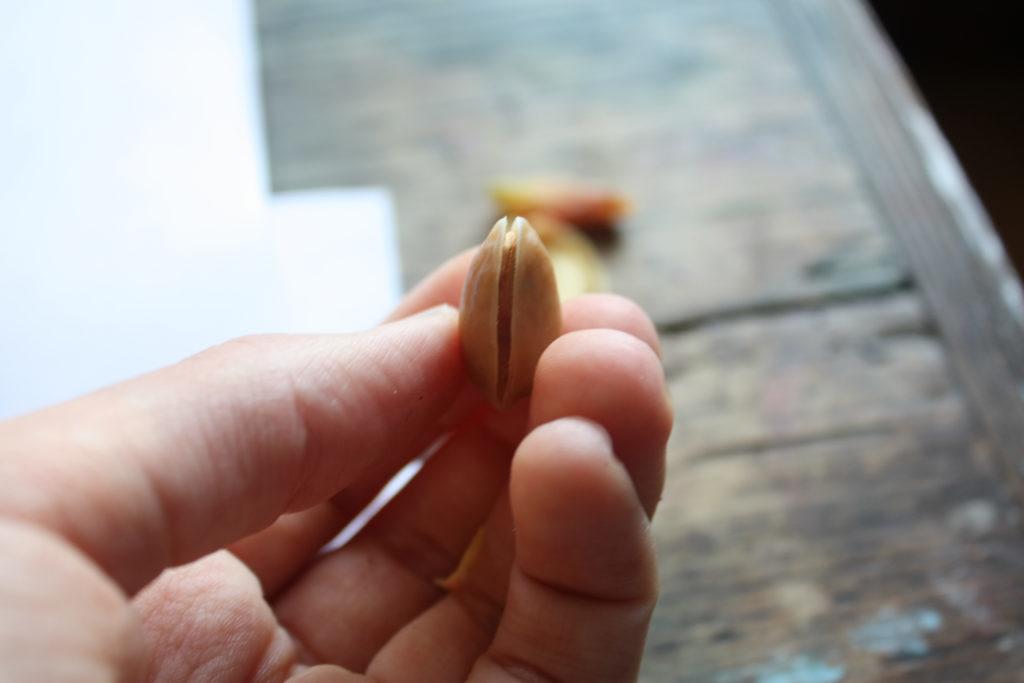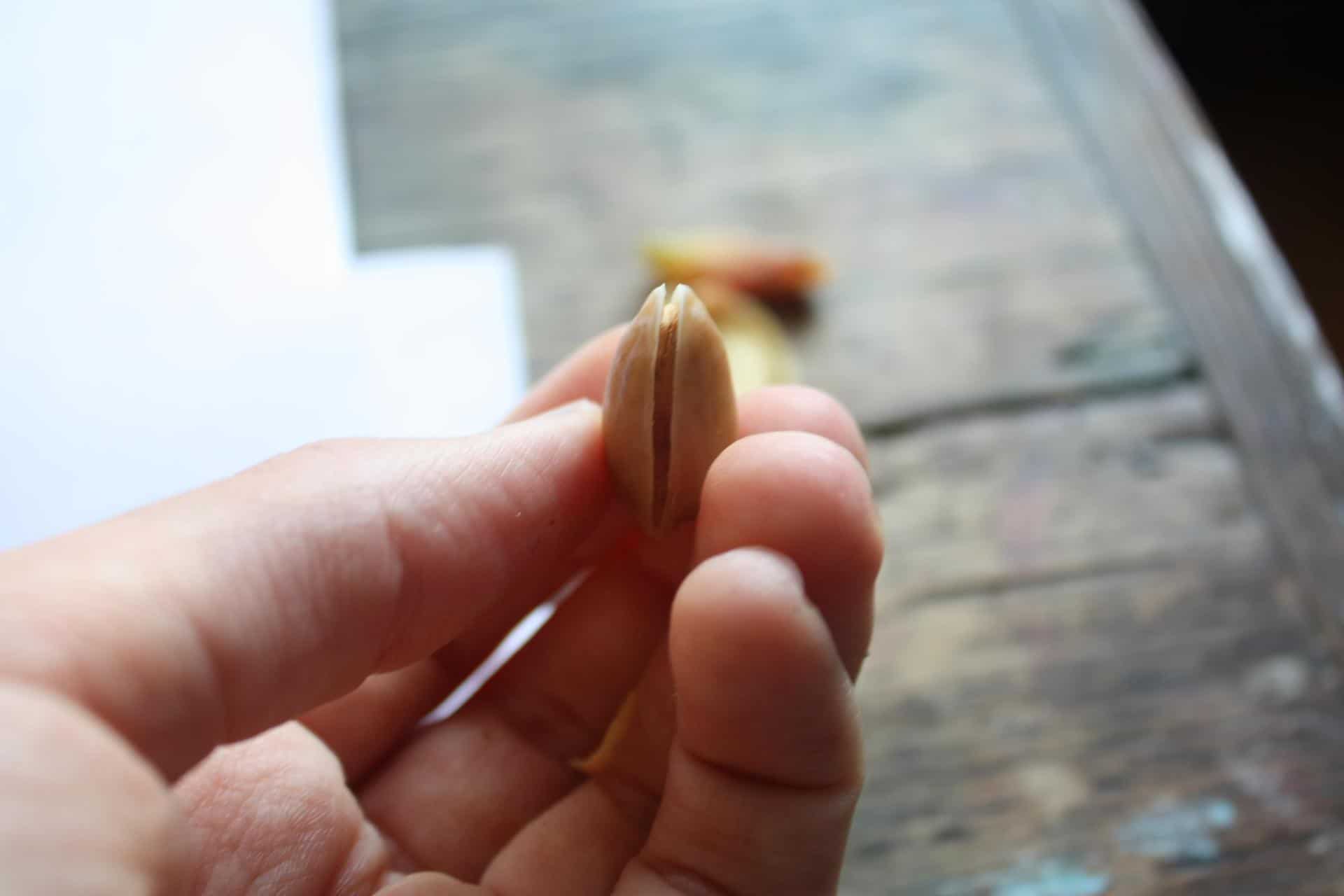 The pistachio flavour didn't come through very strongly in the finished pies unfortunately, so you can leave the pistachios out or add some extract if you really want pistachio.
For someone who's never whipped eggs before, whipping vegan meringue was a very confusing process. I decided to make my recipe by veganizing a BBC recipe for shortcrust and another for the lemon curd filling, and made the meringue by following some combination of vegan and non-vegan recipes. However, I didn't understand their instructions. "Whip" the aquafaba until it forms soft peaks, then add sugar and whip until "stiff" peaks form (teehee)?! What's a stiff peak (apart from a hilarious phrase that made me giggle incessantly)?! Well, I found a useful video that explained (without laughing, somehow) you should be able to dip the beater into the meringue mixture and the mix should stand straight up for a stiff peak (for the earlier, soft peak stage, the mix might fall slightly to the side). Here, for your viewing pleasure, stiff peaks: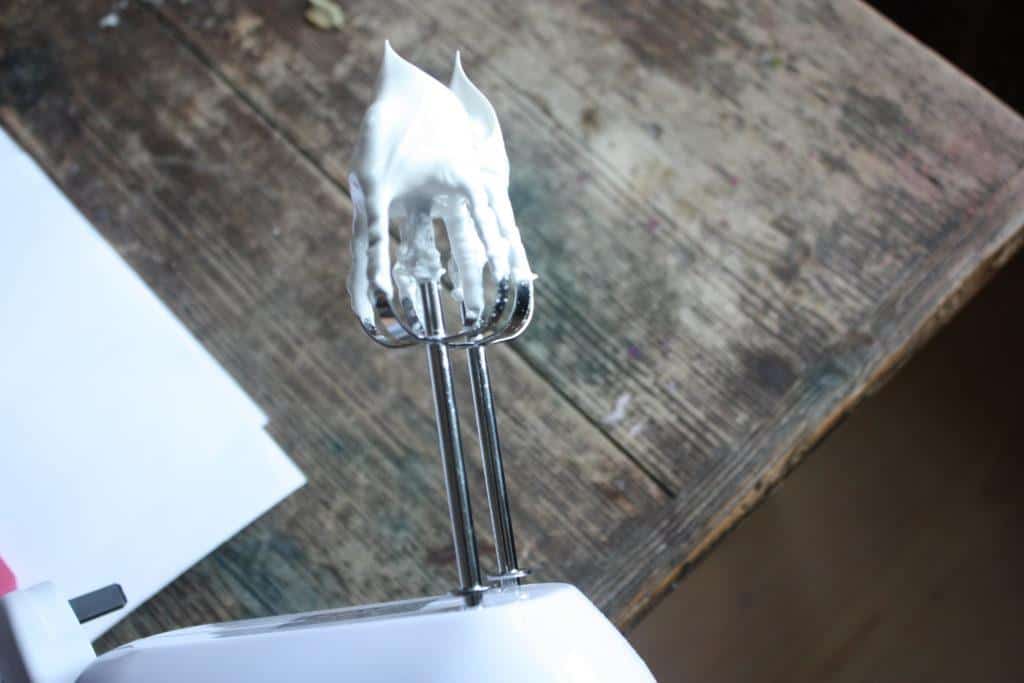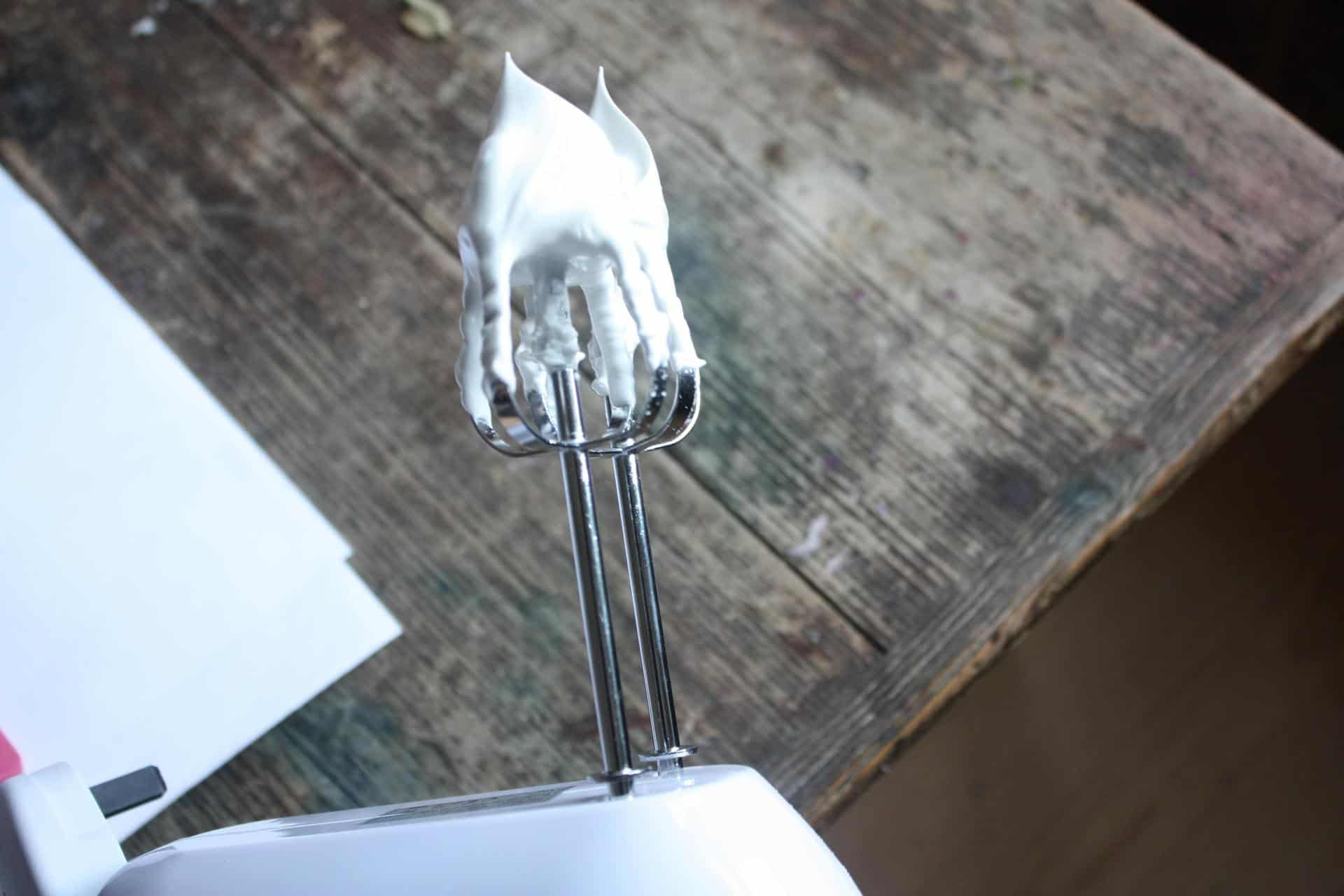 You can find the video here.
The whole process for making these cakes is a little complicated but I've heard you can prepare the lemon curd filling the day before. Don't try and make the meringue in advance…I had some left over, which I put in the fridge, and it deflated over night.
And remember: try not to laugh *too* much when reading about meringues and how to make them… It's pretty impossible to give these instructions without sounding somewhat dirty. Which is probably why they chose meringues for GBBO, replete with innuendoes as it is.
Vegan Lemon Meringue Pies
Yields 6
Ingredients
For the shortcrust pastry
Plain flour 1/4 cup + 1 tbsp (50g)

Vegan margarine 2 tbsp (25g)

Cold water 2 tbsp (or enough to get the dough to come together)
For the lemon-pistachio curd filling
Corn flour 1 tbsp

Caster sugar 1/4 cup (50g)

Zest of 1 lemon

Juice of 1-2 lemons

Vegan margarine 2 tbsp (25 g)

Enough VeganEgg to make 1 egg's worth of yolk

4 shelled fresh pistachios, crushed
For the meringue
Brine from one tin of chickpeas

Cream of tartar 1/4 tsp

Vanilla extract 1/4 tsp

Caster sugar 1/2 cup (100g)
Instructions
For the shortcrust pastry
Preheat the oven to 390 F / 200 C / fan 180 C / gas mark 6.

Cut the vegan margarine into the flour. Add water in small amounts and mix, adding just enough for the dough to stick together.

Roll out the dough and place into a greased muffin tin. (Or for a full-sized meringue pie you can double the entire pie recipe, and place into a pie/cake tin.)

"Blind bake" the pastry (bake with baking beans or clean stones on top of foil or parchment paper) for 7-8 minutes. Remove the stones/baking beans and bake another 5 minutes or so, until golden brown.

Set aside.
For the filling
Mix corn flour, sugar and lemon zest in a saucepan. Add in strained lemon juice and stir, then heat over medium heat until it thickens.

Once it's thickened, remove from the heat and beat in vegan margarine until melted.

Beat in the VeganEgg mix, and return the saucepan to heat. Cook until thickened.

Allow to cool slightly and pour into baked pastry.

Return the pies to the oven for 18-20 minutes, until slightly jiggly. Set aside and let cool while making the meringue.
For the meringue
The day before making the pies, or before beginning to make the pastry, bring the chickpea bring to a boil. Reduce heat and simmer for 10-15 minutes or until reduced to just under 1/2 a cup of brine (you should start out with around 3/4 of a cup of brine – don't worry, these measurements aren't exact!)

Refrigerate until cold.

Once cold, whip the cold reduced brine with cream of tartar and vanilla with a stand mixer or hand electric beater (using the egg whipping setting) until foamy. Continue beating until it begins to form soft peaks.

Slowly add the sugar, a few tablespoons at a time, while whipping. Continue whipping until it reaches the stiff peaks stage.

Preheat your oven's broiler. Cover the pie(s) with the meringue topping. Broil for 1-2 minutes, being careful not to burn, until the meringue is browned.
Notes
Begin by making the reduced chickpea brine the night before, or before making the crust, to allow it time to cool.

If you don't have access to the VeganEgg or Vegg, you can add another tablespoon of flour to thicken the curd, or blend in some soft tofu, like in

this recipe

.

If you want a full-sized pie, double the recipe and put in a pie tin instead of muffin tray. You may need to adjust baking times and bake everything for longer.