This vegan plum cake is easy. Unbelievably easy. A perfect lazy Sunday cake. Go on. Treat yourself this Sunday. Cream some sugar and vegan margarine, mix in some yoghurt, flour, baking powder. Top with halved and pitted plums and a sprinkling of cinnamon sugar and what comes out of the oven? Pure magic. Soft and incredibly moist, with pools of tart plums that have melted into a nearly jam-like consistency, the sugar balancing out the sourness of the plums. This cake is just as good the next day, and the day after that. And to top it off, it freezes well.
You can see why this cake is famous. Yes, this is the most famous plum cake of all time. First printed in the New York Times in 1983, this Marian Burros recipe appeared every plum season thereafter until editors pulled the plug in 1995 and told readers to print it off and laminate it (these were the days before the internet immortalised this and other recipes). It's been written about on countless websites, such as Food52, The Kitchn and Smitten Kitchen (where I first came across it, and knew I had to make it). The butter was easy to replace – simply sub vegan margarine. As for the eggs, I briefly considered flax seeds, but I thought they'd add too much nutty flavour, or banana, but ditto on the overpowering flavor. So I've gone with vegan yoghurt, because the flavor wasn't overwhelming, and it keeps the cake moist and fluffy. Thanks to the baking powder, you don't need to worry about the cake rising – it rises just fine without the eggs.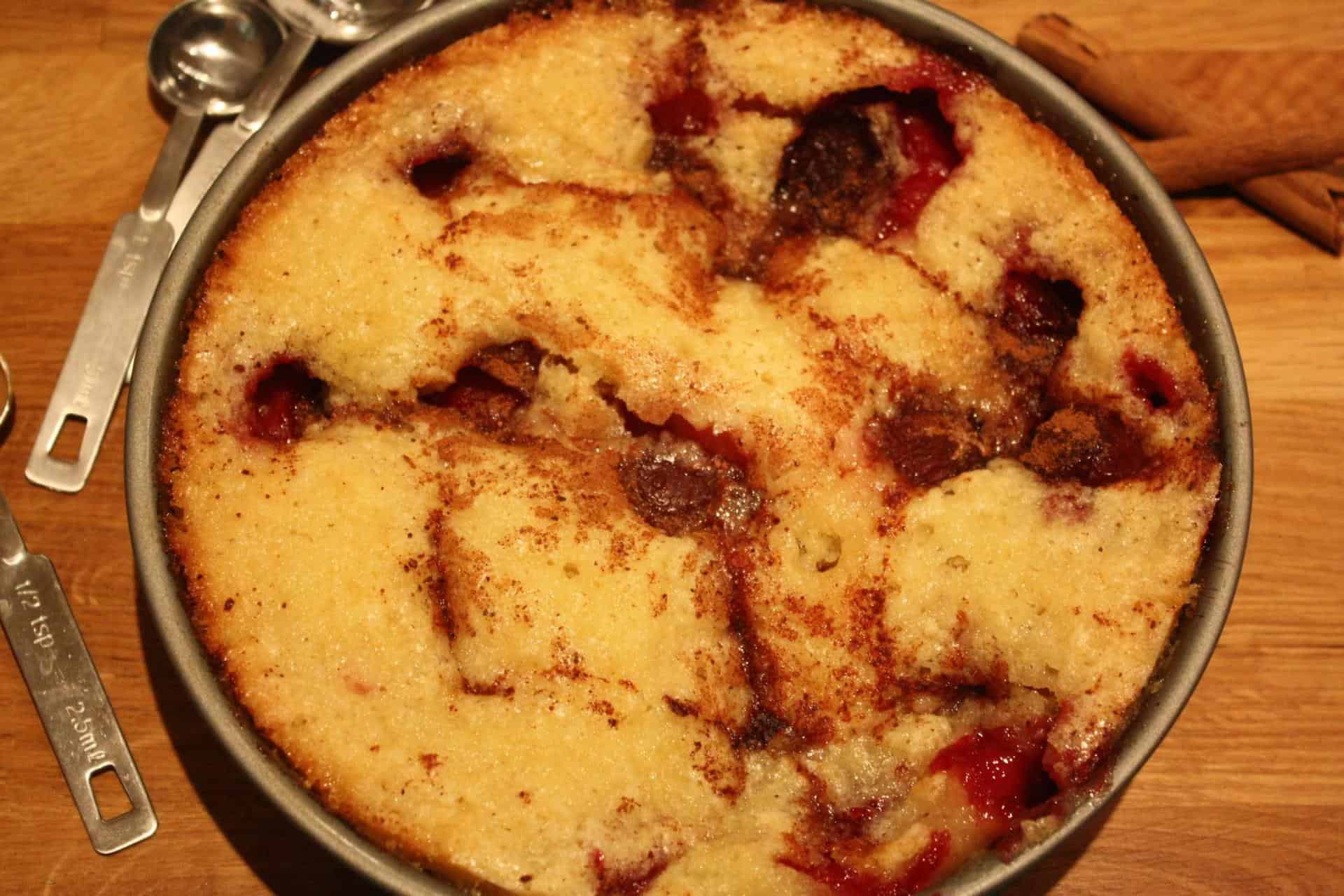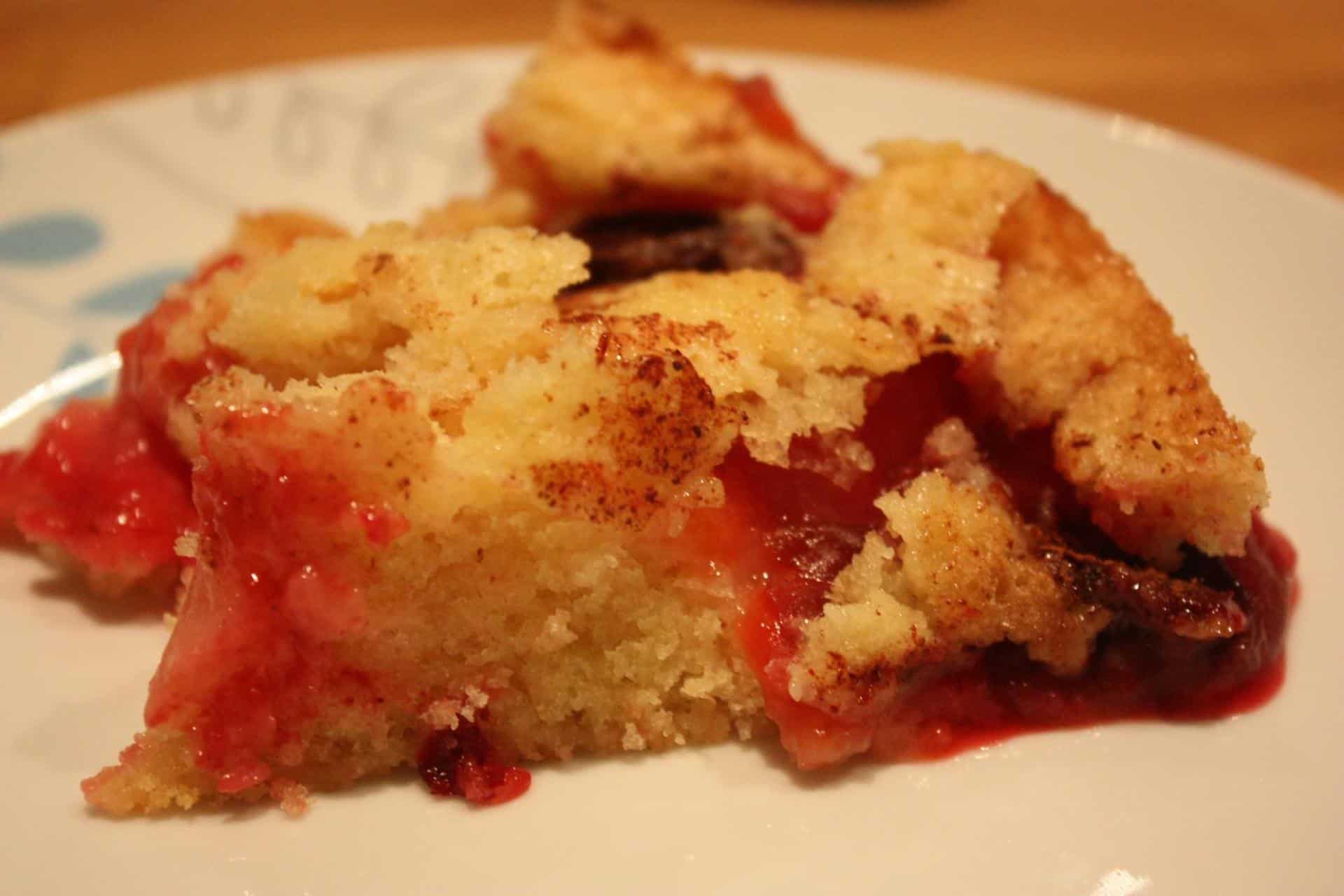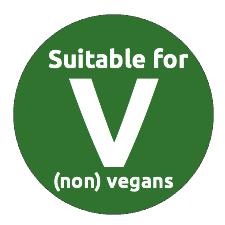 Plum Torte
Ingredients
1 cup (200 g) plus 2 tablespoons granulated sugar, divided
1/2 cup (115 g) vegan margarine
1 cup (125 g) all-purpose or plain flour
1 teaspoon baking powder
1/4 cup (60 g) non-dairy yogurt
8-10 small plums, halved and pitted
2 teaspoons lemon juice
1 teaspoon ground cinnamon
Instructions
Heat oven to 350 F / 180 C / gas mark 4, and lightly grease an 8-inch round cake tin.
Cream the margarine and 1 cup of sugar together until combined and fluffy. Add the flour and baking powder and mix to combine.
Add the yogurt, and mix all ingredients together, then spoon batter into the cake tin. Smooth the top down and add the pitted, halved plums, skin side up.
Sprinkle lemon juice on the plums to make the surface wet so it will stick, then sprinkle 2 tablespoons of sugar and the cinnamon on top.
Bake 45 to 50 minutes until a toothpick inserted in the center comes out clean (of batter, not plum juice).
Cool on a rack.