Looking for vegan leather chairs? If you're trying to redecorate your home in a cruelty-free way, a vegan sofa and chairs might top your list.
But can you find a faux leather accent chair or a faux leather recliner chair (perhaps to match your vegan leather sofa)? Absolutely!
Some of the top brands of vegan leather chair I'll be covering include:
More brands with faux leather chairs:
Plus, some options for vegan & eco-friendly upholstered chairs:

The Albany vegan leather armchair comes in a distressed brown vegan leather. They also have sofas in matching leather (the Albany sofa and the Albany corner sectional).
The vegan armchair is cosy and perfect for kicking back and relaxing. Like all Albany Park/Edloe Finch furniture, the faux leather armchairs arrive in easy-to-move boxes and are easy to assemble.
The vegan leather arm chair has a kiln-dried hardwood frame and each faux leather cushion has mesh backing for breathability.
The removable seat cushions on each fake leather armchair are made with mattress quality memory foam for comfort!
They have a few different styles of chair available in vegan leather, including the Albany faux leather armchair loveseat. This classic loveseat comes with medium-firm density cushions.
Note: only the Albany collection is vegan, as the Kova collection and Park collection both contain feathers. I confirmed via email with a customer service representative in January 2022 that the Albany collection is feather-free. Please look at the Albany collection chairs I've linked here and Albany matching sofas.

Horchow is a designer label owned by Neiman Marcus and they make designer chairs including vegan faux leather chairs.
These modern chairs come in a distressed charcoal faux leather and an antique bronze finish stainless steel metal frame.
If you're looking for a contemporary look for your dining area, these chairs is a contemporary take on an Art Deco style chair.
Dimensions: 22″W x 20″D x 28″T
Note: Be sure to double check listings for polyurethane or PU (vegan leather) as on this site have labelled "bonded leather" (which contains animal leather) as faux leather!
Best of: best faux leather recliner selection
Looking for a vegan recliner? Ashley Furniture has a range of vegan leather recliners.
They have a list on their site of faux leather, which you can find here, but unfortunately they've included bonded leather (which contains animal leather) in the list so you'll need to check each individual chair's listing to make sure it's vegan leather (look for polyurethane or PU).
From manual recliners to power recliners, plus a vegan leather swivel chair, they've got a range of comfortable vegan leather lounger styles.
Note: Be sure to check material listing for each individual chair as Ashley Furniture have listed bonded leather (which contains real animal leather) in among their faux leather chair listings! Look for PU or polyurethane leather (vegan leather0
Looking for a faux leather office chair? Ashley has a lot of vegan leather desk chair options. For example, an executive chair looks very similar to the vegan desk chair I have (which is extremely comfortable!).
Although one side note here — my faux leather desk chair can be very unpleasant to use on hot summer days and I have to put a towel over it so it's not all sticky. The next desk chair I get will probably be a fabric covering rather than faux leather.
Again, they've listed bonded leather in with other faux leathers, so avoid it (it contains animal leather) and check listings for PU leather.

From a vegan leather chair and ottoman or vegan leather lounge chair to barrel chairs and more, Wayfair has a really wide selection of vegan chair styles, which you can find here.
Overstock also have a wide variety of vegan accent chairs, from a faux leather barrel chair to armchairs.
They also have plenty of choice when it comes to fake leather armchairs, plus if you're looking for a vegan gaming chair they have those too. See all the vegan gaming chairs here.

Now shipping to Canada!
If you're just looking for a sustainable chair, rather than specifically a faux leather chair, Sabai's range of recycled velvet chairs are for you.
Choose from recycled velvet made of recycled plastic water bottles or upcycled polyester.
You can choose from dark finish or light finish wooden legs, and all wood use is FSC certified.
They have the Essential armchair (a matching ottoman is also available), the Loveseat and two styles of sofas.
One of the things I love most about Sabai is their "Repair Don't Replace" sustainability program.
They sell all the components of their chairs and sofas (individual legs, slipcovers, cushions, arms, etc.) so you can repair any parts that get damaged without having the replace the whole sofa.
Did you spill a full smoothie on your sofa cushion and stain it irreparably (yep, I did that!)? Did your toddler draw on your cushions? Don't worry, you can replace them!
Sabai recently announced they'll start shipping to Canada as well as the US, so if you're in Canada and looking for sustainable living room furniture but having difficulty finding American companies that will ship to you, this is the ideal option.
If you're just looking for durable and long-lasting armchairs, rather than a faux leather arm chair specifically, Burrow have a range of eco friendly vegan chairs (and sofas).
They don't have a faux leather lounge chair (they do have animal leather chairs so be careful to avoid those and go for a fabric chair) but their furniture is sustainable and built to last.
They have a low carbon footprint as they use wood from responsibly managed forests and upcycled fabric. They're also free from formaldehydes and chemicals.

Medley is another company making sustainable furniture (but they don't do vegan leather). Pick a fabric, and be sure to select the Certi-PUR high-resilience foam cushioning (not the latex as that comes wrapped in wool).
Their chairs are handcrafted in California and made to order. They don't contain any harsh chemicals or fire retardants.
They have a few different styles of armchair, all in a contemporary look.
VivaTerra makes eco friendlly armchairs in a linen fabric. Their furniture is handmade in the US and free of flame retardants.
Their armchairs and sofas are filled with earth friendly fibers like an 80% regenerated fiber fill made with a renewable, soy-based core (on the bottom cushion) and a top cushion fill made from recycled plastic bottles. They also use responsibly sourced wood.
As well as cosy armchairs, they also have some bench seating and rattan chairs.

Choosing a chair: FAQ
What materials are best? Vegan leather vs fabric
Vegan leather is hard-wearing and scratch-resistant therefore might be good if you're looking for that.
However, it does tend to get hot and sticky in warmer weather so bear that in mind – you might be better off with a fabric chair if you're in a humid climate.
What style of chair to get?
What will you be using the chair for? Is it going in a cosy reading nook, where you plan to curl up with a good book and a cup of tea? Then comfort is king.
Are you hoping to make the chair a focal point in the room, or add a splash of color or texture in an otherwise neutral living room? Perhaps comfort isn't as important, but the color or print is key here.
Will you be using it at a desk? Then it needs to be ergonomic (nothing bothers me more than staying in a hotel or holiday rental where they've clearly chosen the desk chair for style, but not thought about comfort – spending long hours hunched over a laptop, you care more for comfort than the perfectly styled chair).
How can I be even more eco friendly?
Get secondhand! Check out eBay or Facebook marketplace, or see if there's a secondhand app near you (here in Spain, Wallapop is the go-to secondhand app and I got most of my furniture from it).
You can save a lot of money this way, AND be more eco friendly!
Not to mention finding a great vintage piece of furniture or antique makes you feel like you found a diamond in the rough and got a great deal – plus a gorgeous antique can really be a focal point in a room.
Pin this for later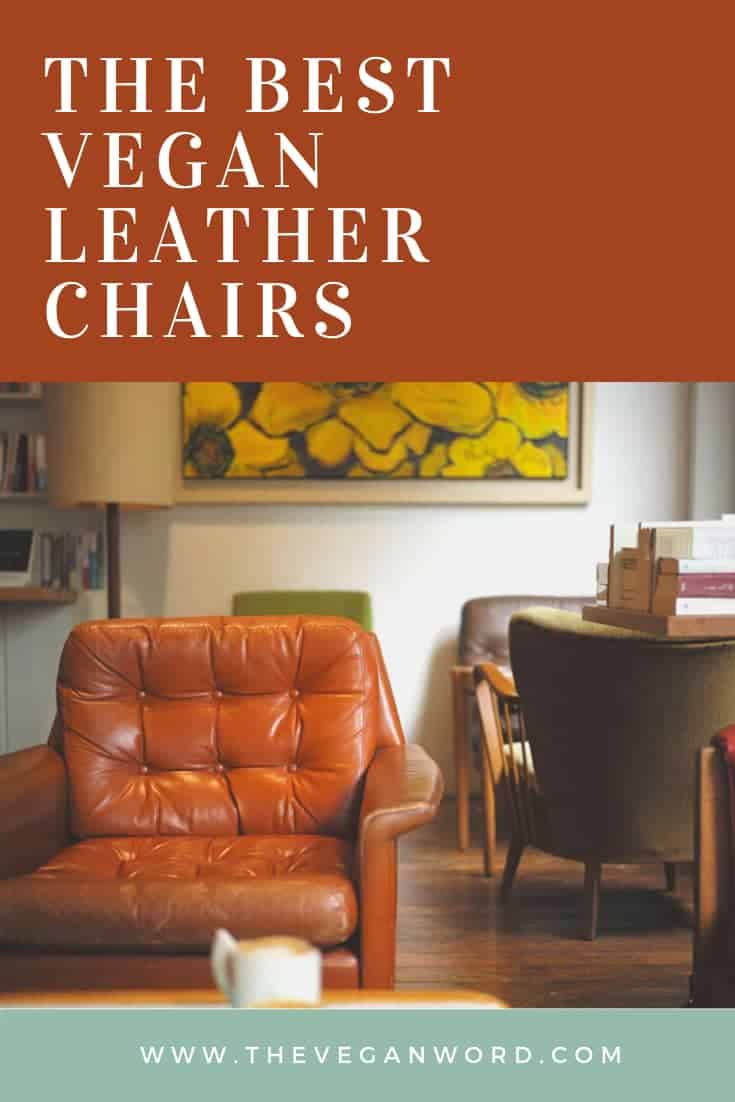 Looking for more vegan furniture? Check out my guides to vegan leather sofas and to all styles of vegan sofas. Find my guide to vegan mattresses.
Make your home cosy and lovely-smelling with my vegan candle guide.
Looking for veganize the rest of your life? See my guide to vegan clothing brands.
Looking for more vegan leather goods? Find my guide to vegan watches.
Find all my vegan lifestyle guides.