If you're looking for new living room furniture and want to find a vegan sofa, it can be tricky to find furniture that's leather- and wool-free.
As a long-term vegan of over a decade, I'm used to looking for vegan shoes and backpacks, but vegan sofas aren't something I'd spent much time considering until recently, since I'd always lived in rented furnished flats. Suddenly, finding myself sofa shopping, I noticed how many brands touted sofas covered in leather or wool fabric…
Thankfully, though I have yet to come across any fully vegan furniture companies, some brands make vegan furniture too, so to help you in your search, I've put together this list of vegan sofas (many of which are also sustainable!).
If you're looking specifically for a vegan leather sofa, check out my guide to vegan leather sofas.
The best vegan sofas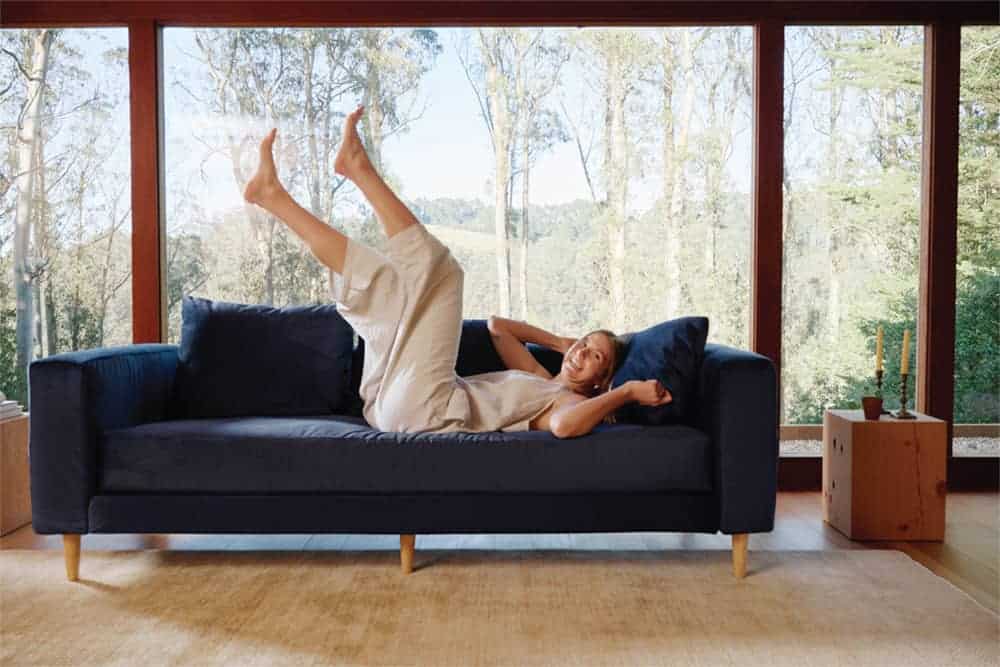 Now shipping to Canada as well as the US!
The Sabai range of vegan furniture is both vegan and eco-friendly. You can choose between recycled velvet and upcycled poly coverings for the vegan couches, and the wood used is FSC certified.
The velvet is made of 100% recycled plastic bottles, while the upcycled polyester is 100% olefin, a scratch- and stain-resistant, durable fabric.
The sofa's pillows are filled with recycled fiber fill, while the cushion fill is CERTIPUR vegan foam.
If you're concerned about toxic off-gassing, rest assured they don't use formaldehydes.
Their ethical sofas are built to withstand 10 years of use, and they're pet-friendly too, as they're stain-resistant and easy to clean. The velvet can be easily cleaned of fur with a lint roller.
Best of all, Sabai is committed to reducing waste and being as sustainable as possible, and I love how they've put their words into action with their "Repair Don't Replace" program. Through this, customers can buy individual parts (for example, new cushions or new legs) to replace any that break (if, for example, your bunny eats through the cushion covers, as actually happened to one customer!). They also sell slipcovers.
They no longer use glue in their sofas for ease of taking them apart and repairing/replacing parts.
Finally, at the end of the sofa's life, you can sell it back or trade it in with the Sabai Revive program, which aims for a circular life cycle. You can also buy a secondhand sofa through it.
Their shipping is also plastic-free, and they aim to use as many local materials as possible (90% of their materials are sourced within 100 miles of production).
They have a number of different models: The Essential (pictured above), The Essential Sectional, and The Essential Corner Sectional (from 5 to 7 seats).
They also have matching loveseats, ottomans and chairs. All come in a range of 10 different colours, and you can choose from 3 shades of sofa legs.
Recently, Sabai announced they're starting to ship to Canada (as well as of course the US). So if you're in Canada and have been frustrated that most American sustainable sofa makers don't ship to Canada, then you're in luck!
The sofa has 4.9/5 stars and 50 reviews, with most customers writing glowing reviews about how much they love the look, how comfortable it is and how easy it is to clean (especially for those with kids and dogs).
For example, one happy customer with four cats states they've had their sofa for a year and they love it and how easy it is to clean. One downside is because it's made-to-order it can take awhile to ship, and putting together requires some time too.
This is my overall pick for best vegan and sustainable sofa.
---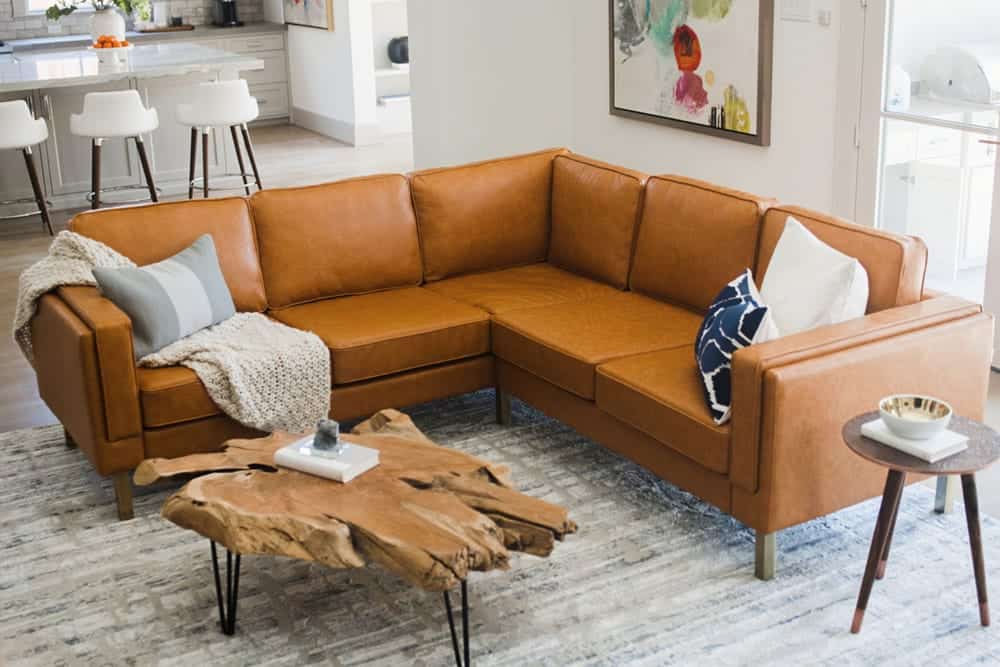 Note: as mentioned below in more detail, only their Albany range is vegan!
Albany Park has two models of vegan sofas (including vegan leather furniture options): the Albany and the Albany vegan leather sectional.
Somewhat paradoxically, not every Albany Park vegan leather sofa is vegan, because the Park and Kova ranges of sofas contain feathers. Thankfully, the Albany range is feather-free and vegan (confirmed to me by their customer service via e-mail in January 2022).
The vegan leather couches come in a distressed brown vegan artificial leather (or they have fabric covering options) and a sturdy kiln-dried wooden frame.
The vegan faux leather sofa cushions have a mesh back for breathability (while the fabric cushions are reversible), and they're made with mattress-quality memory foam for comfort.
You can choose between two different styles of sofa legs, and they also have matching vegan leather lounge chairs and ottomans.
One negative is the material isn't designed to be scratch-proof (if you're after scratch-resistant sofas, I'd recommend this one instead), though they say the non leather sofas hold up pretty well for people with animals.
With 4.5/5 stars and over 300 reviews, the sofa consistently gets good ratings for its style and comfort.
They're my top pick for best vegan leather sofas.
---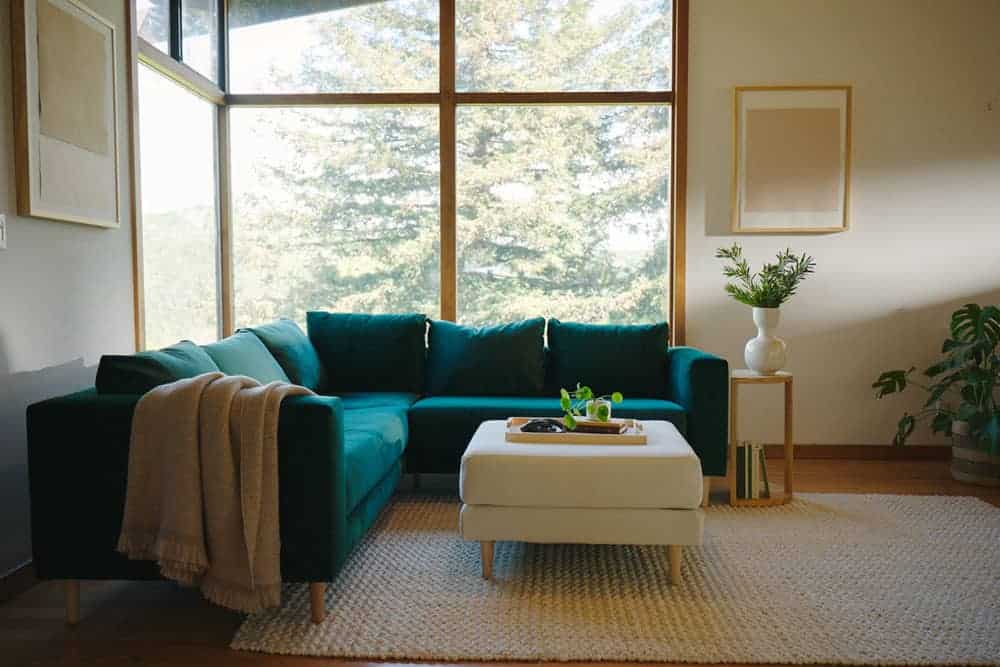 This vegan sectional sofa comes in options with 5 seats, 6 seats or 7 seats.
Just like the Sabai Essential sofa listed above, this eco friendly vegan couch comes with either recycled velvet (made of recycled plastic bottles) or upcycled polyester (made of scratch- and stain-resistant 100% olefin), in 10 different hues. You can also choose from 3 different styles of sofa legs, made of FSC-certified wood.
The cruelty free sofa has eco credentials beyond just what it's made out of. It's also easy to repair, as Sabai sell replacement cushions, covers, legs and slipcovers.
They don't use any formaldehydes or toxic flame retardants.
As with other Sabai sofas, the material is scratch-resistant and lots of reviewers say they've had success with it in their household of cats and/or dogs.
What I like most about the Sabai range is the ease of replacing parts. They've deliberately designed them to be eco-friendly and replacable so if, say, your new puppy chews through a sofa leg, you can replace just the one sofa leg, rather than having to buy a whole new sofa (thus saving you money and being more sustainable).
Ships to the US and Canada.
---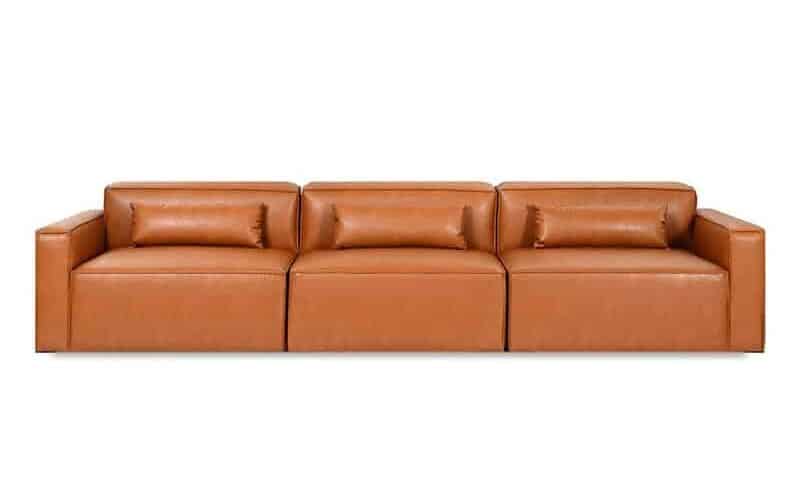 The vegan couch from Gus Modern is both contemporary, practical and sustainable, using vegan apple leather (available in brown or black), which is made using leftover waste from the food industry.
The couch is modular, so you can configure it into different designs flexibly, depending on your taste and your space.
The sofa's frame and legs are made of FSC-certified wood.
The design was created with the human form in mind, so it would mould to the contours of your body – ensuring hours of comfort.
The cushion fill is PET synthetic down.
If you're looking for the best vegan leather couch for sustainability, this is it. The downside is it's on the more expensive side, so if you're looking for a less expensive vegan leather couch, I recommend this one instead.
---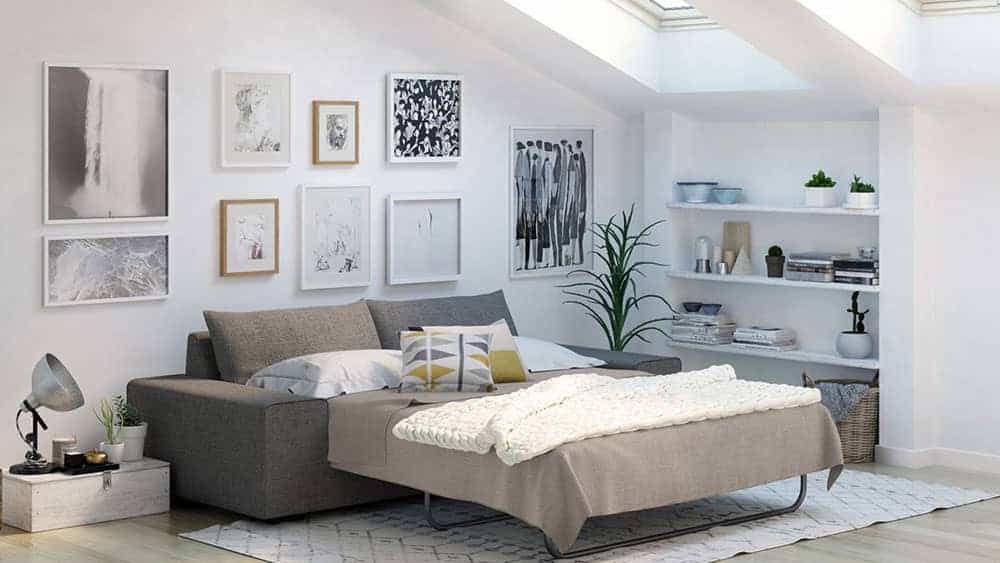 Medley makes eco friendly couches, free of toxic fire retardants.
Be sure to select the "Certi-Pur foam" option, as this contains just CERTIPUR certified synthetic foam cushions (while the latex option contains wool, and the down/CERTIPUR option contains down, so neither is vegan). Select a cotton fabric cover.
Vegan Sofas UK
Sofas by Saxon: faux leather sofa UK (contact them to request)
Vegan Chesterfield sofa: 3-seater vegan sofa bed from Chesterfield Sofas: if you're looking for a vegan leather sleeper sofa
Vegan range from Chesterfields of England
Vegan Sofa Australia
Eco-friendly modular cork sofa from Koala
FAQ
Are sofas vegan? If not, what is a vegan sofa?
Sofas may not be vegan because many contain animal products, whether that's leather, a wool fabric cover, or down cushion filling.
A vegan sofa, on the other hand, is free from all animal products, and instead may be made of materials such as cotton, synthetic foam, wood or latex.
What is vegan leather sofa?
A vegan leather sofa, just like any vegan sofa, is free from animal products. That means instead of leather, it's covered with a vegan leather, which may be made of polyurethane (PU) leather like this sofa is, or a newer material such as vegan apple leather, like this sofa.
Are vegan leather sofas durable?
Yes, they can be. In fact, this sofa manufacturer recommends vegan leather sofas for homes with pets, saying they may be more durable.
Where to buy vegan sofa?
Since your nearest big-box store probably hasn't labeled their sofas as vegan (just yet), shopping online is the easiest option — hence this post!
Alternatively, you could go armed to your nearest sofa store with some questions: what is the cover made of, what's the cushion fill and the pillow fill and is there any wool or down in the fill? They may not know the answers but should be able to find out for you.
If you're shopping online, this is my recommendation for the best vegan sofa. It is vegan, eco-friendly and practical (it's both stain- and scratch resistant), plus it's stylish and customers say it's comfortable and durable as well (it has excellent reviews).
If any parts break, you can buy individual replacement parts, which is a big improvement (in terms of the environment and your wallet!) on most sofas.
Is there a vegan cloud couch?
The cloud sofas popular on TikTok are not vegan as the cushions are made of down, but this interior designer makes a strong case against those sofas regardless or what they're made out of. For a comfortable, stylish and practical vegan sofa, I recommend this one instead.
Pin this for later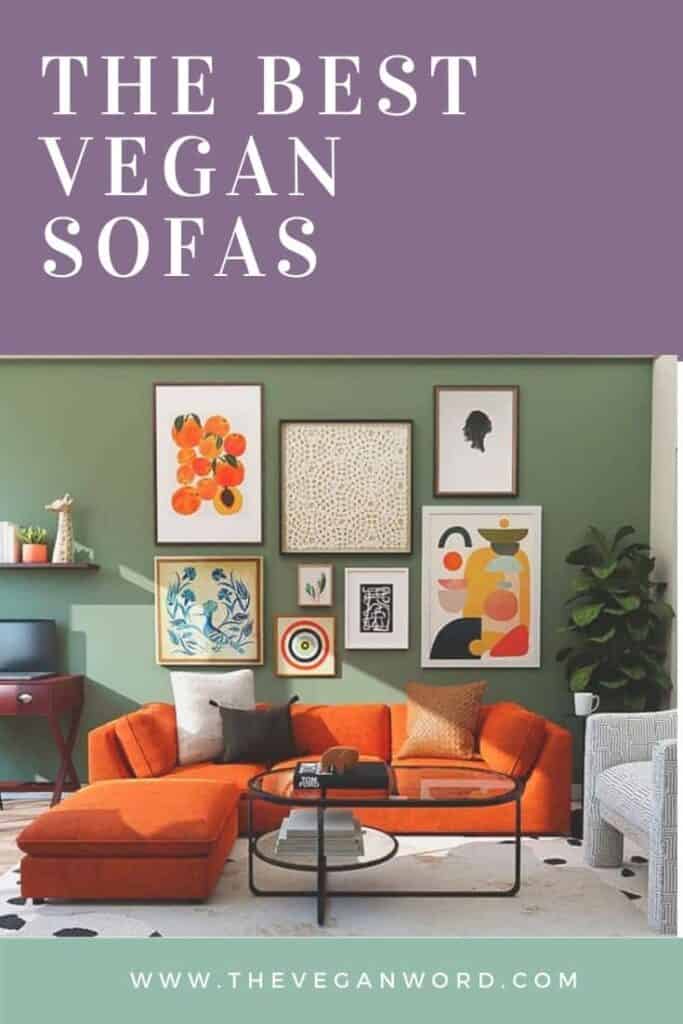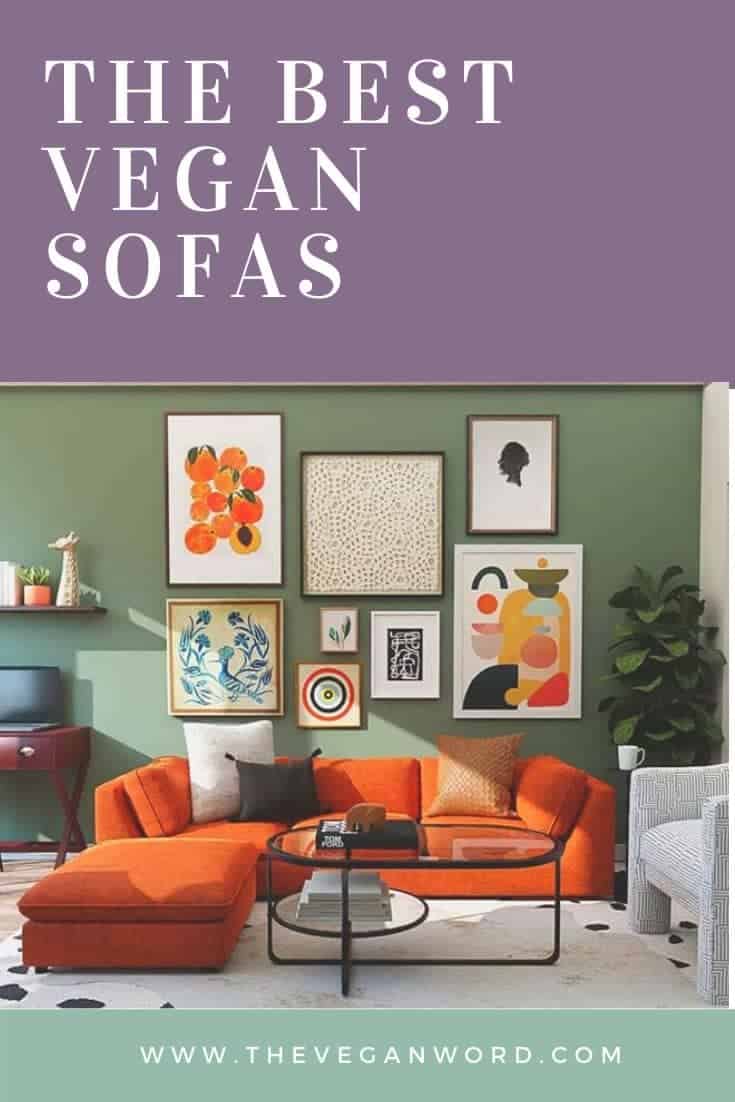 Looking for more vegan sofa options? Check out my vegan leather sofa guide. I also have a list of the best vegan leather chairs.
Make your living room smell great with my guide to vegan candles.
If you're buying new furniture for your home and looking to ensure all your furnishings are vegan, don't miss my guide to vegan furniture and my vegan mattress guide.