Vegan backpacks are versatile, practical and fashionable, to boot. From vegan leather backpacks to cork and canvas backpacks, there are a range of styles to suit you, whether you're looking for a backpack for work, school or everyday use.
Some of the vegan backpack brands I'll cover include:
Whether you're looking for vegan backpacks for school or work, here are the best vegan backpacks:

100% vegan company
My top pick: Alex vegan leather laptop backpack & Matt and Nat Brave backpack
Matt and Natt has been making vegan bags and backpacks since 1995 and is one of the best-known vegan bag brands. They have a huge range of vegan backpacks for women and men of all sizes and styles.
My top pick of Matt and Nat backpack is the Alex backpack, Matt & Nat's vegan laptop backpack. The Matt and Nat laptop backpack has a padded 13 inch laptop compartment in the main space.
My other top pick is the best-selling Matt and Nat Brave and Matt and Nat Brave mini backpack. This Matt and Nat mini backpack has a zip top closure and a front zippered pocket. It also has a slip pocket for your phone inside.
Other popular Matt and Nat backpacks include:

100% vegan brand
My pick: Camberwell black vegan leather backpack
Labante is an all-vegan ethical bag brand based from London, and their mission is about making beautiful and sustainable vegan bags, made without sweatshops.
They have a wide range of backpacks, from a regular vegan rucksack to a mini backpack and a vegan convertible backpack.
I own a Labante convertible bag, which can be used as either a backpack or a crossbody bag, and it's really durable and seems very well-made. I don't find it the most comfortable as a backpack though and prefer a dedicated backpack with wider straps, so I'd suggest instead going for a dedicated backpack like the Camberwell.
My top Labante backpack pick is the Camberwell. This quilted black vegan backpack is very stylish and would go with any outfit. It's also practical, with interior compartments to organise you things and an exterior pocket to keep anything you need easy access to. Even the straps are stylish, with chain detailing.
Like all Labante bags, the interior is lined with recycled plastic bottles.

100% vegan brand
My pick: Cougar vegan leather backpack
GUNAS is an award-winning vegan bag brand that's been making cruelty free bags since 2009, making it one of the earliest vegan bag brands.
My top pick is the Cougar vegan leather backpack purse. This faux leather backpack is big enough to fit all your essentials for a day out on the town or a day trip out of town - it will easily hold your phone, ipad, wallet, camera, and reusable water bottle. It has an internal zipper pocket and divider to keep you organised. It also has adjustable shoulder straps made of fabric to keep you comfortable.

100% vegan brand
Corkor is a Portuguese bag brand that's super sustainable, thanks to the material they use - cork! Cork is an incredibly environmentally-friendly material, thanks to the fact that cork trees can be harvested without being cut down. They also require little water or fertiliser, making them an eco-friendly tree to grow and maintain. Cork is also a naturally water resistant material.
They only make one model of Corkor vegan backpack, but it's well-designed so that's all you need. It has adjustable shoulder straps, one interior zipper pocket and a keyring holder, and it's the right size to hold your phone, wallet and a few other small essentials. Cork is very lightweight and also resistant to scratches. All products are made in Portugal.

100% vegan company
My top pick: Mini Kim backpack
Pixie Mood is a vegan bag company that offers free climate neutral shipping on orders over $99. They're working with Terrapass on offsetting all their shipping and becoming carbon neutral.
My top pick of vegan backpack purse is the Kim vegan mini backpack. This vegan leather mini backpack is perfect for carrying your essentials. The small vegan backpack can be worn as a shoulder bag with a pull on the top handle. This vegan leather convertible backpack has an exterior zippered pocket and an interior zippered pocket, plus two interior slip pockets.
They also have a wide range of full-sized backpacks too, in a range of colours beyond the standard black and brown.

100% vegan company
My top pick: Melie Bianco Maxine backpack
Melie Bianco is a vegan and sweatshop-free backpack maker. I love their use of colour and own a mustard yellow Melie Bianco handbag myself.
If you're looking for a faux leather backpack Amazon has to offer, you can find their products on Amazon. My top pick is this Melie Bianco backpack, which as a 'day bacykpack' is a small enough size to be easy to carry. With a budget friendly price, this non leather backpack has a divided interior with two compartments, a zippered interior pocket and slip pockets and an exterior zippered pocket on the back.

100% vegan company
My top pick: Doshi Pro Sport+ Travel backpack or Kraft Paper backpack
Doshi is a vegan bag manufacturer that makes a range of bags, including workwear and other special bags.
Looking for a vegan travel backpack? Doshi has a vegan travel backpack! The Pro Sport travel backpack fits a laptop up to 15.5 inches and has multiple interior and exterior pockets to organise your things. It features a hidden back pocket and it also has a padded and ventilated back and a removable chest strap. The bag stands up by itself and will fit under an airline seat.
I also recommend the Doshi Kraft Paper backpack, which is Doshi's first partially biodegradable backpack. Kraft Paper is 60-90% biodegradable and doesn't break down when wet (the bag is also lined with Tyvek lining, which makes the bag water resistant). The bag has a zippered pocket and slip pocket inside and a pocket on the back for valuables.

100% vegan
My top pick: Metropolitan backpack
Lee Coren is a vegan bag maker based in Israel. Her bags are handcrafted and she tries to use locally sourced materials (apart from the vegan leather, which comes from Italy).
Lee Coren has a range of vegan backpacks, from a vegan tote backpack, a rolltop backpack or a classic vegan black backpack.
My top pick is the Metropolitan vegan leather rucksack. Ideal for both toting your laptop to work or for weekend excursions, it has plenty of room. It fits up to a 15.5" laptop, features an inner zippered pocket and slip pocket plus has a hidden pocket on the back for your valuables. It also has two side pockets you can use for your reusable water bottles! It's made of a premium, soft cotton-backed PU vegan leather and is very lightweight (just 450 grams).

100% vegan company
My top pick: Farrell Appleskin leather backpack
Luxtra makes ethical vegan backpacks and handbags from innovative, sustainable materials like apple leather or pineapple leather, made of waste products from the food industry. They're a certified B corp (which balances profit and purpose) and part of their purpose is to drive forward vegan leather innovation (their latest range is even made of a new material, vegan mango leather!).
My top pick is the Farrell Appleskin leather backpack, made from the skin and cores of apples recovered from waste of the food industry. It will fit your 13 inch laptop, phone, A4 documents, reusable water bottle and other daily essentials. It has an interior with compartments for your laptop and phone, plus a clip for your keys, zippered pockets in the interior and exterior and silver tone hardware. You can choose from burgundy or black vegan apple leather.

100% vegan company
My top pick: Raphael vegan backpack
Ashoka Paris is a luxury vegan French bag and accessory brand. They are PETA approved vegan. They use Eco-Nappa, a more eco-friendly form of vegan polyurethane leather, and apple leather, plus line their bags with a material made from 100% recycled nylon made from plastic bottles. In 2018, they won a PETA Fashion award for Best French Bag.
My pick is the Raphael backpack, which comes in camel or black. It's great for work or fun, and comes with a Moroccan style vegan leather finish. The bag features two interior compartments and two outer pockets, and the Neoprene interior pocket can accommodate a laptop up to 13 inches. It also has a safety pouch on the back of the bag.

100% vegan company
My top pick: Urban Vegan red backpack
Canussa is a Spanish vegan bag company that has been featured in Vogue and InStyle. They aim to make bags that are both ethical and durable.
My pick is the Urban Vegan backpack, and I love the vibrant red version of it. The bag is made with waterproof vegan leather that's also washable and highly resistant. It's perfect for your daily commute and can fit a laptop up to 14 inches. It has interior pockets to organise your belongings and an easy-to-reach front pocket to keep whatever you need easily accessible.

100% vegan company
Unsurprisingly given the name, everything at Will's Vegan Shoes is vegan - though not everything is shoes these days. They started life specialising in men's vegan shoes, but now Will's makes women's shoes, bags and accessories as well.
Will's has three backpacks, from this vegan canvas backpack with vegan leather trim to this backpack satchel.
My pick is the large backpack made with heavyweight cotton canvas with a vegan leather trim. It fits a laptop up to 15 inches and A4 papers/notebooks, plus it's got space for your glasses, keys and phone. It's got an interior zippered compartment to keep it all organised, too.

100% vegan company
My top pick: Taupe vegan backpack
Alexandra K is a vegan bag brand based in Poland. They've won several awards from PETA for their vegan bags and also their vegan leather jacket.
They have a few backpacks in their range, including the taupe backpack, my pick. It has wide, comfortable straps and one open pocket inside. It also has a front zippered pocket and a drawstring, plus magnetic flap, to close. The hardware is gold and it's made with a vegan polyurethane leather in beige.

100% vegan company
Laflore has the most unique bag on this list, the Bobobark convertible backpack purse. Using convertible straps, it can be worn as a backpack, tote bag or a briefcase, and can hold a surprising amount of stuff in its roomy and well-organised interior.
The clamshell clasp allows it to open 180 degrees, so you can see inside much more easily than the average handbag. There's a zippered pocket in the middle to divide the bag and make organisation easier, a padded laptop compartment (which you can access from inside or outside the bag) and a phone pocket with a USB charging port so you can keep your cables organised and charge up your phone while away from home.
They also have a mini version, which can be worn as a backpack, shoulder bag or clutch.
More vegan backpack brands:

FAQ
What is a vegan backpack?
Simply put, a vegan backpack is a bag that doesn't contain any animal products such as leather or wool.
What are vegan backpacks made out of?
Vegan backpacks can be made from a wide range of materials (essentially anything that isn't animal-based). That could be cotton/canvas, hemp, cork or vegan leathers such as polyurethane or some of the more eco-friendly alternatives such as apple leather, pineapple leather or Kraft paper.
What is apple leather or pineapple leather?
There are number of new, innovative, sustainable leathers that have been invented in the last few years that use waste products from the food industry to make vegan leathers. These include Piñatex (pineapple leather), apple leather, grape leather, corn leather, mango leather and more. Piñatex, for example, is made with the leaves of pineapple plants, which are usually discarded (in the region of 40,000 tons per year!).
Are vegan backpacks eco-friendly?
One charge often levelled against vegan leather is that it's not as eco-friendly as leather, but that's simply untrue. It is true that vegan leather, even sustainable vegan leathers like pineapple leather, aren't biodegradable; however, they are still far more sustainable than leather, as evidenced by the Higgs index, which ranks vegan polyurethane leather and pineapple leather as far more eco-friendly than cow or pig leather. That's because of the huge environmental destruction wrought by raising animals, including greenhouse gas emission and the destruction of the Amazon rainforest. Not to mention the cruelty inherent to the industry, both to animals and people, since the chemicals such as chromium used in the leather tanning industry is extremely detrimental to the health of workers, some of whom are children.
Are Herschel backpacks vegan?
According to what I could find online, it seems the 'leather' detailing in Herschel bags is made of faux leather, but the company is unable to verify if the glues used are vegan.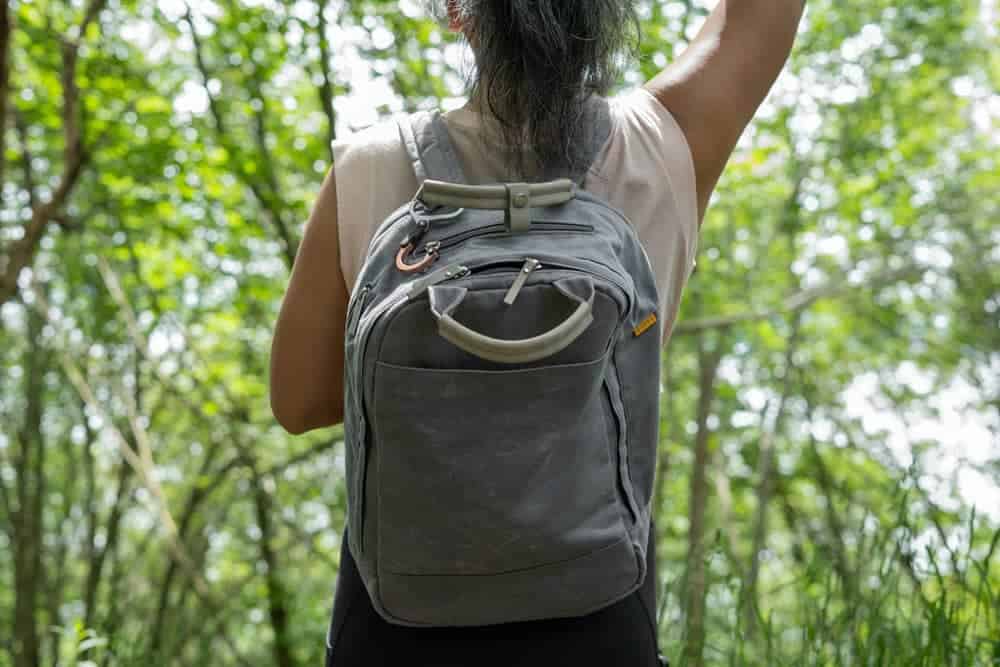 Are Fjallraven backpacks vegan?
Many Fjallraven bags are made of ripstop, durable nylon - just be sure you get one with a stitched-on, rather than leather, logo. I found their website didn't specify, so you're best off looking in store.
Are Jansport backpacks vegan?
Jansport makes some vegan backpacks, and even marks their vegan bags on Amazon, such as this one!
What is Kraft Paper and doesn't it dissolve in the rain?
Kraft Paper is the paper used for most paper bags - yes, those paper bags that you get in store when shopping! It's made using the same process as other paper, but is stronger. Some bag makers, like Doshi, now make backpacks out of Kraft paper. Kraft paper is 60 to 90% biodegradable, making it an eco friendly option for making bags. You might be wondering, but wouldn't it just dissolve in the rain? No! They coat the paper so it doesn't breakdown when wet and then line the bag with Tyvek, which is soft to the touch and water resistant. Tyvek is a synthetic material developed in the 1950s that is similar to paper and often used in envelopes as it is water resistant.
Where to buy vegan backpacks?
If you're looking for a canvas bag, you can go to the nearest store to you that has bags to find one. Just watch out for leather trim or zipper pulls.
If you're after a vegan leather backpack, it can get a bit trickier, as stores don't necessarily stock them (or their might, but employees don't always know what's faux leather, as I found out during countless trips to department stores as a teenager trying to find leather-free shoes). To nab a vegan backpack, unless you happen to be very lucky and live in a city that has a vegan shoe and bag store, your best bet is online. See the list above for my picks of best vegan leather and cork backpacks.
Pin this for later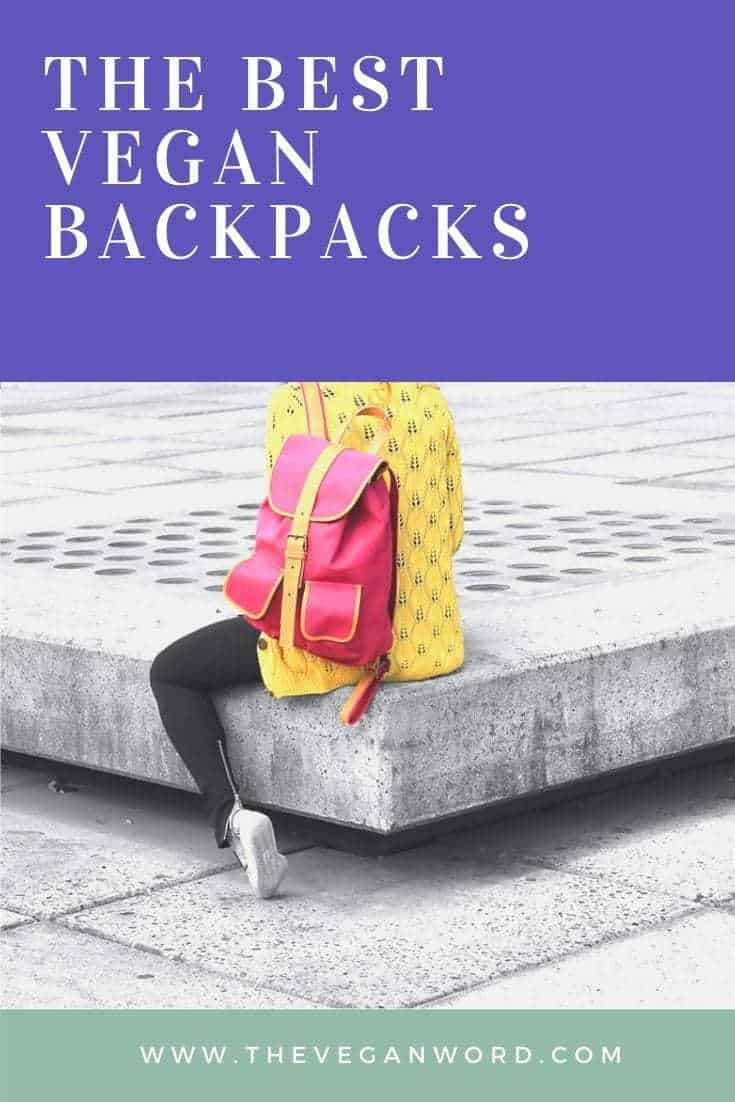 Looking for more vegan bags? Check out my guide to vegan handbags here, vegan crossbody bags here and vegan tote bags here.
Want something upscale? Find my guide to vegan designer bags here.
Searching for more vegan leather goods? See my guide to vegan belts here and vegan watches here.
Need a non-leather wallet? Click here to see my guide to vegan wallets.
See all my vegan Beauty & Fashion guides here.