A vegan bucket bag is both cute and comfortable to carry! But how easy is it to find a leather-free bucket bag?
As a lifelong vegetarian and vegan of 14 years, I know how tricky it can be to find a vegan handbag when lots of stores you go in seem to shout about how their bags are made of leather.
At the other end of the spectrum are budget stores (not that that's a bad thing!) which don't advertise their bags as vegan, but probably are since they likely can't afford to make them of leather…though it's not always easy to know since sales assistants, in my experience, don't always know the composition of a bag.
Thanks to the internet, though, and a quickly proliferating vegan fashion sector, there are now lots of 100% vegan brands making bags. I've rounded up the best bucket bags with an aim to include as many extra-sustainable options, like cork bags or apple leather, as possible.
Special deals:
Best vegan bucket bags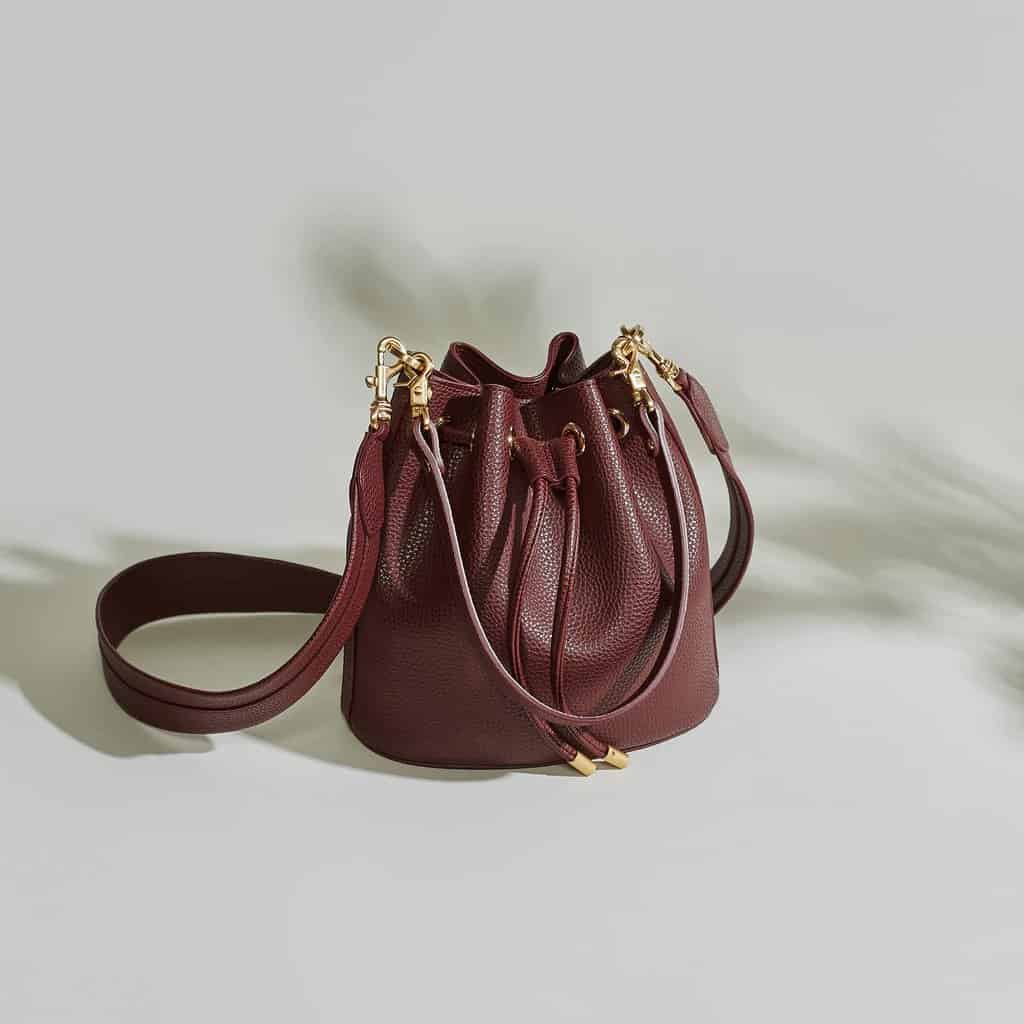 This mini bucket bag from vegan designer Angela Roi is made from pebbled texture vegan leather, with antique gold-toned hardware.
It has a drawstring closure and comes with two detachable straps (both non-adjustable): a top handle and a shoulder strap.
It also has a phone compartment and zippered interior compartment.
One thing to bear in mind is it's a mini bag, so only suitable if you can carry all your essentials in a small bag – if you need a bag to take your tablet with you, for example, this won't suit! (Or if you need to lug your laptop to work, check out my list of vegan laptop bags.)
A downside of the bag is that several reviewers mention the long strap is too heavy and thick and makes wearing it uncomfortable, so they usually end up carrying the bag by the handle instead. If you plan to use your bucket bag as a shoulder/crossbody, I recommend this bag instead as it's designed to be carried crossbody.
However, most customers love their bag and the bag has 4.8/5 stars with 6 reviews, which you can read here.
---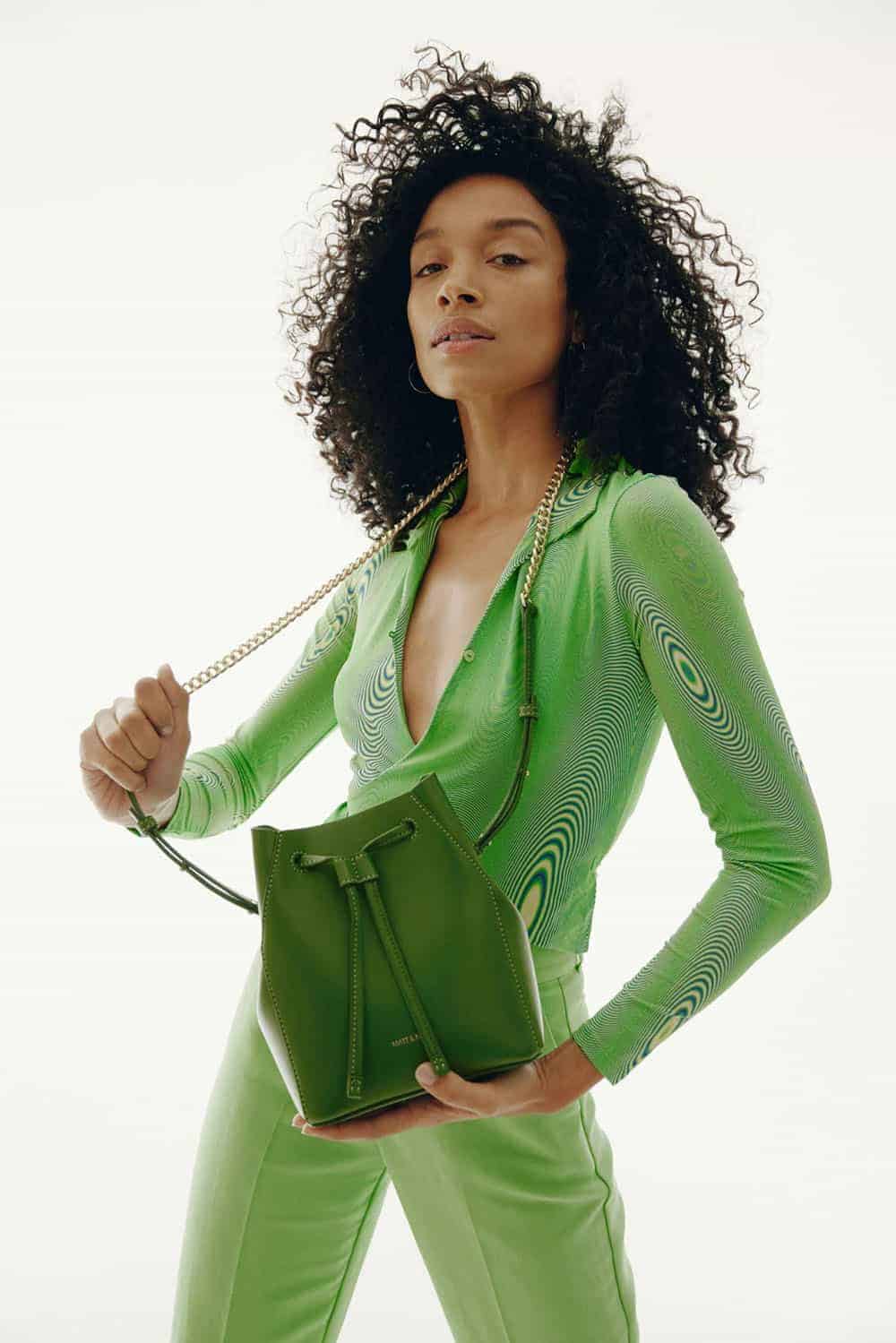 Another bag made of apple leather, this vegan bag has a drawstring closure and gold-tone crossbody chain strap.
As mentioned above, apple leather is a vegan alternative to animal leather made using waste products (from the food industry) as an eco alternative. It's naturally strong and water-resistant.
The interior has a zippered pocket and is lined with a material made from 100% recycled plastic bottles.
---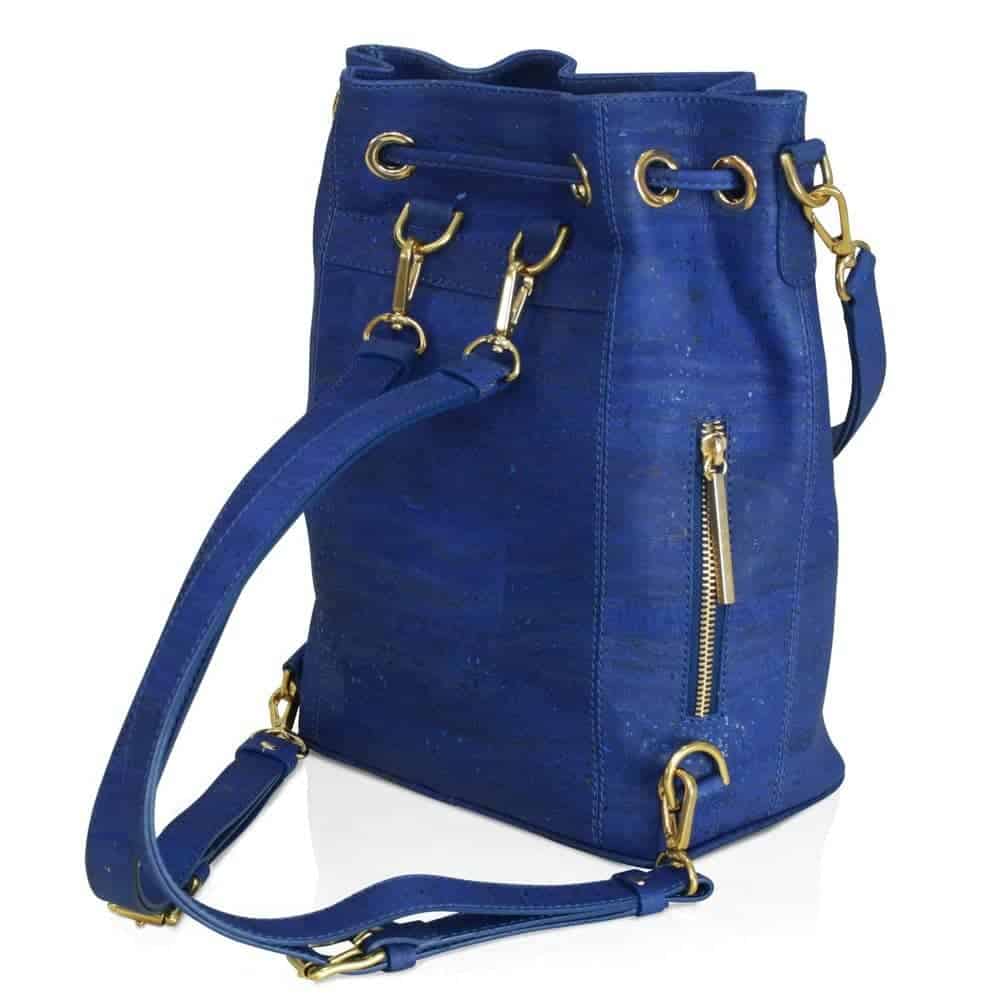 Cork is one of my favourite materials as it's so eco-friendly, plus it's naturally lightweight, durable, biodegradable and water-resistant.
This blue cork bucket bag from Murmali is absolutely gorgeous, and I love that it's convertible, making it so versatile. It can be worn as a shoulder bag, carried by the handle or worn as a backpack.
It comes with a set of adjustable and detachable straps so you can wear the bag in different ways.
It closes with a drawstring and magnetic snap closure, which I like (as a double-layer extra deterrent for pickpockets).
It has an internal zippered pocket and is lined with cork. It also has handpainted edges and all Murmali bags are handcrafted in a workshop in Portugal (where the cork is also grown).
---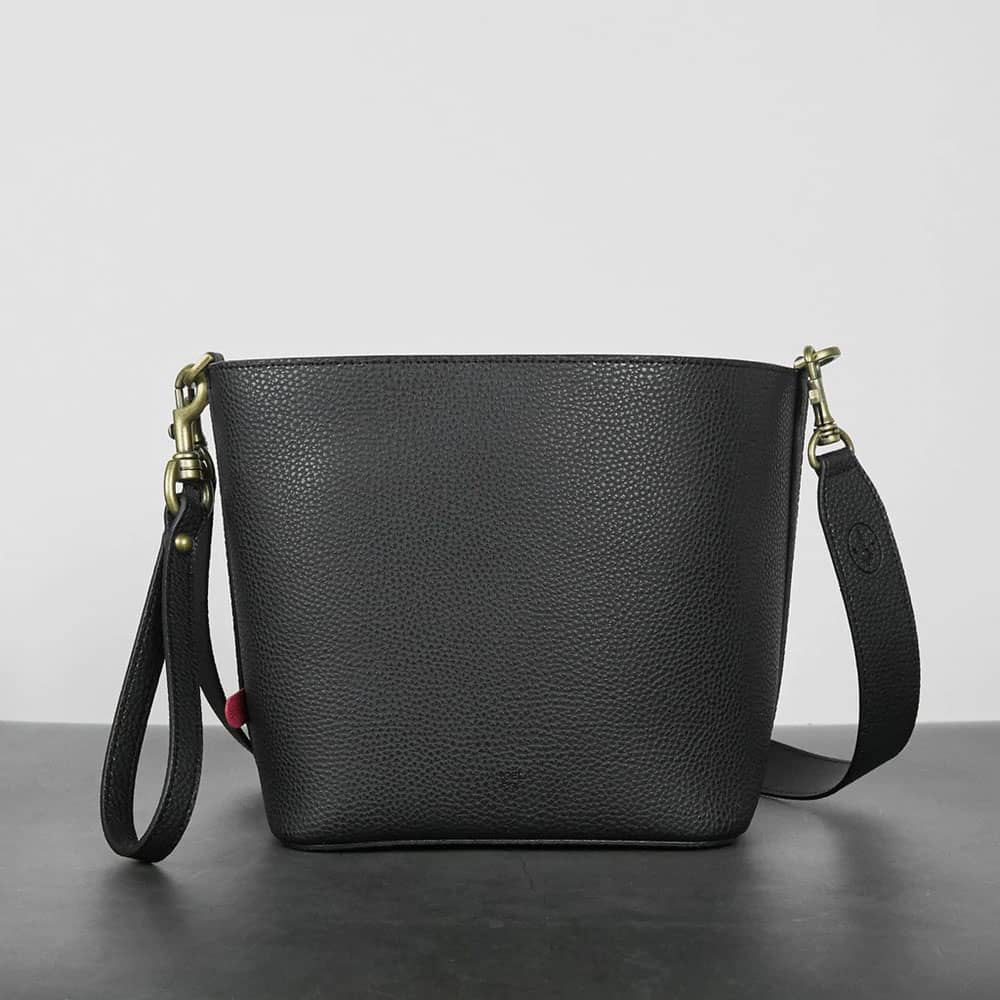 The Angelou vegan bucket bag from Angela Roi is a bag that will match everything, and can see you from work to after-work drinks.
Made from a pebbled vegan leather, the mini bucket bag has a magnetic snap closure, brass style gold hardware and comes with two different straps. Both are non-adjustable; one is a shoulder strap and the other a handheld strap, so you can choose which way you prefer to carry your bag.
It has a zippered interior pocket and is lined with fabric.
The downside of the bag is that the top is fairly open, with just one magnetic snap to hold it closed, so I wouldn't recommend taking it on a trip to a pickpocket-prone city, but if you live somewhere without pickpockets then it might be right for you.
---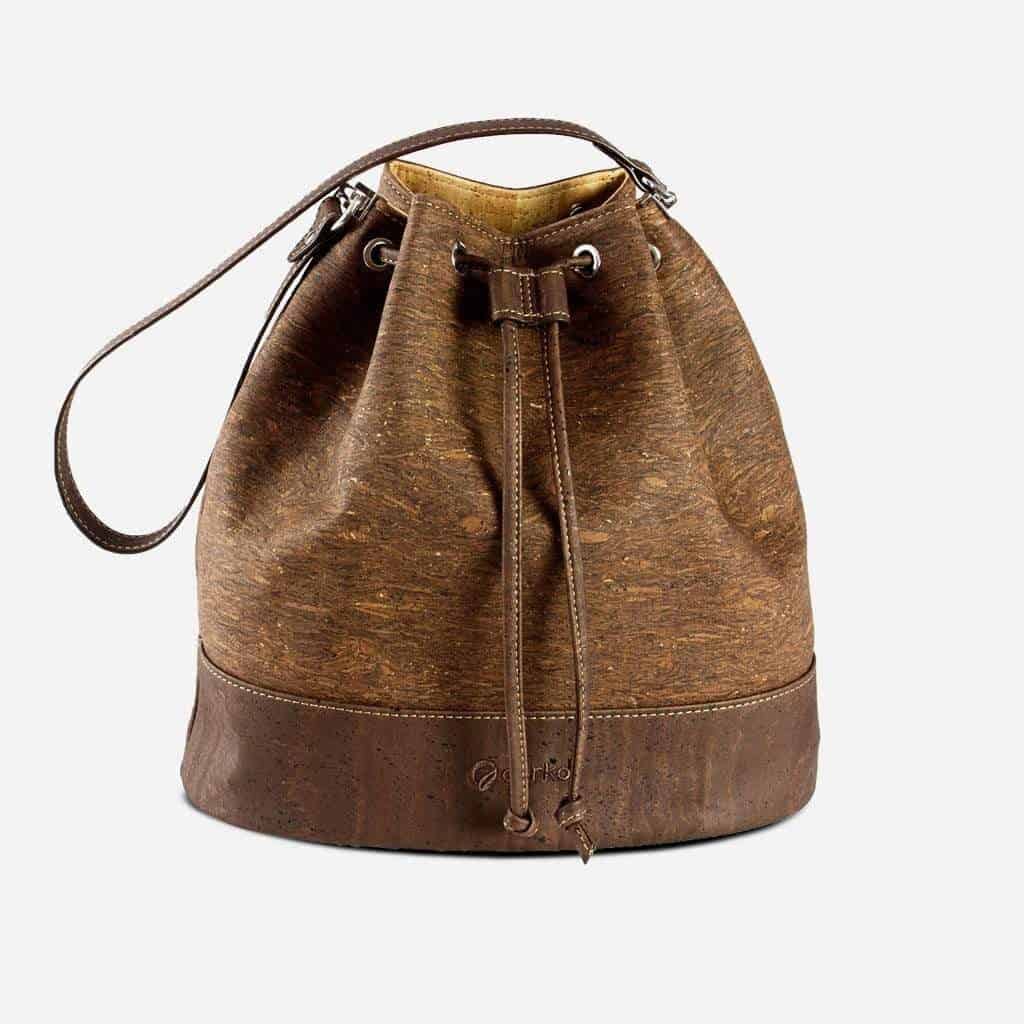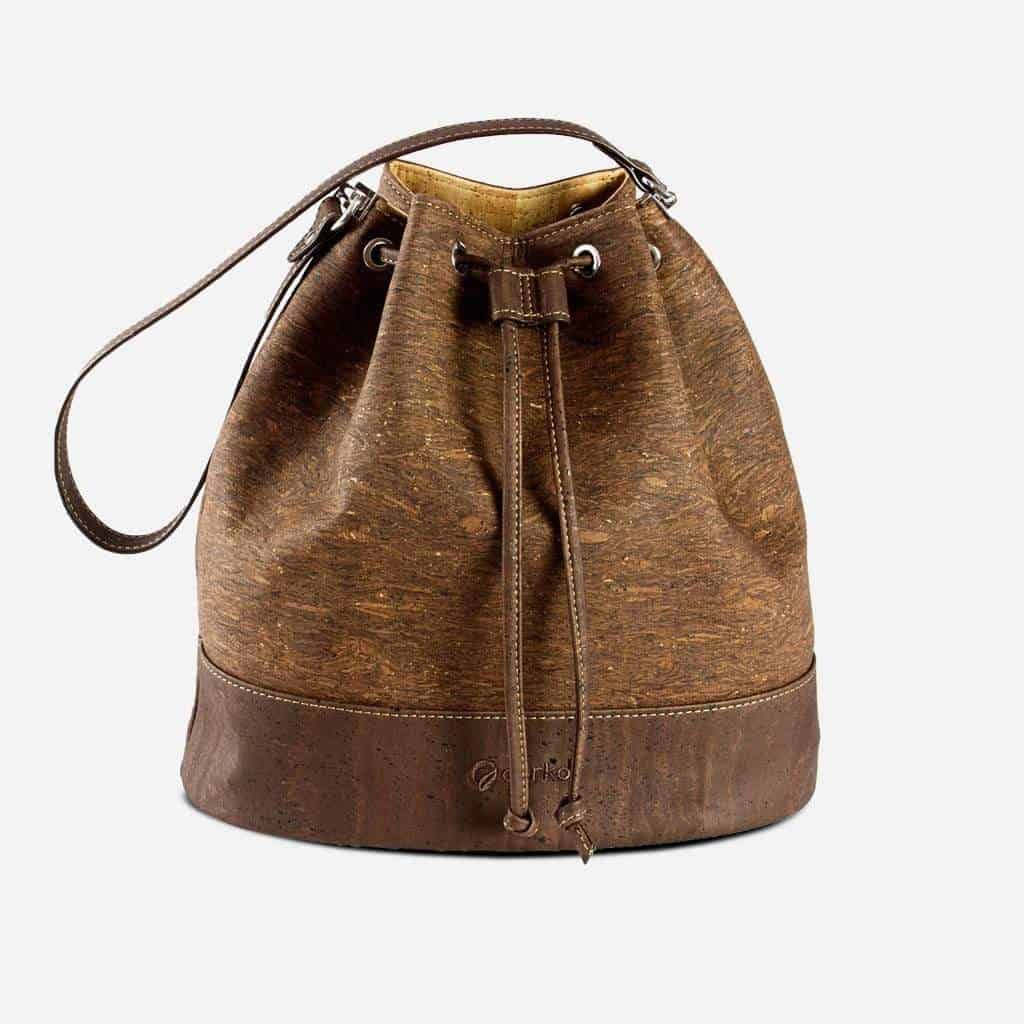 This bag is made from eco-friendly cork.
As I mentioned before, cork is a sustainable material since cork trees don't need to be cut down to be harvested (they are harvested by hand and then re-generate within 9 years). They also don't require much water or fertiliser. Cork is also a biodegradable material and is naturally durable and water-resistant.
The bag is roomy and features a keyring holder and a zippered interior pocket, and it's lined with cotton fabric.
It has a top handle and a shoulder strap.
---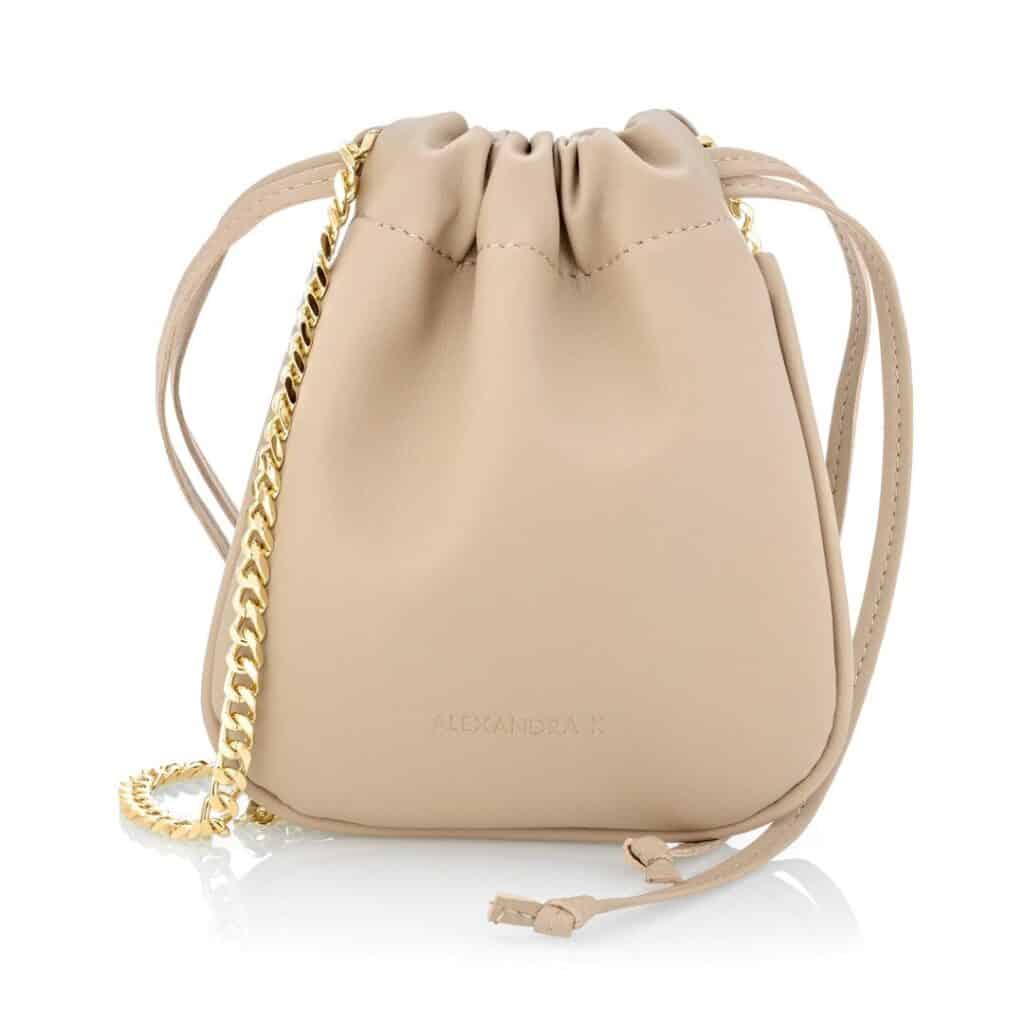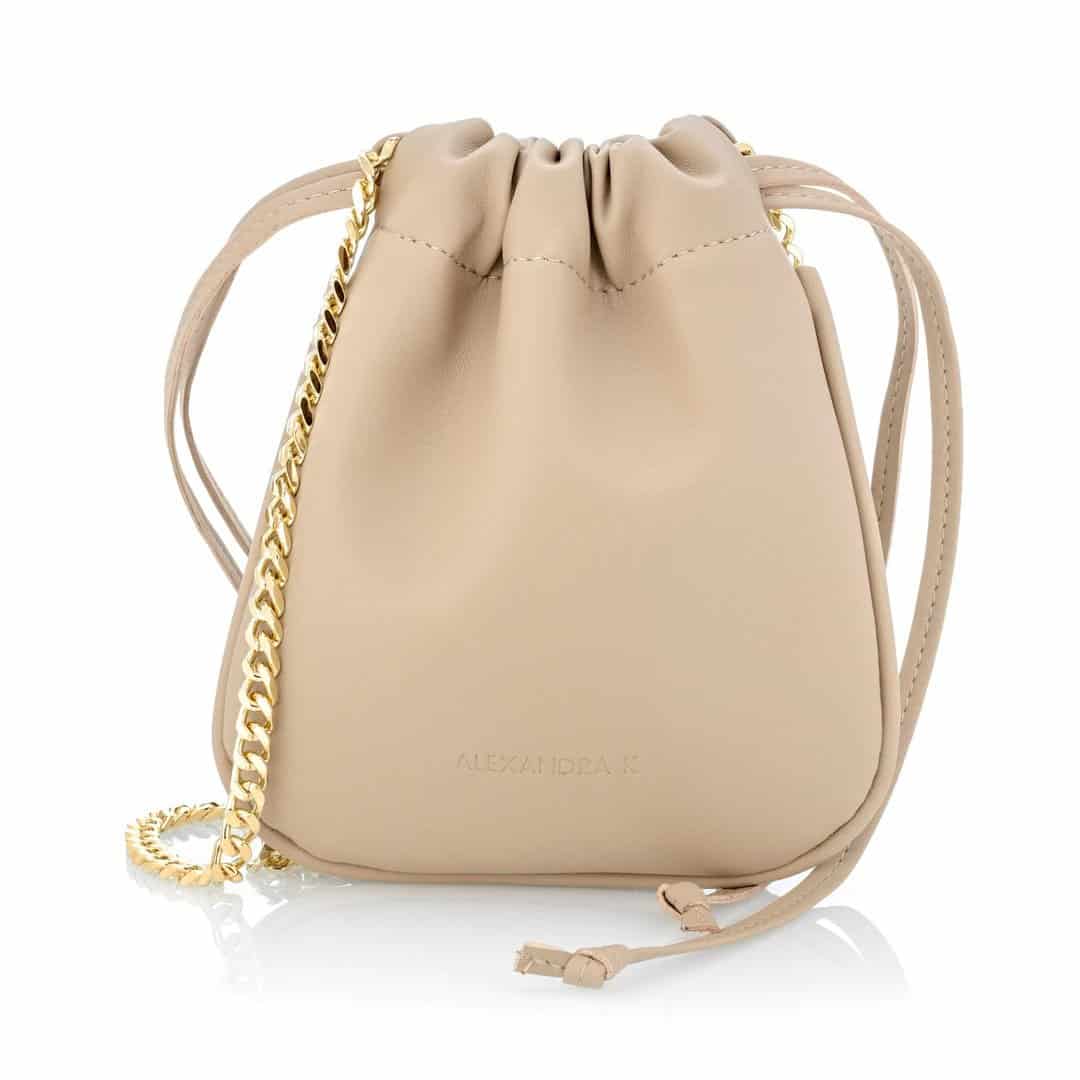 The Alexandra K mini bucket bag is made from bio-based vegan corn leather.
It has a gold tone chain strap that can be worn over the shoulder or crossbody.
It's a very compact bag so bear in mind it only suits if you want a very small bucket bag.
---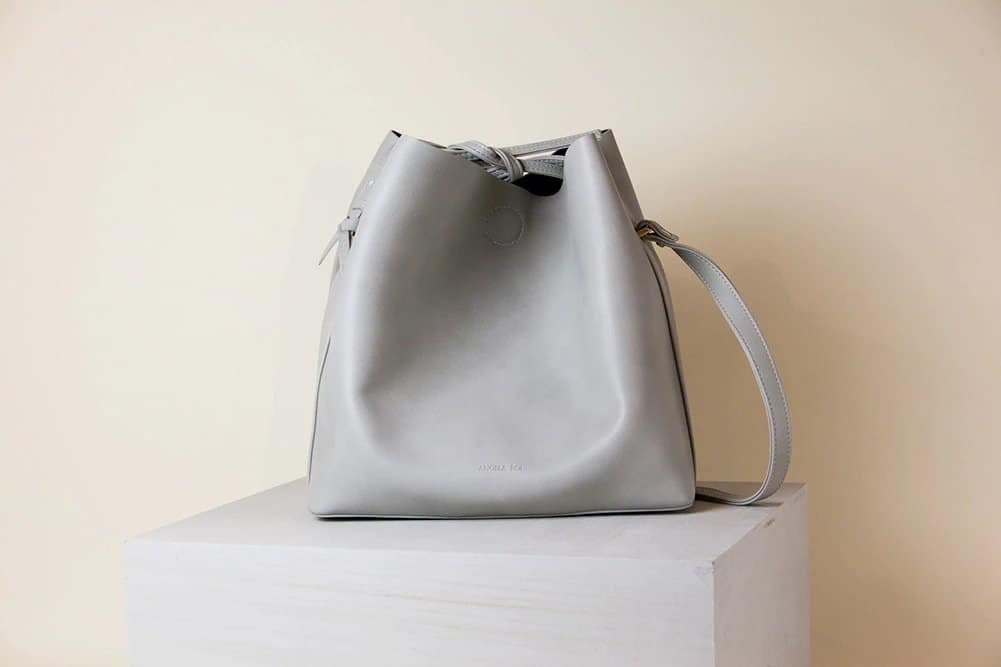 This minimalist designer bucket bag has a magnetic button closure and tie top.
It also comes with a detachable pouch.
It has an adjustable shoulder strap and round studs on the bottom.
The downside to this bag is it wouldn't be suitable for travel to a city.
I know I keep talking about pickpockets, but I've had my phone stolen out of my pocket while travelling and have heard of countless friends getting pickpocketed on trips, so I am a big advocate for taking suitable bags travelling. I don't buy bags that are marketed as pickpocket-proof, but I take bags that have a strong closure (usually zippered) and are easy to hold on to in front of my body (e.g. not a backpack).
---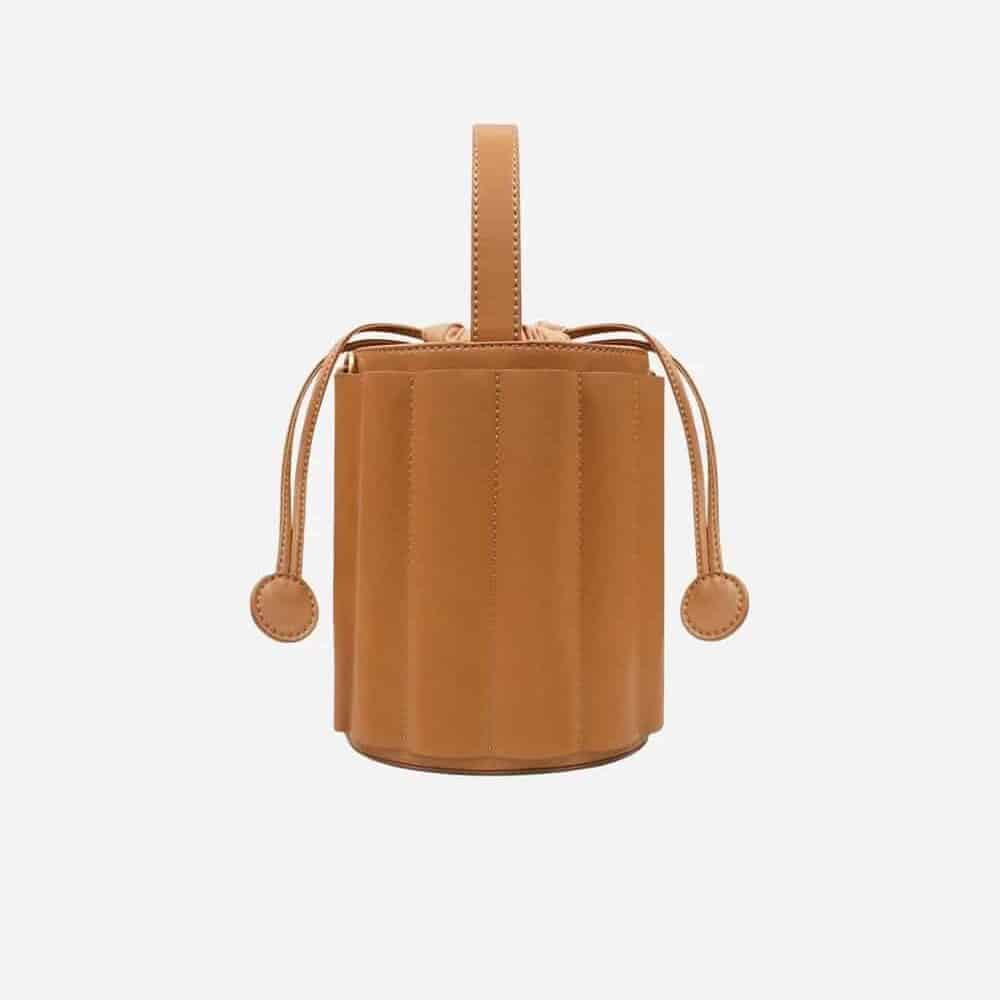 Another eye-catching design, this structured bucket bag is made of Alkeme Atelier's own exclusive vegan leather, which is made of 70% recycled materials.
It has an interior zippered pocket and an interior slip pocket.
The bag closes with a drawstring, has a 44″ detachable long strap and features matte gold-tone hardware.
---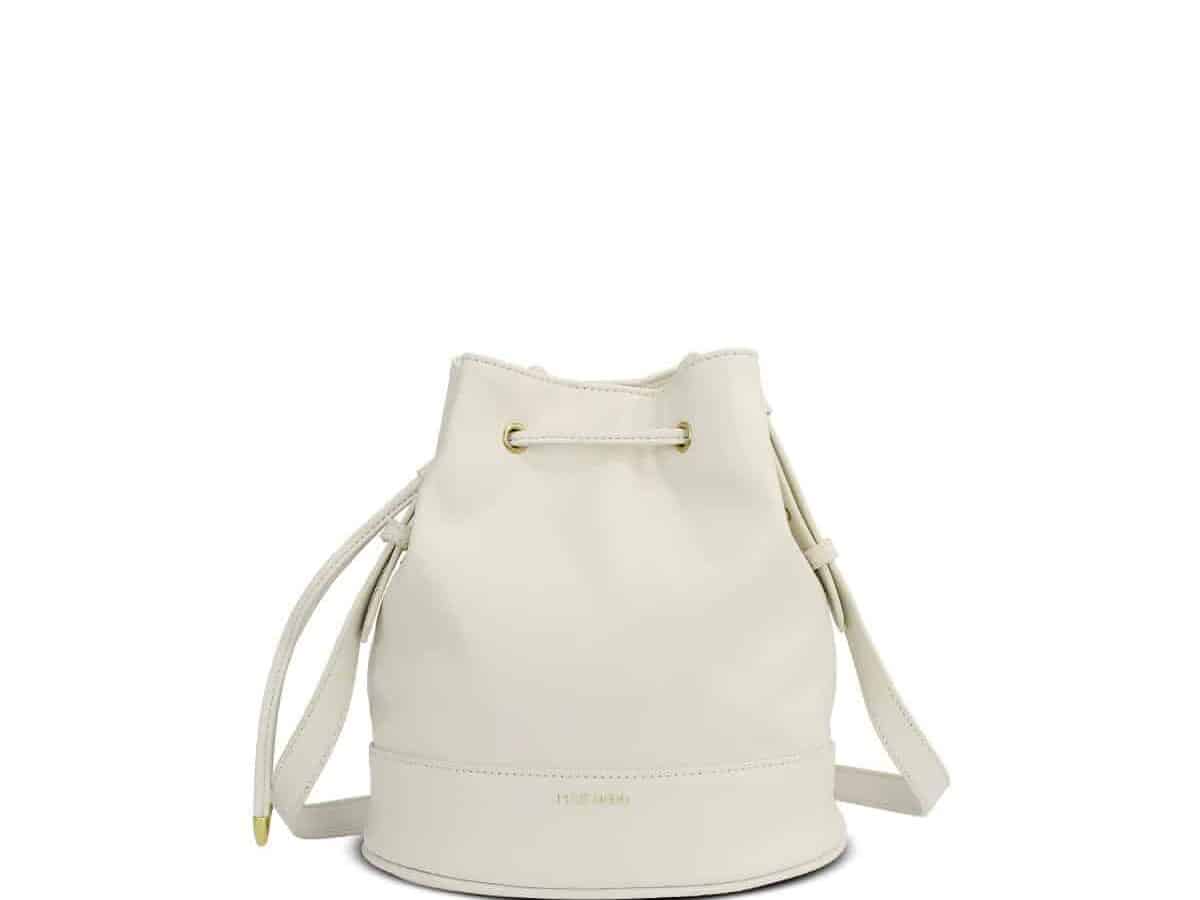 The Amber bucket bag from Pixie Mood comes in eight different colours and is made of recycled vegan leather, with a lining made from recycled plastic bottles.
It has a drawstring closure and additional magnetic snap closure.
Inside, it has one slip pocket. The bucket bag comes with an adjustable crossbody strap.
---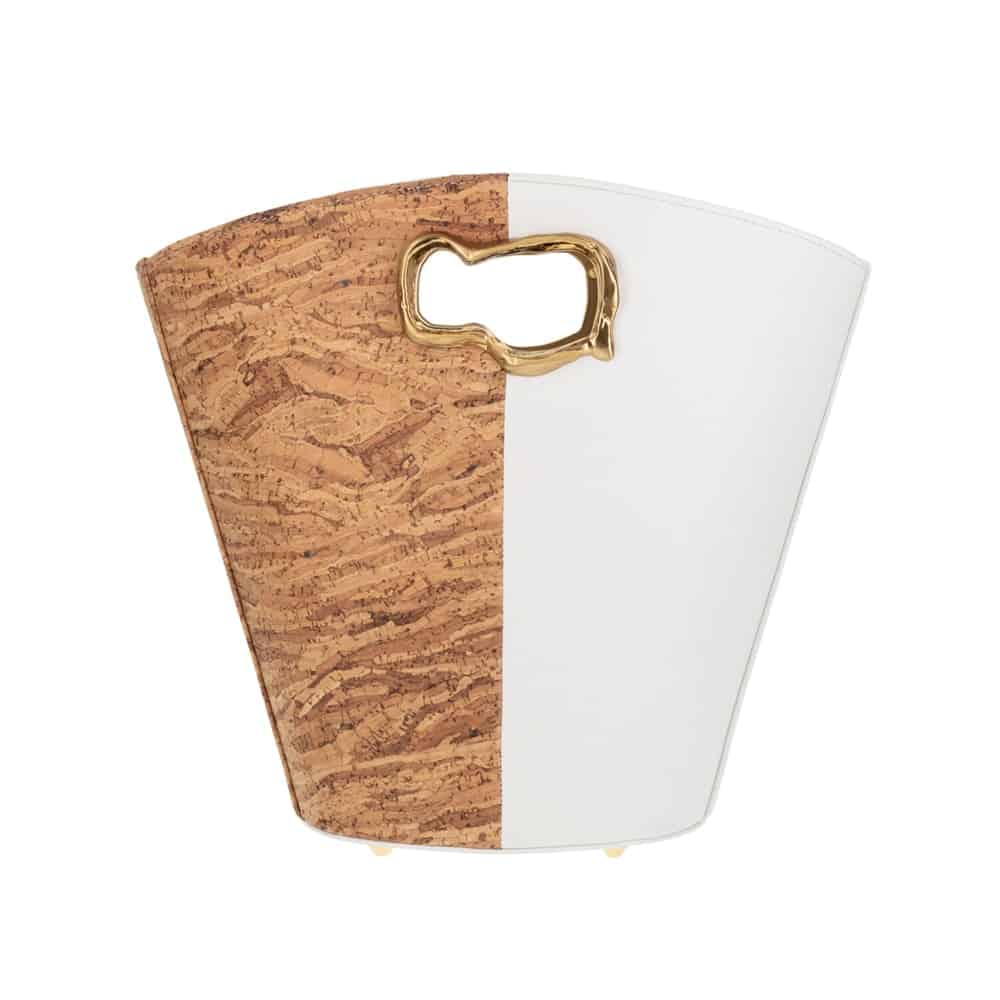 This gorgeous bag from Mashu is made of half eco-friendly cork and half eco-friendly cactus leather. (I have a whole guide to vegan cactus leather bags, which you can find here.)
The cruelty free bag features a signature nature-inspired gold-plated brass handle and is lined with organic cotton.
Inside, the bag has multiple compartments and a pouch to help you keep your things organised.
The bag also comes with a detachable crossbody strap.
---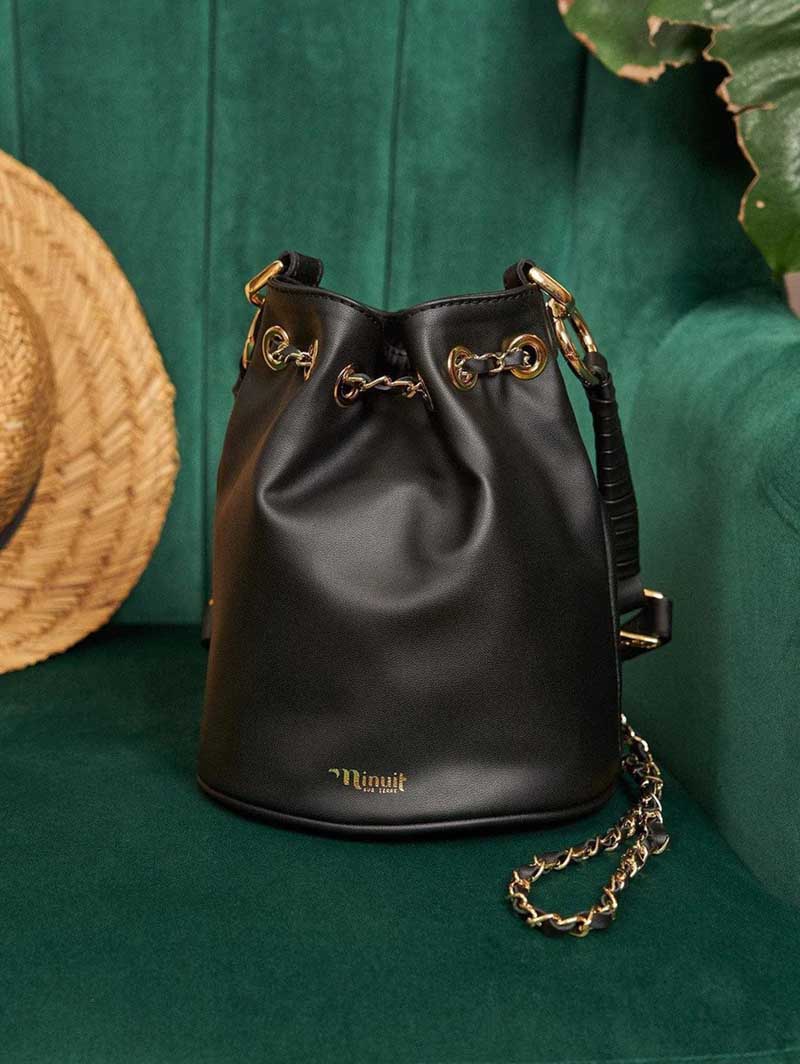 This cute drawstring bucket bag is made from vegan grape leather, an eco-friendly alternative material which is made from grape skins left over from the wine industry which would otherwise be waste material.
The lining is 100% recycled polyester made from plastic bottles recovered from the Mediterranean Sea.
It has a removable hand-held handle plus a long chain-link strap. The hardware is all gold toned.
On the inside it has two patch pockets and one zippered pocket.
Like all Minuit Sur Terre products, it's made in Portugal.
Pin this for later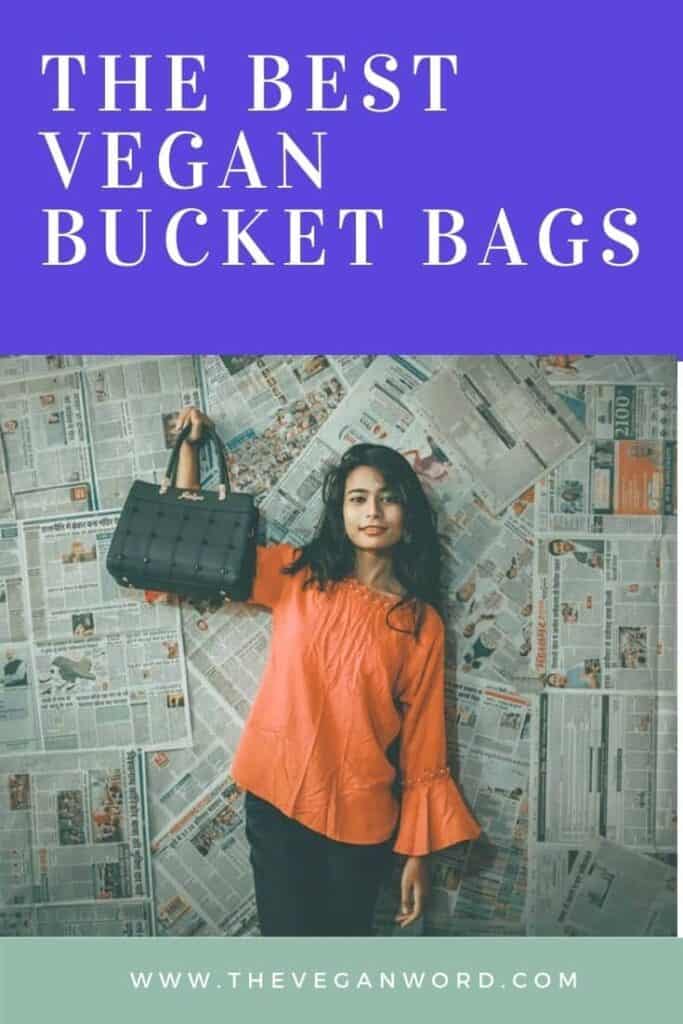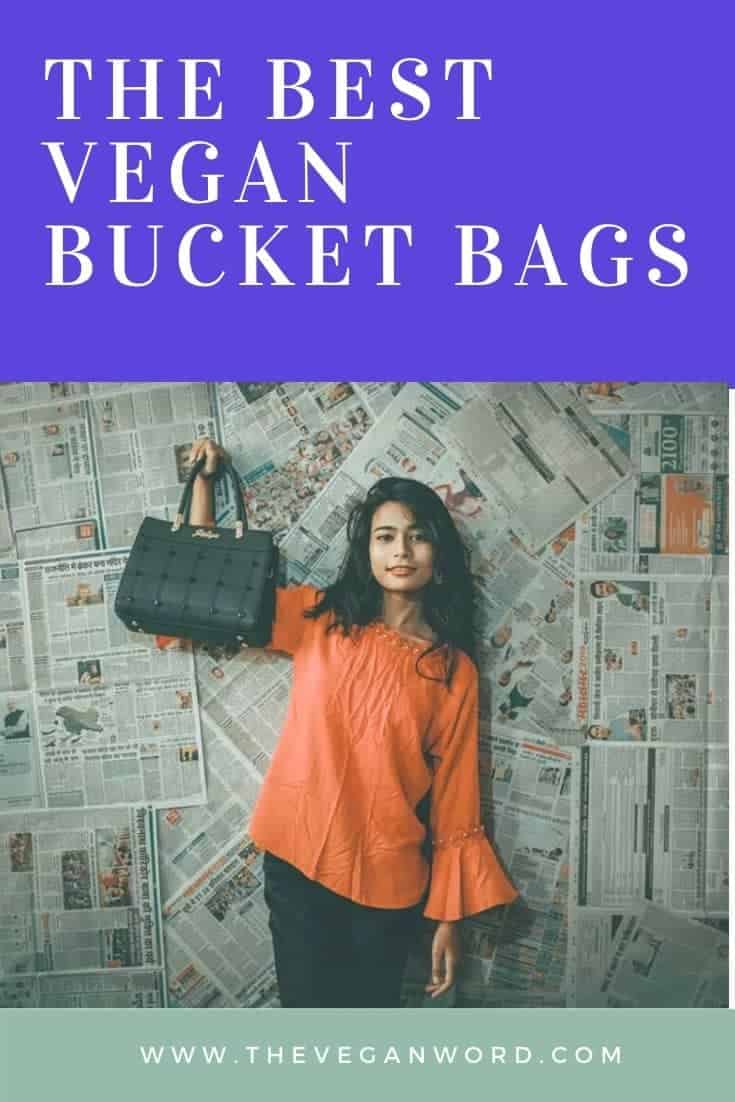 Still searching for a handbag? Check out my full guide to vegan purse brands, or my individual guides to vegan crossbody bags, vegan clutches, vegan backpacks, vegan totes, vegan briefcases, vegan messenger bags and vegan satchels.
I also have a guide to vegan designer bags and a guide to vegan luggage.
Find all my vegan fashion & beauty guides.
Main image: Photo by Purtika Dutt on Unsplash