Vegan handbags are more than a leather-free place to store your wallet and keys. Bags, after all, can be an essential part of your outfit. But can you find vegan leather bags that are just as stylish as their non-vegan counterparts? Absolutely, thanks to these vegan purse brands!
Special discounts:
In this post, I'll be looking at the best vegan bag brands, including:
More vegan leather purse brands:
Vegan purses come in a variety of different styles and for all budgets. Whether you're looking for a vegan satchel, vegan leather crossbody bag or a shoulder bag, you can find a non leather version of the bag of your dreams.
Here are the best vegan purse brands to shop online.
Best Vegan Purse Brands
When it comes to vegan purses, brands have expanded their ranges in recent years. These are the best non leather bags brands.

Based in Canada
Features: 100% vegan
Free climate positive shipping over $99.
Pixie Mood is an all-vegan brand making non leather handbags. These are some of the best vegan leather handbags for sustainability. They work with Terrapass on becoming carbon neutral and offset all their shipping, making their shipping climate positive.
The foam they ship with is recyclable and packaging with made with biodegradable corn-based materials.
Their affordable non leather bags are made of polyurethane (PU), which is more eco friendly than PVC, and come in different styles like bucket bags, vegan leather tote bags and crossbodies.

Based in Canada
Features: 100% vegan
Free shipping on orders over $100/£70.
When it comes to vegan bags, brands like Matt and Nat and GUNAS are some of the oldest. Matt and Nat vegan bags are some of the top vegan handbags as they're probably the most well-known vegan handbag companies.
Founded in Montreal in 1995, it has a long history of making vegan bags and wallets and more recently started branching out into shoes and outerwear.
Matt & Nat stands for Mat(t)erial and Nature and has been vegan since the start.
All linings of their faux leather handbags are made from recycled plastic bottles. In making Matt and Nat purses, they recycle 9 million plastic bottles per year.
Note: I'd recommend checking the exterior material and avoiding anything with PVC. Matt and Nat still use PVC in a few designs, which is very bad for the environment, so make sure to go for a bag made with PU vegan leather or another alternative like vegan grape leather.
I have a Matt & Nat wallet that's nearly 10 years old so their vegan purses, handbags and other products seem durable!
In terms of range, this is one of the best vegan handbag brands with the biggest range of designs, and you can find a vegan hobo bag, diaper bag, vegan leather tote bag, vegan shoulder bag and more.

Based in the UK
Features: 100% vegan
If you're looking for classic style bags, made vegan, Watson & Wolfe is the brand for you.
When the brand started in 2016, their intention was to use leather – until they started researching it and uncovered the facts of the leather industry and changed direction.
The brand is entirely vegan and focuses on men who are looking for eco-friendly alternatives. They mainly make wallets and belts but they also have a small collection of vegan women's bags.
These vegan brand handbags are mainly classically designed totes and crossbody bags in black or brown vegan leather.

Based in New York
Features: 100% vegan
Free shipping to US, Canada. Ships worldwide.
GUNAS was one of the first vegan handbag brands. Since Sugandh G. Agrawal founded GUNAS in 2009, they've been making high fashion, cruelty free handbags.
They've won several awards, including Best Green Handbag Designer by Instyle in 2018 and Macy's Best Retail Handbag by an Independent, also in 2018.
Their vegan leather purses come in a really big range of styles, from satchels and crossbody bags to clutches, tote bags, shoulder bags, backpacks and laptop bags. They also have vegan men's bags and wallets.
The brand is 100% vegan so you can be sure there are no animal products in any of the range!

Based in Portugal
Features: 100% vegan, sustainable materials
Worldwide delivery
Sustainable fashion doesn't get much better than cork. Cork is one of the most sustainable materials because cork trees require very little input in terms of water and fertilisation, making them low-carbon, and can be harvested without destroying the tree.
It's water impermeable and looks great, making it an excellent vegan leather alternative!
As far as vegan leather bag brands, Corkor is one of the most sustainable thanks to cork. This is a 100% vegan brand that makes bags, wallets and belts out of cork. All their products are crafted by artisans in Portugal.
Their vegan leather handbags are not only cruelty-free, but sustainable as well. Whether you're looking for a vegan bucket bag or a vegan crossbody purse, Corkor has a cork-based alternative.

Based in California
Features: 100% vegan
Doshi is an all-vegan bag brand founded by long-time vegan and lifelong vegetarian Paras Doshi, who first noticed how hard it was to find vegan accessories when he began his first job in 2001.
One of his main aims was to create vegan leather bags that lasted a long time.
One thing that sets Doshi apart is its emphasis not just on bags for fashion, but work bags. They sell vegan backpacks and briefcases for men and women, as well as totes, a vegan clutch and crossbody bags.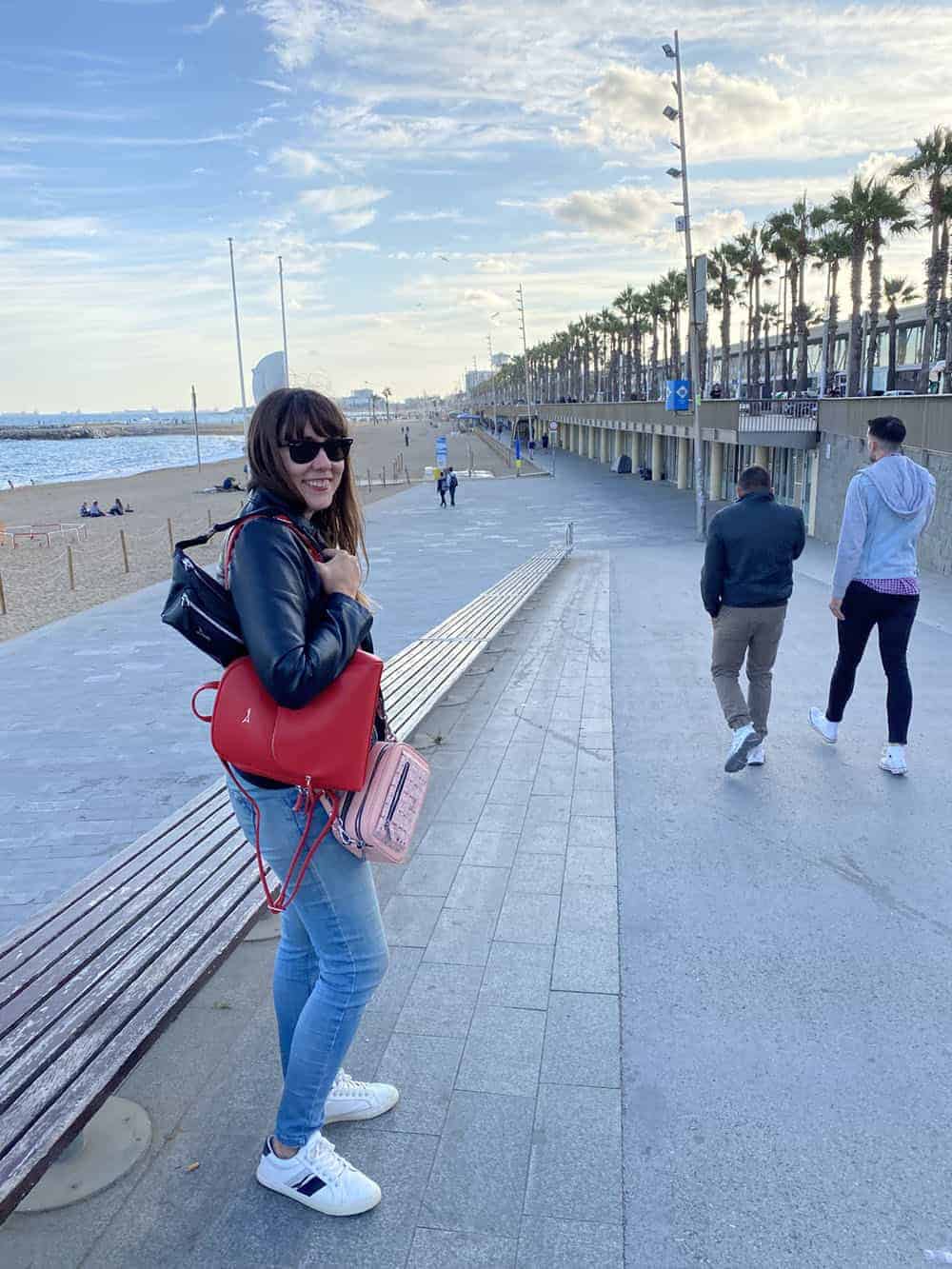 Doshi very kindly sent me some of their bags (a backpack, crossbody and belt bag – here I am pictured with all three of them) to try out and I was really impressed with the quality.
The very first thing I noticed when I opened the package was the quality of the vegan leather – it feels really soft, quite a bit softer than your standard faux leather.
Paras explained this is because of the vegan leather they use, which is a microfiber vegan leather. Many vegan bags are made using PU leather, which tends to peel and crack over time and doesn't last very long.
Microfiber leather, on the other hand, is much more durable meaning these bags are built to last!
Based in the US
Features: 100% vegan, sweatshop free
Melie Bianco is a non leather purse company that designs vegan bags in different colors. I love their pops of color and own a mustard yellow Melie Bianco bag I managed to snag secondhand a couple of years ago.
Whether you're looking for a vegan leather shoulder bag or practical convertible belt bags, Melie Bianco has different styles for all.
As well as the usual black and brown cruelty free, vegan handbags, they have mint green, coral and mustard yellow designs.
They also proudly state they are sweatshop free.

Based in Israel
Features: 100% vegan, handmade
Lee Coren's handcrafted vegan, ethical purses are designed and made in Israel, using locally sourced materials (except for the vegan leather, which she sources from Italy).
Her designs are inspired by her travels and are stunning, particularly this confetti design, inspired by Rome, Italy.

Best: vegan handbags UK (though they also have a US store)
Based in the UK
Features: 100% vegan, sustainable, sweatshop free
Labante London was founded in 2009 and aims to be as sustainable as possible, using a circular model to reduce waste.
They also use recycled plastic bottles for the linings of their vegan brand purses and use a solvent-free, water-based polyurethane vegan leather.
All their vegan goods are ethically made and sweatshop free. These are some of the best vegan purses for sustainability and ethics.
I own a Labante bag and it seems really well made and durable, though I don't use it every day so I can't tell for sure. But I've had it several years and it's still in good condition!
Labante vegan bags come in a range of different styles, from a vegan clutch bag to a laptop bag to a backpack or tote bag.

Based in the US
Features: 100% vegan
Angela Roi's luxury vegan handbags came about because of a belief that personal style shouldn't have to be sacrificed for values.
Whether you're looking for a vegan crossbody bag or a vegan tote, their bags come in a variety of classic styles, in different colors.

Based in LA
Best for: vegan handbags made in USA
Features: 100% vegan
Free shipping
Svala's vegan bags are made using European fabrics and are made in Los Angeles, in a factory where workers are treated fairly. All their bags are free from PVC and they use cotton and recycled polyester for the linings.
Their bags tend to be classic in style and color, so great if you're looking for a vegan version of a traditional handbag that will be in style for years to come.

Based in the UK
Features: 100% vegan
Will's started out specialising in men's vegan shoes, but now you can find a wide range of products from one of the top vegan leather brands, whether you're looking for a wallet or a bag.
Vegan through and through, everything at Will's is entirely vegan.
Their cruelty free bags are mostly classic in style and color and many are unisex. Whether you're looking for the best vegan messenger bags or briefcases, they perfectly transition from day to night and make good office bags or weekend bags.
They have online stores for the US, UK, Germany and the rest of the EU – just switch your country/currency in the upper lefthand corner.

Based in the US
Features: 100% vegan
Free shipping over $150 to most countries
Samara is an all-vegan bag brand using a variety of eco-friendly materials, including apple leather, bamboo, castor seeds and recycled plastic bottles, as well as standard PU vegan leather.
One unique aspect of Samara bags is that they have some trendy mini bags perfect if you're minimising what you take out with you. If you're looking for the the best faux leather purses that will fit the essentials but not weigh you down, these are ideal. For example, bestselling The Mini (a clutch), the mini fanny pack and the apple mini crossbody, made with apple leather.
They also have vegan tech solutions, like airpod holders, an iPad sleeve or laptop cases.

Thalie is one of the newest vegan leather handbag brands, starting in France during lockdown. It's a 100% vegan brand with a focus on sustainability and they were the first to make vegan handbags made of Desserto cactus leather.
You can find my full guide to vegan cactus leather bags here.
Their vegan friendly purses are made with high quality vegan leather made from cacti. Cactus leather is one of the newest innovative, sustainable vegan leather alternatives.
It's made from Nopal cactus, which doesn't require much input in terms of water for production and thus saves resources. Cactus leather is soft, hard-wearing, resistant to tears and durable, plus unlike animal leather it deals well with with humidity.
These stylish vegan handbags are PETA certified vegan.

Best for: vegan bags Europe
Alexandra K is a 100% vegan bag brand from Poland (that sells worldwide). They also make shoes using eco friendly materials like vegan grape leather.
They've won several PETA awards for their collection. They have a range of vegan crossbody bags, tote bags and backpacks.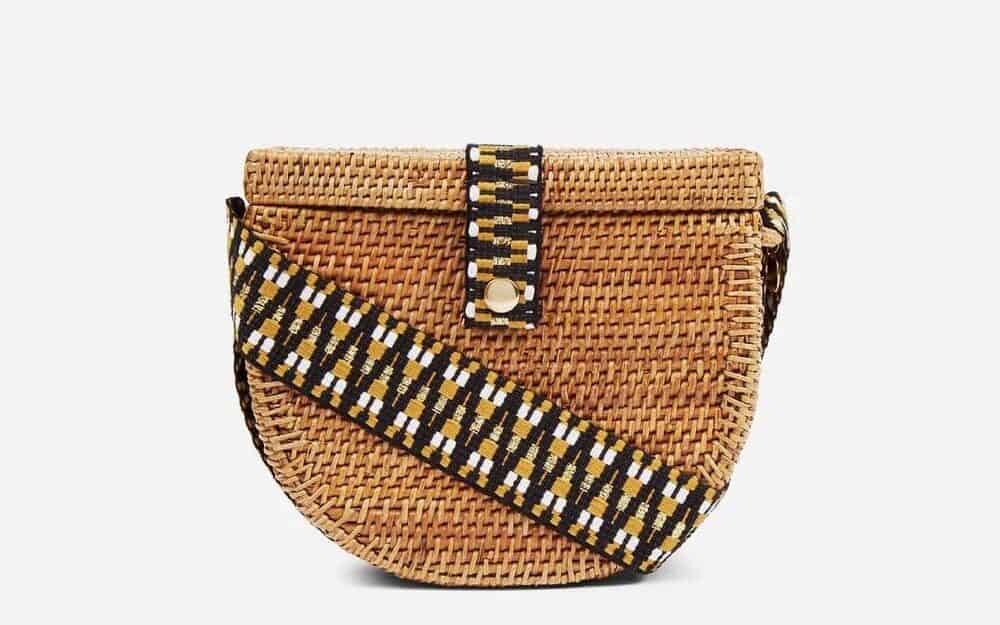 Stelar makes the cutest vegan bags out of natural materials such as bamboo and woven atta grass. They employ artisans in Bali to handcraft their bags and pay a fair wage. Their aim is to revive communities, protect and promote traditional artisanship and provide a sustainable living for the artisans.
Founded by trained goldsmith Lorna Watson, Stelar has a number of vegan options, like their large bamboo shopper. My favourite, however, is the atta grass woven satchel pictured above, which comes in a jacquard strap. Stelar also makes jacquard woven belts.
Best Luxury Vegan Handbag Brands
For my full guide to designer vegan handbags, click here. Here's a selection of the best cruelty free bag brands in the luxury sector.

Based in the UK
Features: Vegan options
If you're looking for vegan designer bags, look no further than Stella McCartney's range. The range of luxury vegan leather bags, totes and backpacks are designed using vegan leather. These are the best faux leather bags from a luxury brand.
While the whole brand isn't vegan (Stella is vegetarian and uses silk and wool in some of her clothes), the bags are all vegan.
These vegan leather designer bags are popular with celebrities, especially the iconic Falabella bag, which is now a classic.
The vegan designer handbags from Stella McCartney come in nearly 100 different styles, so you can be sure to find one that suits you.
Best vegan bag brands for affordability

Based in LA
Features: All vegan
Free US shipping
Scarleton is an ultra-affordable handbag brand with vegan options. If you're looking to purchase affordable vegan handbags, they have a wide inexpensive vegan bag range.

Based in the US
Features: 100% vegan
JW Pei makes faux leather bags with a view to provide "affordable luxury." Their affordable vegan handbags include vegan tote bags, shoulder bags and crossbody bags.
They have one of the widest ranges of non leather purses I've seen, with hundreds of different designs, with different styles of vegan leather and in many colors, including some bright color pops like grass green or bright orange.

Located in the US
Von Holzhausen is a vegan bag company with a difference. Unlike most other vegan leather bag companies whose focus is on the bags themselves, their focus is on creating vegan leather that outperforms animal leather, and their bags are made out of their own vegan leather materials.
Most are made of their vegan Technik-leather, which is lightweight, biodegradable, water-resistant and scratch-resistant.
Their designs are timeless in style and sure to go with any outfit.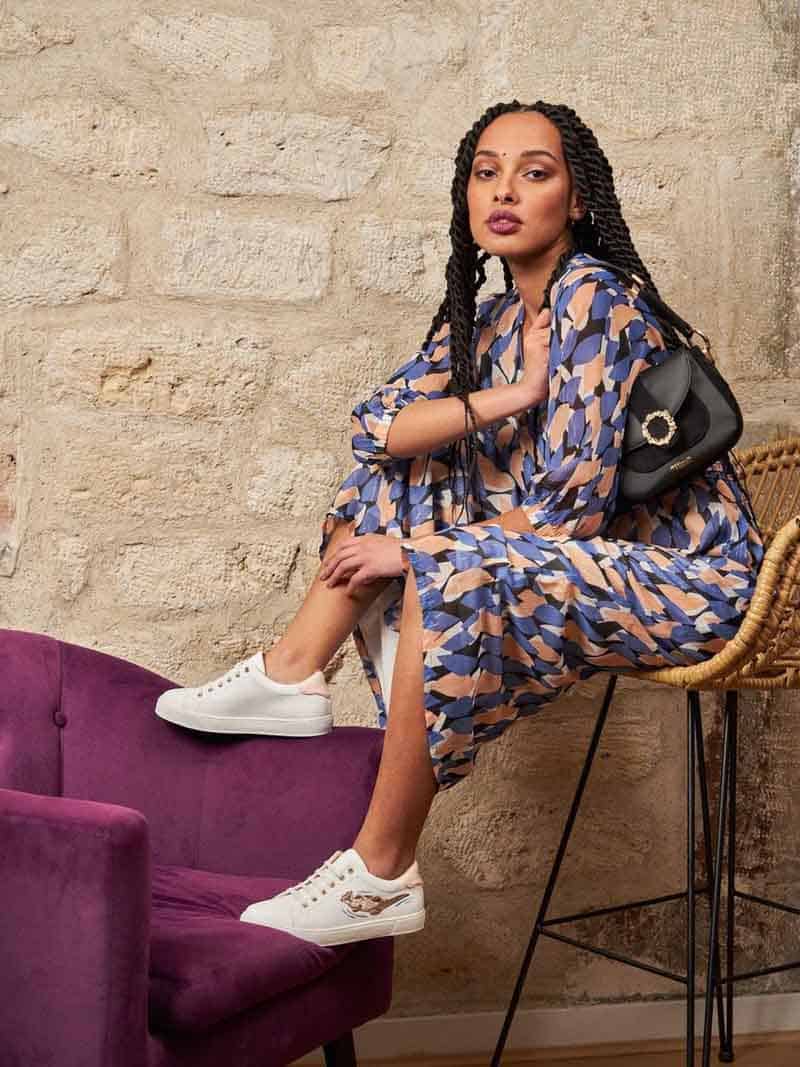 Based in France
Minuit Sur Terre is a French vegan company that makes vegan bags and shoes, and I love their design details.
For example, the bag pictured above is made of vegan grape leather in a classic crossbody/shoulder style but I love the detail of the gold-tone clasp, which is made of tiny leaf motifs in a circle.
They have a wide range of bags styles, from backpacks to crossbodies to bucket bags, and they use eco-friendly materials for their vegan sustainable bags such as vegan grape leather, made with the leftover grapeskins from the wine industry.
More vegan brands for bags:
Brands with vegan options:
FAQ
What purse brands are vegan?
There are a number of cruelty free purse brands around the world, from Alexandra K in Poland to Minuit Sur Terre in France and Labante London.
There's also a wide range of price points, from budget brands such as JW Pei to high-end vegan handbag designers like Stella McCartney.
In short, there's a huge number of vegan friendly handbags these days.
Where can I find vegan name brand purses?
There aren't many vegan options from high-end fashion houses (yet) but one notable exception is Stella McCartney, the best non leather handbags on the luxury side of things. The whole range is vegan, as the entire fashion house is vegetarian just like Stella, so no leather is used (however, she does use wool and silk in some clothing designs, so beware if you look at those).
The high quality vegan handbags from Stella McCartney are beloved by celebrities and sure to turn a few heads.
Other well-known brands selling vegan bags are Telfar, Themoire and Kenneth Cole (not all bags are vegan so check materials!).
Pin this for later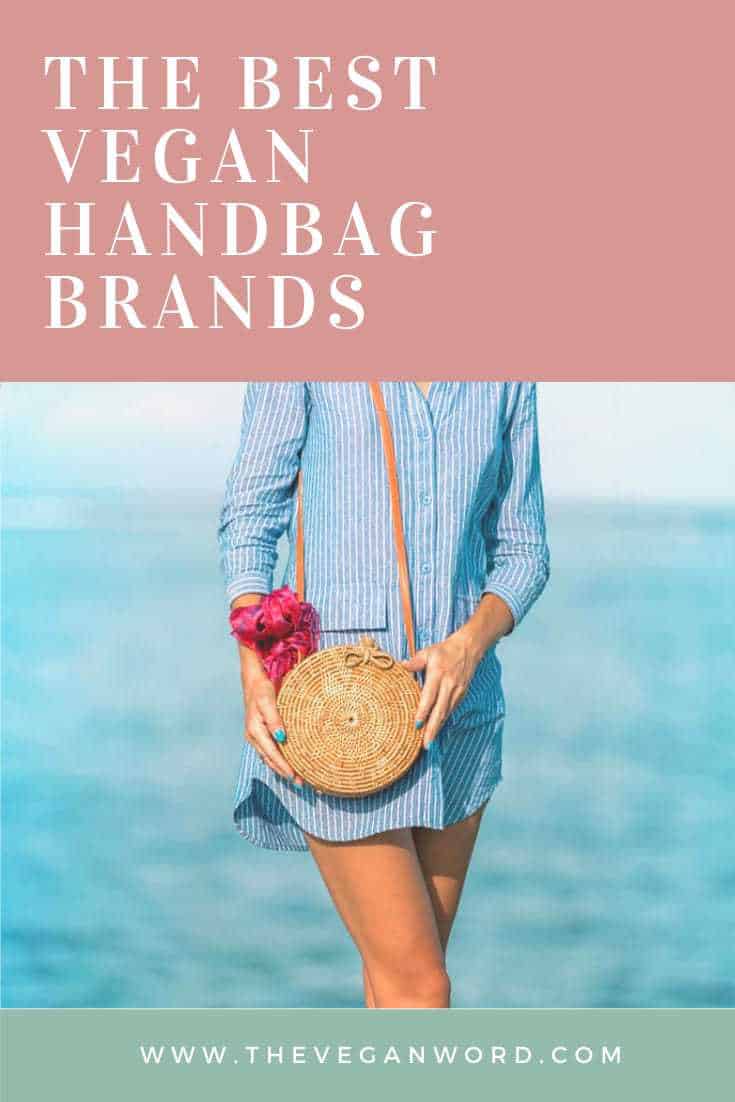 If you're searching specifically for crossbody bags, see my vegan crossbody bag guide.
And if you want a tote bag, check out my guide to vegan tote bags.
If you prefer a backpack, find my guide to vegan backpacks.
I also have guides specifically for vegan laptop bags, vegan satchels, vegan bucket bags and messenger bags.
For designer style, see my guide to vegan designer bags.
Looking for more vegan fashion & beauty inspiration?
Find my guides to vegan shoes, vegan boots and vegan sneakers.