Looking for vegan Skechers sneakers? Whether looking for the right sneakers for style or comfort, you may be wondering if Skechers vegan shoes exist. They do!
To help you out I've put together this list (as a vegan since 2008, I know the pain of trawling through shops and websites trying to find vegan shoes!). Here are some of the top vegan Skecher styles, and a Skecher-style sneaker from an all-vegan sustainable brand (NAE).
Skechers actually have a fairly wide range of vegan styles, so whether you're looking for vegan running shoes or just stylish mens vegan trainers, they've got a style for you.
Need supportive sneakers? The Skechers Arch Fit vegan shoes are a podiatrist-designed shape.
These vegan shoes have a breathable knit mesh upper, a cushioned midsole and traction outsole.
The Skechers vegan trainers have a removable insole made with their patented podiatrist-certified arch support (but if you have your own custom insoles having removable ones is helpful as you can put in your own).
They're shock absorbent and also are designed to stay cool with airflow thanks to the mesh textile upper (no one wants sweaty shoes!). Though on the downside, these are really best suited to summer or temperate climes as the fabric upper isn't waterproof for winter.
---
The Skechers Go Walk vegan sneakers are made to be comfortable and quick to put on.
These Skechers vegan slip on shoes are very much "grab and go" mens vegan sneakers. Simply slip them on and go… But they still have arch support!
With Arch Fit insole cushions (just like the Skechers women's sneakers above), they're made based on podiatrist foot scans. (The insole is also removable in case you want to replace it with your own.)
The upper is made of breathable mesh textile for air flow and they have an elastic stretch piece on top to fit wide feet.
As vegan sport shoes, they're suitable for a wide range of activities, from walking to lifting to the gym, and are easy to clean as they're machine washable.
The good thing about vegan slip on sneakers is they're easy to put, particularly if you have any difficulty bending over for long periods to tie up shoelaces. On the other hand, slip-on shoes don't allow you as much flexibility to tie them tighter or looser like lace-up sneakers do.
---
Looking for Skecher sandals? Vegan Reggae sandals are a classic look! These vegan walking sandals are ideal if you want something casual and comfortable, but not overly sporty-looking.
As vegan summer shoes, they'll go with a wide range of outfits. As well as grey, they the Skechers vegan Reggae sandals come in a number of different colours.
These vegan Skechers sandals have a comfort cushioned footbed and a rubber sole. The strap open and closes with an easy buckle, and to make these sandals easier to care for, they're machine washable.
---
These Skechers memory foam vegan sneakers have one of the most colourful and fun laces I've seen.
The Skechers vegan tennis shoes have a flexible memory foam sole and a rubber sole. Memory form may or may not be a good fit for you (and you should of course consult a podiatrist if you have specific foot issues) – some say they love its cushioning effect, but on the downside, it retains heat which is probably not a feature you want in a sport shoe (though the mesh upper helps with airflow).
These non leather trainers have an upper made from mesh and faux leather.
---
Looking for vegan non slip shoes for work?
These Skechers vegan sneakers in classic black will work with your work uniform, if you have one.
The vegan non slip work shoes have a slip-resistant traction sole, and a memory foam insole for comfort, making them ideal if you spend the day on your feet.
These vegan Skechers shoes have a mesh and synthetic leather upper. Depending on your job, you may not want mesh – it's not water-resistant, but it does promote airflow and keep the shoes feeling cooler.
---
Skecher's BOBS vegan shoes are Skecher's take on TOMS shoes – they donate to charity with them. However, they're not a like-for-like for TOMS, as TOMS donate a pair of shoes for each pair purchased (whereas Skechers doesn't donate as much!). TOMS have a number of vegan shoes, if you want a pair of TOMS.
However, if you want Skechers BOBS vegan shoes, these feature a memory foam footbed for comfort and are 100% synthetic.
---
These are hands-free, slip-in sneakers for ease, and are ideal if you have difficulty bending over to take your shoes on and off.
They're made from vegan materials and a synthetic sole, and have an air-cooled memory foam insole.
---
These Skechers vegan flip flops have a fun flower design, but are also designed for comfort, with a rubber sole and 1/2-inch flat heel.
They also have a yoga foam cushioned footbed for comfort.
---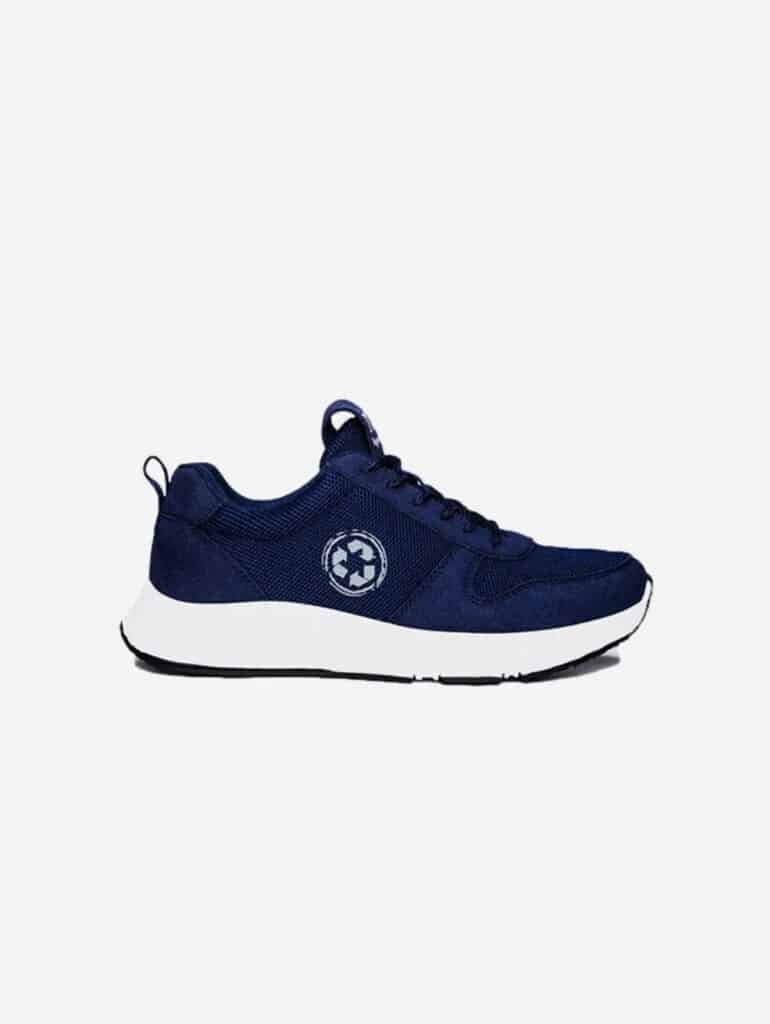 Love Skechers style but want to buy from an all-vegan brand? Look no further than NAE!
This vegan brand's shoes are made in ethical factories in Portugal.
The NAE Jor trainer's upper is made from 100% recycled plastic bottles. They're also 100% GRS (Global Recycled Standard).
They have lightweight EVA soles. On the side, where you'd expect a brand logo, they have the recycling symbol, which I love as a design feature!
FAQ
Is Skechers cruelty-free? Are all Skechers vegan?
No and no! Skechers is NOT a vegan or cruelty-free company. Plenty of their shoe designs use animal leather, which is not vegan and definitely not cruelty-free.
However, they do have some vegan footwear, as some of their shoes are made from fabric like mesh or vegan leather. You can find a selection of their vegan shoes in this post.
However, if you prefer to support an all-vegan company, there are a number of great vegan trainer companies around.
My top pick of Skecher alternatives is the NAE Jor sneaker.
What are vegan Skechers? Do they exist?
Yes – as mentioned above Skechers is NOT vegan company, but they do have some vegan shoes.
In fact, they have a selection of vegan sneakers and also vegan sandals, slip ons and flip-flops. See list above or search for vegan shoes on the Skecher site.
Are vegan sneakers comfortable?
In short – yes! There's an unfortunate misconception going around that vegan leather is uncomfortable, has no "give" or that it smells – and it seems to be based on an earlier prototype of vegan leather, PVC (aka "pleather"), popular several decades ago. It's hardly used anymore because it's terrible for the environment as well as not breathable (I'd avoid at all costs, though as I say, the material is very very rarely used anymore).
Vegan sneakers these days, by contrast, are made of mesh and other high-tech synthetics which are often considered superior to animal leathers as they're lighter weight (which you want in a running shoe) and more breathable (again, a good quality in an athletic shoe).
Plus, vegan sneakers like Skechers come with additional comfort features such as arch support, memory foam footbeds and more.
Pin this for later
Looking for more vegan sneakers? Find my full guide to vegan trainers, plus my guides to vegan white sneakers, vegan Adidas, vegan Reeboks, vegan New Balance, vegan Nikes and vegan Converse.
I also have further guides to vegan shoes, vegan mens shoes and vegan womens shoes, plus vegan loafers, vegan clogs, vegan boots, vegan heels and more.