If you're buying a gift for a vegan friend or recently went vegan yourself, perhaps you find yourself wondering "are Converse vegan?"
The good news is there are vegan Converse – the classic canvas styles are vegan, for example. The even better news is there are now lots of all-vegan brands making Converse-style shoes too, including vegan leather sneakers!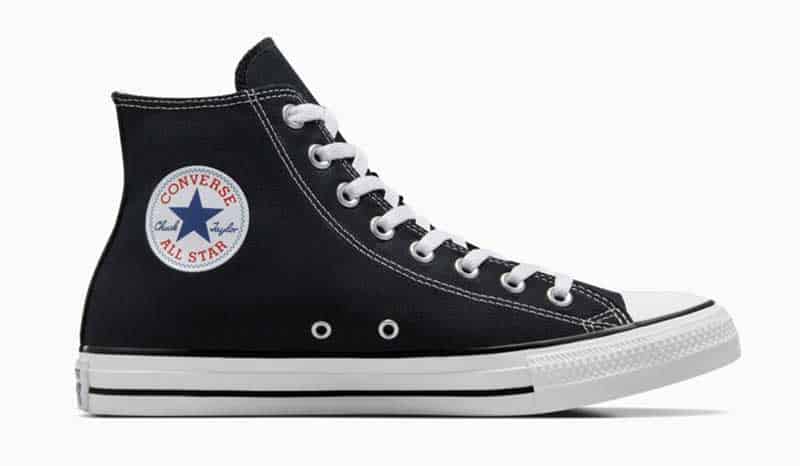 As mentioned before, Converse have a number of vegan styles made from canvas, including their classic Chuck Taylors. They have stated that their glues are of non-animal origin.
These classic Converse vegan shoes come in high tops and low tops and a wide range of colours, from classic black or white to brights, like a hot pink (love) or neon green (see below). They even have a custom colour option where you can choose from a wide range of shades or animal print.
The Converse all star vegan options are their canvas shoes (if you're looking for vegan leather versions, check out Humans are Vain, an all-vegan brand that makes vegan leather high tops).
These vegan Converse high tops are made with a canvas upper and have the classic All Star ankle patch.
---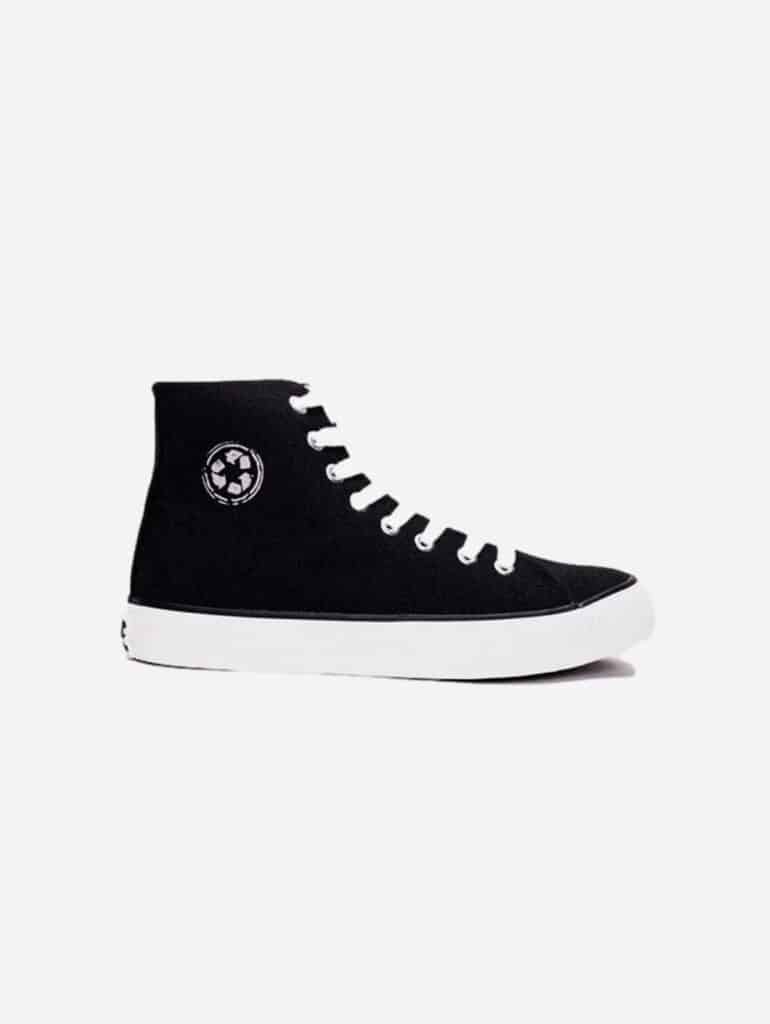 If you're looking for vegan Converse shoes but want a more sustainable option, then these Converse-style trainers from NAE look the part *and* are made from recycled PET!
The uppers are made from recycled PET and lined with organic cotton, while the soles are durable and non-slip organic rubber.
The shoes are breathable, antibacterial and antimicrobial, plus the organic cotton footbed is moisture-wicking.
If you don't mind a slightly different look and want to show you're doing your part for the planet, these have a recycle symbol on the ankle, rather than the Converse All-Star…which is a pretty cool alternative!
---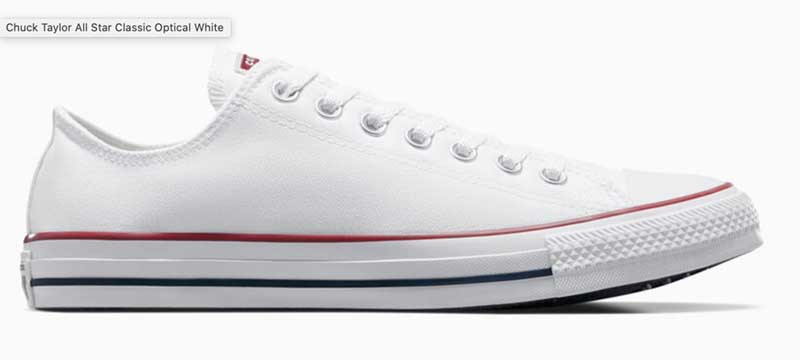 These classic Converse shoes, vegan by default, are for you if you want trainers that will pair with anything and everything from jeans to shorts or summer dresses.
These Converse Chuck Taylor vegan shoes are made with canvas uppers and have an OrthoLite insole for added cushioning. (As a side note, I personally find Converse comfortable but some people don't – it really depends on the shape of your foot, so regardless of insoles, your foot may either suit Converse or not.)
Just like the high tops, these sneakers come in a rainbow of different hues. They also come in standard or wide fit.
---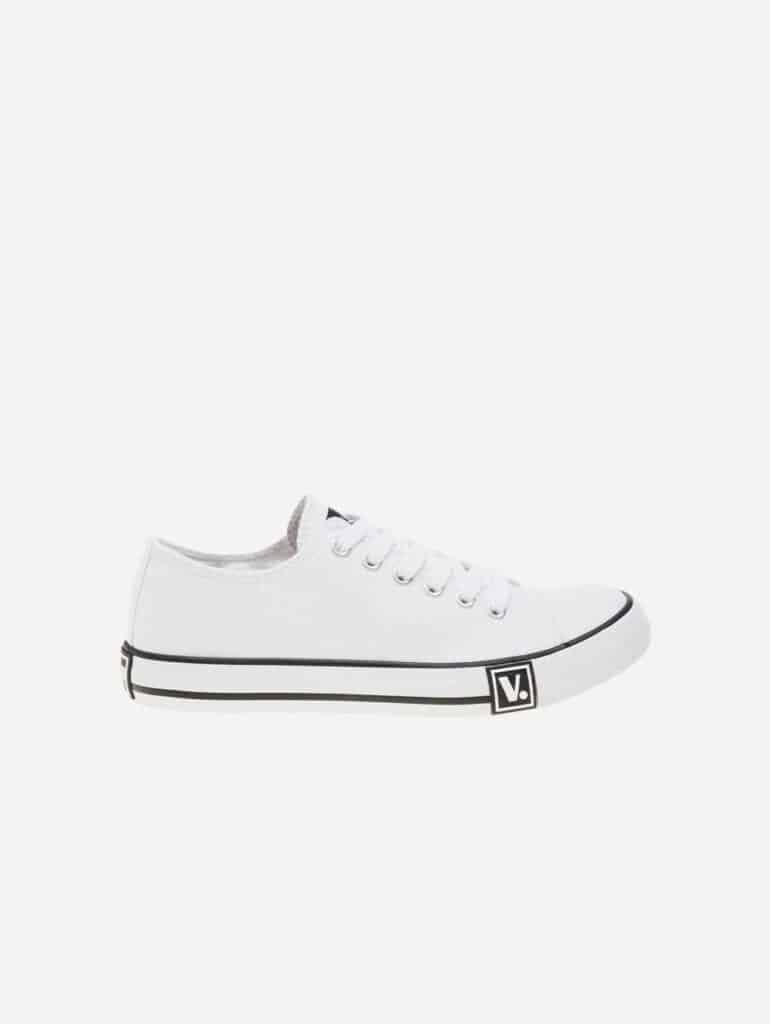 These vegan Converse style shoes are a bargain and made from recycled cotton so ideal if you're looking for a sustainable alternative to Converse low tops. However, the range of colours is limited as they only come in black or white. They make high tops as well.
The low tops are made from 100% recycled cotton canvas uppers, 100% organic cotton laces and made with water-based glues. They're PETA approved vegan and made in a vegan factory.
---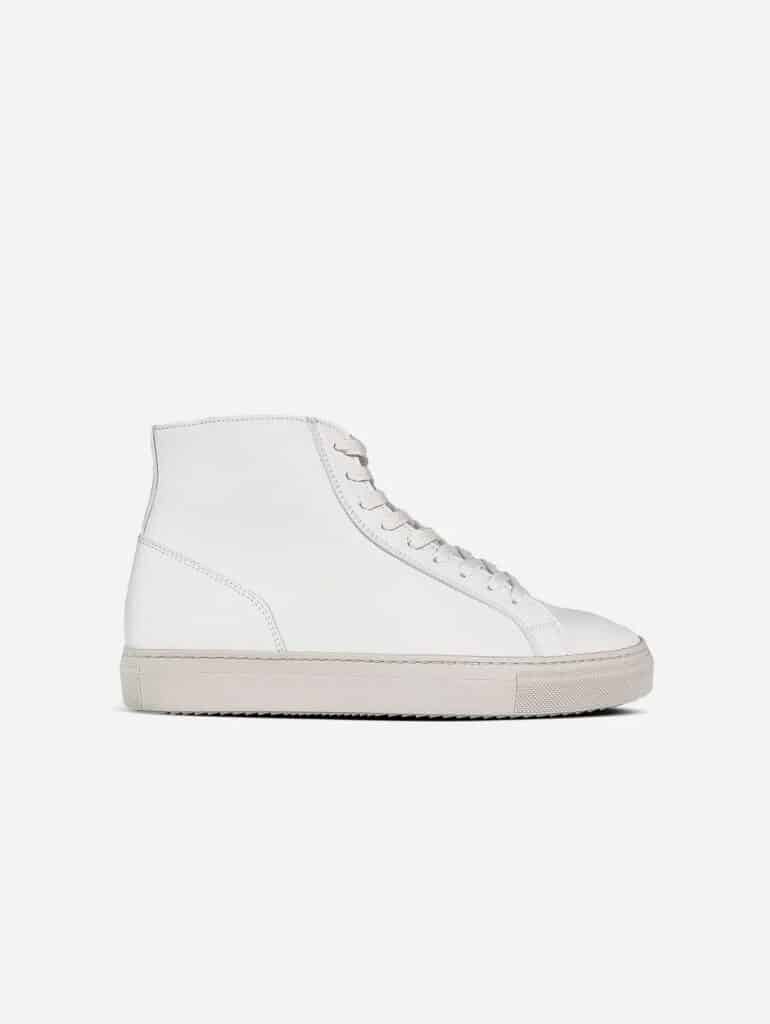 If you're searching for Converse vegan leather shoes, then know that Converse don't make any–but Humans are Vain, a 100% vegan company, make these excellent vegan leather high tops!
They come in black or white and are made from OEKO-TEX certified eco-microfibre vegan leather uppers, lined with an eco-fiber, recycled PET and corn fibre lining.
The soles are made from 70% recycled rubber.
---
These vegan Converse trainers are classic low tops but in neon green (which reminds me a bit of a tennis ball – and I'm here for it).
If you want to add a pop of colour to your spring/summer outfits (or even in the depths of winter, if you're craving a bit of colour alongside blacks and neutrals), these are the shoes to do it.
Just like their other low tops, these Converse are made from canvas uppers with Ortholite cushioning for comfort and Converse branding at the back and on the tongue of the shoe.
---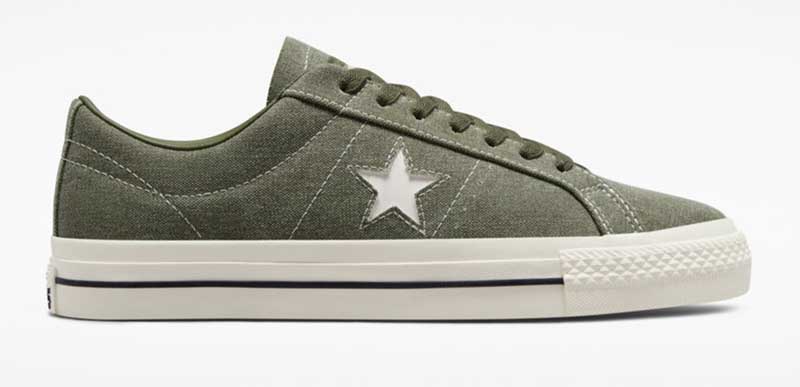 The vegan Converse one star sneakers are really cute – and practical.
These are durable Converse Chucks. Vegan by default, they're made with a heavy-gauge cotton canvas (heavier than their regular cotton canvas, which is 12oz, while this is 14oz). It is also backed by rubber for extra durability.
They come with CX foam cushioning for comfort too.
---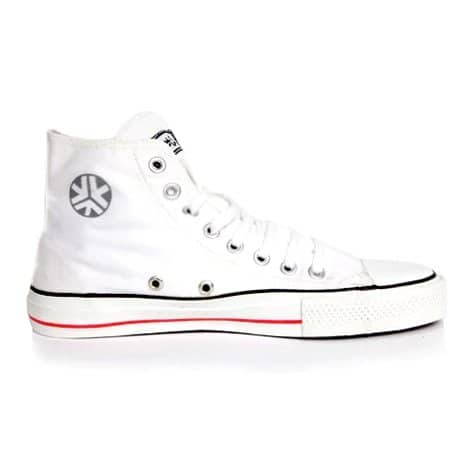 This vegan Converse alternative is the ideal ethical alternative to the classic Converse look. Etiko makes high tops and low tops (plus slip-on shoes and t-shirts, if you're after more options) that look very similar to their Converse alternative but are 100% vegan, sustainable and fair trade.
Everything about these shoes is well-thought through, from top to sole.
The cotton canvas upper is organic and fairtrade, while the soles are 100% natural latex rubber.
The inside sole has arch support so these are good if you're looking for comfy shoes.
Plus, the whole shoe is made in a certified fair trade factory.
All Etiko shoes are vegan and made using non-toxic dyes.
In terms of the colour range, choose from black, white, navy blue, forest green or red. They come as high tops or low tops.
FAQ
Is Converse vegan?
The company of Converse is not vegan. However, they do have vegan options. While some of the line uses leather and is therefore obviously not vegan, their canvas shoes are vegan as they have confirmed they make their shoes without animal glues.
If you're looking for an all-vegan company that specialise in Converse-style shoes, I recommend Etiko, which makes vegan and fair trade sneakers using organic, fair trade cotton.
Are Converse vegan friendly?
Yes! Whilst not an all-vegan company, Converse have vegan options. As mentioned above, the company confirmed they use animal-free glues, so their canvas shoes are vegan.
What you won't find, however, is Converse vegan leather shoes. Unfortunately, they use animal-based leather and don't have any vegan leather options. However, Humans Are Vain, an all-vegan company, make excellent vegan leather Converse dupes.
Are Converse All Stars vegan?
The Converse vegan line, as mentioned before, is their canvas line. Since they do make leather Converse All Stars out of animal leather, not all All Stars are vegan. However, the canvas all Stars are vegan since they're made without animal glue.
Are canvas Converse vegan?
Yes! Converse have confirmed they make them without any animal-based glues.
Are Converse sneakers vegan?
If you're looking for an all-vegan sneaker line, I recommend checking out Etiko, Humans are Vain or NAE instead, who all make Converse dupes and are 100% vegan companies.
Converse canvas trainers are vegan, but they do have leather shoes in their line, which you'll need to avoid.
If you're looking for vegan leather Converse style shoes, try Humans are Vain Visby sneakers, which come in black or white.
Are Converse comfortable?
Whether or not you find Converse comfortable depends on your foot shape and what you do while wearing them. While I always found Converse comfortable, I have friends who find them very uncomfortable. I find with shoes it's very individual!
Converse do tend to be quite narrow and don't offer much arch support, so it depends what you need in this area.
What to wear with Converse?
What to pair with your Converse is fully dependent on your style but the great thing about Converse is that they're so diverse in terms of pairings!
I love white Converse paired with a summer dress, or colourful Converse for a pop of bright colour with jeans.
In the summer, they go perfectly with shorts. Check out this guide on pairing your Converse.
What colour Converse should I buy?
What colour Converse do you like? There are no hard and fast rules, though black and white are obviously the classics and any neutral colour is easier to pair. But don't let that stop you. I've owned aquamarine Converse, sunshine yellow Converse and a pair of black Converse that I had customised at a market stall in Spitalfields, London, where they drew a custom design on them based on your hobbies and likes.
Perhaps you want a pop of colour to liven up an outfit, or an animal print, or even custom ones (Converse now offer customisation).
It depends on your wardrobe and style (do you wear a lot of black clothes? Colourful tops? Animal prints?), but I say buy whatever colour makes you happy, and pair them in whatever way makes you feel ready to face the day.
Pin this for later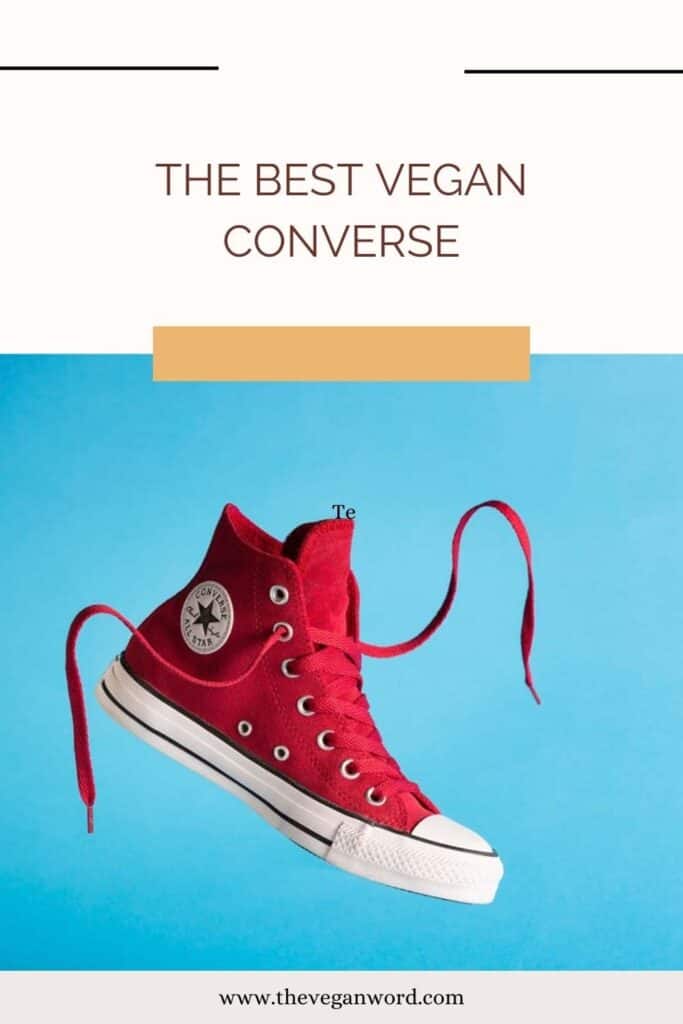 Looking for more vegan sneakers? Check out my full guide to vegan sneakers, vegan Adidas, vegan New Balance, vegan Reeboks, plus my guides to vegan shoe brands, vegan womens shoes and vegan mens shoes.
If you're looking for other styles of vegan shoes, I have guides to vegan leather boots, mens vegan boots, vegan cowboy boots, vegan combat boots, vegan loafers, vegan clogs, vegan heels, vegan designer shoes, vegan flats, vegan Doc Martens, vegan Uggs, vegan Doc Marten sandals, vegan Birkenstocks and vegan sandals.
You can find all my vegan fashion guides here.