Vegan Uggs: if it sounds like an oxymoron, that's because it is — Uggs are made of sheepskin and very not vegan, and the brand has no plans to veganize their iconic boots. Thankfully, other brands have stepped up to the challenge and created vegan Ugg type boots.
Here are the best lookalike vegan Ugg boots:
While Ugg might not offer their boots in vegan form (though they do now offer some fluffy slippers that are vegan), alternative brand Bearpaw has a selection of vegan boots.
Do look closely as not all Bearpaw boots are vegan, but some are, such as these tall black ones in the style of vegan Uggs boots.
These Bearpaw vegan Ugg boots are made from vegan microsuede and a vegan faux fur lining.
They have a 14 inch circumference and the boot upper is 12 inches long.
The boots are treated with NeverWet for resistance to rain and snow.
As a vegan alternative to Uggs, these are my top choice. Do double check them upon arrival (they should have a vegan tag) as one Amazon reviewer stated they received the non-vegan version of the boots.
---
Pawj is an all-vegan brand that makes alternatives to Uggs.
These vegan Ugg slippers look like Uggs, but made vegan. They come in black or tan and are lined with vegan fur.
This vegan Uggs alternative is perfect for lounging around the house in comfort.
---
These Ugg vegan boots are cruelty free dupes for Uggs shorter boots. They're ankle length and made from a vegan microsuede upper
These vegan Ugg dupes come with a cosy faux fur lining and footbed and can be worn as boots or as slippers in the house.
---
Looking for an Ugg alternative? Vegan brand Pawj makes these dupes. Unfortunately when it comes to vegan boots, Uggs don't make any vegan ones. They do have some vegan faux fur slippers, but no vegan boots.
Thankfully, Pawj make a range of Ugg-style boots, such as these tall, faux fur-lined tan boots.
They're made from vegan suede uppers with faux fur and vegan shearling lining and an EVA sole.
You can wear them rolled down (showing the faux fur lining) or rolled up completely for a taller boot.
Pawj's full range of boots and slippers are vegan and cruelty-free.
---
If you're looking for vegan slippers like Uggs, these vegan alternatives to Uggs are cosy and comfy.
They're made in the style of Ugg. Vegan slippers like these ones are ideal for winter, though they might not suit if you live in a hot climate due to the warmth of the faux fur lining.
The upper is vegan suede, while they're lined with vegan faux fur. The footbed is also faux fur, providing warmth and softness and reducing fatigue in your feet.
The outsole is a lightweight EVA rubber, allowing you to wear them outdoors or indoors.
They're available in a range of colours: black, brown, grey and black with grey trim.
---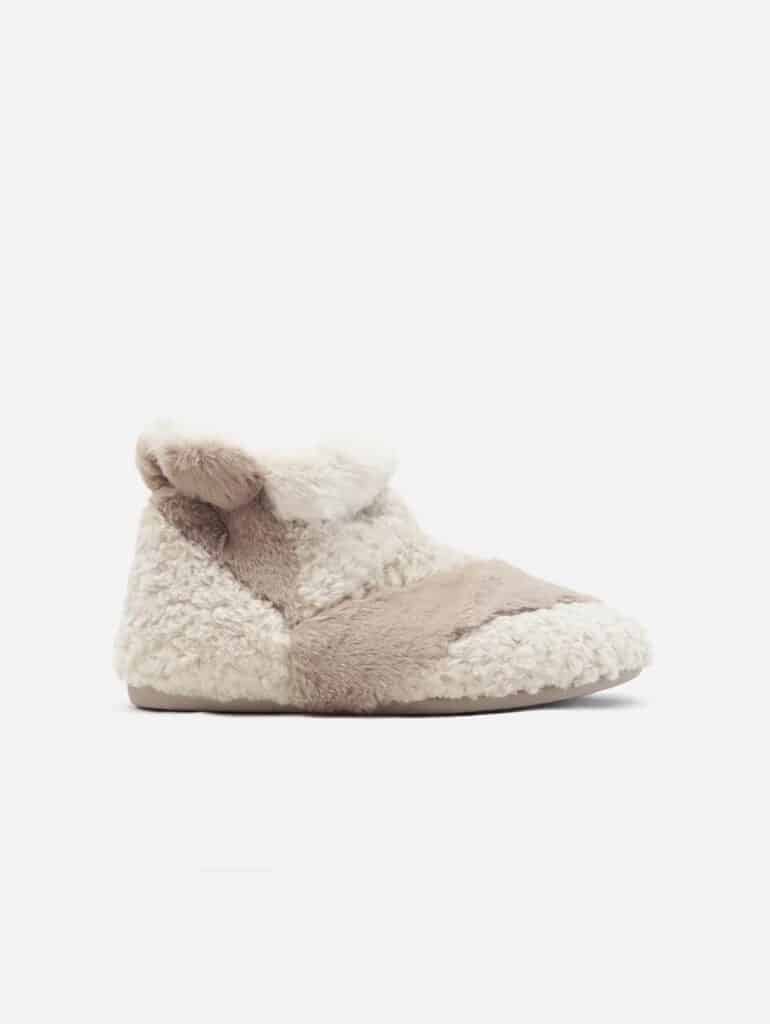 These cosy slipper boots are a slightly different look to Uggs, but are perfect if you want something comfy and cosy with a shearling/faux fur look.
These slipper boots are made from 100% recycled vegan faux fur, and lined with 100% recycled faux fur too–so they're extra cosy!
They have a durable rubber sole so are suitable for indoor or outdoor use.
They have an elasticated opening to fit wider fit and to secure them to your leg.
Bear in mind that they're snug to start out with and loosen as you wear them, according to Shu Da Living. They also recommend sizing up if you have wide feet.
---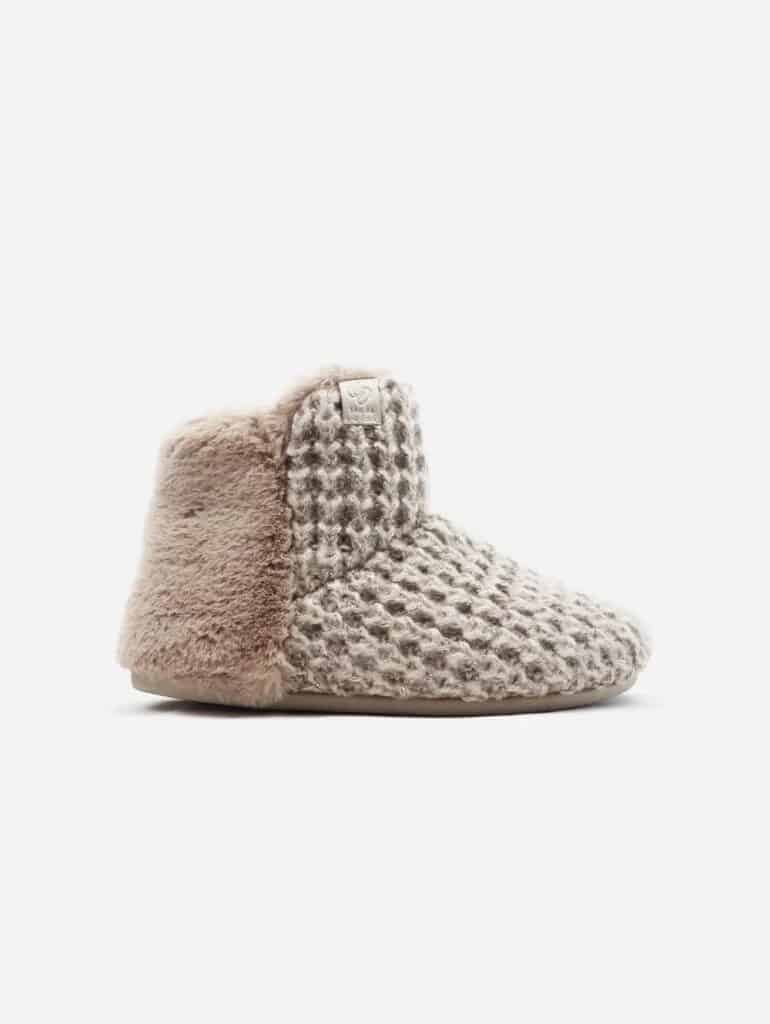 Unfortunately, Ugg don't make any vegan Ugg slippers. Vegan cosy faux fur slippers are, however, available other brands, like these slipper boots from Shu Da Living.
Made with metallic thread for a bit of sparkle and glam, these slipper boots can be worn inside or out as they have durable rubber soles. They're also made with high density memory foam for comfort.
But to me they look perfect for lounging around the house with a mug of hot tea and a book.
The upper is a chunky cable knit while the heel and the lining are made from a 100% recycled vegan faux fur lining.
The manufacturer recommends sizing up if you have wide feet.
---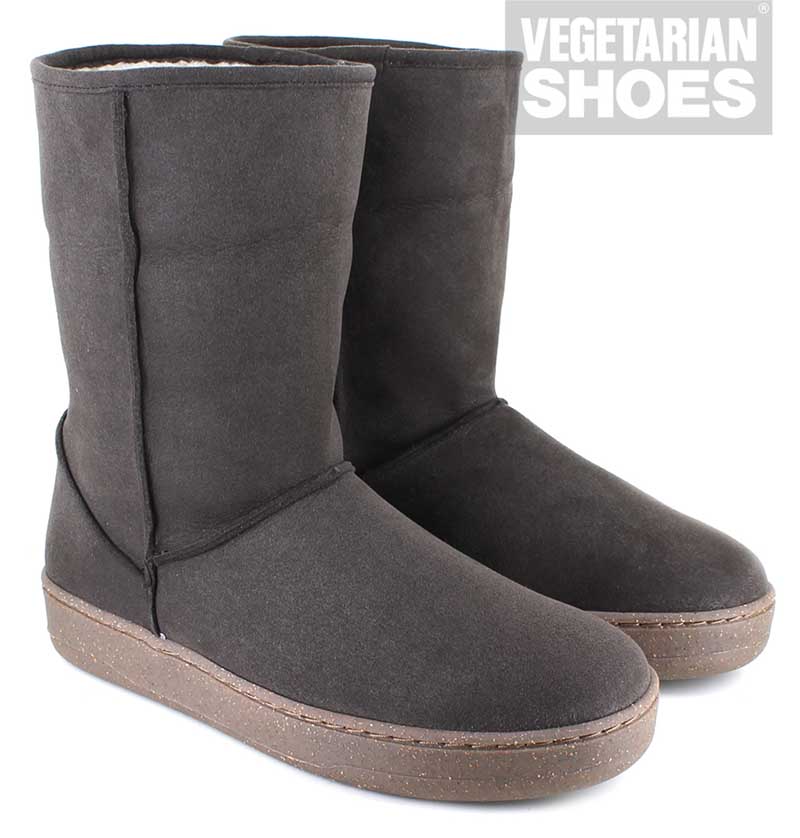 I love the name of these vegan Uggs style boots – "Snugge" boots.
They're made with vegan suede uppers with faux fleece lining and cork and rubber insoles. You can use regular "proof" sprays on the vegan suede (for example, to waterproof them).
The soles are grippy (handy for winter!). They do mention the sizing can be a bit snug but they loosen up over time.
Be sure to follow their instructions on wearing them with the uppers all the way up (not rolled down) the first few times you wear them to help them stretch out.
FAQ
Do vegans wear Uggs?
Classic-style Ugg boots are not vegan – they are made from sheepskin!
However, there are a few brands that make vegan alternatives to Uggs, such as all-vegan brands Pawj and Vegetarian Shoes. Bearpaw (not a vegan company) also makes some vegan options.
So, vegans who like the look and comfort of Uggs, don't despair – there are plenty of other options for Ugg-type boots.
Do they make vegan Uggs? Are Uggs cruelty free?
Uggs do make some vegan faux fur slippers now, but they don't have ANY vegan boots, and their boots are certain not cruelty free — they're made of sheepskin!
Thankfully, other brands like Pawj (100% vegan company) and Bearpaw (not a fully vegan company) have some vegan Ugg-type boots.
Are Ugg boots vegan? Are Ugg slippers vegan?
No, Ugg boots are not vegan! They are made of sheepskin and at present, Ugg don't offer any vegan versions of their boots.
They do have a couple of vegan faux fur slippers, but personally I'm not a big fan of how they look and would instead recommend Pawj vegan Ugg style slippers.
Can you get vegan Uggs?
You cannot get vegan Ugg boots from Ugg brand (all their boots are made of sheepskin), but you can get vegan Ugg style boots from other brands.
Pawj is a 100% vegan brand that has these Ugg-style vegan boots and these vegan slippers.
Vegetarian Shoes is a 100% vegan brand that makes "Snugge" boots, which mimic the look of Uggs.
Bearpaw is not a vegan brand, but they have some vegan options, such as these vegan Ugg-like boots and slippers.
Are vegan Uggs good for winter?
Uggs definitely look like a winter boot – cosy and warm. Vegan Uggs often have a vegan faux fur lining, making them a good choice to keep you warm in winter.
Just bear in mind that the upper might not cope well if it gets very wet in rain or snow, so you may want to spray them with waterproofing spray (Vegetarian Shoes sells vegan waterproofing spray, for example).
Another consideration with winter boots, if you live somewhere very cold, is how they perform in icy conditions. You may want boots with good traction, or you might wish to add ice and snow grippers.
If you're looking for the best vegan winter boots, check out my guide to vegan winter boots.
What colour boots should I get?
That depends on your style! Brown or black are not only classic choices, but as neutral colours, they work with a wide variety of outfits. Personally, I usually go for black because I prefer it and I have a lot of black clothes, but that's down to you.
You could also go for Shu Da's vegan slipper boots, which are grey and cream, if you prefer lighter, softer tones.
Pin this for later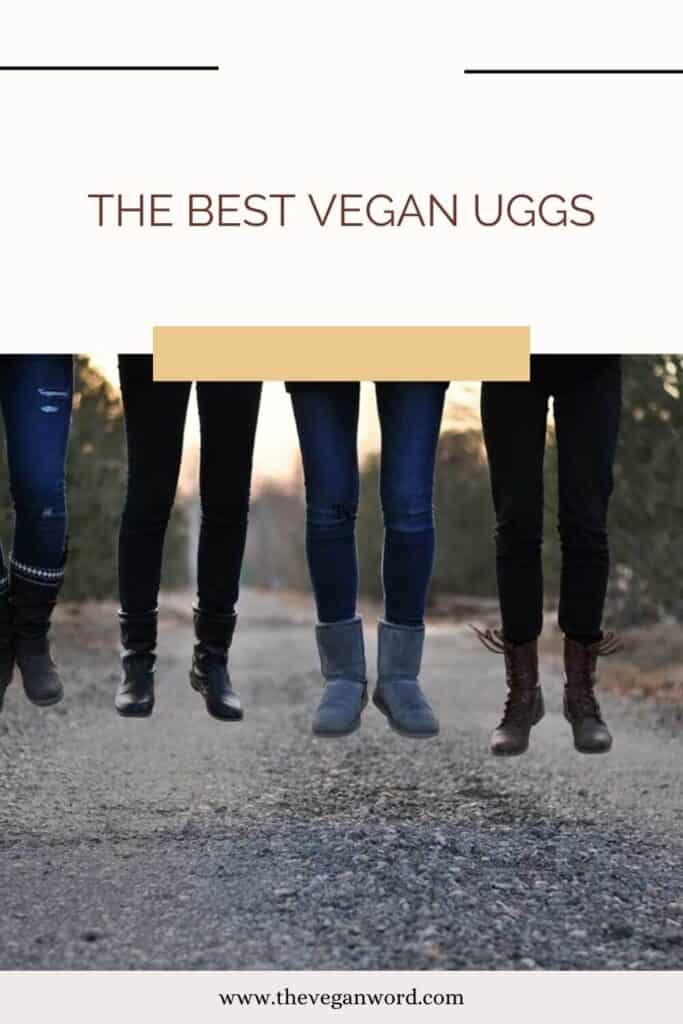 Looking for more vegan slippers? Check out my full guide to vegan slippers.
If you're looking for vegan boots, I have a full guide to vegan leather boots, as well as individual guides to vegan Chelsea boots, cowboy boots, knee high boots, ankle boots, Doc Martens boots and combat boots.
I also have lots of different vegan shoe guides, from vegan womens shoes and mens shoes to vegan clogs, sandals, Doc Martens sandals, Reeboks and more.
You can find all my vegan fashion guides here.