Winter boots are an essential if you live in a cold, wet climate. Vegan winter boots are just as practical and stylish as their non-vegan counterparts, if not more so. Lots of vegan leathers cope better with water, though if you live in a very snowy or rainy locale, look for a waterproof vegan winter boot.
As a long-term vegan since 2008, and someone who was born in the Midwest US, I know a bit about vegan winter boots! So I know how tricky they can be to find, which is why I put this list together to help you out.
Some of the best vegan winter boots:
Best overall: Bhava women's Aspen winter hikers
Best for practical boots: Alexandra K Boom women's grape leather vegan snow boots
Best for dressy boots: Will's insulated waterproof Chelsea boots (men's + women's)
Best for vegan designer boots: Stella McCartney women's Trace Chelsea boots
Best for vegan water-resistant walking boot: Will's insulated country boots (men's + women's)
More vegan boots for winter:
Good Guys Don't Wear Leather women's vegan clog boots
Will's WVSport women's vegan duck boots / snow boots
Bhava Ginsburg women's vegan winter boots
Matt & Nat Otoki women's tall vegan rain boots
Will's vegan men's insulated dock boots
Good Guys Don't Wear Leather Blaze vegan apple leather ankle boots (women's and men's)
Xero Alpine women's and men's vegan barefoot winter boots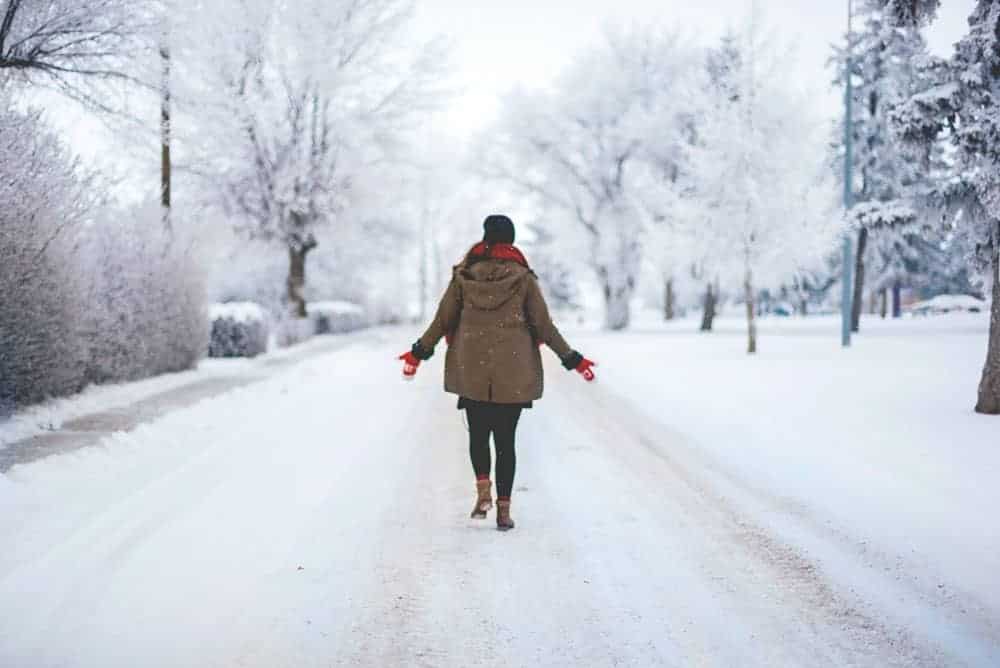 I was born in the Midwest US, so I know a thing or two about winter, and I tend to think winter boots fall into two camps: practical ones, with grippy soles and waterproof outers, which allow you to walk through feet of snow, and dressy boots, which will keep your feet warm and match your clothes for the office or the bar, but aren't cut out for trudging through snow banks.
Both have their place, so I'll cover both types. Also, don't forget a vegan winter coat to keep you warm! (Again, these fall into two varities – practical and stylish.)
The best vegan winter boots:

Pros
Lined with vegan shearling for warmth
Come with removable insoles and extra pair
Can style them in many ways, ideal for city winters
Cons
They may not be warm enough in long periods of extreme cold (subzero Fahrenheit)
They are not rated as waterproof, although reviewers state their feet were dry in rainy conditions
These vegan winter boots give you the best of both worlds: they are both practical for winter and can be styled many ways.
Bhava call these "urban hikers," which strikes me as the perfect phrase. I wouldn't go trekking through snowdrifts in these boots, but these are perfect for wintry conditions in a cold city.
They have glowing reviews from people who've worn them in Paris, New York and Canada, though one Midwestern reviewer said when it got very far below zero her toes were cold, so they might not suit the most bitterly cold days, but to wear on errands or out for a drink on your average chilly winter day they're ideal and can be dressed up or down.
They are lined with Italian vegan shearling to keep you cosy and warm even in cold climates, and they have flexi rubber soles.
They come with two pairs of removable insoles, Bhava's signature comfortable cork soles and a new organic cotton vegan shearling insole ideal for winter.
Like all Bhava boots, they are made in Alicante, Spain, where generations of artisans have been making shoes by hand.
All Bhava shoes are vegan and they use phthalate- and PVC-free vegan leather.
You can find my full guide to vegan walking boots here.

Pros
Water-resistant
Made for snowy conditions
Eco-friendly grape leather
Cotton faux fur lining
Cons
Not suitable for office wear
If you are going to be wearing your vegan boots all winter-long, from sledding to walking through snow drifts, then these are the vegan leather boots for you.
These snow boots from Alexandra K are made of vegan grape leather, an eco-friendly and 100% vegan leather made from leftover waste from the wine industry, and vegan corn leather.
They are waterproof, have textured soles and are lined with a 100% cotton faux fur lining to keep your feet cosy.
These waterproof vegan boots also have a removable insole.

Pros
Keep you warm up to -22° C/ -7.6° F
Waterproof
Stylish, can be dressed up or worn as vegan work boots
Cons
Ankle length, so only protects your leg from snow or puddles up to ankle
Run on the large side
Will's have made the ideal indoor-to-outdoor vegan winter boot, a classic Chelsea boot, but made waterproof and with added insulation.
If you live in a rainy climate, these are the perfect vegan waterproof boots, however since they're only ankle length I wouldn't go trudging through foot-deep snow or splashing in really deep puddles in these. But they're ideal for rainy days.
The vegan waterproof winter boots are insulated with Primaloft, made with 90% recycled content, to keep your feet warm up to -22° C/ -7.6° F weather.
These warm vegan boots are also lined with vegan fur to keep your feet cosy. They are made with waterproof uppers and the soles have deep threads for traction. The waterproof vegan shoes' insoles are made of recycled materials and are deep and squishy for comfort.
Click here to see the vegan winter boots (men's sizing).
Click here to see the women's boots.

Pros:
Well-known designer brand
Iconic look
Cons:
May not be suitable for the coldest or snowiest conditions
These boots from Stella McCartney are my pick of best vegan designer boots from a well-known luxury brand.
As a lifelong vegetarian, Stella McCartney doesn't use any leather or fur in her collections, and her bags and shoes are vegan (but she does sometimes use wool or silk in her clothing line, so check carefully if buying a coat, blouse or dress).
These cream Chelsea boots have elasticated sides and heel tabs and a contrasting Stella McCartney logo. They're made in Italy.
These would be great to make your street style look, but they aren't lined with extra insulation so wouldn't be suitable for the coldest or snowiest days – not to mention you wouldn't want to ruin your Stella McCartney shoes with sludgy snow.

Pros:
Keep you warm up to -22° C/ -7.6° F
Insulated
Comfortable and flexible Vibram outsoles
Cons:
Water-resistant, not waterproof, so not suitable for deep, running water
Will's describe these as a cross between wellies and walking boots, though they are not waterproof so not an exact swap for rain boots/wellies.
They've been designed to be comfortable for walking, and similar in feel to a pair of walking shoes, but with insulation and they're waterproof so perfect for walking in wintry conditions.
The warm vegan winter boots have Vibram rubber injection outsoles with an open tread, which you can hose down after walking in muddy conditions. They also have anatomic insoles that are removable.
The uppers are scuff- and water-resistant, but they're not waterproof so you can't wear them in running water or in deep snow or puddles for long periods of time.
These boots are made in a factory in Italy that's 70% solar powered.
Click here to see the men's boots.
Click here to see the women's boots.
More vegan winter boot options: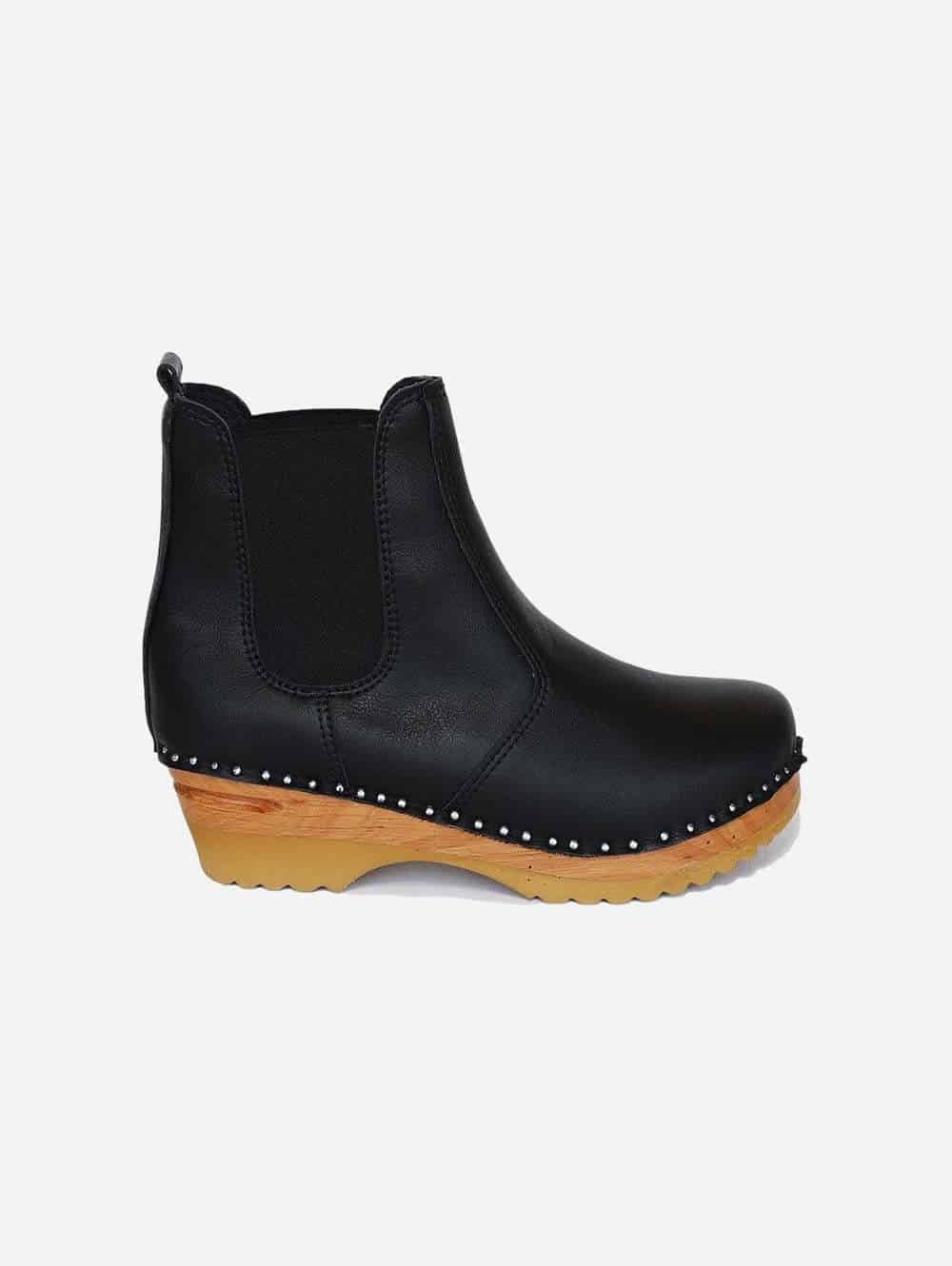 These vegan winter boots for women combine the comfort of clogs with the warmth of boots.
They are waterproof and made of eco-friendly OEKO-TEX and REACH certified vegan microfibre leather uppers, a soft microfibre lining, an anatomical footbed made of alderwood and a non-slip sole.
The vegan womens winter boots are made by 100% vegan brand Good Guys Don't Wear Leather in collaboration with Troentorp, a Swedish brand that's been making traditional Swedish clogs for 100 years.

Keep you warm up to -22° C/ -7.6° F
Will's make some of the warmest vegan winter boots. These vegan women's snow boots are rated to keep you warm up to -22° C/ -7.6° F.
The black vegan leather boots have a duck boot construction with a water-resistant layer, a vegan wool collar and vegan shearling lining to keep the warmth in and water out.
The outsoles are ballistic welded to the uppers and have treads for grip, traction and stability, though they also recommend the use of spikes in icy conditions.

These vegan fur lined boots from Bhava are named after Ruth Bader-Ginsburg.
The vegan winter shoes have a vegan leather upper, faux fur lining and extra comfortable removable cork insole.
These boots don't have the deep treads for traction other winter boots have, so I'd be cautious about wearing them in very icy or snowy conditions, but if you want boots to keep your feet warm while looking stylish, these are a great option.

These unisex cruelty free winter boots are water-repellent and breathable.
The vegan leather winter boots are made of Micronappa, a vegan microfibre-based nappa leather, which is soft, durable and dirt-repellent, as well as breathable.
The sole is a thick tread made with recycled materials, to stop you slipping in wintry conditions.
They have a non-slip sole, adjustable laces, and come with a soft, removable insole. The sole is 1.5 – 3cm.
Like all Noah shoes, they are PETA approved.
One thing I love about NOah shoes is they're all unisex and come in a really wide ranges of sizes, from UK3 / EU36 / US5 to UK 13 / EU48 / US14.
THey come in borwn or black.

If you're looking for classic vegan rain boots/Wellies, these are made in the typical style. Tall and made of recycled, waterproof PVC*, they have a 1-inch outsole.
These vegan waterproof shoes are tall, coming nearly up to the knee, so they'll keep your jeans from dragging in puddles (doesn't everyone hate that feeling of vegan ankles/wet jeans?).
*I typically advise staying aware from PVC shoes, but these are recycled so it's preferable. Or you can opt for eco-friendly natural rubber rain boots like the ones from 100% vegan rain boot company Merry People, who use natural rubber for their boots.

These puffer boots are ideal if you want your feet to feel ultra cosy all day.
They hit just below the knee, and are wind- and water-resistant. The insulation is made of 100% post consumer recycled water bottles.

These faux fur lined vegan boots are breathable and water-repellent.
The outer is vegan microsuede and vegan micronappa leather. The vegan microsuede is similar to suede, but made of vegan materials; it's composed of ultra-fine polyester and it's easy to clean, breathable and, unlike suede, is waterproof (so it's even better). Vegan micronappa also made from ultra-fine woven polyester, and is similar to nappa leather. It's soft, durable, breathable and it's dirt-repellent.
The interior is lined with vegan fur, and padded ankles.
They have a reinforced heel and non-slip sole.
These unisex boots come in a range of sizes, from UK2.5 / EU35 / US4.5 to UK 13 / EU48 / US14.

These trendy ankle boots are perfect for winter styling. They are not waterproof so I wouldn't wear them in heavy rain or snowfall, but they'll keep your feet warm in winter.
They're made of apple leather, an eco-friendly vegan leather made from food industry waste. Apple leather is naturally soft and doesn't require breaking in.
They're lined with a breathable, anti-bacterial microfibre lining, and they have rubber soles.
Like all footwear by 100% vegan brand Good Guys Don't Wear Leather, they're sweatshop-free and fair-trade.

If you're looking for vegan barefoot winter shoes, Xero make this vegan pair, available in both men's and women's sizing.
The Alpine snow boot is waterproof and lightweight. It's also insulated with 200g of insulation and lined with polyester fleece to keep your feet nice and warm. It has a removable heat-relfective insole.

If you're looking for vegan kid's snow boots, the Vivobarefoot Lumi boots are waterproof and warm.
They are made with recycled materials (though as far as I can tell, they don't specify which parts are recycled) and through Revivo, you can send shoes back in when they can no longer be worn, and they will turn them into new shoes.
They have a thermal insole and the outsole is designed for kids to play on any terrain.

If you're searching for Ugg vegan boots, Ugg themselves don't make vegan shoes, but Pawj are an ethical alternative!
They have a range of vegan Ugg style boots and vegan fur boots. The Aspen boots have a vegan suede outer with a vegan shearling and vegan fur lining.
Find my full guide to vegan Ugg alternatives here.

These mens vegan winter boots from Will's are made with an outer of Italian vegan leather made with bio oil from Northern European-grown cereal crops. The process of making it is carbon neutral.
They are insulated with Primaloft made from 90% recycled materials and lined with vegan faux fur to keep you warm down to freezing temperatures.
The insole are deep and comfortable and the outsoles have thick treads with lugs to give you plenty of traction.
You can find my full guide to men's vegan boots here.
Pin this for later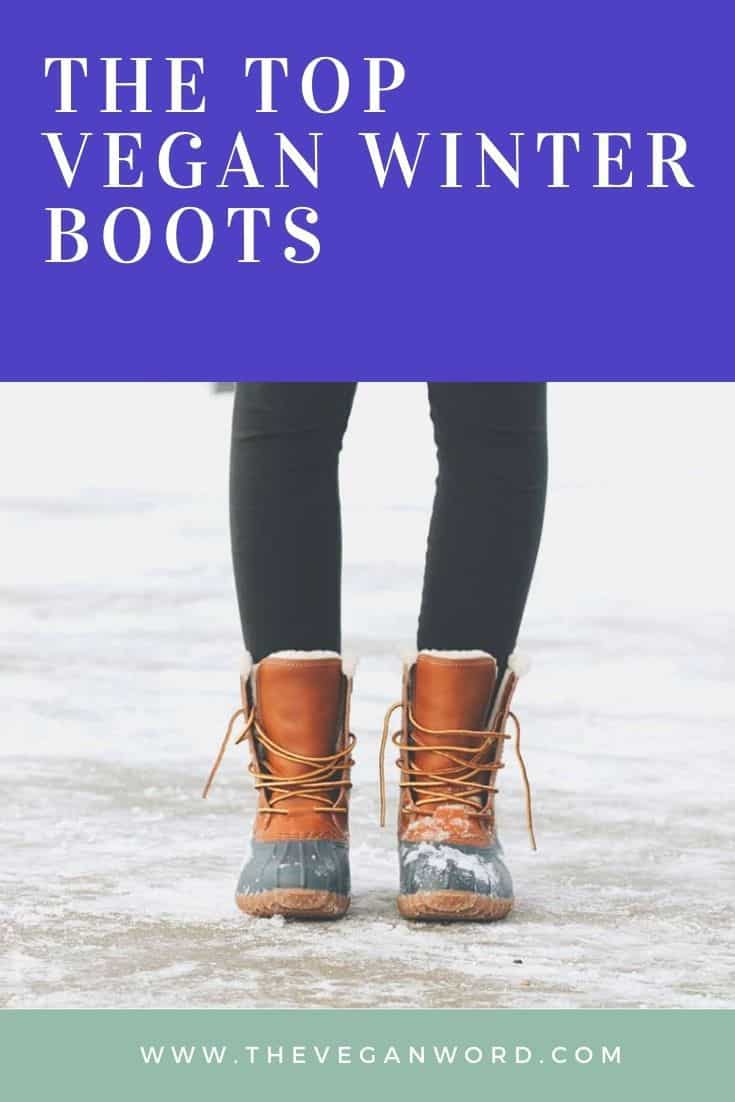 Looking for more boots? Check out my full guide to the best vegan boots, and my guides to vegan Dr Marten boots, vegan Dr Marten Chelsea boots, vegan Timberlands, mens vegan boots, vegan Chelsea boots, vegan knee high boots, vegan cowboy boots, vegan combat boots and vegan ankle boots.
I also have more guides to vegan shoes, such as my guide to the best vegan shoes, vegan men's shoes, vegan women's shoes, vegan dress shoes, vegan sneakers, vegan clogs, vegan sandals, vegan designer shoes and vegan slippers.
Find all my vegan beauty & fashion guides here.