Vegan designer shoes: are these the future? While big-name luxury brands might be dragging their feet when it comes to launching leather free looks, vegan designer brands are racing ahead into the future.
Some of the designer vegan shoe brands I'll cover include:
More vegan designer shoe brands:
You may notice that with the exception of Stella McCartney, Balenciaga and Gucci, there aren't many big designer names on this list.
Christian Louboutin stated in an interview he doesn't foresee using vegan leather in the near future, making an incorrect statement about the environmental impacts of vegan leather vs. animal leather (though custom-made vegan Louboutins appear possible).
Nor will you find vegan Jimmy Choo shoes just yet, though Jimmy Choo's former head of design, Alfredo Piferi, started his own vegan shoe brand, Piferi.
But thanks to visionary vegans like Rebecca Mink of Mink shoes and Natalie Dean of Beyond Skin, who've been making designer vegan shoes for 20+ years, you have been able to find high end vegan shoes for some years now.
And thanks to the ever growing list of vegan shoe designers, it's now easier than ever to get yourself a pair of luxury vegan shoes.
Read on to find the best vegan fashion shoes from luxury vegan shoes brands, plus a few picks from mainstream luxury shoe brands who are finally starting to dip their toes in the water of vegan leather shoes.
I expect this to continue to grow in the coming years.

Worn by Miley Cyrus and Leona Lewis, the brand was started by Bebe Roxana.
She always wanted a pair of 'So Kate' Louboutin vegan shoes but since they weren't available in a faux leather version, decided to make her own with vegan materials!
So if you're after a pair of vegan Christian Louboutin shoes, get yourself some Cult of Coquette shoes!
These Bianca black satin pumps are a showstopper, with a 4.5 inch stiletto heel, pointed toe and cascading rhinestone fringe.

One of the earliest makers of vegan designer heels, Rebecca Mink founded Mink Shoes over 20 years ago.
She faced a lot of challenges in the days before vegan shoes were widely available, including being turned down by multiple factories in Italy who didn't want to work with her. Eventually she found a factory, and today she's part-owner of it!
Celebrities like Pamela Anderson, Natalie Portman and Alicia Silverstone were all early adopters of Mink shoes.
Their shoes are made in Italy by the same master shoemakers who make Jimmy Choo, Gucci, Chanel and Louboutin shoes.
Mink is known for its ultra-sparkly heels, though they also have muted solid colored pumps in classic black and other neutral tones. For a statement piece, though, go for the glitter.

Use code "VEERAHXTHEVEGANWORD" for 10% off!
A unique take on luxury shoes, this vegan brand aims to be sustainable by selling not just shoes, but shoe accessories! I love the creativity behind these shoes, which range from vegan designer sandals and pumps to boots.
Their detachable accessories that can be attached to and removed from their women's vegan shoes, thus making them more versatile (and also becoming more sustainable by allowing you the cut down on the number of shoes).
Founder Stacey Chang noticed that when traveling a lot for work she had trouble bringing enough pairs of shoes for all the different events, and realised by changing up one pair of shoes she could make them work in different settings.
Accessories for their luxury vegan heels include clip-on brooches for your shoes, plus removable tassels and ankle straps.
They kindly sent me a pair of their heeled Dian sandals to try — and let me tell you, they're the most comfortable vegan heels I've owned thanks to the cushioned sole! If you're looking for comfortable vegan high heels, they're great.

This vegan brand was launched by veteran fashion industry insiders, including a former president of Dolce & Gabbana.
Their aim is to produce luxury vegan shoes, made by artisans in Italy, that are also sustainable.
Celebs such as Emma Roberts and Saoirse Ronan reportedly love their faux leather designer shoes.

While you won't find Jimmy Choo vegan shoes, Piferi, a brand of luxury vegan womens shoes, was founded by Jimmy Choo's former head of design.
Piferi is one of the newer luxury vegan shoe companies.
Alfredo Piferi, formerly head of design at Jimmy Choo, launched his new brand of vegan luxury shoes in February 2020 at Milan Fashion Week, bringing vegan shoes into high fashion.
While you won't find Piferi trainers just yet (try these vegan Balenciaga trainers instead), their heels are striking.
One of the most eye-catching vegan shoe designs (from Piferi or other brands) or you'll find is the Soquette above.

One of the most well-known vegetarian designers is Stella McCartney. As a lifelong vegetarian, she eschews all leather and fur from her designs (but her clothes aren't all vegan as she uses wool and silk).
Her collection of shoes, however, is fully vegan! These stylish vegan shoes run the full gamut from sneakers to designer boots.
Whether you're looking for Stella McCartney vegan trainers (like her famous vegan platform shoes) or Stella McCartney vegan boots, she has a wide range of non leather shoes in her online shop.

Designed in New York and made in Italy, one of this vegan shoe designer's aims is to ensure durability. They even subsidise repairs on their shoes!
The shoes are crafted by artisans in Italy, and they ensure fair labour practices are followed.
They use insoles made from a biodegradable cellulose fibre. They also donate to animal rescues every month.
I love the unique heel shape on their vegan designer boots.

Alexandra K started as a designer bag company and has now branched out into sneakers and vegan snow boots. They are PETA approved and have won a PETA fashion award.
The brand is based in Poland, which is where they manufacture. Constantly on the lookout for new materials, they use innovative and sustainable materials in their products such as a apple, corn and grape leather (all using byproducts of the food industry).

For whatever reason, vegan designer trainers seem to be the main offering from mainstream fashion houses, while vegan boots and heels seem to be seen as a step too far (pun intended).
Balenciaga pushed the envelope of the ugly sneaker trend with their vegan designer sneakers, the Zen sneaker, and again with the Speed sock-like stretch-knit sneaker.

You can also find vegan Gucci shoes, again only in sneaker form.
FAQ
What are vegan shoes?
Vegan shoes are made completely free of animal products like leather, wool and silk. Instead, they use alternative materials like cotton or vegan leather, which in itself can be made from a range of materials.
Vegan leather can be made of microfibre or newer vegan leathers include pineapple leather and mango leather, made from leftover waste from the food industry.
While vegan shoes are made using different materials, techniques are similar and shoes like Mink Shoes are made by the same shoemakers in Italy who produce mainstream designer brands like Gucci, Chanel and Jimmy Choo shoes.
Does Jimmy Choo have vegan shoes?
No (not yet anyway). However, former Jimmy Choo designer Alfredo Piferi has a vegan shoe brand, the eponymous Piferi. Fashion-forward and runway-ready, Piferi's one to watch.
I suspect that with the launch of vegan brands like Piferi, and vegan shoes now being offered from the likes of Balenciaga, we are going to see more and more vegan designer shoes in the future, whether that's vegan versions of shoes from mainstream designer or new launches of vegan luxury brands as brands like Piferi lead the way.
Are there any Christian Louboutin vegan shoes?
No. You won't find any vegan shoes with the iconic red lacquered sole. However, Cult of Coquette is a vegan brand founded by Bebe Roxana, who started making shoes because she wanted Louboutins and couldn't find them in vegan form!
If you're after Louboutin-style stilettos, then go for a pair of Cult of Coquette heels.
What do vegan celebrities wear?
Lots of vegan celebrities eschew wearing animal leather on the red carpet, and choose their shoes from some of the brands on this list. Alicia Silverstone has been spotted in Mink Shoes, and Miley Cyrus in Beyond Skin shoes.
Do Prada vegan shoes exist?
Not yet, but there are lots of other options for vegan shoes. Women and men's styles exist although at present there seem to be more options in women's sizes… Check out Veerah and Cult of Coquette. If you need men's size dress shoes, look at Will's.
Are vegan shoes well made?
Absolutely, they can be, though of course there's variation as there's a huge range of vegan shoes. On one end, you have budget vegan shoes that just like their non-leather counterparts may fall apart fairly quickly.
On the other hand, you have brands like Mink Shoes, whose heels are produced by the same artisan shoemakers in Italy who make Louboutins and Jimmy Choo shoes.
Pin this for later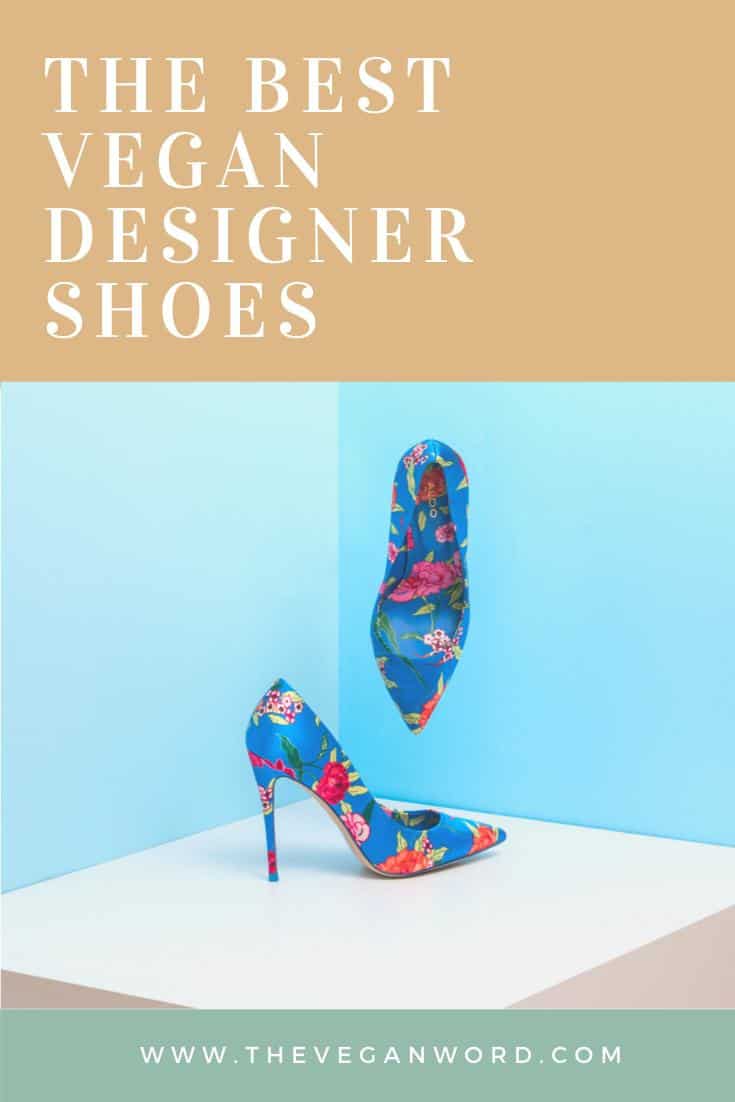 Want more designer style? Check out my guide to vegan designer bags.
Looking for more vegan shoe guides? Find my guide to vegan women's shoes. Find my guides to vegan boots, vegan sandals and vegan sneakers.
I also have guides to specific styles, such as vegan Chelsea boots, vegan cowboy boots, vegan knee high boots, vegan ankle boots, vegan Timberland-style boots, vegan combat boots, vegan winter boots, vegan flats, vegan loafers, vegan Reebok, vegan dress shoes, vegan men's shoes, vegan clogs and slippers.
See all my vegan fashion & beauty guides.
What's your favourite vegan designer shoe brand?