Vegan designer shoes: are these the future? While big-name luxury brands might be dragging their feet when it comes to launching leather free looks, vegan designer brands are racing ahead into the future.
Christian Louboutin stated in an interview he doesn't foresee using vegan leather in the near future, making an incorrect statement about the environmental impacts of vegan leather vs. animal leather (though custom-made vegan Louboutins appear possible). Nor will you find vegan Jimmy Choo shoes just yet.
But thanks to visionary vegans like Rebecca Mink of Mink shoes and Natalie Dean of Beyond Skin, who've been making designer vegan shoes for 20+ years, you can get yourself a pair of luxury vegan shoes.
Read on to find the best vegan fashion shoes from vegan designers, plus a few picks from mainstream designers who are finally starting to dip their toes in the water of vegan shoes.

Worn by Miley Cyrus and Leona Lewis, the brand was started by Bebe Roxana. She always wanted a pair of 'So Kate' Louboutin vegan shoes but since they weren't available in a vegan version, decided to make her own vegan heels! So if you're after a pair of vegan Christian Louboutin shoes, get yourself some Cult of Coquette shoes!

One of the earliest makers of vegan designer heels, Rebecca Mink founded Mink Shoes over 20 years ago. She faced a lot of challenges in the days before vegan shoes were widely available, including being turned down by multiple factories in Italy who didn't want to work with her. Eventually she found a factory, and today she's part-owner of it! Celebrities like Pamela Anderson, Natalie Portman and Alicia Silverstone were all early adopters of Mink shoes.

Another early entry into the vegan designer shoe scene is Beyond Skin, founded in the UK in 2001. They've seen success over the years, including being worn by Miley Cyrus and Evanna Lynch. Whether you're looking for vegan office shoes or vegan designer boots, Beyond Skin has a wide range of styles. I've had several pairs of Beyond Skin shoes over the years, and they were really good quality. My favourite part is the stamp on the bottom that says 'Genuinely Not Leather'.

Founded in LA in 2018 by Jessica Taylor Mead and Elizabeth Thomas James, their luxury vegan shoes are handcrafted in Italy. They aim to use sustainable materials as much as possible, utilising recycled rubber, FSC-certified wood and castor beans. But this is some seriously stylish recycled rubber and sustainable wood. From pumps to luxury vegan boots, they have a range of different classic styles.

For really small-scale production, Rafa is a luxury vegan footwear brand designed and hand-crafted by 20 artisans in LA. As such, they naturally have limited stock and often sell out of styles.

A unique take on luxury shoes, this vegan brand aims to be sustainable by selling not just shoes, but shoe accessories! These are detachable accessories that can be attached to and removed from Veerah shoes, thus making them more versatile (and also becoming more sustainable by allowing you the cut down on the number of shoes). Founder Stacey Chang noticed that when traveling a lot for work she had trouble bringing enough pairs of shoes for all the different events, and realised by changing up one pair of shoes she could make them work in different settings.

This vegan brand was launched by veteran fashion industry insiders, including a former president of Dolce & Gabbana. Their aim is to produce luxury vegan shoes, made by artisans in Italy, that are also sustainable. Celebs such as Emma Roberts and Saoirse Ronan reportedly love them.

Alfredo Piferi, formerly head of design at Jimmy Choo, launched his new brand of vegan luxury shoes in February 2020 at Milan Fashion Week, bringing vegan shoes into high fashion. One of the most unusual vegan shoe designs you'll find is the Soquette.

One of the most well-known vegetarian designers is Stella McCartney. As a lifelong vegetarian, she eschews all leather and fur from her designs (but her clothes aren't all vegan as she uses wool and silk). Her shoe collection, however, is fully vegan! Whether you're looking for Stella McCartney vegan trainers (like these famous platform trainers) or Stella McCartney vegan boots, she has a wide range of non leather shoes.

For whatever reason, vegan designer trainers seem to be the main offering from mainstream fashion houses (vegan boots and heels being a step too far?). Balenciaga pushed the envelope of the ugly sneaker trend with their vegan designer sneakers, the Zen sneaker.
You can also find vegan Gucci shoes, again only in sneaker form.
Pin this for later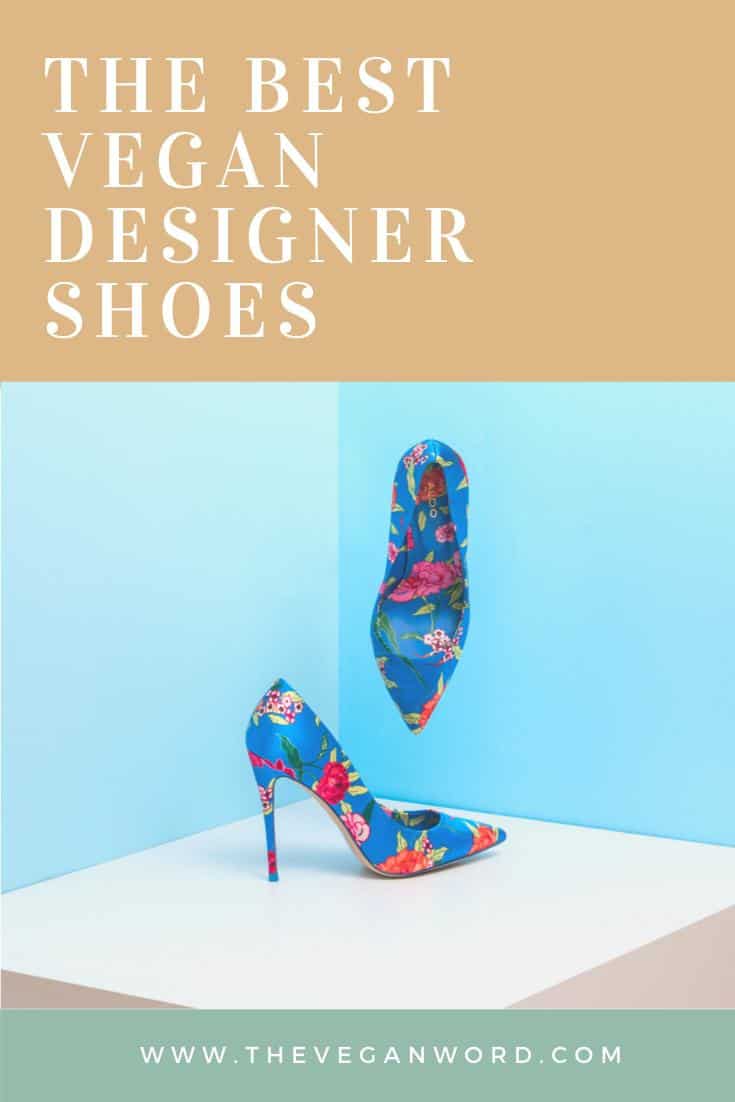 Looking for more vegan shoe guides? Click here to see my guide to vegan boots, find my vegan sandals guide here and find my guide to vegan sneakers here.
Click here to see all my vegan fashion & beauty guides.
What's your favourite vegan designer shoe brand?