Vegan knee high boots are perfect for your outfits in autumn and winter. They not only look stylish but they keep your legs really warm, too! I love my knee high vegan boots on cold days (not that we have many in Barcelona, but I've worn them in London and Chicago too) because they keep my legs nice and toasty.
For more cruelty free winter boots, see my full guide to vegan boots here.
Read on to see the best vegan knee high winter boots.
Some of the top brands for vegan knee high boots I'll be covering include:

These faux suede knee high boots are really cute and would work well with most outfits. These vegan leather heeled knee high boots have an almond shaped toe, a block heel of 9.5cm/3.7 in and are made with eco-friendly microfiber black faux suede.

If you're looking for warm vegan winter boots, Matt & Nat's vegan over the knee boots will keep you even warmer since they cover more of your leg. With a flat heel, these vegan thigh high boots are practical and comfortable. The fabric is a vegan suede. I love flat knee high boots, because they're really comfortable for walking, as well as keeping you toasty and warm. Perfect for wintry days! I also find black vegan boots practical because you can wear them with any outfit.
These boots have a small 1-inch heel and go over the knee.

Are you trying to find vegan knee high boots with a stiletto heel? These mid height heeled boots from Allkind fit the bill! The outer of these knee high leather boots is made of a mix of recycled and non-recycled polyester and polyurethane and the sole is 100% recycled and upcycled rubber. They have a rounded toe and a heel height of 80mm.
Allkind helpfully provide calf measurements so you can tell if it will fit; see the chart for calf circumference measurements for each shoe size.
Allkind is a luxury British vegan shoe company that's committed to being carbon negative.

Both the upper and lining of these vegan tall boots is made of upcycled vegan leather, and the sole is natural rubber. Collection and Co is a vegan shoe company that aims to be as eco-friendly as possible, using a variety of upcycled vegan leather, eco friendly materials like pineapple leather and recycled plastics. They aim to reuse materials from prior collections and utilise responsible manufacturing in a small factory in Greece.
They have a comfortable block heel of 6cm. Similarly to Allkind, they have a helpful list of calf circumference for each size, so you can check if it will fit.
If you're looking for brown knee high boots, BC Footwear has these vegan dress boots, available on Amazon. They also make gray knee high boots.
They have a 3-inch heel, comfortable for walking.

Beyond Skin's classic vegan black knee high boots are the right fit for you if you're looking for boots that will stay in style for years and work with any outfit. I've owned Beyond Skin shoes in the past and they were really durable and well made so hopefully they'll stay with you for years to come, too. These pull-on, vintage-inspired vegan leather knee high boots have a rounded toe and contrasting sole. They feature a 100% recycled faux leather lining and are made in Spain. They're also PETA approved vegan.

Want unique non leather knee high boots? This style from Bhava is different - the Alcott is a lace up knee high boot, featuring a weatherproof winter grip sole, a removable ankle strap and a removable cork insole.
Named after the Victorian author and suffragette, these boots are limited edition. The heel is 2 3/4" with a 5/8" platform. Because of the lace-up design, they are more likely to fit a range of different calf sizes, too.

A classic style riding boot, the Cecilia is made with EU Ecolabel certified materials and a rubber sole. These high knee vegan boots have a stacked wooden heel that is a practical 2 inches.

These boots are carbon neutral! With a low heel, they're also practical and comfortable. They're shipped in sustainable paper and cardboard packaging, without plastic.
Wills brand of vegan shoes started out making vegan men's shoes, but now they sell shoes for women too, as well as bags, accessories and more. They have a huge range of boot styles for sale, from water resistant boots to winter boots with deep treads, waterproof hiking boots and more.
FAQ
What are vegan knee high boots?
Vegan boots (of any style!) are boots that don't use any animal products like leather or wool. Instead, they are made using vegan leather, wood, canvas and other animal-free materials.
What can you pair knee high boots with?
Knee high boots look great with miniskirts or under dresses, and they also work well with jeans - if you your jeans fit into the boots, that is.
How wide are knee high boots? How do you ensure they fit over your legs?
One tricky element with knee-high or thigh-high boots is finding boots that fit your calves and thighs. Look for boots' width and be aware you may need to return/exchange them.
Are knee high boots good for winter?
I love wearing knee high or thigh high boots when it's cold out as I find they keep my legs really warm - even warmer than a pair of jeans. Depending on where you live, how much it snows and if you tend to have to walk across icy sidewalks, they may or may not work. Be sure to look at the treads, and consider whether flat boots or a low heel would be easier to walk in in wintry conditions, rather than high heels.
How are vegan shoes made? What is vegan leather made out of?
Vegan shoes can be made out of different materials, from canvas to hemp to cork or vegan leather. Vegan leather itself is also made from many different materials. It can be made from PVC (which is really bad for the environment and I recommend avoiding it - thankfully it's not used that much anymore by many vegan companies), polyurethane or PU leather or more recent inventions like pineapple leather, apple leather or mango leather, which are all made from leftover waste from the food industry.
Should I give knee high boots as a gift?
It can be tricky choosing shoe styles, let alone talking calf circumference into account as well as shoe size, so a gift card to a vegan shoe store might be a better choice. Immaculate Vegan has gift cards and make a great choice because this online marketplace sells a range of different vegan brands and styles, plus bags and accessories as well as shoes.
Pin this for later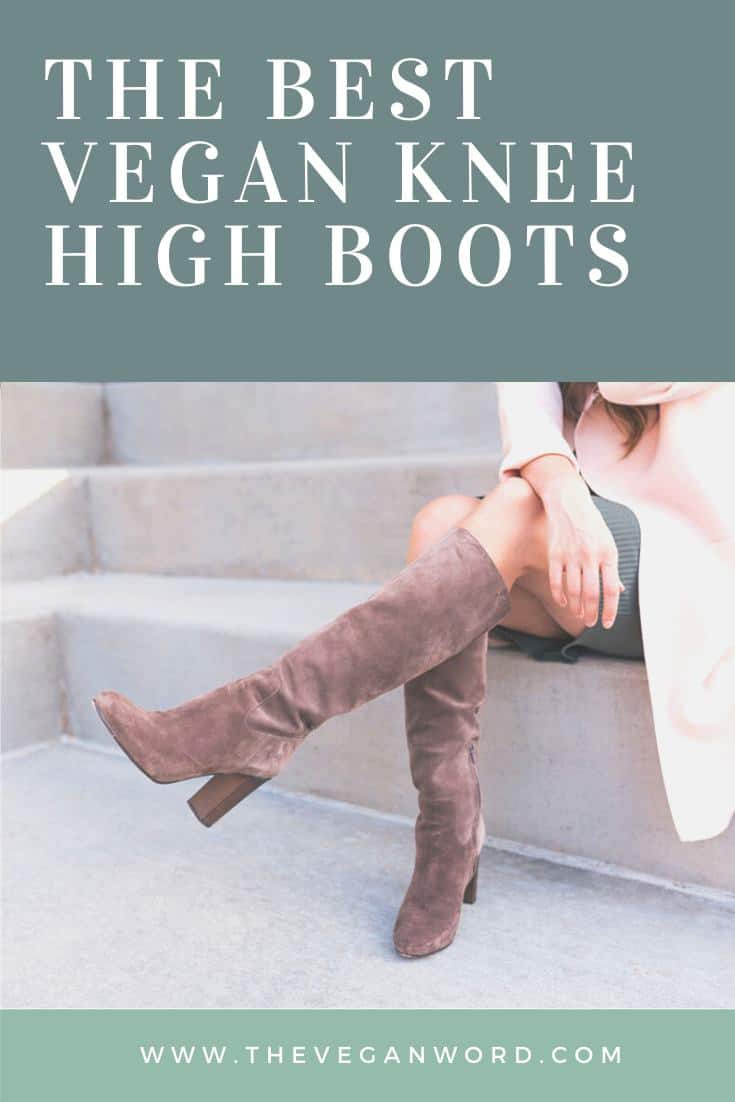 Looking for more vegan shoe styles?
Check out my guide to all styles of vegan boots here, and my more detailed guides to vegan Chelsea boots here, and vegan ankle boots here.
Find my guide to vegan sandals here.
Check out my guide to vegan trainers here.
Click here to see my guide to vegan designer shoes.
Click here to see all my vegan fashion & beauty guides.
What would you pair your vegan knee high boots with?