Vegan combat boots are perfect for autumn and winter and for wearing with jeans or even adding an edge to your dresses. It's not always the easiest to find 100% vegan boots, though, which is why I put together this list!
The last pair of vegan boots I bought, from a now-defunct vegan shoe store in Chicago, have lasted 6 years (and counting!) but I haven't always found it easy to find vegan shoes. I've been vegetarian my whole life, and vegan since 2008, and I remember as a teenager trying to find non-leather shoes at a department store in my hometown.
The people working there had no idea what materials the shoes were made out of (and the shoes didn't seem to have any labels showing what they were made out of), so eventually my dad tried to figure it out by scratching and sniffing the shoes. Luckily it's much easier to find vegan shoes these days but I find it's easiest to get them online, as still not all stores know whether shoes are non leather (and those that are non leather but not from vegan brands may contain animal-based glues).
Read on to see my picks of the best vegan combat boots.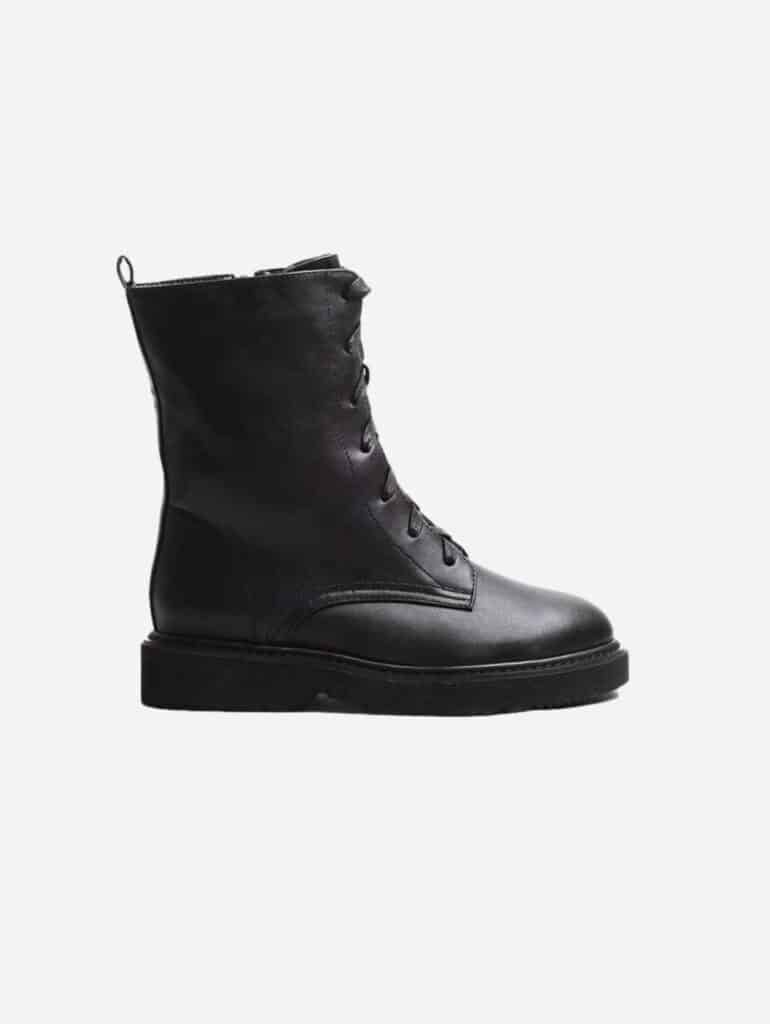 These classic style vegan biker combat boots are made of upcycled vegan leather. They have a cushioned rubber sole, lace-up front and a side zipper to make them easy to take on and off.
Both the upper and lining are made of upcycled vegan leather. Collection and Co aims to use sustainable materials like upcycled vegan leather and pineapple leather, to make their shoes. They also re-use materials from previous collections, and only product small amounts of each design to reduce waste. So when they sell out, they may be gone forever.
---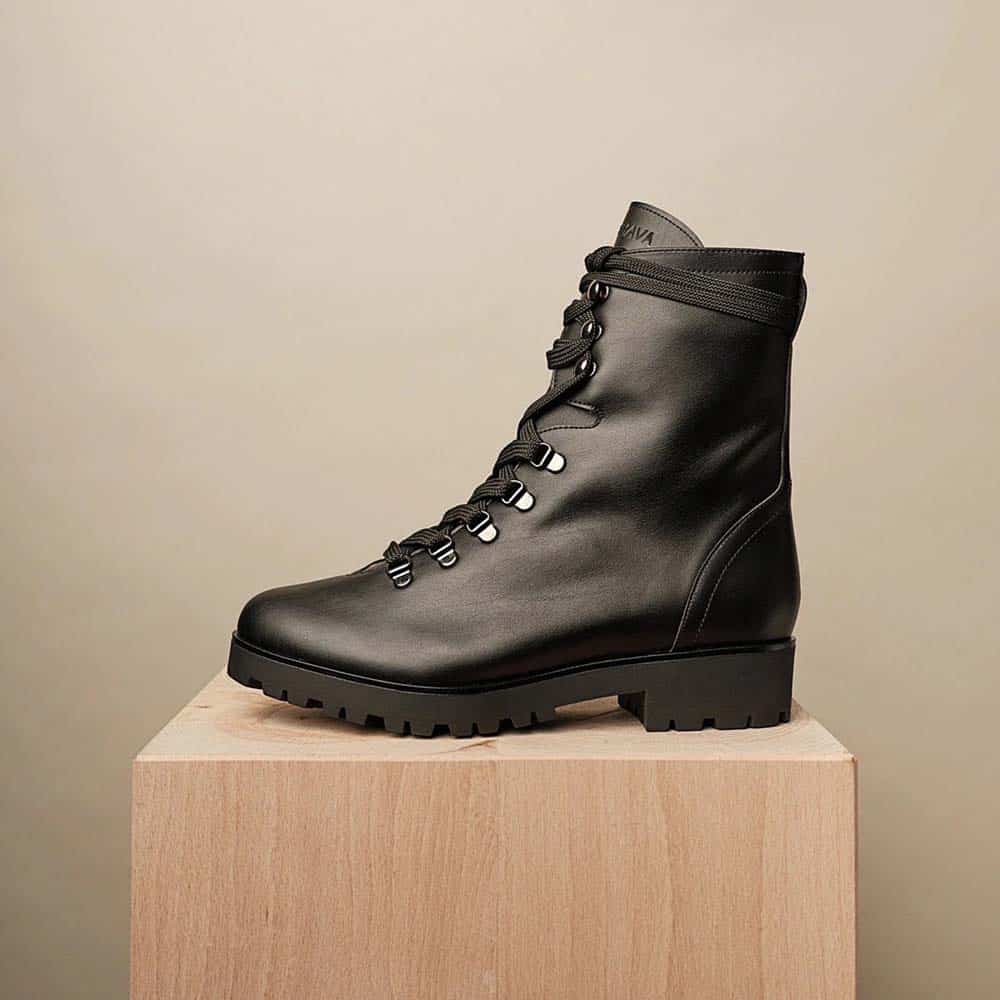 These are a classic vegan combat boot style and are really popular with customers (they have 5/5 stars with 18 reviews).
As well as classic black vegan combat boots, they come in other shades too, so if you want vegan white combat boots, burgundy boots or their natural shade, you have choice. Reviewers state the vegan white combat boots make quite a statement. They also say the choose are stylish and comfortable for walking.
The boots come with removable cork insoles and two sets of laces, one extra long so it can wrap around the ankle twice.
Bhava's shoes are handmade in Alicante, Spain, where shoes have been made for generations.
---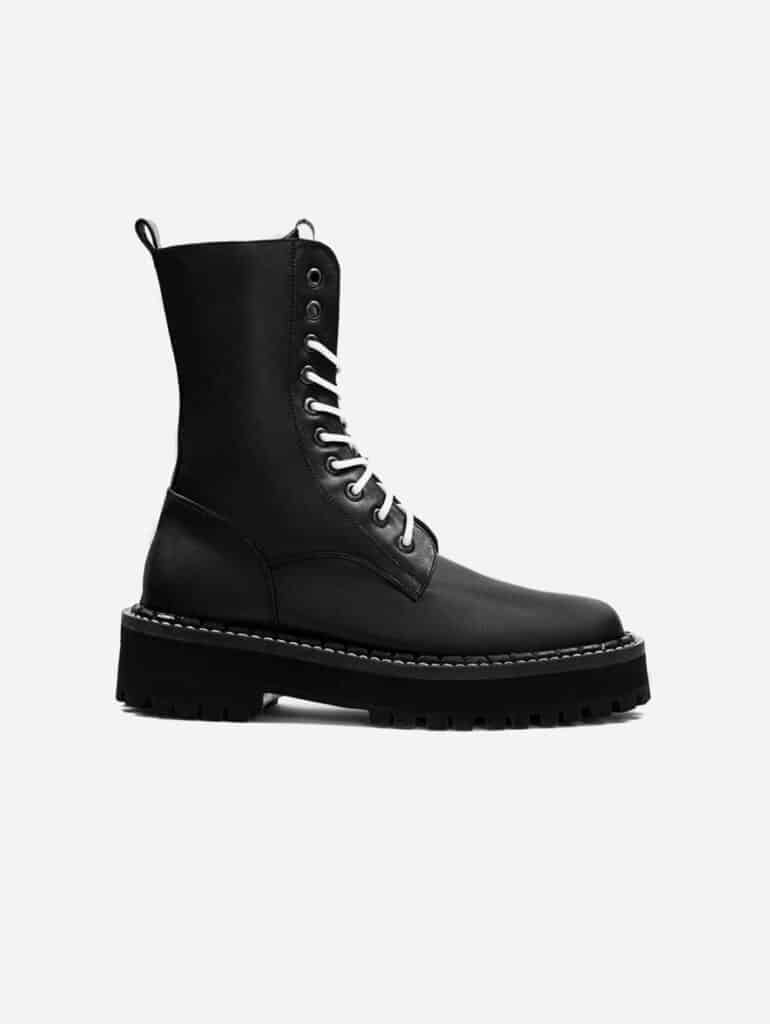 These non leather combat boots are made of Desserto cactus leather, which is made from the leaves of the Nopal cactus, and available in men's sizing.
Cactus leather is a newer eco-friendly leather alternative. It's naturally durable and soft to the touch. These work boots are lined with a mesh fabric and have a rubber sole.
---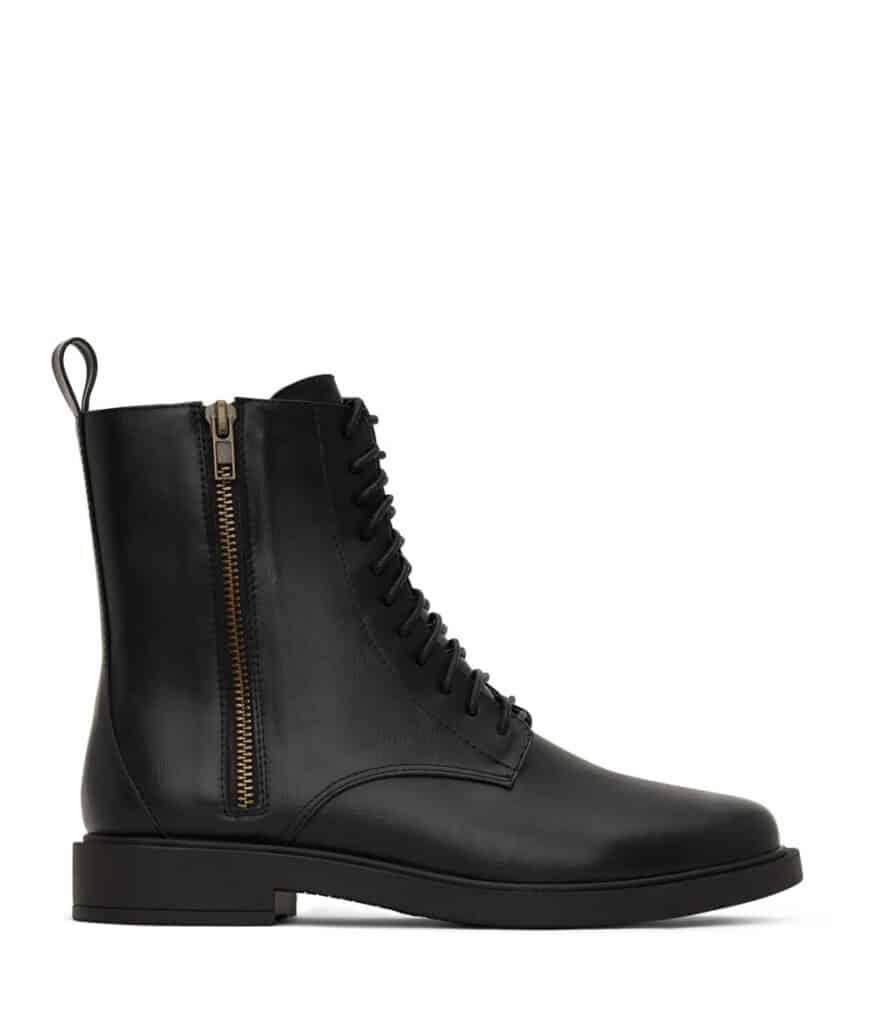 These vegan black combat boots are made with a biodegradable material (though in what proportion or whether that's the upper or lining, is unclear) and have a 1/2-inch outsole.
Matt & Nat is one of the oldest and most famous vegan bag companies, but in the last few years they've expanded beyond making handbags to also make vegan shoes and coats.
---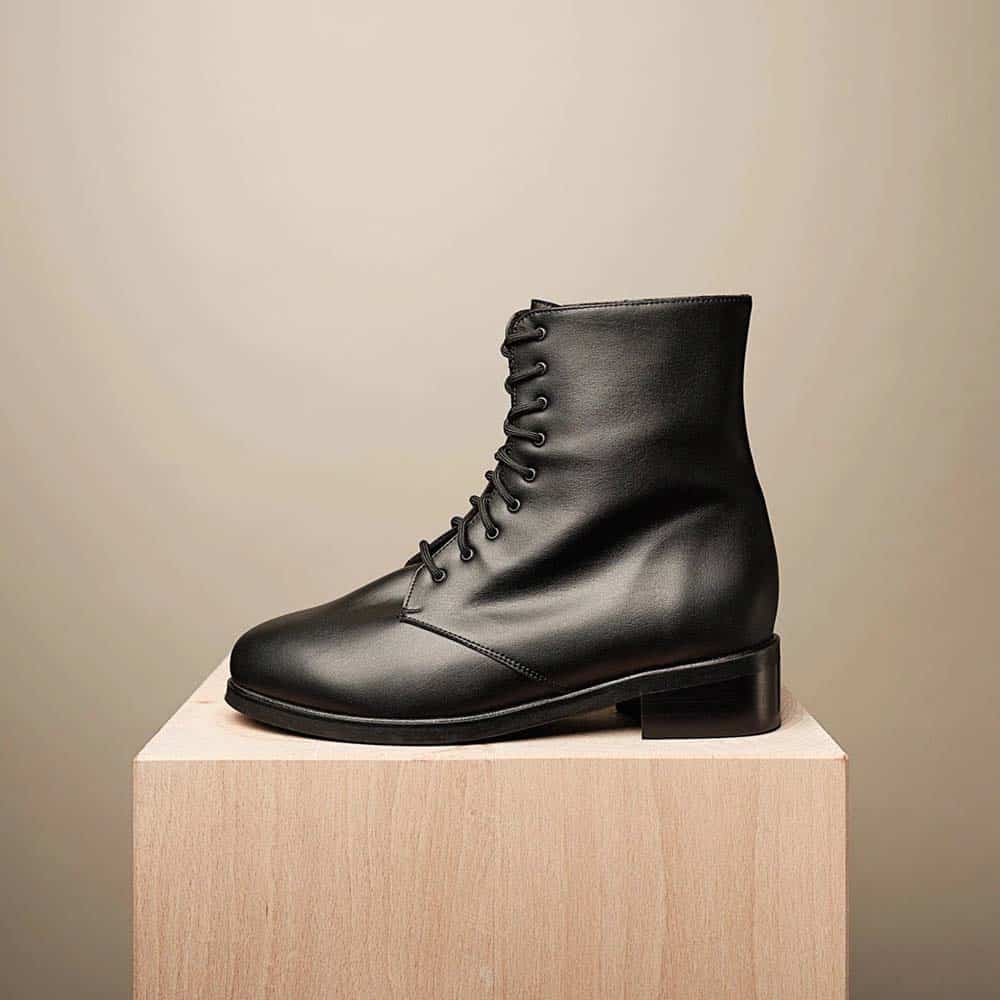 These faux leather combat boots are made of a high quality vegan leather and have a cushioned cork interior. They are a classic black, with minimal details and a small heel.
Like other Bhava shoes, customers praise their comfort (the boots have 5/5 stars with 5 reviews), saying they were comfortable right out of the box.
---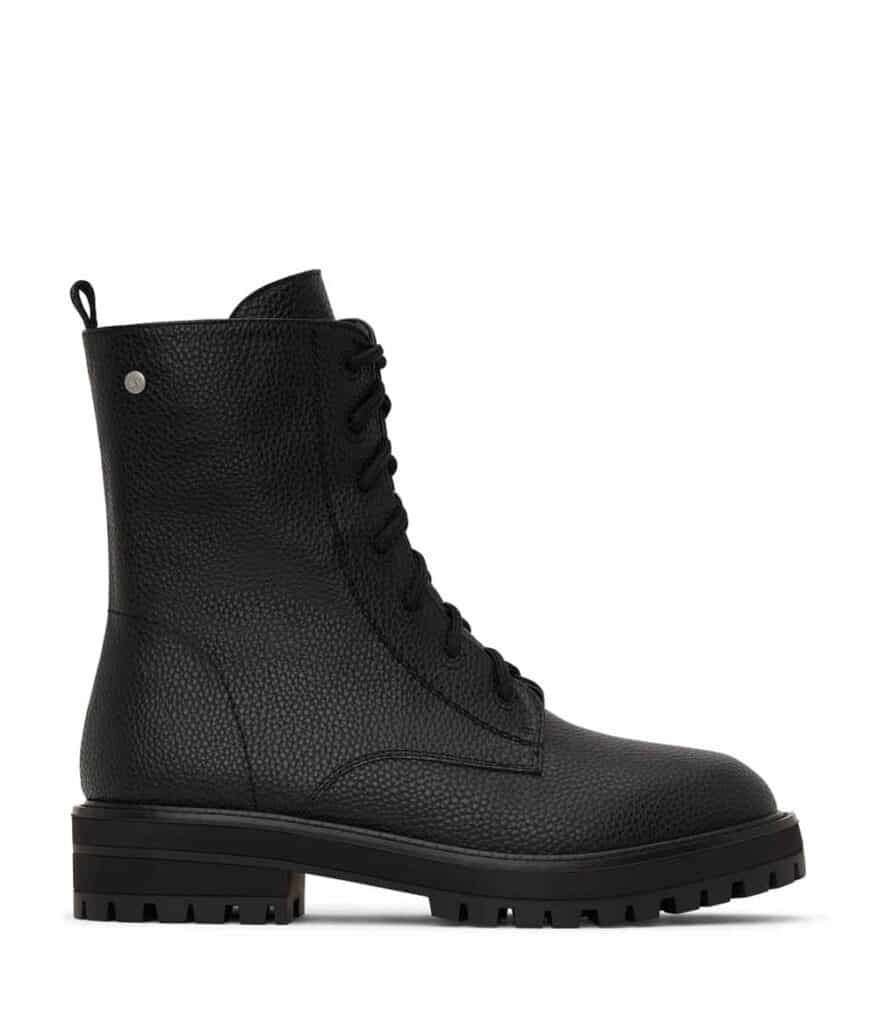 These vegan combat boots, like all Matt & Nat products, are 100% vegan and cruelty-free and come in women's sizing.
The outer is PU vegan leather, and they say they're made with biodegradable material but they don't say what percentage or whether that's the upper or lining, which I'd like to see.
They have a 1-inch outsole.
---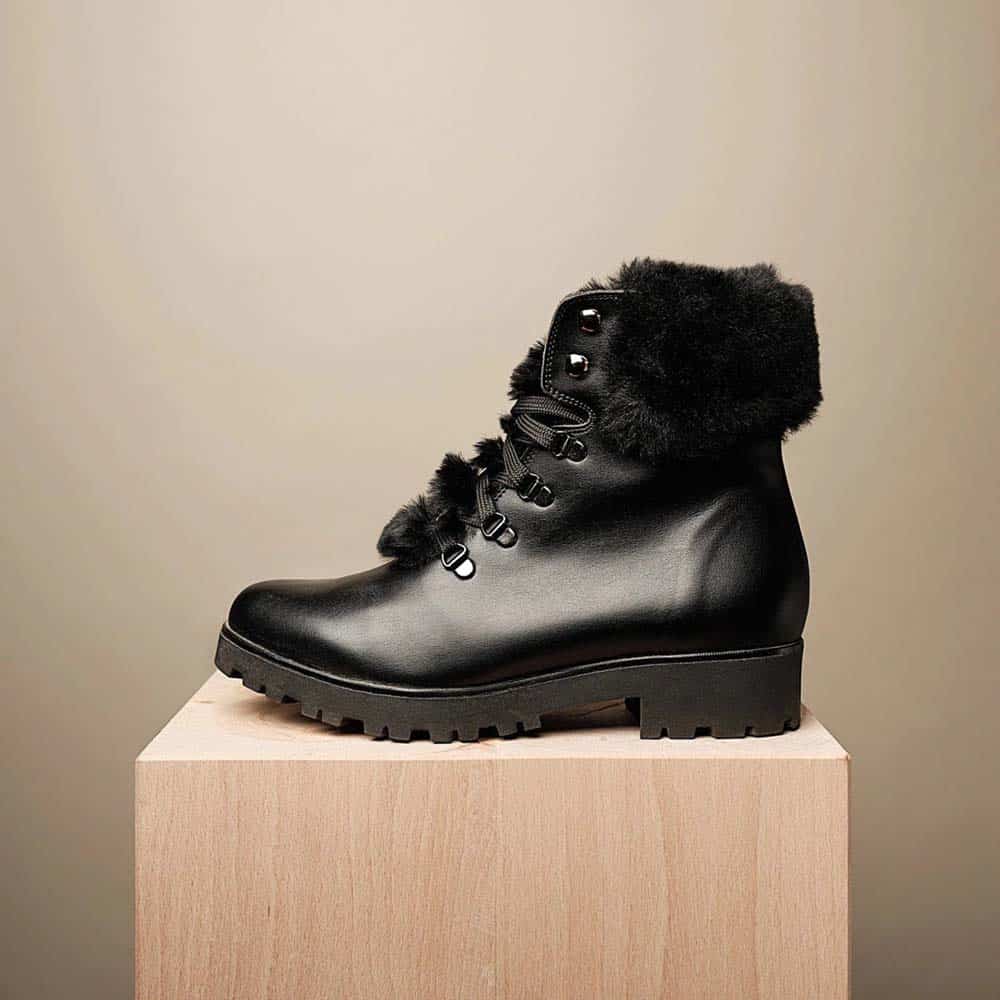 This vegan leather boots are the perfect way to keep your feet warm – and cosy – this winter! They come with two pairs of insoles, their signature comfortable cork ones and a cotton shearling winter insole.
These boots have a soft vegan leather upper and vegan faux fur detailing plus a comfortable and flexible rubber sole.
The shoes are praised by customers, earning 5/5 stars on 13 reviews, with many saying how comfortable they are and how the extra grip on the sole are helpful in winter.
---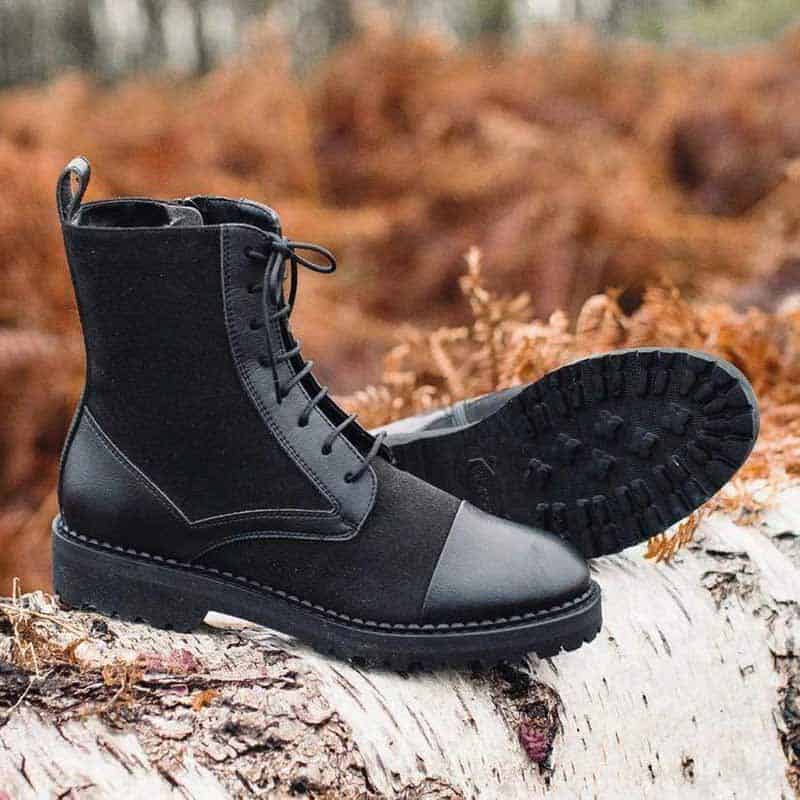 These 90s style boots are made of high-quality vegan micronappa leather and vegan microsuede. Both are breathable and easy to care for/clean.
It has a side zipper, rubber sole and soft, faux fur padding for comfort. Noah shoes are PETA approved vegan.
---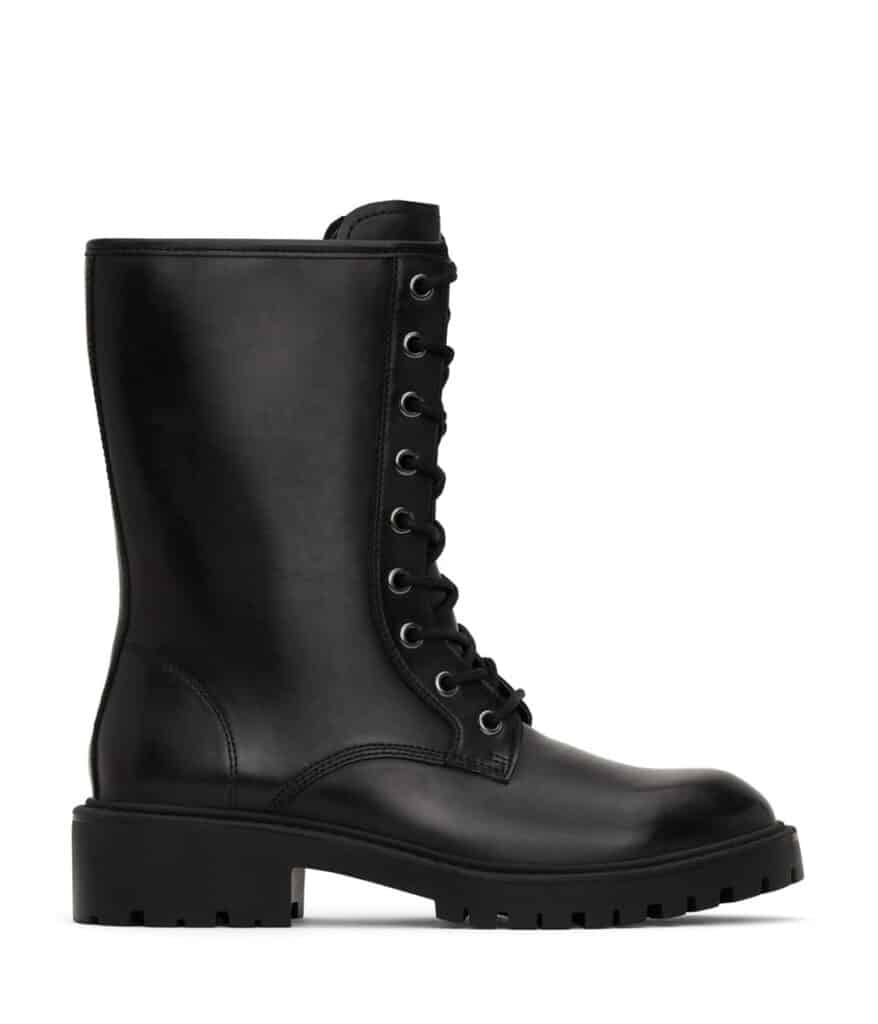 These vegan boots from Matt & Nat are made of PU vegan leather and have a rounded toe, lace up front and zipper, with a 1-inch outsole.
---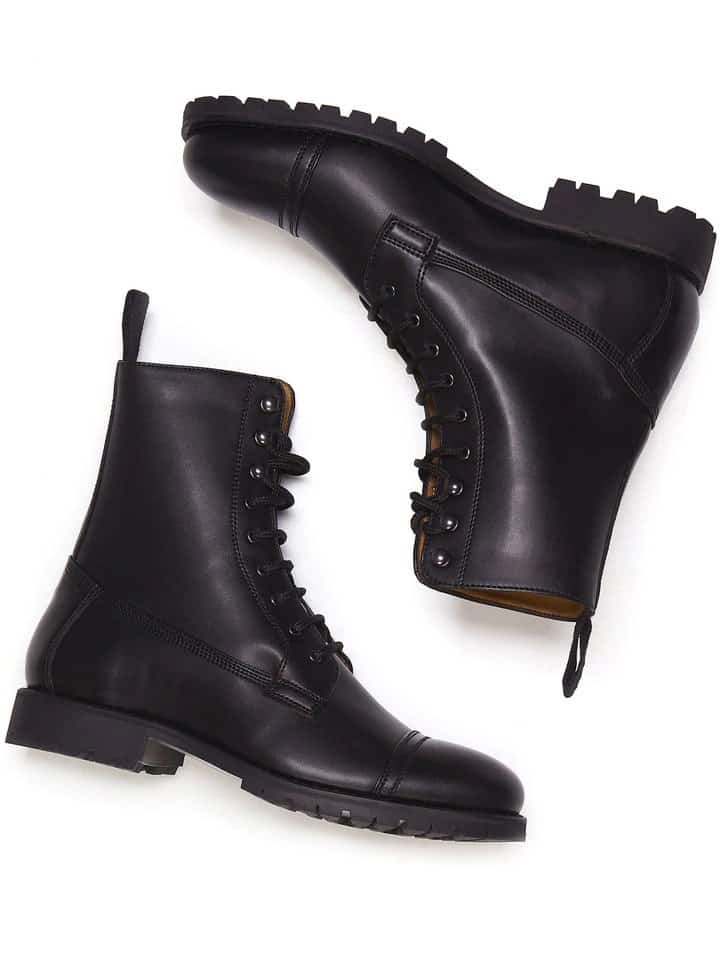 These Goodyear boots are built to last for years. Apparently Goodyear boots are the pinnacle of boot construction and a gold standard you should look for, since the soles can be replaced over and over, making the shoes last many years.
Goodyear boots can take 8 weeks to make, using 75 different boot parts. They get better over time as the boots mould to the shape of your foot.
These boots are made of an Italian 69% bio-based vegan leather. The laces are recycled polyester, they have pull tabs and they're lined with breathable vegan suede.
---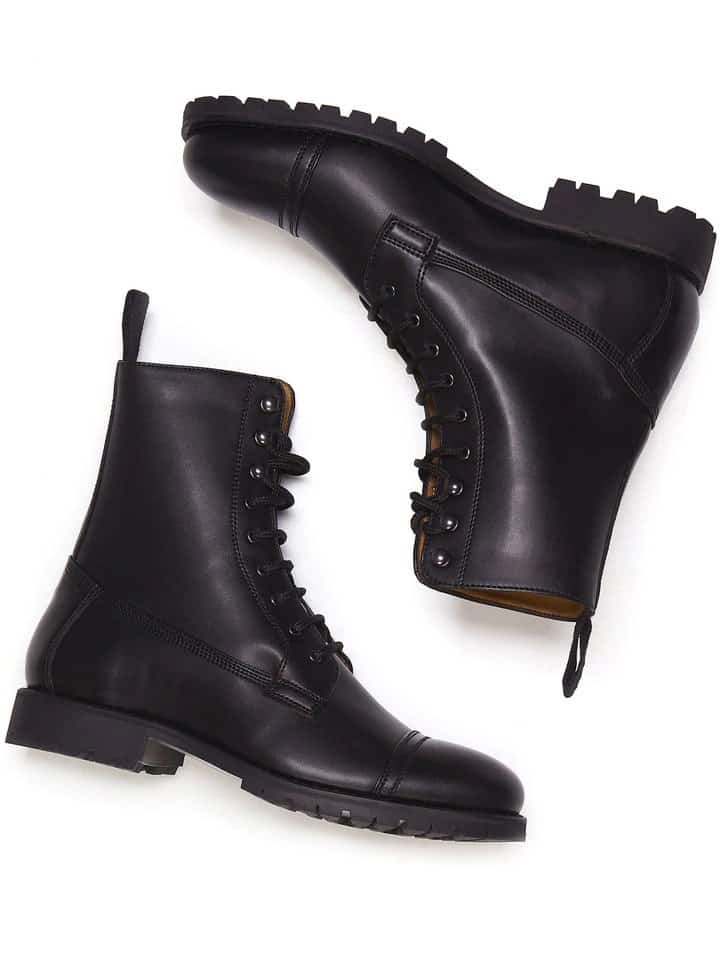 As mentioned in the listing for men's sizing above, these are Goodyear boots, the gold standard in boot construction. The soles of these vegan military boots are rubber and can replaced many times at any good cobblers, making them last many years. They're also comfortable (at least after some time) as they mould to your feet over time. They do require some breaking in time.
The upper is 69% bio-based Italian vegan leather, while the inside of the shoe is lined with vegan suede for comfort and breathability. They have pull tabs to get them on and off more easily, and recycled polyester laces.
---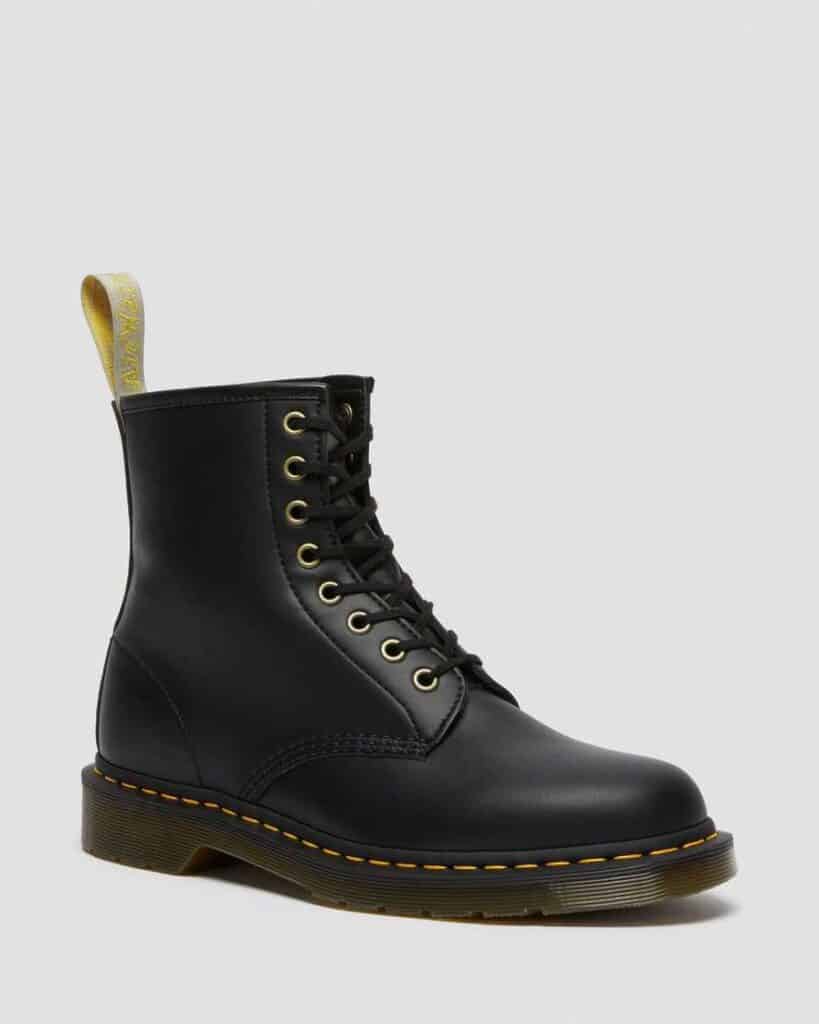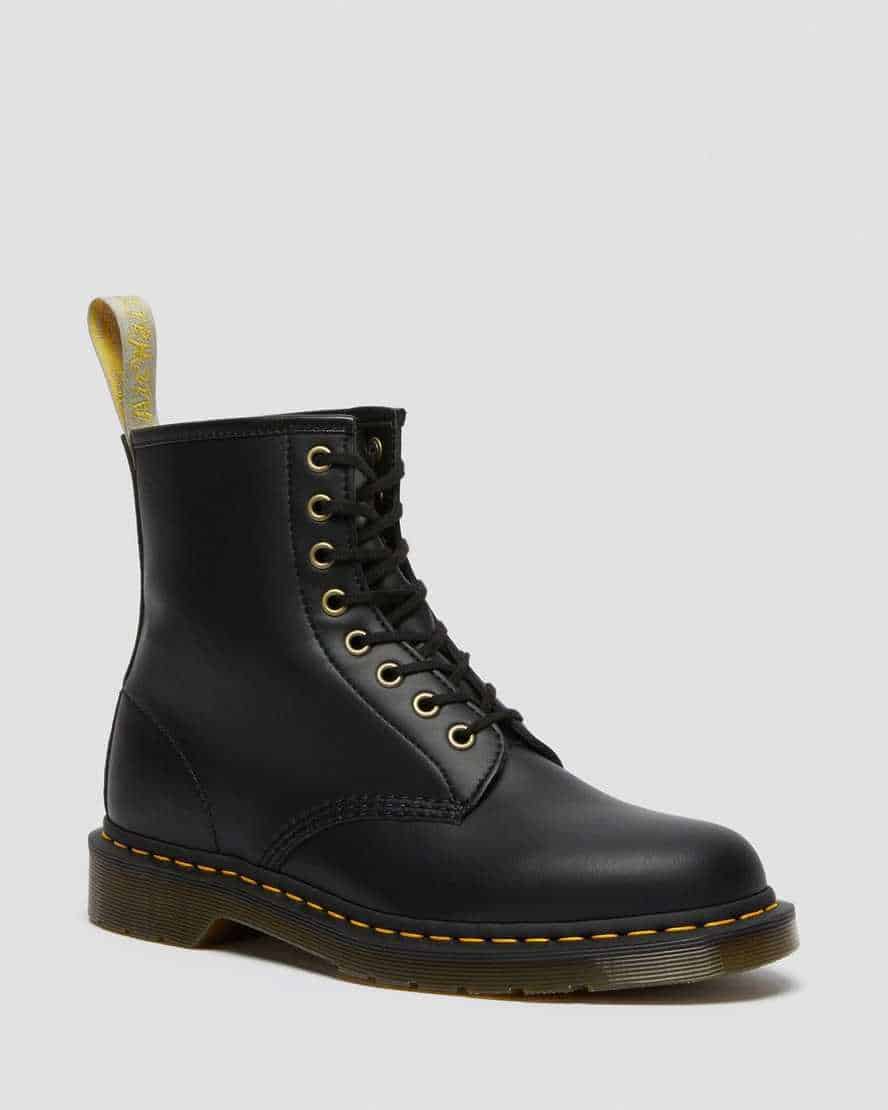 These classic 1460 boots from Doc Marten are available in vegan leather. The iconic Dr Martens style will go with all your looks.
They're made with a Goodyear construction, the gold standard in boot construction as the soles can be replaced many times, making them last for years. Unlike with other boots, it's not glued on but is heat-sealed and sewn together. You can find my full guide to vegan Doc Martens here and vegan DM boots here.
FAQ
What are vegan combat boots? How are combat boots vegan?
Vegan combat boots are simply combat-style boots made entirely with vegan materials.
Combat boots, as you might imagine, were originally developed as boots to be worn by members of the military, but then became fashionable. They're great for adding a tough edge to your look. They also tend to have good grip and stability and are good for rugged environments.
Are there any vegan combat boots?
Yes! Like just about any style of boot, there are vegan versions available made 100% free of animal products such as leather or fur trim.
Instead, they're made from vegan materials like vegan leather, cotton, vegan fur or even newer, sustainable materials such as pineapple leather, mushroom leather or grape leather, all made from leftover waste from the food industry.
Furthermore, they're made without any animal-based glues, which may be included in some non-leather shoes from non-vegan brands (at least the ones that aren't marked vegan).
Where to buy vegan combat boots?
The easiest place to buy vegan shoes is usually online, unless you happen to be very lucky and have a vegan shoe shop in your city, or a shoe store that has a selection of vegan shoes. Unfortunately, most stores still don't label their vegan shoes and people working aren't (in my experience) always very knowledgeable about vegan items.
If you prefer to try on shoes in person, be sure to look for a vegan shop near you.
Otherwise, check out the list above for vegan combat boots you can buy online!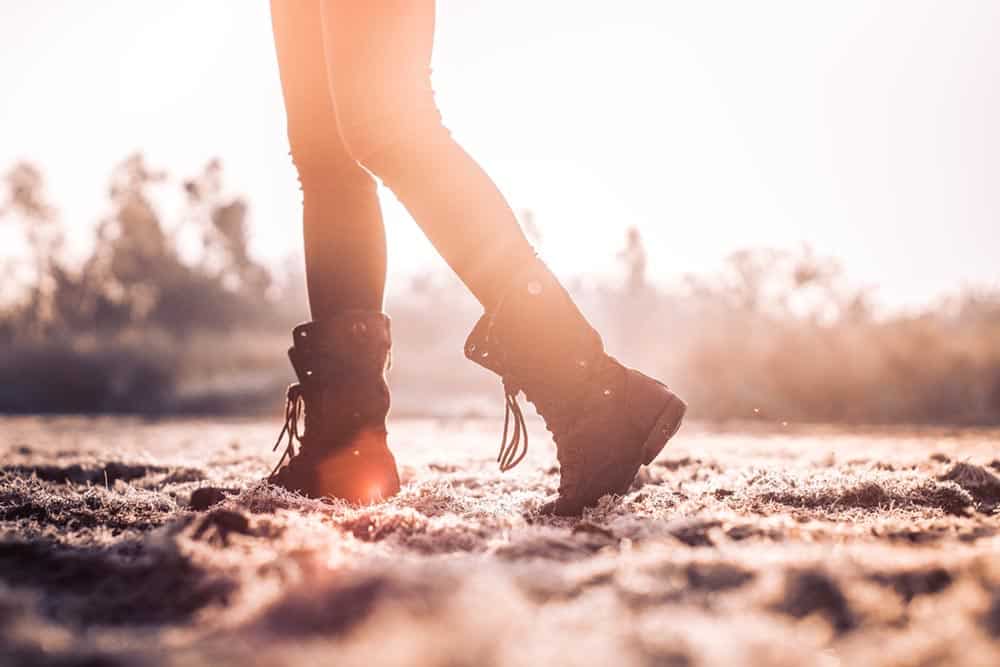 Are vegan shoes eco-friendly?
While how eco-friendly they are depends on the materials, construction method etc. vegan materials are generally more eco-friendly than animal-based leather.
The Higg index, which compares the environmental impacts of different materials, places cork at one end (most eco-friendly) and alpaca wool and cow leather at the other. While some criticise polyurethane/PU (the most commonly used vegan leather alternative) as not being eco-friendly as it contains plastic, it ranks better on the Higg index.
Cow leather uses a lot of resources because of all the resources it takes to raise cattle (which is water-intensive and of course produces a lot of methane, a greenhouse gas) but also leather tanning is a very polluting industry and is dangerous for workers. According to this article, 85-90% of leather is chromium treated. Also, because of the ways leather is chemically treated, it's not usually biodegradable.
Buying secondhand is always a good choice, or combat boots like these ones which are made of upcycled vegan leather.
Or, there are other newer vegan leather alternatives, which do still use some plastic, but also incorporate materials that would have otherwise become waste, such as pineapple leather, grape leather or cactus leather. These vegan combat boots are made out of cactus leather.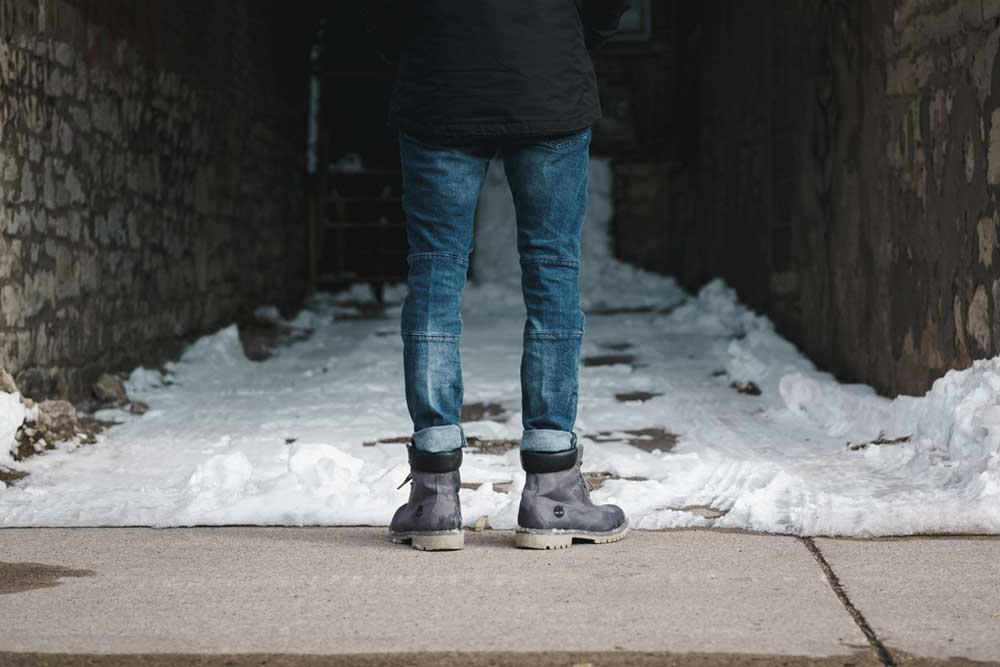 What to consider when buying vegan boots?
There are a number of things to consider when buying any shoes, including vegan boots, including: durability, warmth/traction/suitability for weather, style, materials & sustainability, price & ease of repair.
Durability
In my experience, durability can vary wildly from brand to brand and even model to model (and whilst roughly correlated to price, it's not always an accurate predictor). Combat boots are generally quite rugged and tend to be fairly durable boots, but it depends on your usage too. I always recommend finding a good cobbler and repairing your shoes as much as possible to extend the life. These boots, for example, come with Goodyear welted soles, which are great because they can be replaced for many years.
Suitability for weather
Next, consider the weather where you live and when you plan to wear the boots. Is it likely to be raining? Snowy? Cold? Do you need faux fur-trim vegan boots like these ones to keep you cosy, or do you perhaps need to look at proper vegan winter boots (check out my list here)?
Style
Will the shoes match your clothes? Combat boots are great for adding an edge to your look, as well as going well with jeans.
Most combat boots (and all in this list) come in black, which tends to go with everything, though you can find other colours, such as cherry (dark red) in Doc Martens.
Materials & sustainability
Some vegan materials are more eco-friendly than others. PVC is a material you should avoid, as it's terrible for the environment (Greenpeace even calls it "the poison plastic").
PU, or polyurethane, vegan leather is the most commonly used vegan leather alternative, and whilst it's more eco-friendly than cow leather, according to the Higgs index, it does contain plastic. As mentioned above, newer materials such as cactus leather (check out these cactus leather vegan boots) are vegan and at least utilise waste products.
Cork is one of the most sustainable clothing materials, but I haven't (yet) come across fully cork shoes.
These boots are made from upcycled vegan leather, which is a good way of diverting waste.
Best of all is to choose items that already exist, so buying secondhand is a good option – check eBay or apps like Vinted, Depop or Vestiare Collective.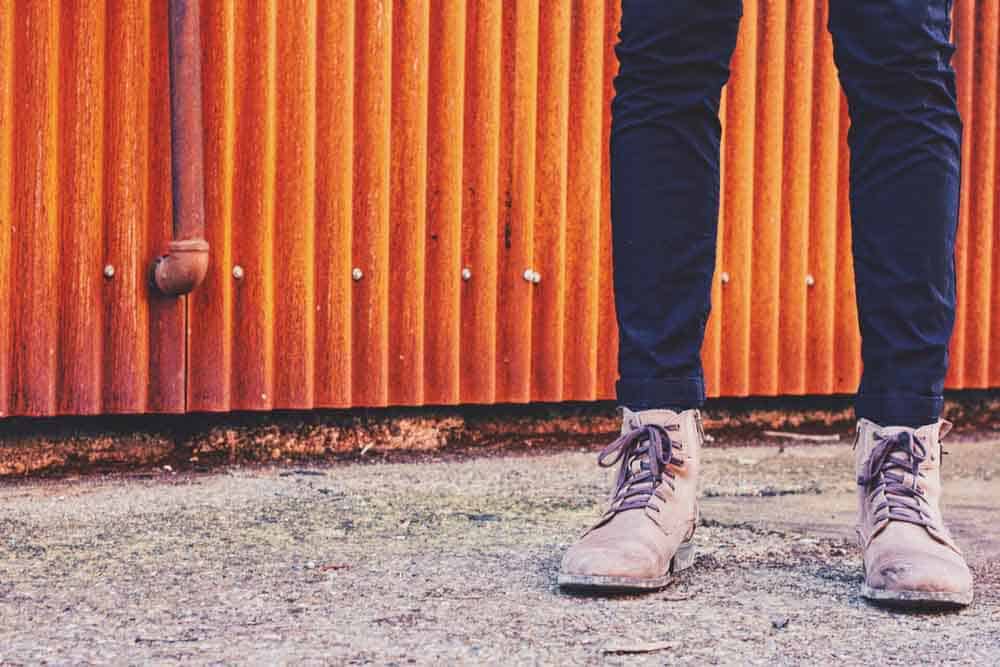 Price & ease of repair
Lastly, but not least, you'll consider price when buying shoes! One idea I love is costing up "price per wear," which isn't necessarily the easiest thing to do but is a helpful way of thinking about price when making a purchase.
The idea behind price per wear is thinking about how many times you're likely to wear an item of clothing and determining the price per wear. For example, if you buy a jacket for $100 and wear them 100 times, then the price per wear is $1.
Boots can last a long time as they tend to be the kind of shoe cobblers can repair, whether that's replacing the sole or re-heeling them. These boots are Goodyear, which is the gold standard of boots, apparently, since the soles can be replaced infinitely. Therefore, that should factor into cost per wear calculations.
Pin this for later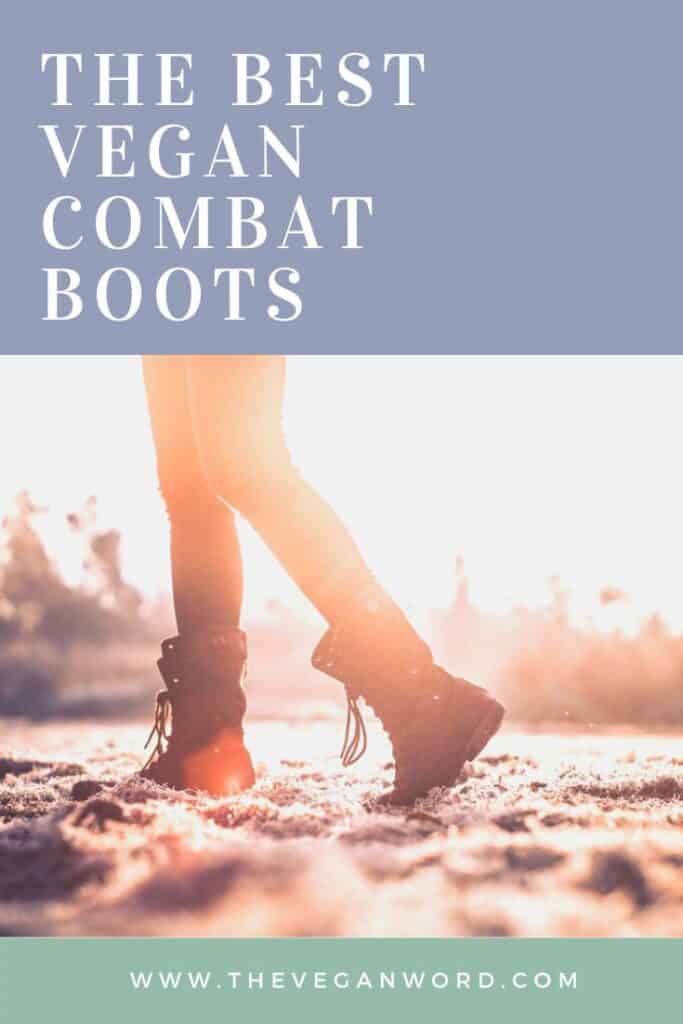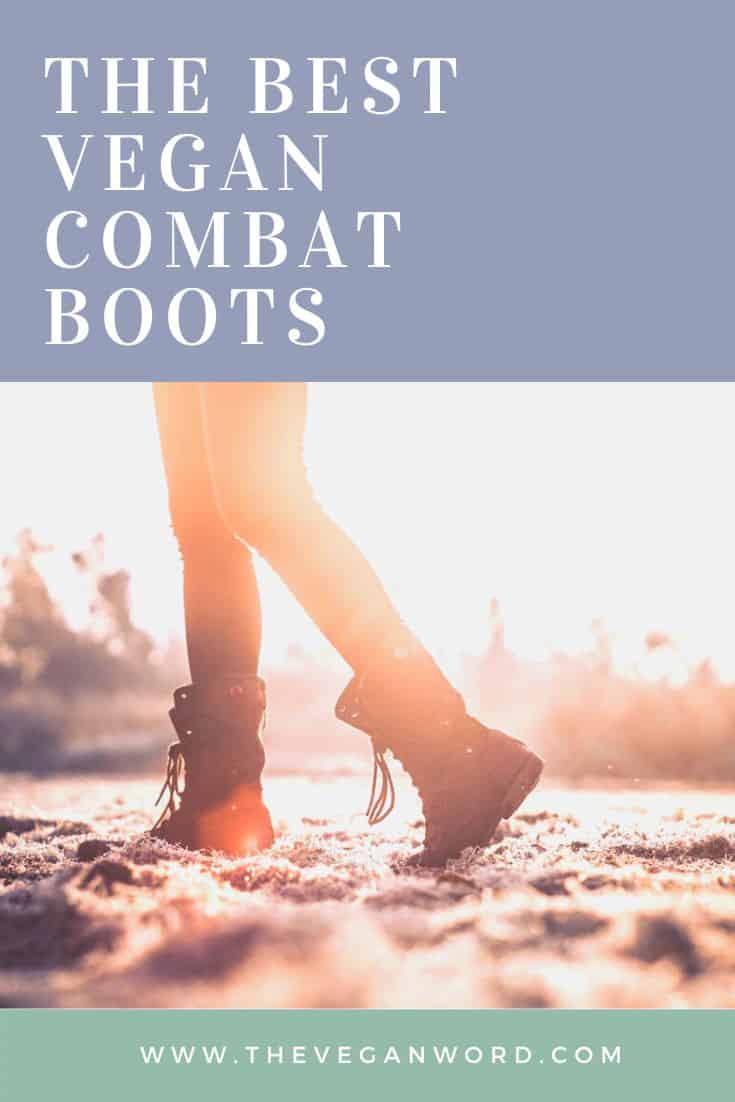 Looking for more vegan boots? Check out my guides to the best vegan boots, plus to vegan Chelsea boots, vegan ankle boots, vegan Timberland boots, vegan walking boots, vegan cowboy boots and vegan knee high boots.
I also have guides to other styles of shoes such as vegan loafers, vegan flats, vegan heels, vegan sandals, vegan sneakers, vegan Reeboks, vegan clogs and vegan dress shoes.
Also check out my guide to vegan shoes brands, vegan designer shoes, vegan mens shoes, vegan mens boots and vegan womens shoes.
Find all my vegan fashion guides.