Vegan sneakers are becoming more and more widely available, with even some mainstream sneaker brands releasing vegan shoes in recent years. But which vegan sneakers are the best and which brands can you count on? I've put together this list of the best vegan sneakers to help you with your choice.
Some of the best vegan sneaker brands I'll be covering include:
More vegan sneaker brands:
Designer vegan-friendly sneakers:
Making sneakers vegan is easier than ever.
From pineapple leather to mushroom leather, there are any number of innovative vegan materials out there being utilised by shoe companies these days. Many of them, like pineapple leather, are extra eco friendly because they use waste byproducts (in this case, pineapple leaves, a byproduct of the pineapple industry).
Here are some of the best, most innovative and coolest vegan friendly sneakers out there and where to find vegan shoes online.
Best vegan sneakers: top brands

Features: eco-friendly, 100% vegan company
My pick: Eden V2 vegan leather trainer
Humans are Vain is an eco-friendly and vegan sneaker company from Sweden.
Their mix modern design with innovative, sustainable materials and production. Some of the materials they use include recycled cotton, recycled rubber and upcycled polyester made from ocean waste.
They also are part of the circular economy, and will recycle your old HAV shoes to become new ones.
Founder Chris Margetts was working in London in fast-fashion and was so disenchanted he started Humans are Vain as a rebellion against the contemporary fashion industry.
Their non leather sneakers are made with a breathable, antibacterial vegan microfibre leather that holds OEKO-Tex certification (passing standards for environmental friendliness and not containing chemicals believed to be harmful to human health).
Looking for recycled vegan sneakers? Some of their range of vegan leather sneakers are made with polyester made from upcycled ocean waste, recycled rubber and recycled cotton. Some of their other shoes are made with Piñatex, vegan pineapple leather.
All their shoes are made in Europe so they can ensure labour standards are met.
The Eden V2 black vegan sneakers are my pick. They've taken the designs of the best vegan tennis shoes from the past and updated them to make these plant based sneakers.
These vegan black sneakers are made with vegan microfibre leather, a lining made from recycled polyester (made from ocean waste like recycled fishing nets) and corn fiber and a sole made from 70% recycled rubber.

Features: eco-friendly, vegan-friendly shoes available
While not fully vegan, Cariuma has vegan options.
It is a sustainable Brazilian footwear brand that uses organic cotton and rubber for their vegan shoes. They also have an initiative of planting 10 trees for every sneaker purchased.
Their sneakers come in six different styles, from low cut to hi cut and slip on, plus a wide range of colours.
Shipping is carbon neutral and it comes in recycled/recyclable packaging.
I have a pair and while the insole is extremely comfortable and seems great for walking, I find they rub against my toes in a really painful way. However, most reviewers state they're really comfy with no breaking-in period so it might just be my feet.

Features: Iconic designer label, vegan shoe range
My pick: Loop lace up sneakers
Stella McCartney's full designer range is vegetarian, like Stella herself, meaning none of the products contain leather or fur. Some of her clothing isn't vegan as she uses wool and silk but all her shoes and bags are vegan!
Known for her platform sneakers, she makes a range of platform trainers and non-platform trainers, plus she has a collab of athletic wear made in collaboration with adidas.
As far as vegan sneaker brands go, you can't get much more iconic than adidas by Stella McCartney – a major sneaker name and a major designer name together!
These cool vegan sneakers take athleisure wear to a new level while also being eco conscious and made with recycled materials.
My top pick is from Stella McCartney's shoe range – the Loop women's vegan sneakers. These cute vegan sneakers have a 1.6 inch / 40mm platform, and are made of vegan leather made from polyurethane and recycled polyester.
The inner lining of these vegan casual sneakers is 100% bamboo. I love the ombre effect of the yellow to purple fade on shoe.
If you're looking for vegan fashion sneakers with added height, they also have vegan chunky sneakers with a wedge.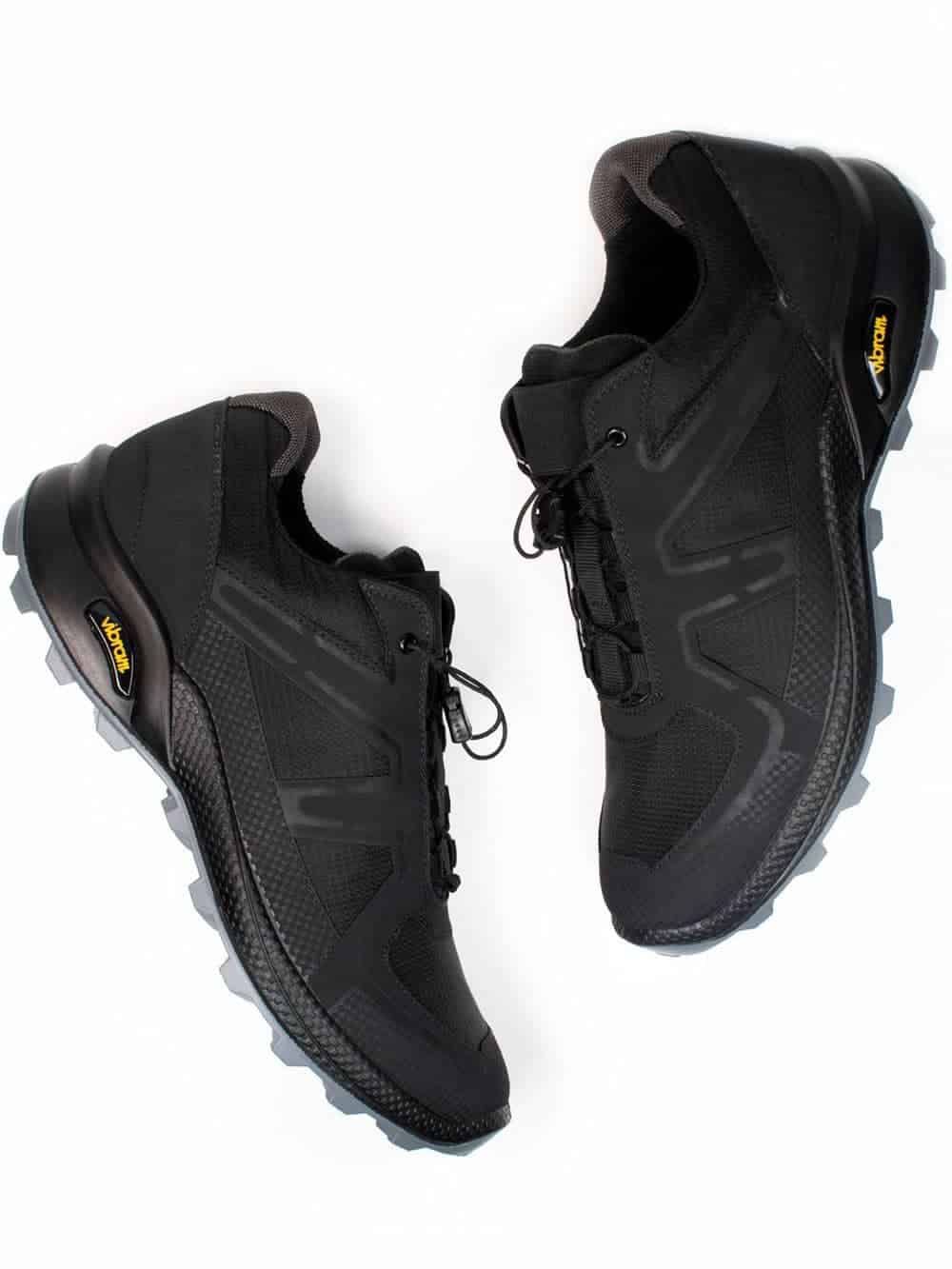 Best for: vegan sneakers UK (they also have US and EU stores)
Features: 100% vegan company
My pick: WVSport Oakes vegan running shoes (womens) / WVSport Oakes (mens)
Wills is an all-vegan shoe company based in the UK. Originally founded as a men's shoe brand (at a time when it was especially hard to find vegan men's shoes), the vegan shoe store has since expanded into outerwear, women's accessories and other vegan sustainable fashion.
They have a range of classic style sneakers. Find their mens sneakers here and their womens sneakers here.
Will's has online vegan stores for the US, UK, Germany and EU – switch country/currency in the upper left corner.
My pick is the WVSport Oakes vegan athletic shoes, designed by three time world record holder and distance runner Fiona Oakes. They're designed for her most extreme runs, from the Sahara desert to the North Pole.

Best vegan grape leather sneakers: Alexandra K
Features: 100% vegan brand, uses sustainable materials
My pick: Bliss vegan grape leather sneakers with vegan corn leather trim
Alexandra K is a Polish brand that started out making bags but more recently has progressed to vegan shoes too.
Their AXK sneaker capsule collection consists of shoes made of waste from wine-making. These grape leather trainers have an outer made of vegan grape leather, with corn leather trim on the heel (you can choose between different colour heel trim).
The Bliss white vegan leather sneakers also have a light, flexible insole made of biomass and recycled insole and manufactured using solar power.

Features: Vegan French brand, sustainable materials
My pick: Multicolour Felix vegan suede trainers
Good Guys Don't Wear Leather is the first vegan shoe brand in France. They use vegan microfibre leather plus sustainable materials such as vegan apple leather and an Italian zero-carbon emission material made with vegetable seeds and cereal grains. Their aim is to be 100% recyclable.
They work with small, family-owned suppliers and manufacturers in Spain, Sweden, Italy and Portugal to ensure good working conditions and fair wages.
My pick is the Felix vegan suede sneakers. These bright trainers in fuschia and teal are made with a vegan suede upper, antibacterial lining and non-slip rubber sole. All materials are OEKO-TEX certified and sourced in Europe.
These vegan casual shoes are made in Portugal by a small, fair trade manufacturer.
More vegan tennis shoes

Features: organic cotton, living wage
Veja sneakers became something of an 'it' item in recent years, with many celebrities sporting them. While they're not a totally vegan company, they do have vegan leather shoes in their range, and Veja vegan sneakers are fair trade and many use organic materials too.
This French brand prides themselves on supply chain transparency, paying workers a living wage and using organic cotton. Their sustainable vegan shoes are made using canvas, mesh, corn-coated cotton and a mix of biobased materials like corn husks and sugarcane mixed with recycled materials.
They even having vegan running shoes, Condor Mesh.
These popular vegan sneakers come with different color options for the 'V' mark/logo, including all white vegan sneakers.
They're rated by Good on You (an ethical/environmental clothing ratings directory) as 'Good'.
You can shop their vegan range on Petit Vour, a vegan online store, here.

Features: fair trade, 100% vegan company, FSC certified rubber
Sustainable vegan sneakers have never looked so good. This vegan sneaker brand is also sustainable and fair trade, and on their website they offer the option to tip the workers who made your shoes.
These eco vegan shoes range from high top vegan sneakers to low tops and are well known for classic design sneakers made sustainably and vegan.
Their vegan womens sneakers and their vegan sneakers for men are certified fair trade and PETA-approved vegan. They only use organic and fairtrade cotton and their rubber is certified by the FSC (Forest Stewardship Council).
They have a range of shoes, including vegan high tops! Their vegan high top sneakers come in a huge range of colours.
If you're looking for more vegan shoes for men, check out my guide to vegan mens shoes here.

Features: 100% vegan company
Matt + Nat is a well-known 100% vegan brand. They made their start making bags and accessories; in fact I didn't even know they sold vegan shoes until recently! They were one of the early brands selling fashion-forward vegan bags.
I have a Matt + Nat wallet that's almost 10 years old and I'm very impressed with its durability, so while I can't speak to the shoes' durability, their accessories are very durable.
However, several vegan ethical/environmental sites point out that they use PVC, which is an environmentally damaging alternative to leather, plus don't specify whether or how they are ensuring sufficient labour conditions. This led Good on You to rate the brand 'Not Good Enough'.
As far as styles go, they have several low-cut sneaker styles.

Features: eco-friendly, 100% vegan company
Nae is a Portuguese vegan footwear brand whose beautiful shoes I've always admired. In the last few years, they've branched out into sneakers and they have a range of stylish picks, both for men and women.
They also make vegan unisex running shoes, the Jor, made of recycled plastic bottles.
For their vegan eco friendly shoes they use organic cotton, cork, and for their vegan leather sneakers, either vegan leather and Piñatex (an eco-friendly alternative to leather made of discarded pineapple waste). See their vegan Piñatex sneakers here.

Features: 100% vegan company
Ahimsa built the first all-vegan shoe factory in the world. This 100% vegan Brazilian shoe company has a wide range of styles, including some classic vegan sneaker styles, which you can find here.


Features: 100% vegan company
Vegetarian Shoes is one of the oldest vegan shoe companies in existence. This well-known vegan shoe brand was founded in the UK in 1990.
They've vastly expanded their vegan shoe range recently, and have a wide range of cute and fashionable vegan sneakers. See my pick: the Komodo Eco Sneako in Mint, made with organic cotton.

Features: 100% vegan company
Etiko is an all-vegan, sustainable, people- and planet-friendly shoe company.
They manufacture their vegan sustainable sneakers to a high labor standard (most products are fair trade and they pay living wage) and they use organic cotton.
Their vegan canvas shoes are excellent (more ethical) alternatives to Converse, which is now owned by Nike.
They have both vegan hi top sneakers and low tops, and they have vegan slip on sneakers, too. The color range isn't the biggest – they have black, white, blue, red and green.

Features: vegan-friendly shoes available
Vivo Barefoot is the perfect option if you want to try a different kind of sneaker. Their premise is that they make 'barefoot' shoes, and have become a bit of a trend recently in the wellness and running communities.
The idea is these stripped back shoes replicate the experience of walking barefoot, which some believe is better for your feet. These are the best vegan trainers for those who prefer a barefoot shoe.
Vivo Barefoot has a few different vegan styles available, including vegan trail running shoes, using materials like recycled mesh and algae. Find their womens vegan sneakers here and vegan men's sneakers here.

Features: 100% vegan company
Keep is an all-vegan shoe company. They make a range of leather free sneakers, including many in colorful patterns.
One especially unique offering is their Gourmand sneaker, designed for chefs and restaurant staff.
Find their full shoe range here.
More vegan trainer brands:
Vegan sneaker options from mainstream brands
Most mainstream brands (e.g. Nike, Reebok) have very poor environmental records and treatment of workers.
The sole exception is Adidas, which has decent ratings, but otherwise I would avoid all the other mainstream brands listed below. Find my vegan guide to Adidas shoes here.
However, since many people have asked if these brands have vegan options I've included them for research purposes but I've also included a more ethical alternative with similar style, where possible.

Features: vegan-friendly shoes available, aims to use eco-friendly materials
Adidas has now released several vegan-friendly sneakers, making it one of the most vegan-friendly mainstream brands. It is also rated 'Good' on the Good on You ethical/environmental rating, making it one of the most ethical of the mainstream sneaker brands.
As far as Adidas vegan sneakers go, they've released vegan versions of classic Superstars. They've also created a vegan version of Stan Smiths made with mushroom leather, though these are not available to the public (yet) – though they say they plan to release them.
Adidas and famed vegetarian fashion designer Stella McCartney have collaborated together. Like all of Stella's shoes, they're all vegan. You can find the adidas by Stella Mccartney range here.
Saucony vegan shoes
Features: vegan-friendly shoes available
Saucony has a vegan sneaker, the Saucony Jazz Low Pro Vegan. Made with canvas and hemp uppers, it recreates the classic Saucony jazz design.
Unfortunately, Saucony, like most major sneaker manufacturers, has a poor environmental and worker rating and so I wouldn't recommend it.
Nike vegan shoes
Features: vegan-friendly shoes available when you customise them
Lots of people wonder if Nike vegan sneakers exist. Nike has never been a very vegan-friendly brand, but technically you can customise Nike Air Max to make them vegan. For more information, see here.
However, here's a better suggestion. Love Nike Air? Check out the more ethically-minded, and already vegan, Veja V10 CWL. A great dupe for the Nike Air in white, these vegan white sneakers look similar, minus the Nike logo.
Find my guide to vegan Nike shoes here.

Reebok vegan shoes
Features: vegan-friendly shoes available
Reebok has a few vegan sneakers now. See their vegan range here. Find my full guide to vegan Reeboks here.
Unfortunately, like most major sneaker manufacturers, Reebok has only an average environmental and ethical rating so I avoid them.
Vans vegan shoes
Features: vegan-friendly shoes available
Most Vans styles are vegan when you select the canvas option. See more information from Vans here.
Unfortunately, like most other mainstream sneaker manufacturers, Vans has only a mediocre environmental and ethical rating.
Instead of Vans, check out Cariuma, who makes sustainable skater shoes.

Asics vegan shoes
Features: vegan-friendly shoes available
Asics doesn't have the widest range of vegan sneakers, but their Onitsuka Tiger range comes with several vegan options. See here.
Like most other multinational sneaker companies, Asics has a poor sustainability/worker rating, unfortunately, so I can't recommend them myself.
Camper vegan shoes
Features: vegan-friendly shoes available
Camper shoes, born out of practical designs based on farmers' footwear in Mallorca, Spain, have evolved a lot since. They have sections for non-leather mens shoes and womens shoes on their site.
Unfortunately, like other major brands, Camper is rated on Good On You (for sustainability and worker practices) as 'not good enough' so I'd avoid them.
Converse
Converse used to rate fairly well on ethics, but unfortunately they were purchased by Nike a few years ago and so now they share the same poor ratings as Nike on treatment of workers and environmental standards.
I recommend Komrads instead. They have a very similar fit, feel and look (they're modelled after Soviet era shoes that were produced in the Soviet Union as their alternative to Converse) and are ethically made. I own a pair and I actually greatly prefer them to Converse, which I used to buy for years. My Komrads are more comfortable and had zero breaking in period.
Find my full guide to vegan Converse / vegan Converse alternatives here.
Toms Shoes also have vegan options. See them here.

FAQ
What are vegan sneakers? What are vegan shoes made of?
Vegan sneakers, like the ones in this list, are sneakers made without any animal products, from leather uppers to animal glue used to hold the shoe together.
Beyond vegan food (not consuming animal products), ethical veganism is also about eschewing wearing or using animal products, including shoes.
Instead, vegan sneakers are made of canvas or vegan leather.
How are vegan shoes made? What are vegan sneaker made of?
Have you been asking yourself "how are vegan sneakers made?"
Vegan shoe brands use a wide range of materials, from canvas to vegan leather to recycled rubber to make their shoes. They also use vegan leathers like polyurethane or PU, pineapple leather or apple leather, made from food industry waste.
Very few use PVC anymore because it's so environmentally damaging.
Are vegan shoes expensive?
No! There are lots of affordable vegan shoes (and expensive vegan designer shoes, too).
If you're on a strict budget, lots of discount shoe stores have non leather shoes, though the glue may not always be vegan. (Although many companies are now using vegan glue these days because it's inexpensive.)
Better yet, look secondhand, whether that's in charity shops near you or online. eBay and secondhand apps like Depop and Vinted make it easy to search for vegan shoes, or even specific brands of vegan shoes.
Of course, there's a wide range of vegan shoes, from budget options all the way up to designer vegan sneakers from the likes of Balenciaga. There really is a vegan shoe for every budget.
Are vegan shoes more eco friendly than leather shoes?
You might have heard people say that vegan leather is plastic and therefore isn't eco-friendly, and so you might be wondering if vegan shoes are eco-friendly.
The answer is that although polyurethane (PU), the most commonly used vegan leather alternative, is plastic, it's still rated as more eco friendly than leather! That's because of the land, water and energy it takes to raise animals, plus emissions.
Plus, most leather isn't biodegradable because of the way it's tanned. 90% of leather is tanned using chromium. According to Common Objective, chromium causes respiratory issues and raises cancer risk among those involved in the industry, some of whom are only ten years old.
As you can see, leather is not just bad for the environment, but also animals and the humans involved in the industry.

Where to buy vegan sneakers?
If you're extremely fortunate, you might happen to live in a city that is home to a vegan shoe store – but those are pretty rare. Barring that, the internet is your best option – hence this list!
You can also check stores near you. As I mentioned above, you can find shoes that are made of canvas or even synthetic leather in many stores, but glue is another matter since it's never labeled (more info on the use of vegan vs animal-based glue in shoes here).
Are vegan shoes breathable?
If you're planning on walking or running, of course you may have concerns about breathability.
There seems to be a misconception that vegan shoes aren't as breathable as leather, but that isn't true. This rumor probably started a few decades ago, back when PVC was commonly used in non-leather shoes (now it's rarely used, and I recommend avoiding it because it's not eco friendly – see above). PVC is very sweaty.
Thankfully, especially given how bad PVC is for the environment, it's rarely used now.
This footwear site actually says synthetic materials are lighter weight and more breathable than leather.
Have you ever heard that you should rotate shoes? It's not just an old wive's tale. Experts recommend this and it tends to reduce smell, so if you're worried about that I recommend rotating shoes.
Are vegan sneakers durable?
Durability, in my experience, varies wildly by brand (including in the non-vegan shoe market). Vegan shoes can last a long time – I've had some last me many years – while others have disappointed by falling apart quickly.
Naturally, budget shoes you find at a discount store near you will likely fall apart more quickly than more expensive shoes made using higher-quality materials or those made with different techniques.
With all shoes, I recommend finding a good cobbler/shoe repair shop near you, and taking your shoes there for repairs or to be resoled. It greatly extends the life of your shoes – for example, I have a pair of boots I use heavily each winter which I've had re-soled every winter for the last 5 years! Some cobblers can't re-sole trainers, while others can.
Of course, caring for your shoes helps too. Experts say rotating shoes can make them last longer, plus it's better for your feet and tends to make them smell less. For more ideas and suggestions on how to make your shoes last longer, see this guide.
Pin this for later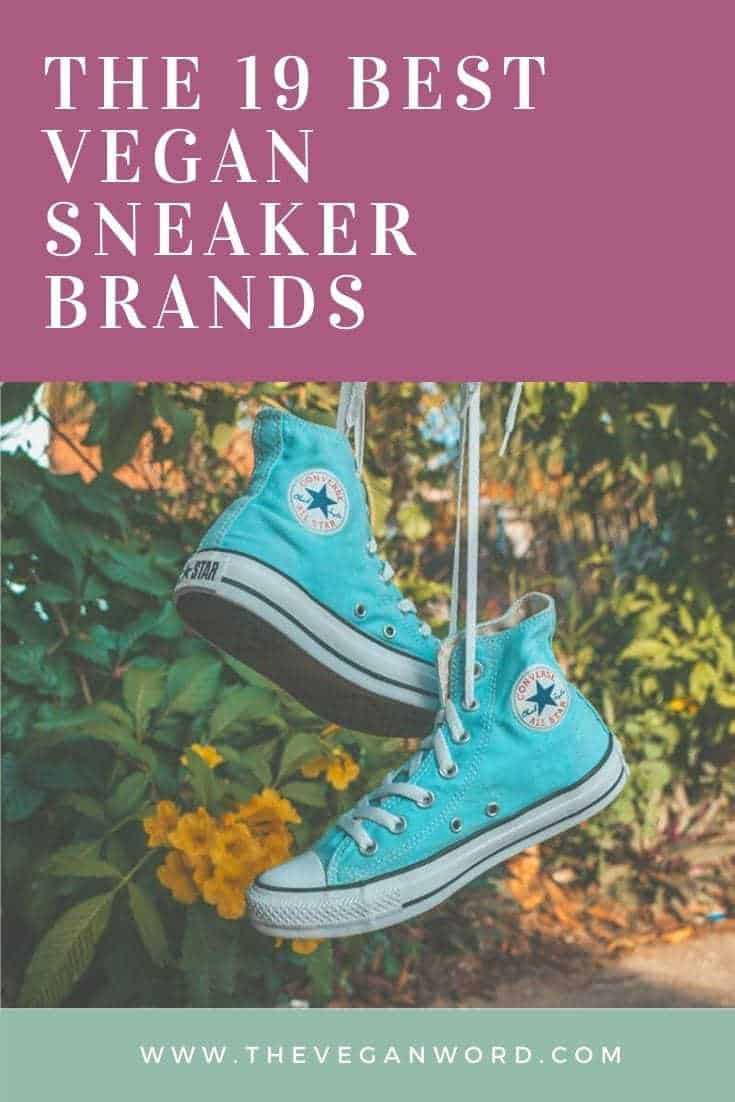 Want more vegan sneaker inspo? Check out my guide to vegan Skechers. Love a white trainer? I have a guide to vegan white sneakers. Need other shoe styles? See my ultimate guide to all vegan shoes. I have guides to vegan womens shoes, and vegan mens shoes. I also have a guide to vegan New Balance sneakers.
Looking for a specific style? Find my guides to the best vegan boots, vegan mens boots, vegan clogs, vegan winter boots and vegan sandals. I also have a guide specific to vegan combat boots, and guides to vegan Chelsea boots, vegan cowboy boots, vegan knee high boots and vegan ankle boots.
If you need something for special occasions, I have guides to vegan dress shoes, vegan heels and vegan designer shoes too.
Looking for more vegan beauty & fashion? Find my vegan beauty & fashion section.
Don't forget to pack your vegan sneakers on your next trip in your vegan luggage – you'll need them for all the walking you do on your travels! Find my vegan city guides + destination guides.
For more vegan online shopping, find my vegan online shop directory here.
What's your fave vegan sneaker?