Looking for vegan Nike shoes? Nike vegan shoes are not necessarily the easiest to find (their website doesn't make navigating the vegan shoe selection very simple) but they do exist.
Below I've put together a list of my top picks of vegan Nikes and alternative sneakers from other, 100% vegan brands.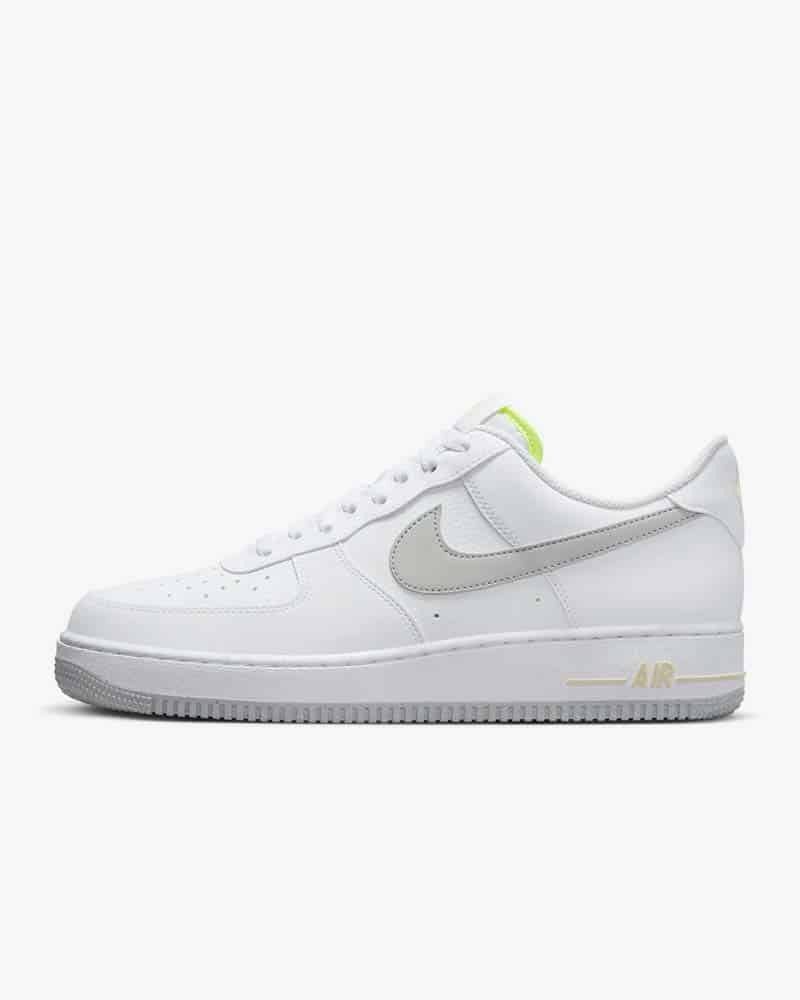 The vegan Air Force 1 sneakers are Nike's more eco-friendly and vegan take on their classic Air Force trainers.
The Nike vegan trainers are part of their Next Nature range, part of their push for sustainability which granted them a rating of "It's a Start" on Good On You, higher than most other mainstream sneaker brands (apart from Stella McCartney x adidas, which rated higher).
The Nike Air Force vegan shoes is made of vegan leather with a foam midsole and rubber outsole.
The Air Force 1 vegan shoes utilise recycle waste in the outsole, which is the speckles that are visible (from scraps from the manufacturing process of making shoes).
They have a padded comfort collar and are subtly coloured (white with a light grey Nike swoosh logo), but have a pop of colour in bright yellow in the insole (not visible whilst wearing them).
---
The Nike vegan Air Forces come in this white and light orange colourway in the women's sizes.
These vegan Nikes shoes are their non leather takes on the classic Air Force 1 shoe.
The Nike Air Force 1 vegan shoe looks just like their non-vegan shoes, but made in vegan leather uppers.
The outsole is made partially with recycled waste from the shoe manufacturing process. They don't state which percentage is made with recycled waste, which I'd like to see, but it's a start.
---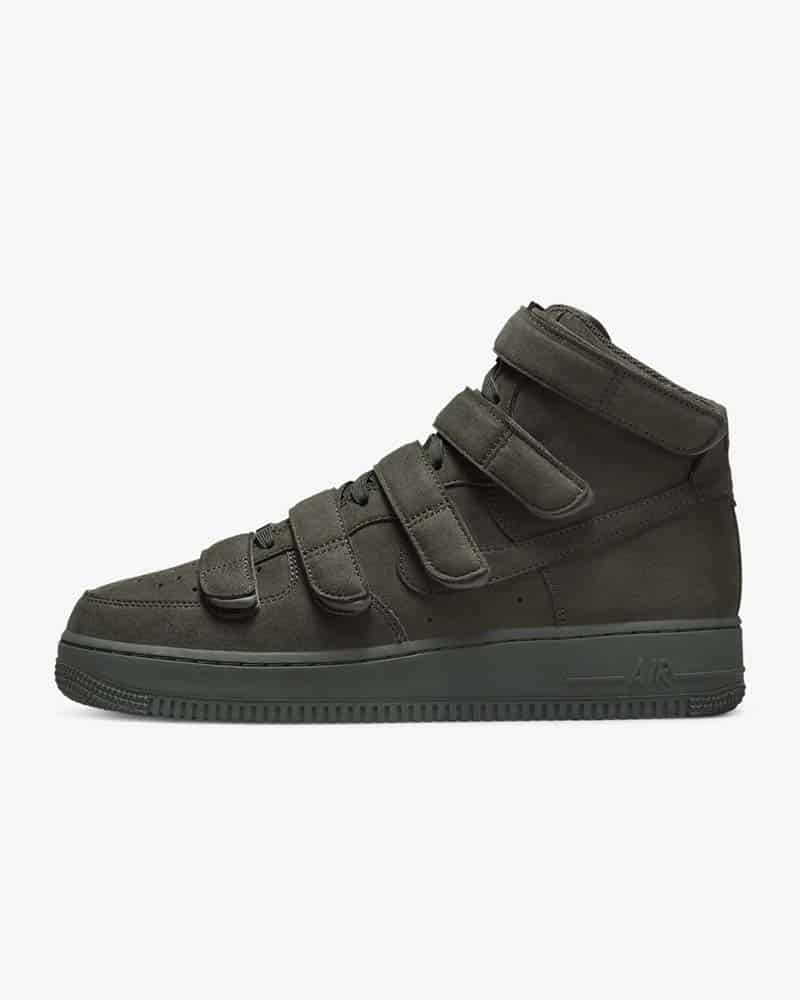 As a vegan since the age of 12, you might expect that Billie Eilish's collab with Nike is vegan, and you'd be correct.
These vegan Nike trainers are the closest you'll get to vegan Air Jordans. Made with vegan synthetic nubuck leather uppers, they also have Air cushioning for comfort.
If you're looking for Air jordan Nike trainers, vegan style, these are for you.
They close with a hook-and-loop closure and the high-cut collar is padded for extra comfort.
---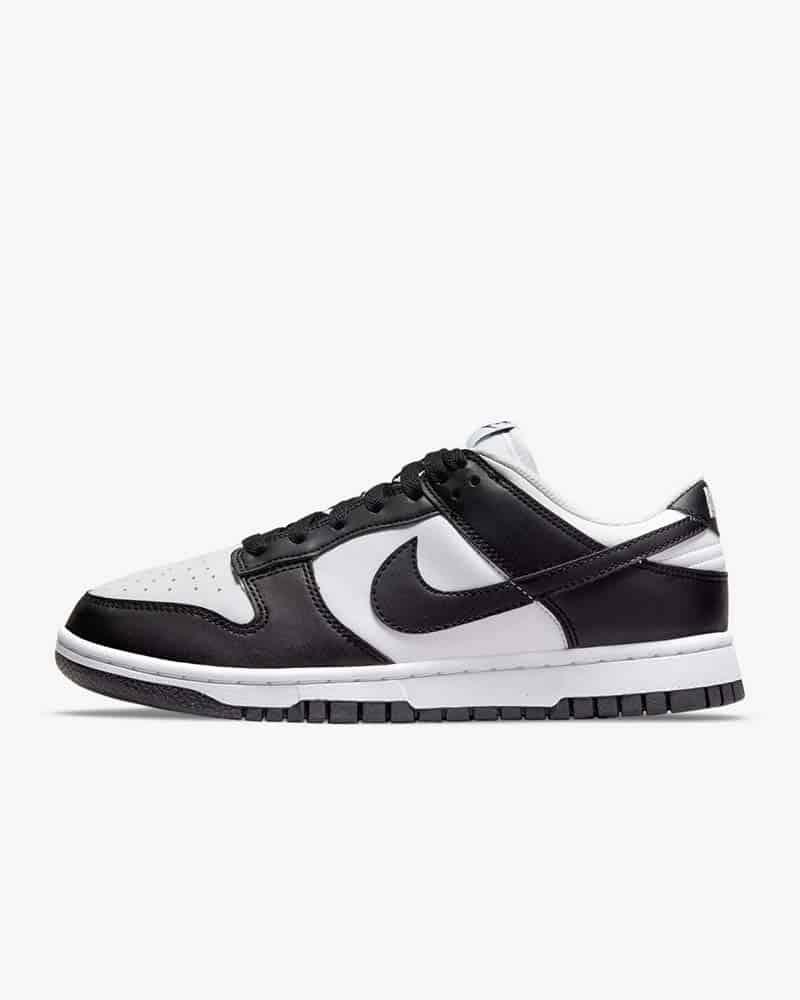 If you're looking for vegan Nike Dunks, these Next Nature shoes are Nike Dunk, vegan style.
The vegan Nike Dunk are made of vegan leather uppers and made with recycled materials.
---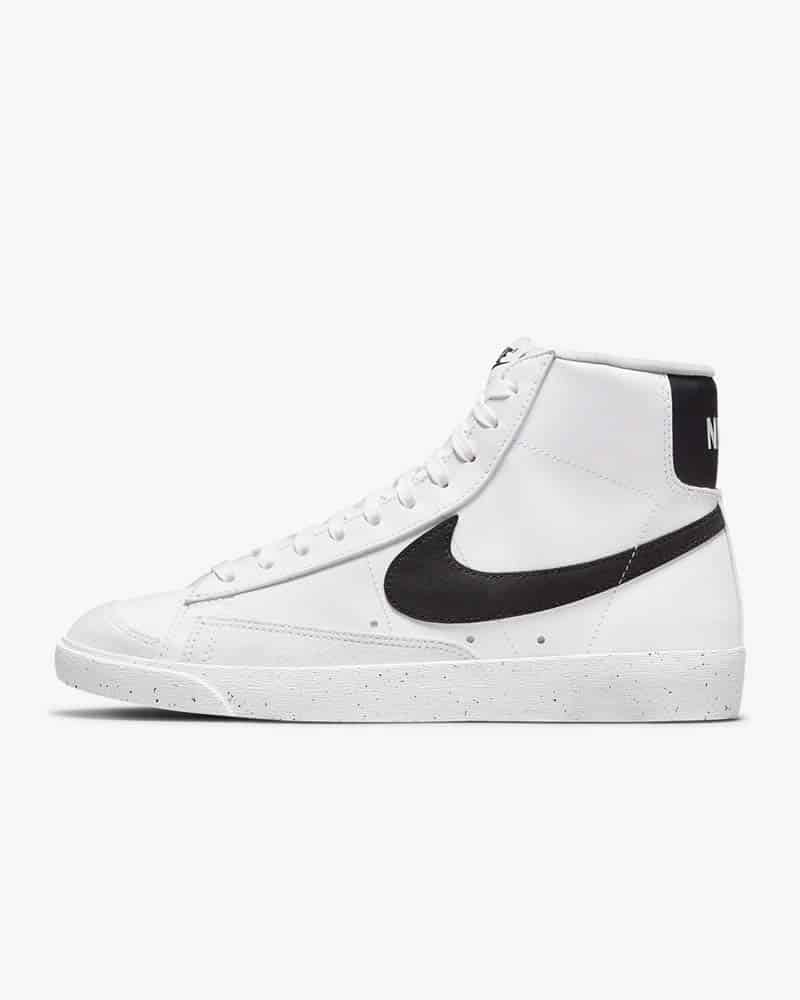 The Blazer has a long and stories history; this style of Nike trainer was first made in the 70s. But can you find a Nike Blazer, vegan style?
Yes!
As for vegan trainers, Nike has a range called Next Nature which features partly recycled materials and vegan leather uppers.
These Nike vegan shoes look just like classic Blazer sneakers, but are made of vegan polyurethane (PU) leather in classic black and white, with 20% recycled content.
They are high tops and also have rubber soles with a herringbone pattern for added traction.
---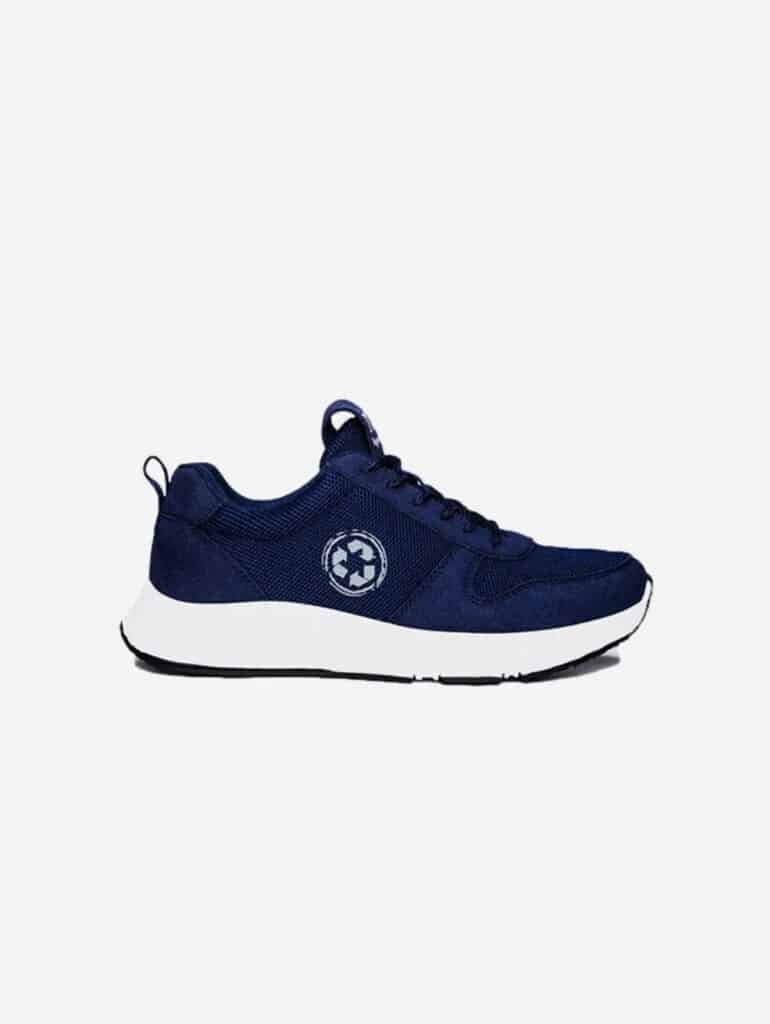 If you fancy something more sustainable than any of the present range of Nike vegan sneakers, these vegan trainers from NAE have an upper and lining made from 100% recycled PET. They're also GRS (Global Recycling Standard) certified.
The soles are lightweight EVA. These trainers are unisex and available in a wide range of sizes.
---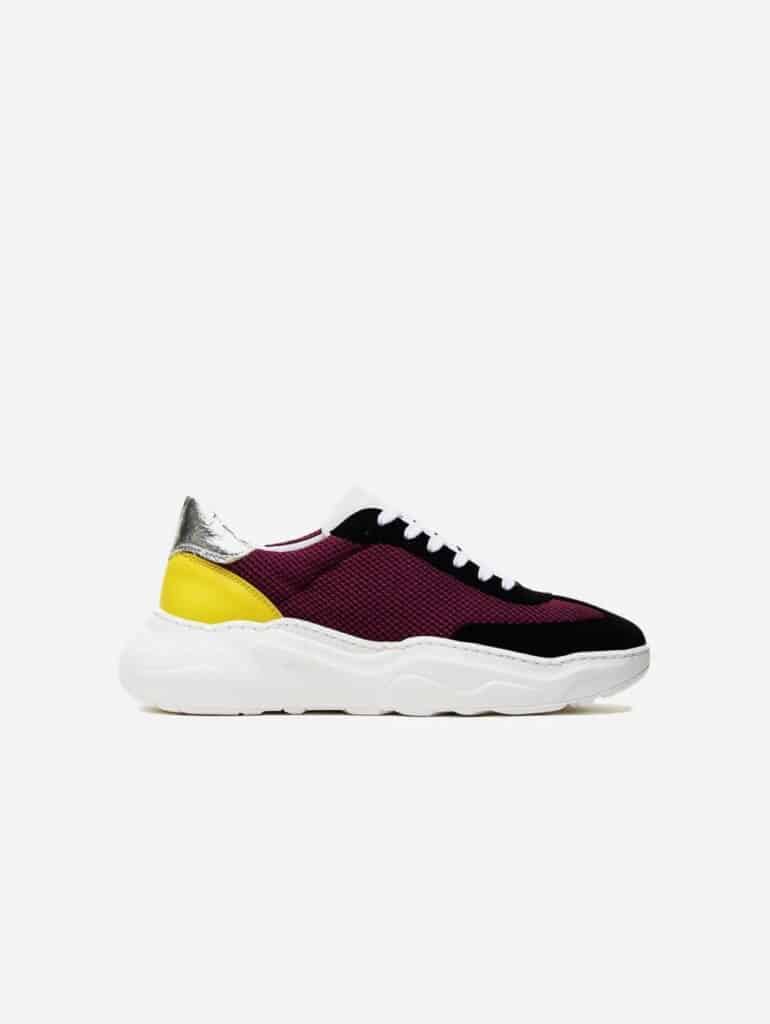 When it comes to Nike sneakers, vegan options are now part of the range – but they're nowhere near as sustainable as brands like Humans are Vain. This fully vegan and sustainable brand from Sweden makes shoes using as many eco-friendly materials as possible and they like to incorporate innovative and new eco materials.
The Evolve trainers are made with a mix of OEKO-Tex certified vegan microfibre leather, mesh side panels made from polyester made using corn seeds, a heel panel made of 80% pineapple leaf fibre, a 70% recycled rubber sole and a lining made of recycled PET and corn fibre.
It's also made with water based glues and organic cotton laces.
They weigh 400g (14oz) and are made in Portugal.
---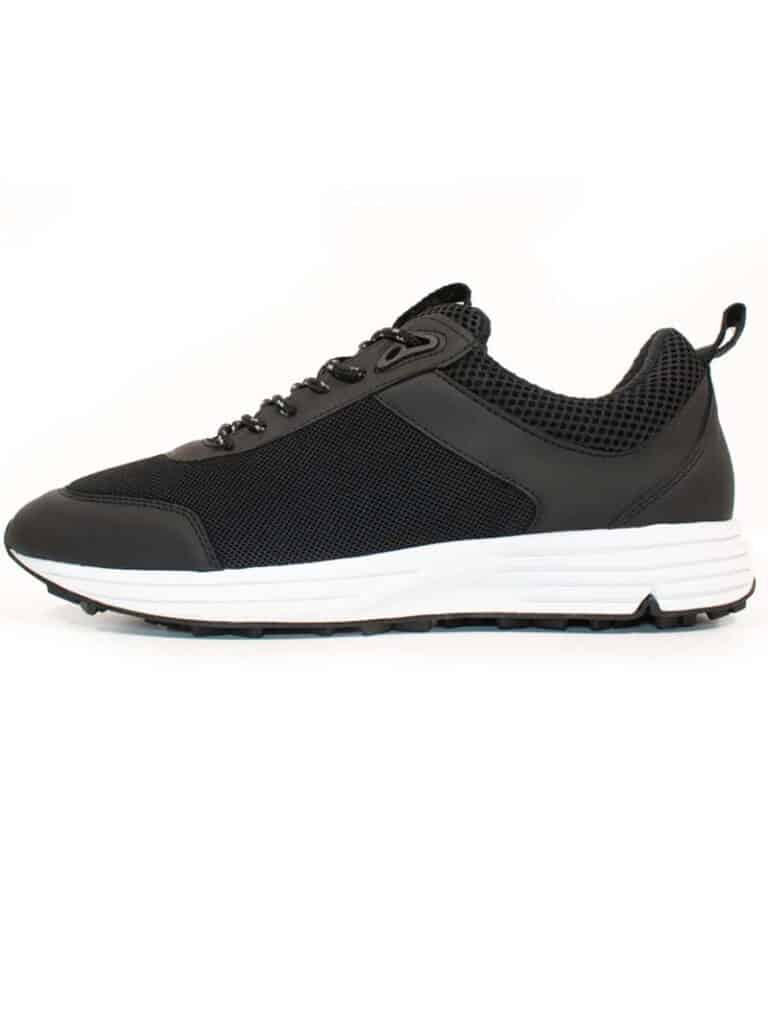 Will's vegan road running trainers (mens + womens)
If you're a runner and want vegan sneakers, Nike has a few options listed above but personally I think there are better options out there such as these road running trainers from Wills (they also have trail running trainers if you prefer).
Designed to be lightweight and comfortable, they weight just 525g (though if you want an even lighter weight option, check out the 400g Humans are Vain Evolve trainers).
The uppers are breathable mesh made from recycled polyester and which utilise 37.5-degree technology lining to help you stay cool.
They also have removable sports insoles and have extra cushioning round the ankles.
The trainers are made in Portugal and come in men's and women's sizes.
FAQ
Are Nikes vegan?
Nike is by no means a vegan brand – they use animal-based leather in a lot of their shoe designs.
However, they do have a number of vegan options, though their website doesn't make it all that easy to filter by vegan shoes, which is why I put together this article to help you. See above for some of Nike's vegan options from their Fresh Foam range, which utilises mesh uppers.
Frustratingly, a lot of running shoes use synthetic materials as they're lighter weight and more breathable than animal leather, but then use leather as "accents" on the shoe, and Nike is no exception. If only they'd do away with that… Maybe one day they will.
For now, I recommend vegan brands such as Will's, Be.Flamboyant and Humans are Vain for vegan trainers with vegan leather accents.
Is Nike suede vegan?
No! Unless a shoe says it's made of synthetic leather or synthetic suede, assume it's animal-based suede. The suede Nike use is no exception.
While high-quality vegan suede exists and is used by brands like Humans are Vain and Will's, Nike doesn't use it at present.
Nike does have some vegan shoes, but these are of course suede-free. See my list of vegan Nike shoes above.
What is stopping big shoe brands like Adidas Nike Puma etc from making vegan sports shoes?
Nothing is stopping them…because they do make vegan sports shoes!
As you can see from my list above, Nike has a few vegan sneaker options. Adidas is even better from a vegan perspective, as they've now got a number of vegan versions of their most popular shoes, such as vegan Stan Smiths and vegan Sambas.
Check out my guide to vegan Adidas trainers to see all the best vegan Adidas options.
What colour sneakers should I buy?
This is totally individual! What's your personal style? Are you going to wear the sneakers just for running, or with jeans out running errands? Or if you work in an office without a dress code, are you planning to wear your sneakers to work?
All of these answers will inform your choice. If you're going to wear them to work, for example, you might want to go with a plain pair in a crisp white, or an all-black shoe.
If you'll wear them to the gym or shopping, you can play a bit more with style and go for bright colours (if that's your thing).
Do vegan shoes smell?
No! This unfortunate stereotype about vegan leather shoes being smelly probably originated due to the use of PVC in making most "pleather" shoes in the 80s (thankfully, very few companies use PVC anymore, not least because it's terrible for the environment). Because PVC is mostly plastic it wasn't breathable and did, in fact, trap moisture and stinky feet smells.
However, vegan materials and vegan leathers have come a long way since then – and are now breathable and often vegan shoes, particular of the sports shoe variety, include a moisture-wicking lining.
In fact, vegan materials are often more breathable than animal leather, and therefore favoured by athletic shoe makers (also because they tend to be lighter weight too).
If you want to prevent your shoes from stinking, air your shoes out between uses and/or rotate shoes.
Pin this for later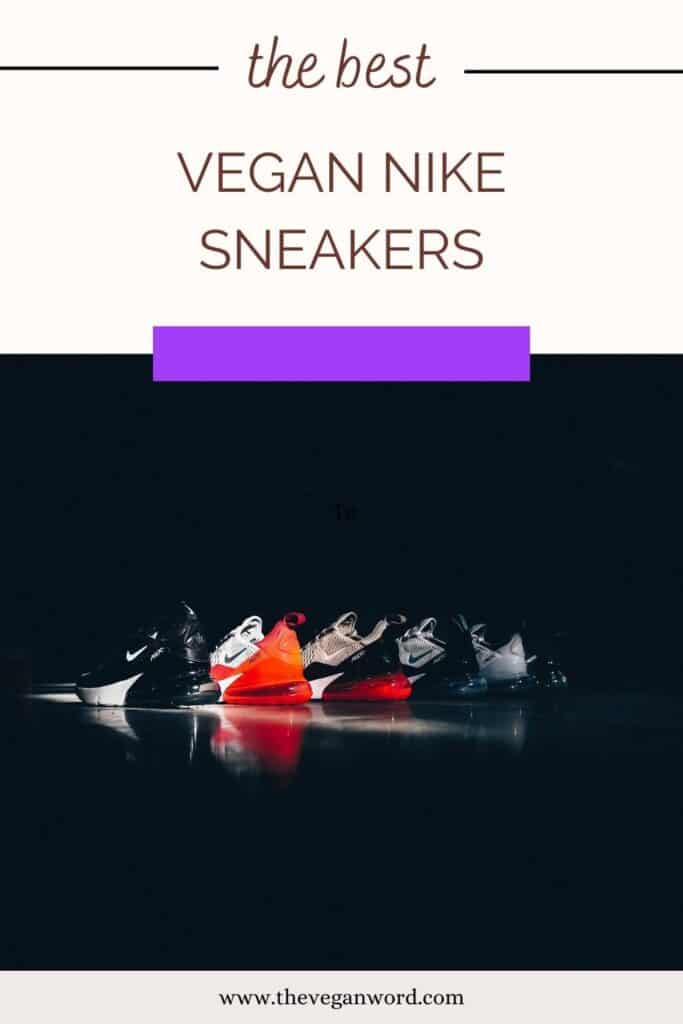 Looking for more trainers? Check out my full guide to vegan sneaker brands, and my guides to white vegan sneakers. vegan Adidas, vegan Reeboks, vegan Skechers, vegan Converse and vegan New Balance shoes.
I also have lots of other vegan shoe guides, such as my guides to vegan sandals, vegan leather boots, vegan heels and vegan designer shoes.