Looking for vegan Reebok sneakers? Reebok has launched a few vegan options in recent years, but there are more ethical companies (including 100% vegan shoe companies) that I recommend for vegan running shoes instead, which combine style and ethics.
It used to be that you couldn't find womens or mens vegan sneakers from any of the mainstream brands, and vegan trainers, once upon a time, weren't the most fashionable.
As a lifelong vegetarian and long-term vegan, I remember leaving a shoe shop empty-handed on many (most!) occasions.
However thanks to the internet, it's easier than ever to find vegan shoes. To help you in your search, I've put together this list of Reebok vegan shoes and the best alternative brands (most of which are more eco-friendly and ethical than Reebok, which was rated "It's a Start" on Good On You).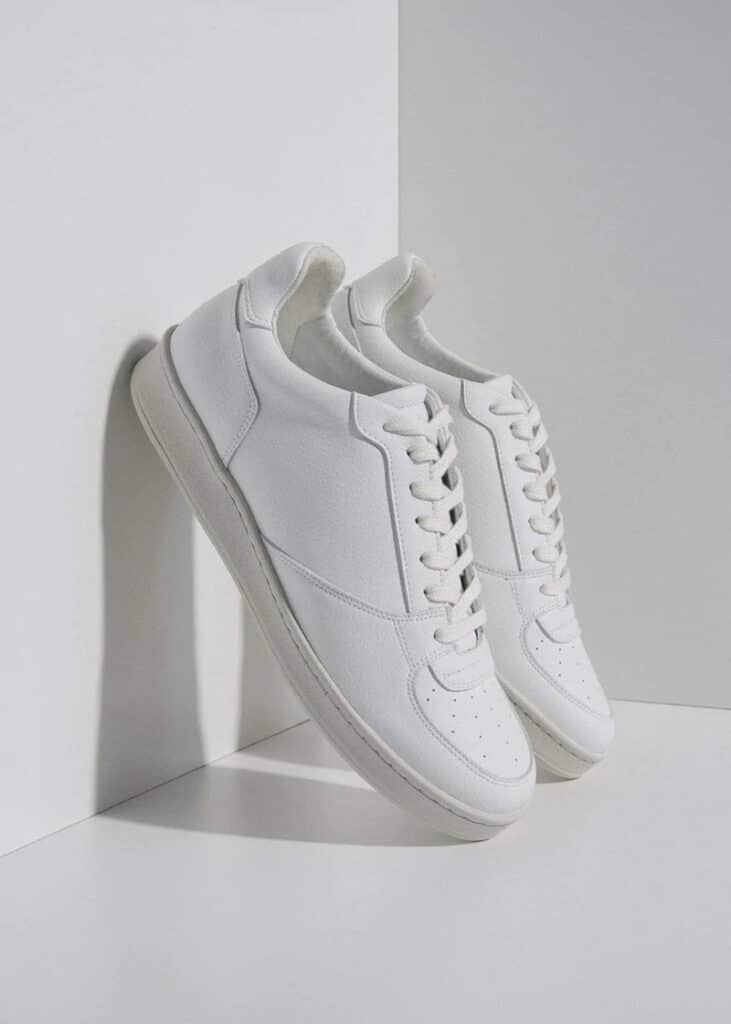 These are my favourite vegan & ethical alternatives to Reeboks!
As mentioned before, there are now Reebok vegan shoes, but the company still needs to improve on environmental issues and human rights. Therefore, I recommend these unisex white non leather trainers as a better alternative.
The Eden vegan sport shoes from Humans are Vain are made with a breathable eco-microfiber upper, a lining made of eco-microfiber, corn fiber and recycled PET and a 70% recycled rubber sole.
The laces are made from 100% organic cotton and the padded insole from cork and foam.
Like all Humans are Vain shoes, they're made in Portugal and designed to be part of the circular economy so can be recycled at the end of its life.
Love the all white look? Check out my white vegan trainer guide.
---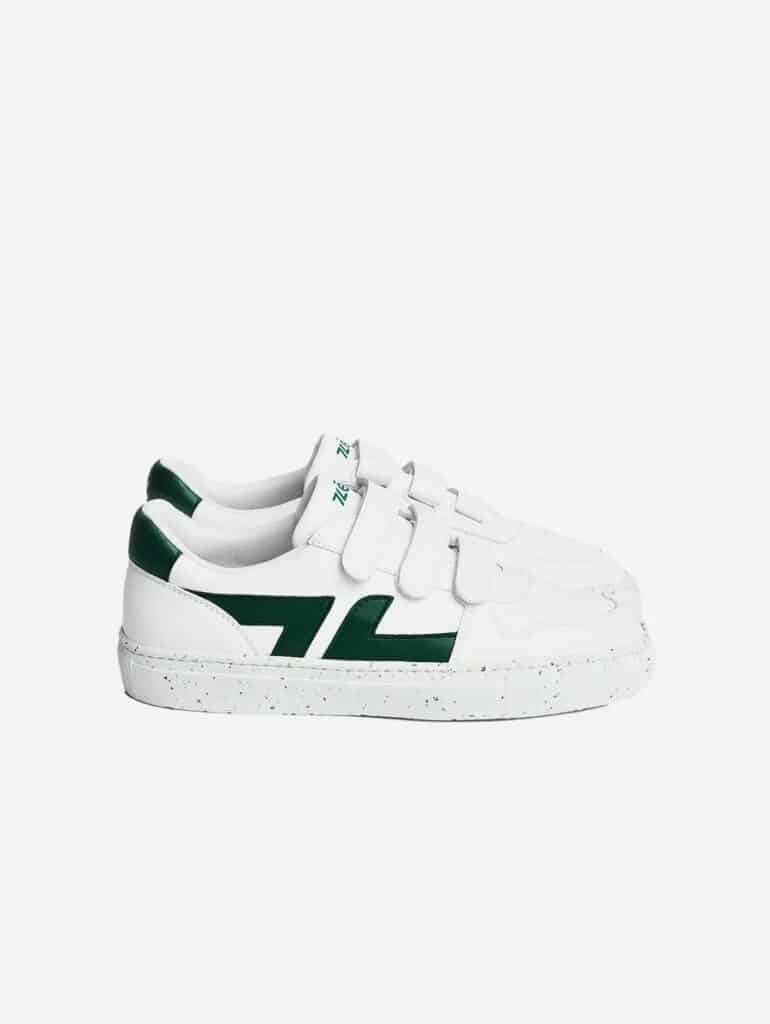 If you're looking for easy-to-put-on vegan basketball shoes, these Velcro animal friendly shoes from Zeta combine a trendy look with vegan leather.
The vegan leather upper is made of a bio-based material and recycled polyester, in white with green stripes.
The inner lining is made entirely of recycled plastic bottles recovered from the Mediterranean sea, while the removable insole is cork.
The outsole is recycled synthetic rubber.
---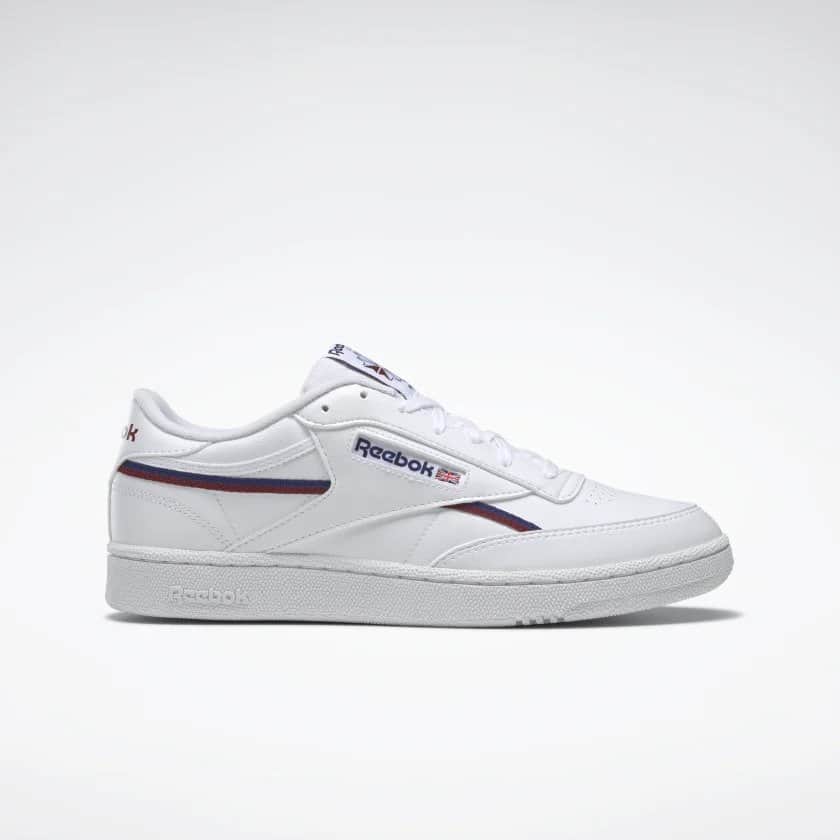 Yes, vegan Reeboks do now exist. In recent years, the company has put out a number of vegan versions including this Reebok classic, vegan style.
The Reebok vegan sneakers are made of white vegan leather with blue and red stripes.
The mens vegan trainers say "Reebok vegan" on the heel.
---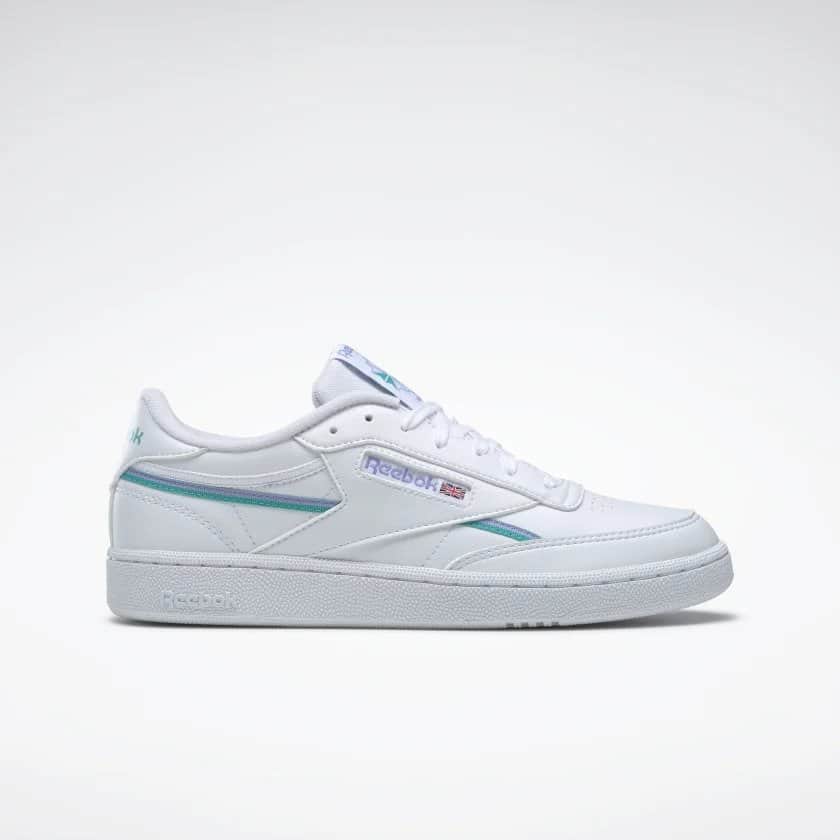 These vegan Reebok classics are the women's version of the men's trainers above. Like the men's version, they're made of white vegan leather, but these have lilac and teal stripes.
Like their non leather men's shoes, they say "Reebok vegan" on the heel.
---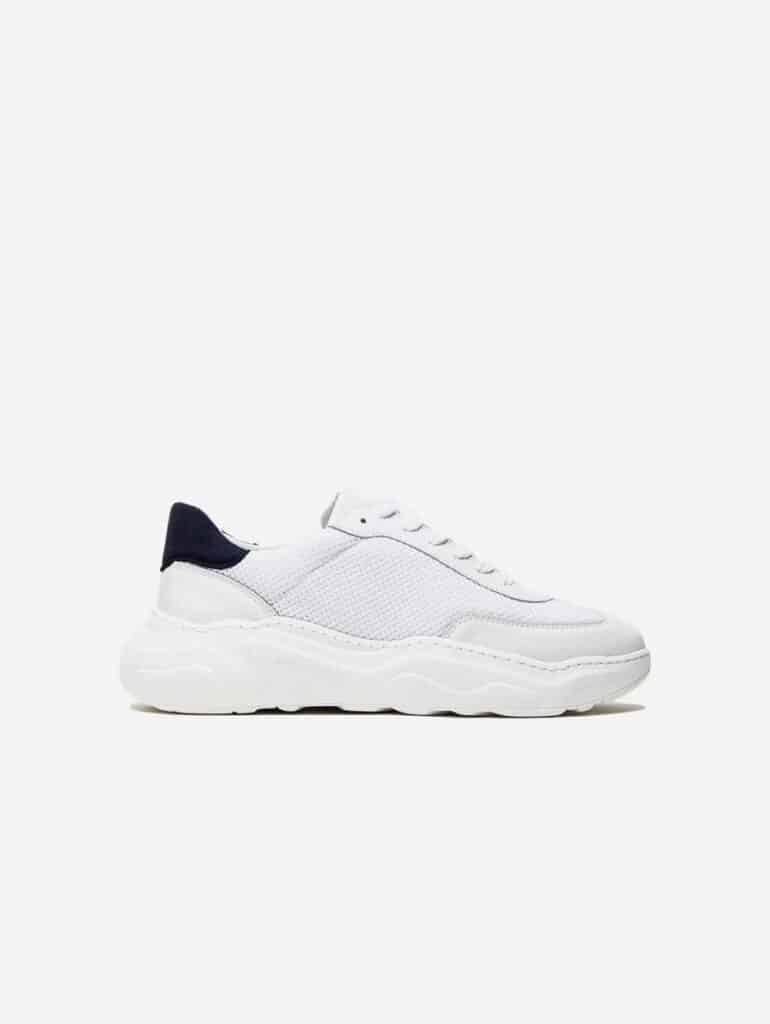 These sustainable vegan workout shoes are made with a vegan upper of corn fiber, vegan leather and mesh. The upper is OEKO-TEX certified, meaning it's eco-friendly and free from materials that could be harmful to human health.
The lining is made from recycled PET and corn fiber and the sole is 70% recycled rubber.
The laces are 100% organic cotton, and the comfort insole is recycled cork and foam.
The glues are water-based, and the shoes are made in Portugal.
---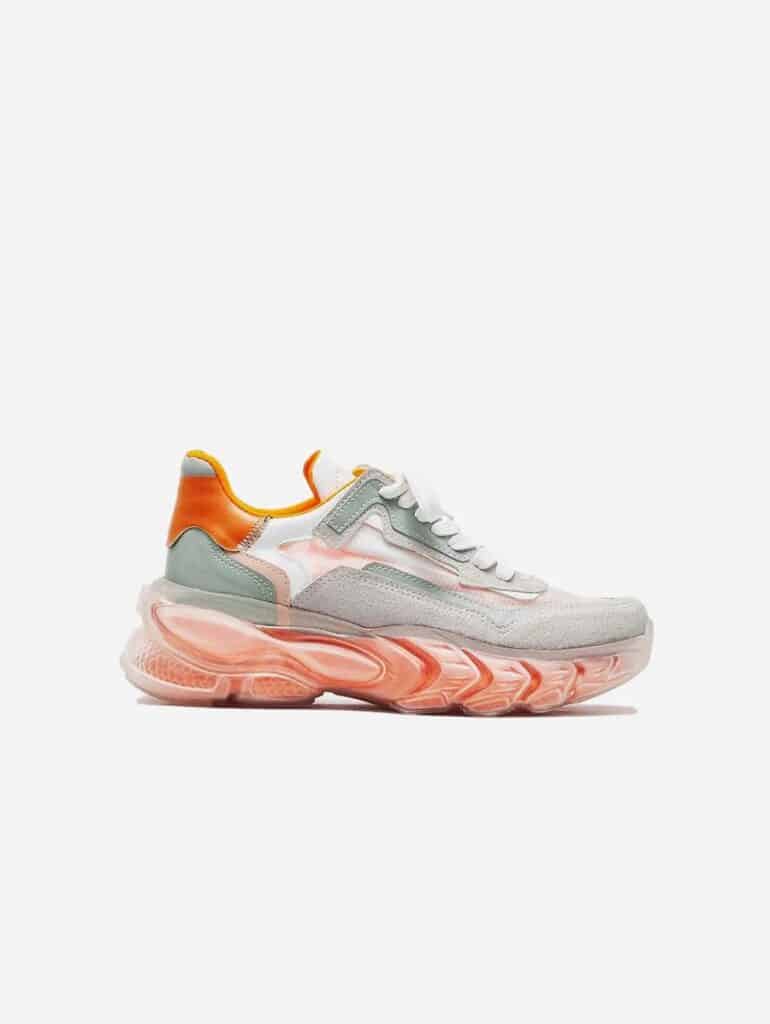 If you're looking for eye-catching and comfortable non leather womens shoes, look no further. These plant based running shoes are an eye-catching orange and grey design with thick platform soles.
These vegan sneakers are handmade of vegan polyurethane (PU) leather and have a height of 2.3 inches (5.8 cm).
---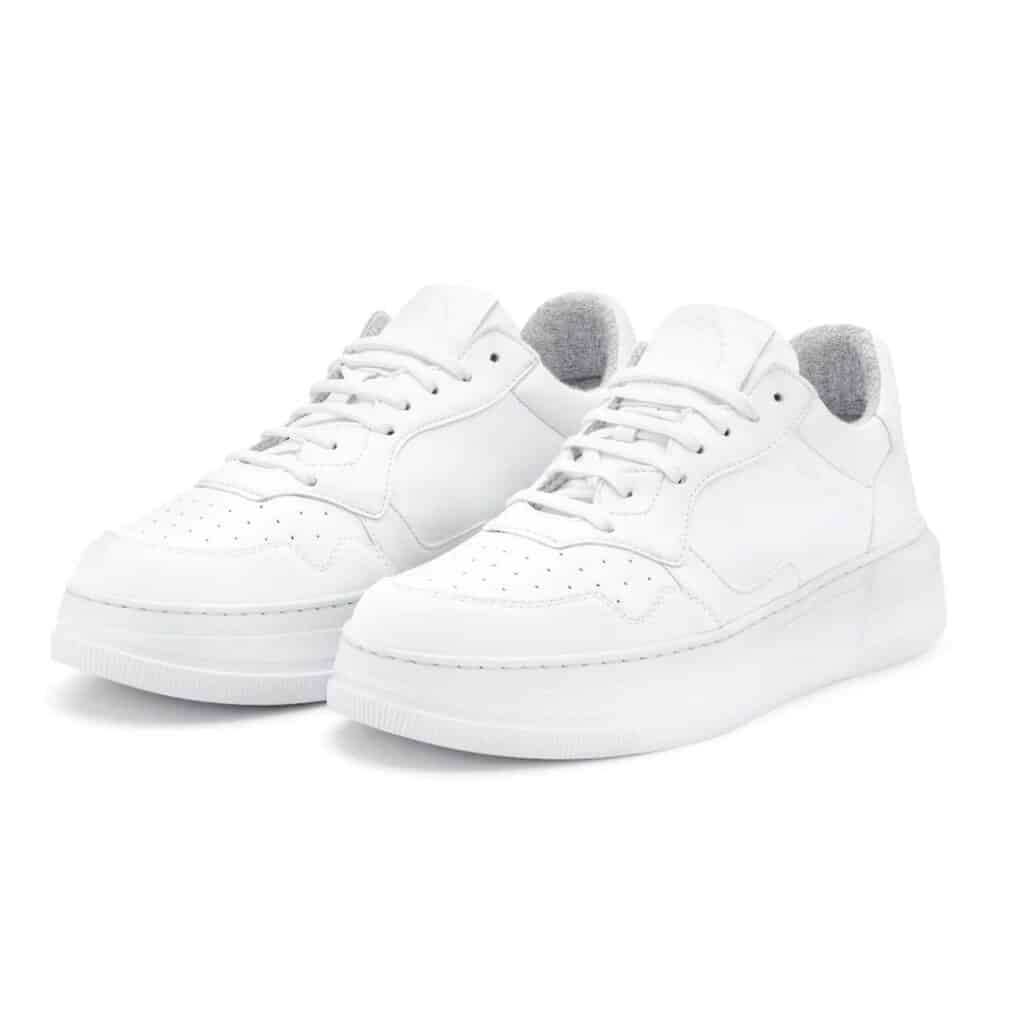 These white vegan womens sneakers are made of vegan corn leather, an eco-friendly leather alternative made using corn.
They feature perforations on the front of the shoe, which improve air flow and circulation, and a 100% cotton terry cloth insole and lining.
---