In the market for vegan Chelsea boots? You can't get much more classic than Chelsea boots.
Special deals:
When I was growing up, I had so much trouble finding non-leather shoes, but as a lifelong vegetarian I eschewed leather from a young age.
My dad used to take me shopping and would examine shoes from every angle, scratching and sniffing and doing all sorts of things to try to determine if they were faux leather or animal leather. They didn't make it easy!
A few times, I tried asking a salesperson, who looked extremely confused why I'd want shoes that weren't leather.
Vegan ones are thankfully fairly easy to come by these days, as more and more brands specialise in vegan boots and other shoes.
Among others, some of the top vegan Chelsea boots brands I'll be covering include:
Chelsea boots have a long history, starting as Queen Victoria's riding boots and later becoming synonymous with the London borough that birthed the mini skirt and was the epicentre of the Swinging Sixties.
Popularised by bands like the Beatles, the shoe cemented itself in fashion history and continues to be popular to today.
Nowadays, there are plenty of vegan leather Chelsea boots. Read on for my selection of the best vegan Chelsea boots.
Find my full guide to the best vegan boots here.

For the ultimate vegan winter boots that are warm, waterproof AND stylish, check out Will's Vegan Chelsea boots.
Vegan brand Will's Vegan Store makes a variety of Chelsea boots, including these winter-proof beauties, which will keep your feet warm down to -22 Celsius / -7.6 Fahrenheit. These are fully waterproof vegan Chelsea boots with a rubber sole, so they're perfect for puddles, slush and snowfall.
The lining is made with Primaloft insulation made with 90% recycled materials, while the uppers have a special waterproof membrane and are treated PFC free for breathability and waterproof protection. They have elasticated gussets so you can take them on and off easily.
The outer soles of these vegan leather boots are thick rubber with deep treads for traction, while the insoles are built to make these boots comfortable to wear all day long, making them great everyday boots.
Will's have a number of different style of Chelsea boots, from almond toe Chelsea boots to luxe smart Chelsea boots to pointy toe heeled Chelsea boots.
Will's started out as a men's vegan shoe brand so they have a full selection of men's vegan Chelsea boots as well as women's boots. They've since expanded to add women's shoes too (as well as bags, coats and more).
Will's is one of the most popular vegan shoe brands. They use vegan bio-based leather for most of their shoes which is made using organic cereal crops. They also have a carbon-neutral supply chain.
Find the women's waterproof Chelsea boots here, and the men's sizes here.
Will's has online shops for the US, UK, Germany and the rest of the EU – just switch your country/currency in the upper lefthand corner.
These are my top pick!
Click here for more information.

Looking for vegan mens Chelsea boots made of high quality Italian vegan leather? These vegan white boots are unisex and come in men's and women's sizes. (If you're looking for men's boots, don't miss my guide to vegan men's boots).
These vegan chunky boots are handmade in Italy in a family-owned atelier using high-quality materials. The lining and the upper stitched to the sole together, making these shoes re-soleable if necessary. So they should last you a long time.
The lining is made of corn and is recycled and recyclable, and the upper is microfiber vegan leather.
The sole is a lightweight, durable rubber that is comfortable and doesn't require a "break-in" period.
Good Guys was the first vegan footwear brand in France. They're PETA-approved vegan and they use sustainable vegan materials to make their shoes.
Click here for more information.

These vegan brown boots are a tribute to icon Patti Smith. The vegan leather high heel Chelsea boots have an almond toe shape, cylindrical wooden heel and slim silhouette. These stylish Chelsea boots will elevate your look.
The upper and lining of the vegan womens boots is made of vegan Life Nappa, the outsole is made of recycled rubber and the insole is orthopedic memory foam.
The seams of their womens vegan boots are handpainted, and the heel is made with FSC certified sustainably harvested beechwood. Their vegan boots for women are made ethically in Los Angeles. They work only with skilled artisans and they pay fair wages.
Click here for more information.

Matt & Nat is an all-vegan company from Canada that started out making bags and now makes shoes, too. I own a Matt & Nat wallet I've used and loved for almost 10 years so their products seem really durable!
The Laney vegan waterproof Chelsea boots are made of waterproof recycled PVC. If you're looking for basic Chelsea boots that double as stylish vegan rain boots, these are a great choice.
The elastic side panels make them easy to get on and off.

These black vegan boots from Noize look perfect for winter (or spring rain!) and they're waterproof. They're made of rubber with a thick, grippy sole.
Click here for more information.

If you're searching for designer vegan Chelsea boots, Stella McCartney has a few options, including these cream Chelsea boots.
Like all of Stella McCartney's range, these are free from leather. As a lifelong vegetarian, her entire shoe range is vegan, but beware that not all of the clothes in her range are vegan as some contain wool or silk.
The upper is made from PU, recycled polyester and rubber.
The shoes are made in Italy.

These vegan suede boots have a practical 1 inch heel and an almond-shaped toe. The brown vegan ladies boots would match most oufits.

For a totally unique and stylish take on Chelsea boots, the Patti Chelsea boots come in mustard yellow.
A tribute to Patti Smith, these women's vegan boots have a comfortable orthotic insole, an FSC-certified sustainably harvested beechwood heel and an outsole made of recycled rubber.
Taylor + Thomas is a PETA-approved luxury 100% vegan footwear company based in LA, and they're committed to using sustainable design materials for the gorgeous, handcrafted shoes.

Doc Martens are a classic, and they have vegan boots too. The Dr Martens vegan 2976 Chelsea boots is unisex and uses their cushioned sole that are oil resistant and slip resistant.
The vegan Dr Martens Chelsea boots come in two colors, a classic black and cherry red – ideal if you're looking for a unique color of Chelsea boots!
Find my full guide to vegan Dr Martens Chelsea boots here.

These Doc Martens vegan Chelsea boots are a slightly different style to the 2976. The vegan Flora Chelsea boots have a slimmer profile than the 2976 boots.
These Doc Marten vegan Chelsea boots also have the same cushioned, slip resistant sole. Dr Martens have a range of vegan boots, including different styles like their classic black Felix rub off boots, if you prefer a different style.

The brand Humans are Vain is an eco-friendly and vegan shoe brand from Sweden that uses sustainable materials like recycled cotton and rubber and polyester upcycled from ocean trash.
These are eco friendly vegan Chelsea boots. Mens Mellby Chelsea boots are made with an OEKO-TEX certified vegan leather, corn fiber and recycled PET lining and a sole made from recycled rubber.

Ahimsa, a vegan shoe company that has its own all-vegan shoe factory, makes classic black vegan Chelsea boots. The Dylan Chelsea vegan boots are classic in style, and come in black or the dark brown color Espresso.

Vegetarian Shoes is one of the oldest vegan shoemakers, having made their shoes with vegan materials in the UK since 1990. Vegetarian Shoes Airseal Chelsea Boots are a classic Chelsea boot style and come in a wide variety of colors and soles!
From a classic black to white, blue or purple, choose the color that suits you. Most styles come with the town sole, but you can also choose boots with a country sole.
They have a huge range of vegan boots styles, including vegan hiking boots and Doc Martens style boots if you prefer, like their Airseal boulder boots.

These comfortable vegan boots are a take that combines a sole similar to combat boots with a Chelsea boot upper.
They come with removable comfortable cork insoles and an extra pair of organic cotton lined insoles which are perfect for when you want some extra warmth in winter.
They have excellent reviews, with many happy customers praising how comfortable they are.
With an average rating of 5/5 stars with 20 reviews, these shoes are sure to please.

These ankle boots were inspired by NYC experimental rock band the Velvet Underground and are designed with NYC style so you can dance the night away.
They have a weather proof sole, cork removable insole and breathable lining.

Minuit make very stylish vegan shoes, and their Chelsea boots are no exception. Unfortunately the boots pictured above are no longer available, but they make these cute Chelsea-style boots.
These cute vegan boots are available in grey, hazelnut and Bourdeux colors.
In my view, Minuit sur Terre make some of the most stylish vegan shoes at the moment, and when I recently had to get new sandals, I went for this brand. I love all their boots, too.
FAQ
What are vegan Chelsea boots?
Vegan Chelsea boots are boots that don't contain any animal products like leather or animal glue. They're made with vegan alternatives like vegan leather.
Where to buy vegan Chelsea boots?
Although you might be lucky and live in a city that has a vegan shoe store, chances are you don't. Some department stores have vegan boots, but in my experience few shop assistants know (since shoe material is labelled, and you can tell what's leather, but glue isn't labelled).
Thus, buying online is usually easiest, hence this list!
What colour of Chelsea boots go with everything?
This is a matter of opinion. Personally, I prefer black or brown boots, but other neutral tones like taupe or grey work too.
Are Chelsea boots in fashion?
Considering people have been rocking Chelsea boots since the 60s, I'd say they're pretty firmly in the camp of classic/always in style shoe.
Are Chelsea boots comfortable?
This depends on the shape of your foot and the specific shoe you buy, but generally, yes! I find them very comfortable, particularly if you choose a style of flats with a small heel.
Some boots, like Bhava's vegan Chelsea boots, come with insoles. Bhava's boots come with removable comfy cork insoles, and lined cotton insoles to keep you warm in winter.
Pin this for later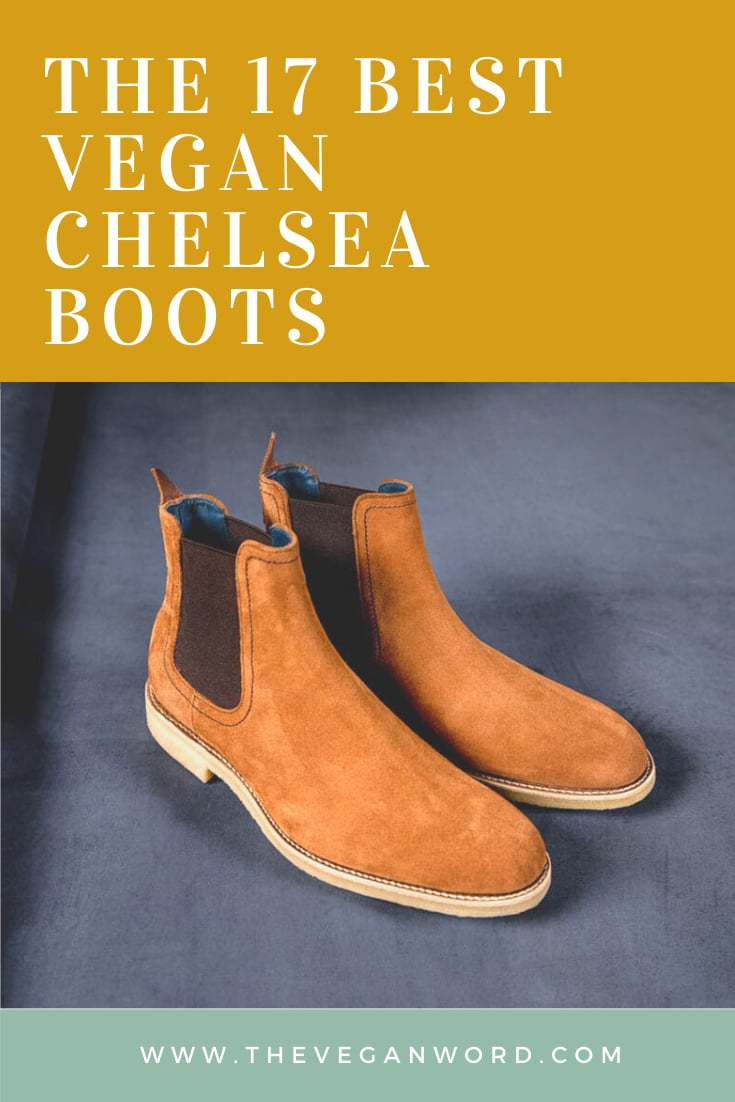 Looking for more vegan shoe guides? Find my guide to vegan sneakers, vegan Reebok style trainers, vegan sandals, vegan flats, vegan loafers, and my guide to all styles of vegan boots, from vegan cowboy boots to vegan heeled boots.
If you prefer other styles of boots, from vegan apple leather to vegan cactus leather boots, see my guides to vegan ankle boots and vegan knee high boots. I also have guides to vegan winter boots vegan Doc Martens, vegan Timberlands, vegan Uggs, vegan Doc Marten boots, vegan cowboy boots and vegan combat boots.
I also have guides if you're looking for vegan dress shoes or heels for an event, or vegan designer shoes if you're looking to turn heads.
Need comfortable shoes for working on your feet? Check out my list of comfortable vegan clogs. I also have a list of the best, comfiest vegan slippers to ease your feet into after a long day.
Trying to find men's shoes? Check out my guide to vegan mens shoes.
For women's shoes, see my guide vegan women's shoes.
Find all my vegan beauty & fashion guides.
What's your favorite take on Chelsea boots?