Searching for the perfect vegan flats that you can wear to work and with your favourite pair of jeans? Finding the right vegan ballet flats needn't be tough work.
I love ballet flats for an easy-to-put-together look with jeans, and they're great if you need comfortable shoes you can throw in your bag.
However, I know the pain of trying to find vegan shoes. As a lifelong vegetarian, I remember plenty of times growing up trying to find leather-free shoes in local shops, a near-impossible task since most staff didn't know which shoes were made of real leather and which were faux.
Luckily, it's much easier due to there being more than vegan shoe designers than ever these days, and the ease of shopping online.
To help you out, I've put together this list of the best vegan flats.
More vegan flats:
Guru Tapir gold tone vegan pineapple leather loafers
NAE Paloma two-tone vegan ballerina flats
Ecoalf knitted recycled vegan loafers
Will's vegan women's pointed toe Derbys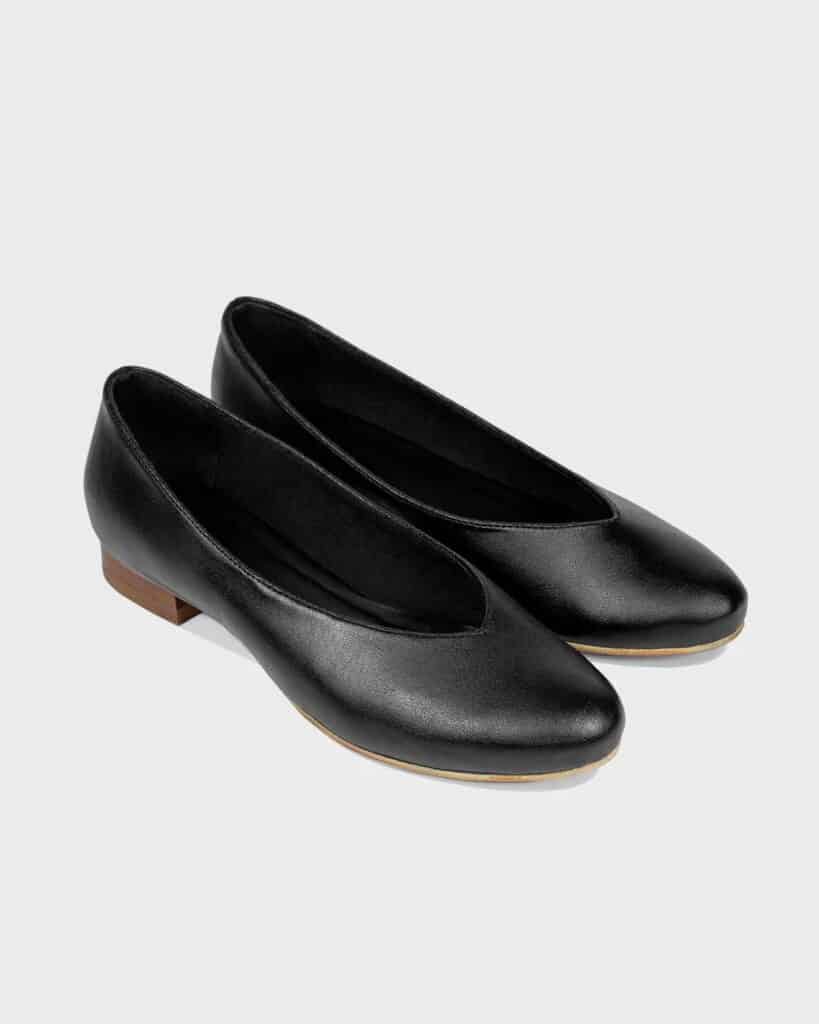 These vegan womens flats from Bohema are my top pick of vegan leather flats.
They're made from Desserto vegan cactus leather, an eco-friendly leather alternative made from the leaves of the Nopal cactus. Due to cacti not needing much water input, it uses much less water than animal leather. It's also soft and durable.
These vegan black flats have a lining made from vegan apple leather and a breathable fabric.
The shoe sole is made from recycled rubber.
These are my top pick for best vegan ballet flats
---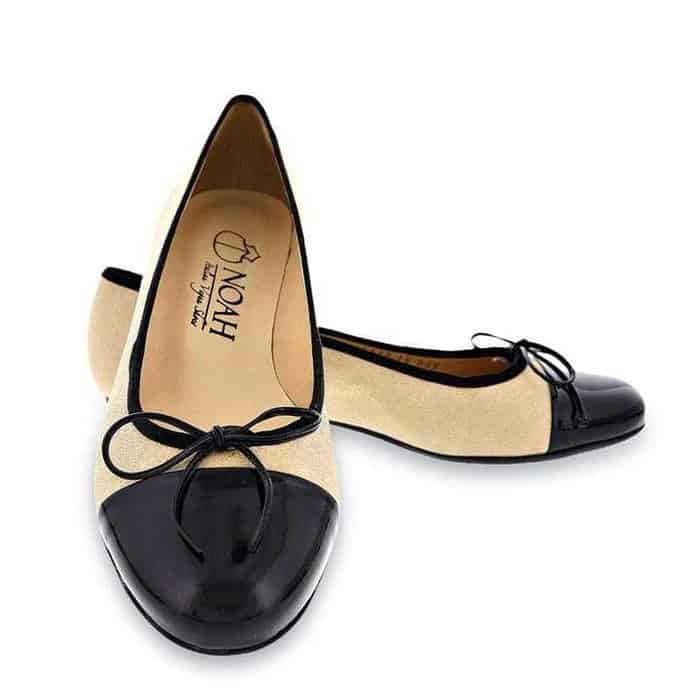 These elegant vegan ballet pumps have a sand-coloured vegan suede upper, with a black vegan patent leather toe and a black bow.
These vegan ballerina shoes would work equally well if you're looking for vegan flats for work or for a night out.
The sole is recycled rubber and the insole is microfibre.
---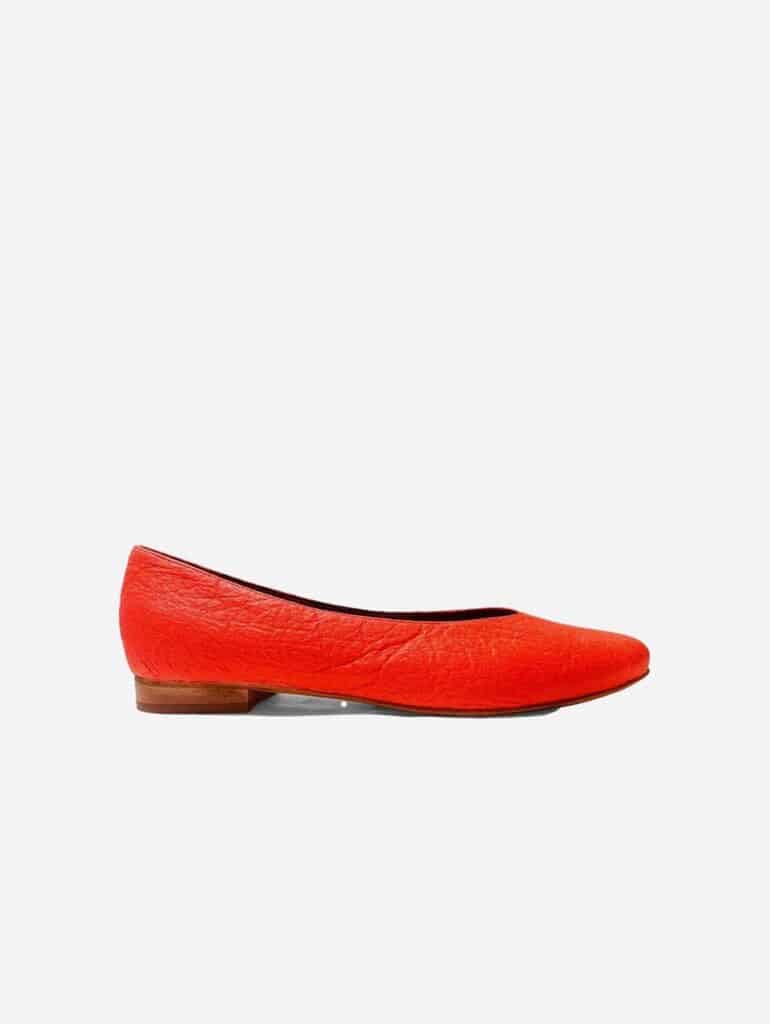 While no longer available in the red hue pictured above, you can still get a pair in classic black.
They're made from eco-friendly vegan pineapple leather. Piñatex is a vegan leather alternative made from waste leftover from the pineapple industry.
The lining of these flats is made from breathable microfibre and vegan apple leather, another sustainable alternative made from apple industry waste.
---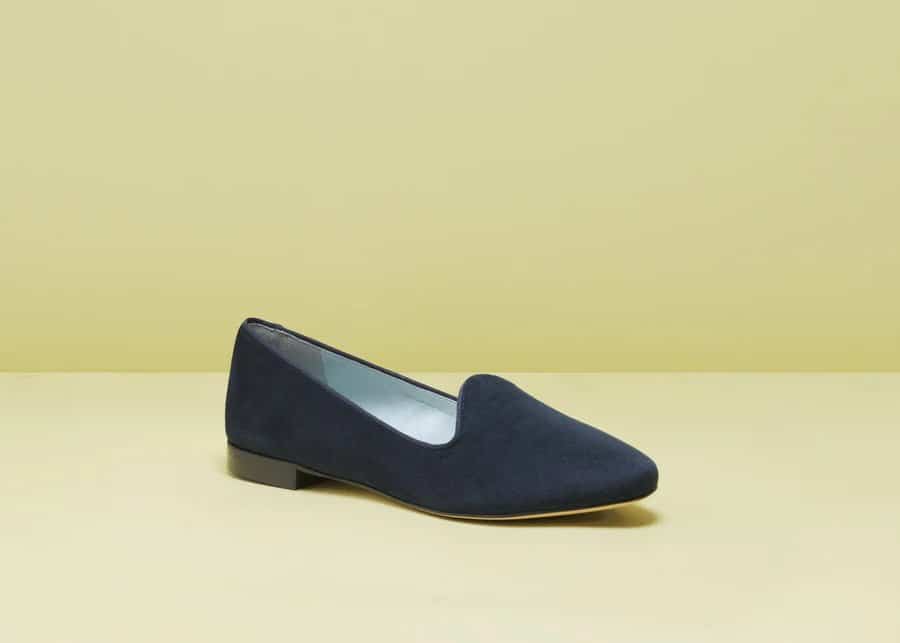 These elegant non leather ballet flats are inspired by Venetian slippers and made from luxurious cotton velvet.
These loafers are made from 100% cotton velvet. They come in a range of colours, but I like these in a deep midnight blue.
The sole is made with recycled materials and they have a heel height of 1.5cm (0.6 inches).
They made using local artisans in Portugal.
---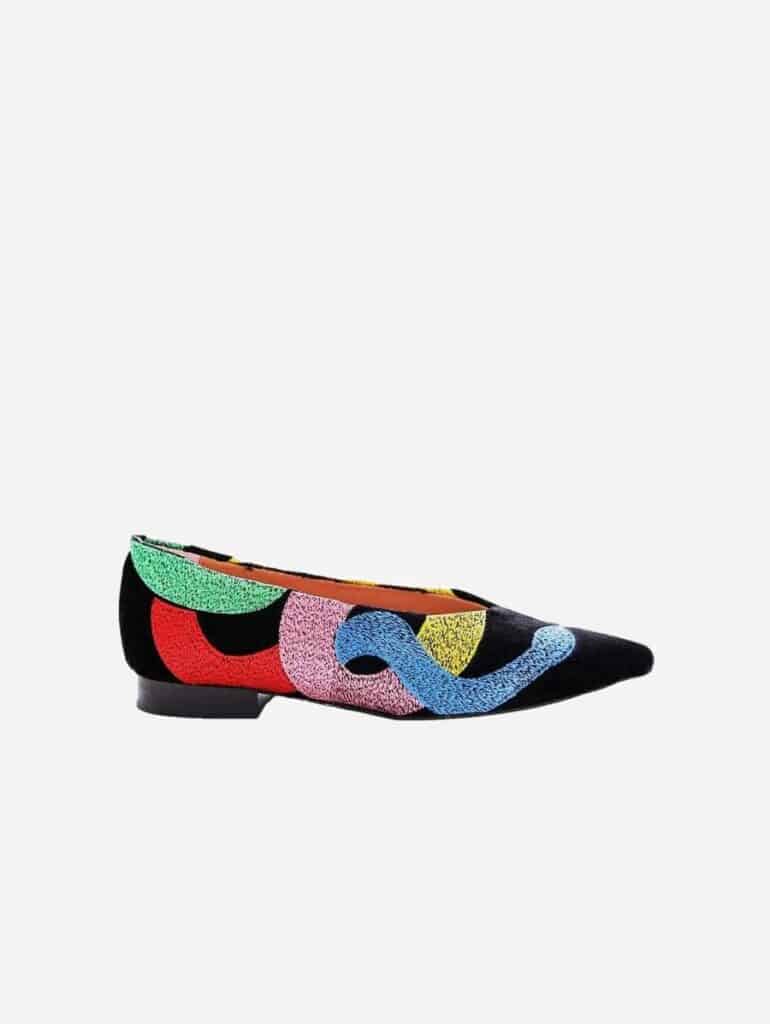 These gorgeous shoes feature embroidery on black 100% cotton velvet.
The heel is made of recycled wood, and the sole of recycled rubber.
The colourful, swirling embroidery design is inspired by the mountains of Switzerland and designed by María Álvarez. They're named after her grandmother and her daughter.
They're made in Spain.
---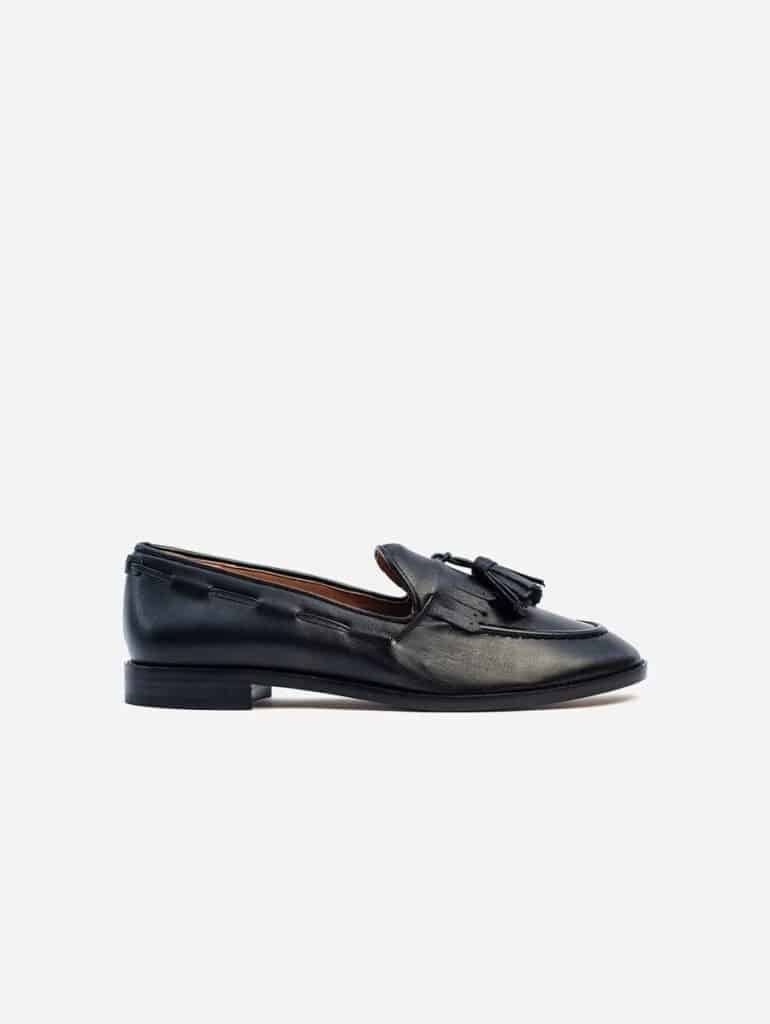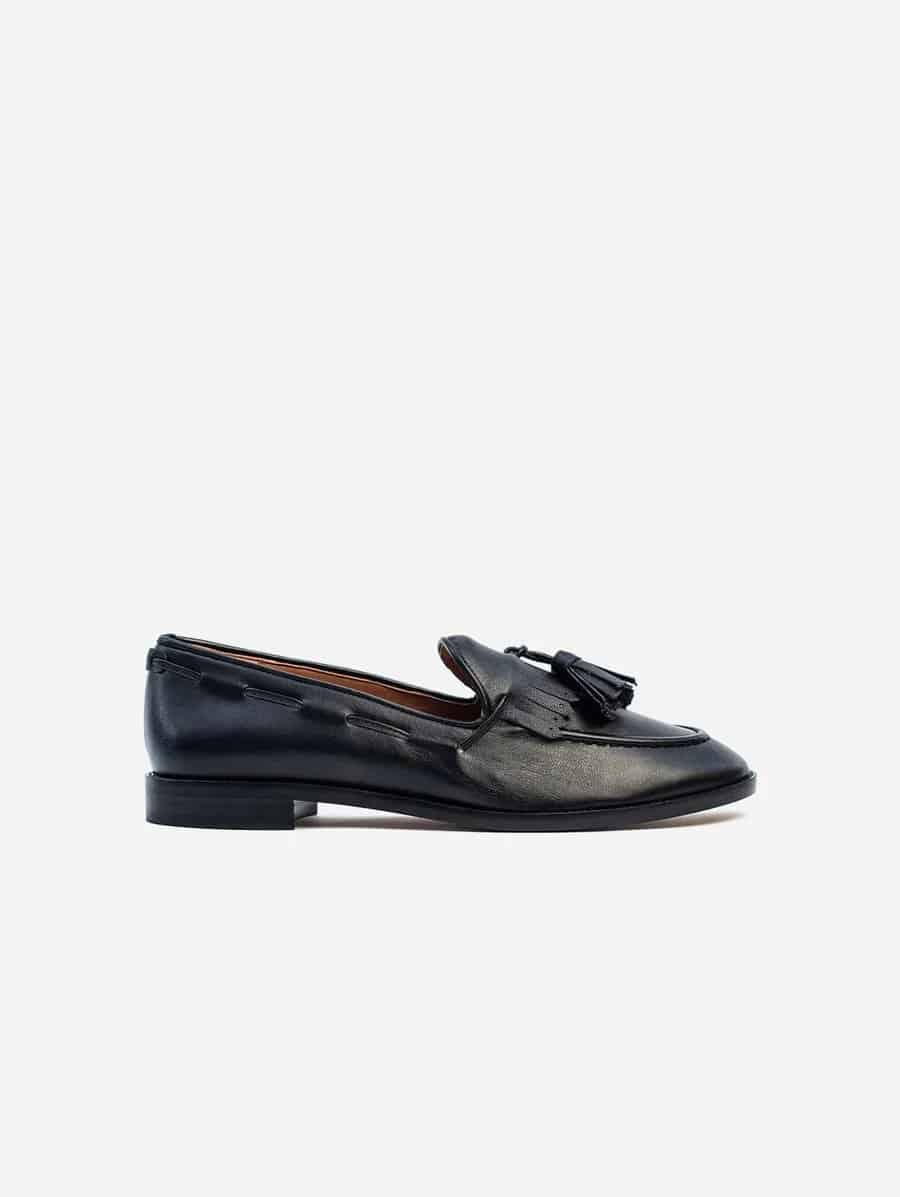 The vegan tassel loafer from Allkind is a classic look.
These flats will go with everything, from dressier looks to more casual styles.
They are made with an outer made from a combination of recycled and non-recycled polyester and PU (polyurethane) vegan leather.
The sole is 100% recycled and upcycled rubber.
---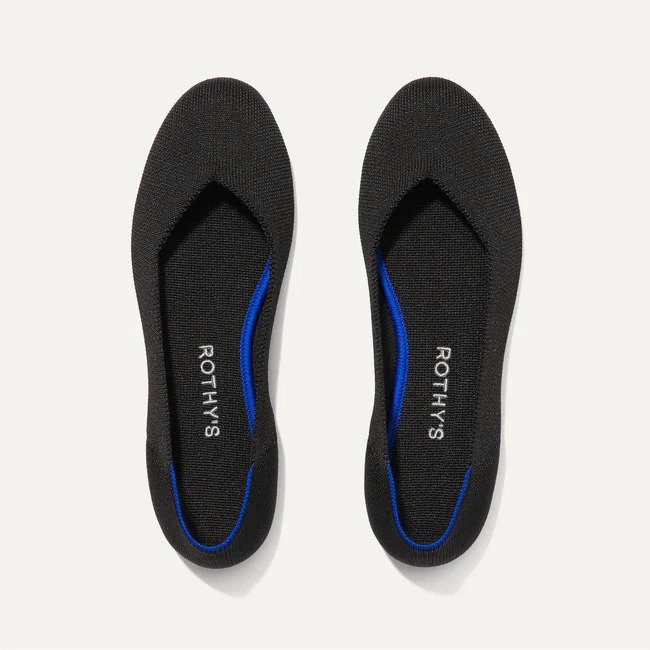 These vegan flats from Rothys are a classic wardrobe staple in black (they also come in 21 other shades).
Made of a knit fabric constructed from Rothys signature fiber spun from single-use plastic bottles, it's an eco-friendly take on flats.
Each pair takes about 11 plastic bottles to make.
They're fully machine washable – so very practical, too.
---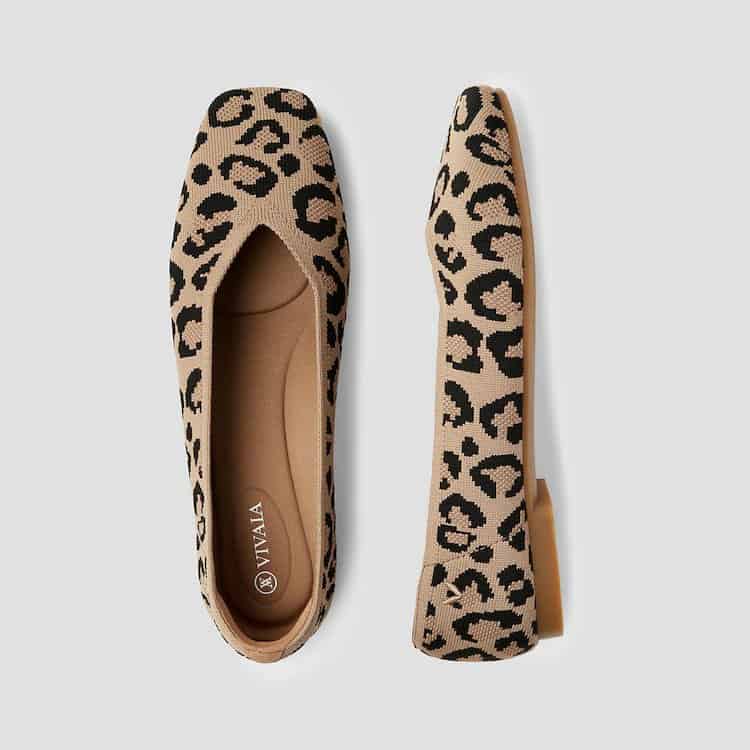 These Vivaia flats are also made from recycled plastic bottles (six of them, to be precise!) and come in this eye-catching leopard print version, as well as more classic colours.
They're antimicrobial, breathable and machine washable, so highly practical.
Designed with comfort in mind, they have heel support, arch support and a comfort insole.
---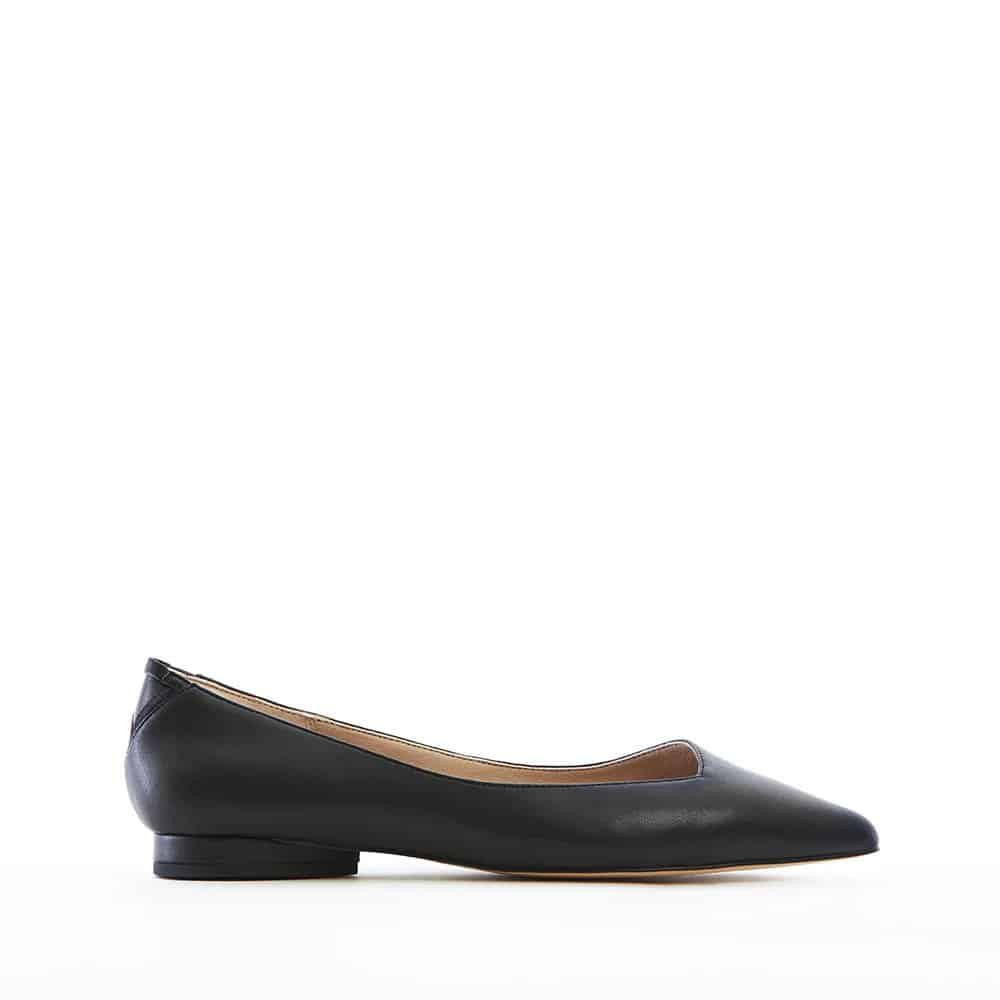 These black vegan flats are both classic and classy.
These comfortable flats have a sneaker-like comfort but also the elegance of a pointed toe and teardrop shaped 0.6-inch (15mm) heel.
They have an impact-absorbing algae insole.
They have 5/5 stars with 6 customer reviews, with reviewers praising their comfort and elegance.
---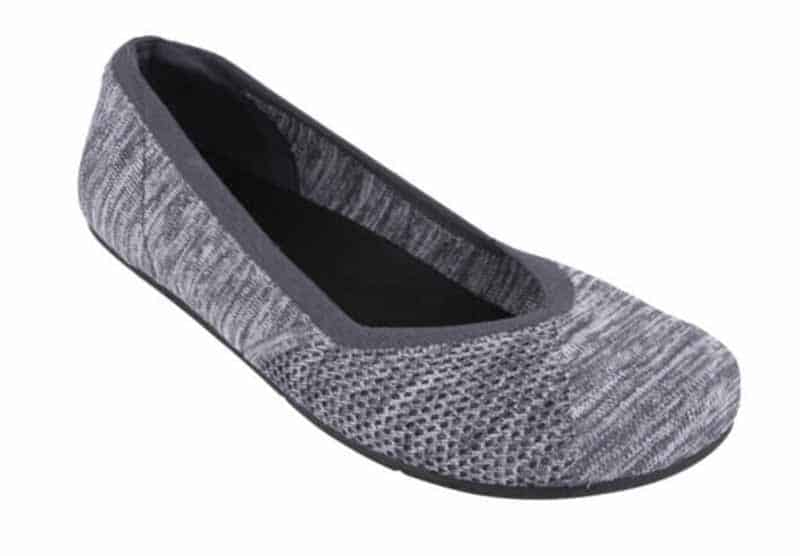 These knit vegan barefoot/minimalist flats are comfortable and easy to pair with a range of clothes. If you're on a barefoot shoe journey, these are an ideal pick for barefoot ballet flats.
They're made with a recycled fabric that's moisture-wicking and UV resistant.
They come in six different colours.
---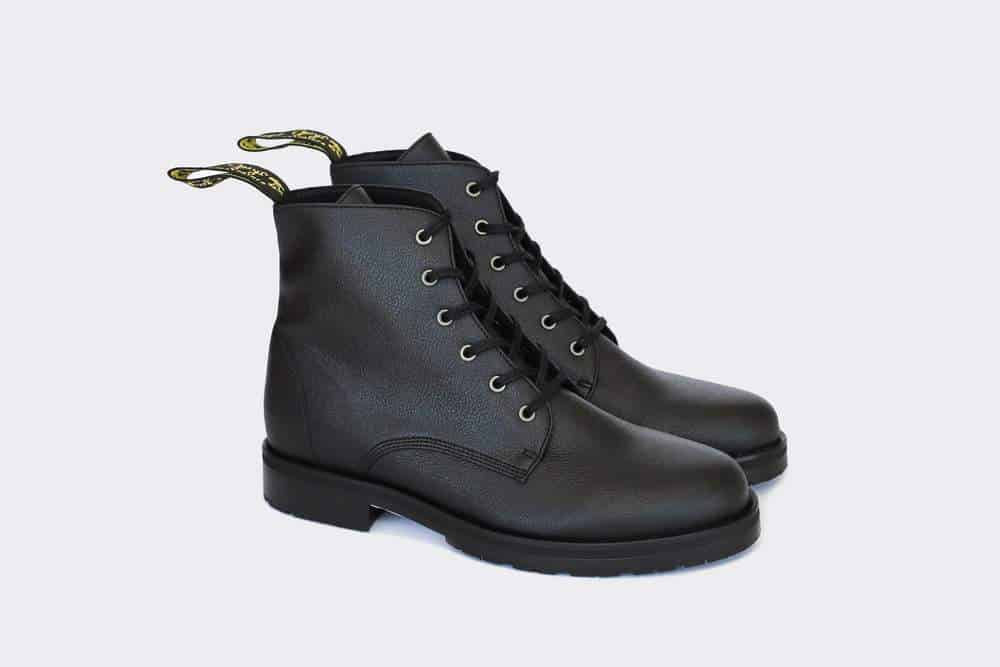 These bestselling boots are ideal if you're looking for flat boots that are sustainable as well as vegan.
Made of eco-friendly vegan apple leather made from leftover waste from the apple industry, these boots are unisex.
The lining is both breathable and antimicrobial, and they have a rubber sole.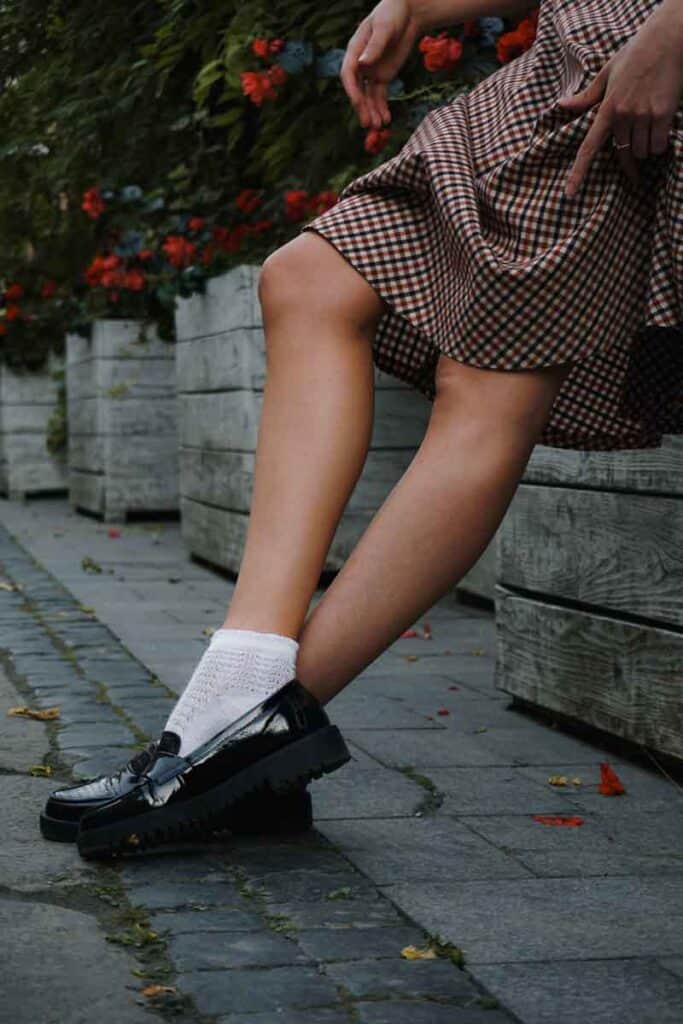 FAQ
Are vegan shoes durable?
One question that comes up a lot with those new to vegan footwear is whether or not vegan shoes are durable.
There seems to be an unfortunate misconception that vegan shoes aren't as durable as leather. However, vegan leather can, in fact, be durable, with some vegan leathers designed to last.
As with all shoes, quality and care make a big difference.
Taking good care of your shoes means rotating (not wearing the same shoes every day) and repairing your shoes when they need to be fixed.
Finding a good cobbler goes a long way. I have my vegan winter boots repaired every time they need re-soling and they've lasted 8 years and counting this way.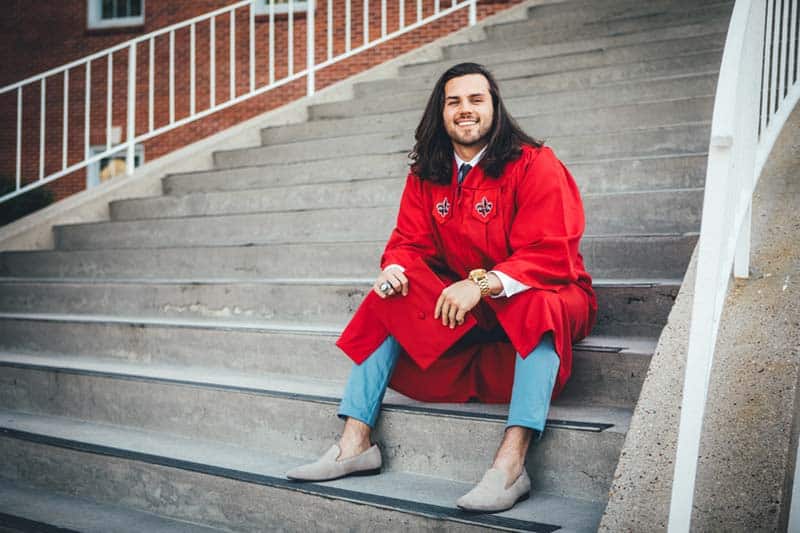 Are vegan shoes better for the environment?
Vegan materials are more eco-friendly than animal leather, though there's variation within vegan materials (cork is more eco-friendly than vegan PU leather, for example).
Do be sure to avoid PVC, which has terrible environmental credentials. While it was once the faux leather of choice in the 80s (pleather) few brands use it now because it's so bad for the environment.
Vegan polyurethane (PU) leather is a step up, and is more eco-friendly than animal leather, which has a terrible environmental impact (since animals raised for leather use up land, water etc), as well as being cruel to both animals and workers, who are at a raised risk of cancer from working with chromium, commonly used in the dyeing of leather. Worse still, many children as young as 10 are employed in the leather tanning industry in some countries.
There are other materials that are even better for the environment, such as newer-generation vegan leathers (like pineapple leather, grape leather and apple leather, all of which I've featured above), cork and organic cotton.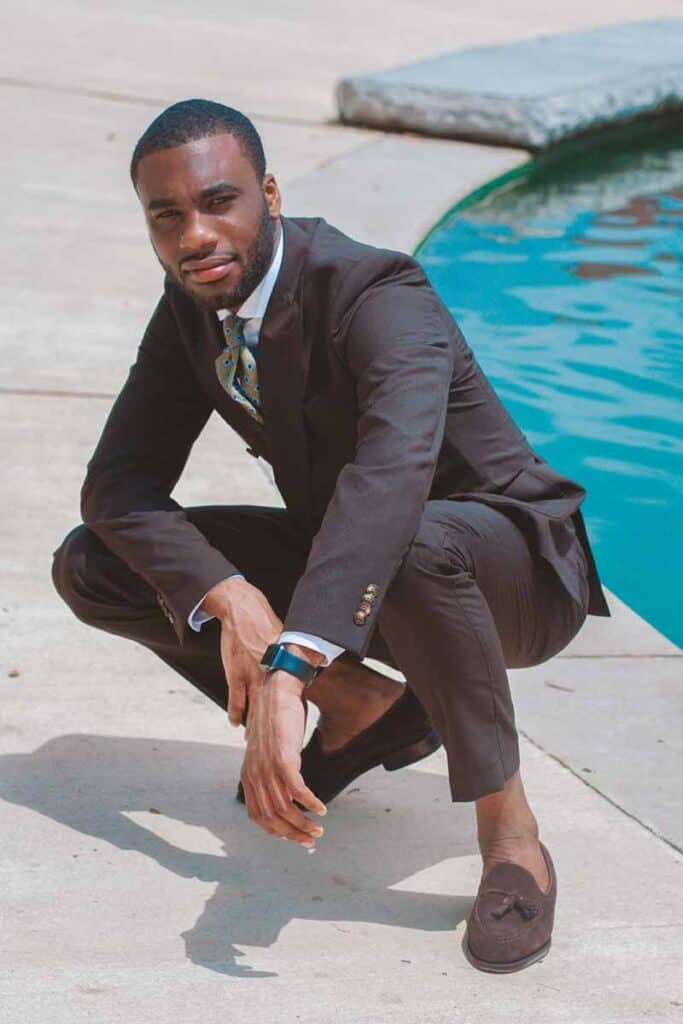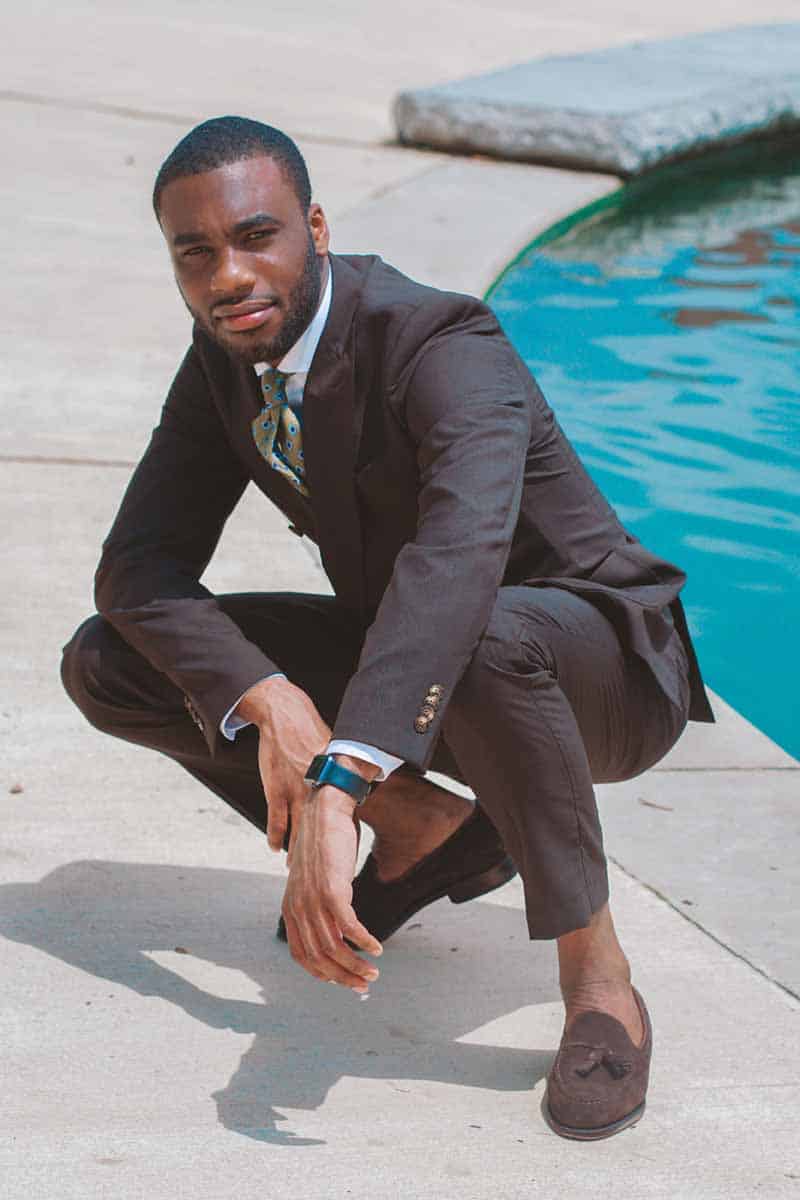 Are vegan shoes waterproof?
As with non-vegan shoes, some are and others aren't. Check descriptions for waterproof shoes (or water-resistant, if you don't need them to be fully waterproof).
You can also buy waterproofing sprays, but again, these tend to be more for water-resistance (in spite of the name) rather than full waterproofing and you shouldn't submerge non-waterproof shoes fully in water in case you damage them.
Are vegan shoes breathable? Do vegan shoes smell?
One of the most unfortunate prejudices against vegan shoes is the misguided belief that they smell, when in fact, that's not the case – or at least, not anymore so than leather shoes.
Some people seem to believe vegan shoes are the equivalent of putting your foot in a plastic bag which would, of course, induce a lot of sweat and smelliness.
However, this is not the case, and many vegan materials are breathable, particularly natural fibers like cotton and cork.
Even vegan leather isn't necessarily less breathable (as long as you avoid PVC, which you should anyway for environmental reasons as discussed above). This (non-vegan) shoe site states non-leather materials are lighter weight and more breathable than leather.
It is recommendable that you rotate your shoes to let them breathe between uses.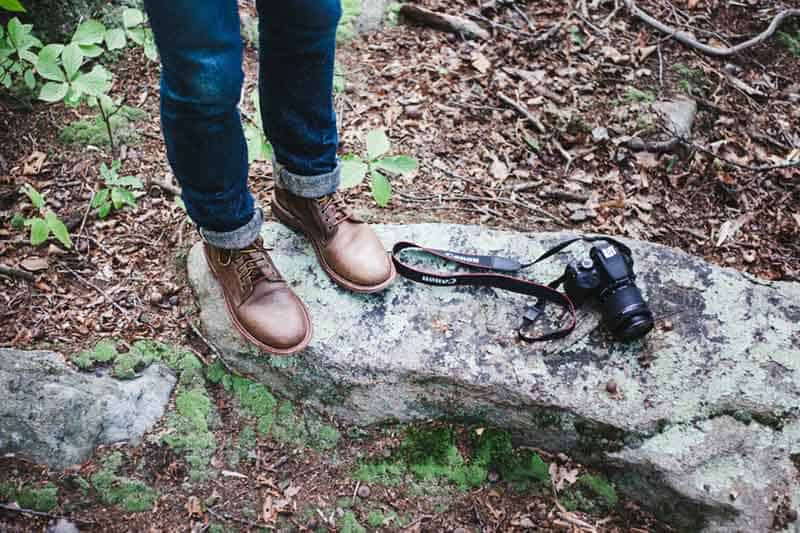 Are vegan shoes comfortable?
Just like non-vegan shoes, some are very comfortable while others aren't.
I find how comfortable a given style of shoes is varies vastly by person, by your foot shape and by your gait.
I recommend trying different styles or buying vegan versions of styles you already know suit your feet.
Sometimes adding insoles or other adaptations can make a pair more comfortable.
Are vegan shoes expensive?
Vegan shoes cater to a range of budgets. On the high end, you have designer shoes like Stella McCartney, while on the lower end, you can often find non-leather shoes in budget shoe stores (though they may contain glue that's not vegan).
If you're on a budget, I highly recommend checking out secondhand clothing shops, eBay or secondhand apps like Depop or Vinted as a first port of call. As a bonus, not only is buying secondhand wallet-friendly, it's also planet-friendly too!
What style/colour of flats should I buy?
This is down to personal choice, so if you want something that will match any outfit, choose a classic silhouette and a neutral colour like black, navy blue or grey.
If you want to stand out, you might prefer red shoes or leopard print flats, or these lovely embroidered flats.
Pin this for later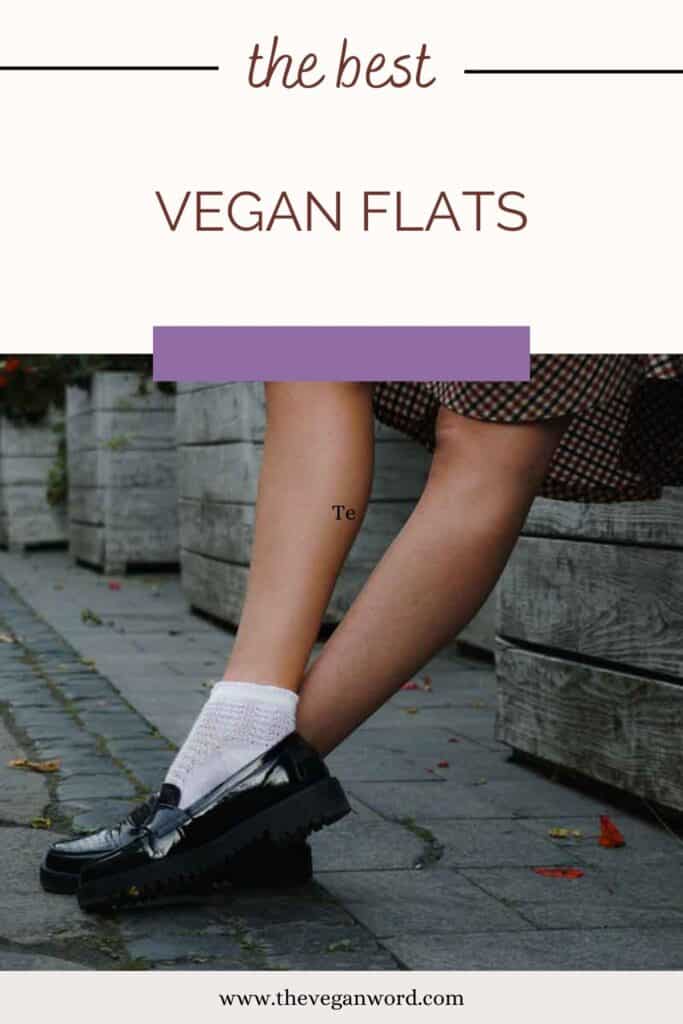 Looking for more posts on vegan shoes? Check out my full guide to vegan shoes, plus my guides to vegan mens shoes, vegan womens shoes, vegan Chelsea boots, vegan combat boots, vegan cowboy boots, vegan ankle boots and vegan knee high boots.
You can also check out my guides to to vegan clogs, vegan sandals and vegan slippers.
If you need dressier shoes, I also have guides to vegan dress shoes, vegan heels and vegan designer shoes.
Find my full range of vegan fashion guides.