Based in the UK, with US and Europe stores
Features: 100% vegan
Will's is the best for vegan work shoes and all your other vegan shoe needs. They have one of the most extensive collections of vegan shoes, bags and accessories.
Will's started out specialising in vegan men's shoes, and later expanded to make women's vegan shoes, bags, jackets and more.
Whether you're looking for vegan Oxford shoes, vegan boat shoes, or non leather brogues, you can find just about any style of non leather shoes for men at Will's. Perfect if you're looking for vegan business shoes to go with your suit for a conference.

These vegan Italian shoes epitomise classic Italian shoemaking. Noah vegan shoes make vegan mens dress shoes in traditional styles, from vegan Oxfords to vegan Derby shoes.
If you're looking for traditional shoes such as vegan black work shoes, Noah's meld classic style and traditional construction.
Their non leather mens shoes are handcrafted in small productions and fair working conditions in Italy.

Good Guys Don't Wear Leather was the first vegan shoe company in France. They make non leather dress shoes as well as vegan dress boots, plus more casual wear like sneakers. Many of their styles of vegan formal shoes are unisex.
As well as a microfibre-based vegan leather, some of their mens vegan dress shoes (such as the Cooper boots) are made with apple leather, an innovative and eco-friendly vegan leather made from leftover apple waste from the food industry.

Marzeri is another great option if you're looking for designer vegan smart shoes. Their non leather formal shoes are classic in style; choose from vegan penny loafers or Oxfords in brown or black.
Because of the way they're constructed, these vegan leather shoes have a high level of water impermeability and can be re-soled.
Best vegan dress shoes for women
If you're looking for women's vegan dress shoes, there are plenty of options these days, from vegan brands and even vegan designer labels.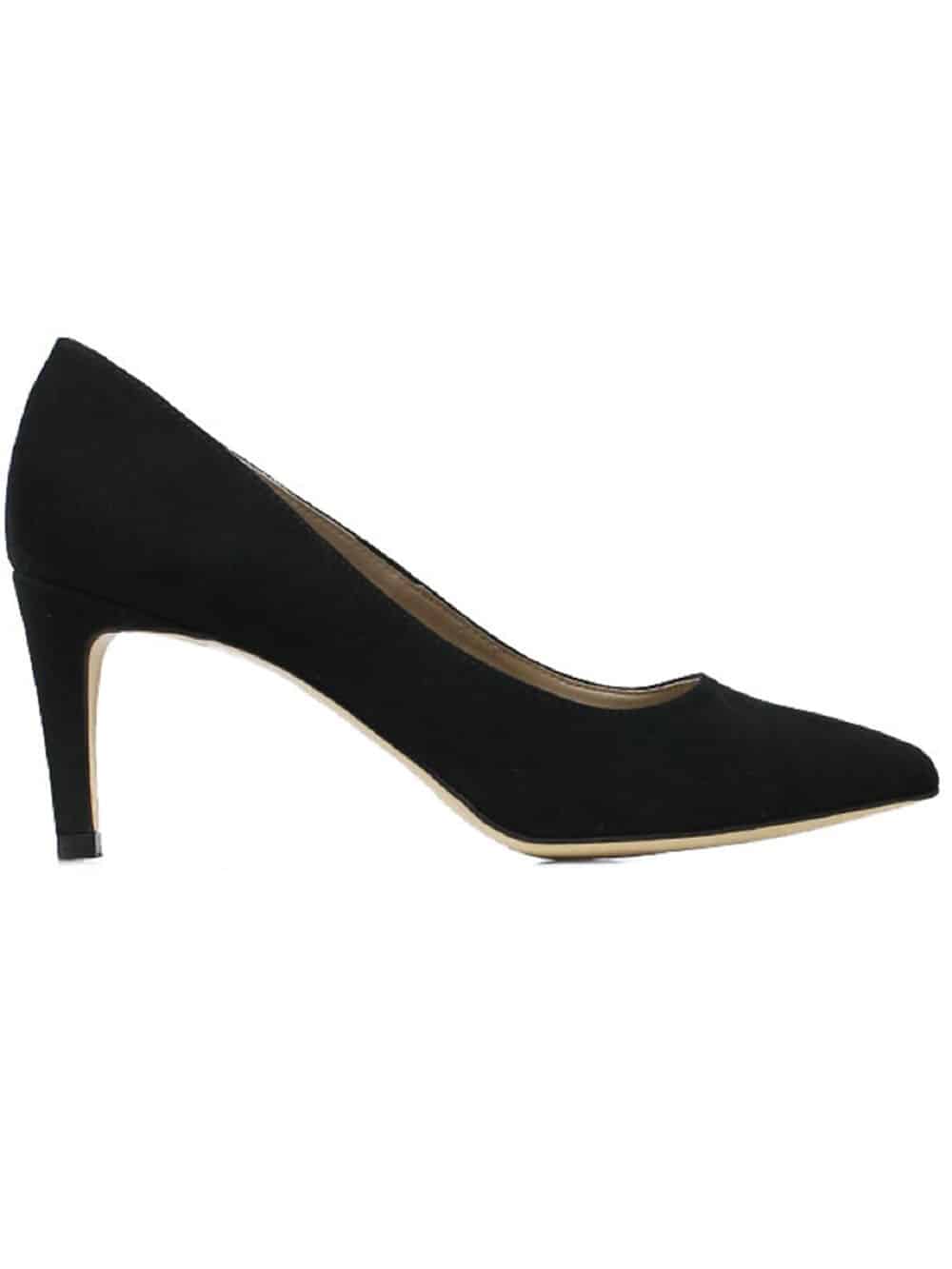 Will's Vegan Store started out making men's vegan shoes and have since expanded to women's shoes (plus accessories, coats and more).
They have a really big range and you can find just about any vegan womens work shoes or shoes for other special occasions.
Whether you're looking for vegan Mary Jane shoes, vegan wedge shoes, or vegan court shoes, Will's has a vegan version of most classic womens dress shoes.

Use code "VEERAHXTHEVEGANWORD" for 10% off!
Veerah is a vegan designer shoe brand with a difference - you can customise and change the shoes with clip-on accessories like straps, tassels and brooches.
It was the braindchild of founder Stacey Chang, who realised she was always packing multiple pairs of shoes for business trips to change her look for different outfits. She came up with the idea of customising one pair of shoes for multiple looks.
They have vegan mule shoes, pumps and heeled sandals, as well as boots, and you can buy the detachable shoe accessories separately.

Aera is a luxury vegan shoe brand created by fashion industry insiders, including a former president of Dolce & Gabbana. Their shoes are vegan and sustainable, and produced by artisans in Italy.
Stand out with vegan python effect stilettos or vegan ballet shoes in leopard print or snakeskin vegan leather.

Stella McCartney is the most famous vegetarian luxury designer.
As a longlong vegetarian, she doesn't use leather in any of her designs, so all her shoes and bags are vegan (some of the clothing in her line isn't as some contain wool and silk so beware of that).
If you're looking for designer shoes, Stella's range includes trainers, boots and more.

The second luxury designer on this list, Piferi was founded by Alfredo Piferi, former head of design at Jimmy Choo.
Piferi's designs are unique, such as the soquette heel pictured above.

This designer brand is designed in New York and made in Italy and is designed to be durable. They even go as far as subisidising repairs on their shoes, which I think is a great idea!
The Sylth Virago boots come with their custom signature curved stiletto heel.

Matt & Nat is a well-known vegan bag brand that expanded into shoes. If you're looking for vegan office shoes, they have a wide range of styles, from mules to boots.

Cult of Coquette was founded by Bebe Roxana, who always wanted a pair of Louboutin "Kate" shoes. Since they weren't available in vegan form, she decided to create her own!
Their specialty is heels, but they also have flats and also vegan bridal shoes.

Mireia Playa is a Barcelona-based brand and their shoes are made in Lyon, France.
Their range includes boots and sandals, such as these vegan platform shoes.

Bhava is a vegan shoe brand that makes vegan clogs, heels and boots.
One particularly unique offering I love is that they sell boot "uppers" that you can attach to their boots to make ankle boots in knee-high boots, a way to be more eco- and wallet-friendly.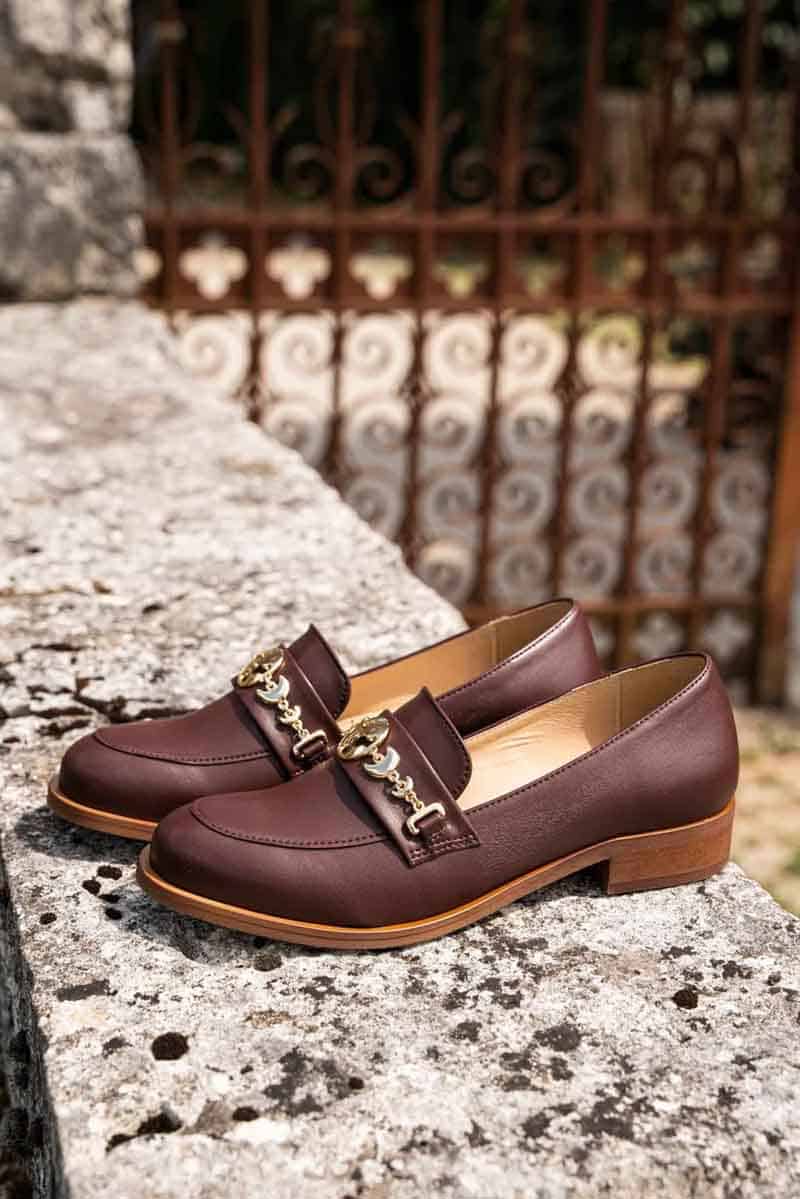 Minuit Sur Terre is a French vegan brand. They started out making shoes and now they also makes bags and accessories. I love their designs -- I have a pair of their sandals and they're so cute!
They have a range of vegan leather dress shoes, from heels to loafers.
I love their Symbol vegan loafers (pictured above). Made of a brown vegan leather made with cereals and a 3cm (1.25-inch) black wood effect heel, I particularly love the gold tone chain on the front. The chain features moons and the Earth and is a really cute addition to the loafers which makes them stand out.
More brands that make vegan women's dress shoes:
Pin this post for later: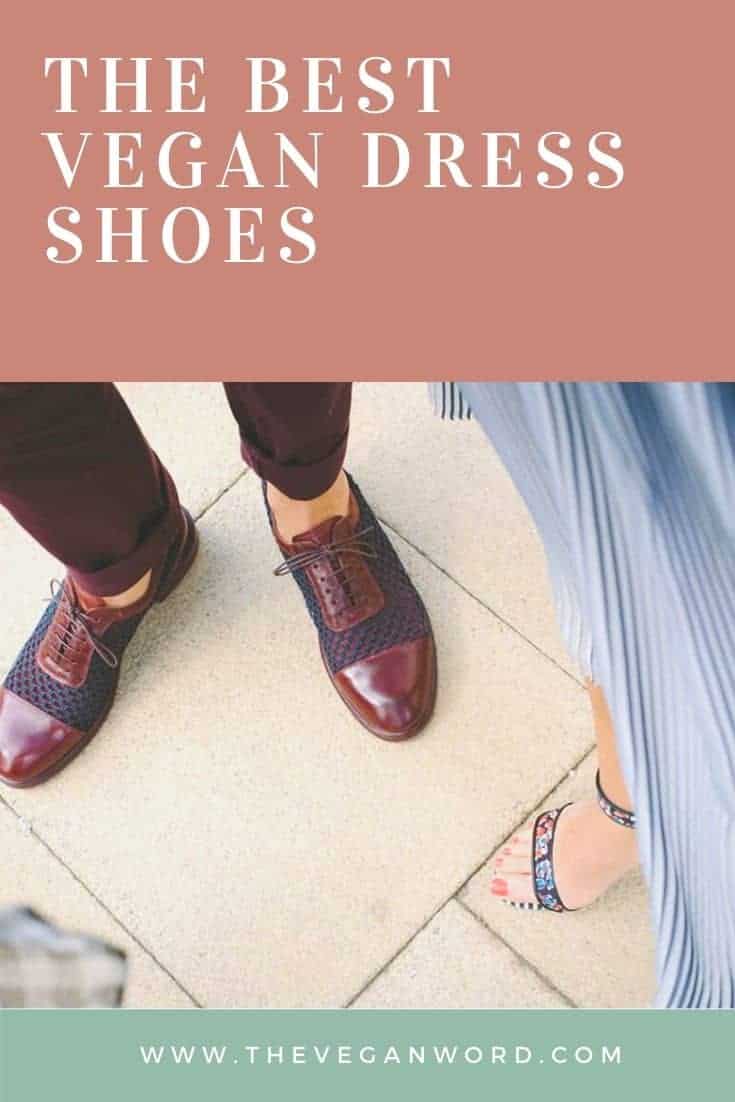 Looking for more shoes? See my full guide to vegan shoe brands here.
I also have guides to specific shoe styles such as vegan loafers, vegan flats, vegan heels, vegan sandals, vegan boots, vegan Chelsea boots, vegan ankle boots, vegan combat boots, vegan mens boots, vegan knee high boots, vegan cowboy boots, vegan winter boots, vegan sneakers, vegan Reebok, vegan clogs and vegan slippers.
Or, check out my guide to vegan designer shoes.
Find all my vegan beauty & fashion guides here.