Vegan mens shoes used to be hard to come by a few years ago, especially in the dress shoes department. I remember when Will's Vegan Shoes launched at one of the vegan fairs in London and everyone was talking about how there was finally an option for vegan dress shoes for men.
Thankfully, these days a number of brands now cater to vegan shoes for men.
In fact, some mainstream sneaker brands have even started launching vegan shoes in the last few years.
Some of the brands I'll be looking at in this article include:
So whether you're looking for vegan running shoes or vegan men's dress shoes, here are the best brands for vegan men shoes.

Based in Canada, ships worldwide
Features: 100% vegan
Matt & Nat is an all-vegan company that started out selling bags and wallets and has now branched out into shoes. They have a small selection of mens vegan shoes, but it includes all the classics, from vegan mens Chelsea boots to vegan Oxford shoes.
They also have vegan mens loafers, running shoes, sandals, slip-on mules and sneakers.

Based in the UK
Features: 100% vegan, sustainable
Po-Zu makes eco-friendly vegan trainers and vegan leather boots. They use sustainable materials like organic cotton and pineapple leather (created using waste from the food industry).
They have trainers in black and white, and water resistant high top lace up boots.

Based in the Brazil
Features: 100% vegan, made in all-vegan shoe factory
Made in one of the only all-vegan shoe factories in the world, Ahimsa manufactures vegan boots for men, sneakers and men's vegan dress shoes.

Based in the US
Features: vegan options
If you're looking for vegan barefoot shoes, Vivo Barefoot is one of the best-known brands. Some people believe minimalist shoes are better for your feet.
The idea behind barefoot shoes like Vivo is that they replicate walking barefoot.
They make a number of men's barefoot sneakers, trail runners and a summer shoe.

Based in France
Features: 100% vegan
Good Guys Don't Wear Leather was the first vegan shoe company in France.
They have quite a wide range of mens vegan leather shoes: trainers, loafers, ankle boots and clogs.

Based in Germany, shoes made in Italy
Features: 100% vegan
Noah vegan shoes makes classic, well designed vegan shoes. They make great vegan work shoes.
If you're looking for vegan mens dress shoes, Noah has classic Oxfords in different colors. They also have boots.

Based in Portugal
Features: 100% vegan company, uses some recycled materials
Nae has a very wide range of vegan men's shoes, and they use some eco-friendly materials like recycled materials and Piñatex (an eco-friendly leather alternative made of pineapple waste).
They have vegan walking shoes, vegan mens boots and mens vegan dress shoes, among other styles.

Based in France
Features: vegan options
Worldwide shipping
Are there Veja vegan shoes? Yes! Popular ethical sneaker brand Veja makes vegan options. They're known for their eco-friendly shoes and fair treatment of workers, and they have vegan sneakers for men and women.
See the full range of vegan shoes here.

Based in Australia
Features: 100% vegan, fair trade, eco friendly
This very ethical sneaker company makes all vegan shoes, plus they use sustainable materials including organic cotton, and they ensure fair labor treatment. They trace their supply chain and ensure everyone is paid living wage, earning them a 'Great' rating from Good on You.
Their vegan mens sneakers come as slip ons, hi tops or low tops, and in black, white, navy blue, green or red.

Based in the US
Features: 100% vegan
This mens vegan footwear brand was born in 2010 and was one of the first (if not the first) vegan footwear companies to focus entirely on mens shoes.
They make men's vegan shoes in lots of different styles and colors!
If you're looking for shoes that a bit out of the ordinary, these are for you (they also have plenty of classic styles and colors too), such as these turquoise derby shoes.

Based in the UK
Features: 100% vegan
One of the first, or perhaps THE first, vegan brand to focus on men's fashion, I remember when Will's launched at a vegan fair in London, and everyone was thrilled to finally see vegan men's shoes widely available.
Their online vegan store sells one of the biggest ranges of vegan shoes I've come across, in just about every style.
If you're looking for mens vegan running shoes that won't let you down after hours of running, check out the WVSport Oakes cross trainers, developed for ultramarathon runner and vegan Fiona Oakes.
Looking for vegan moccasins? They have those too.
Mens vegan boots? They have nearly 50 styles.
Vegan waterproof shoes? Yes, they've got those too!

Based in the UK
Features: 100% vegan
Established vegan footwear brand Vegetarian Shoes has been making shoes since 1990. They even make vegan safety / work boots.
As well as designs you might expect, like mens vegan sneakers and boots, Vegetarian Shoes makes some harder-to-find items like vegan steel toe safety boots. So if you're looking for hard wearing, steel toe non leather work boots, look no further.

Based in the US
Features: 100% vegan
Cruelty free footwear brand Novacas, whose name means "no cows," makes vegan brogues, Chelsea boots, loafers and more.

Based in the US
Features: 100% vegan
Native Shoes makes sandals, colorful vegan sneakers and practical boots.
The Hydrofit boots' innovative vegan materials make it stain-resistant AND waterproof!
More vegan shoe options:
Adidas has really stepped up their game recently, releasing a vegan version of the classic Superstar sneakers.
They've also developed a mushroom leather version of Stan Smiths, though it's not available to the public yet.
Doc Martens have long had vegan versions of some of their classic unisex boot styles, including their 1460 boots, Chelsea boots and more.
See their full vegan range here.
Can you find vegan Birkenstocks? Absolutely! These classic, comfortable "hippy" sandals have many vegan options.
For example, the classic vegan men's Arizona Birkenstocks come in a vegan version. Find it here.

Looking for minimalist sandals? Xero makes lots of vegan styles (all their shoes are vegan except for the Alston and Coalton, which are made with leather, and the Mika and Pacifica, which both contain wool).
They also make trainers and boots, but if you're looking for barefoot sandals this is one of the few minimalist brands that makes vegan barefoot sandals.
This brand makes rope sandals (partly out of recycled polypropylene) and all the sandals are vegan. They're made by hand in a community in Nicaragua, and the company works closely with them to ensure workers are treated well and the company is doing good in the local community.
Popular hiking shoe brand Merrells has a range of vegan shoes, which you can find here.
Fair trade, vegan sneaker brand Ethletic makes unisex sneakers. All shoes are vegan, and made with eco-friendly materials like FSC certified rubber and they're fair trade.
They have hi tops and low tops and they come in a huge range of colors.

This Brazilian ethical sneaker brand ships worldwide and has vegan options. Their skater style shoes look like Vans, but are made with organic cotton and rubber, and they plant a tree for every pair of shoes shipped.
Shipping is carbon neutral and packaging is recyclable.
Keep is an all-vegan company making sneakers with a twist - they have colorful patterns!
Another unusual/hard-to-find shoe they make is the Gourmand, specifically designed for chefs and kitchen staff who have to be on their feet all day.
FAQ
Where to buy men's vegan shoes?
While you can often find non leather shoes at any discount shoe store, it's hard to tell if they use vegan glue (that's right, some shoes are held together using animal glue, though this is increasingly less prevalent due to cost).
To be sure your shoes are vegan, it's easiest to buy from a vegan brand or check which vegan shoes a given brand has available. Which means it's often easier to buy your vegan shoes online!
If you live in a big city, you might be lucky enough to have a vegan shoe store in your city, so check if there is one. It's a good way to support a local, independent business. However, most cities don't have one of these, making the internet your best bet.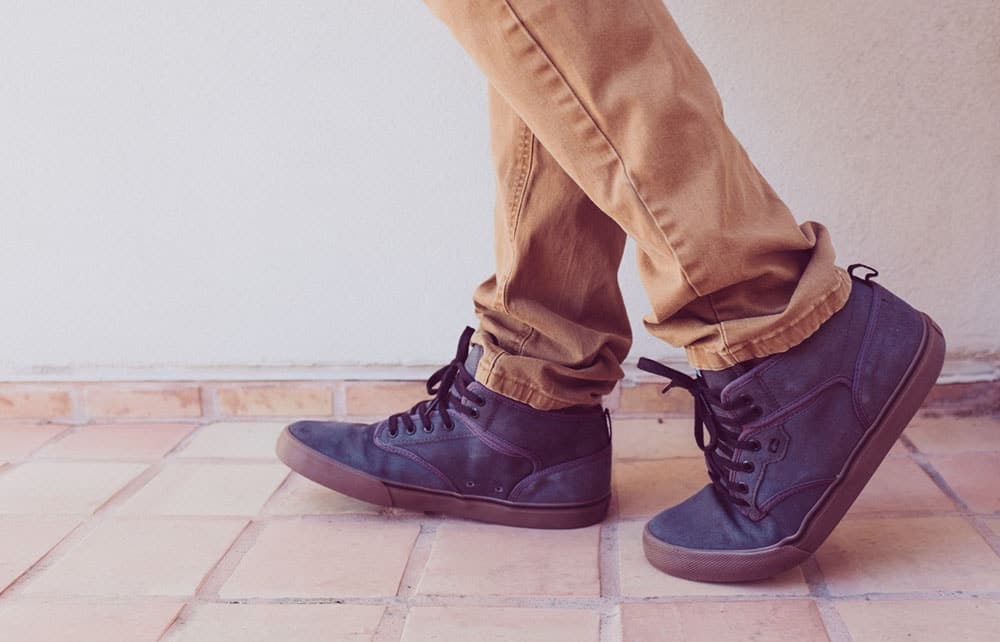 Are shoes that are made from all manmade materials as breathable as shoes made of leather?
There's an unfortunate misconception out there that vegan shoes aren't as breathable as leather shoes. This is largely in part to the older generation of faux leathers used in the 80s and 90s, which were primarily PVC (which, by the way, is very environmentally damaging and should be avoided!).
Newer vegan leathers are very different, and are breathable, and in fact this footwear site (which as far as I know has no vegan affiliation) recommends non leather/synthetic materials as being MORE breathable.
If you're worried about your shoes smelling, the best thing you can do is what experts have always said...rotate your shoes.
What is PU leather? What the difference between PVC PU leather and genuine leather?
As mentioned above, PVC was named by Greenpeace as "the most environmentally damaging plastic" and should be avoided.
PU, or polyurethane, is a newer type of vegan leather. It's also made of plastic and therefore gets a bad rap, but the Higgs index shows it's much more eco-friendly than animal leather.
Pin this for later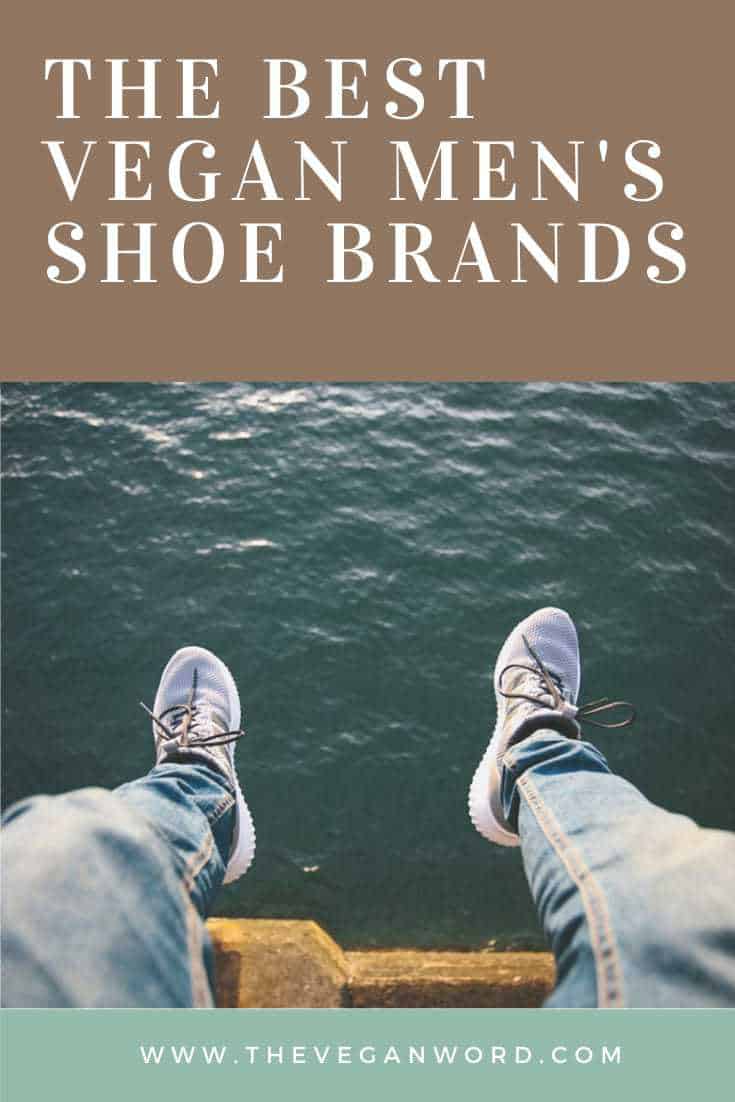 Looking for more fashion guides? Find all my vegan fashion guides here.
Click here to see my full guide to vegan shoes and vegan sneakers guide here.
I've also got guide to women's vegan shoes! Find my vegan boots guide here and guide to vegan heels here.