Belts can add that final finishing touch to your outfit – but how do you ensure you've got a vegan belt? Vegan belts are becoming easier to find these days, thanks to more vegan brands popping up, and more people turning to a cruelty-free lifestyle.
Special deals:
These are the best vegan leather belt brands, among others:
More vegan belt brands:
Whether you're looking for vegan belts for men or women, whatever style, there's a vegan belt brand for you.
Read on for an overview of the best vegan belts:

Best for: vegan belts mens & vegan belts womens
100% vegan company
Corkor is a brand that makes vegan wallets, bags and accessories out of cork, which is one of the most eco-friendly materials. Cork trees don't need to be cut down to be harvested, and also don't require much water or fertiliser.
You can get a Corkor belt for men in 30mm, 35mm or reversible here.
The vegan mens belts come in black and brown and are classic belt styles, perfect for workwear or with jeans. Corkor vegan belts for women come in 25mm and 45mm and black, brown or natural. (Though all styles look perfect for unisex wear to me.)
My top pick for an eco friendly vegan belt!

100% vegan company
Doshi sells vegan bags, backpacks, briefcases and belts.
They have a wide range of vegan men's belts, with different finishes and buckles, which you can find here.
They have belts with a crossgrain vegan leather, belts with chrome, black chrome, gunmental chrome and metallic silver buckles. They even have a vegan mens belt with an automatic buckle.
They also have two women's vegan belts, one reversible with a square buckle and one with a gold ring. You can find them here.

Best for: vegan belts UK
100% vegan company
Watson & Wolfe designs classic style leather free bags and accessories, and their vegan leather belts are no exception to the rule of timeless design.
Looking for a men's vegan belt? Whether you're looking for a classic vegan belt for work or a mens vegan leather belt you can wear day-to-day, Watson & Wolfe has a full range of vegan dress belts.
They have black and brown classic vegan belts, vegan leather belts with a long buckle and vegan cork belts made using traditional three-piece construction.

Best for: reversible vegan belts
100% vegan company
Canussa's unisex faux leather belts are reversible, meaning each each vegan reversible belt is really like two belts. I love the colourfulness of their designs, too.
You can choose from a neutral vegan black belt or brown belt, or reverse it to add a pop of red or blue to your outfit.
Their bestseller is the reversible blue-brown belt (so it'll work with any outfit!), which comes with a reversible buckle in either a standard buckle shape or their unique buckle shape pictured above.
They also have one of the most unique and fashion forward buckles I've seen, in a cut-off pyramid shape.

100% vegan company
Looking for vegan designer belts? The wide cork waist belt from Bhava in vegan snakeskin is perfect for making a statement with any outfit.
This vegan waist belt is manufactured in Spain, where generations of artisans still make belts by hand.

100% vegan company
Matt & Nat is long-standing vegan bag company and now they make vegan belts and shoes, too. They also offer free shipping on all order over $200 in the US.
Their womens vegan belts have an affordable price point and a wide range of styles. From skinny belts with a small buckle to belts with an over-sized circle buckle, they've got belts for every taste.
They also have different colors, from a classic vegan brown belt or black belt to sage and opal.
You can shop their full range of vegan belts, shoes, bags and more here.

100% vegan company, vegan belts made in USA
Starting way back in 2008 (the year I went vegan!), Held makes vegan belts that are durable!
In fact, Held's founder started out by making a belt out of a discarded conveyer belt back in 2008 and it's still going strong, with no cracks!
If you're looking for a durable vegan belt, this looks like your best bet.
They are handmade in the US and show that vegan belts are superior to leather – and the conveyor belt materials doesn't crack, stretch or break!
100% vegan company
Looking for non leather belts online? Truth Belts are available on Amazon. Making belts from vegan materials since 2001, Truth Belts has a LOT of experience!
Their belts are timeless in style and they say they're really durable.

100% vegan company
Nae may be best-known for their vegan shoes, but they also have vegan wallets, belts and suspenders.
Nae has a few different styles of vegan belt, including the somewhat hard-to-find vegan braided belt.
Nae is all about ethical producing, and so all their products are all handmade in Spain under fair working conditions. All their products are PETA certified vegan and sustainable.

100% vegan company
I adore Minuit sur Terre's stylish vegan shoes, but I didn't know until researching this post that they also make belts!
Like all Minuit sur Terre's products, they are vegan and eco-friendly.
Some of their belts are made from recycled materials and vegan apple leather.
Whether a classic black vegan belt, a belt with studs or a more decorative belt, they have a wide range of styles.

Best for: wide range of non-leather belt options for men and women
100% vegan company
Will's started out making vegan men's dress shoes, which were pretty hard to come by at the time, and have since expanded to sell women's shoes, plus bags, belts, wallets and more!
Their selection of belts for men and women are all timeless classics in black and brown.
From a traditional vegan leather mens belt like this light brown vegan belt to this women's black vegan leather belt in a croc print, they have vegan belt options for all.
They have both mens non leather belts and women's non-leather belts.
Will's has online stores for the US, UK, Germany and the EU – just choose your country/currency in the upper lefthand corner.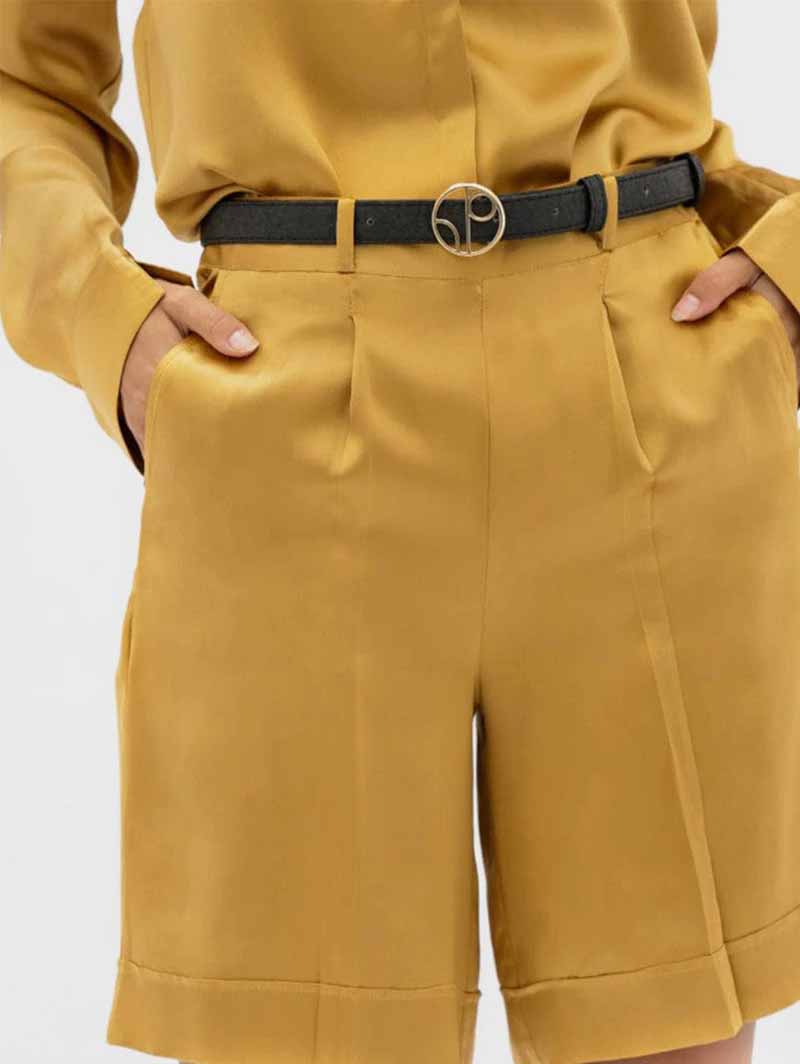 Love the look of a skinny belt but looking for a vegan version? 1 People have a few different styles of thin belts made from eco friendly materials like vegan pineapple leather and grape leather.
Piñatex is a vegan leather made from pineapples, with waste leftover from the food industry. Grape leather is similar, in that it's made with grape skins, seeds and stems leftover as waste from the wine industry. Both are more eco-friendly than standard vegan (PU) leather as they use waste products as part of their production.
The belt is made with GOTS certified dyes and an eco vegan suede lining. It has a signature decorative 1 People buckle in gold. The belt above is charcoal toned but they also have camel and true black belts, though the other belts feature a standard circular gold belt buckle rather than the decorative buckle pictured above. Personally, I love the decorative look but if you prefer a more classic/minimalist look, then the circle buckles are your friend.

Hand-woven by evacuees from the Mount Agung volcano in Bali, this jacquard vegan woven belt is so beautiful and unique.
Made from cotton, in coral, turquoise and black (with plenty of other colour combinations available), and a yellow gold colour buckle, it can even be hand-washed. This belt will really make your outfit!

100% vegan company
Novacas (which means 'no cows') makes vegan shoes and accessories, including belts.
Their belts range from skinny belts to chunkier numbers, and a Western-inspired belt.

100% vegan company
A pioneer, Vegetarian Shoes was one of the first (if not the first) companies to make vegan shoes, back in 1990.
They have belts in a range of colours, including green, red and purple if you want to stand out. They also have a vegan studded belt, and a belt that says 'VEGAN' in studs, if you want to make a statement.

100% vegan company
Noah's makes vegan shoes, of course, but also lots of other vegan products, from hats and gloves to vegan belts and braces.
Each women's and men's vegan belt come in a few different styles and classic colours like black and brown, plus red.

100% vegan company
Couch is best known as a manufacturer of guitar straps, but they also make wallets and belts. Made with the coolest material on this list, in my view, they have belts made out of upcycled car upholstery!
Looking for men's vegan belts with a twist? Do you want your belt made from 1970s vinyl upholstery from a Chevrolet El Camino or a Volkswagen? You get to choose with Couch belts!

100% vegan company
Kat is known for her vegan cowboy boots, which are made in Texas by Texans, so this is the perfect pick if you're looking for an authentic vegan Western belt.
Choose from a number of different vegan leather colors and grains (including a rust vegan ostrich grain or cognac vintage style) .
They also have dress belts.
Pin this for later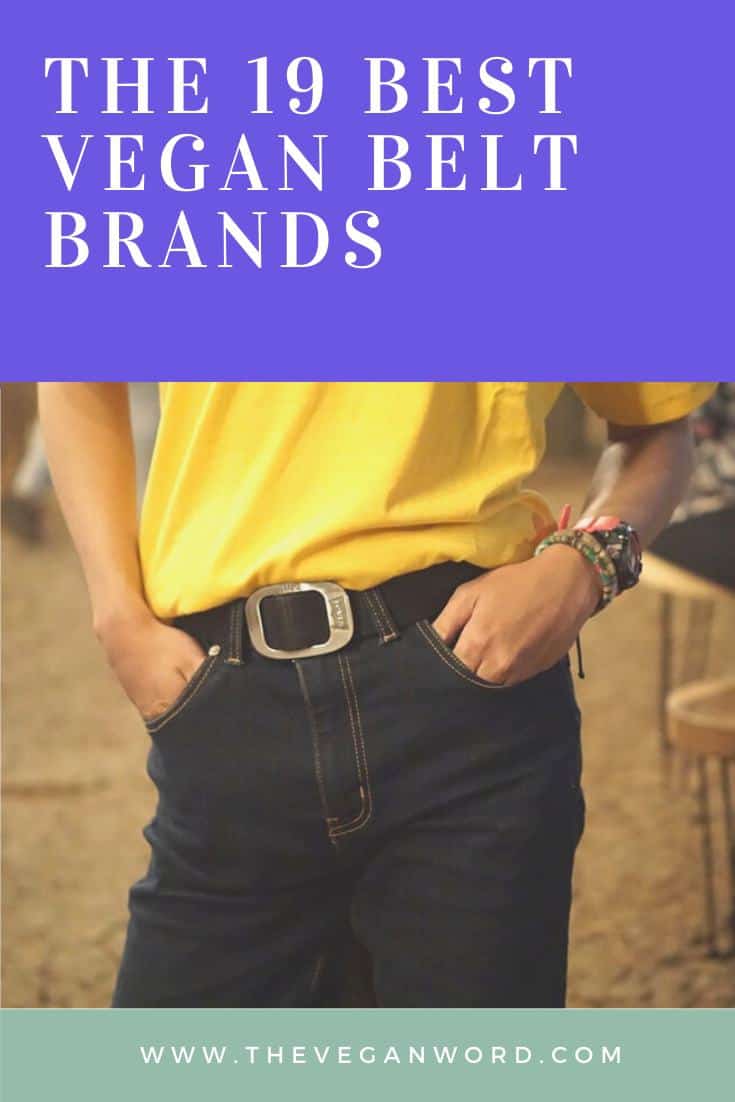 Looking for more vegan leather goods? Check out my guide to vegan bags, vegan wallets and vegan shoes. Plus, find my guide to vegan leather sofas and vegan leather chairs.
Veganising your closet? See my guide to vegan clothing brands, vegan coats and vegan puffer jackets. I also have a guide to vegan watches.
Find all my vegan fashion & beauty guides here.