Unfortunately, lot winters of winter coats are filled with down or made of wool, neither of which is vegan; so where's a vegan to find vegan coats?Well, fortunately there are many great synthetic materials to keep you warm – and they will work even when you get wet – so don't worry, I'll be showing you the best vegan coats out there to keep you cosy this year!
Some of the top vegan coats and jackets that I'll be covering include:
More vegan coats:
Whether you're looking for vegan leather jackets for autumn and spring, or the best vegan winter coats, here are vegan coats in all styles.
The best vegan jacket brands:

Best for: warmest vegan coats
If you're looking for a warm vegan winter jacket, the Noize Lauren long parka will do the trick. This vegan winter parka is mid-length with a relaxed fit perfect for layering over winter clothes.
Looking for vegan alternatives to Canada Goose? The warm vegan coats from Canadian vegan outerwear company Noize will keep you nice and warm – they make some of the best vegan winter jackets for extra cold weather.
Since they're based in Canada I think the know a thing or two about making warm vegan winter coats! They have a very wide range of vegan winter jackets as well as raincoats, which you can see here.
The Lauren parka has an outer shell of polyester and is made with recycled materials. It's filled with recycled polyester in the form of RePET, made of recycled plastic bottles. It's also water-resistant and comes with a hood to keep you extra warm.
These are some of the warmest vegan winter coats. It's sure to keep you nice and toasty – it will shield you in weather up to -30°C/-22°F.
It's also easy to care for since it's machine washable (hang dry). It's PETA certified vegan.

This vegan down jacket from vegan winter outerwear brand Embassy of Bricks and Logs combines street style with a classic coat look, the trench coat.
These vegan insulated jackets will keep you warm while looking stylish.
The vegan long puffer coat is also sustainable – the outer is a lightweight fabric made with 100% recycled materials, while the lining is also 100% recycled.
The cruelty free down jacket is just below knee length and it has a stand-up collar plus a protective storm flap, so you'll be toasty in this coat.
The Embassy of Bricks and Logs' down free winter coats are filled with "E100 No Down" made from recycled post-consumer plastic.
These vegan down winter coats have large side pockets plus an inner pocket.

This rainproof vegan puffer coat is made with all recycled materials. The outer shell is a rainproof fabric made of 100% recycled materials, while the 100% recycled lining is printed with the Culthread logo.
The insulation is made with 100% recycled plastic bottles and other post-c0nsumer plastic waste.
The jacket has side pockets and inside pockets, plus an adjustable hood.
Vegan clothing brand Culthread make cruelty free winter coats – all their products are vegan, and you can find them for sale on Immaculate Vegan, alongside other vegan coats, clothes, shoes, bags and accessories.

The best vegan coats and jackets keep you warm…even in the rain. This vegan trench coat is waterproof and so it's perfect if you live in a wetter climate. The insulation is Fellex, a 100% vegan recycled synthetic feather.
It's a 2-piece trench coat offering 3 coat possibilities – that outer will keep you dry on rainy days, the inner layer can be used alone on cooler days and both pieces together will keep you warm on cold wintry days.
The coat (both layers together) is recommended for up to -10°C / 14°F.
The top layer is made from Solotex and the inner layer fabric, lining and filling is recycled polyester. Like all Ecoalf clothes, they use as sustainable materials as possible.

Looking for vegan leather jackets for women? Matt & Nat, well known for their vegan handbags, make several vegan leather jackets.
The Vaughn black vegan leather jacket is made from polyurethane (PU) vegan leather, with a 100% recycled polyester lining.
While a vegan leather jacket won't be warm enough for the winter in many climes, I find they're a great option on cooler days in autumn or spring where you want another layer but it's not cold enough for a winter coat. Plus, they can definitely make an outfit.
The Vaughn jacket has a zippered front closure and two zippered front pockets and a snap close waistband.

If you're looking for an elegant winter coat that you can wear to work and special occasions, Noize's Sloane faux wool coat fits the bill.
This vegan coat is made with faux wool and cut in a traditional double-breasted style. It comes in black, tan, green or mauve, is a long length and a regular fit. Its classic style with work with any outfit, whether you're headed to the office or out.
The Aiko coat is recommended up to -5°C/23°F.
It's machine washable on a cold cycle (hang dry).
Noize is a PETA certified vegan brand that make vegan outerwear as well as clothes, bags and shoes. They're committed to using sustainable fabrics as frequently as possible like recycled plastic, recycled fill and organic cotton.

Best for: vegan winter coats UK (they also have EU and US stores)
Will's Vegan Store make a number of mens vegan jackets, including this peacoat. Starting out as a mens vegan shoe store, Will's now sell a whole range of shoes, bags, accessories and coats for men and women.
The best vegan peacoat is one you can wear equally well with jeans or with a suit – just like this one.
Like all Will's clothes, all vegan fabrics are used, of course. This peacoat has a thermal lining made in Italy of 100% recycled polyester, and an outer made with Supima cotton.
The buttons are made with compressed recycled paper and resin. The inner lining on these mens vegan coats is made with viscose, which allows you to easily slide the coat on over layers.
There are two large slip pockets and one interior buttoned pocket.
The vegan mens coats are ethically made in small batches in Italy.
See Will's full range of vegan jackets for men here.
Will's has online stores for the the US, UK, Germany and rest of EU – just switch the country/currency in the top lefthand corner.

Will's makes a wide range of vegan men's coats like these vegan leather biker jackets.
This vegan leather motorcycle jacket is made in Italy in small batches with a smooth vegan leather with a pebble grain. Will's use durable vegan leather so it will last.
This vegan leather coat has three outside pockets with zips and it lined with viscose so you can take it on and off smoothly.
Will's has a big collection of mens vegan winter coats, which you can see here.

The Nanushka Hide vegan leather puffer jacket is an iconic Nanushka style, made with their signature vegan leather and lined in satin. It has concealed snap fastenings and a high neck collar.
The Nanushka vegan leather jacket is made with an outer of polyurethane and polyester. This Nanushka puffer jacket is dry clean only.

Unreal Fur makes luxury vegan fur coats. Whether you're looking for a long length vegan fur coat, a vegan shearling coat or a vegan puffer jacket with a fur-lined collar, Unreal Fur has lots of choices for vegan, cruelty free fur coats.
Unreal Fur started making their faux fur coats in 2011 and are PETA approved vegan.
They aim to improve sustainability as much as possible and be inclusive in sizing.
The Black Bird coat is a long faux fur coat with sharp lapels. This elegant, luxury faux fur coat is made with plush vegan fur that will keep you cosy and warm.
Their latest collection includes recycled materials in some of the coats, and they also plant a tree for every coat purchased.

This jacket is perfectly suited for autumn and spring, or winter if you live somewhere with milder winters like I do!
Unreal Fur very kindly offered to send me a coat for review, and the Seashell jacket was the one I chose; it's perfect as I was looking for a lighter weight jacket (very heavy coats can get too hot here in Barcelona).
The Seashell jacket is unbelievably soft – as in, I can't stop touching it! I offer you photographic proof.
My friend who helped me take the pictures of this stylish vegan jacket also remarked on how soft it was.
The best thing about the jacket is both the fleecy exterior and the vegan suede lining are incredibly soft. I can't wait to bundle up with it when the temperatures drop here!

Best for: vegan down alternative coats
Save the Duck is, as you may have guessed, an all-vegan coat brand making quality vegan winter coat alternatives to down jackets. The Alice quilted vegan jacket is water resistant and warm.
The jacket is lightweight and uses Plumtech padding, which absorbs moisture and dries quickly. The outer is nylon with a silky effect that gives it a sheen.
It's machine washable (hang dry) and breathable.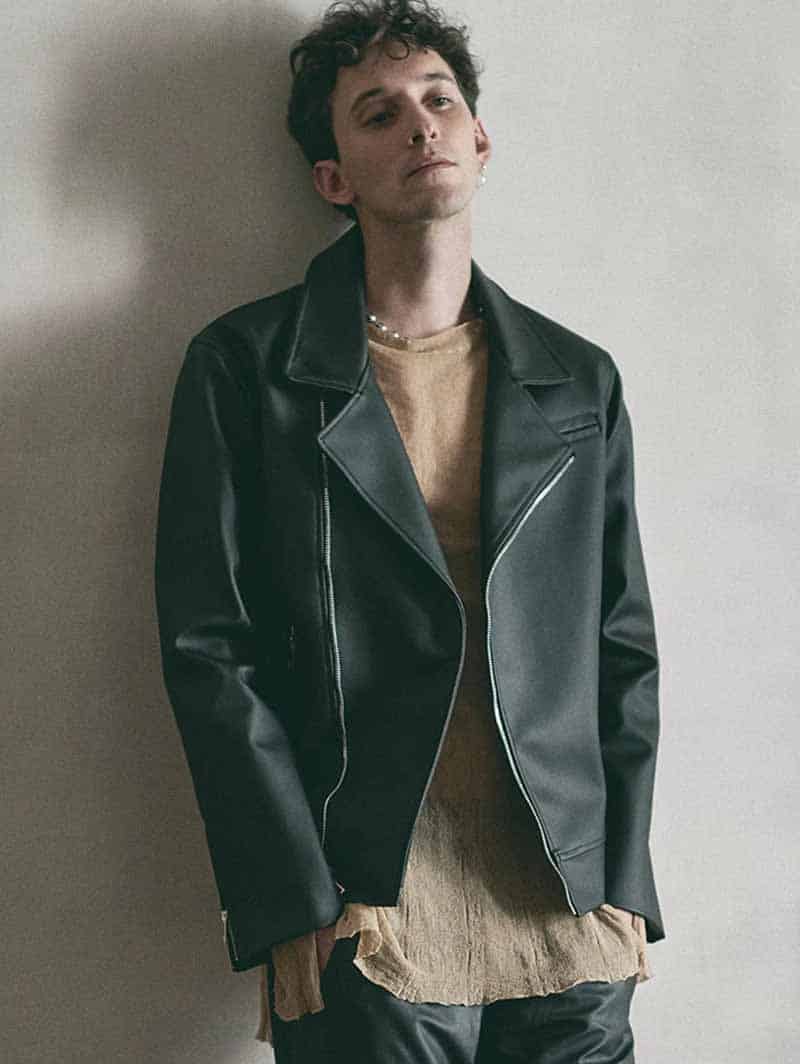 This vegan leather jacket is made of cacti! Yes, that's right – it's made using cactus leather, made from the leaves of Nopales cacti.
It's made using leftover leaves from the industry that would otherwise have gone to landfill, making it more eco-friendly. Plus, cacti obviously don't use as much as other plants in terms of water input, also helping its sustainability.
Cactus leather is soft and durable.

Wuxly is a vegan coat company based in Canada.
The outer shell of this bomber jacket is waterproof and breathable, and the lining is 200g Primaloft gold insulation.
It has an adjustable hood, power-stretch waistband and storm cuffs to stop the cold coming in and it even has an insulated security pocket so your phone doesn't get cold! It has a cozy velvet lining and large cozy hip pockets for your hands.
The interior lining is made with recycled plastic and the zipper is a YKK heavy duty zip.
This coat is rated as 'very warm', with a 3 out of 5 (bear in mind the company is based in Canada so that's a Canadian cold scale. ;) Reviewers state it's very warm with one saying he was comfortable in -15 F/-26 C weather).

Patagonia's women's Nano Puff jacket is water resistant and windproof, keeping you warm and dry. It uses lightweight, vegan insulation: 60g Primaloft Gold Insulation Eco made with 100% post-consumer recycled polyester.
This Patagonia vegan jacket features a recycled polyester lining and outer.
It is Fair Trade certified sewn. (Patagonia is rated 'Good' on the Good on You rating system, which looks at companies' profiles based on animals, the environment and treatment of workers.)
In 2022, Patagonia founder made headlines when he announced he was "donating" the company to the environment. The company, worth $3 billion, was given over to an environmental trust and charity so profits would go to fighting climate change.
You can find the men's Nano Puff hoody here.
More vegan coat brands:
Vegan coat options:
Stella McCartney: if you're looking for vegan designer jackets, luxury brand Stella McCartney has vegan options.
You'll need to read the label, because while Stella is a vegetarian and doesn't use leather or fur in her designs, she sometimes uses wool or silk so be sure to double check composition!
Wondering how to choose a coat that's suitable for winter weather? Check out this handy Wikihow guide (not vegan, so ignore tips based on leather/wool). Some things you might want to consider:
Waterproof, especially if you live in an area that gets a lot of snow or rain in winter
Insulated
Length, depending how cold it gets
Zippers and cuffs to protect you from cold, again depending on how cold your winter is
Style
Removable hood
Storm flaps to cover zippers – in very windy and cold areas, the wind can cut through the zipper, making you cold
Equally, if you live in an area that doesn't get very cold winters, consider that you don't need a very heavy or insulated coat.
Vegan down coats or other heavy coats will likely just make you hot and sweaty in this type of climate! When I moved to Barcelona, I had to get a new winter coat because my old one made me TOO hot here.
Pin this for later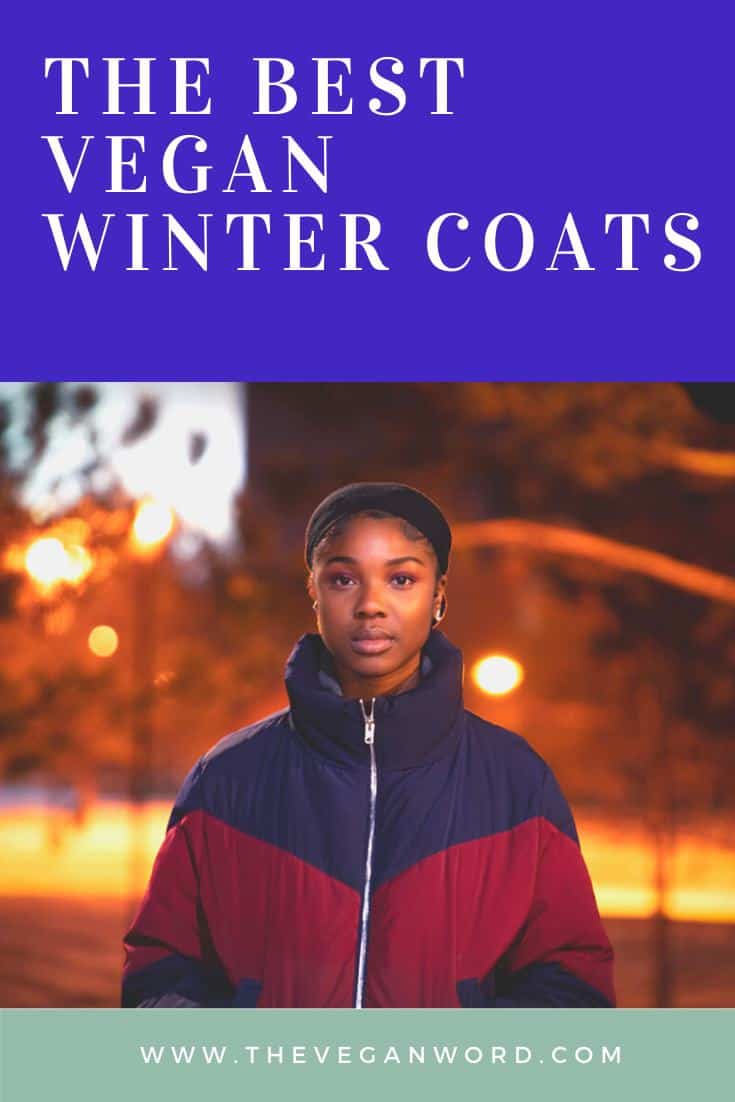 Find my guides to vegan puffer jackets, vegan wool coats, vegan parkas and vegan leather jackets.
Don't forget your vegan winter boots.
Looking for more vegan clothes? Or maybe vegan tshirts?
I also have guides to vegan shoes, vegan bags, vegan belts and vegan watches.
See all my vegan beauty & fashion guides.
Main photo by Bhavya Shah on Unsplash