Vegan leather jackets are a must-have item in my closet, and a classic coat that will add an edge to any look.
Among others, some of the best faux leather jackets I'll be covering include:
Fake leather jackets are a look that never go out of style and you can keep in your closet for years to come.
Whether you're looking for mens faux leather jackets or vegan leather jackets for women, there are lots of choices when it comes to vegan jackets. From blazers to classic look biker jackets, vegan leather puffers or long length vegan jackets.
Read on to see the best faux leather jacket brands. (All jackets are vegan, from the vegan leather used to the down-free filling.)

Dauntless specialise in vegan biker jackets, so if you're looking for mens faux leather jackets, then this is perfect for you.
This men's non leather biker jacket has a slim cut with an off-centre zip, front zip pockets, zippecd cuffs and a single front flap pocket. The black vegan leather jacket has silver-hued hardware and shoulder epaulettes.
Like all Dauntless non leather jackets, it's made from a smooth vegan leather and lined with satin. Dauntless use solvent-free, water-borne polyurethane vegan leather.
The brand employs women who are heads of household to enable them to support their families, and they adhere to fair trade standards. They use paper-free packaging and recycled paper hang tags, and jackets are delivered in a reusable tote bag.

This non leather biker jacket is from the brand Dauntless, who specialise in making the best faux leather jackets.
Like all of Dauntless' cute faux leather jackets, this black leather biker jacket is made with a silky soft vegan polyurethane leather which is solvent-free and water-borne.
It's lined satin and has a zip front, zip cuffs and side pockets with zips. It also has an attached belt.
Made in Colombia, where founder Paula Maldonado is from, each Dauntless vegan, cruelty free leather jacket is made to fair trade standards. The company employs women who are heads of households, ensuring they are able to support their families.
A classic biker jacket, this will look equally great paired with jeans or a dress.

This lightweight puffer is made with vegan leather piping and nylon fiber insulation made from recycled plastic water bottles.
This vegan leather coat is windproof and free from harmful chemicals. Since it's a lightweight puffer, they recommend you can layer is under another coat for extra warmth on colder days.
Noize is a vegan sustainable fashion company. They are PETA approved vegan.

This hooded faux leather jacket is reversible and made from a recycled vegan leather. The duster jacket is rainproof and the hood is removable. The front pockets are faux fur, or in reverse are black.
It has two large inside and two large outside pockets, and the buttons are recycled too.
It's made by Culthread, a vegan outerwear brand. Their vegan leather outerwear is PETA approved and handmade. They use rescued deadstock for their materials to be eco friendly.
Culthread's mission is to create high quality slow fashion. They pay workers fairly.

This vegan leather bomber jacket is from Matt & Nat, a brand known for their vegan bags who have more recently expanded into vegan shoes, accessories and coats.
Matt and Nat have a few other styles of vegan jacket, including a biker jacket and a belted, button-down coat.

Stay nice and warm and cosy this winter with the Dauntless black faux leather puffer. This high neck puffer jacket is slightly oversized yet still tailored, and made with a somewhat stretchy vegan PU leather in a matte black style.
The jacket is lined with an organic cotton and polyester mix and features black buttons.
Like all Dauntless coats, the jacket is made with a soft, smooth vegan water-borne and solvent-free polyurethane leather.
Dauntless's specialty is vegan leather jackets so you know you're getting the right expertise!

This hybrid jacket is functional and comfortable, but also stylish. Designed with a deep blue 'alligator' faux fur exterior and rescued deadstock vegan outer, it's longer at the back and has side zippers for extra room.
It also features a 100% recycled satin lining a warm and rainproof vegan leather hood with faux fur lining and has lots of large inside and outside pocket.
It's designed for a comfortable fit and contains Thermore Ecodown, made from 100% recycled PET.
Like all Culthread coats, it's PETA approved vegan. The brand has been featured in Marie Claire and The Telegraph.

The Britt jacket is designed in a subtle snakeskin textured vegan polyurethane leather.
It comes as a red vegan leather jacket, black or oyster colour.
It has two front flap pockets and a tonal belt with buckle.
Like all Noize coats, it's 100% PETA approved vegan.
Pair with everything from jeans to dresses.

Based in the UK
This brown fake leather jacket is made from a smooth, soft Italian vegan suede.
The jackets are made in small batches in Tuscany.
It's cut to sit on the hips, and features two side zip pockets to carry your essentials, plus responsibly sourced, nickel-free hardware.
It's lined with viscose to make it easy to get on and off and for ease of layering.
It's certified carbon neutral and like other Will's products, delivered through their carbon neutral supply chain. You can also return it in 365 days through their carbon neutral returns delivery service. They also have a return to recycle scheme for the product at the end of its life.
Will's has online stores for the US, UK, Germany and rest of the EU - just choose your country/currency in the upper lefthand corner. They offer free carbon neutral shipping in the US and £3 carbon neutral shipping in the UK (no minimum order).
Will's started life as a men's vegan shoe company, and now make a wide range of vegan clothes and accessories for men and women. They also have a vegan leather moto jacket, vegan mens bomber jacket and more vegan leather jackets.

This Nanushka vegan leather jacket is now a Nanushka icon. The Nanushka faux leather puffer is locally made from their signature vegan leather and lined in a smooth satin. It features hidden snap closures and a high-neck collar.
The Nanushka Hide puffer jacket has an outer made of polyurethane and polyester.
Nanushka have a number of vegan leather clothing items, from vegan jackets to vegan trousers.

Going for a goth look? Killstar have a number of vegan leather jackets in their signature goth style (like their spiky vegan biker jacket).
This unisex vegan leather vest is made with a soft vegan polyurethane leather.
It features a zip front, stud pockets, a belt and a satin lining.

This beautiful trench coat is made from a luxe vegan marbled leather.
It has a long hemline that runs to the knee and a belted waist tie.
For every coat purchased from Unreal Fur, they'll plant a tree!
Unreal Fur are based in Australia and specialise in vegan fur coats, but make some vegan leather coat options such as this coat. All their coats are PETA approved vegan, and their latest line includes recycled materials in some of the coats.
More vegan leather jackets:
High-performance vegan motorcycle jacket from specialist vegan motorcycle gear brand Andromeda
Altiir vegan pineapple leather jackets
FAQ
What are vegan leather jackets made of?
Vegan leather jackets are made from vegan leather, rather than animal leather, and are free from all animal products (including filling like down). Most often they are made out of polyurethane or PU leather, but some such as Altiir jackets are made from other vegan leathers like pineapple leather, an innovative and sustainable new material made from the leftover waste from the pineapple industry.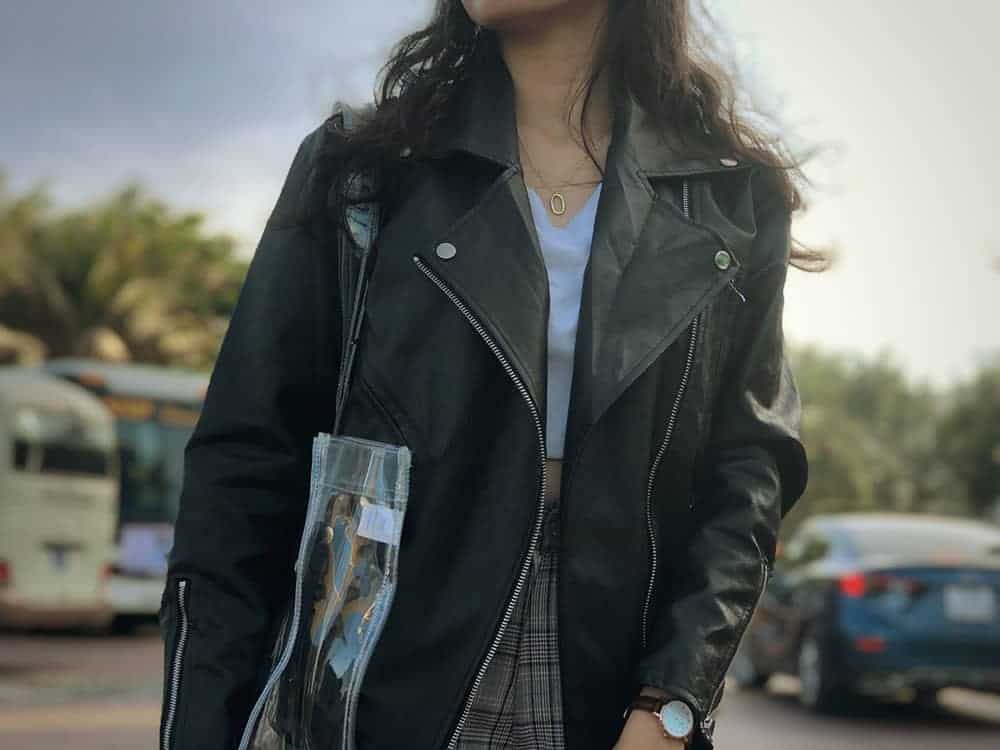 Where can I buy a vegan leather jacket?
You can often find faux leather jackets in clothing stores (check the labels to see what they're made out of), but the internet offers a lot more options, including buying from vegan and sustainable brands who will ensure it's a wholly vegan jacket. Hence, the list I've put together here of vegan leather jackets.
Another, more eco friendly option is to look at charity shops. When I'm looking for a specific product, like a vegan leather jacket, I like searching secondhand online because I can be look by keyword. Check eBay, Depop and Vinted for vintage faux leather jackets.
Which brand is best for faux leather jackets?
That's partly a matter of personal taste and style, but any of the brands listed here make quality vegan leather jackets.
Pin this for later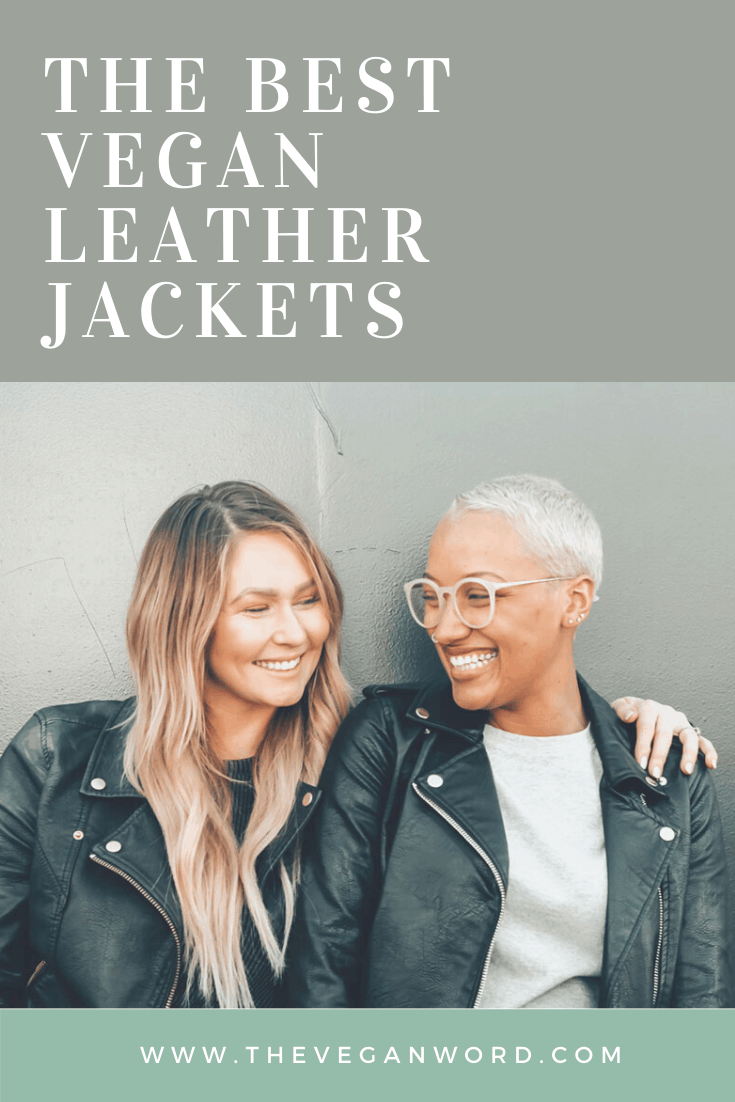 Looking for more vegan jackets? Check out my guide to vegan coats and jackets here.
Veganising your wardrobe? See my guide to vegan clothing brands here.
Find my guides to vegan leather boots here.
Click here to see all my vegan beauty & fashion guides.