There's a plethora of vegan wallets out there, made from a huge range of materials. You can find a vegan wallet made of cork, leaves, recycled bike tires, canvas or vegan leathers like apple leather or pineapple leather.
Special discounts:
Top vegan wallet brands:
More vegan wallet brands:
Whether you're looking for an RFID vegan wallet, a stylish vegan leather wallet or a minimalist vegan wallet in which to keep your cards, these are the best non leather wallets.
Here are my picks of the best brands for vegan leather wallets, plus my fave wallet from each brand.
Best vegan wallets

Best for: vegan wallet womens
100% vegan company
My pick: Matt and Nat Mion vegan wristlet wallet or Matt and Nat Trip wallet
If you're looking for a long-lasting wallet, vegan brand Matt & Nat are one of the best-known vegan bag and accessoreis makers and have some of the best vegan wallets, or at least the widest range.
I have a Matt and Nat wallet that I've owned for nearly 10 years and it's still going strong! I'm really happy with how durable it's been.
My top pick is this vegan leather wristlet. The Matt and Nat wristlet consists of a large non leather wallet with a detachable wristlet.
It has 6 card slots and 1 slip pocket and will fit an iPhone 11 Pro Max. The interior linings, like all Matt & Nat wallets and bags, is made of recycled plastic bottles.
My other pick is the Matt and Nat Trip wallet.
This Matt & Nat wallet is a large vegan travel wallet. Vegan leather (both interior and exterior) is made of recycled materials, and it has 13 cards slots, a passport slot and a zippered coin pouch. Perfect for all your travels!
Some of the most popular Matt and Nat wallets are:
See all their vegan wallets for men and women here.

Free shipping in the United States
100% vegan company
My pick: Brave vegan leather bifold wallet or Kindness black vegan two tone wallet
Labante is a vegan, sustainable and sweatshop-free company making vegan products like bags and wallets. (In spite of all their ethical creditions, their price point is already pretty budget friendly but look out because they also have a sale from time to time!)
They are also PETA approved vegan.
Vegan men will be pleased Labante has a range of vegan mens wallets.
My pick of non leather wallets for men is this vegan bifold wallet. Bi fold wallets are great classic wallets and this vegan leather mens wallet fits perfectly in your pocket.
This faux leather wallet has a press stud coin pocket, a compartment for bills and three card slots.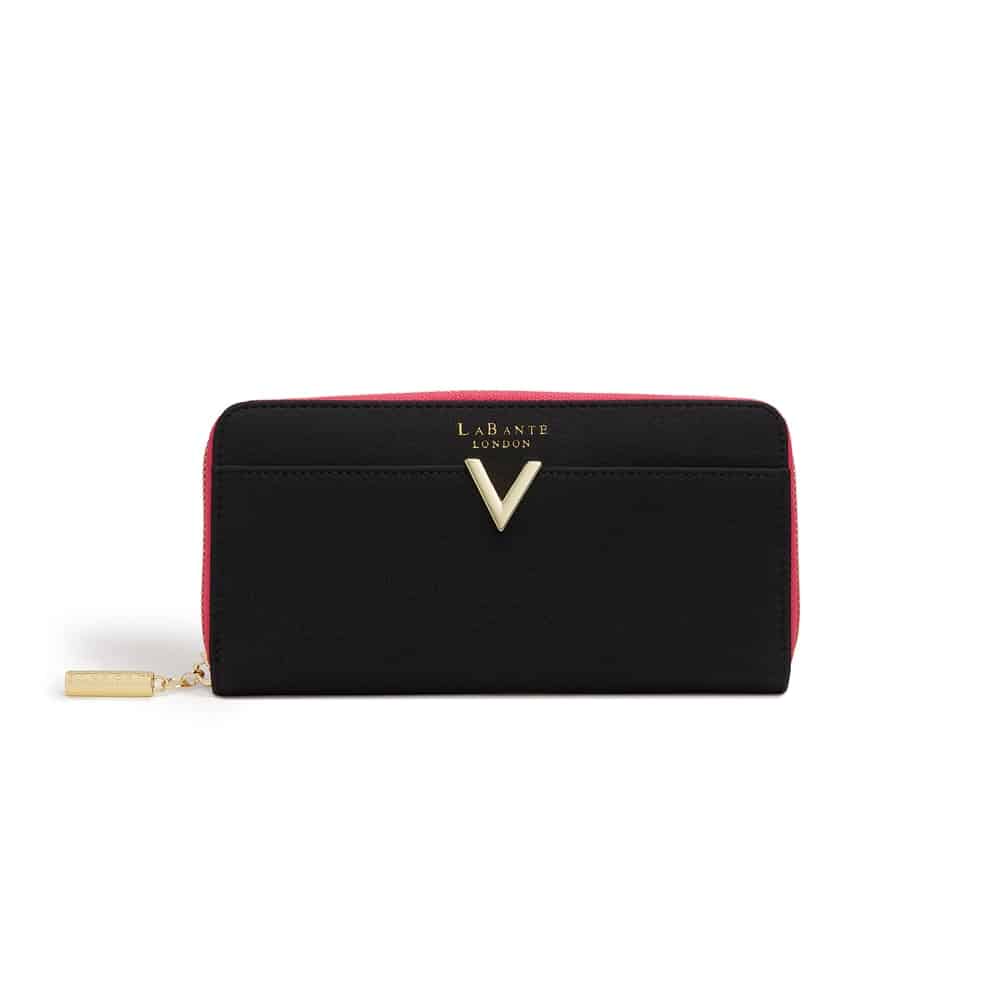 Looking for a vegan wallet with coin pocket? My pick for vegan women's wallet is the Kindness vegan two tone wallet.
This vegan wallet for women has a contrasting colour interior and multiple card slot.
The vegan leather women's wallet also has a zip coin compartment, compartment for bills and a zippered fastening.
Personally, I like a big vegan zip wallet with separate compartments for bills, coins and slots for cards. If you prefer something smaller, though, or if you don't use cash much and therefore don't need space for coins, you may prefer one of Labante's bifold wallets instead. Or if you prefer something really small and minimalist, try a card holder instead such as the ones listed below from other brands. Watson and Wolfe even make a nano card holder with just one slot for cards.
Find all their mens vegan wallets here. See their vegan wallets for women here.

Use "THEVEGANWORD" for 10% off!
100% vegan company
My pick: Alexis wallet
Leaf leather? Yes, it's a thing! These leather free wallets are made of LEAVES! How cool is that? I remember seeing it a few years ago and a vegan fair and being amazed.
Ever wondered "How are vegan wallets made?"
The process varies by material but for leaf leather: using a traditional Thai process, teak leaves are collected off the ground (or a few low level leaves are clipped, but trees are never cut), soaked and dyed.
They are then coated in BOPP film, a non-toxic and biodegradable polymer that when incinerated only lets off water vapor and carbon dioxide. Leaf leather doesn't need to be treated, like animal leather. Simply wipe clean with a damp cloth (and mild soap if needed).
My pick is the Alexis wallet. As far as non leather mens wallets go, this has to be one of the most eco-friendly. Each wallet is unique look due to the leaves, which in my view is a great thing.
It would also make a great gift! The Alexis has 6 card slots, 2 front slots and a longer slot for cash.
Use "THEVEGANWORD" for 10% off!

100% vegan company
My top pick: Banana Leaf slim wallet
Another maker of leaf leather wallets, Tree Tribe has also worked out how to make products from banana leaves, as well as the traditional teak leaves!
My top pick is the Banana Leaf vegan slim wallet.
This small vegan wallet is handmade from banana leaves, and also waterproof! The slim vegan walletcar has 2 card slots (but will hold up to 4 comfortably or stretch to accommodate more) and a center compartment for cash.
Tree Tribe also plants a tree for every sale.

Best for: vegan credit card wallet
100% vegan company
My pick: Corkor vegan RFID wallet
Corkor makes cork-based bags and wallets. Men's cork wallets such as these are well-designed, durable and sustainable. Cork is one of the most sustainable materials, thanks to the fast-growing properties of cork trees, plus the fact that they can be harvested without cutting the trees down.
They also don't require much input in the way of water or fertiliser.
My top pick cork wallet is this vegan cardholder that's also RFID blocking. This non leather card holder has 3 card slots, an ID window and 2 compartments for folded bills.
Like all cork materials, this Corkor wallet is lightweight.
This vegan card holder wallet only weighs 0.7 oz / 20 grams) The other great thing about a cork leather wallet is that cork is naturally water resistant and scratch resistant.
See all of Corkor's mens wallets here and womens wallets here.

Best for: vegan RFID blocking wallet
100% vegan company
My pick: Doshi faux leather wallet (mens)
Doshi is a company that makes vegan bags and accessories.
My top pick is the vegan trifold wallet, which comes in a classic shade and is a sleek, slim design. The faux leather mens wallet comes with built-in RFID protection and is made with a durable, scratch resistant vegan leather. It's also a PETA certified vegan wallet.

Watson and Wolfe make high quality, classic-style vegan wallets. Women's wallets can sometimes veer towards cutesy, but not in their range.
If you love a classic look, like a bifold black or brown vegan leather wallets are ideal.
Or if you prefer more minimalist vegan women's wallets, they have slim vegan card holders. They even have more colourful, but still classic, looks such as red.
They use some innovative materials too, such as a coin purse made of vegan corn leather. Corn leather is a sustainable vegan leather alternative made with 30% plant materials. It's also lightweight and durable as well as water-resistant and stain- and scratch-resistant.
If you're after an RFID blocking vegan wallet, they have a number of options.
Is RFID blocking technology necessary? RFID wallets and passport holders have become increasingly popular in the last few years as people have become concerned about identity theft and credit card fraud. In theory, contactless cards present an opportunity for thieves because they could scan a card through a coat pocket, for example.
In practice, however, it's not a big problem, mainly because would be-thieves would have to get very cllose to you to do so, and risk getting caught on CCTV (with possibly no reward if they failed to scan your card). In fact, in this article, they state UK Finance found no contactless theft occurred in 2018 where the card was still in its owner's possession.
However, if it sets your mind at ease then there's no harm in an RFID-blocking wallet or bag and it may make you feel more at ease in crowds or while travelling.
RFID blocking is usually done by a thin layer of carbon fibre inside the wallet and it's lightweight too.
If you like to travel light, Watson and Wolfe even make an RFID-blocking nano card holder, which contains just one pocket for cards. Don't let its small size fool you, though – it will hold up to eight cards. So even when you travel light, you will have verything with you.

Best for: vegan wallets (mens) made of fabric
Vegan-friendly
My pick: Roy wallet
Hershel (yes, the company known for their backpacks) has a number of canvas wallets among their collection.
While not all of their products are vegan, and they have leather wallets you'll need to avoid, they do have classic canvas wallets.
My pick is the Roy wallet, a classic canvas bifold men's vegan wallet with a fabric label, multiple card slots and a pocket for cash.

Best for: vegan wallets women's
100% vegan company
My pick: Bubbly wallet
Pixie Mood is a vegan bag company that is working with Terrapass to become climate neutral and offsetting their shipping.
My pick of vegan womens wallet is this cruelty free wallet, the Bubbly. This women's vegan wallet has plenty of space for everything you need to store.
Personally, I prefer a somewhat large wallet so I have room for everything and can also use it as a clutch. The Bubbly non-leather wallet has 8 card slots and 2 slots for cash, 2 compartments and a zippered coin pocket.
It's also RFID blocking and has a recycled bottle lining.

100% vegan company
My pick: Mia vegan card wallet
Svala makes vegan bags and vegan women's wallets from European fabrics and manufactures them in LA, in a factory where workers are treated fairly.
My pick is the Mia vegan leather card holder. It's crafted from vegan Italian leather and lined with recycled polyester made from plastic bottles combined with organic cotton.
This vegan credit card holder has 4 card slots and 1 open bill pocket.

Vegan friendly
My pick: The Champion
Velo Culture makes accessories out of upcycled bicycle innertubes, making this an incredibly eco friendly wallet option!
My top pick is The Champion, made of 100% upcycled bike innertube, stitched into panels to give 4 card slots and a zipped coin compartment. It also has an elastic fastener to keep everything together.
The ribbons of color stitched onto the wallet represent the rainbow jersey cyclists receive when they win a World Championship.
Hempmania wallets are made of hemp, one of the most eco friendly materials, since it doesn't require pesticides and it has low carbon emissions.
My pick is theHempmania trifold wallet, a classic design. It's divided into three equal sections.
SlimFold wallets are, unsurprisingly, very thin. This vegan minimalist wallet is also durable, waterproof, stain-resistant and RFID-blocking. Their minimalist wallets are 2-3 times thinner than leather and still fit your cards and cash.

100% vegan company
My pick: Billfold mens vegan leather wallet
Will's started life making vegan men's shoes and then their vegan collection expanded to make women's shoes, plus men's and women's bags, cruelty free wallets and other accessories.
If you're looking for a classic vegan men's wallet, then the Billfold coin wallet is simple, elegant and will do the job. This vegan wallet for men has 3 card slots and one large multipurpose pocket.
Will's has stores for the US, UK, Germany and EU – just choose the country from the top lefthand corner.

100% vegan company
My pick: Vintage Volkswagen wallet
Couch, known for their guitar straps, also makes non leather wallets. Their coolest range, in my opinion, are the wallets made from upcycled car upholstery.
My pick is the Vintage Volkswagen wallet, made with vinyl from the 1970s used to upholster VW Beetles.
You can choose between Euro and US sizing (for larger European bills/coins) and add an optional coin pouch.

100% vegetarian company, all wallets vegan
Best for: luxury vegan wallet women's
My top pick: Falabella continental wallet
As a lifelong vegetarian Stella McCartney's bags and wallets are all entirely leather free. If you're looking for a vegan luxury wallet, check out the Falabella Continental vegan leather designer wallet.
This non leather designer wallet comes in a range of colours and the trim is the iconic silver diamond-cut chain (like the Falabella bags).
Also in Stella McCartney's vegan designer wallet range, you'll find the Falabella cardholder, perfect if you're looking for a vegan designer card holder.
The full range of luxury vegan wallets has a number of different sizes and colours.

100% vegan company
Best for: vegan card holders
My top pick: Vegan card holder pouch
This designer brand makes womens vegan wallets and purses.
Their non leather womens wallets include the Zuri card pouch. It also has a keyring, so you can attach your keys and have everything you need to hand.
There's an additional clip you can use to secure it in your bag so you don't find yourself digging around looking for your keys and cards.

100% vegan company
My pick: Hybrid mini
Canussa vegan friendly wallet range features slim and durable card holders. The hybrid mini women's vegan leather wallet, my pick, serves as a clutch, bum bag or coin purse, and has space for three cards, notes, coins and your phone.
Their vegan leather card wallet, is slim and will fit up to 10 cards.

100% vegan company
My top pick: Aladdin Wallet Dark Green Croc
JW Pei makes affordable vegan bags and womens vegan leather wallets. The Aladdin vegan small wallet comes in a dark green crocodile print vegan leather. Inside it has space for cards and cash.
Pin this for later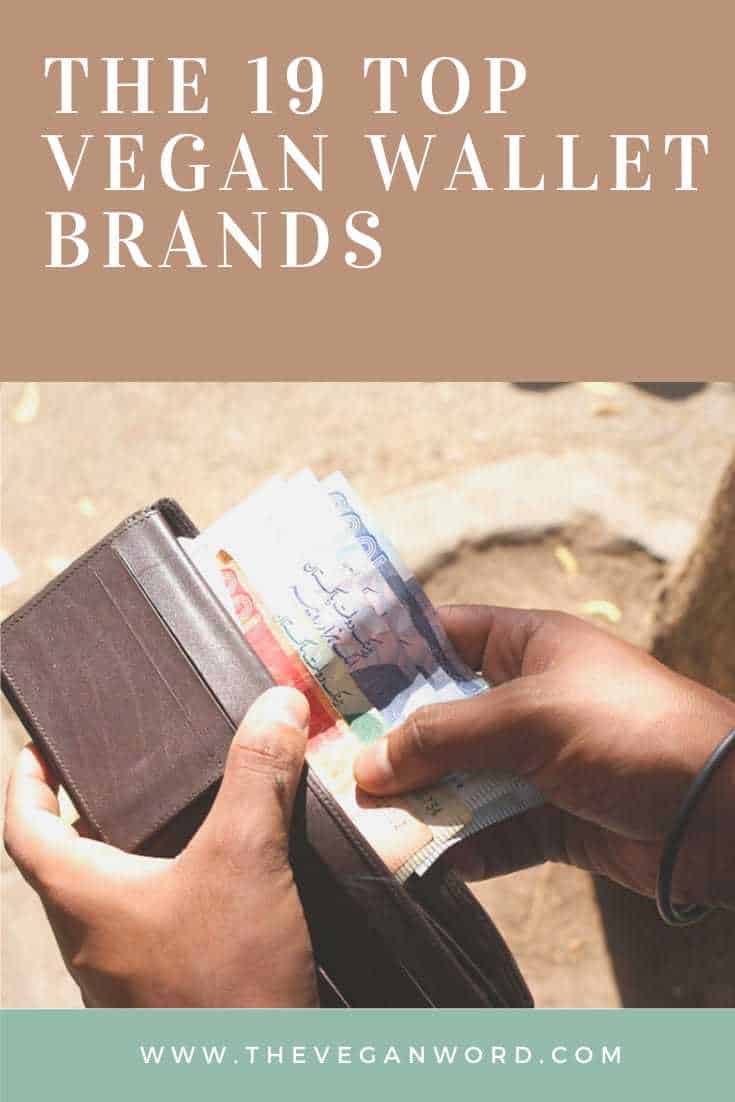 See the best vegan handbags to store your wallet in.
If you want to veganise your closet, check out my vegan sneakers guide and guide to vegan watches. I've also got a guide to vegan jackets.
Looking for more vegan leather products? Check out my guide to vegan belts.
Find all my vegan fashion guides.