Watches are not just practical timekeeping devices, but also a way to add a finishing touch to your outfit – but what about vegan watches? If you like the look of a leather strap but want one without the cruelty, these brands all make a vegan watch strap.
From vegan leather to cork straps and solar-powered watches, there are plenty of vegan and eco friendly watches to choose from these days.
I have never worn a watch on a daily basis (only wearing one sometimes) but I'm beginning to reconsider that, as I'm trying to cut down on phone usage and have read several articles whose authors said they found wearing a watch helped (because they didn't pick up their phone to check the time and get sucked into looking at it).
Some of the vegan & vegan friendly watch brands I'll be covering include:
For the best vegan watches, read on.

100% vegan company
Prices from $315
On Alltrueist: Free US & Canada shipping on orders over $100, Free EU shipping orders over €300
Evig Grön's luxury vegan watches are timeless and sustainable. These cruelty free, leather free watches made Sweden, Switzerland, Italy and Portugal aim to be as sustainable as possible, using eco-friendly materials like cork.
Cork is an extremely eco friendly material because cork trees aren't harmed with harvesting and require little water or fertilisation. It's also naturally water resistant and durable. Thus, it makes a great leather alternative and is perfect for straps on non leather watches, like Evig Grön's.
They also use Piñatex for some straps on their vegan mens watches. Piñatex a vegan leather made from discarded pineapple waste from the food industry, and another eco friendly vegan leather alternative.
As you might expect from a premium watchmaker, Evig Grön watches are manufactured to a high standard and made to last a lifetime. Take the Planetarium Silver Night watch, for example. This vegan mens' watch face is covered in scratch-proof sapphire crystal glass, with an inside anti-reflection coating and a water resistance rating up to 50m/165 feet (suitable for swimming or showers). Each vegan leather watch has a Swiss Ronda movement "Powertech- caliber 515" and the watching casing is made from corrosion resistant stainless steel, with watch straps made from premium cork. It comes in a vegan pouch in a solid carved wooden box and both the straps and the pouch are PETA approved vegan. They also plant a tree for every watch sold. Vegans' watches have never looked so good!

100% vegan company
Prices from £149 ($205)
Free shipping
Dan & Mez is a sustainable vegan watch company based in Graz, Austria. They manufacture their watches in Germany, a country with high labour standards, and they use pineapple vegan leather straps to make their environmentally friendly watches. Their mission is to shake up the leather industry - and eventually make it the norm to use vegan leather.
Piñatex is an eco friendly, vegan friendly alternative to leather made out of pineapple. The pineapple industry create 40,000 tons of waste annually, and normally it's either left to rot or burn. Piñatex is an innovative solution that takes this leftover waste and turns it into pineapple leather.
They have both vegan womens watches and vegan watches for men.
Women's vegan watches come in 1st season style or the second season, Day & Date, which - you guessed it - displays the day and date as well as time. The watches are minimalist and would work with any outfit - and come in gold, silver and rose gold with black, cream and silver straps. They're elegant and well-made. Take the Day Date Rose Gold watch, for example. Each environmentally friendly watch is handmade, with precise Swiss movement, sapphire crystal glass and is 3 ATM water-resistant (suitable for rain and splashes).
One thing I like about Dan & Mez is that they have a range of different price points. Another thing I love is that they have a (premium) range of automatic watches for men. These are self-winding watches that work without a battery - they power themselves with your movement.
Men's watches, like women's watches, comes in the 1st season style or Day & Date style, and also an automatic watch. The vegan automatic watch works without a battery (making it more eco-friendly and meaning it'll never run out of battery or need to be taken in for its battery to be replaced) - these are a type of mechanical watch that wind themselves based on the movement of your wrist (so if you don't wear it daily, or don't have an active lifestyle, it may require manual winding). Read more about how automatic watches work here. The watch is handmade, has a sapphire crystal glass and long-lasting 40mm stainless steel case. It is 3 ATM water-resistant and has a vegan pineapple leather strap. Also, they plant 5 trees for every purchase.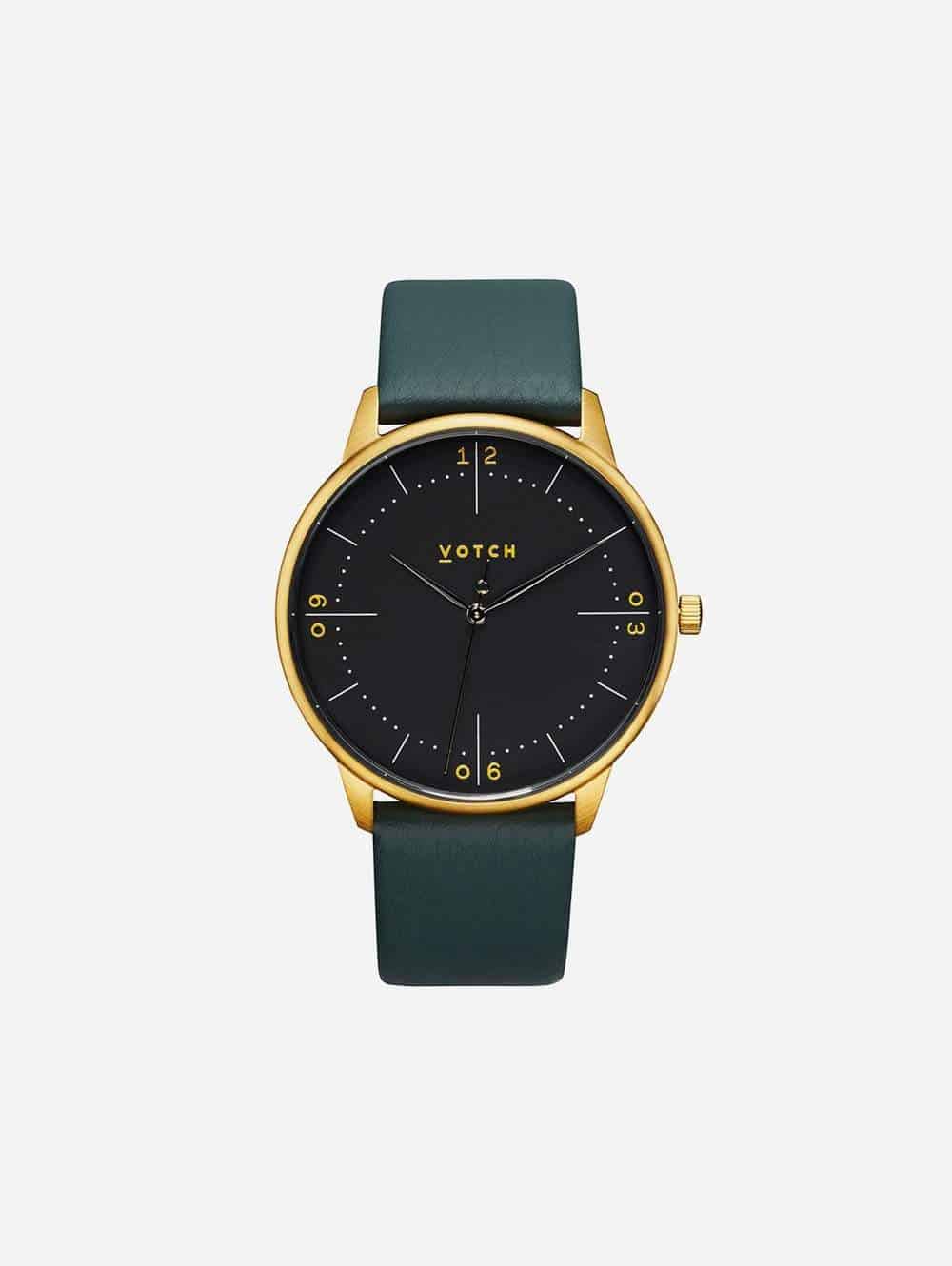 100% vegan company
Prices from £120
Free worldwide shipping
Votch is the first vegan watch company I remember hearing about. Founded by Laura Way in 2016, after having trouble finding a vegan watch strap herself.
Every Votch watch is fashion forward and sleek in design, and the faux leather watch material used is PVC free, phthalate free, bromine free and contains no plasticisers. They use different materials, from vegan leather to innovative and sustainable materials like pineapple leather and appleskin leather, both made with waste from the food industry.
Their award winning vegan leather watches are PETA certified vegan and packaged in recyclable boxes and ready to gift.
The watches are made in China and they work closely with (and visit) the factory and know working conditions are fair and there are opportunities for promotion.
They had nine different collections plus a wide range of strap options, and even an option on their online shop to build-your-own with the watch and strap of your choice. All watches are unisex but they have compiled a list of bestselling watches for women here and men here. All watches have quick-release straps so you can easily change out the straps. Each order plants a tree, and Votch will also recycle your old watch.

100% vegan company
From €109 ($129)
Free shipping worldwide on all orders
Hurtig Lane watches is based in Barcelona (like me!), and was born in 2016 after founders Cerian and Michael watched the documentary "Earthlings." They now also sell sustainable and vegan makeup brushes made of sustainable wood and bamboo, as well as vegan watches.
Hurtig watches are made using vegan PU leather straps (PVC-free) and made with recycled materials, and all staff is paid fairly with fair working hours. They're also PETA approved vegan.
The award winning vegan brand has 8 ranges of vegan women's watches and 5 ranges of vegan men's watches.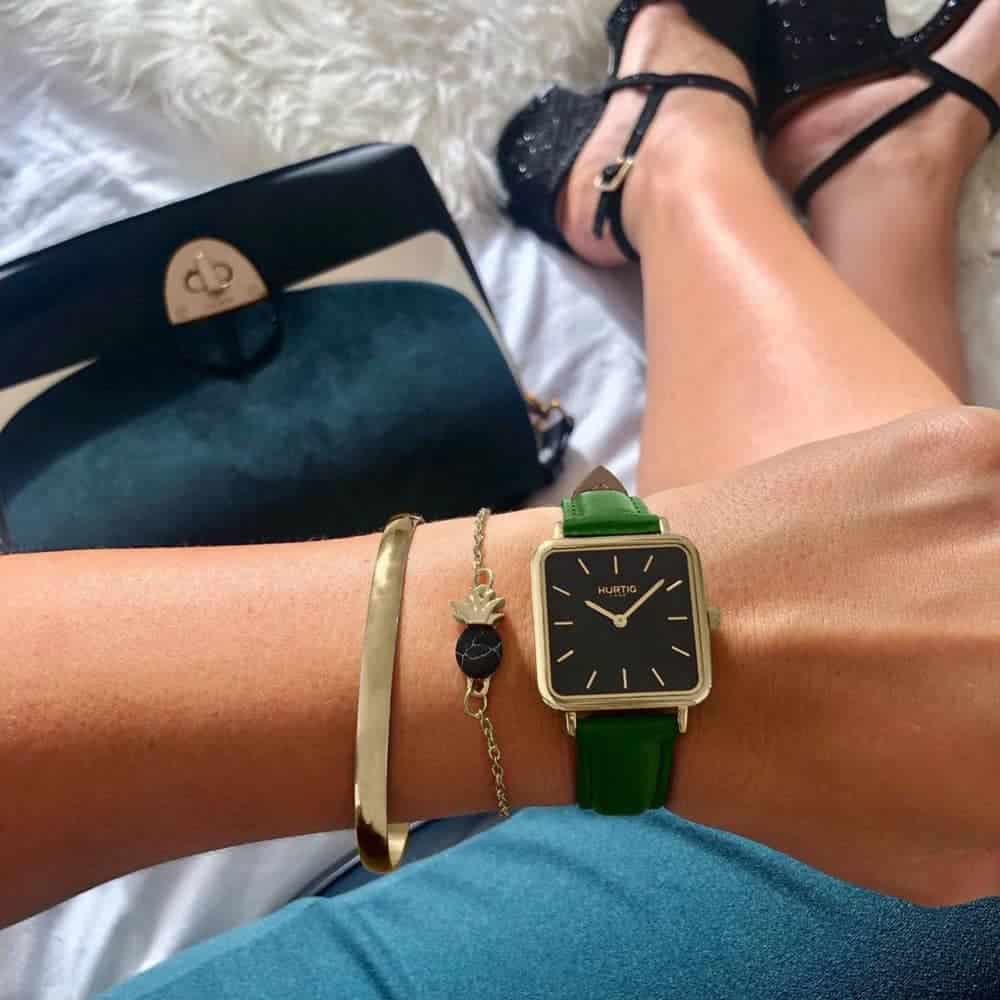 One unique and beautiful range I really love is the Neliö Square vegan range. With a square face and 16 different combinations, this is a gorgeous watch that will work dressed up or down. This quartz movement watched is encased in stainless steel and 3ATM water-resistant.
All their watch straps have clip release pins so you can easily change the straps, and packaging is made from recycled cardboard. They're also involved in a number of charitable organisations, including a cat feeding programme, a programme to provide jobs in developing countries, bee conservation and a Spanish food bank, all of which you can read about here.

100% vegan company
From $200 Australian Dollars ($150 US Dollars)
Free international shipping for orders over $70
This Australian vegan company was started in 2016 with a Kickstarter campaign. I like that all their watches are unisex.
The watches and selection are minimalist, with a selection of watches in 40mm or 36mm designs and silver, gold and rose gold. There are different bands to choose from, made from vegan leather, vegan suede and vegan pineapple leather in classic colours like black, brown and cream.
All the straps are quick-release so you can easily change them. Watches are rated to 3ATM (splash resistant). Movement is Swiss and cases are stainless steel, with sapphire crystal glass.
They also now have a set of vegan leather travel gear, including passport holders and luggage tags.

100% vegan company
Prices from $269
On Alltrueist: Free US & Canada shipping on orders over $100, Free EU shipping orders over €300
Solios watches are quite possibly the coolest watches (or possibly the hottest, given what powers them) on this list. All their watches are powered by the sun!
Solios was born when founders Sam and Alex decided they wanted to start a business that would have a positive impact on the environment. They launched their Kickstarter live in 2018 and in a single night exceeded their goal by triple the amount they'd asked for.
Their watches are sustainable and all vegan. The batteries recharge under the sun - or even under office lights - in 2 hours, and the charge lasts 6 months.
The life of each battery is a whopping 50 years (the average watch battery only lasts a year), and they contribute to save more than 300 million batteries per year.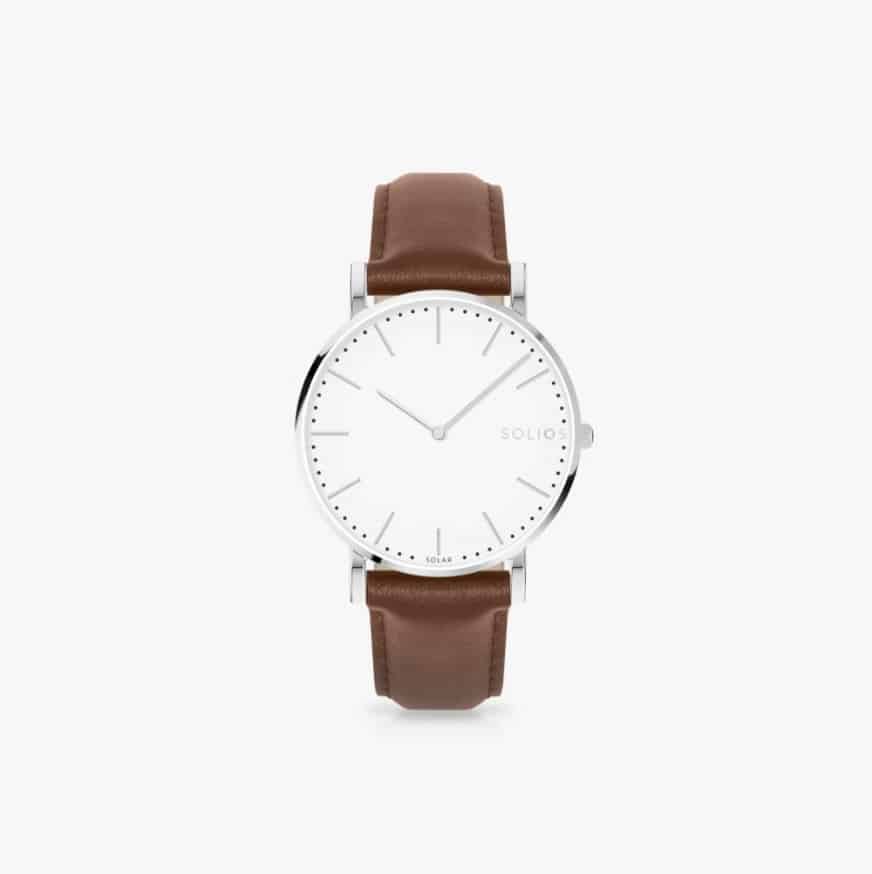 The watch glass is made of hardened mineral glass with a sapphire coating and anti-reflective coating. It's also scratch-resistant. Each watch is rated 3ATM, meaning it's water-resistant and splash-proof (but not suitable for swimming or diving).
As an eco-friendly company, Solios has opted for the most eco-friendly materials available, so their straps are made of mesh or eco vegan leather (no PVC!). It's free of solvent, polyurethane and PVC, as well as being phthalate free and recyclable. They also use a magnetic system so you can easily adjust the strap to fit your wrist and get it sized just right to you.
Movement is a precise Japanese solar movement.
Solios is also a certified B Corp (businesses that balance profit and purpose and meet the highest standards of environmental and social perforamnce).
All watches feature a sleek, minimalist design that will work with workwear and casual clothing equally.

100% vegan company
Prices: all watches £75
Free shipping all UK orders
Ksana caught my eye with their array of bright watch straps - and they're sure to catch the eye of everyone when you wear one, too.
This all-vegan watch company is also dedicated to being eco-friendly and produce all their watches in a solar-powered factory. All their packaging is made from recycled materials and is recyclable.
I love that all their designs are gender neutral.
Each watch comes with a 2 year warranty and has scratch-resistant glass. The case is stainless steel and movement is Japanese.
Ksana watches are also waterproof with a 5ATM rating, meaning they are suitable for swimming!
As mentioned before, this company is committed to their eco-friendly credentials, and that includes the end of the watch's lifecycle. Each watch can be returned at the end of its life for recycling and upcycling.
All you have to do is choose your favourite colour!

100% vegan company
Prices from $250
Free shipping
Nox Bridge is a watch company based in New Zealand that started in 2014. Their vegan leather straps are water-resistant and PETA approved vegan and watches are assembled in Japan to ensure precision.
Their watches are also fair trade.
Each Nox Bridge watch comes with a 2 year warranty and quick-release straps. Many are limited edition, with only 50 pieces, so you can be sure your watch will be unique. Some are waterproof to 3ATM (splash-resistant but not suitable for swimming) while others are rated to 5ATM (meaning they're suitable for swimming).
Casing is surgical grade stainless steel.

100% vegan company
Prices from €199
Free worldwide carbon-neutral shipping
Fjordson's vegan watches are Swiss made and approved by PETA and the Vegan Society. They even won PETA's 2018 award for "Best Vegan Watches."
All watches come with a 2-year warranty. Shipping is carbon neutral and shipping materials are made of recycled materials.
Fjordson watches are water-resistant up to 3ATM (not suitable for diving).
Case material is stainless steel and glass is scratch resistant crystal sapphire glass. Movement is, of course, Swiss.
Watch companies with vegan options: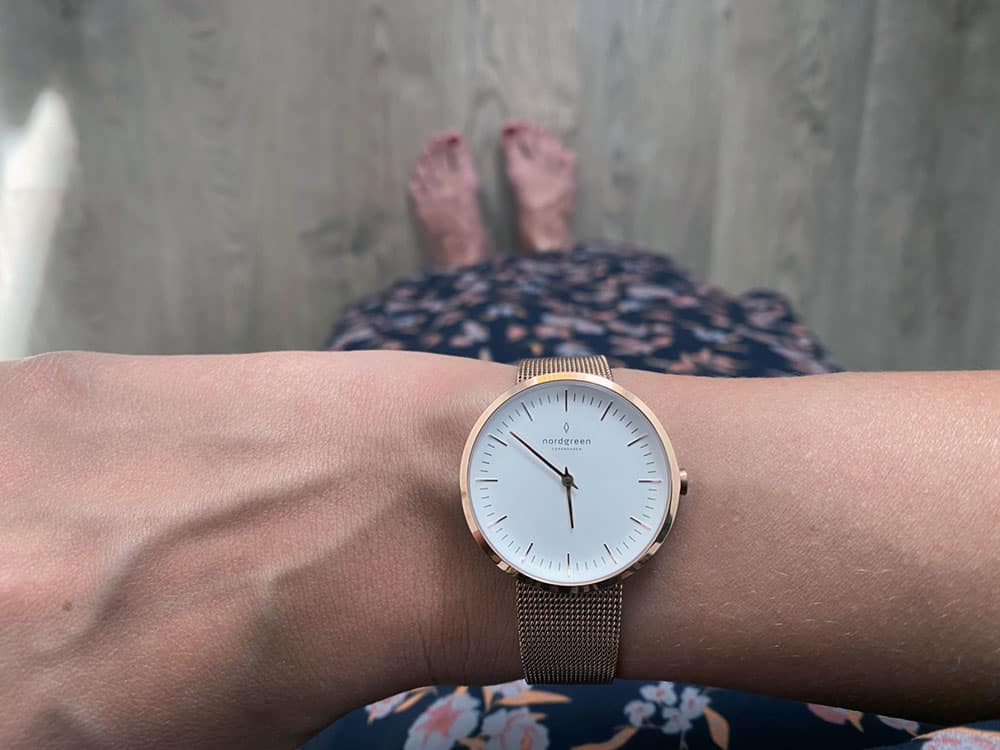 Nordgreen is a Danish watch brand that has vegan options (including vegan leather straps) and they kindly sent me this watch for review. I went for the Infinity watch with a mesh strap in rose gold. And I absolutely love it!
Nordgreen is known for their minimalist look, and as a result I find the watch goes with everything. It also transitions from day to night perfectly.
One thing I especially love is that the strap is really easy to adjust in terms of length (where the fastener sits), which is great because I have small wrists and have struggled with watches being too big in the past. It's also designed to be easy to swap straps (and you can buy extra straps if you want to change the look).
Nordgreen is carbon neutral, meaning they offset their shipping and the running of their office. They also use sustainable packaging (FSC certified paper and upcycled plastic bottles). They use a Danish owned factory in China for manufacturing to meet high labour standards based on Danish working practices. Their vegan leather straps are GreenGuard certified, meeting chemical emissions standards, thereby reducing indoor air pollution.
Nordgreen has several different styles of watch face, designed by Chief Designer Jakob Wagner. I like how customisable they are; you can choose the size, colour of the watch, dial colour and also the straps, from vegan leather straps, metal link straps, nylon straps, rubber straps or stainless steel mesh straps like mine. (They also sell animal-based leather so be sure to select the vegan leather option or one of the other vegan options!)

Vegan friendly company
Prices from $174
Free shipping
Jord is a vegan watch company whose specialty is straps made out of wood!
They make straps primarily out of wood, using all types from rosewood to walnut. They also have cork watch straps, made from vegan cork leather from cork trees.
Their vegan friendly watches use a few different movement types, including Quartz (battery-powered) movement and self-winding automatic mechanical movement (no batteries needed).
Watch styles and prices vary, from a super-modern style with the parts exposed to sleek, minimalist designs and even a limited edition watch using encased coffee beans.
They also sell vegan Apple watch bands. It can be hard to come by non-leather straps for a vegan smart watch, but they have a non-leather option (plus a leather option so be sure to avoid that) - it's made of wood and metal intertwined.

Vegan friendly company
Prices from £69
Free UK delivery on orders over £50
Olivia Burton is a watch company whose designs tend to feature natural elements like flowers, bees, deer and stars.
You can find a selection of Olivia Burton vegan watches here, and they've helpfully created a vegan section.
Each Olivia Burton vegan watch features a vegan strap and Quartz movement.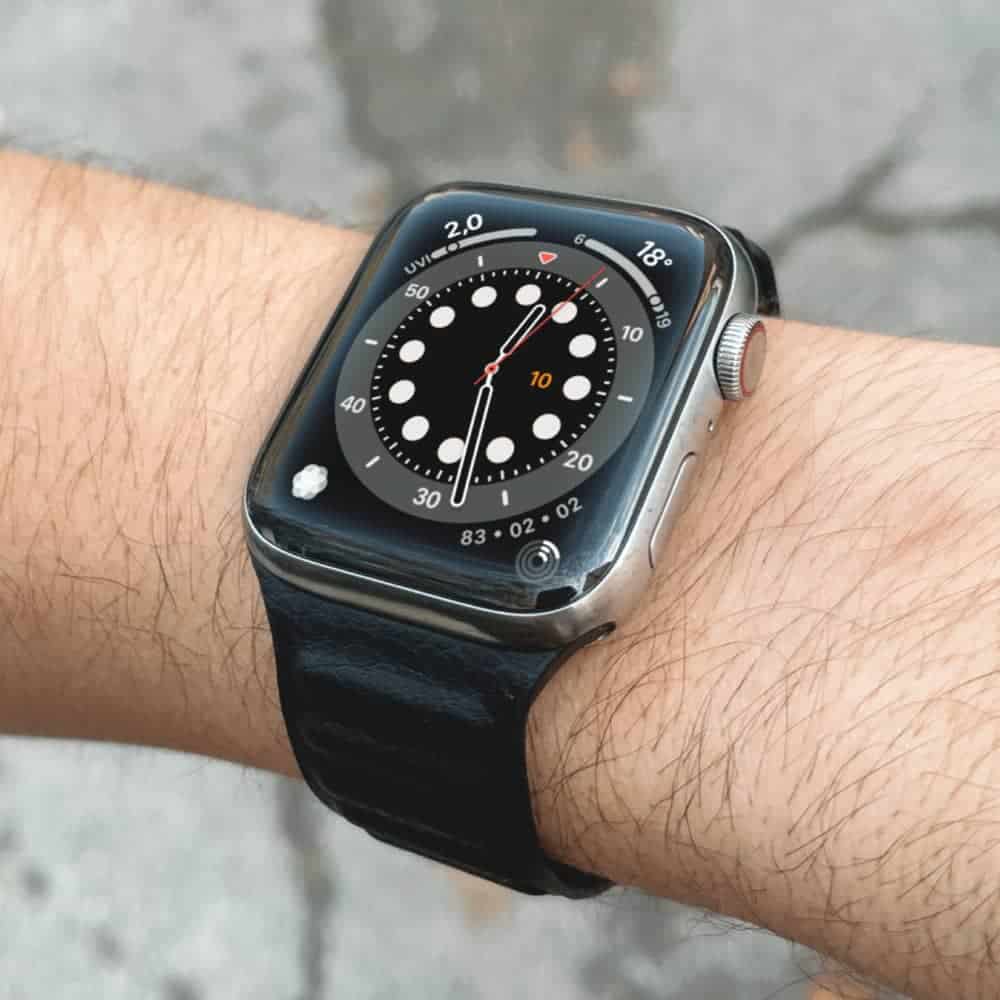 More vegan watch options:
Vegan Loops Apple watch: vegan wristband options for Apple watches
Aubry: 100% vegan watch company
Cheap vegan watches
If you're looking for affordable vegan watches, places like Target usually have accidentally vegan watches. If you're looking for watches with vegan leather straps, it will be trickier because they don't always label them vegan, but you'll likely find a selection of watches with plastic/rubber straps (though it's possible they may have used non vegan glue or dye). Another option is a watch with a metal strap. Or, keep your eye on any of the vegan watch brands listed on this page for a sale.
Pin this for later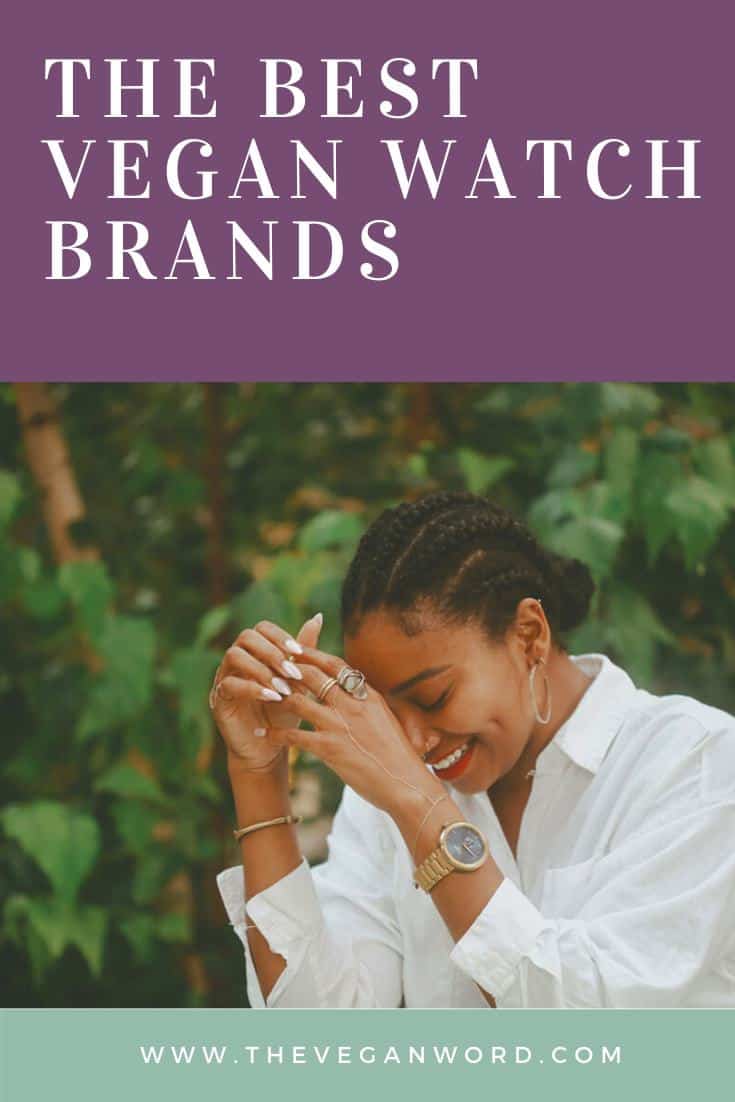 Looking for more ideas to veganise your closet? Check out my guide to vegan clothing brands here. I also have guides to backpacks here and vegan wallets here.
Find my vegan tshirt guide here.
I also have guides to vegan shoes here and vegan handbags here.
Find all my vegan fashion & beauty guides here.
Main photo: Photo by Vitae London on Unsplash