So, you don't want to sacrifice style for ethics, and you still want fashionable sneakers, but made vegan? Enter the vegan Adidas line! Yes, Adidas vegan shoes do exist (and if you really want to elevate your look adidas x Stella McCartney vegan trainers will do the trick).
As well as highlighting Adidas' vegan options, I've also included a few Adidas-esque picks from 100% vegan brands:
The Adidas Samba vegan shoes are my top pick of men's vegan Adidas trainers. They're an iconic Adidas look, made vegan. The Sambas were first released in 1949 (as an indoor football/soccer shoe), so you know this is a look that will grace your feet for years to come and not go out of fashion.
The Adidas vegan Samba has an upper made of vegan leather that's made with 50% recycled materials and rubber soles.
The men's vegan Sambas has the iconic "t" toe with grey vegan leather and black stripes on a mostly white vegan leather upper.
As well as this colourway, they also have black vegan Sambas with white stripes (which still feature a grey t-shaped toe), plus cycling Samba shoes (the vegan Velosamba). Adidas also a collaboration with Disney, the Mickey Samba and Minnie Samba, which feature the iconic cartoon characters on the tongue of the sneaker.
---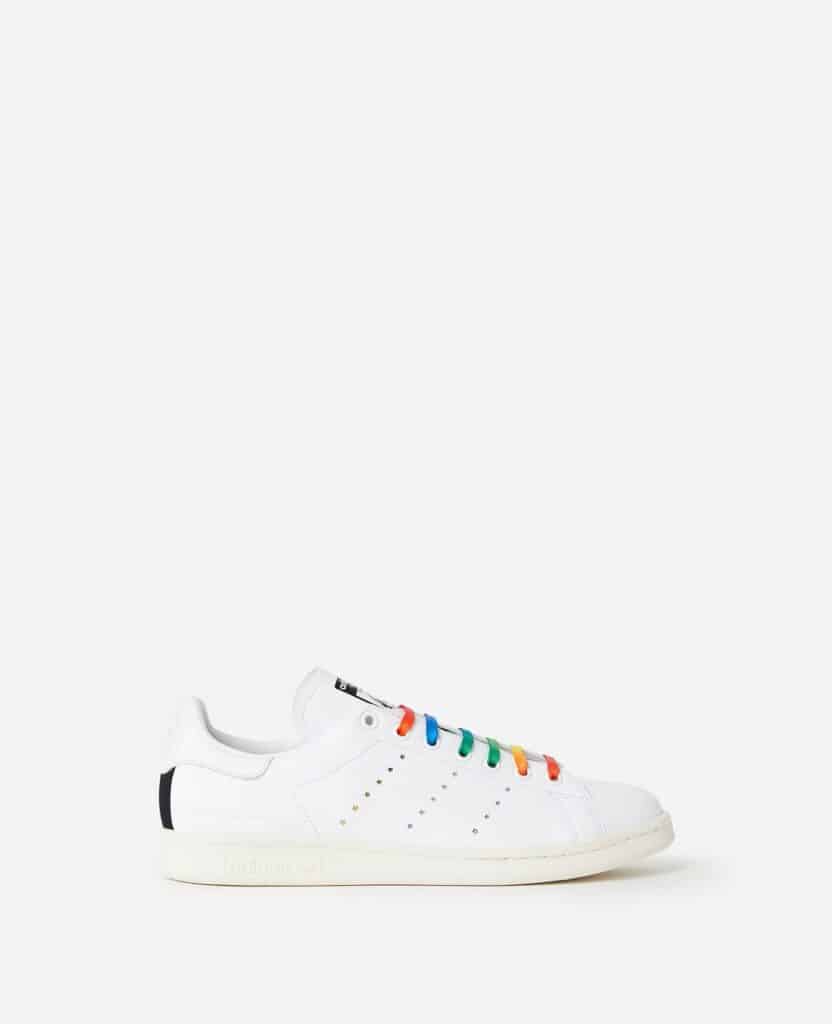 These are my top pick of Adidas vegan trainers in women's sizes. I absolutely love the rainbow laces! (Though if you prefer something more sedate, you can swap them out for white shoelaces).
These vegan Adidas trainers are part of their ongoing collaboration with Stella McCartney. Whilst not a fully vegan brand, Stella McCartney's fashion line is vegetarian, like McCartney herself. So, no leather is used in the whole line (but do watch out with the clothes as sometimes she uses silk or wool in designs). Thus, all the shoes in the Stella McCartney line, including the adidas x Stella McCartney trainers, are all vegan.
When it comes to vegan trainers, Adidas has one of the widest ranges of mainstream designers, but these ones from Stella McCartney are a personal favourite for the fun rainbow laces.
Stan Smith trainers are a staple of the Adidas line – they've been making tennis shoes since the 60s, and first launched them under a different name in 1965 (they were called Robert Haillet after another tennis player of the day) and renamed Stan Smith, after the tennis player, in 1978.
These trainers are made of 100% vegan leather uppers and a 100% recycled polyester lining.
It has portraits of both Stan Smith and Stella McCartney on the tongue of the shoes (one on each side). The holes on the side are laser-cut Stella McCartney stars, which I also love.
They come with two sets of laces: white and rainbow, so you can choose.
---
The Adidas Stan Smith vegan trainers are their vegan take on the classic Stan Smith trainer.
These vegan Adidas shoes (in non-vegan form until much more recently) have been around since the 60s, meaning you don't have to worry about them going out of style.
The Stan Smith vegan trainers are the vegan version of classic Stan Smiths, and as part of Adidas' mission to use only recycled polyester by 2024, it doesn't use any polyester at all. The upper is made of vegan polyurethane leather, and 50% is made from recycled materials.
The outsole is made from rubber waste.
They come in a number of different colourways, so chose the one that you fancy!
---
These Adidas vegan sneakers are the women's version of the Adidas Stan Smith tennis shoes listed above.
One of the most iconic Adidas vegan shoe styles, Stan Smiths have been made for decades (since the 60s) and are now available in vegan form.
The Adidas vegan Stan Smith have vegan polyurethane uppers made with 50% recycled materials and soles made using rubber waste. Thanks to Adidas commitment to phase out new polyester by 2024, these shoes are completely free from virgin polyester.
They come in a wide variety of colours, from white and green as pictured above to all black, all white, and white with various colours on the heel (navy, burgundy, dark green and more).
If you love Stan Smith style shoes and have the budget, I highly recommend my top choice of vegan women's Adidas trainers, the Adidas x Stella McCartney Stan Smith trainers, which are made by 100% vegetarian brand Stella McCartney.
---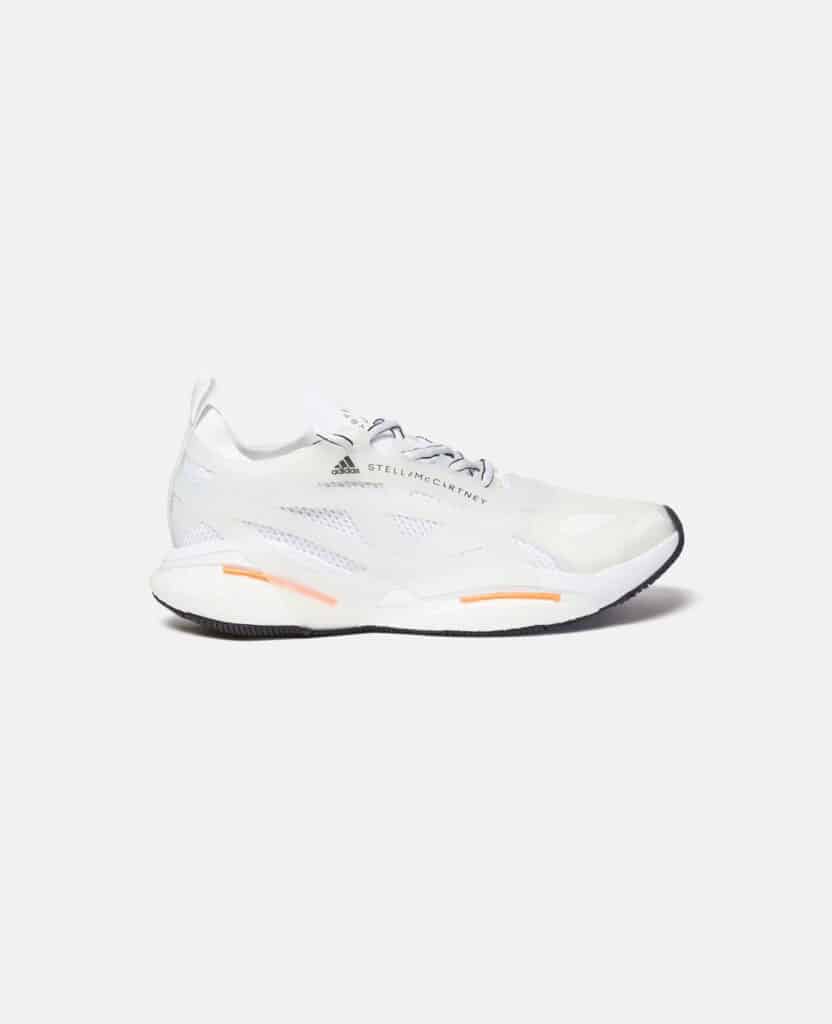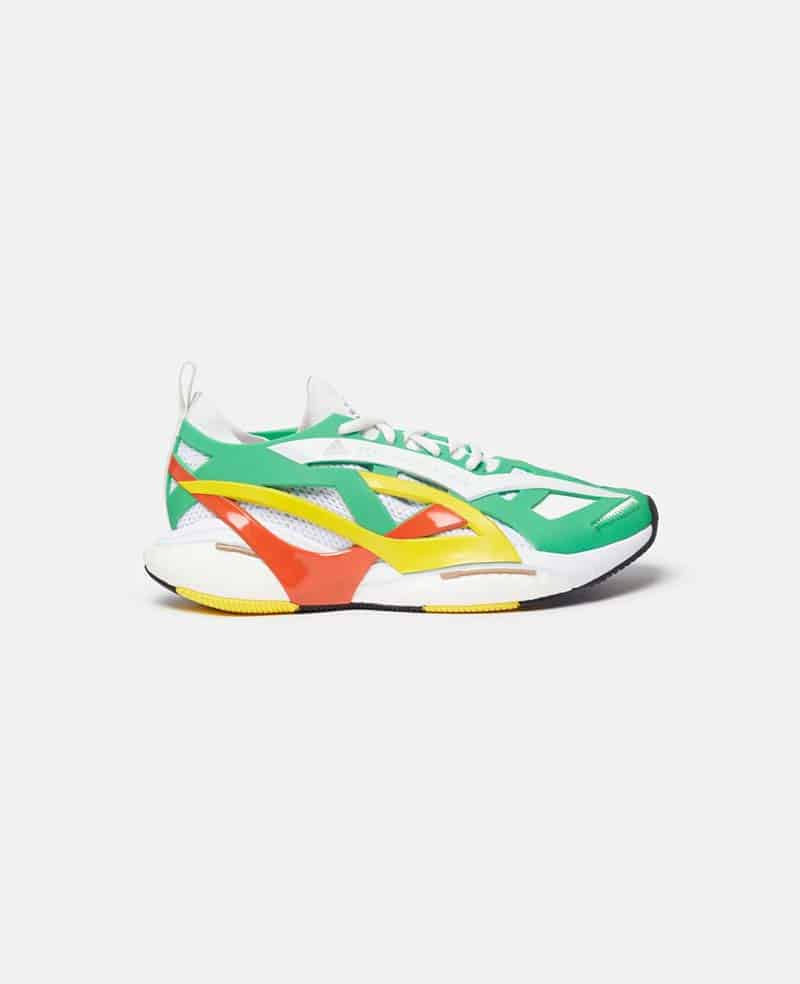 If you're looking for vegan sneakers, Adidas have a fairly wide range, but what about vegan running shoes?
The most well-known vegan Adidas shoes, like the Stan Smith and the Sambas, don't suit running, but luckily Stella McCartney comes through with this Adidas collaboration!
These vegan running trainers feature Boost technology and Prime Knit technology. The upper is made with recycled materials (the entire shoe is mainly composed of recycled materials) and has a flexible outsole.
They are white with small orange accents on the sole, but their other colourway is all-over bright red if you prefer something that'll stand out.
The Boost cushioned midsole returns energy with each step, so ideal for taking your running the extra mile (pun intended).
---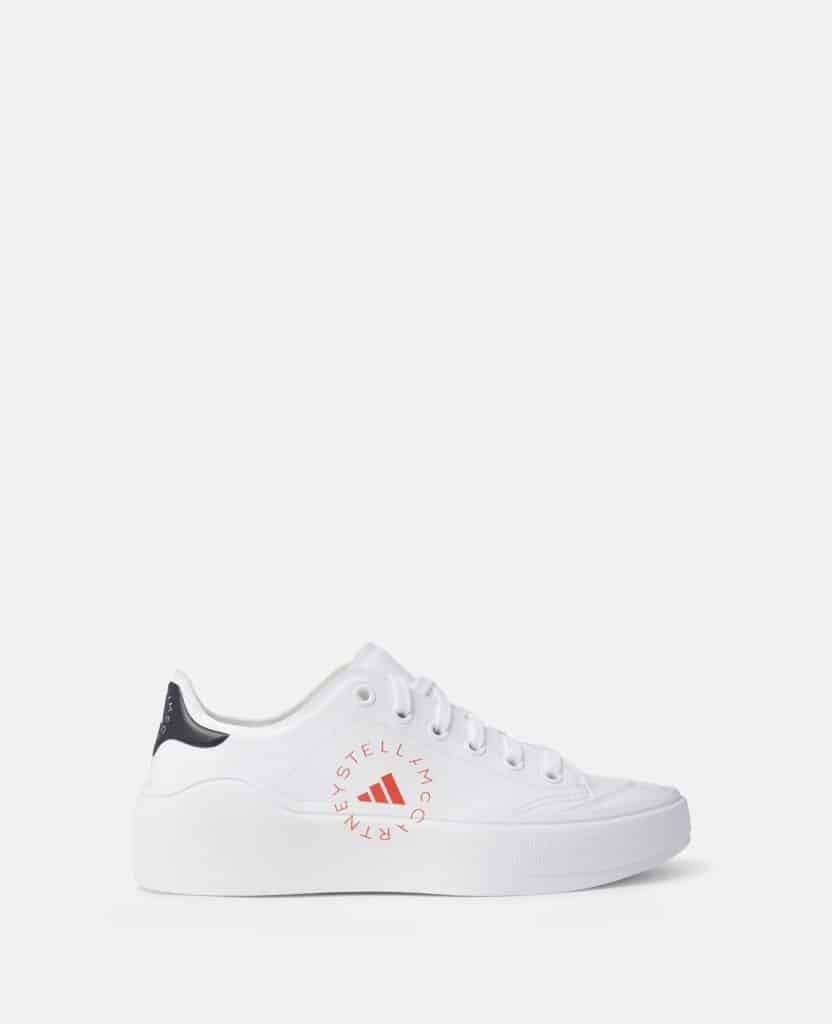 When it comes to Adidas sneakers, vegan shoes feature across the Stan Smith line (and they also make vegan Sambas). But what about court trainers (designed for tennis)? These Adidas x Stella McCartney court trainers
If you don'd mind spending a bit more, Stella McCartney is great for vegan shoes. Adidas x Stella McCartney is a collaboration combining the iconic Adidas sneaker looks and Stella McCartney's designer vision.
As a lifelong vegetarian, all of Stella McCartney's shoe line is vegan; she doesn't use any leather in any of her collections (do be careful if looking at her clothing line, though – she uses wool and silk as a vegetarian, rendering some of her designs non-vegan).
Not only that, but while Good on You rates Adidas as "it's a start" (not bad for a mainstream sneaker brand), they rate Stella McCartney and Adidas by Stella McCartney as "good" thanks to their stance on animal materials and using sustainable materials.
Therefore, I recommend adidas x Stella McCartney sneakers as my top choice of women's Adidas sneakers (unfortunately they don't make men's shoes).
On the topic of eco-friendly materials, these vegan Adidas sneakers are made from a bio-based vegan leather, crafted using sugarcane. The midsole is made from recycled EVA, and the outsole is rubber.
They're white with a black heel and a red Stella McCartney/Adidas logo on the side.
---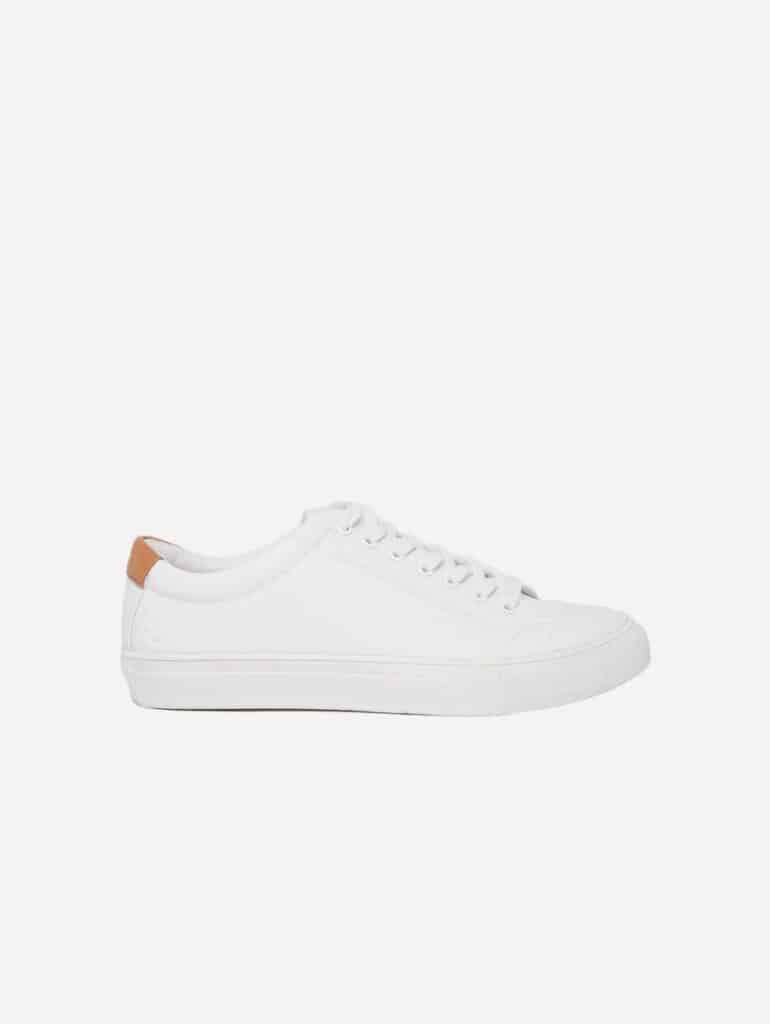 These vegan leather trainers from Ration.l are my top pick of Adidas-style trainers from a 100% vegan brand.
They're gender neutral and Vegan Society certified. The upper is made from non toxic (solvent free) vegan PU leather, the lining is organic cotton and the sole is rubber.
The laces are also organic cotton and the eyelets are made of recycled metal.
The trainers are all white, from soles to upper to laces, apart from a colour block on the heel, which in this case is orange. They remind me of Adidas Stan Smith's apart from a few important differences – they don't have a logo on the tongue and they don't have eyelet perforations on the sides of the uppers.
---
These classic style vegan trainers are made from OEKO-Tex certified, eco-friendly vegan microfibre leather.
They have handcrafted, vulcanised rubber soles.
As well as being PETA-certified vegan, Elliott is a climate positive company, meaning they remove carbon emissions from the atmosphere and have a climate-positive footprint.
FAQ
Is Adidas vegan and cruelty free?
No, while Adidas has a range of vegan shoe options, the brand as a whole is not 100% vegan or cruelty free, since they have animal-based leather shoes in their range.
However, they do have some vegan options, as listed in my article above.
If you'd prefer to buy from an entirely vegan and cruelty-free brand, I'd recommend Ration.l or Elliott vegan trainers.
Or, if you want the look and branding of Adidas, but from a brand that doesn't use any leather, then the collaboration between Adidas and all-vegetarian brand Stella McCartney is a great pick (and I love the looks of the Adidas x Stella McCartney sneakers, too).
Whilst Stella McCartney is not a vegan brand, it is vegetarian, like Stella herself, so the shoes are vegan – they don't use any leather. (Just beware if choosing clothing items from the brand, since she sometimes uses silk and wool in her collections, rendering some of the clothing non-vegan.)
Choose from classic Adidas x Stella McCartney Stan Smith trainers, or the Adidas x Stella McCartney Solarglide running shoes if you need running sneakers (which come in two colourways, including a standout bright colour).
Which Adidas shoes are vegan?
Some of Adidas' shoes are available in vegan versions, as outlined above. Choose from the men's vegan Sambas, men's or women's Stan Smith trainers, plus collaborations with Stella McCartney: the adidas x Stella McCartney Stan Smith trainers, adidas x Stella McCartney court shoes and Stella McCartney Solarglide running trainers.
What is Adidas vegan leather made of?
Adidas uses vegan PU (polyurethane) leather which is made of 50% recycled materials, making it a more eco-friendly option.
However, it's also been reported that they're developing a mushroom vegan leather made of bio-based materials.
Are Adidas vegan shoes good?
Visually, the look more or less exactly the same as their non-vegan versions, so if you're just looking for vegan dupes of the Adidas range, then they're an excellent option.
In terms of performance, a lot of running shoes these days are made with synthetic materials anyhow as they tend to be lighter weight than animal leather and are less likely to be damaged by water.
The Adidas x Stella McCartney Solarglide running shoes are a great pick if you want shoes for your runs.
Contrary to popular belief, which may be based on the PVC vegan shoes of the 80s (which, thankfully, is rarely used these days and should be avoided as it's so bad for the environment), today's vegan leather shoes are not smellier than their animal-based leather counterparts. Au contraire, experts say that vegan leather shoes are MORE breathable.
Finally, vegan leather is better for the environment than animal leather (the Higgs Index, which ranks materials by eco-friendliness, ranks cow leather as the second worst material).
It's unsurprising that animal leather ranks so poorly, given the greenhouse gases that animal rearing produces and the land and water it takes, not to mention the inherent cruelty.
Additionally, animal leathers tend to be tanned in almost all cases (over 90% of the time) using chromium, which is extremely dangerous for workers, many of whom are children. In fact, it's said to increase cancer risk as well as cause respiratory issues for tanning industry workers, some of whom are only ten years old.
For all these reasons, avoid leather and go for vegan alternatives.
So to sum up: yes, Adidas vegan shoes are good. However, if you just want the look of Adidas-style sneakers, I'd recommend go with all-vegan brand Ration.l, which uses solvent-free vegan leather and an organic cotton lining.
Are vegan sneakers durable?
I find durability a very tricky question to answer because it depends on so many factors – how frequently you wear your shoes and what you do in them, what kind of surfaces you walk/run on, HOW you walk and more.
I've had vegan boots last me many, many years and through a lot of walking (primarily because they were the kind you can re-sole when the sole wears out) and flats that didn't last me a full year.
Sneakers generally don't last all that long, because they can't be re-soled like boots can but also because they tend to be worn in situations that wear them out, e.g. going for a run.
For example, it's recommended you replace walking shoes every three or five months (which is wild to me, and not something I personally do, as it would start to get pretty pricey!), and running shoes every 300 to 500 miles.
The most important thing to do is rotate your shoes, which will make them last longer and smell less.
While my advice on vegan shoes generally is to buy the best you can afford and repair them regularly this doesn't apply to sneakers which can't be re-soled, so I'd instead recommend to buy the most comfortable ones for your activity/ies and keep an eye on when they need to be replaced (and then keep an eye out on sales if you like that particular make and model so you can buy replacements when needed).
What style and colour shoes to buy?
This is a personal decision and depends on your style and your closet! Love crisp whites? Go for a pair of white trainers.
Or perhaps you prefer a more sombre palette – black goes with everything.
Maybe you want to add a pop of colour to your wardrobe – then these bright red running shoes from Adidas x Stella McCartney are perfect.
Pin this for later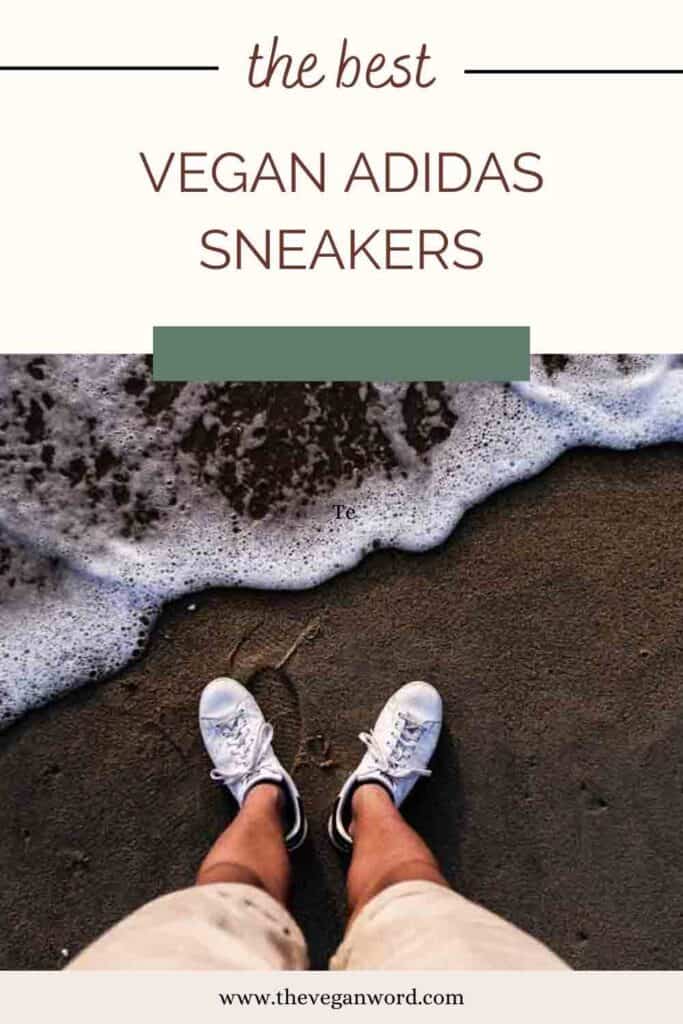 Looking for more vegan sneaker options? Check out my guides to the best vegan sneaker brands, plus my guides to vegan Reeboks, vegan Skechers, vegan Converse, vegan New Balance sneakers and vegan Nikes.
If you're looking for more vegan shoes, I've got loads of guides:
You can find all my vegan footwear guides and other fashion guides here.