Looking for stylish vegan white sneakers you can pair with jeans or shorts? These vegan mens and womens white sneakers combine comfort and style for perfect looks for spring, summer and beyond.
As a lifelong vegetarian and vegan since 2008, I know how tricky it can be to figure out which shoes in a department store or shoe shop are vegan. Hence putting this list together to help you out! With options ranging from adidas and Converse to eco-friendly options from all-vegan brands, these are simply the best vegan white trainers!
Best vegan white sneakers: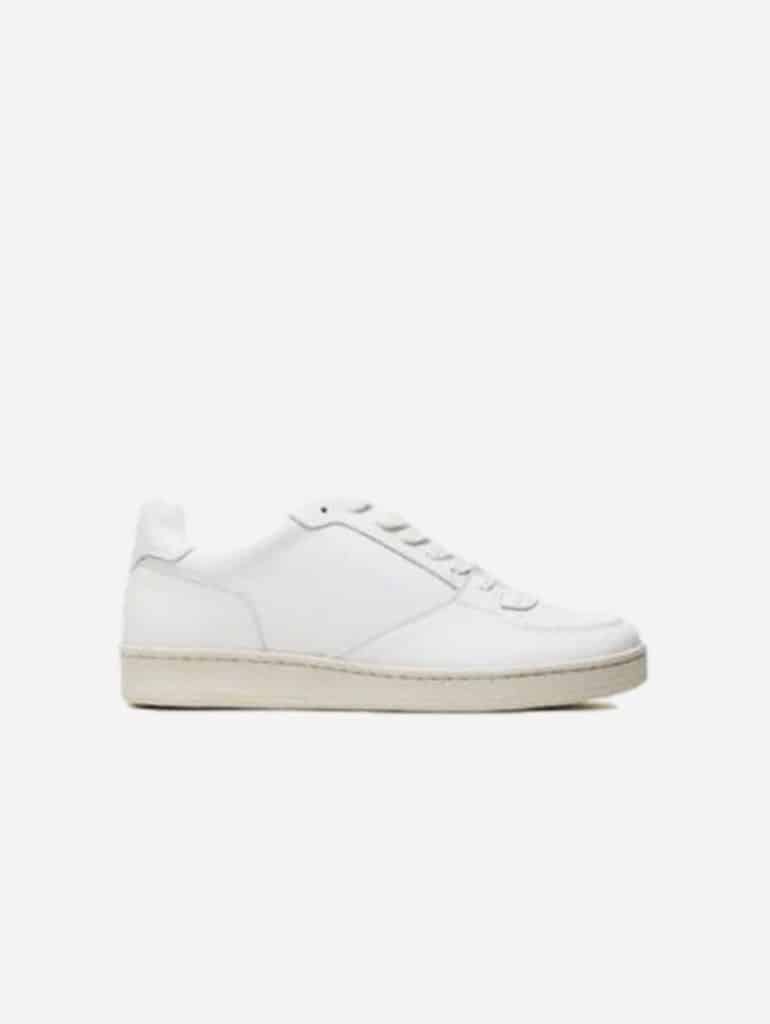 These classic look vegan white leather sneakers are perfect for match with anything.
The non leather white sneakers are made by Swedish brand Humans Are Vain, who specialise in vegan and sustainable footwear.
In particular, they use innovative and eco-friendly materials to craft shoes. These trainers, for example, are made from an OEKO-Tex certified vegan eco microfibre upper. The lining is made from recycled PET and corn fiber and is breathable, absorbent and fast-drying.
The soles are made of 70% recycled rubber and the laces are organic cotton. It has insole padding made of foam and recycled cork for comfort.
Like all Humans Are Vain shoes, it's designed to be circular, so the shoes can be reused at the end of their life.
All their shoes are made responsibly in Portugal.
---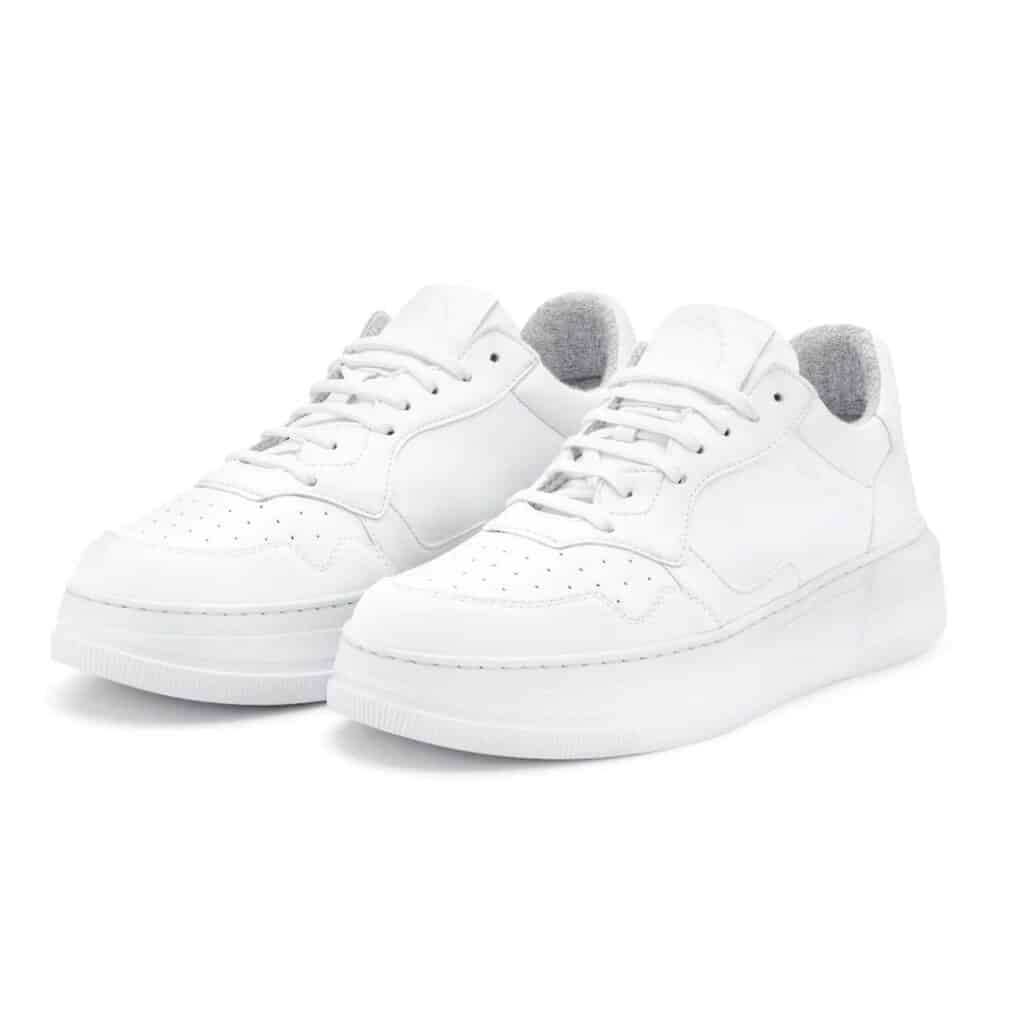 These faux leather white sneakers are made from vegan corn leather. Corn leather is a newer, eco alternative to leather. Like other vegetable-based leathers, it's made with leftover waste and therefore a more sustainable alternative to typical vegan leathers.
These all white vegan sneakers are for you if you want a chunky, thick-soled look.
---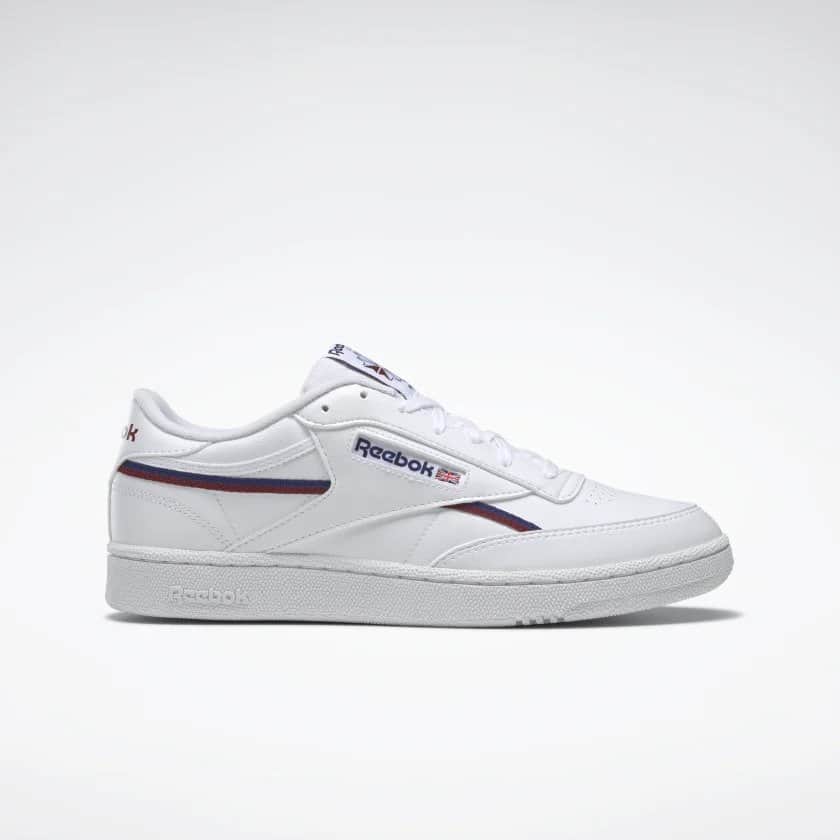 Did you know Reebok make their classic Club C sneakers in vegan form? The Club C 85 vegan shoes come in both men's and women's sizing.
These are classic vegan white trainers. Womens Club C sizes have an aqua stripe, while the men's feature a burgundy strip. Perfect if you want a pop of colour on your white trainers.
---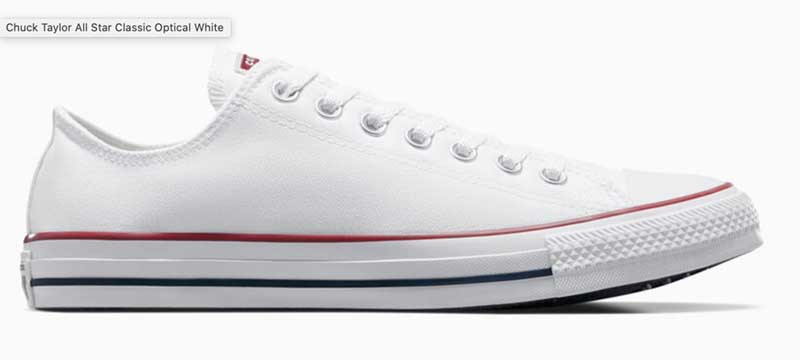 You can't get more classic than a pair of Chucks. These non leather white trainers are made from canvas (Converse do sell some leather trainers, so be sure to avoid those).
There's a full rainbow of colour options when it comes to these vegan sneakers, white and black being the classic choices (though there's also neon yellow if you prefer).
You can also of course choose between high-tops and low-tops, depending on your style (personally, I love the look of high-tops but always find the fabric digs into my ankles so I tend to go for low-tops).
---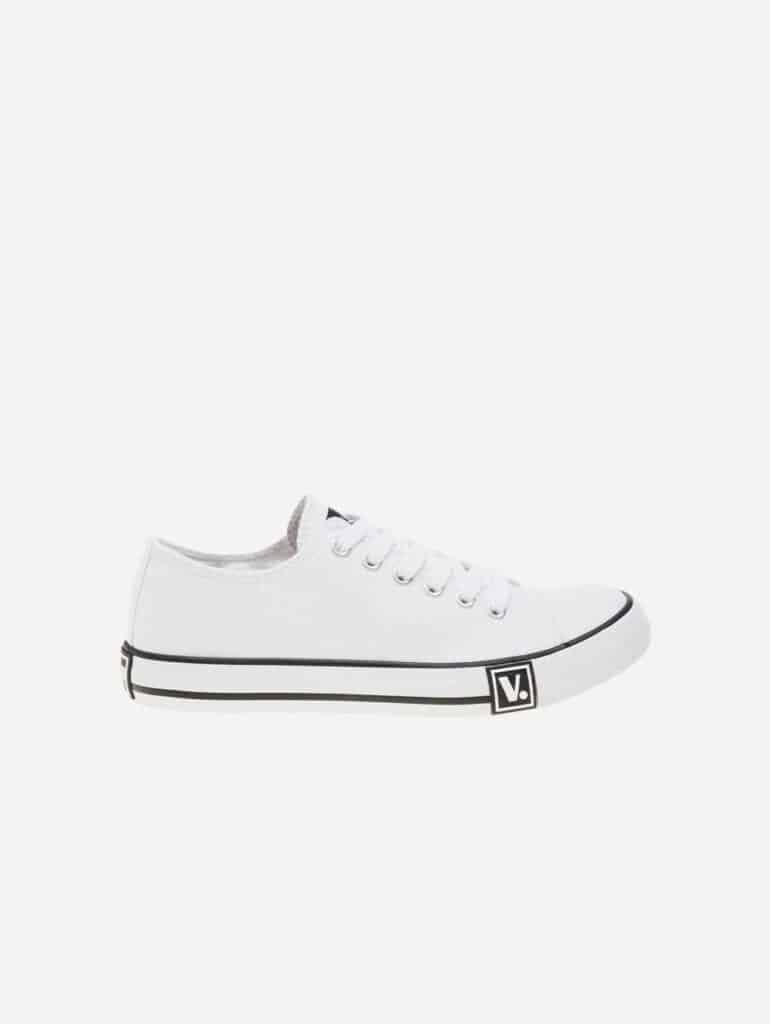 These bargain sneakers look like Converse – but are more sustainable. Made of recycled cotton canvas with organic cotton laces, they also feature a "V" logo.
They're PETA approved and made in a vegan certified factory.
---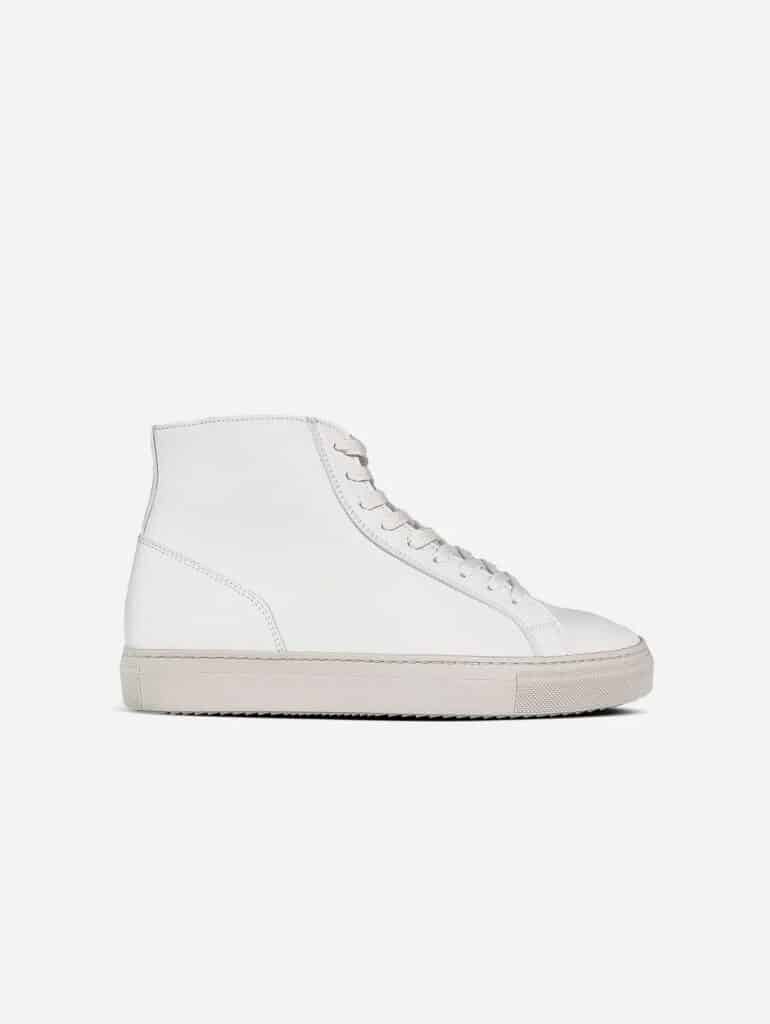 These vegan high top sneakers are my top choice of vegan leather high tops. If you love a high top but also a leather look I know how tricky it can be to find a vegan version!
While loads of brands (from classic Converse to vegan brands like V.Gan and Etiko) make canvas high tops, vegan leather high tops are few and far between.
But not anymore, thanks to Humans Are Vain, an eco vegan brand from Sweden.
These vegan leather white sneakers are made from a vegan eco-microfibre leather upper, a breathable eco & recycled PET lining and sole made partly with recycled rubber.
---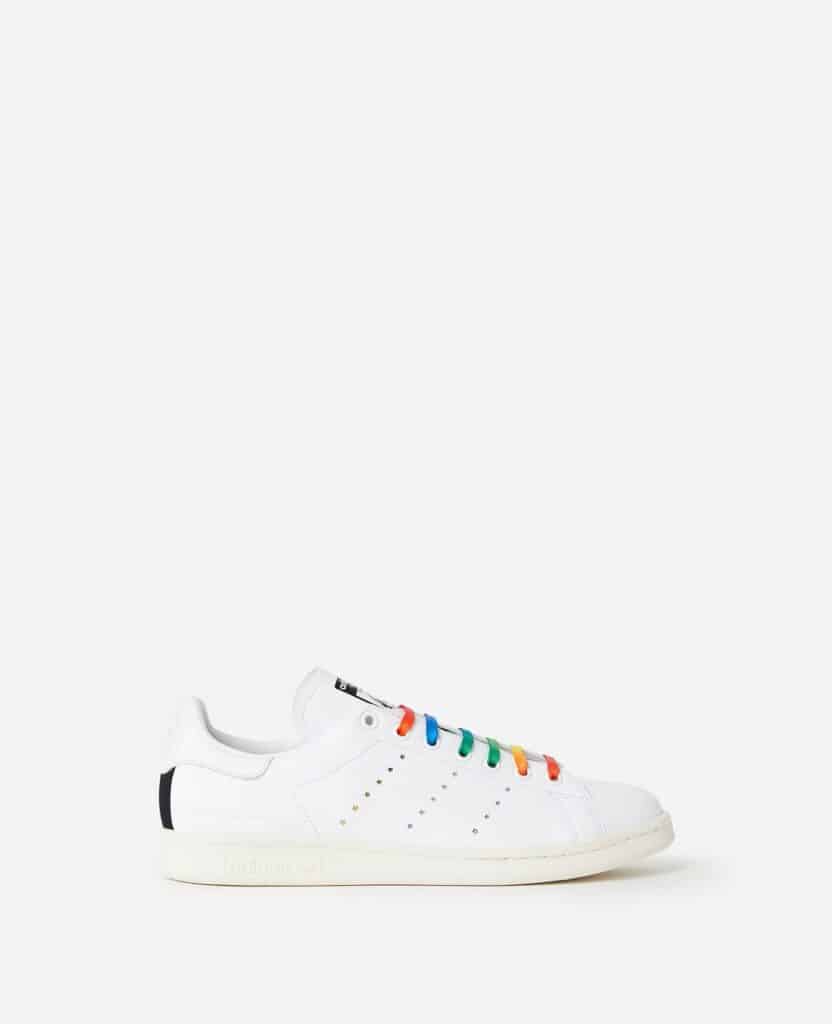 I absolutely adore these white vegan trainers with rainbow laces.
If you're just looking for adidas plain white sneakers, these might not be it (try Stan Smith classics in vegan form) but if you love a fun pop of colour these are where it's at.
These sneakers have the classic Stan Smith silhouette, plus Stan Smith's and Stella McCartney's portraits on the tongue.
They have laser-cut Stella McCartney stars on the side and rainbow laces (they also come with a set of white laces).
---
These vegan leather white shoes are the classic Stan Smiths. A few years ago, adidas launched a vegan version of their Stan Smiths (so make sure to select the vegan option). Made of white vegan leather with green accents, go for these if you love the basics, but you're not basic.
---
Another classic, these white non leather trainers are the vegan takes on Nike Air Force. They have a synthetic vegan leather range called Next Nature, made with recycled materials.
They're comfy (thanks to Nike air cushioning) and have just a few pops of colour thanks to the logo and heel.
---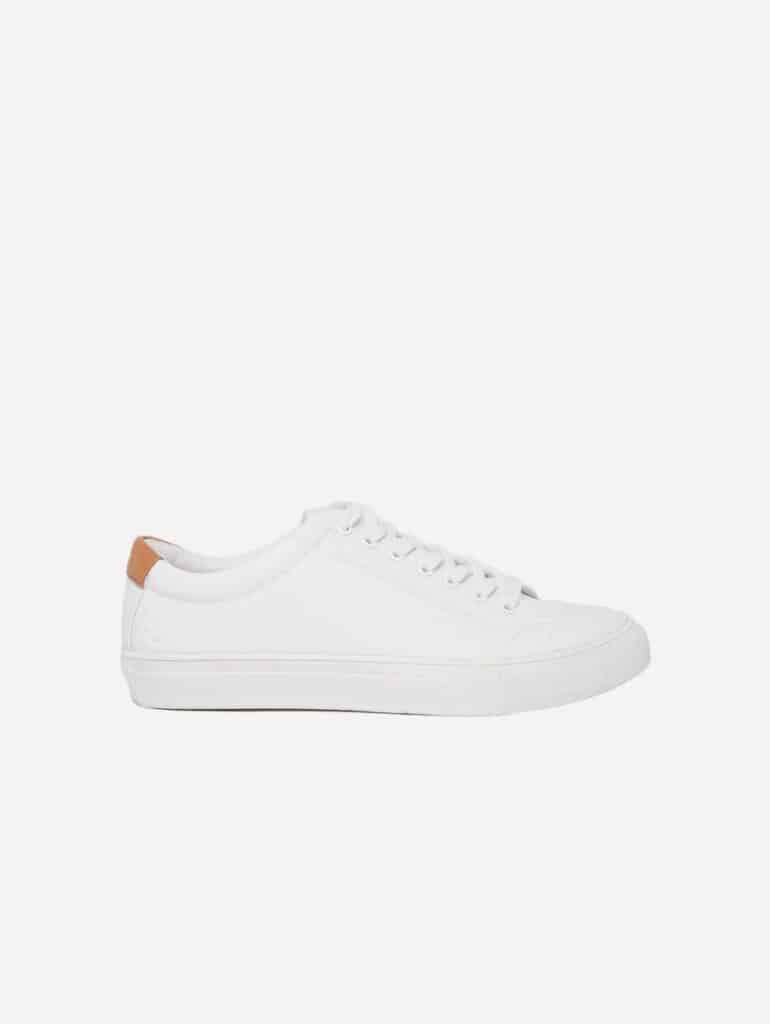 These white vegan leather sneakers are simple and sleek. Made of non-toxic and solvent-free vegan polyurethane leather and an organic cotton lining, and made under fair working conditions in Vietnam, these will pair with any outfit.
Ration.l also donate 5% of profits from these sneakers to the Brain and Spine Foundation Charity.
---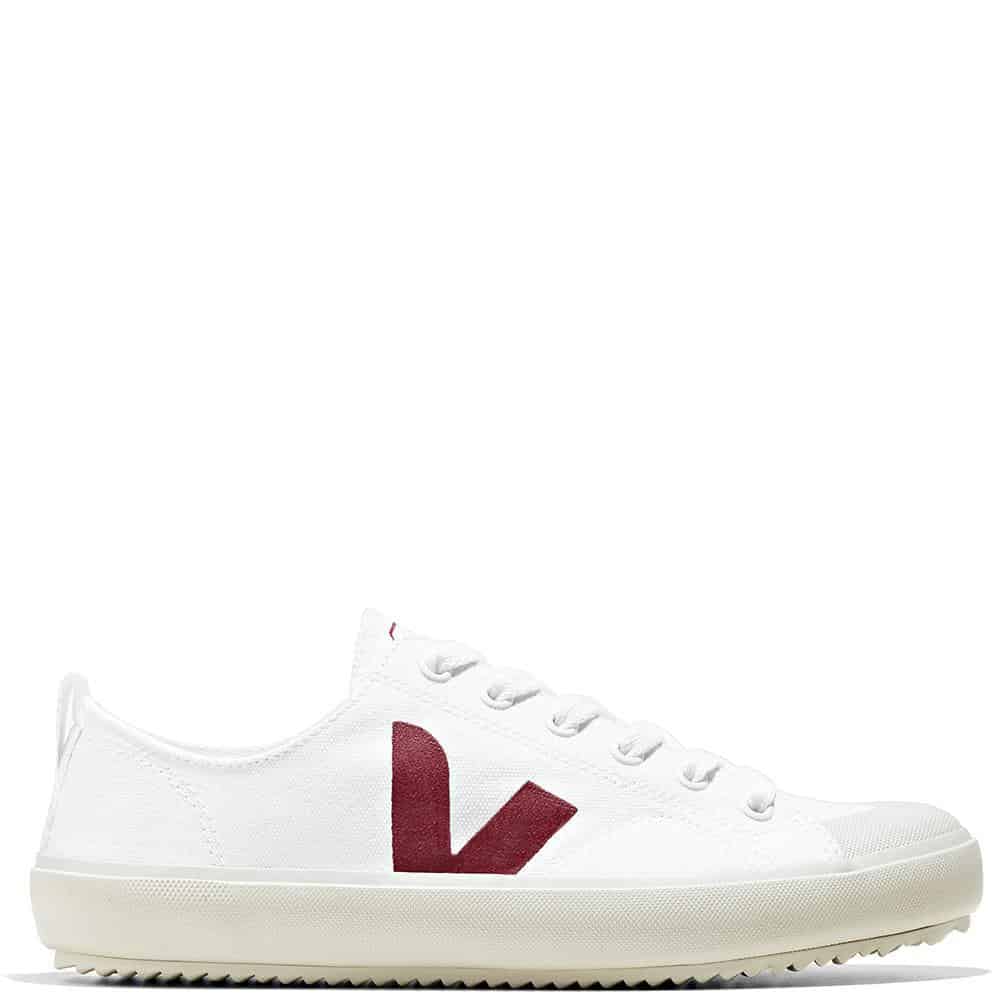 Veja sneakers has been extremely popular for the last few years, and many love their ethics (they pay fair wages, trace their supply chain and use eco friendly materials) though they still fall far short on the ethics spectrum in my books as they use leather in many of their designs. However, they do offer some vegan options.
They have shoes with cotton uppers and also what they call "CWL" or "cotton worked as leather" (cotton coated in a polyurethane coating which looks and acts more like leather).
The Veja sneakers are a classic white but with a pop of colour on their V logo on the side – choose from burgundy, yellow, green and various other colour options. Or, you can go for the white on white option, which features an off-white V logo that matches the off-white colour of the soles, if you want a more subtle or all-white option.
Pin this for later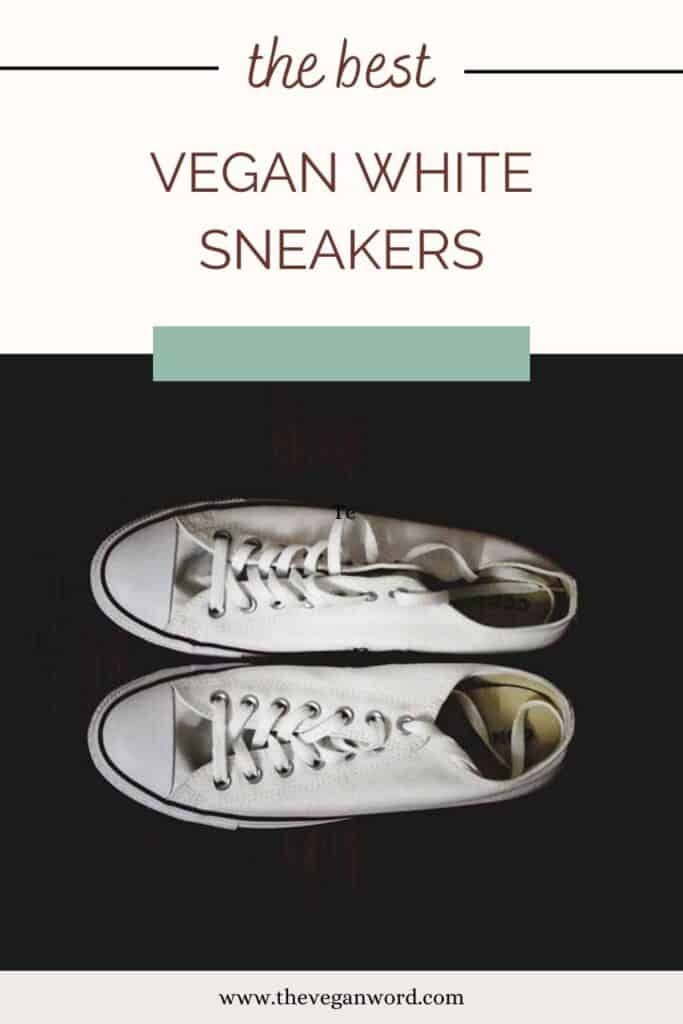 Looking for more vegan sneakers? Check out my full guide to vegan sneakers, plus my guides to vegan Reebok, vegan Nike, vegan New Balance, vegan adidas, vegan Skechers and vegan Converse.
I also have vegan shoe guides for lots of other styles, whether you're looking for vegan leather boots, vegan loafers, vegan heels, vegan designer shoes, vegan mens shoes, vegan womens shoes or more.