Looking for vegan leather boots? I wear mine most days in the winter, and yes, they're just as durable (I've had a pair of black vegan ankle boots for 5 years now!).
It's not always easier hunting out vegan shoes, so I've put together a list of some of the best vegan boots you can find from the top vegan & vegan friendly brands.
Special deals:
Quick guide to the best vegan boots:
More vegan leather boot options:
These days, it's not hard to find a vegan boot, whether you're looking for vegan Chelsea boots or vegan winter boots.
I've also tried to include info about whether shoes are eco-friendly and ethical (although it's not always easy to gauge whether a fashion brand is sweatshop-free or environmentally-friendly in their practices).
Best brands for vegan leather boots
It's not always easy to find high-quality vegan womens shoes, but thankfully there are more and more options in recent years (I've been shopping for leather-free shoes for more than two decades and that wasn't always the case!).
If you're looking for the best faux leather boots in a specific style, check out my guides to the best vegan boot brands in each style:

100% vegan company
Based in the UK
Will's started as a vegan men's shoe company. I remember years ago when they first launched at a vegan fayre in London – everyone was excited because it was (and still is) hard to find vegan men's dress shoes! Now, they've expanded to also sell bags and women's shoes too.
Whether you're looking for men's or women's vegan boots, Will's has them. From classic vegan leather black boots to hiking boots, vegan lace up boots and waterproof winter boots, they've got a big range.
Find vegan boots for men here and women's leather-free boots here.
Will's has online stores in the US, UK, Germany and rest of EU – just choose your country/currency in the upper left corner.

100% vegan company
Based in France
This Parisian vegan shoe company was the first 100% vegan shoe company in France, founded in 2011.
They're PETA approved and make boots in a variety of styles of cruelty free boots, from vegan leather cowboy boots to vegan suede ankle boots to vegan moto boots.
They even have boots made with apple skin leather, the lace up vegan boots pictured above (the Blaze boots).

100% vegan company
Based in Canada
Matt & Nat is a vegan company that started out selling bags and wallets and now makes vegan shoes too. I have a Matt & Nat wallet I bought around 10 years ago and it's still going strong.
Unfortunately, more recently I've read about concerns around sustainability and worker/labor rights (read more here) – they haven't made information public about these areas.
They do make a wide range of non leather footwear, including vegan waterproof boots, rain boots, over the knee boots, Chelsea boots and more.

Vegan options
Based in the UK
Stella McCartney's luxury clothing brand, like the designer herself, is vegetarian (she doesn't use fur or leather) but does use other animal products like wool. However, you can rest assured all all the shoes are leather free.
I've also got a guide specifically on vegan designer shoes, which you can find here.
Luxury vegan footwear from Stella McCartney comes in a wide range of styles.

100% vegan company
Based in the US
Bhava is an all-vegan shoe company with a range of vegan boots and one of the most unique ideas I've come across, knee high and over the knee boot uppers. These attach to shorter boots, effectively transforming them into knee-high or over-the-knee boots, so you can two styles from one pair of boots. What a clever idea!
They have vegan heeled boots and flat styles in the range.
Looking for comfortable vegan boots? One thing customers consistently rave about in their reviews is how comfortable their boots are, and how good most of them are for walking (obviously depending on the style – you probably wouldn't want to walk five miles in the stilettos above!).

100% vegan company, uses some recycled materials
Based in Portugal
Nae is a vegan Portuguese shoe brand, with an online store and a bricks-and-mortar store based (like me!) in Barcelona.
All their shoes are made in Portugal, and they treat workers respectfully. They use materials that don't damage the environment like cork, pineapple leather and recycled plastic bottles and airbags.
They have a wide range of vegan leather shoes, from sneakers to sandals to classic vegan black boots.
Their cute vegan boots range from heels to flats, vegan leather ankle boots to knee-high boots, in a range of styles. See their full vegan boot range here.

Has vegan options
Based in the UK
If you're looking for vegan leather Doc Martens, you'll be pleased to know that the classic boot brand makes vegan versions!
They have vegan Chelsea boots, the leather-free Felix rub 8 eye ankle boot and vegan leather Dr Martens in the classic style.
Find the full range of non leather Dr Martens here.

Use code "VEERAHXTHEVEGANWORD" for 10% off!
The non leather boots selection from Veerah is small but perfectly formed.
They have one style of ankle boot in five different colours and accessories you can add to customise or change up your look.
The vegan womens ankle boots are made of soft, breathable vegan leather, lined with Tencel and the insole is made of an algae-based foam cushion for comfort.
100% vegan company
Based in the US
BC's shoes are PETA certified vegan. As well as sandals, flats and heels, they make vegan boots too. From vegan black ankle boots to cute vegan leather booties to trendy knee high boots, they've got styles for every taste.

100% vegan company
Based in France
Minuit Sur Terre is an all-vegan shoe company from France, using some recycled materials.
They make gorgeous vegan sandals (I just bought my first pair of their sandals but haven't received them yet so can't review them) and boots.
All their packaging is plastic-free.
They have both vegan heel boots and vegan flat boots and styles range from vegan suede boots to faux leather.
I haven't tried their vegan booties yet, but I have a pair of their sandals I love.

100% vegan company, PETA approved
Based in Canada
Noize is a Canadian vegan company that makes outwear, including super warm winter coats, plus accessories (hats, gloves, scarves), bags and women's boots.
Their vegan friendly boots are practical and warm.
They have a variety of vegan puffer boots, from vegan mid calf boots to ankle booties.

100% vegan company
Based in the US
Novacas (which means 'No Cows') is the house brand of Moo Shoes, a vegan shoe store in New York.
They make vegan leather gloves, bags and various shoes, including their range of vegan leather boots for women. See the full range here.

100% vegan company
Based in the UK
Vegetarian Shoes is one of the oldest vegan shoe companies in existence, having been running since 1990!
They have a huge range of boots for vegans, including classic black vegan leather boots, vegan Ugg-style boots, Chelsea boots and more styles of leather free boots.
Find the full women's boot range here and the men's boots here.
Vegan Chelsea boots
Looking for vegan leather Chelsea boots? Click here to see my full guide to vegan Chelsea boots.
The best vegan leather boots come in a variety of different plant-based leathers these days, from Piñatex (made from leftover pineapple waste) to apple leather.

Looking for non leather Chelsea boots? Matt & Nat's Joliete Chelsea boots are their take on the classic style.

Doc Martens have a vegan version of Chelsea boots, the Vegan 2976 Chelsea boots, which you can find here.

Wills Vegan Shoes have a big variety of Chelsea boots, from classic ones to waterproof and insulated boots.

Vegetarian Shoes also has a wide range of Chelsea boots, which you can find here.
Vegan cowboy boots

Kat Mendenhall specializes in vegan cowboy boots and vegan leather goods made in Texas! If you're looking for authentic Texas style cowboy boots, made vegan, then these are the shoes for you.
Find more vegan cowboy boots in my guide here.

This French vegan shoe brand makes a few different styles (and colors) of non leather cowboy boots, which you can find here.

Vegan ankle boots
Want a classic or trendy pair of ankle boots? I've got a full guide to vegan ankle boots here, or read on for top picks.

Nae makes beautiful vegan shoes, and their ankle boots are no exception. Find their vegan ankle boot range here.

Matt & Natt have a wide range of vegan boots, including ankle boots, which you'll find here.
Vegan knee-high boots
If you're looking for vegan leather knee high boots, you can find my full guide to vegan knee high boots here.
Or read on for my top picks. These brands have some beautiful vegan boot options.

Petit Vour started out selling vegan makeup subscription boxes but now their online vegan shop sells shoes, too! Find their boot selection here.

Will's makes a variety of different boots, including knee-high heeled boots, which come in brown and black.
Vegan winter boots
Looking for vegan leather winter boots to keep your feet warm and dry? I have a full guide to vegan winter boots, which you can find here, or read on for a few picks.

Native Shoes' boots are perfect for winter. The Hydroknit is waterproof, the material is stain resistant and the sole has extra traction.

Vegetarian Shoes has a selection of vegan winter boots, including Ugg-style boots to keep you cozy, Chelsea style boots or more.

Live somewhere where rain is the main concern in winter? Matt & Nat's rain boots are perfect for you – they're waterproof and built for rainy days.

Will's WVSport snow boots are perfect for outdoor winter adventures – they're water-resistant and designed to keep you warm up to -22° C / -7.6 F.

These non leather winter boots are made of grape leather, which is waterproof, and designed so you can keep your feet warm and dry in the snow.
Vegan hiking boots

Will's WVSport non leather hiking boots are waterproof, so you're ready to hit the trail, no matter what the weather!

Vegetarian Shoes' selection of boots includes not just hiking boots, but also non leather leather work boots and non leather safety boots, all of which you can find here.

Well-known hiking brand Merrell makes vegan hiking boots! You can find their vegan leather hiking boots here.
Best vegan leather boot brands for men
You can find my full guide to vegan mens boots here.

Will's started out making solely vegan mens shoes (and have since expanded to make clothes and bags too).
They have a wide selection of men's vegan leather boots in classic styles, such as mens vegan Chelsea boots, hiking boots, dock boots and more. Find my full guide to vegan mens boots here.
Looking for waterproof vegan boots? Their black vegan Chelsea boots also come in a waterproof and insulated version perfect for rainy winter days.
Some of their boots are Goodyear welted, making them some of the best quality vegan boots (Goodyear welting is durable and can be re-soled).

Good Guys Don't Wear Leather have a great selection of mens vegan leather boots, including these black vegan leather combat boots, made of eco-friendly apple leather, plus desert boots, cowboy boots and more. They also have lots of other shoes styles, from clogs to trainers. See my full guide to vegan combat boots here.

Humans are Vain have two classic styles of mens boots, a Chelsea boot and these vegan leather lace up boots. The brown vegan leather boots are a classic ankle boot style, made eco friendly and vegan.

Noah makes two styles of mens non leather snow boots that are water-repellent and warm.
More vegan and cruelty free boots brands
Ahimsa (100% vegan, made in vegan factory)
FAQ
How are vegan boots made?
Vegan boots are made using all vegan materials – that means they don't contain any animal products, like leather, fur or wool. Instead, they use animal-free alternatives such as canvas or vegan leather.
How is vegan leather made?
There are many different kinds of vegan leather. Polyurethane/PU leather, for example, is one of the most common materials and is made of thermoplastic.
In recent years, more sustainable options have been invented, including pineapple leather and apple leather. These are made from discarded waste from the food industry.
For pineapple leather, pineapple leaves (which would otherwise have been thrown away) are collected and processed into fibres, which are then made into mesh and finished. You can read more about the process here.
How can I find inexpensive vegan boots?
To find boots at the best price, keep an eye on the brands listed here for sale times – but be quick.
Often you can also find leather-free boots at discount stores, but it can be hard to tell if they use vegan glue.
Or better yet, shop secondhand – on sites like eBay, you can search for vegan shoes.
Pin this for later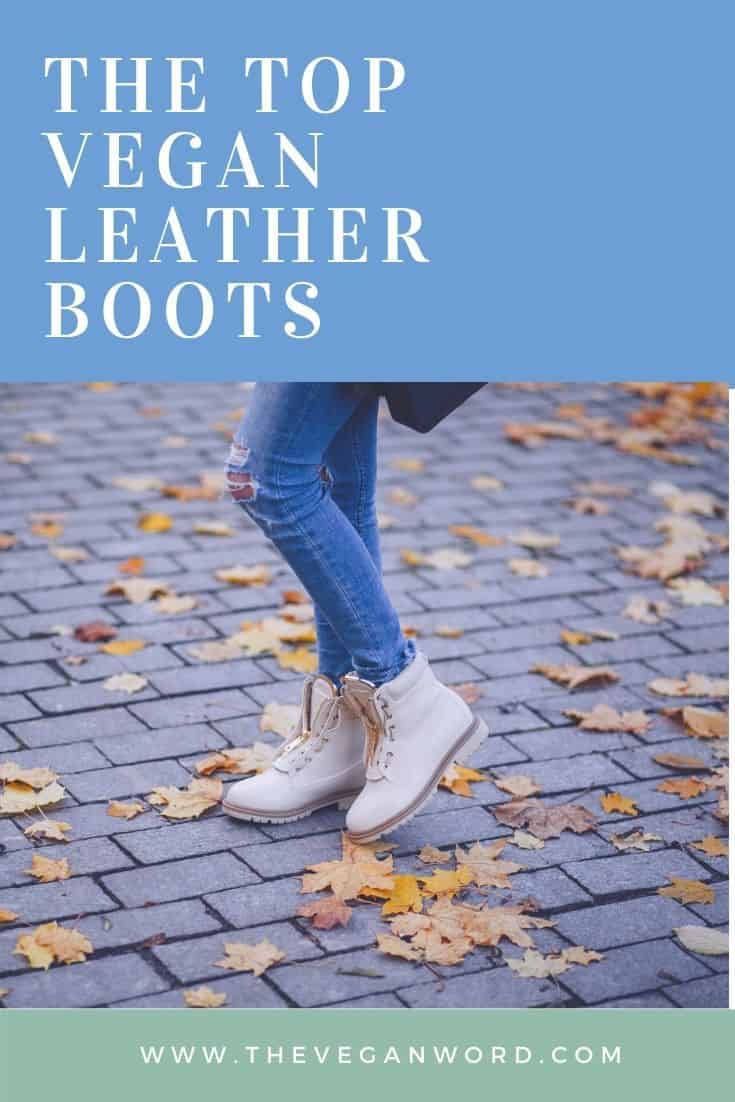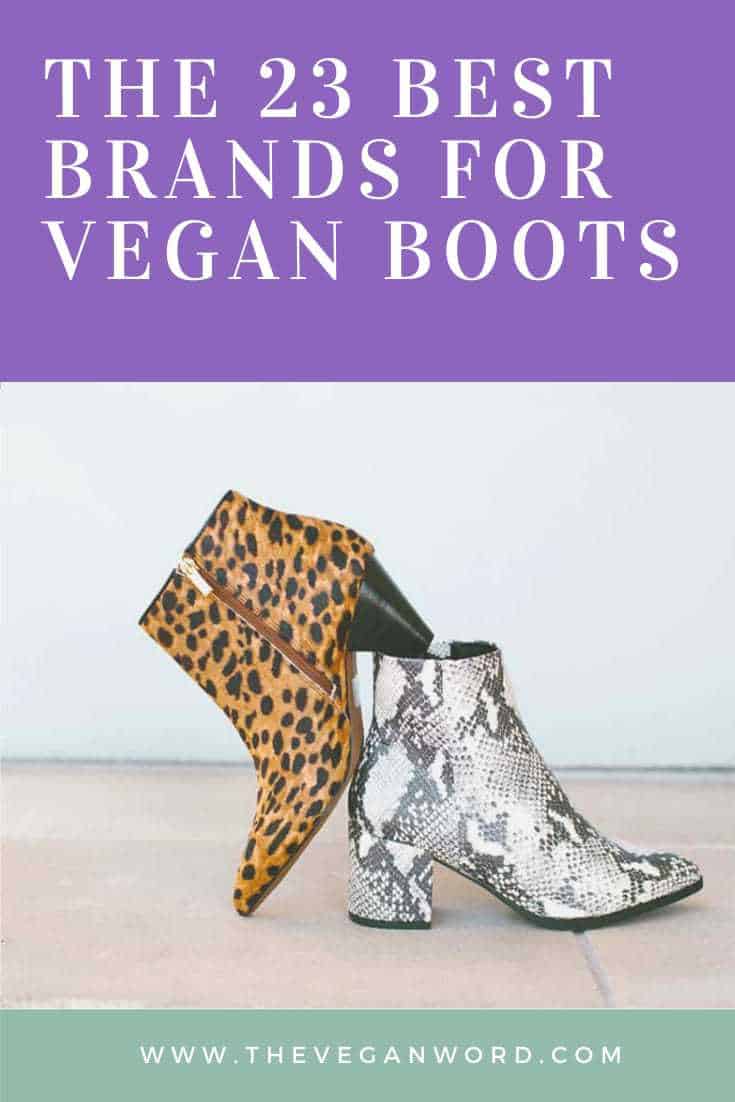 Want to see more vegan shoes? See my ultimate guide to all the best vegan shoe brands.
Looking for vegan sneakers? Check out my guides to the best vegan snakers and vegan Skechers.
Getting ready for summer? Find my guide to vegan sandals.
Need dress shoes? Find my guides to vegan dress shoes and vegan heels.
Or maybe you just need to be comfy around the house, in which case find my guide to vegan slippers.
For more vegan online shopping, including my guides vegan deodorant guide and vegan shampoo, and my list of vegan online shops.
Find all my vegan beauty & fashion posts.
What's your favourite vegan boot brand?