It's never been easier to be vegan, thanks to a proliferation of vegan options in supermarkets and restaurants around the world — but also thanks to the joy of buying at an online vegan store.
If you live far from the city or you want a specialty item that isn't available in your local store, thanks to the magic of the internet, there are vegan online shops for just about every need.
Have you ever wondered:
What is the best online marketplace to buy vegan food?
What are the cheapest vegan online shops in the UK?
Where can one buy vegan shoes?
Where to buy vegan food online in the US or UK?
Whether you're looking for a vegan supermarket that will deliver vegan cheese to your door, or a vegan online shop that sells clothing and shoes, there are a wealth of choices to find vegan products online.
To help you in your vegan online shopping journey, I've put together this directory of vegan online stores, from groceries to clothing and shoes, makeup and more. Get your vegan supplies delivered directly to your door.
Vegan online store: grocery store listings
It's easy to buy vegan food online these days, saving yourself a trek to the nearest Whole Foods (or saving you if you don't have a Whole Foods nearby). Unless you live in a densely populated city you may not have access to vegan retailers (and even then you may not).
Below you'll find a list of vegan shops online. Almost every vegan store now ships internationally, but I have noted which online vegan stores are based in the UK or Europe (if unmarked, it's in the US). As well as food, some sell cleaning products, makeup and shoes, although I have separate listings for vegan shoe shops and clothing stores below.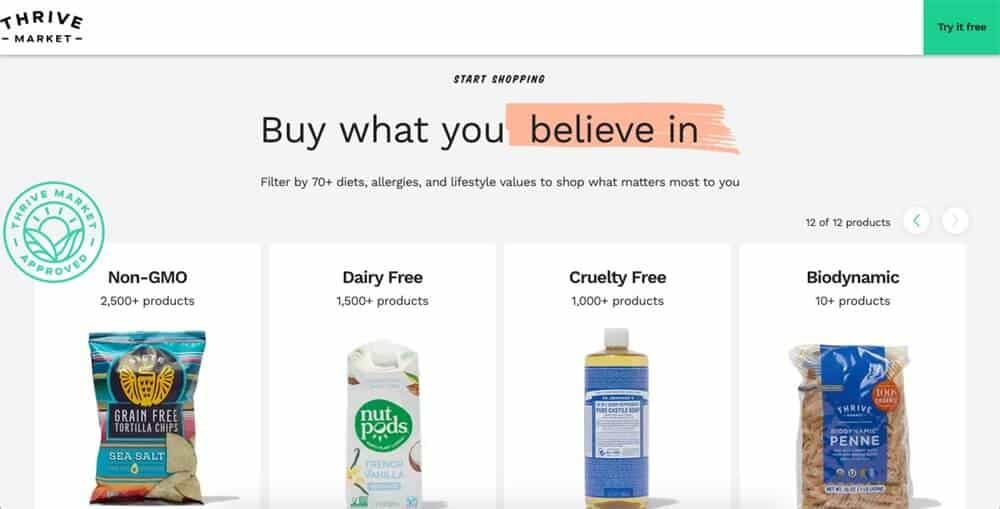 Want to buy vegan groceries online?
Thrive Market is a members-only online store that claims Thrive members get 25-50% off retail prices. Looking for the best online shop for vegan food? It's not an entirely vegan food online shop, but many of the products are vegan, as it focuses on organic and healthy food products.
Membership is $59.95 a year (or you can choose a monthly membership but you save a lot by buying annually). They offer a free 30-day trial (it will charge your card if you don't cancel before the end of the trial). To decide if it's worth the membership fee for you, you need to work out how much you and your family buy of the products they sell (think pantry items like pasta, coconut oil and non-dairy milk). Of course, you can factor in how much it costs you to go to the grocery store (in gas or in public transport fares) and the time.
A lot of people who use Thrive Market say while it doesn't necessarily save them a ton of money upfront, it does save them a lot of time and as the saying goes, time is money. After all, being short on time is often a motivator for buying vegan groceries online. So if you want to save time, check out Thrive Market.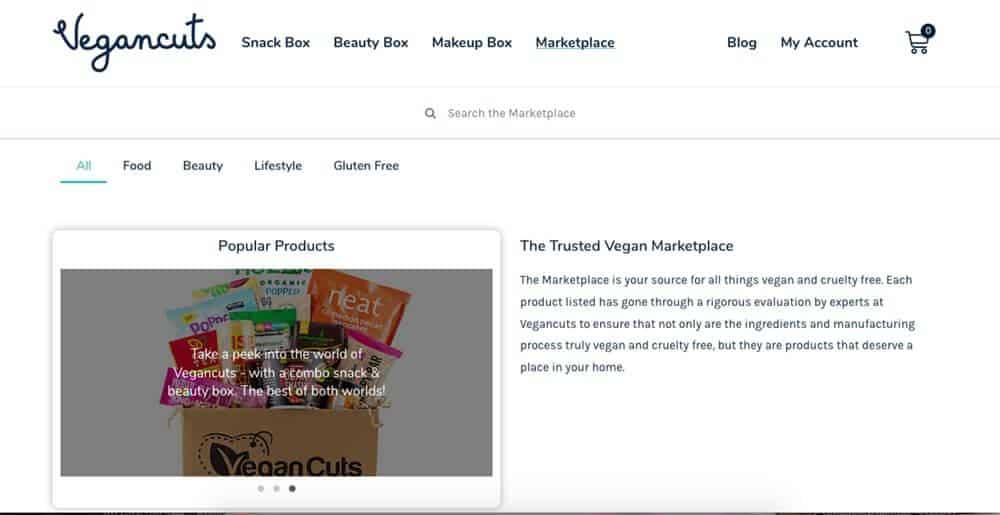 Vegancuts started out as a vegan subscription box company, but has since expanded to sell much more through its vegan shop online, the marketplace. They are one of the most famous and best vegan online stores. Since they specialise in subscriptions boxes, you can be sure they are the perfect place to buy vegan snacks online.
For the new vegan, their subscription boxes are a great way to test out different vegan brands and seeing which ones you like.
Through their online vegan store, they sell vegan grocery items, beauty products and lifestyle goods. All the vegan products in the online vegan food store have gone through rigorous testing by the Vegancuts experts to ensure that the ingredients and manufacturing process are vegan and cruelty-free, but also that the product is worthy of a place in your life.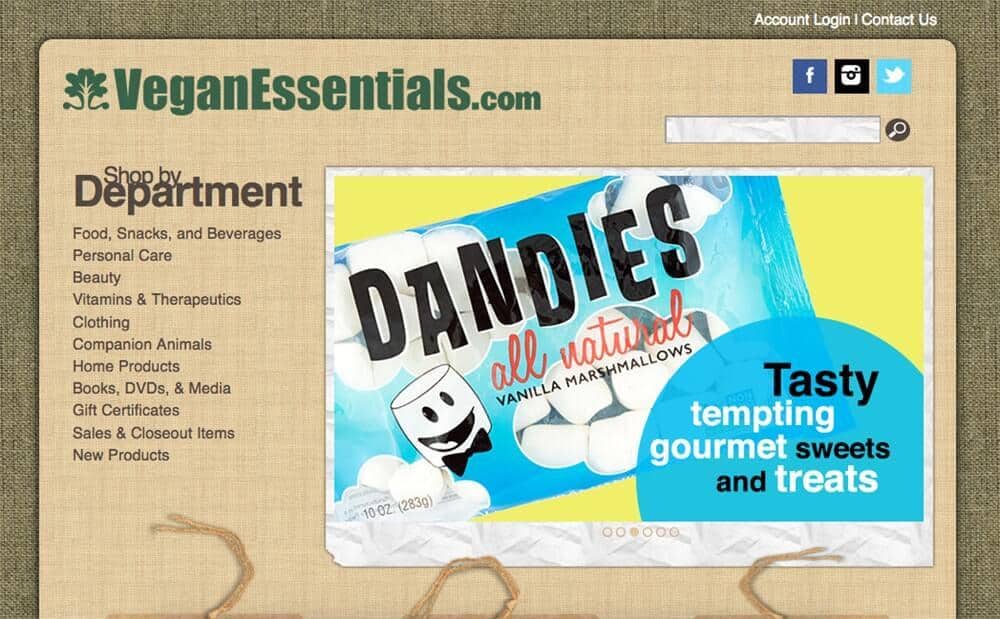 Looking to buy vegan online? Vegan Essentials is a longstanding online vegan supermarket. Based in Waukesha, Wisconsin, they've been running their online vegan grocery store since 1997, and is the United States' longest-operating cruelty-free retailer. As well as their plant based grocery store, which stocks a huge range of products including vegan seafood, baking mixes and cookies, their vegan webshop also sells belts, wallets, body and skincare products, and books.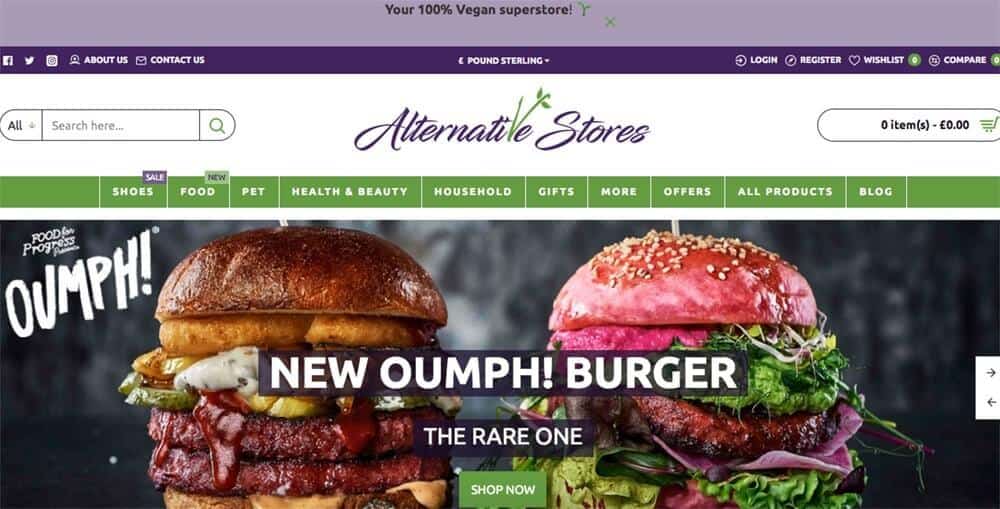 Best for: vegan shop online UK
Alternative Stores is a UK destination for vegan shopping online. It's 100% vegan and as well as being a vegan grocery store online, they sell shoes, household goods, pet products, health & beauty and more. Here, you can order everything from vegan truffles to salted caramel marshmallow puffs, vegan, organic biscuits, vegan burgers, hand soap, boots and much more.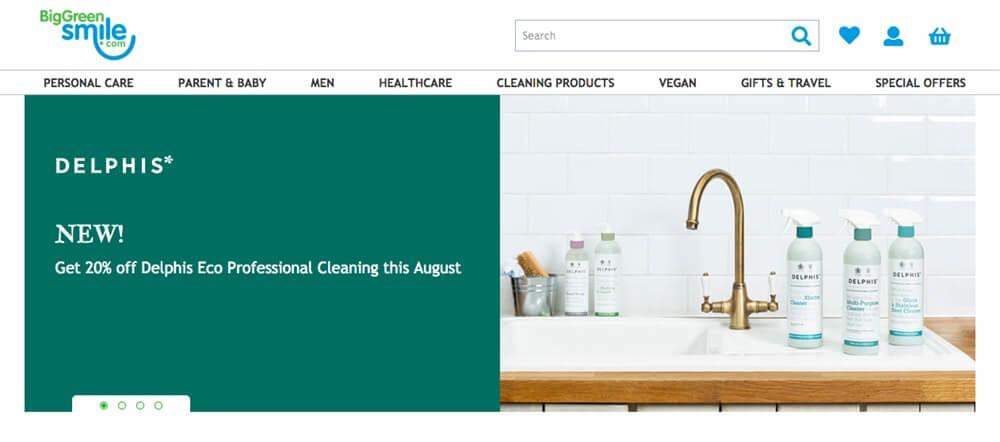 Big Green Smile is a little different to the others on this list -- it's not a vegan online grocery store. Instead, it specialises in cleaning, beauty and baby products. It's not all vegan but it has an entire vegan section on their site, accessed through the menu, which is easy to navigate. It's an excellent place to buy cleaning and beauty products, especially some harder-to-find and zero waste cleaning solutions (like bicarbonate of soda in cardboard packaging). They have online stores in the UK, France, Germany and the Netherlands.
For my full guide to zero waste products, click here.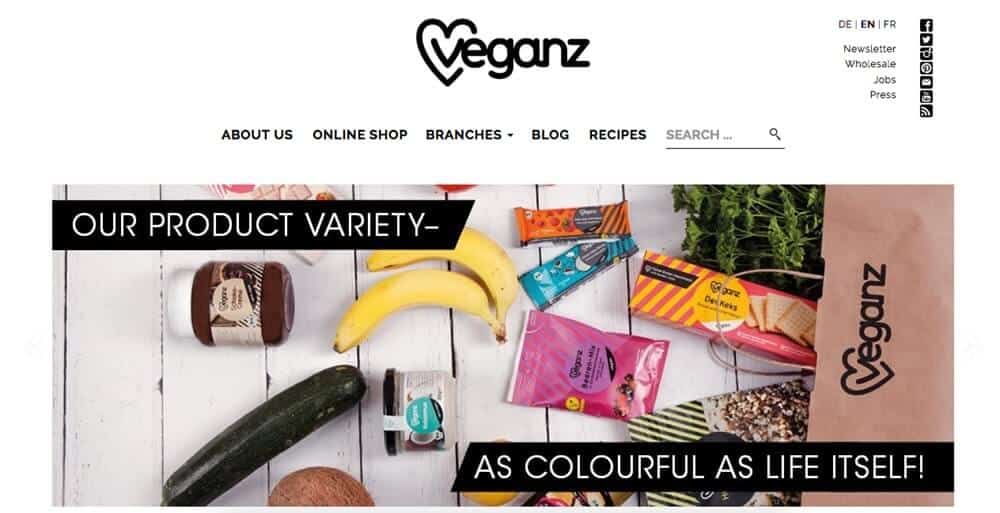 Best for: vegan shop online Europe
Veganz is a German vegan supermarket chain, with three bricks-and-mortar stores in Berlin. They also have a range of own-brand products, and you can order vegan food online through their online shop. Their own brand chocolates and biscuits are especially tasty.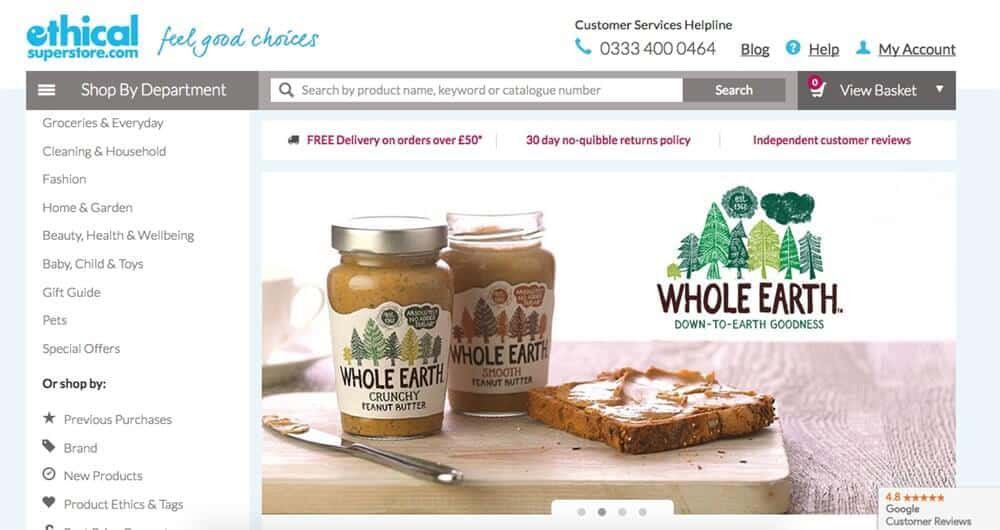 Ethical Superstore isn't an entirely vegan online food store, but many of their products are vegan and they're all clearly labelled with a VE sticker. They have sections selling grocery items, household & cleaning products, fashion, home & garden, beauty & health, babies & children and more.
Vegan clothing stores online
If you're frustrated trying to find vegan bags in shops near you, or want a t-shirt with a vegan message, buying vegan clothing online makes it much easier!
These vegan shopping websites make it easy to find vegan t-shirts and other clothes.
Etsy is one of my favorite places to shop, in general, and it's a great place to buy vegan clothes online. A marketplace selling items from lots of makers, its focus is on crafts, handmage and vintage goods. If you search for vegan clothes (here!) you'll find a ton of cute vegan t-shirts and more.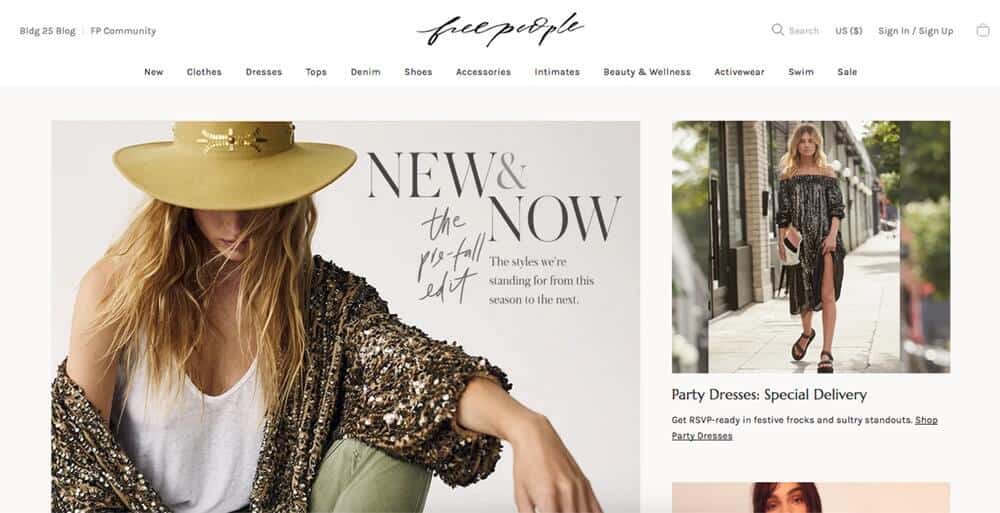 Free People is a clothing shop that has a whole vegan section (here!). In Free People's vegan shop, you'll find vegan bags, shoes, makeup, faux leather jackets and more. They are based in the US but also have a European online store.
Vegan shoes & bags
It can be tricky finding vegan shoes in your local mall, especially if they're not well-labeled. I remember standing in the shoe section many times growing up, with my dad, trying to work out whether a shoe was made out of leather or not. Salespeople sometimes know but often don't. If you're looking for sneakers, find my guide to vegan sneakers here and for vegan boots, find my guide here.
Thankfully, it's easy to buy vegan shoes online these days! There are a number of vegan stores online dedicated to vegan shoes -- find a list below.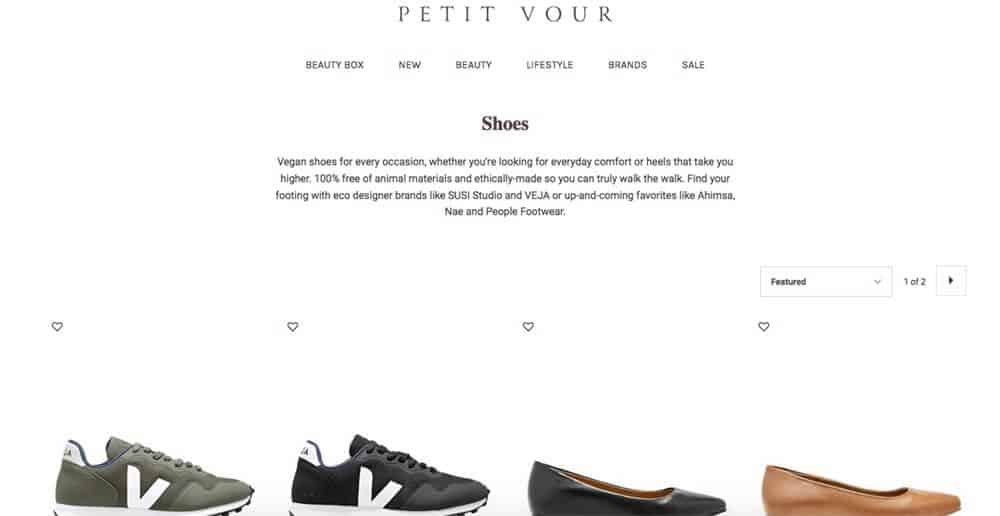 Petit Vour, which originally started out as a vegan beauty subscription box company, now sells vegan shoes on their site! Whether you're trying to buy leather-free sneakers or vegan boots online, Petit Vour has a range of different styles and brands, all vegan.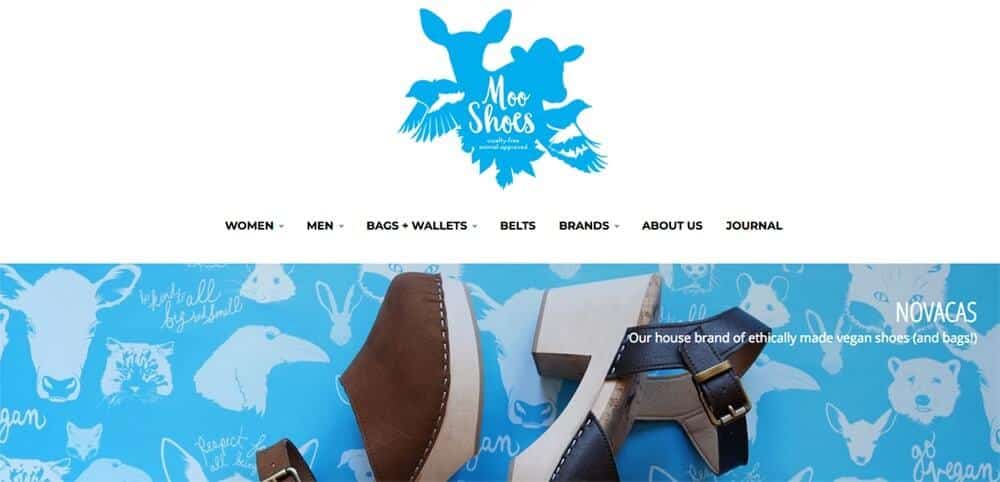 Moo Shoes has a bricks-and-mortar vegan shoe store in New York City and one in LA, and they also sell online. They have a wide range of women's and men's shoes, plus bags, wallets and belts.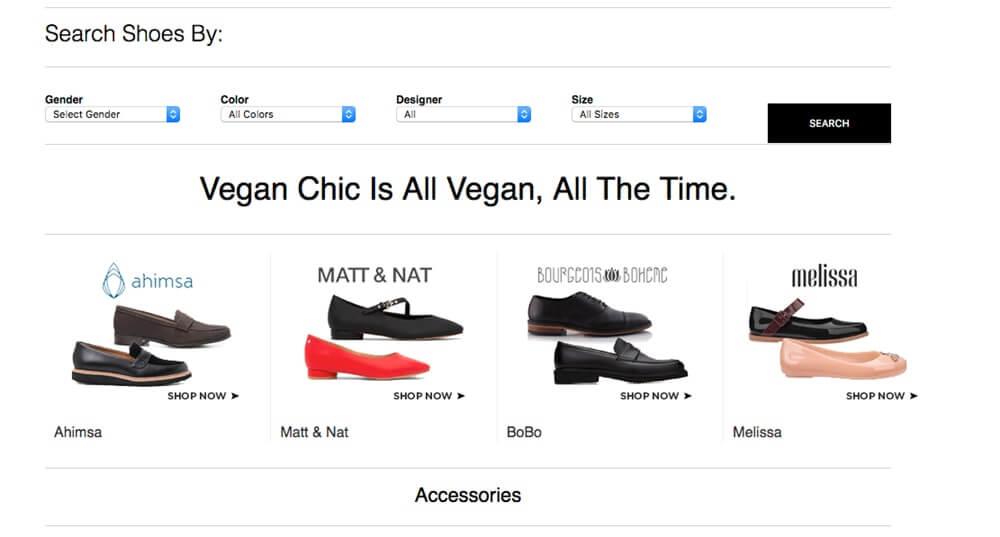 Vegan Chic is an online vegan shoe store. They also offer a free membership program -- when you join, you get 10% off your first purchase, and you'll also receive a $15 off coupon on your birthday, plus seasonal offers. As well as men's and women's shoes, they also sell vegan kids shoes!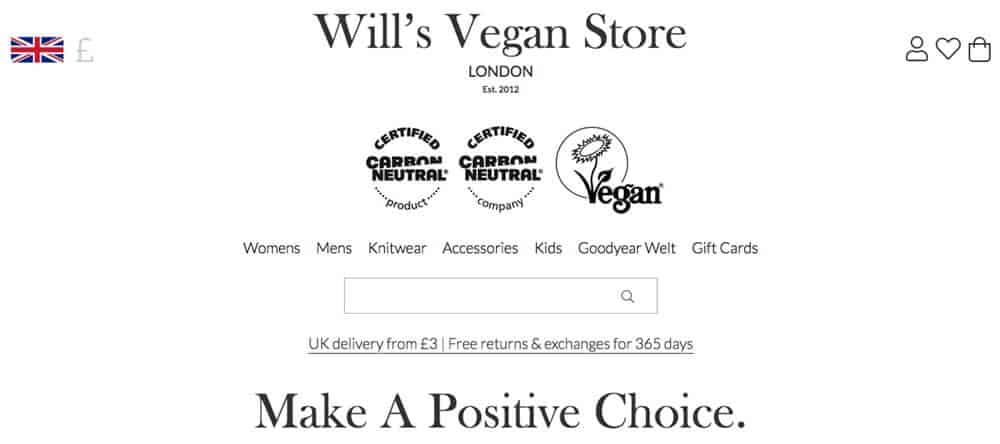 Based in London, Will's Vegan Store (formerly Wills vegan shoes) were one of the first vegan shoe companies making good-looking vegan men's shoes. They've now expanded in to women's shoes, too, AND they're a carbon neutral company!
They have stores for the US, UK, Germany and rest of EU - you can change country/currency in the upper left corner. They have free carbon neutral shipping in the US, while it costs £3 in the UK (no minimum order) and 5 EUR in Germany.
Other vegan shops
Want to buy vegan cake, chocolate or cheese? Online vegan shopping can satisfy every need. Here are some more vegan shops for you to peruse!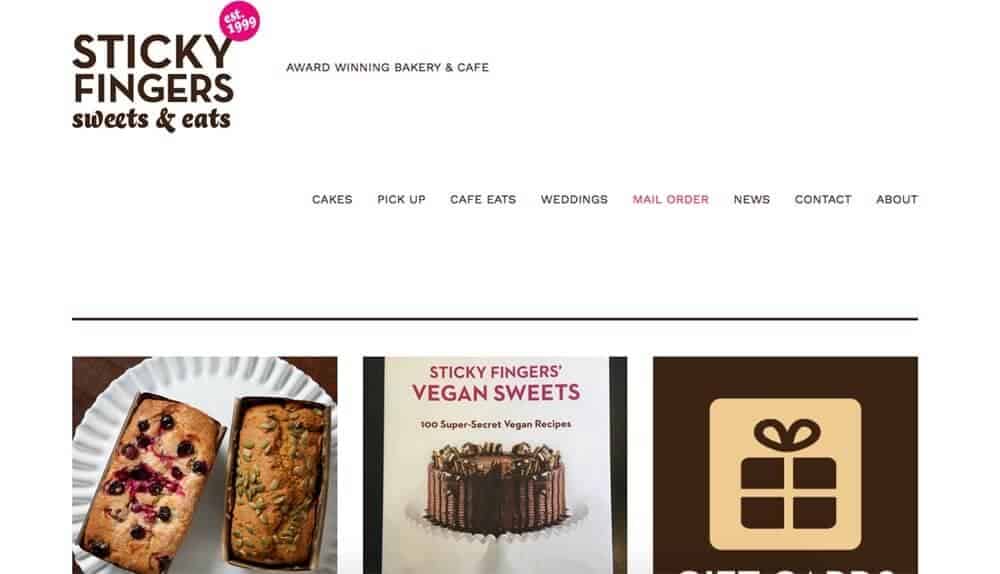 Sticky Fingers is a vegan cake store/bakery based in DC that also sells cakes through their vegan food online store and ships them to your door. Through their mail order service, you can order cookies, brownies, sweet loaves or dog treats.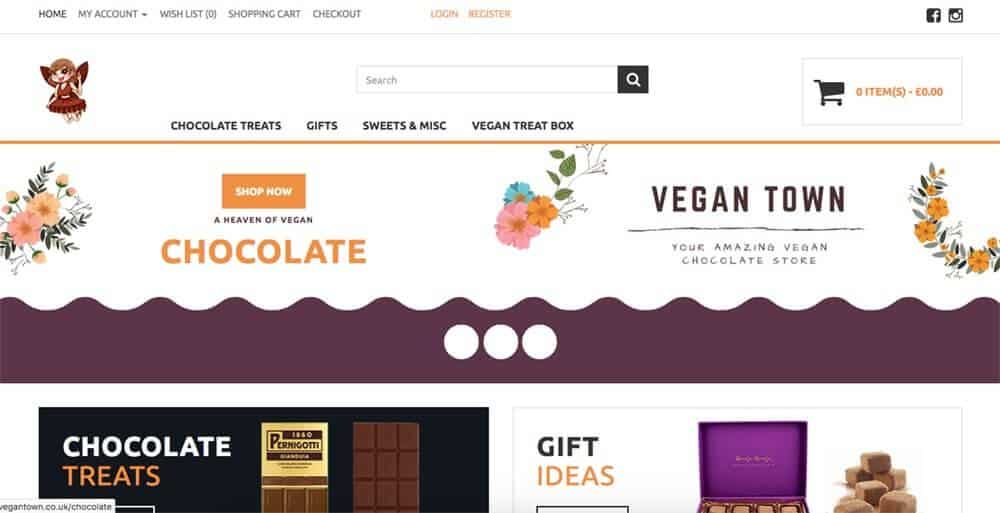 You can order vegan chocolate online through vegan candy store Vegan Town, based in the UK. With a huge range of chocolate and other treats, including a vegan treat box, it will satisfy any sweet tooth. They are the best online vegan store for chocolate and other sweets.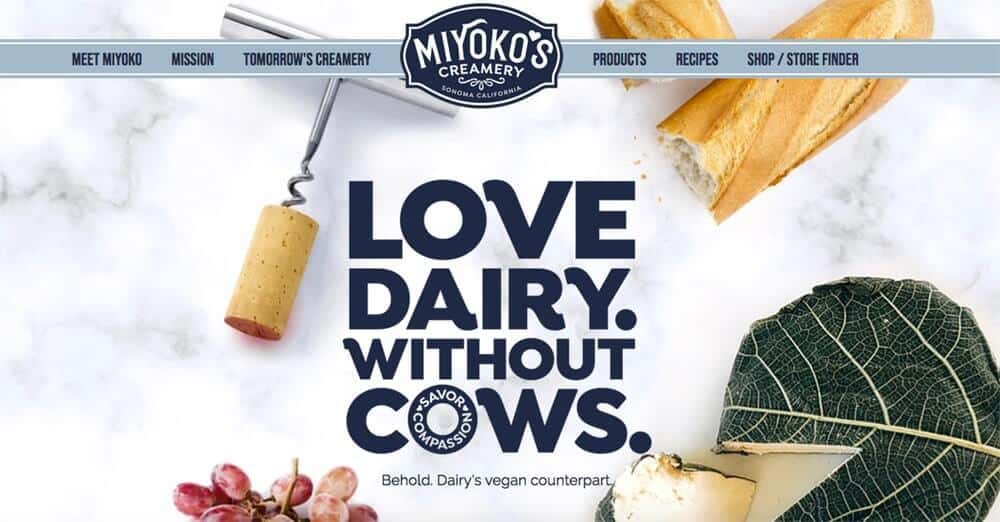 If your local stores don't carry vegan cheeses, you can order online through Miyoko's! Miyoko's creamery make a delicious range of vegan cheeses and butter. Their vegan cheeses come in a wide range of flavors and are perfect for a wine and cheese night or party platter. It's the best vegan online shop for cheese lovers.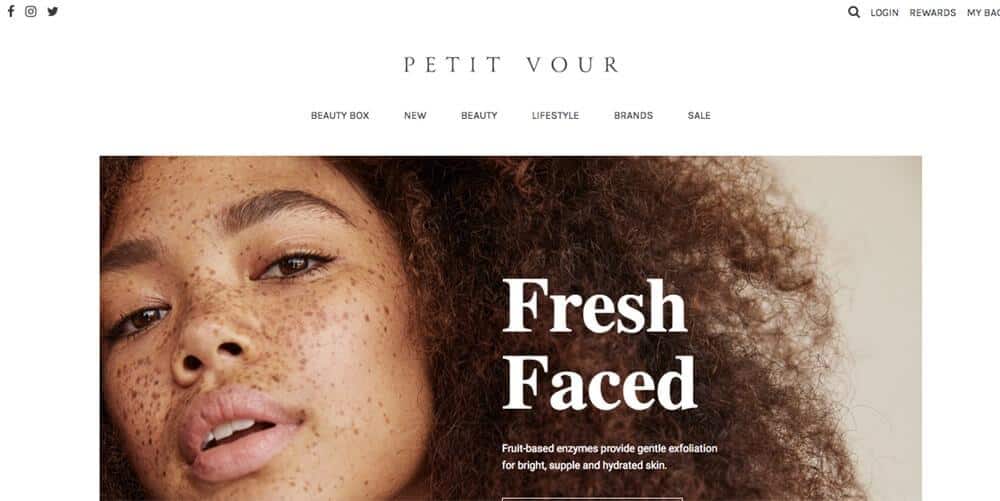 Petit Vour sell vegan beauty and lifestyle boxes but they also have a wide range of makeup, hair and bath & body products for sale on their site. It's the perfect place to shop vegan online.
If you're sick of combing through ingredients lists at the drugstore, ordering cruelty-free makeup through Petit Vour will make your life much easier! It's the best vegan online store for makeup and beauty products.
Pin this for later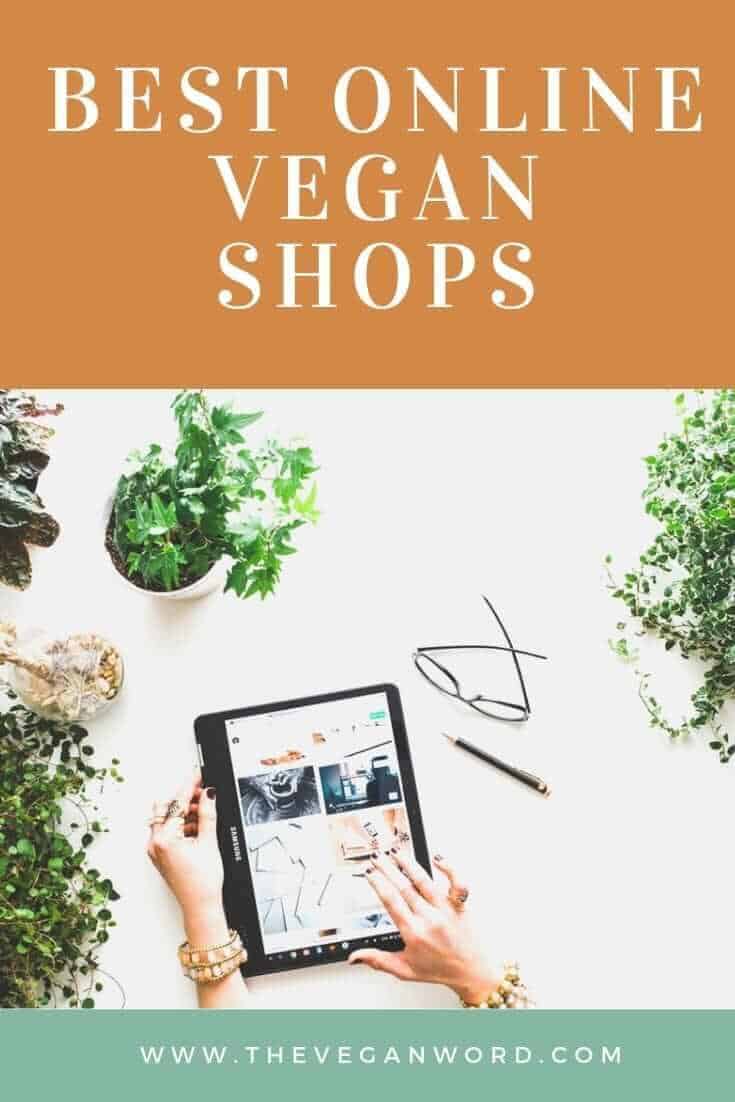 Looking for vegan gift ideas? I've got a vegan gift guide here and a list of vegan gift baskets here.
Searching for more ways to veganize your life? Find vegan furniture with my guide to vegan leather chairs here.
Find more vegan product reviews here.