Vegan gift baskets make the perfect present for any occasion; whether it's the holidays, a hostess gift or a birthday present, a vegan hamper will please all. Best of all, these vegan holiday gift baskets are all available online, so you can send vegan gift baskets to your loved ones without leaving your computer.
Years ago, I worked for a company that gave everyone gift baskets at the end of the year; however, they sent everyone the same basket (back then, you couldn't readily get vegan gift baskets) and told me to give away the non-vegan items. That meant giving away over half my basket, and sadly, I was left with just a few jars of jam and a box of tea.
Thankfully, there are plenty of vegan baskets available these days — an all-vegan basket would have put a huge smile on my face, and you can do the same for the recipient of yours!
Vegan presents come in a variety of different baskets for all interests, from food to beauty.
If you're looking for vegan gift ideas, these are some of the best vegan gift baskets delivery options, whether you're looking for a vegan birthday basket or holiday gift baskets for vegans:
The baskets below ship within the US; if you're looking for the best vegan hampers in the UK, check out my guide here.
What are vegan gift baskets?
Vegan gift baskets make perfect vegan Christmas gifts, birthday gifts or presents for any occasion.
A vegan gift basket delivery can contain food, beauty products, baby gifts or any variety of gifts — but all vegan. That means they don't contain:
Animal products or by-products, such as meat and dairy but also by-products like gelatin or whey
Beauty products tested on animals
Clothing or products made from fur, leather, wool or silk
Any other products from animals
You can design and make your own vegan holiday baskets, or now you can order a vegan gift box online, and you can even have it shipped to the door of your loved one — perfect if they live far away!
Looking for vegan gift ideas for her, him or them? All the gift baskets make good gifts for vegans of all ages and interests. Find vegan chocolate boxes perfect for vegan Valentines gifts, snack boxes for vegan birthday presents, vegan wine hampers that are the best presents for vegans for all (legal drinking) ages and a ton more vegan Christmas ideas.
Better yet, you can get vegan basket delivery straight to the recipient's door, perfect if you don't live nearby.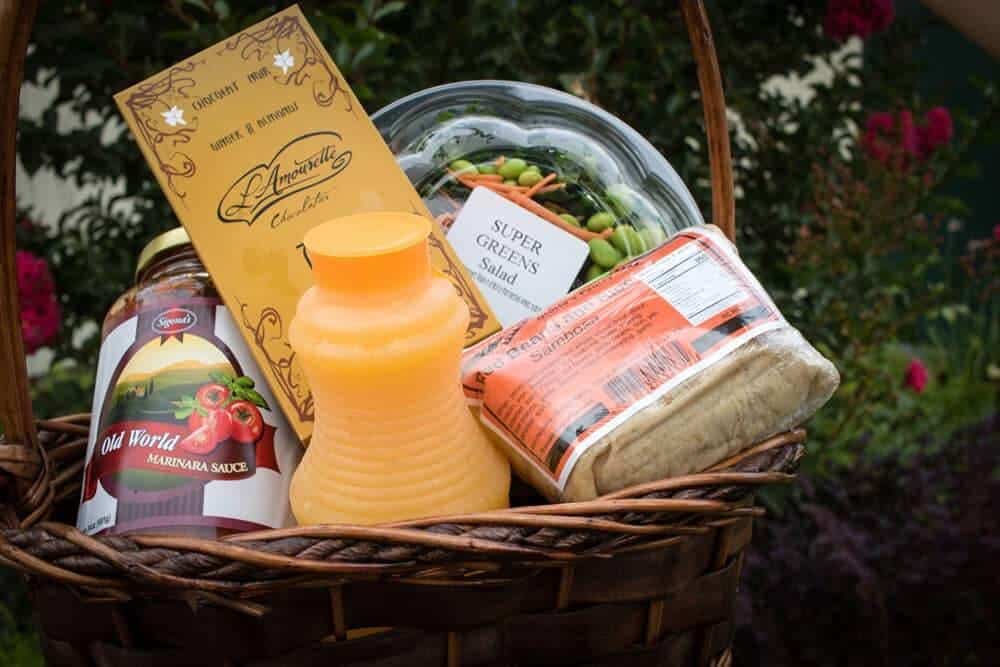 Why buy a vegan gift basket?
If you're searching for vegan Christmas presents but can't settle on one, a gift box is a good option because they usually have a variety of different objects so the gift recipient is sure to find something they like, and you can buy vegan gift baskets delivered straight to their door.
They make perfect vegan gifts for him or vegan gifts for her, and a vegan Christmas hamper is an option the whole family can enjoy together.
Whether you're looking for vegan gifts UK or US, read on to find the best vegan gift box.
Best vegan hamper of food
Need vegan hamper ideas? From the vegan cheese basket to the vegan wine gift set, these baskets make great vegan and vegetarian Christmas hampers, gifts for vegan cooks or birthday gifts for a vegan.
vegan cuts

Best for: vegan food basket gifts
If you're looking for vegan food hampers, Vegancuts make great vegan food gifts to send. Their vegan snack boxes are perfect for anyone who likes snacking. I was really pleased with mine and it was full of vegan treats I'd never tried before (and I've tried lots of vegan products)!
What to get a vegan for Christmas or the holidays? A vegan food gift box is always a good answer!
The only downside to these vegan baskets is that they're a little on the small side (with the items being snack-sized), so best for one person. If you're buying a gift for a family or couple, you're better off getting two, or going for a bigger basket.
They're also shipped in a cardboard box, so if you're looking for the 'wow factor' of a beautifully decorated box or straw basket, you might want to go for a different vegan gift box delivery (or repackage it into your own container).
Still, they're one of the best vegan gift boxes for anyone who wants to try lots of new vegan snacks and other products!
You can either order the vegan snack box as a subscription or as a single box, which are great vegan gift baskets for Christmas, or as a vegan birthday delivery surprise.
Each vegan treat box contains 13 snacks, ranging from cookies and sweet treats to drinks and salty snacks. They're also gluten-free. You're sure to discover new-to-you vegan goodies!
Looking for vegan care package ideas? While Vegancuts is a US company, they also ship to Canada and internationally, so you can get these vegan food gifts delivered wherever you're sending them.
Click here for more information.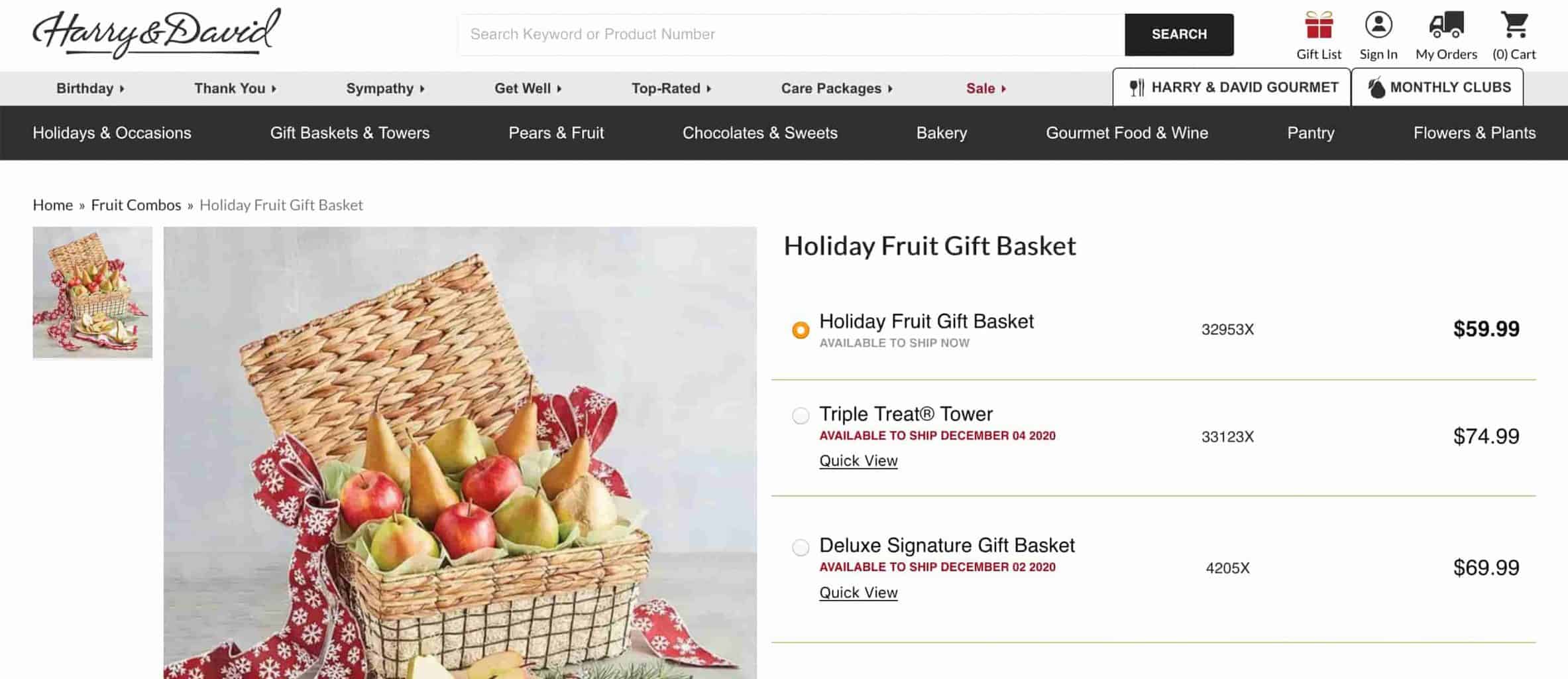 If you want to give healthy vegan food gift baskets, you can't go wrong with a classic Harry & David fruit basket. They make perfect vegan Xmas gifts.
You can always go for a classic fruit box, but last year they launched their first ever vegan charcuterie box! It contains three varieties of artisan vegan salami.
My parents send my grandmother a Harry & David fruit basket every year and she always says the fruit arrives in perfect condition.
Their organic vegan gift baskets come full of fruit, packed in a beautiful wire and hyacinth basket with a lid. If you're looking for healthy vegan care package delivery, these vegan fruit baskets make great vegan gifts to send.
Each vegan food basket comes with a selection of fruits and includes a variety of fruits. Depending which care gift you select, fruits include pears, apples, oranges, bananas, mango, pineapple, avocado and more.
They make lovely vegan care packages, a vegan birthday box or a vegan congratulations gift.
Harry & David also sells vegan sympathy gift baskets and a vegan get well basket. Both these food gifts for vegans are made up of premium-quality fruits.
See the vegan sympathy basket here.
Click here for more information.
If you're buying for someone with a sweet tooth, this vegan treats gift box is a great choice. Each vegan cookie basket comes with a selection of vegan cookies and breads.
All vegan food baskets come with three boxes full of vegan goodies, made with GMO-free ingredients and sweetened with organic sweeteners.
Inside the vegan cookie gift basket, you'll find carrot cake (which many reviewers rave above), zucchini bread, snowball cookies, lemon cookies and chocolate chip pecan cookies. Yum!
Need vegan Christmas gift ideas? Vegan cookies and breads will please everyone.
Plus, this vegan gift hamper is available to buy on Amazon, meaning you can order these vegan dessert gift baskets anywhere in the US!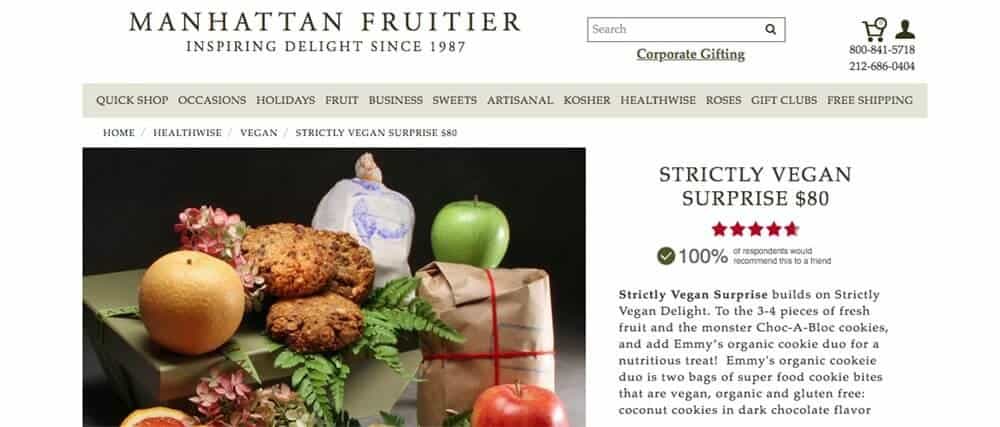 Fruit & cookies in the strictly vegan surprise basket
Of course, balance is best, especially when that means both fruit and cookies, like in this vegan goodie box from Manhattan Fruitier. Not sure what to buy a vegan for Christmas? Food-based gifts are always good presents for vegans and these vegan snack gift baskets contain both fruit and cookies! They're perfect vegan Christmas gift baskets.
Looking for gourmet vegan food gifts? Inside these bestselling vegan food gift baskets, you'll find 3-4 pieces of fresh fruit, vegan choc-a-block cookies and superfood organic and gluten free vegan cookies (chocolate and coconut, mmm).
These plant based gift baskets will be shipped directly to their door, so they make perfect vegan delivery gifts for anyone who lives on the other side of the country.
Click here for more information.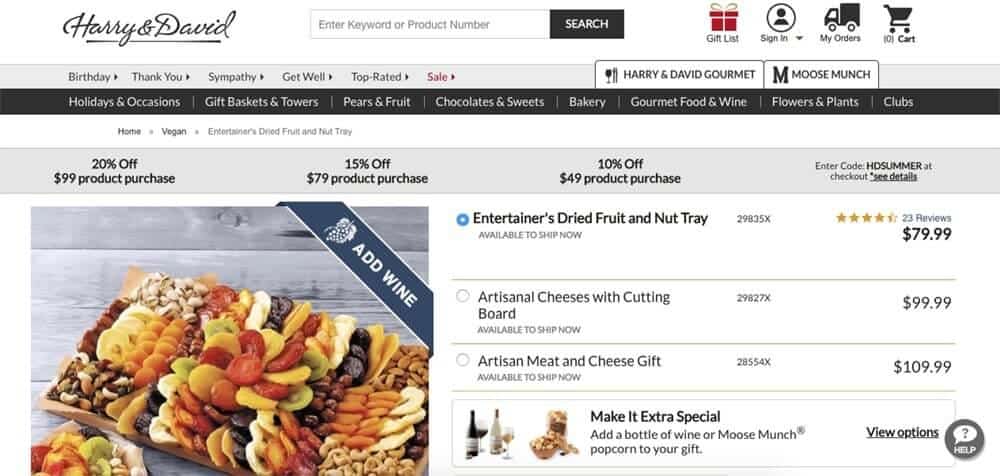 The perfect hostess gift, Harry and David's Entertainer dried fruit and nut tray is the perfect vegan gift pack for entertaining. What to buy vegans for Christmas? This vegan snack basket is ideal for holiday parties!
Each of the gourmet vegan gift baskets comes with a selection of dried fruits and nuts for all tastes: pears, kiwis, mangoes, peaches, plums, apricots, dates, apple rings, prunes, salted pistachios, raw almonds, roasted cashews and a fruit nut medley (cranberries, cashews, pumpkin seeds and golden raisins).
All the gift baskets are served on a wooden tray.
Looking for vegan gift baskets with wine? You have the option of adding wine to create the ultimate hostess gift. Harry & David also sell many fruit baskets if you're looking for a vegan fruit basket.
Click here for more information.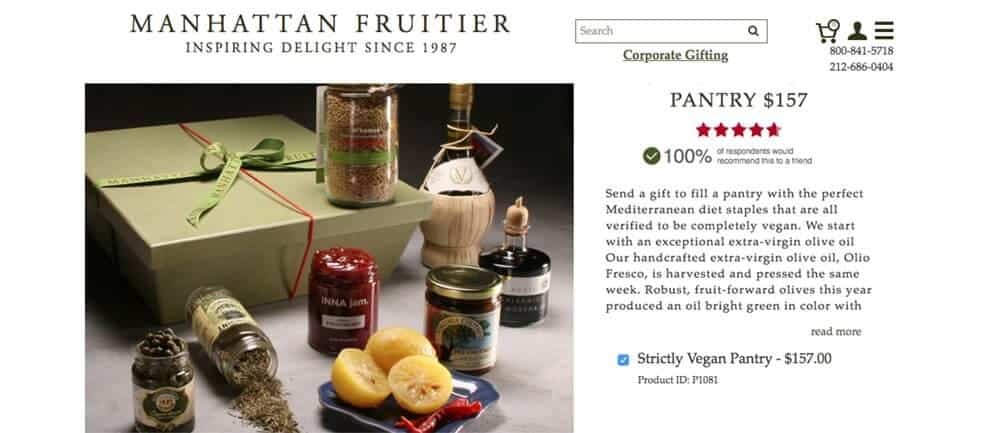 Looking for vegan housewarming gifts? This vegan pantry set from Manhattan Fruitier would make perfect vegan birthday gifts or housewarming presents.
Each vegan snack box gift contains extra virgin olive oil, couscous, capers, herbes de Provence, strawberry jam, preserved lemons, chutney and balsamic vinegar. Perfect birthday present for a vegan who loves to cook!
Click here for more information.
The British Hamper Company's Vegan Deluxe gift basket ships worldwide. This vegan gourmet gift basket features a variety of vegan British treats.
Inside each vegan treat basket, you'll find hand-made chocolate coated almonds, crunchy chilli and lime sticks, sea salt dark chocolate from Edinburgh and more.
If you're gifting to someone who loves trying different vegan snacks from around the world, this is the perfect gift! If you're in the US, the vegan hamper delivery will definitely contain snacks they've never tried before.
Click here for more information.
Best vegan beauty basket
Looking for vegan gift basket ideas full of cruelty-free beauty gifts for a vegan woman or man? Cruelty-free beauty baskets are perfect gifts for vegans; bath sets are classic gifts for a reason!
They make excellent vegan birthday gift baskets or vegan Christmas baskets. Whether you select bath bombs or vegan makeup, here are the best options.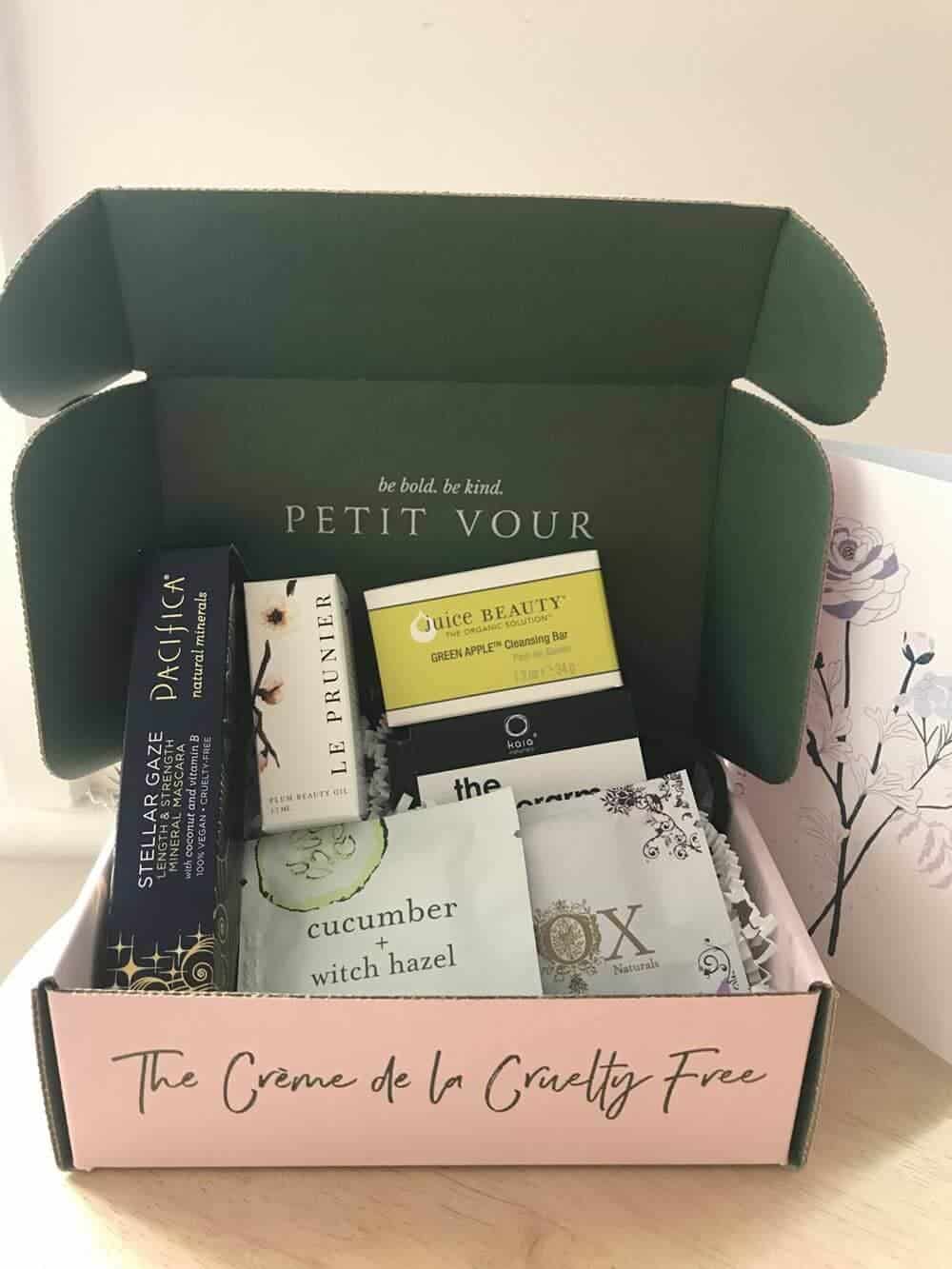 Special Discount: Get 25% OFF your first box with code "theveganword"
Need vegan gift sets for her or him? Petit Vour's award-winning beauty box is perfect, whether you're looking for vegan birthday ideas or the best vegan Christmas gifts.
I absolutely loved my box — and even discovered a new favourite mascara in it!
Each of their vegan gift sets contains 4-6 non-toxic, cruelty-free vegan beauty products worth $45-60 (but you pay only $18). Send vegan gifts delivered straight to the recipient's door.
You can gift a subscription for 3, 6 or 12 months (with different prices for the US, Canada and worldwide).
Click here for more information.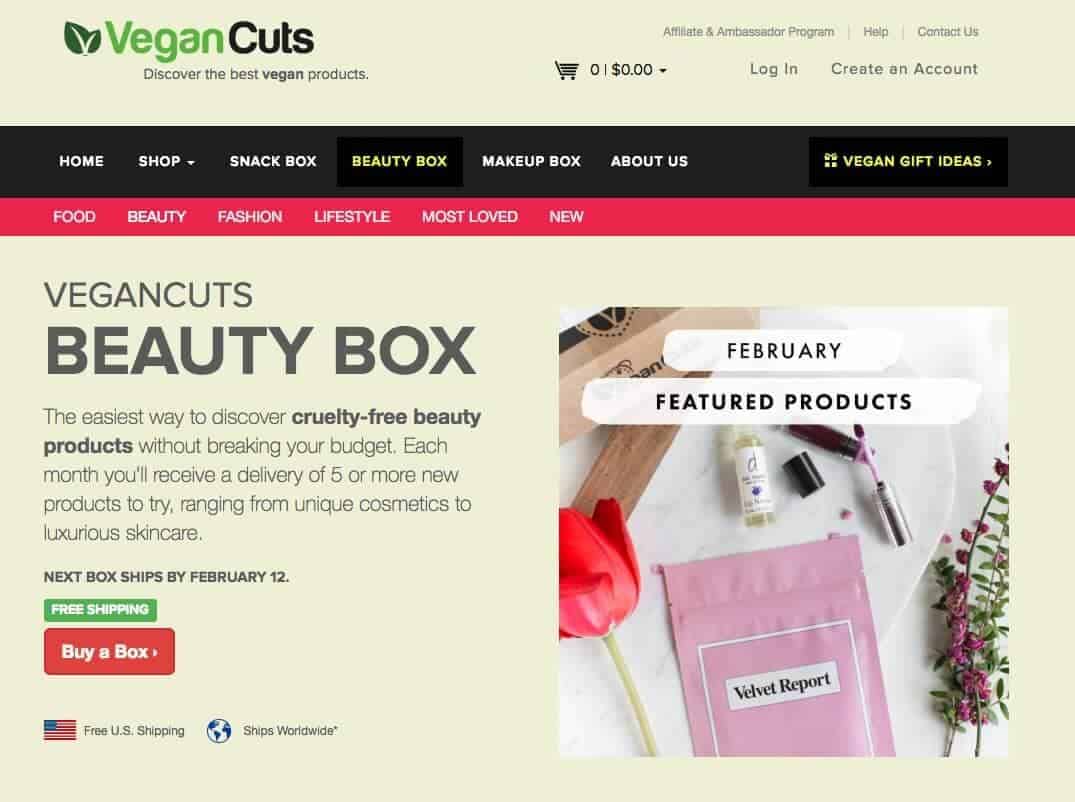 The Vegan Cuts beauty box contains 4+ cruelty-free and parabens-free beauty products each month from luxury skincare to cosmetics. Vegan Cuts is one of the biggest and most popular vegan box subscription services in the US.
Wondering what to buy a vegan for their birthday? If you're looking for vegan beauty gifts, these vegan mail order gifts are perfect and you can gift just one of these vegan gift packages or a subscription of 3, 6 or 12 months.
Plus, if you need vegan gift delivery it's perfect as they'll ship to the door of your recipient.
Click here for more information.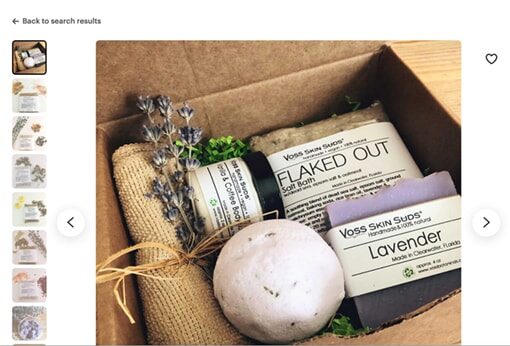 Looking for vegan gift ideas for him or her? This lavender spa gift set from Voss Botanicals would make perfect vegan Christmas gifts for her or him (or for a birthday or any other holiday)!
Each of these vegan spa gift baskets comes with vegan products, all handmade. Inside each of these cruelty free gift baskets you'll find: a bar of lavender soap, a bath bomb, a microfiber cloth, a jar of body butter or a sugar scrub and bath salts.
The vegan baskets, delivered to your door, can be gift wrapped on request.
Click here for more information.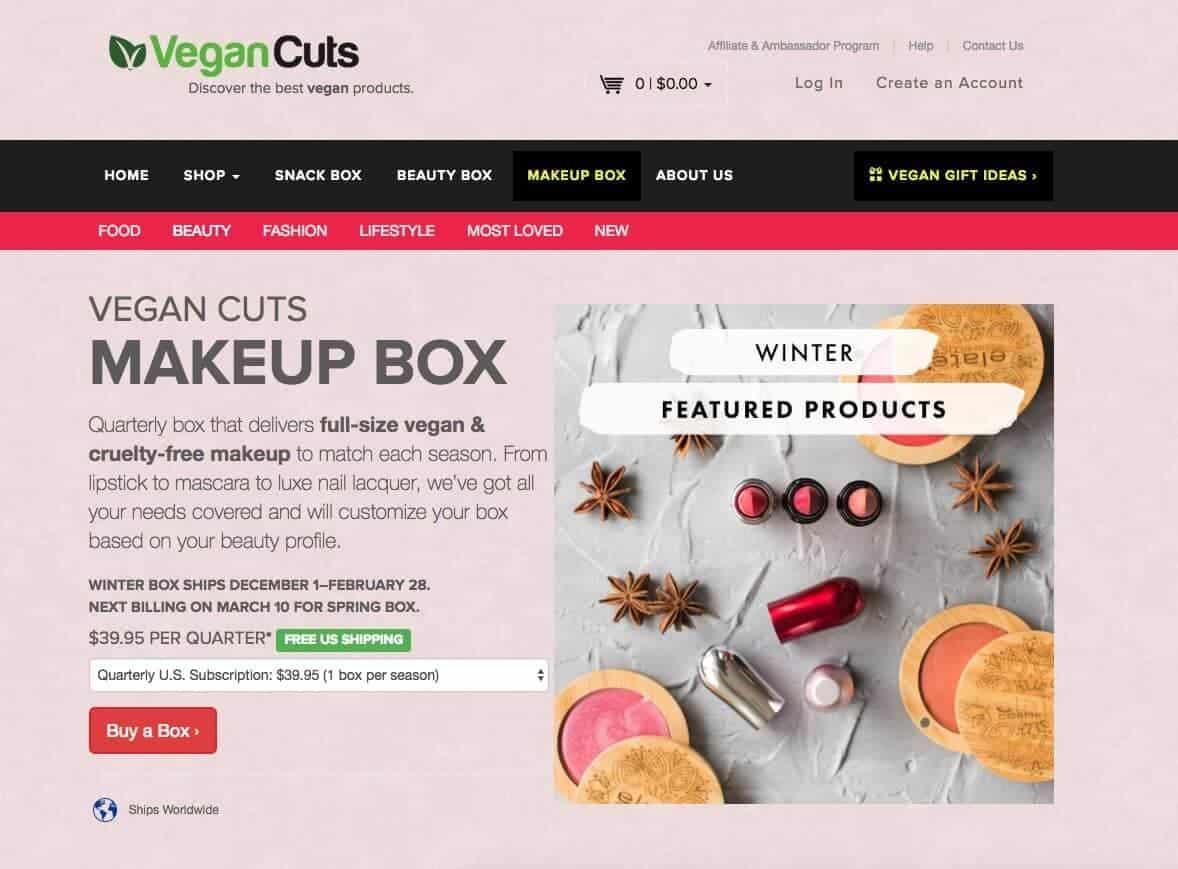 Looking for a gift for a makeup loving girlfriend? On the hunt for vegan gift baskets for her? Vegan Cuts makeup boxes are the best vegan friendly presents for anyone who adores makeup.
Each vegan basket gift contains full-sized vegan and cruelty-free makeup to match each season. Boxes are sent out quarterly. Need vegan birthday gift ideas? These boxes are perfect.
You can gift a single box or an annual subscription (4 boxes).
Click here for more information.
Best vegan chocolate gifts
Everyone loves chocolate, right? That's why a vegan chocolate gift box makes the perfect host/hostess gift. They also make excellent vegan holiday gifts.
Vegan truffles
This box of truffles (which comes in an edible chocolate box) is ideal for the chocolate lover in your life (make sure to select the vegan option!). If you're looking for Christmas ideas for vegans, these truffles are the best.
Miami Beach's handmade vegan chocolate gift baskets come with vegan truffles in a variety of flavours, coated in a bittersweet vegan chocolate.
Be sure to select the vegan/parve option when you order.
The only downside is the list of flavours is not available, so you'll have to guess the filling in each!
It's available on Amazon, if you're looking for vegan chocolate delivery and want it shipped right to the recipient's door.
Click here for more information.

Other gift baskets
No matter what the occasion, there's sure to be a gift basket for vegan friends and family. Here are some more special occasion gift baskets for vegans.
Harry & David have a few vegan baskets, including these apple & pear vegan get well soon gifts. (Unfortunately their other get well baskets contain non-vegan products, so be sure to select the fruit basket when ordering.)
Want to send a get well soon package to someone special?
Harry & David are known for their carefully selected seasonal fruit, and the Get Well Apples & Pears basket is no exception. It contains gourmet fruit picked by hand and also a "Get Well Soon" message.
Click here for more information.
Looking for a vegan cheese gift basket? This basket from Cheese and Wine Traders is perfect for a foodie.
Each box contains a wheel of vegan cheese (smoked vegan cheddar), plus gluten free crackers, a bar of dark vegan chocolate, maple sriracha roasted cashews and raspberry jam.
All the products inside are vegan.
Click here for more information.
Pin this for later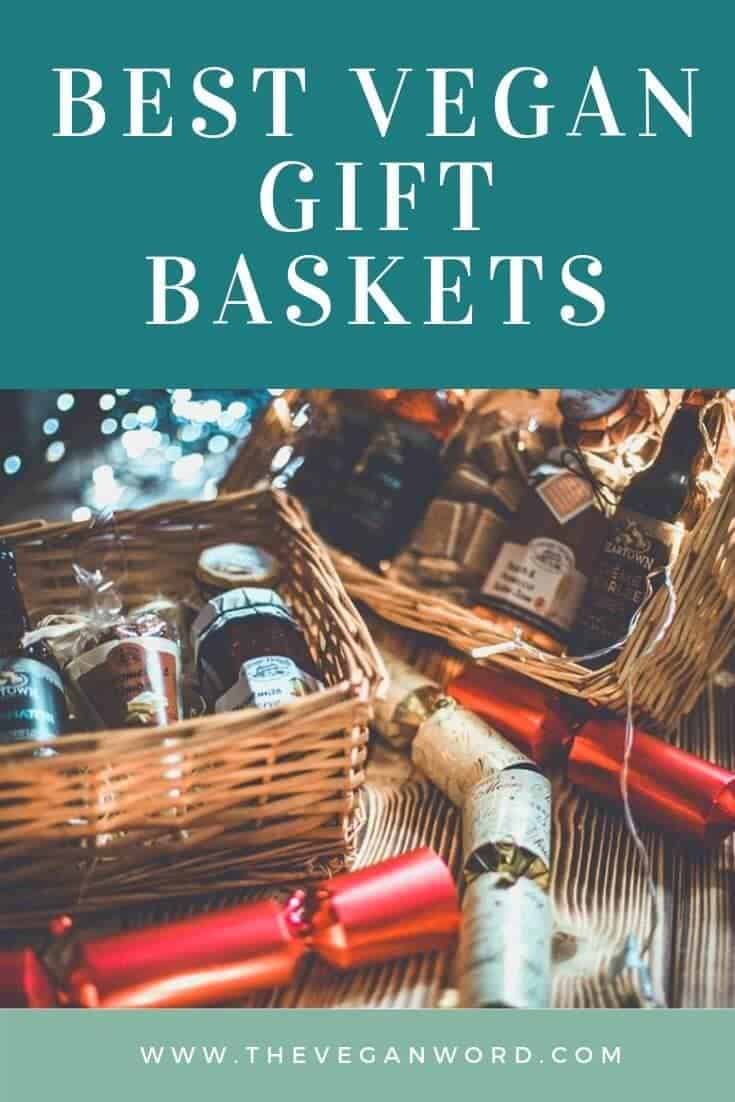 Need more inspiration? See my vegan gift guide, the best vegan subscription boxes and my guide to vegan online shops.
I also have a vegan gift guide for the UK and UK guides to vegan hampers and vegan Christmas hampers.
Want to gift fragrance? Find my guide to vegan perfumes.
Looking for vegan Easter basket delivery? Check out my guide to vegan Easter eggs.
Find more vegan product reviews.
See all my vegan lifestyle guides.