Vegans don't have to miss out on Easter fun, thanks to more and more companies introducing vegan Easter eggs!
Click here to see my top pick for best vegan Easter egg.
A lot of chocolate eggs and bunnies are milk chocolate…but more and more vegan Easter candy hits the shelves every year, including dairy free Easter eggs.
Whether you're buying dairy free Easter eggs for kids, or for yourself (I always buy myself an Easter egg too!), here's your guide to vegan Easter chocolate and Easter eggs.
What are vegan Easter eggs?
Vegan Easter eggs are simply chocolate eggs that are free from dairy or any other animal products (such as dairy-derived ingredients like cream, milk fats or whey). Because lactose comes from dairy, they're also lactose free Easter eggs, making them suitable for anyone with a lactose intolerance. Many of these allergen free Easter candy eggs are also gluten free, nut free and free of other allergens but always check.
The eggs might be dark chocolate or they might be made with rice milk, soya or other ingredients instead of milk. Just like non-vegan eggs, they come in milk chocolate or white chocolate forms (made with non-dairy milk).
One thing to note is that due to changes in allergen labelling laws a lot of chocolate manufacturers in the UK now note underneath the ingredients that their chocolates 'may contain traces of milk' — this does not mean the chocolate contains milk (consult the ingredients list for that information), just that the chocolate was manufactured in the same facilities as products containing milk. This labelling is to protect those with a very severe milk/lactose allergy.
Most (though not all) vegans consider these products still vegan, so check with the vegan in question.
If you're buying for someone with an allergy, you'll need to find out about the severity of their allergy and what labels they look for when making purchases.
Where can I buy vegan Easter eggs?
These days, you can find vegan Easter eggs in pretty much any supermarket in the UK (see below for a vegan Easter candy list in supermarkets).
If you're wondering where to buy vegan Easter eggs most easily and with the widest selection, you can buy them online, and for your convenience I've linked to some of the very best vegan Easter eggs (UK wide availability) on Amazon below!
The best vegan Easter eggs
Here are the very best vegan Easter eggs 2020 has to offer! Whether you're looking for dairy free milk chocolate, dark chocolate, white chocolate, creme eggs or mini eggs, you'll find all of the above in a vegan form.

Moo free Easter egg (nondairy milk chocolate)
If you're looking for a classic Easter egg, I find vegan Moo free chocolates very reminiscent of milk chocolate (although they might taste like milk choc, they're milk free Easter eggs, of course!).
These chocolate eggs are big, come with chocolate buttons and come in three different flavours — the classic (which is the one that reminds me of milk chocolate), chocolate orange and honeycomb. All three are vegan, and the classic is also gluten free and soya free.
Click here for the latest prices and availability.

Green and Blacks Easter egg (dark chocolate)
The ultimate dark chocolate vegan Easter eggs, the Green and Blacks Easter egg is a classic choice. Their non dairy Easter eggs are both organic and fair trade.
If you're a fan of dark choc, this 70% dark chocolate Easter egg is the perfect choice.
Click here for the latest prices and availability.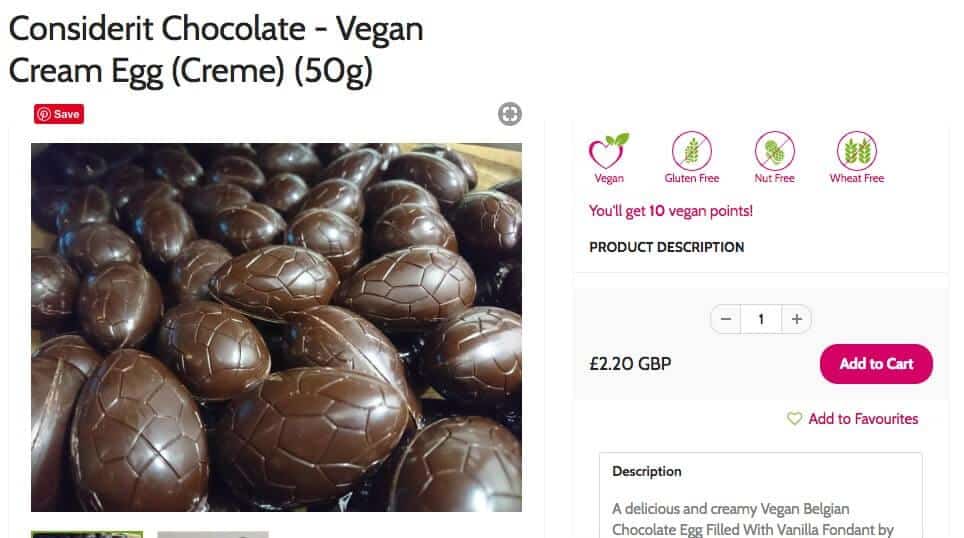 Vegan creme eggs
Think vegan creme eggs sound like the stuff of fairytales? They're real! And they're AMAZING.
These dairy free chocolate Easter eggs are filled with creme, just like a Cadbury creme egg, but completely lactose and dairy free. As far as free from chocolate Easter eggs go, it doesn't get much better than this.
Click here for the latest prices and availability.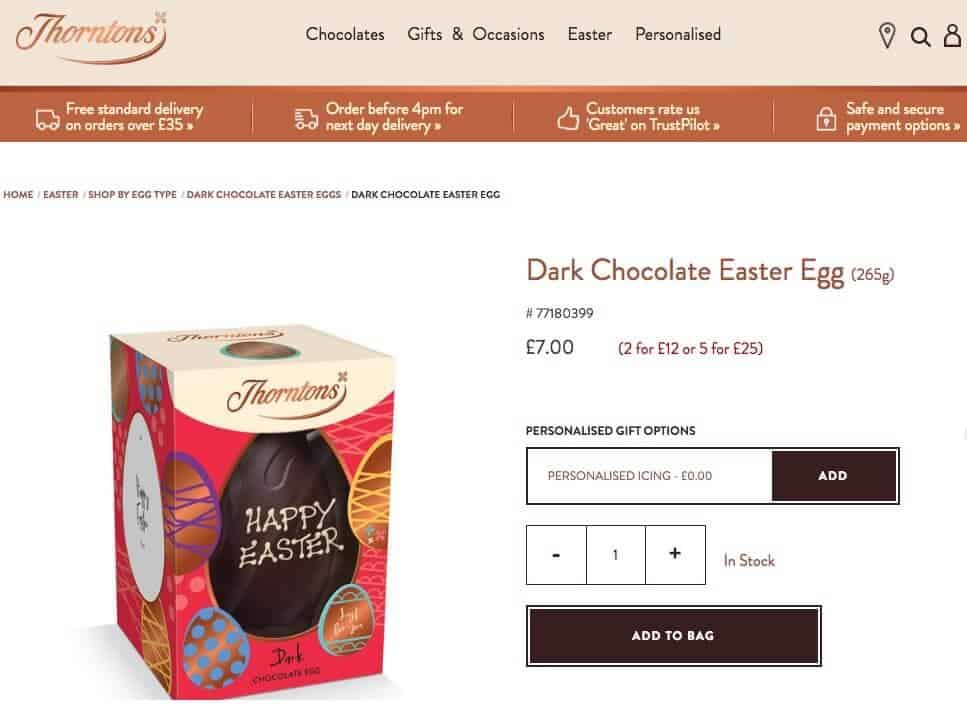 The only vegan vegan Easter egg offering from Thorntons is their dark chocolate egg, with no personalisation/no icing. These dairy free Easter chocolate eggs are vegan, but the icing isn't (they offer to write personalised messages in icing on the front of the egg), so be sure to order yours without any icing!
Click here for the latest prices and availability.
Dairy free white chocolate Easter eggs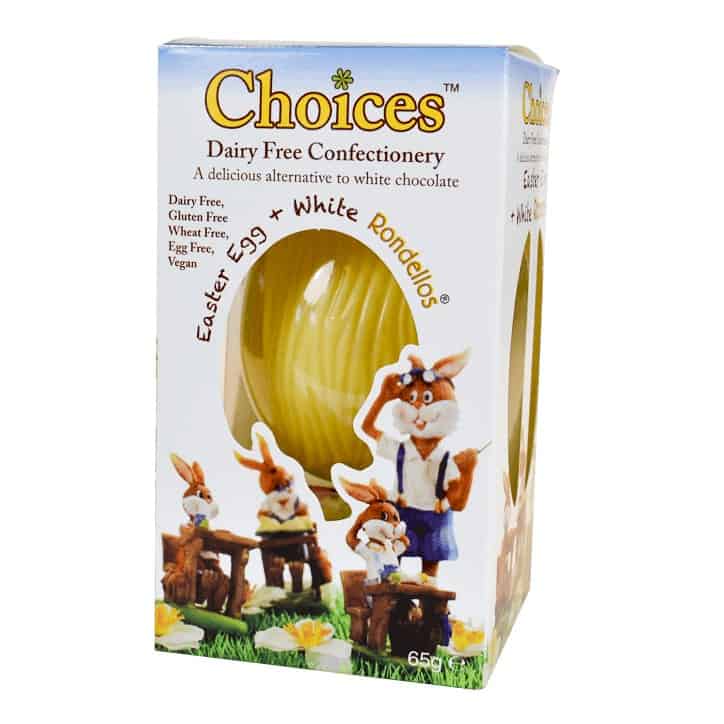 Vegan chocolate Easter eggs in white chocolate are no longer hard to come by, thanks to Choices and Tesco. You can find the Choices free from white chocolate eggs in branches of Holland & Barrett and some supermarkets. And in 2018, Tesco released an own brand vegan white chocolate egg with white chocolate buttons, and presumably they'll follow suit again in 2020. Thankfully, you'll find dairy free chocolate eggs UK wide these days.
What supermarkets sell vegan Easter eggs?
These days, you can find lactose free Easter eggs UK wide in supermarkets.
I recommend you check out independent whole foods shops near you. If you don't have one, try your local supermarket but bear in mind selection varies.
Range may vary depending on the size of the supermarket and locale.
Tesco vegan Easter eggs
Tesco has a whole range of own brand vegan easter eggs. Tesco vegan eggs can be found in the free from section. They come in flavours like dairy free white chocolate (with buttons or coins), milk chocolate (with coins or buttons) and caramel flavoured with truffles. Their own brands chocolates are budget-friendly and start at £2.50.
They also sell Moo free vegan eggs and Choices vegan Easter eggs.
Aldi vegan Easter eggs
Aldi sell Choices brand free from vegan Easter eggs. The Choices range includes a white chocolate vegan egg and a caramel vegan milk chocolate with chocolate caramel truffles (btw while I haven't tried the Easter egg, the vegan Choices chocolate caramel truffles are HANDS-DOWN AMAZING and you should pick up a packet of the truffles if you see them.)
Asda vegan Easter eggs
Asda now have a range of own brand vegan Easter eggs. The range includes chocolate eggs with orange chocolate buttons, a dark chocolate egg with truffles and a vegan white chocolate egg. Find the vegan Easter eggs at Asda in the free from section.
Vegan Easter eggs Waitrose
Waitrose stock the Moo Free range of free from Easter eggs, which come in milk chocolate, chocolate orange and honeycomb flavours.
Vegan Easter eggs Morrisons
Morrisons also have the Moo Free Easter egg range. Choose from chocolate orange, milk chocolate or honeycomb.
Vegan Easter eggs M&S
Marks and Spencer sell a dark chocolate Easter egg, the 'Made without Dairy' dark chocolate egg.
Vegan Easter eggs at Sainsburys
Find Moo Free vegan Easter eggs at Sainsburys, along with some own brand dairy free options: their Deliciously Free From choc egg and discs and Deliciously Free From milk choc egg and discs.
Vegan Easter eggs at Coop
Coop's Easter egg range includes a vegan Easter egg, the Free From dairy-free chocolate Easter egg and coins.
Other vegan Easter candy
Looking for Easter candy UK? These vegan Easter treats will satisfy your sweet tooth, and make great vegan Easter gifts. Read on for vegan Easter basket ideas.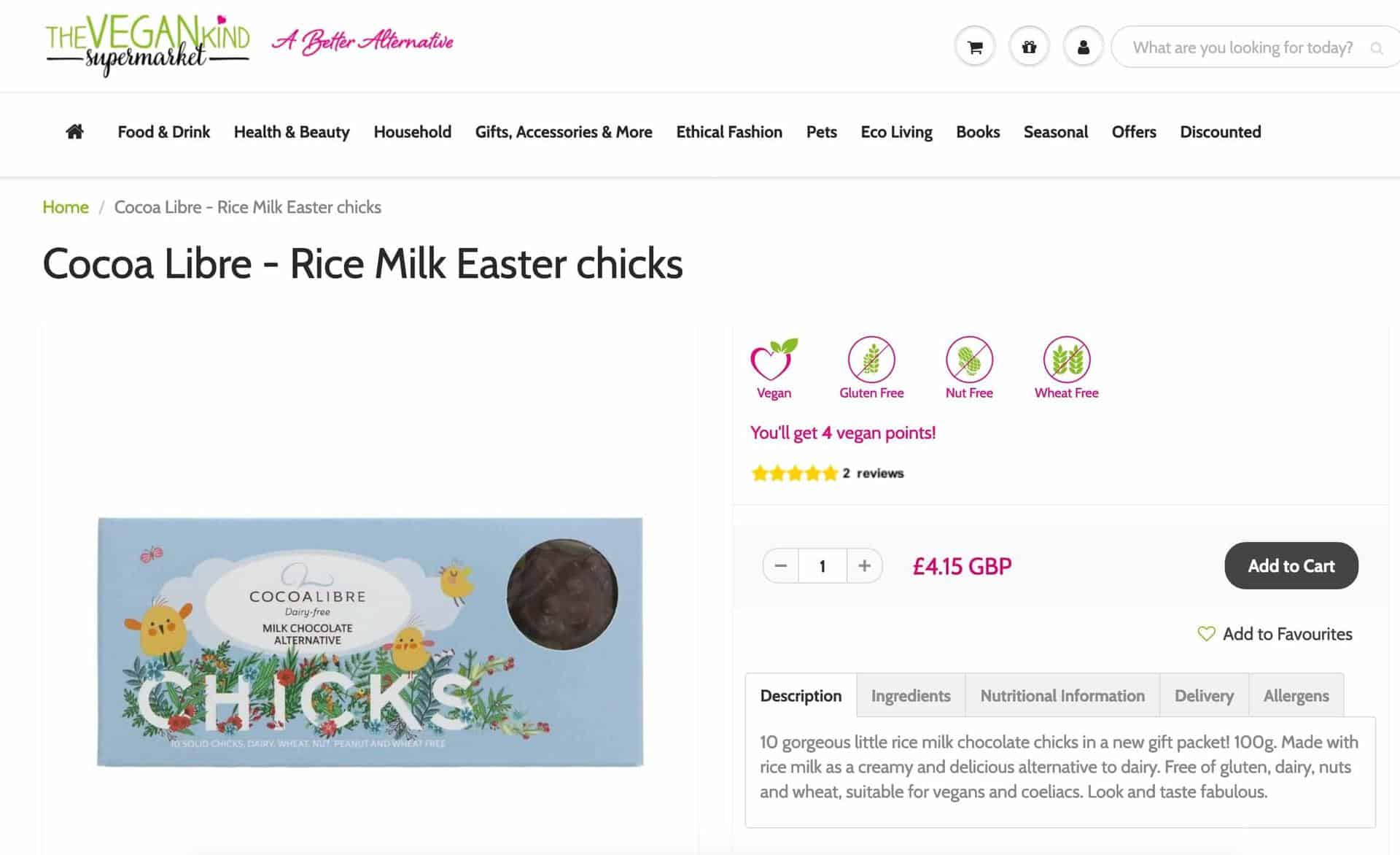 This packet of vegan milk chocolate Easter chicks comes with 10 chicks in a gift packet. Made with rice milk, it's ideal for allergy sufferers.
As well as being free from dairy, it's gluten free and nut free.
Click here for more information.
These vegan Easter gift baskets from So Free chocolates make the perfect dairy free Easter treats for a lactose intolerant or vegan child.
This vegan Easter candy hamper looks great.
The all vegan hamper comes with a vegan chocolate egg, bunny bars, a vegan white chocolate bar and other assorted chocolates and spreads.
Or, send a non-traditional Easter basket in the form a vegan subscription (here are my reviews of the best vegan boxes).
Click here for the latest prices and availability.
Pin this for later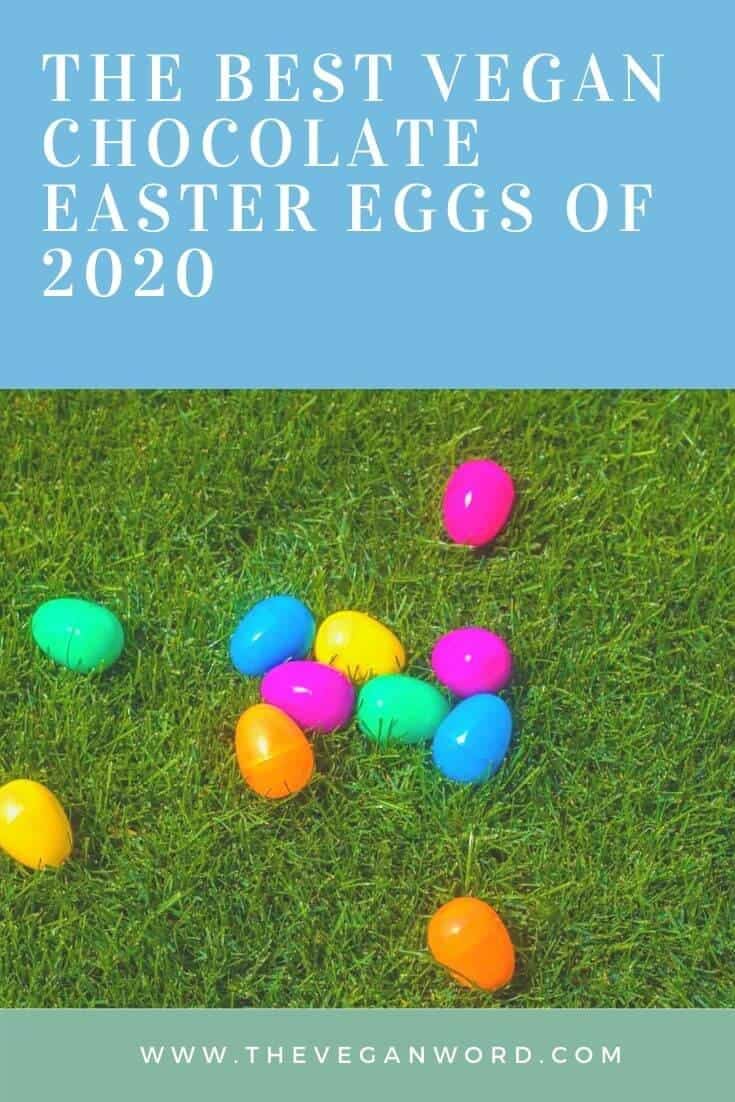 Ended up with too much vegan Easter chocolate this year (how's that even possible?). Break your chocoalte up into chunks and make this amaretto, cherry and chocolate chunk ice cream (just leave out the amaretto if you're making it for children!).
Find more vegan product reviews here.
As an Amazon Associate I earn from qualifying purchases.