A vegan Christmas hamper makes a great gift for any vegan in your life – whether your son-in-law, your employee or your aunt.
After all, who doesn't love a hamper full of treats? Especially since vegan treats aren't always as easy to come by!
I've been vegan since 2008 and I remember receiving a Fortnum & Mason hamper from my employer circa 2011 or 2012. At the time, Fortnum & Mason didn't have any vegan hamper options, so the hamper my employer gifted me was probably 70% or 80% things I couldn't eat, and I ended up giving most of it away and just keeping some marmalade and tea. It was so disappointing.
Thankfully, Fortnum & Mason now have vegan Christmas hampers in the UK – as do M&S, Hotel Chocolat and plenty of other companies! Read on for my selection of the best Christmas vegan hamper options.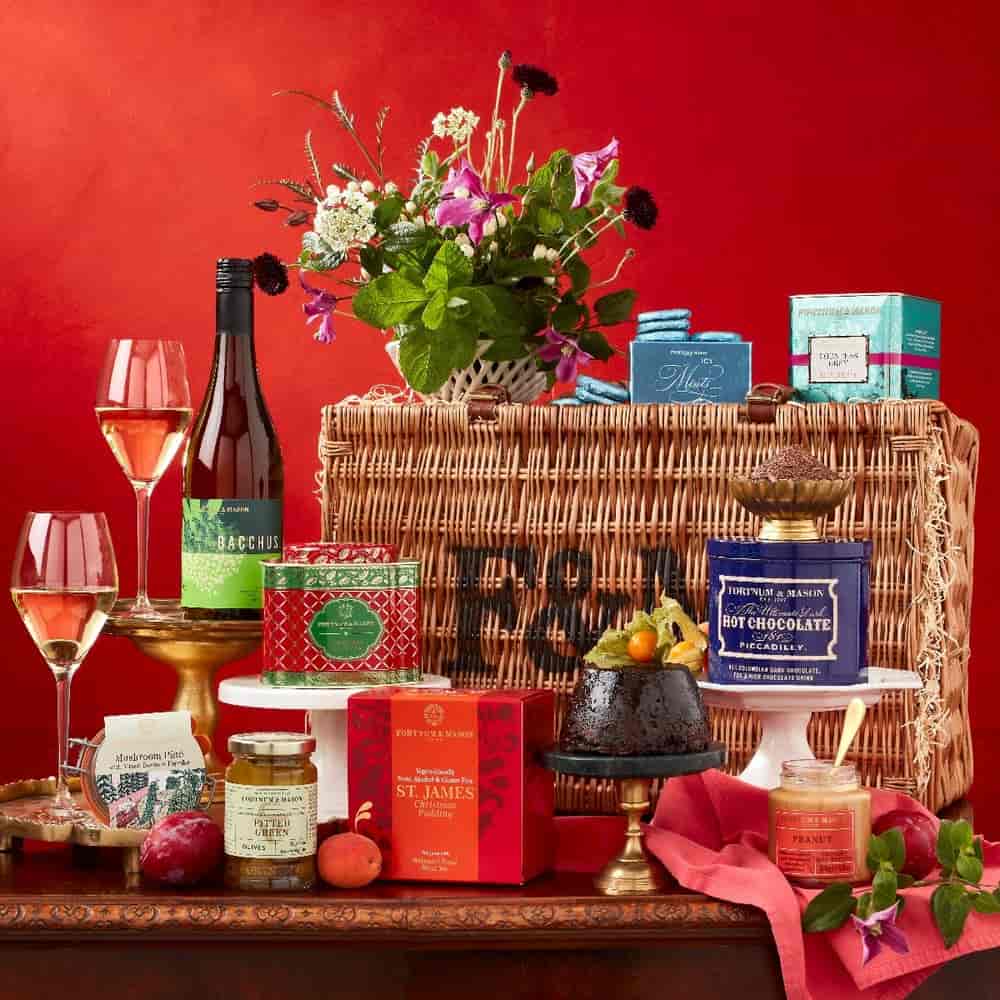 As I mentioned before, Fortnum & Mason didn't previously have a vegan gift hamper — but happily they now have these 100% vegan hampers for Christmas!
This vegan food hamper would make a great gift for the vegan in your life. Each Christmas hamper is vegan and contains a variety of entirely vegan treats treats: Christmas spiced tea, Earl grey tea, dark hot chocolate, wine, chocolates, mushroom pâté, olives and Christmas pudding.
This vegan Xmas hamper is the perfect luxurious indulgence and is my top pick of vegan Christmas hamper. The only downside to these vegan Xmas hampers (unsurprisingly, given it's Fortnum & Mason) is the price.
If you're looking for a vegan treat hamper at a lower price, try this one instead. But if you're looking for a bit of luxury in a vegan hamper for Christmas, then definitely go for the F&M hamper!
---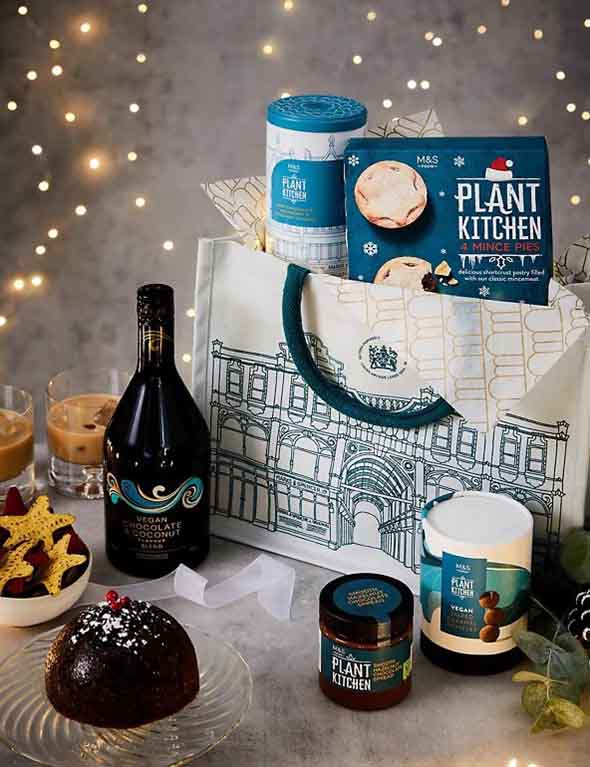 This Christmas gift bag from M&S will ship from 14 December and is stuffed full of vegan Christmas treats!
Each bag is entirely vegan and contains vegan: Christmas pudding, mince pies, chocolate-hazelnut spread, salted caramels, dark chocolate, hazelnut & cranberry cookie, tortilla stars and my personal favourite ever Christmas drink: M&S chocolate-coconut liqueur (to me it tastes like a coconutty Baileys, and I'm slightly obsessed with it–I ever prefer it to vegan almond Baileys).
It has 4.1/5 stars with 31 reviews with reviewers stating it made a good gift.
---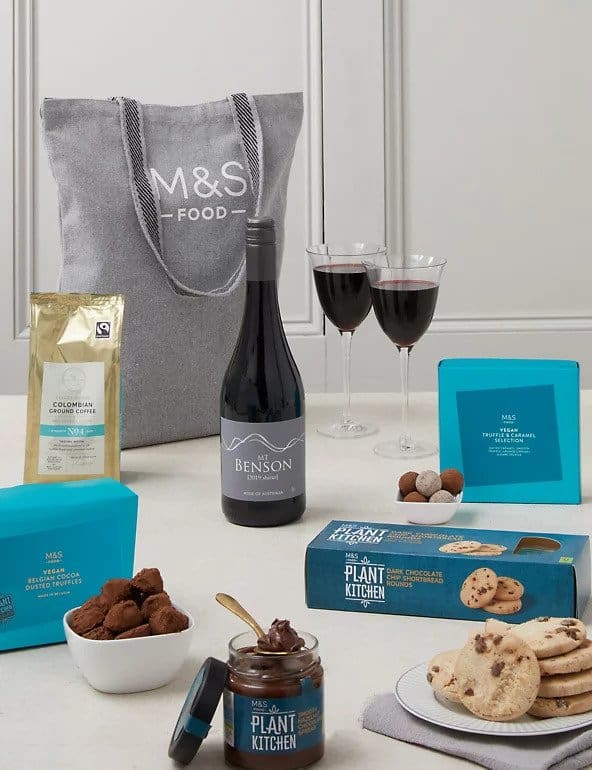 The M&S vegan Christmas hamper offers some vegan indulgence at a lower price than the Fortnum vegan hamper.
The recycled grey vegan tote bag comes stuffed full of vegan goodies: chocolate hazelnut spread dark chocolate, hazelnut and cranberry cookies, salted caramel fudge, cookie jar, and brownies.
---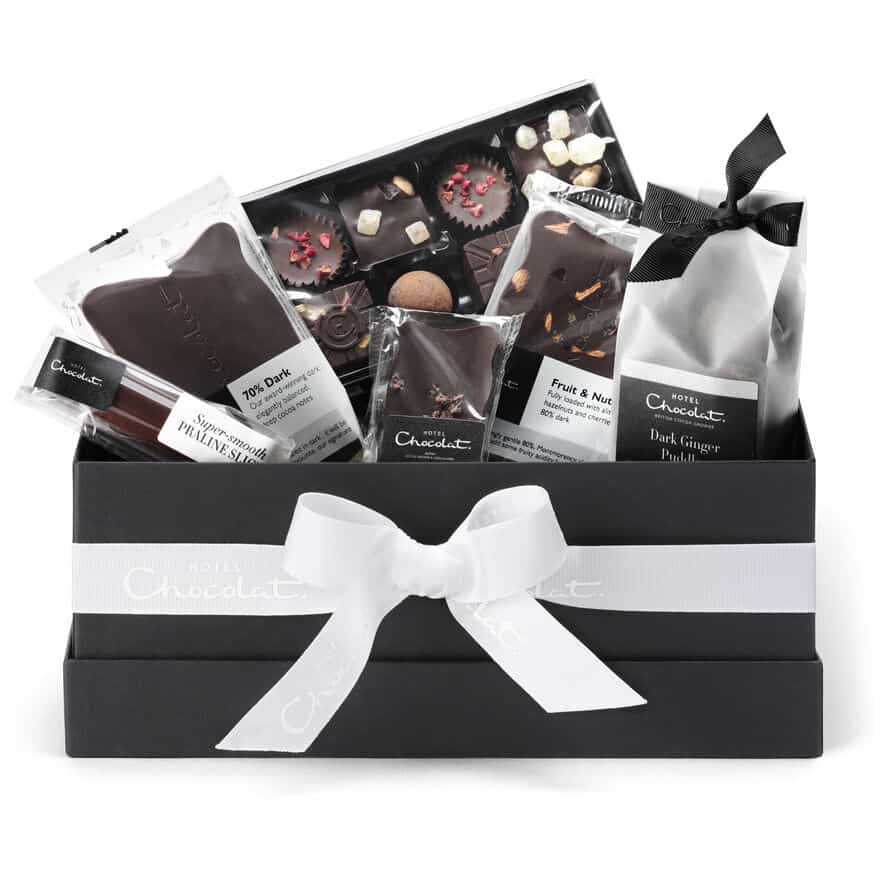 This vegan chocolate Christmas hamper would make a great gift for anyone who likes chocolate (I have to admit, I'm hungry just writing about it!).
The vegan dark chocolate hamper has a variety of different chocolates, from 70% bars to dark chocolate and ginger buttons to a dark chocolate, fruit and nut selector.
The vegan Christmas box even comes with a Yule log – a mini chocolate hazelnut log. Yum!
---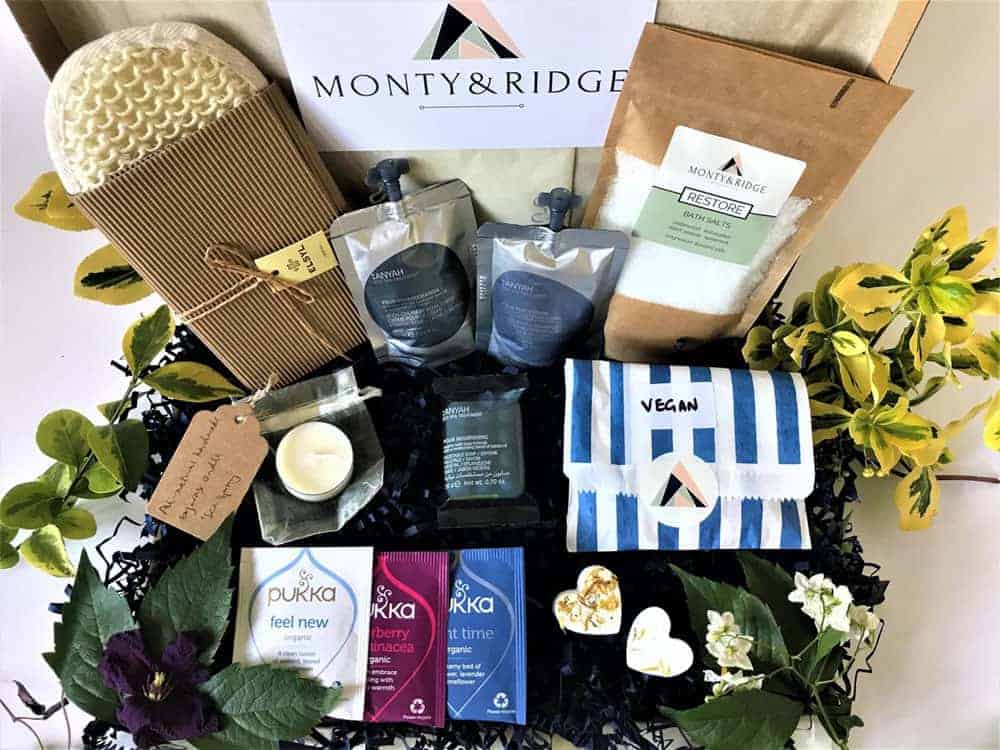 This vegan beauty hamper from Etsy is perfect for a spa night in!
Each vegan spa hamper contains vegan bath salts, bath bombs, moisturiser, a soy wax candle and bath soap, plus teas and vegan sweets.
---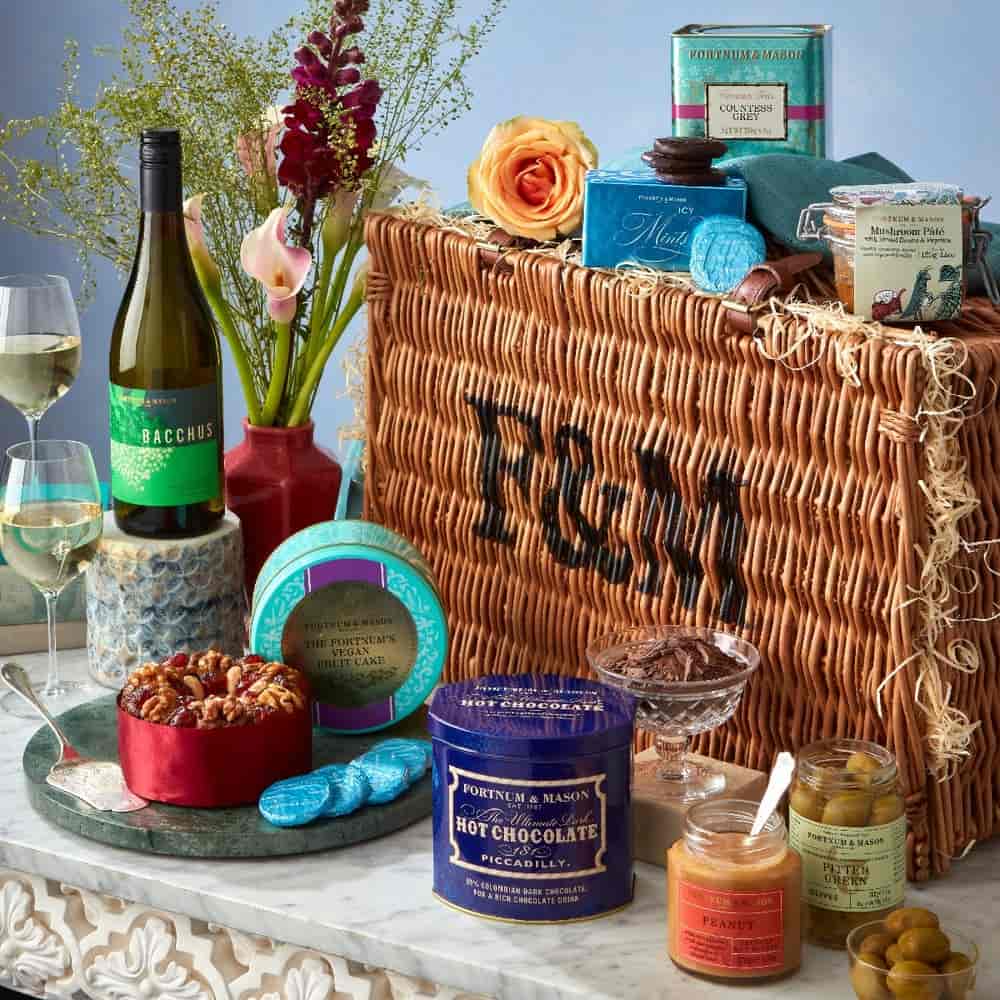 This vegan snack hamper is full of vegan treats perfect for Christmas or any time of the year!
Each of the vegan Christmas gift baskets comes with vegan cake, wine, tea, pâtés, chocolate and more, all inside the a sustainable hand-woven wicker basket.
---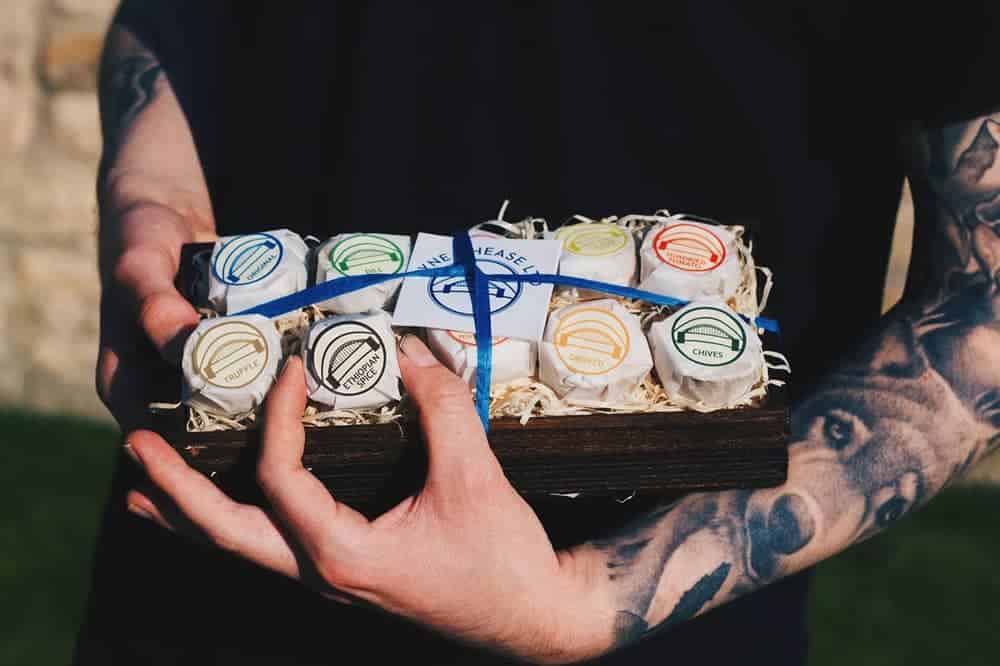 If you know someone who loves spicy food, then I have the perfect gift for you: this vegan cheese hamper is for chilli lovers only. (If you want to gift vegan cheese to someone who doesn't like spice, Tyne Chease has this selection box of 10 mini vegan cheeses instead.)
The spicy cheese hamper contains spicy Szechuan crackers, chilli chutney and beetroot habanero chilli, alongside three spicy cheeses:
Big Red: featuring three types of pepper, this spicy number contains Carolina Reaper peppers, habanero chillies and Scotch Bonnet peppers, plus onion, garlic and mustard
Blue Flame: this new flavour contains blueberry jam, maple syrup, spicy peppers and hop oil
Black Scorpion: another new flavour, it has a streak of black ash, and Trinidadian Scorpion peppers, mango and cucumber
---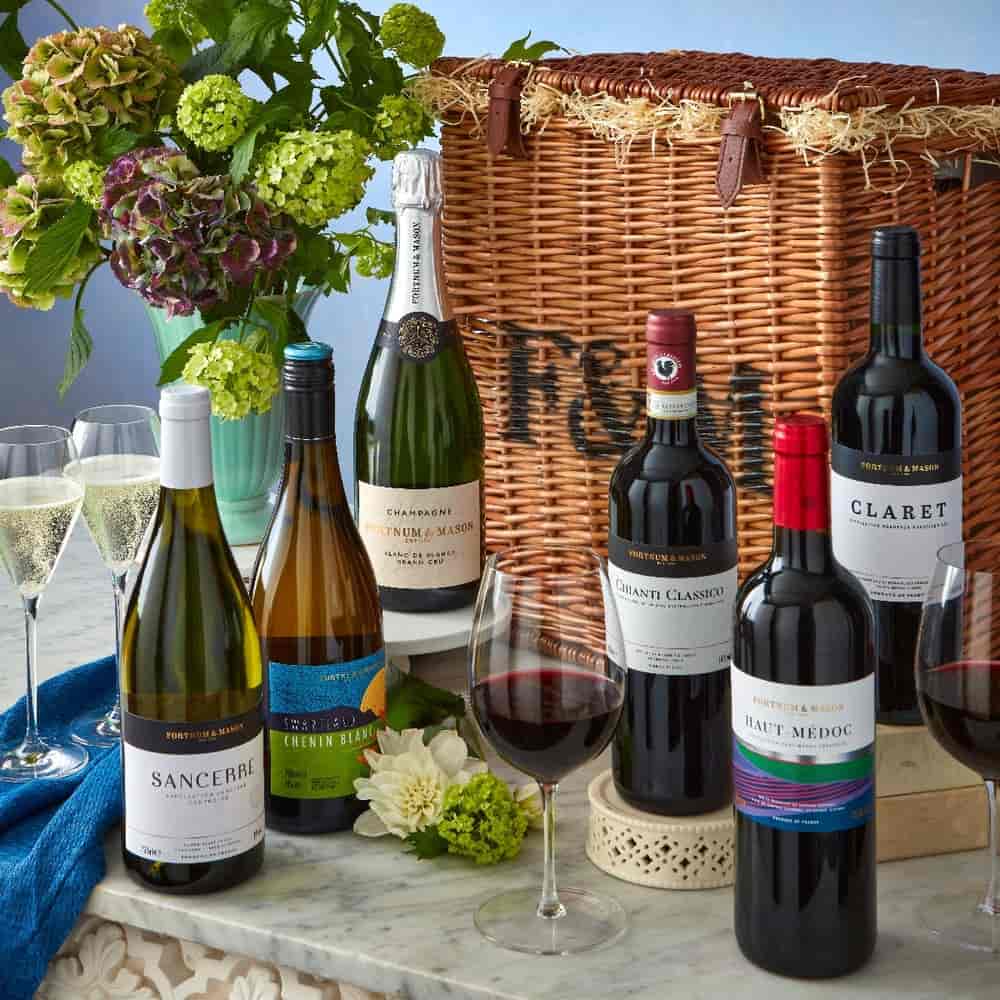 A luxury vegan hamper for wine aficionados, the Fortnum & Mason wine hamper contains six bottles of vegan red, white and bubbly.
Inside, you'll find champagne, Chardonnay, Sancerre Blanc, Chianti, Claret and Haute Medoc.
---
I absolutely adore Nomo's sea salt caramel choc bar (I actually have one sat next to me as I'm writing this post!) and a vegan chocolate box is always a good gift in my books.
This box is full of vegan milk chocolate bars in different flavours.
One thing to note is all vegan milk chocolate so if you know someone who loves a good bar of dark chocolate, I recommend this chocolate hamper instead.
---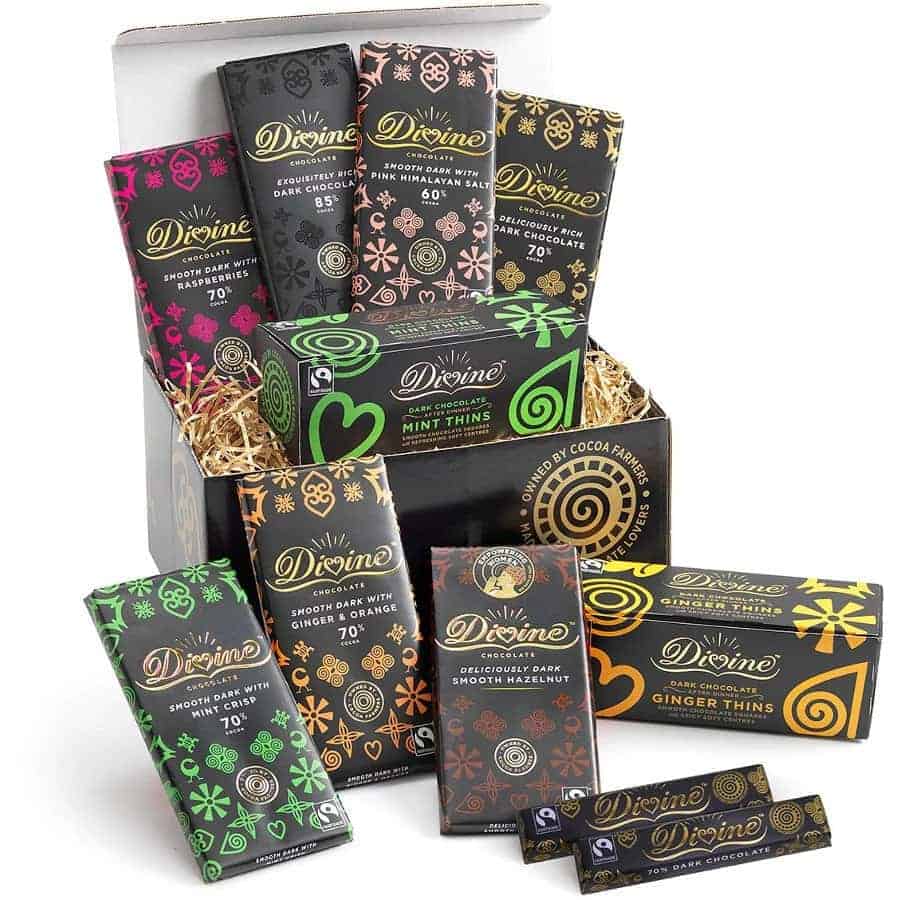 These vegan chocolate gift baskets are filled with fair trade, vegan dark chocolate bars from Divine. They're all Vegan Society approved and palm oil free!
From hazelnut dark chocolate and pink Himalayan salt dark choc to chocolate ginger thins, this box is full of goodies any chocolate lover would be delighted with.
---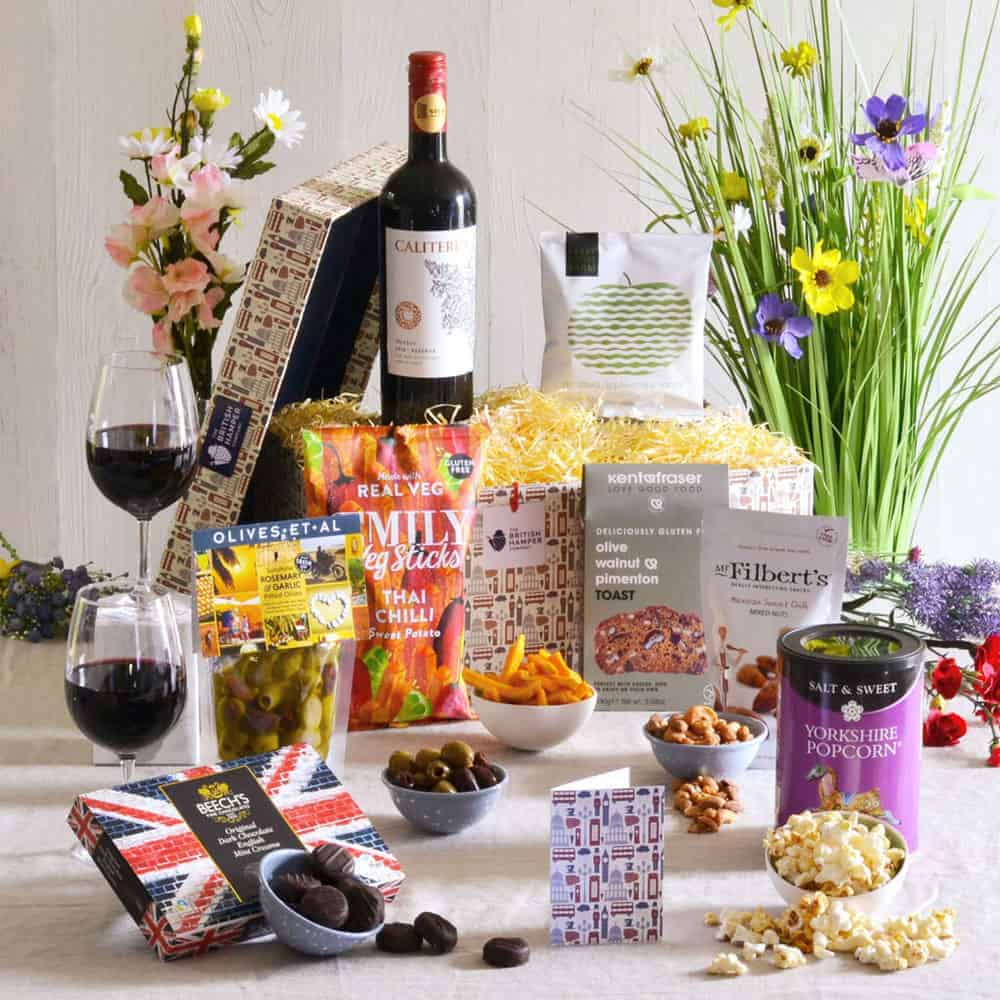 If you're looking for vegan gift delivery for a vegan friend of yours who's Coeliac or gluten intolerant, this is the perfect hamper!
The British Hamper Company's luxury hamper both vegan & gluten free and full of delicious treats, from vegan chocolates to wine to apple crisps, sweet chilli nuts and more.
---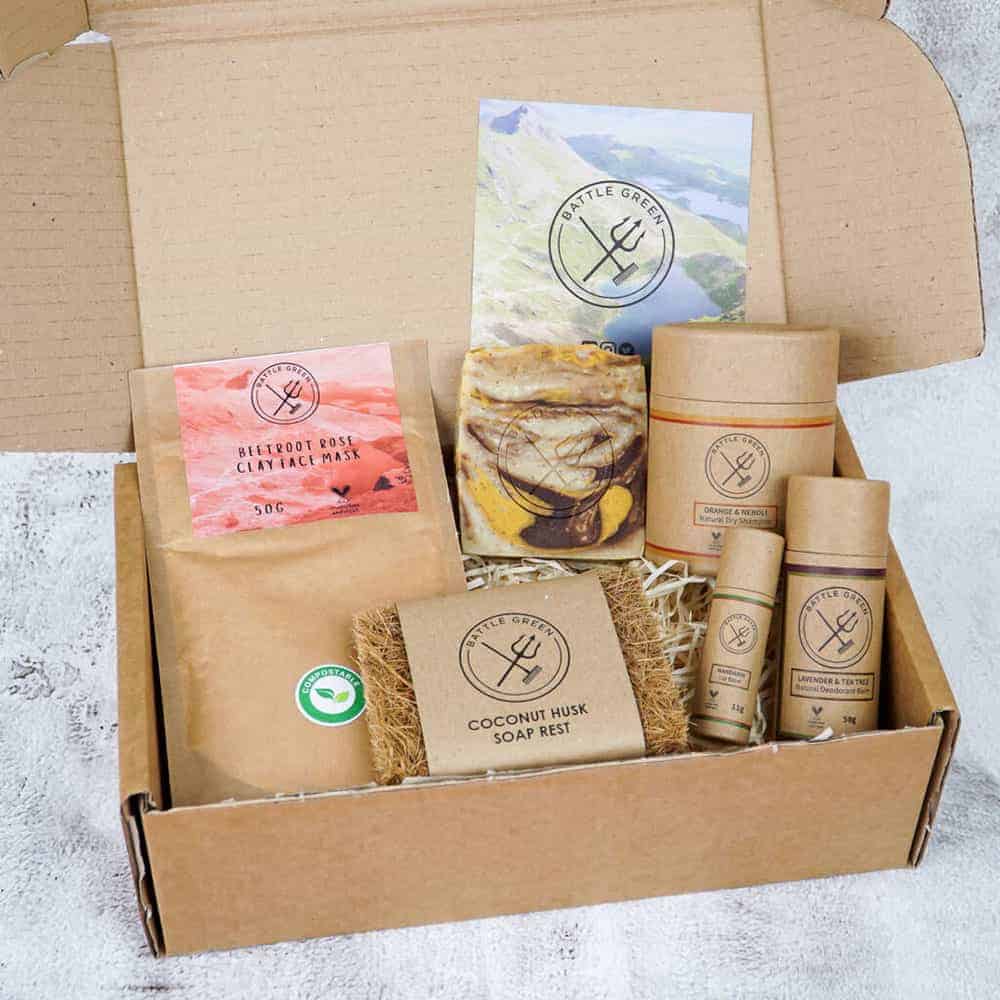 This beauty hamper is filled with products that are both vegan and zero waste.
Inside each box, you'll find vegan lip balm, a soap slice, deodorant, dry shampoo and a clay face mask.
All their products are handmade, cruelty-free and PETA approved vegan. You can choose between different scents for each products.
Packaging is all plastic free and recyclable.
---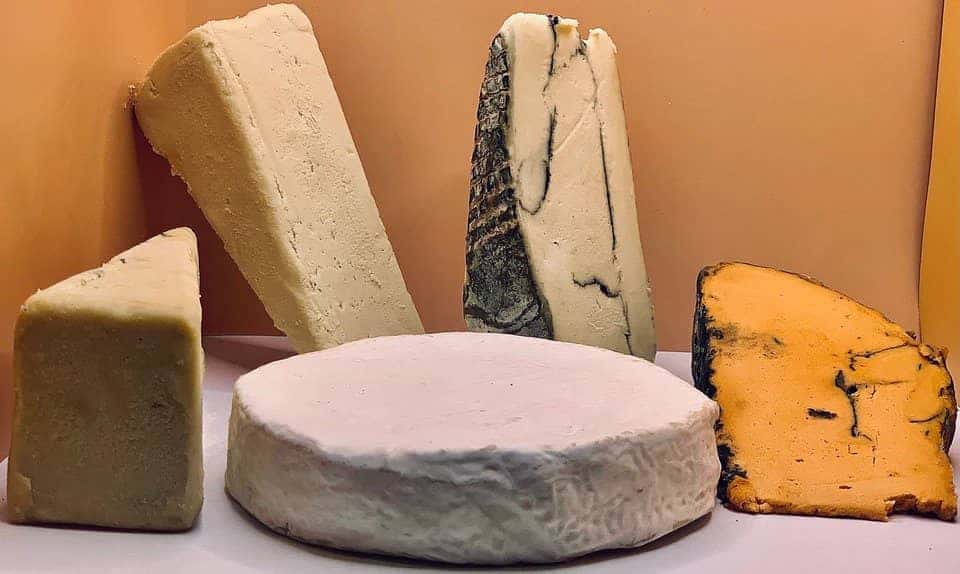 If you're looking for a vegan cheese hamper full of full-sized cheeses, all the vegan cheeses in this box are 100g to 180g, plus they come with Miller's ale crackers and quince preserve.
Each box comes with the following cheeses: Brixton blue, truffle Camembert, Shoreditch smoked, Clapton chive and Balham blue.
I remember when La Fauxmagerie opened the UK's first vegan cheese shop in Brixton market (they now moved to larger premises in Shoreditch). I went with some friends and sampled their cheeses and all the ones we tried were good. So this box looks like a good present for a friend who loves vegan cheeses!
FAQ
What are some good gifts for vegans?
There are lots of choices of vegan presents, depending on your gift recipient's areas of interest. You can check out my full guide to vegan gifts here.
Vegan hampers are always a good option since they provide lots of different choices for someone to sample!
What is a vegan hamper?
A vegan hamper is a hamper that only contains vegan products – whether that's plant-based food or cruelty-free and vegan beauty products. (In other words, they won't include these non-vegan ingredients.)
Where can I find vegan hampers?
It's easy to buy vegan hampers online (and you can even send them direct to the recipient's door, in case you're not seeing them this Christmas). Hence this list! Here are my top picks: for a luxury vegan Christmas hamper, and for a mid-range vegan hamper.
Pin this for later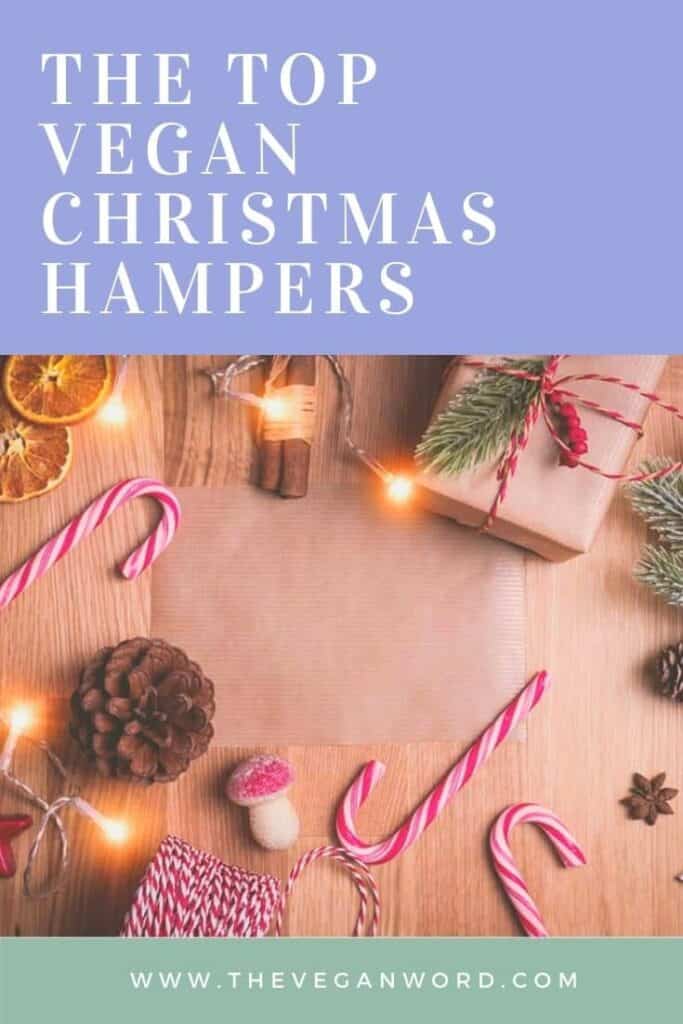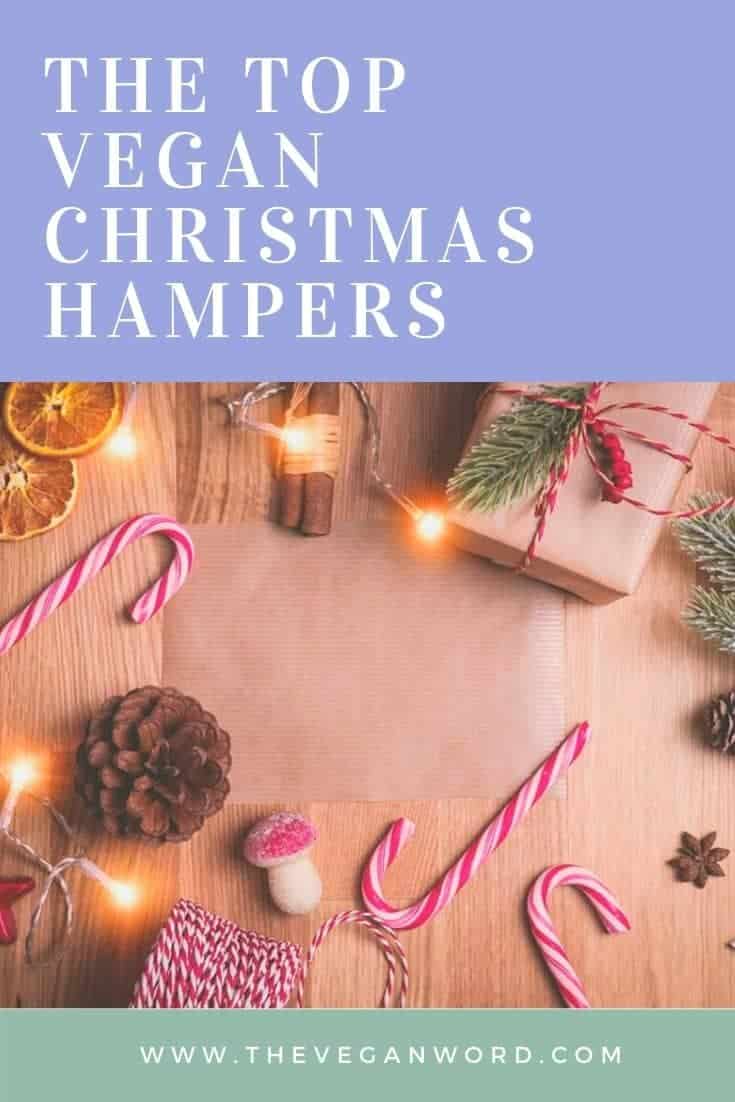 Looking for more vegan hampers, such as a vegan birthday hamper or vegan picnic hamper? Check out my full guide to vegan hampers.
Need more gift ideas? Candles are a great gift – check out my vegan candle guide.
I also have a guide to the best vegan gift baskets in the US here, plus a vegan gift guide for the US and a vegan gift guide for the UK.
I also have a guide to vegan perfumes if you want to gift a fragrance.
Find all my vegan lifestyle guides.