Vegan hampers make great, easy gifts to give vegans – whether your niece, employee or dad. Since they offer plenty of choice, with a vegan hamper people can eat what they like and give away the rest.
I've been vegan since 2008, long before any main brands offered vegan hampers, and I remember in an old job a buzz going round one day at work as everyone arrived at the office for the day. It turned out everyone at work had been given a Fortnum & Mason hamper for Christmas, and when I went to my desk, there was one waiting for me.
But instead of being filled with excitement, I reached for it with some trepidation, only to discover – as expected – I had to give away about 70-80% of my basket because it wasn't vegan. I was left with just a box of tea, a jar of marmalade, and a gnawing sense of disappointment.
Thankfully, lots of companies have launched vegan hampers in recent years, so if you're an employer giving out hampers to your employees, you can ensure a vegan hamper reaches the vegan employees! Likewise, if you're sending a gift hamper to your cousin or your son-in-law, you can gift a vegan hamper.
So here are my picks for best vegan hampers UK wide: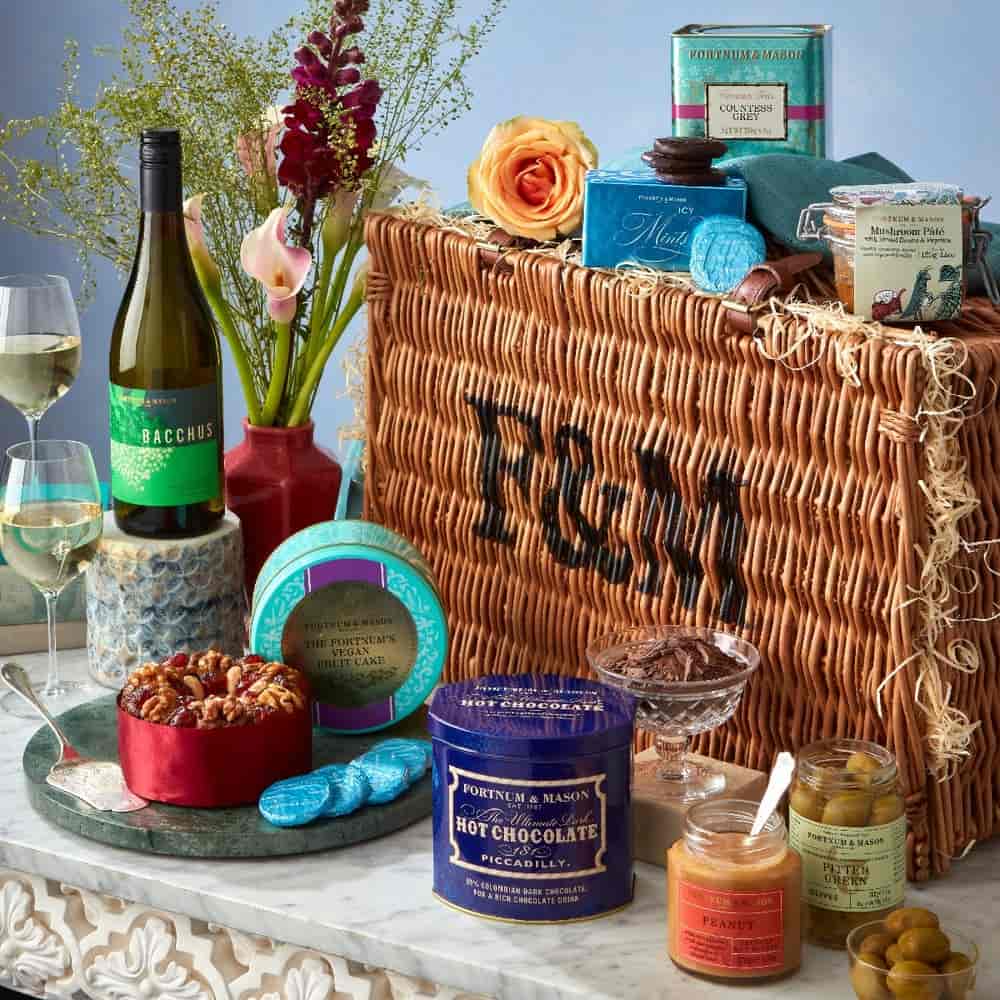 Fortnum & Mason make great vegan hampers for Christmas, or for anytime you want to treat someone to a luxury vegan food hamper, whether that's a special birthday or anniversary.
As you would expect, the vegan hamper Fortnum and Mason offer doesn't come cheap, but it's full of luxury vegan goods: vegan wine, cake, tea, pâté, chocolate and more, all inside a hand-woven sustainable wicker basket.
The Herbivore Hamper is my top pick vegan basket, but obviously it is on the pricey side, so for a more wallet-friendly alternative I'd recommend this hamper as a mid-range alternative.
However, if you want to treat someone on your gift list to a box of luxury vegan food gifts, it's perfect.
---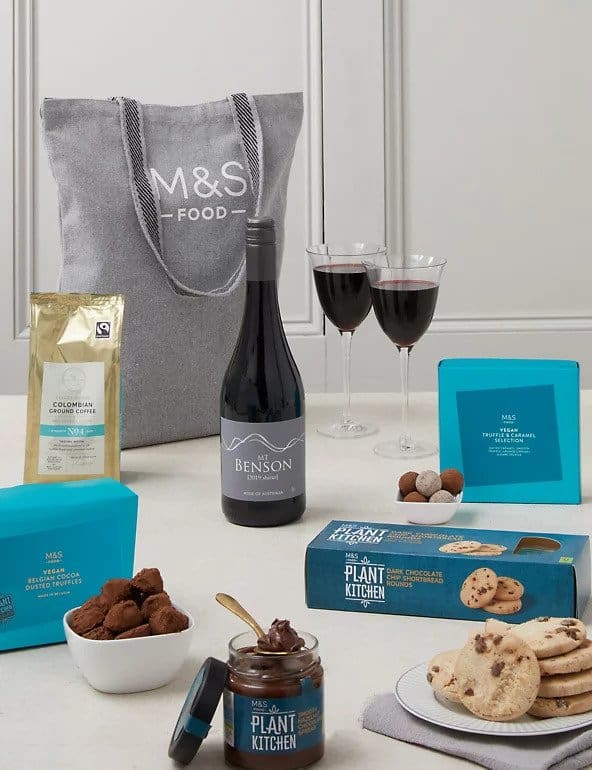 If you're looking for a high-quality vegan hamper, M&S has this bag stuffed chock-ful of goodies from their Plant Kitchen range.
Each of the vegan food hampers contains vegan chocolate hazelnut spread, cookies, salted caramel fudge and brownies.
The M and S vegan hamper can be sent with a personalised message, so it's perfect if you want to send a gift to a loved one and can't be there in person with them, whether for Christmas or a birthday.
Speaking of Christmas and vegan hampers, M&S also has a specialty vegan Christmas hamper, which you can find here. It contains seasonal treats like mince pies, a vegan Christmas pudding and my favourite, their chocolate-coconut liqueur.
One complaint made in customer reviews of the vegan hampers M&S sent is that they sent them with expired or nearly-expired products, however this appears to have been rectified in newer reviews.
---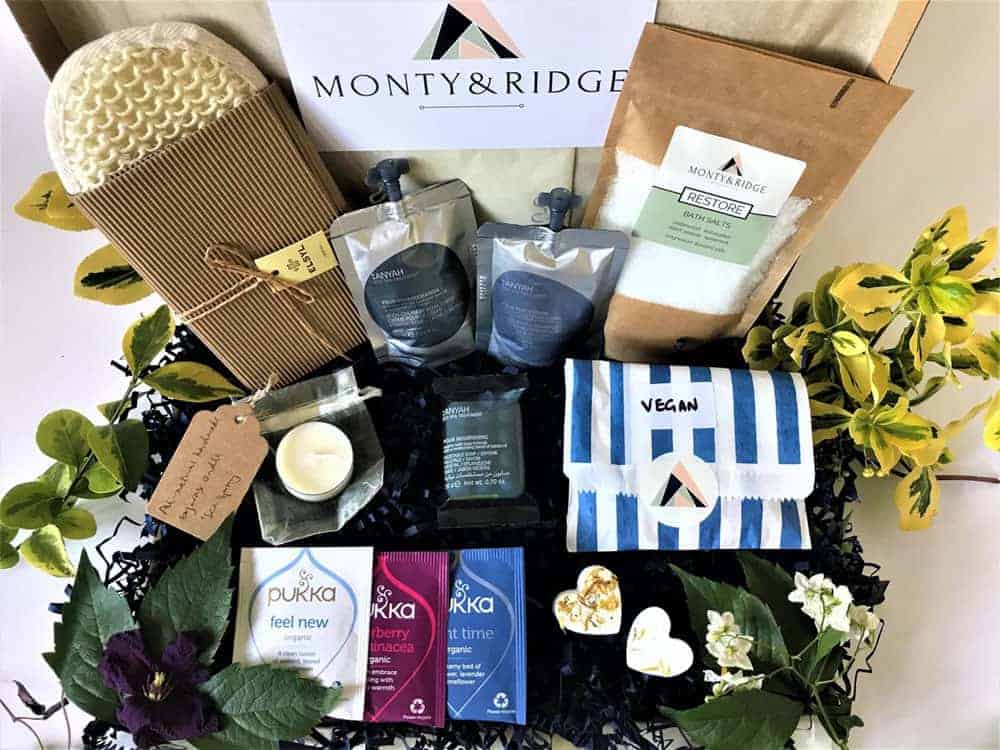 This vegan beauty hamper is for sale on Etsy and is ideal for a night in. This Etsy vegan hamper is full of treats to treat a loved one, or if you prefer, order a vegan pamper box for yourself.
The vegan toiletries hamper contains teas, sweets, a candle made of soya wax, bath salts, bath bombs, moisturiser and more, all vegan.
If you'd like to gift fragrance, check out my guide to vegan perfumes here.
---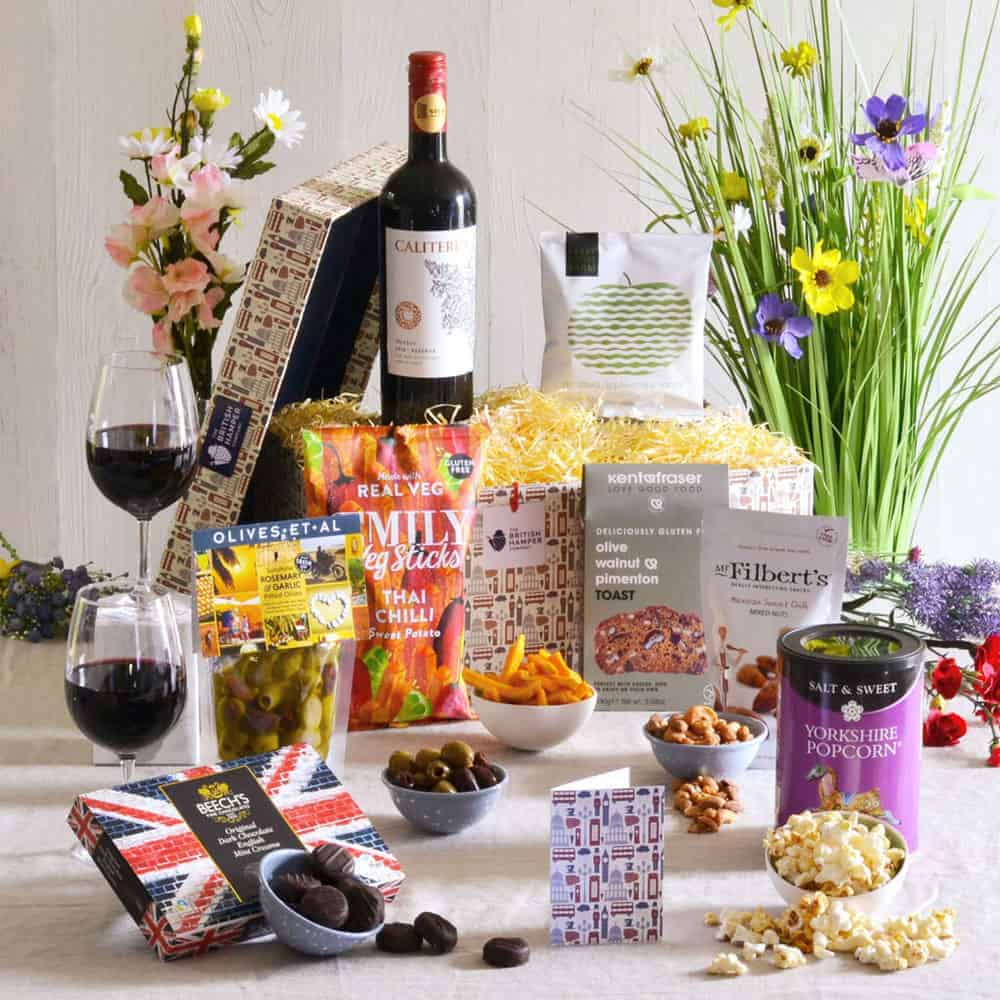 These plant based gift baskets are also gluten free!
Each vegan gluten free hamper contains a variety of different snacks and drinks, ranging from vegan chocolates to popcorn, walnut & pimenton toasts, coffee, olives and more.
You can have the gluten free vegan gift baskets shipped directly to your recipient if you're not going to see them on Christmas or their birthday.
---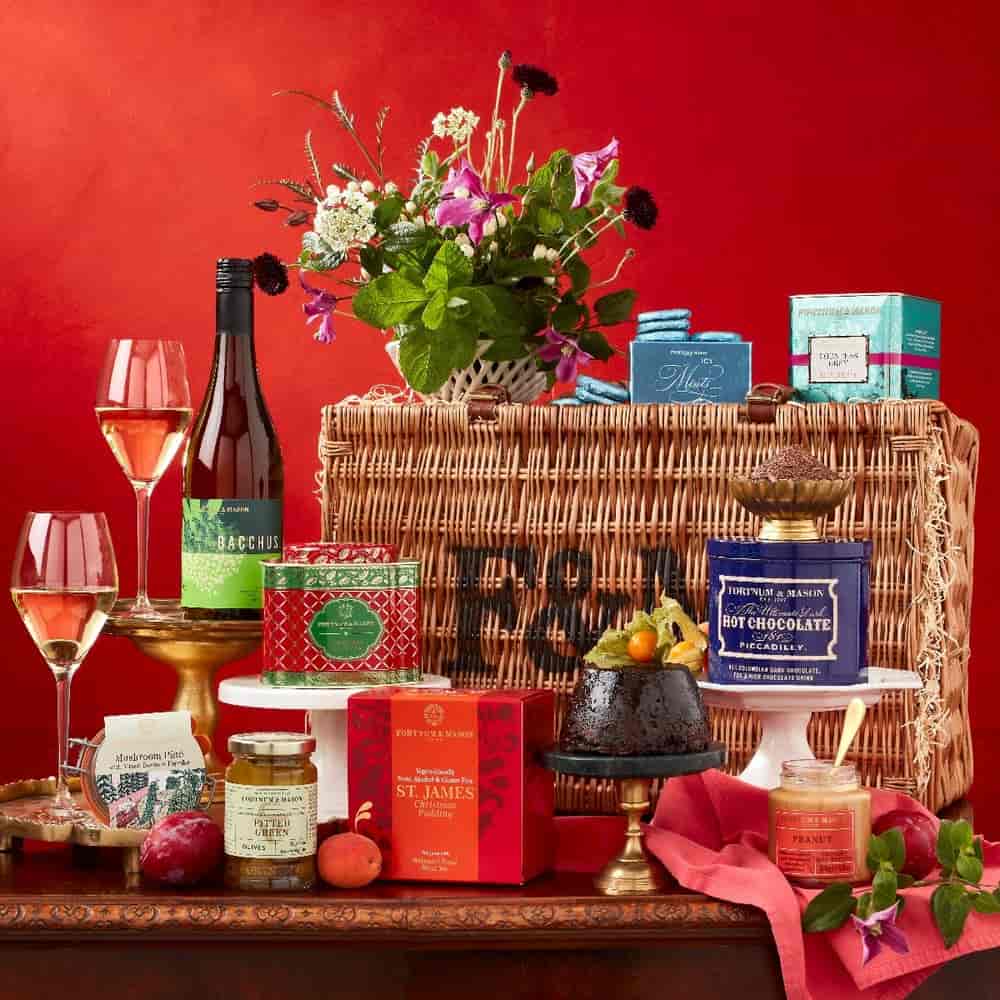 Fortnum & Mason, as you would expect, are the perfect luxury vegan Christmas hampers. These vegan Christmas gift baskets are filled with 100% vegan treats from the Fortnum range.
Each luxury vegan hamper Fortnum & Mason make contains vegan chocolates, wine, Christmas tea, dark hot chocolate mix, mushroom pâté, olives and a Christmas pudding.
The vegan luxury hamper is the ideal gift to treat someone in your life!
---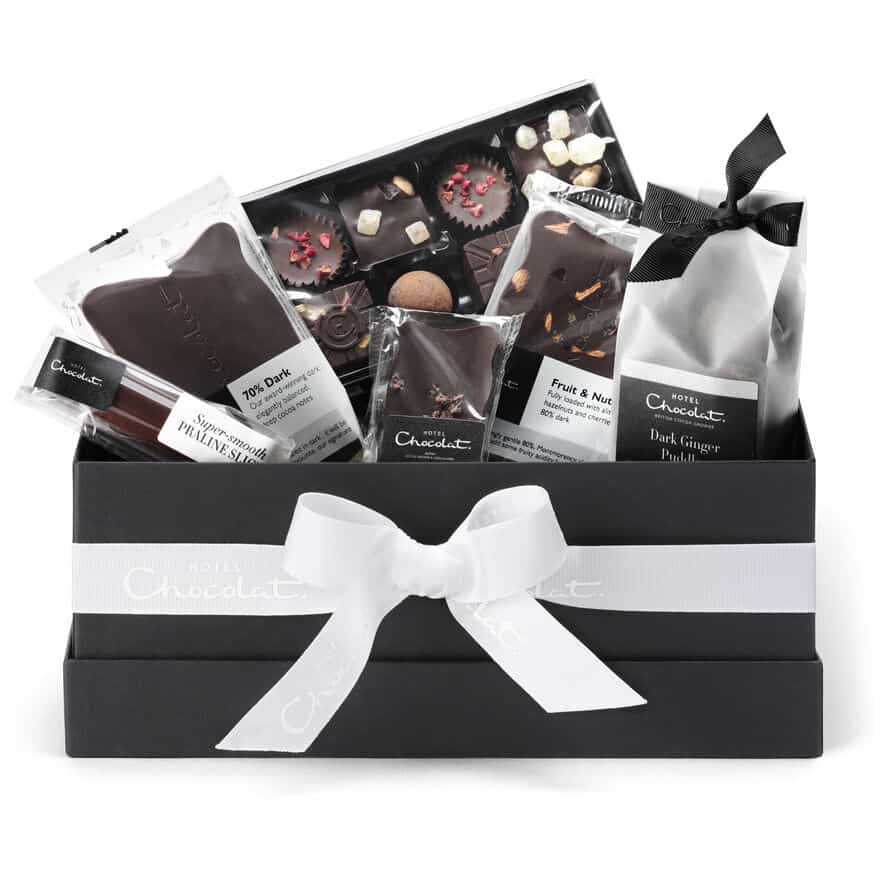 The Hotel Chocolat vegan hamper is perfect for everyone who likes chocolate.
Each vegan gift hamper is filled with their luxury vegan chocolate. All of the chocolate are dairy free and 100% vegan dark chocolates from the Hotel Chocolat range.
Inside each luxury vegan chocolate hamper you'll find several different slabs of chocolate, dark chocolate buttons with ginger and a mini chocolate hazelnut buche.
---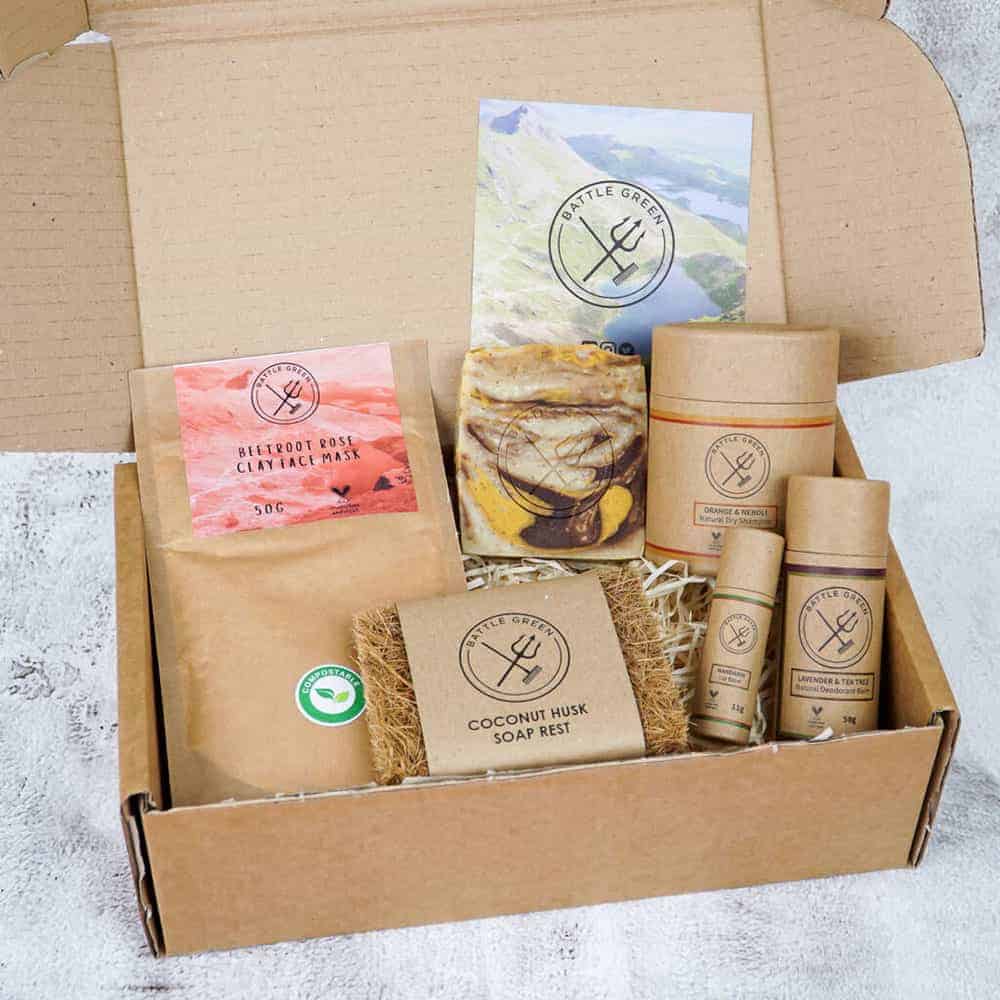 If you're searching for vegan hamper delivery to send to a friend, this is perfect for a bit of pampering.
Each vegan hamper box contains a selection of cruelty free and PETA approved products, and is also zero waste.
Inside these vegan friendly hampers is a clay face mask, soap slice, vegan lip balm, deodorant and dry shampoo.
Shipping is of course plastic free and in recyclable materials.
---
This Nomo chocolate hamper contains four different flavours of vegan milk chocolate bars of Nomo chocolate.
All the chocolates are milk chocolate style (so if you're buying for someone who likes their chocolate dark, go for this chocolate hamper instead).
---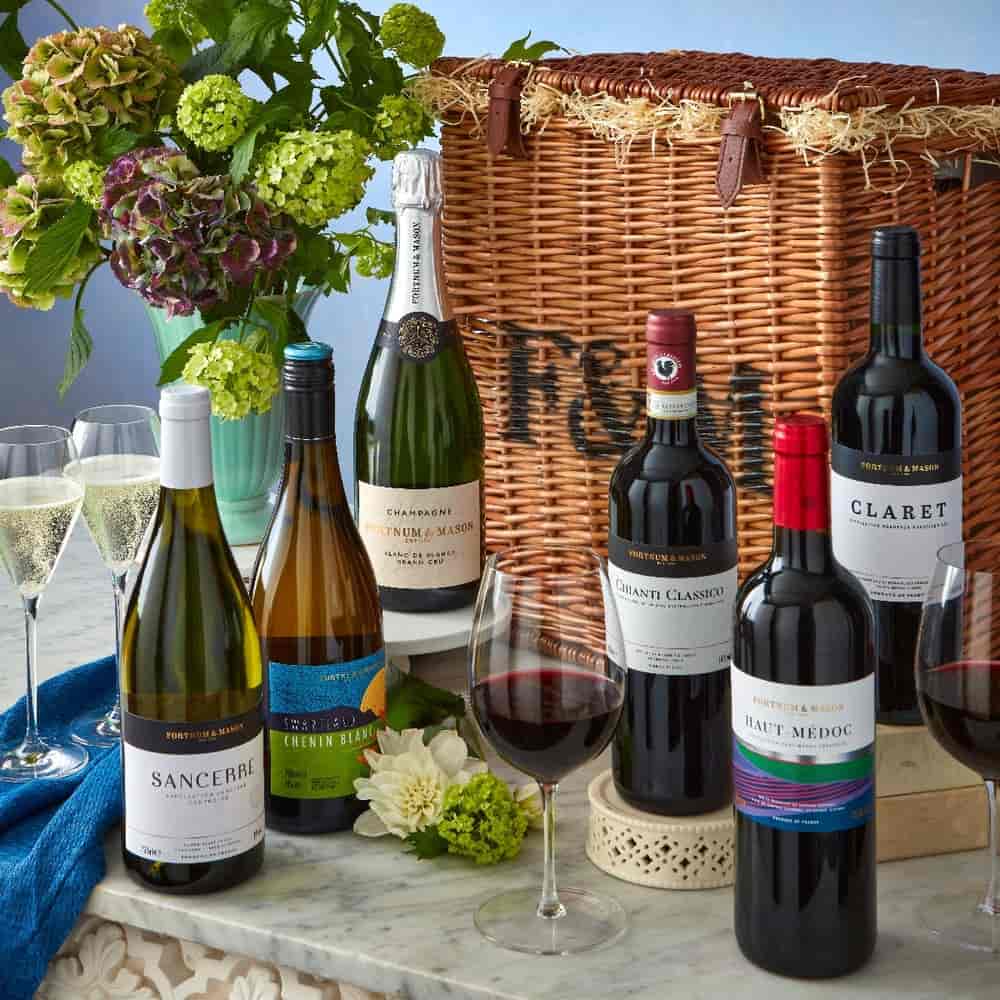 Unlike when my old workplace gave out F&M hampers years ago, Fortnum & Mason now make special hampers for vegans such as this vegan alcohol hamper.
Perfect for wine lovers, this Fortnum and Mason vegan hamper contains six bottles of vegan-friendly wine, from champagne to Chardonnay, Chianti, Claret and more.
---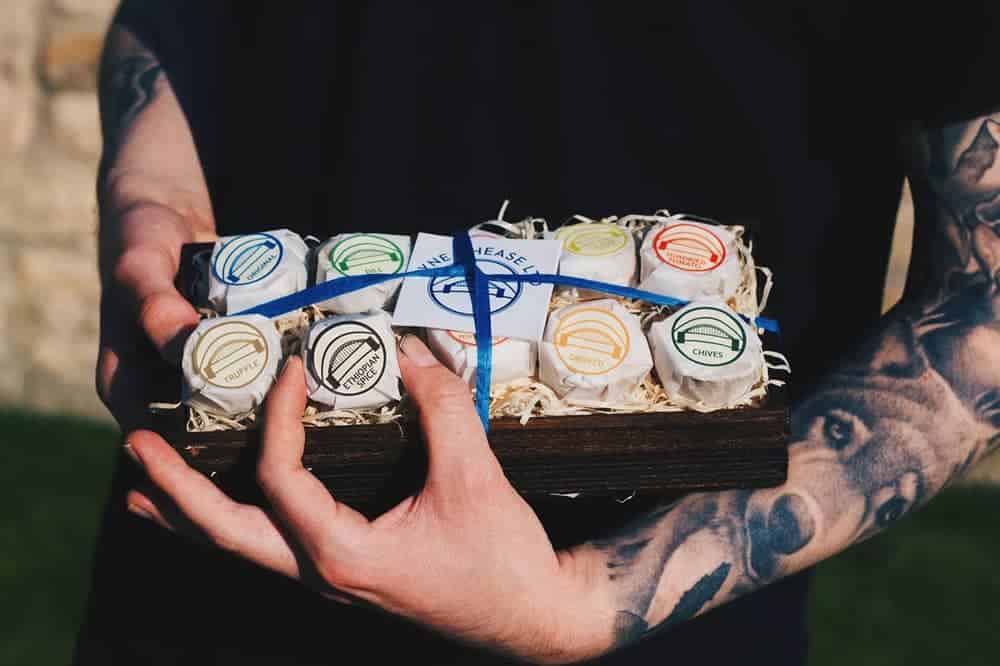 Know someone who likes keeping things spicy?
This new selection bundle from Tyne Chease features two of their new spicy cheeses, as well as one old favourite.
Tyne was one of the first artisan vegan cheeses in the UK and I still remember the buzz surrounding it when they launched at VegFest one year. Everyone was queueing to try their fermented cashew cheese, a first for the UK.
The spicy Tyne Burner Bundle features three spicy cheese flavours: Big Red, Blue Flame and Black Scorpion. It also contains habanero chilli and beetroot chutney, chilli chutney and Szechuan pepper and onion crackers. Perfect for a spread!
The Big Red cheese is made with habanero, Carolina reaper and Scotch bonnet peppers (so it sounds seriously spicy), mixed with garlic, onion and mustard.
Blue Flame flavour is a mix of spicy and sweet, featuring blueberry jam, maple syrup, hop oil and spicy peppers.
Black Scorpion takes it name from the streak of black ash in the cheese, and features Trinidadian spicy peppers, alongside cucumber and mango.
Is your gift recipient not a fan of spicy? A selection box of 10 mini vegan Tyne cheeses will do the trick instead.
---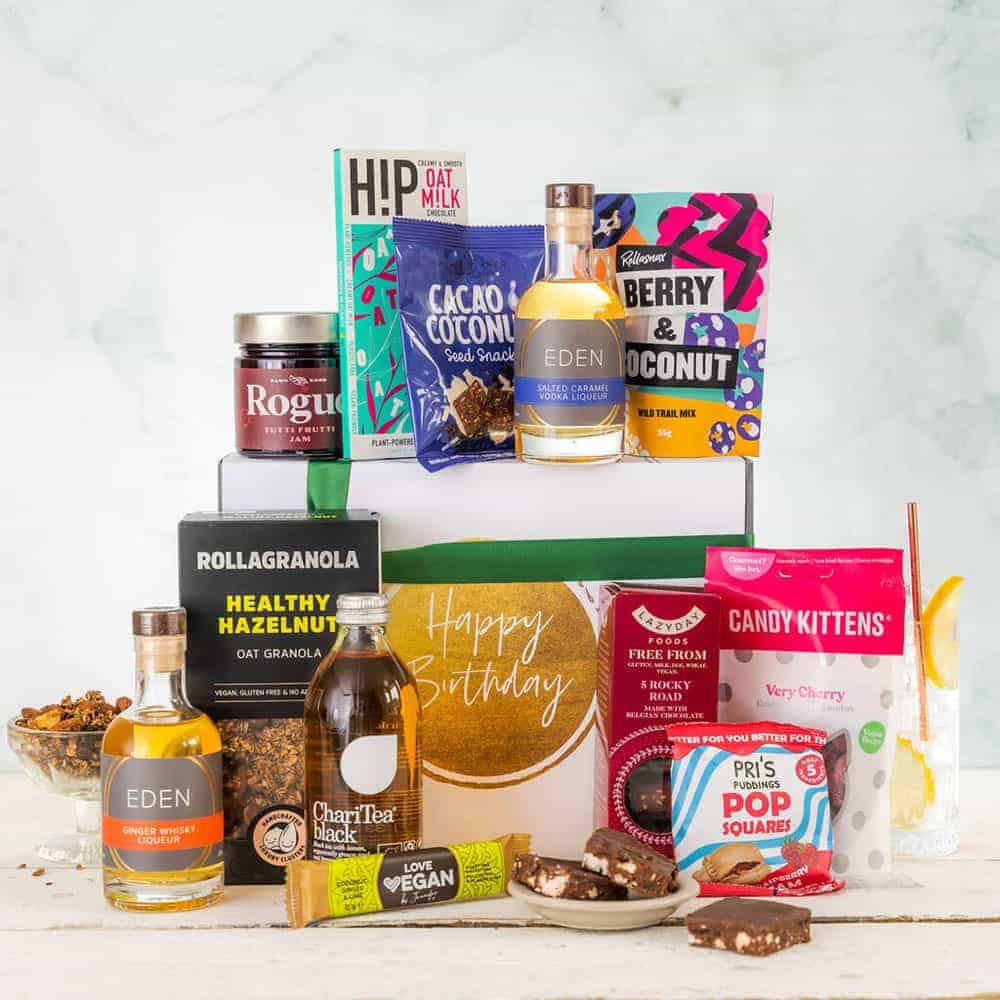 Featured in Glamour's "Top 50 gifts" and Vegan Food & Living magazine, these vegan birthday gift baskets are filled with luxury vegan snacks.
Each vegan food gift basket contains 10 items, which change, but recent hampers include: granola, chocolate, pudding, sweets, crackers and more, all 100% vegan of course.
You can also add on their small-batch, handmade gin, rum, whisky or vodka.
The vegan snack box comes in an occasion sleeve with a ribbon and gift card.
---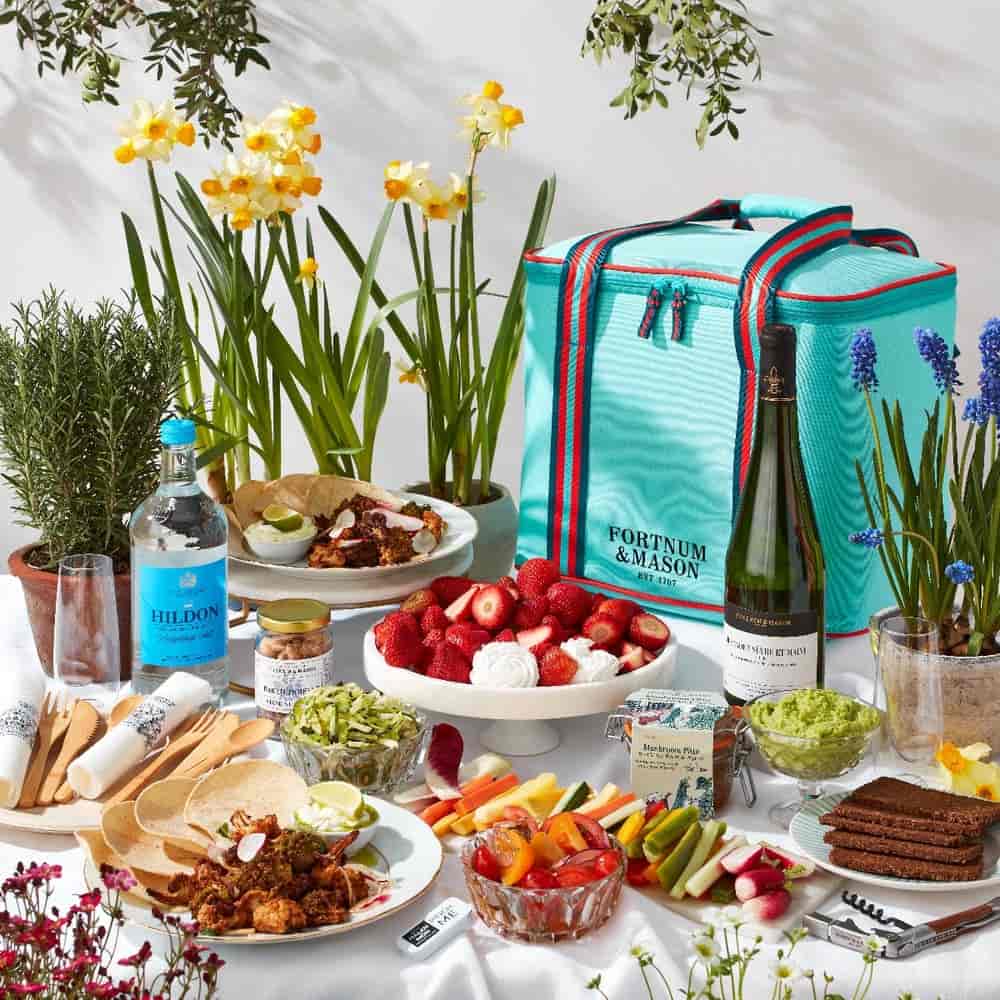 A vegan picnic from Fortnum & Mason obviously comes at a premium but if you're celebrating a special occasion with a picnic, this premium picnic basket
The vegan hamper with wine contains pea & mint dip, pumpernickel bread, truffle nuts, crudites, mushroom pâté, cauliflower tacos, summer slaw and strawberries with Chantilly cream. The wine is Muscadet and it also comes with a bottle of water plus plates, glasses, a corkscrew, bamboo cutlery, salt and pepper, all in a cool bag.
---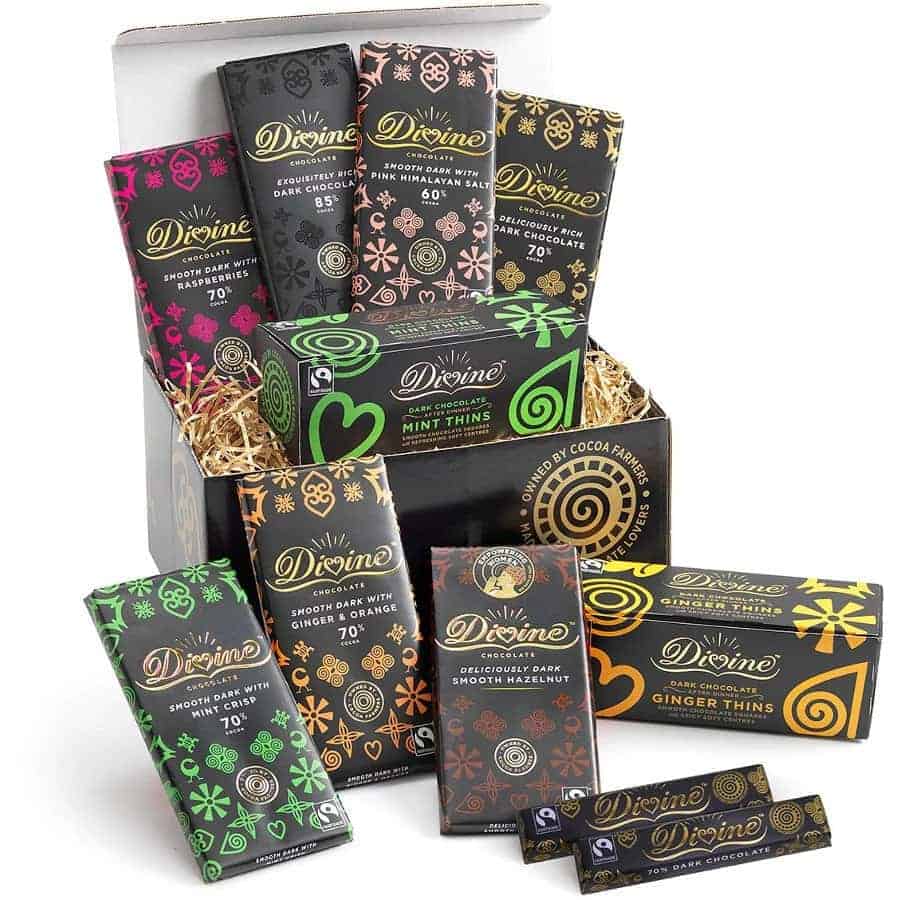 These vegan chocolate hampers are filled with vegan, fair trade dark chocolate. They're all Vegan Society approved and palm oil free.
The vegan chocolate gift baskets contain: dark chocolate with pink Himalayan salt, dark chocolate with hazelnut, ginger thins, orange thins, mint dark chocolate, 70% dark chocolate, 85% dark chocolate and two mini bars of 70% dark chocolate.
---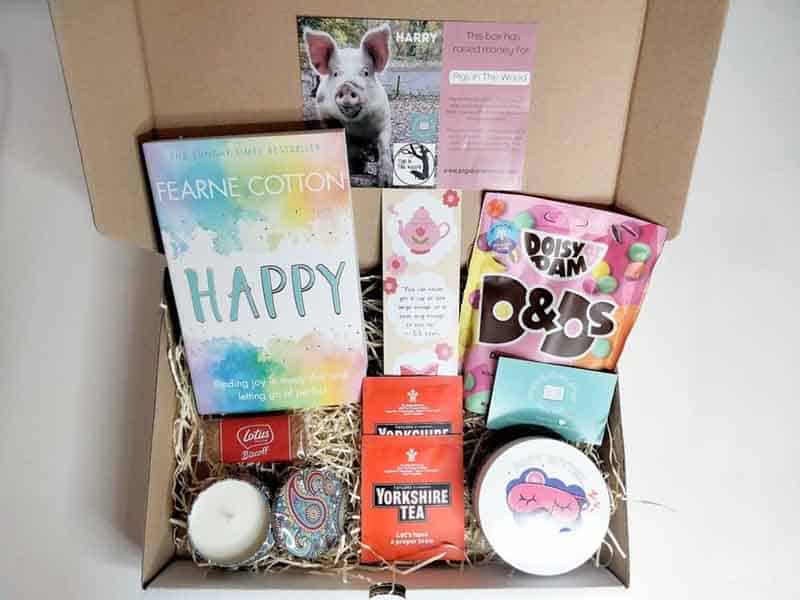 Did you now there's a book-based vegan hamper? UK based Happily Ever After sends boxes of vegan treats (such as biscuits, chocolate and candles) along with a book.
These vegan book box subscription company started in 2021 and make the best gifts! (I sent one to a friend and it went down very well – plus the packaging looked lovely.) Inside, there's a new book (which they save from going to landfill!), plus vegan treats such as vegan chocolate, a biscuit, tea, a candle or bath bomb. You can choose between different book genres and treats, and you can send a subscription or a one-off box.
You can include a personalised message inside the box as well.
Proceeds go to an animal rescue charity and they send information in the box, like the box I sent my friend which contained a picture of a rescue goat for whom the box helped raise money.
---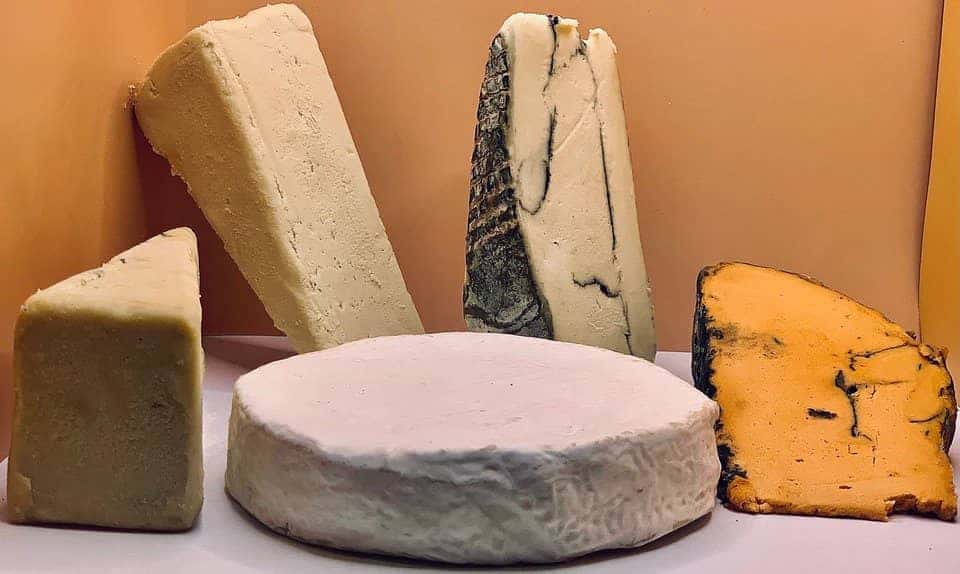 La Fauxmagerie is a vegan cheesemonger who opened the first ever vegan cheese shop in the UK in Brixton market (now they've moved to larger premises near Brick Lane). I went there when it opened and my friends and I enjoyed all the samples we tried!
Their vegan cheese box, unlike other cheese hampers, has full-sized vegan cheeses from their range, plus ale crackers and quince preserves. The cheeses in the hamper are: Brixton blue, Clapton chive, truffle Camembert, Shoreditched smoked and Balham blue.
Add a bottle of wine and you've got a cheese and wine party ready to go!
FAQ
What is a vegan hamper?
A vegan hamper is simply a hamper that is free from animal products! It could contain vegan food such as dairy free chocolate or plant-based cheeses or vegan & cruelty free skincare products (like this hamper). Or it could contain a mix like these hampers which come with vegan snacks, chocolates, wine and more.
Where can I find the best vegan hampers?
It's easy to buy vegan hampers online – then you can have them sent directly to the recipient. There are vegan hampers from every price range, from luxury vegan hampers to more affordable vegan hampers.
There are also hampers for special occasions such as this vegan birthday hamper or this luxury vegan picnic hamper. And there are specialised hampers, such as a vegan wine hamper, vegan cheese hamper, vegan chocolate hamper or vegan pamper hamper.
What are the best non-food vegan gift hampers?
I recommend this vegan pamper hamper perfect for a spa night, which comes with vegan bath bombs, bath oil, moisturizer, candle and teas. Or, this zero waste vegan beauty box which is full of goodies such as vegan deodorant, lip balm and dry shampoo, all cruelty-free, vegan and free from plastic packaging.
What are the best luxury vegan hampers?
There are plenty of luxury vegan hamper options these days, thanks to Harrods and Fortnum & Mason!
Fortnum & Mason have a few different hampers so you can choose from a range depending on the special occasion. They have their Christmas vegan hamper, filled with vegan chocolates, wine, teas, spreads and a free-from Christmas pudding. They also have a Herbivore hamper, ideal for any special gift, filled with vegan cake, teas, wine, pate and more. They even have a vegan wine hamper (with six vegan-friendly bottles of reds, whites and champagne) and a luxury vegan picnic hamper. The picnic hamper comes filled with a luxury spread of pea & mint spread with pumpernickel bread, mushroom pate, cauliflower tacos, tomato salad, strawberries with Chantilly cream and more. It also comes with a bottle of wine and bottle of water, picnic plates, glasses, bamboo cutlery, corkscrew, and salt and pepper – basically, everything you need for a picnic, all in a cool bag.
How can I DIY a vegan hamper?
Looking for vegan hamper ideas? You could create your own gift hampers for vegans in your life and save money by making your own vegan cookies, granola, liqueur, flapjacks and/or truffles, and adding a bottle of wine.
You could also, if you're crafty, create some vegan bath products like bath salts or bombs to fill your vegan treat hamper. I did try to make my own bath bombs once at home and it was tricky and a bit explosive, so be sure to put down lots of towels or sheets on the ground to avoid exploding your bath bombs all over your carpet like I did!
Here are some idea for edible homemade gifts.
Pin this for later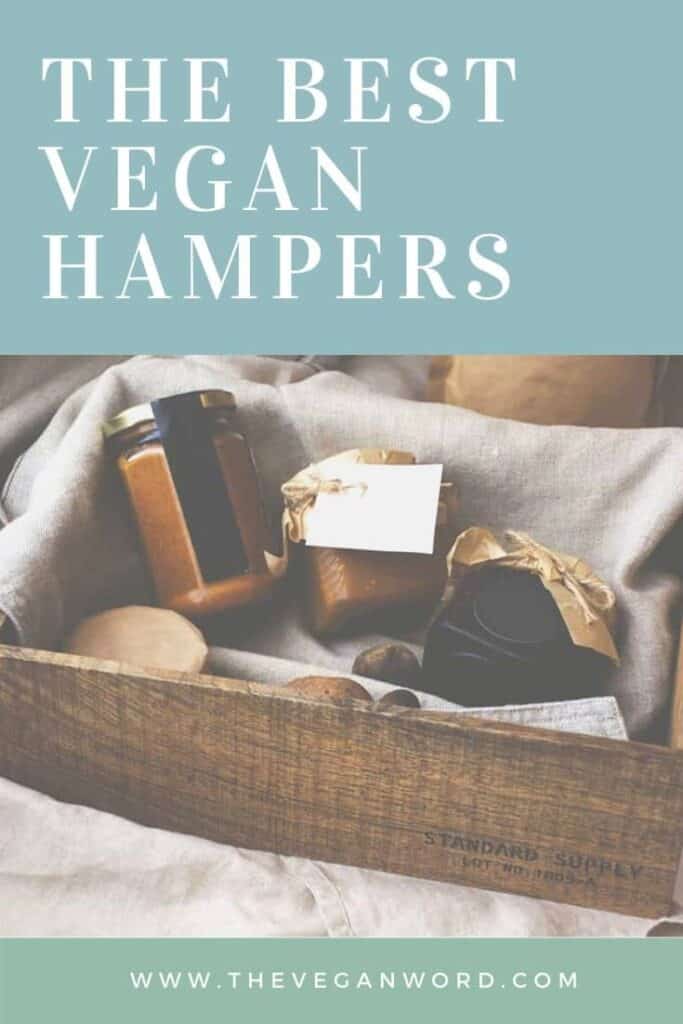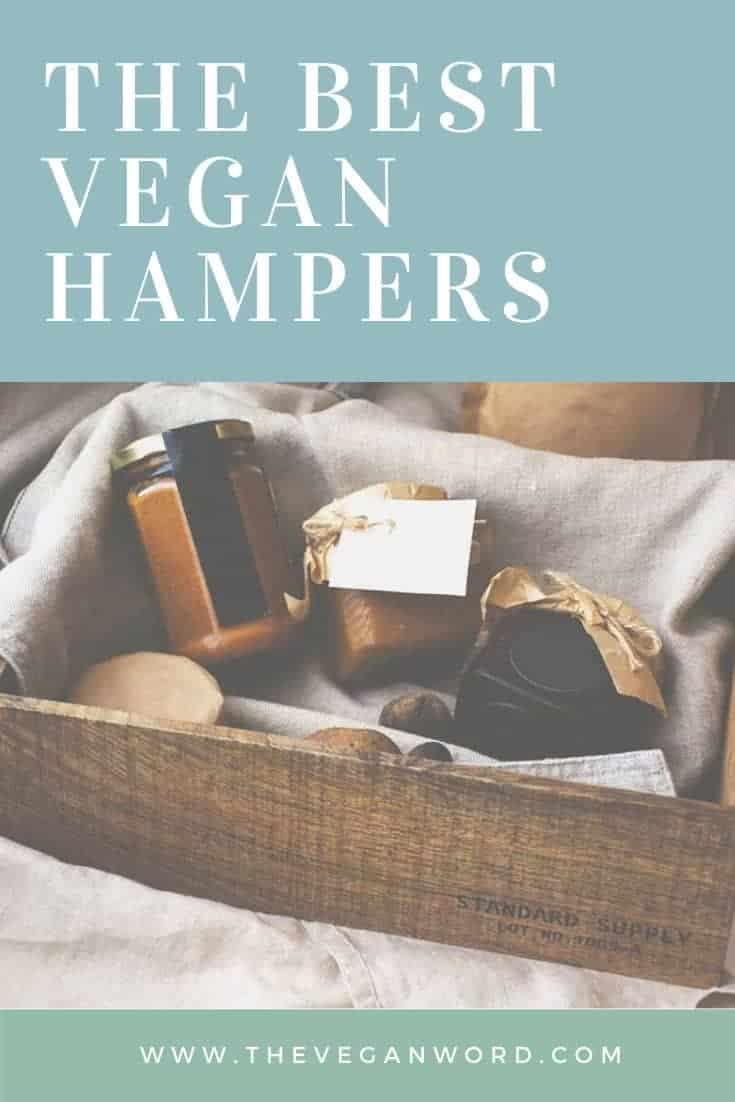 Looking for more vegan hampers? I have a guide to vegan Christmas hampers.
Looking for more vegan gifts? Check out my full guides to vegan gifts in the UK, and vegan gifts in the US. I also have a guide to vegan gift baskets in the US.
Find all my vegan lifestyle guides.