Nothing beats cosying up in the wintertime with your slippers and a vegan hot cocoa. How to ensure you get vegan slippers?
There are plenty of what appear to be vegan slipper options out there that are made with synthetic fibers or cotton, but are all those slippers vegan, really? To help, I've put together a list of the best vegan slippers!
Here are my picks of the top vegan slippers:
More vegan slippers:
There are plenty of other womens and mens vegan slippers – read on for the full list.

Best of: best vegan house slippers
These are more than vegan womens slippers – Dooeys are called "house shoes" (a cross between a slipper and a shoe) and one reviewer says they feel like "hugs for your feet."
They're designed to support your feet much like a shoe, while being cosy and comfortable for use around the house.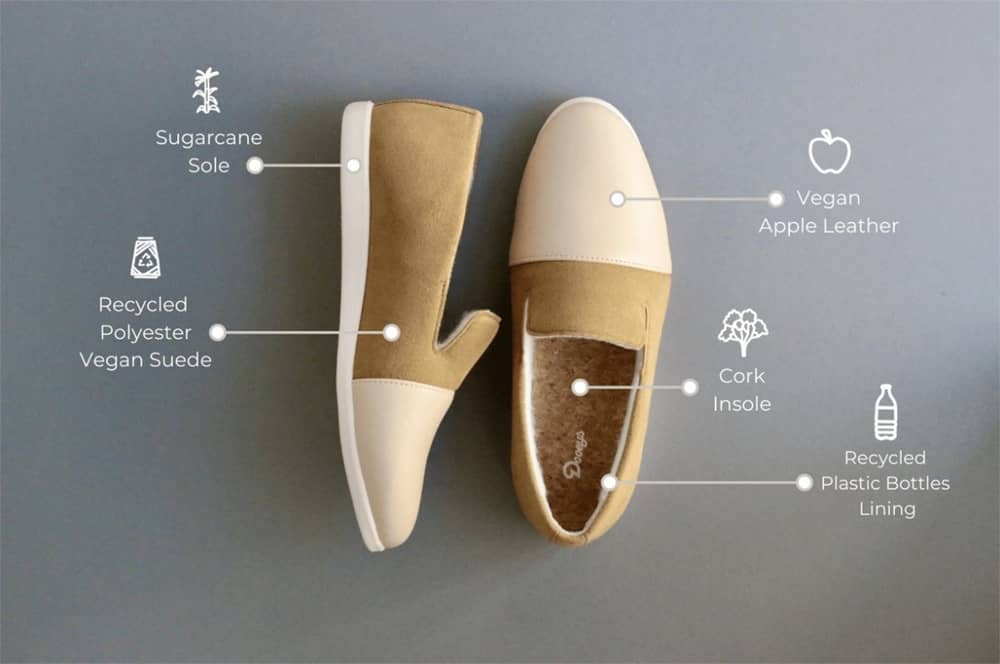 These vegan house slippers have some serious eco credentials. The womens vegan slippers are made with vegan apple leather (made with waste from the food industry), sugarcane-based soles, a cork-based insole, vegan suede made from recycled polyester and a lining made of recycled plastic bottles.
Dooeys come in two styles, the house shoe pictured above, and vegan mule slippers if you prefer a shoe you can slip on. The mules are also made with vegan apple leather, sugarcane and recycled plastic bottle lining, plus feature a coconut husk footbed with cork lining.
The founder of Dooeys decided to create the company after living in Amsterdam and working from home there and feeling like she had to choose between sneakers and unsupportive slippers.
Dooeys are the best of both worlds, and perfect for support if you have hardwood or tile floors.
These vegan leather slippers are ethically made in Portugal and shipped with carbon neutral shipping in recycled packaging.

Looking for extra warm vegan slippers? These slippers are like wrapping your feet in a puffer jacket!
These unisex vegan friendly slippers are made with recycled post-consumer plastic waste and will keep your feet nice and toasty.
These vegan winter slippers also come with extra traction on the soles in case you wear them outside. Like all Noize products, they are 100% vegan and PETA approved.

Best of: best mens vegan slippers
These vegan mens slippers come in two styles – mules or full slippers.
Mecredy's use a heavy duty felt crafted out of 100% recycled plastic bottles collected from the ocean. They are certified by the Global Recycling Standard and each slipper is made from at least 2 recycled bottles.
The sole of the men's vegan house slippers is made from 100% sustainable natural rubber.

Mecredy's vegan slippers for women are, just like their men's slippers, made from recycled plastic bottles recovered from the ocean.
Each of these cruelty free slippers is made from at least 2 plastic bottles, and the soles of the sustainable vegan slippers are made with 100% sustainably sourced rubber.
The vegan sustainable slippers are made in a factory in Spain using traditional techniques that is committed to eco-friendly production.

Many people swear by wearing their warm boots as slippers, because they're so toasty. These vegan slipper boots from Noize are sure to keep you warm!
The vegan boot slippers is made with recycled plastic and insulated with a recycled fill.
The vegan bootie slippers also have extra traction on the sole.
They come in yellow, black, fuschia or blue.

Best of: best vegan slippers UK
These slipper socks are made of bamboo viscose and organic cotton with a recycled polyester triple lining to keep your toes cosy and warm.
They have extra grip on the sole, so although they are socks, they won't feel slippy.

These vegan shearling slippers are made with a soft faux shearling.
These vegan fluffy slippers are slides with a flat sole and a wide strap you can slip on and off. Since these women's vegan slippers don't cover your toes you may not find them as warm as some other slippers.

I think this lightweight slippers look perfect for spring and summer, if you like to wear slippers year round.
These slippers are made of Ecovero, a silky and soft fabric made from renewable wood sources. It's breathable, anti-microbial and anti-static.
The padding and soles of these ethical vegan slippers are made of 100% recycled polyester and they come with a fabric bag for travel or for use as a laundry bag.
Thought work with factories to ensure they meet the highest ethical labour standards.

If you want hotel-style slippers, these look exactly like many slippers I've seen while travelling.
The toweling slippers are made of organic cotton that's unbleached and undyed. The sole is rubber.
They only come in two sizes so not a great deal of range.

These slippers are made from eco friendly cork.
Cork is one of the most eco-friendly materials because cork trees are harvested without cutting down or harming the tree, and the trees require little input in terms of water or fertiliser. It is also biodegradable, depending on how it is treated.
As well as being a regenerative material, cork is also a durable material and will last you a long time. Plus, cork generally has a reputation for fair labour treatment – see more here.
The cork used in these slippers is from Montado, Portugal, which grows half the cork in the world and consists of 21% of the forests in Portugal. The cork trees are harvested every 9 years.
Cork is hypoallergenic, lightweight, impermeable, soft and elastic.
You can clean cork with soap and water.
One thing to note is that some reviewers state they stretch slightly over time.
These non leather slippers have a faux shearling lining and a memory foam insole. Memory foam moulds to your feet over time so these are extra comfortable!

These cozy vegan slippers are made with a faux suede outer and vegan faux fur and faux shearling lining.
The seams are doubled nylon stitched and they have an EVA sole.
They run small so it's recommended you size up.
Pawj is a 100% vegan brand that makes boots and vegan slippers like Uggs. If you're looking to keep your feet nice and toasty all winter, these are the slippers for you!
These mule-style vegan sheepskin slippers are made with a high-quality faux suede upper and a lining made of faux fur and vegan shearling. They have an EVA sole, reinforced heel and double-stitched seams.
Pawj also make Ugg-style boots, if you need shoes to keep your feet toasty this winter as well as slippers! They have both tall and short boots, lined with vegan faux fur for ultimate cosiness (and the boots can be worn up or folded over).
More vegan slippers:
Pawj California: more styles of vegan Ugg slippers & boots
Thies 1856 eco children's line
Thies 1856 eco slippers for women
Ethletic Fair Fighter slipper shoe
Vegetarian Shoes unisex travel slippers
Toms vegan slippers
Vesica Piscis vegan bootie (recycled cotton + faux wool lining)
Gumbies Outback recycled slippers
FAQ
What are vegan slippers?
Vegan slippers are simply slippers that don't contain any animal products. Similar to other vegan shoes, they don't contain any leather, wool, fur or other animal by-products.
They can be made from a number of materials, from organic cotton to polyester or recycled polyester, faux fur, vegan leather, hemp or even cork.
While most vegan materials are more sustainable than animal-based materials like leather, silk or alpaca wool (see Higg material index here), there's variability between different vegan materials. (Note that the Higg index I linked doesn't show organic cotton vs conventional or recycled polyester vs standard polyester.)
Cork, for example, is a highly sustainable material and so buying slippers made with cork (like these cork slippers on Etsy) is a great idea to be more sustainable.
There are also plenty of innovative and sustainable new vegan leathers, such as the apple leather made with leftover food industry waste used in Dooeys slippers, alongside cork, recycled plastic bottles and coconut husks.
Where to buy vegan slippers?
You may be able to find vegan slippers in a shop near you, though they probably won't be labelled vegan. Just check what they're made of and be sure to avoid leather, wool, fur trim etc. Here's a link to shoe label symbols and what they mean.
Sometimes it's easier to buy online where shoes are often better labelled as vegan! Hence my list above – check out my list of vegan slippers you can buy online.
Does Ugg make vegan slippers?
Ugg has not endeared itself to vegans over the years – their shoes are made of sheepskin, and so are not vegan or cruelty-free!
In 2021, PETA announced that following a petition, Ugg had decided to launch a vegan line. However, there's no evidence of vegan Ugg's on the Ugg's website.
Did they never launch? Did they discontinue them? Who knows, but as of now there are no vegan Ugg's.
Instead, try Pawj, a cruelty-free, vegan alternatives to Ugg's. They make 100% vegan Ugg style boots and slippers.
Pin this for later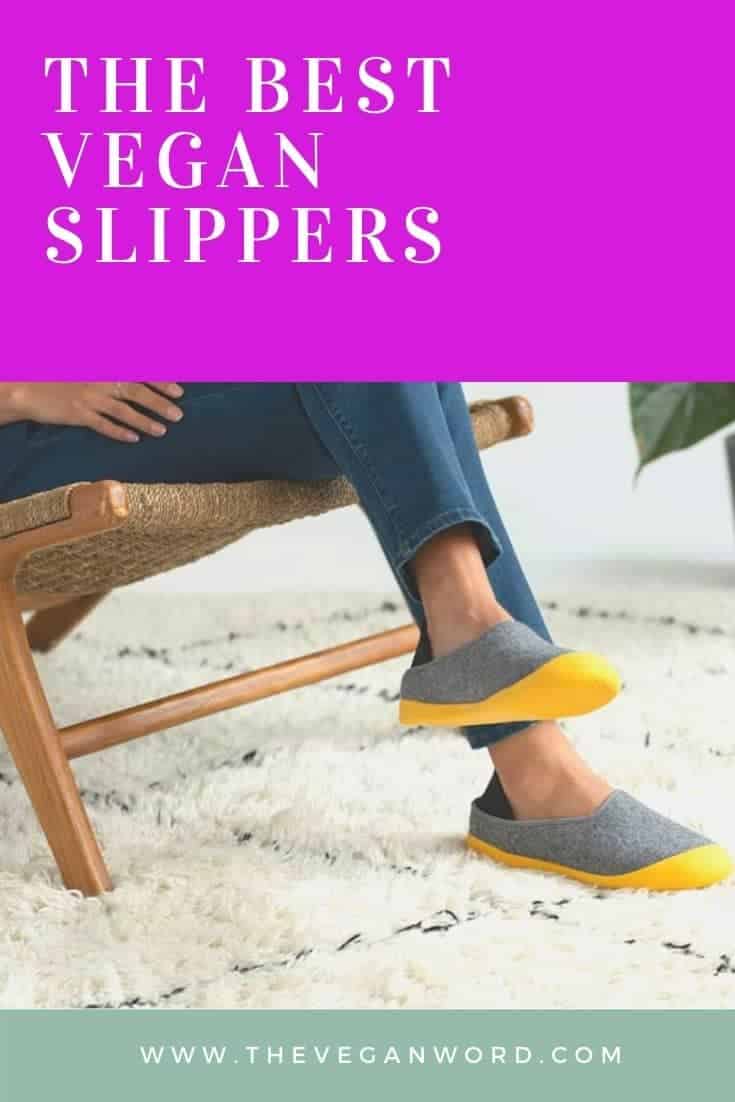 Looking for more vegan shoes? Find my guide to the best vegan shoe brands.
If you need to dress to impress, find my guides to vegan heels, vegan designer shoes and vegan dress shoes.
More shoe guides:
See all my vegan beauty & fashion guides.