Vegan ankle boots are a stylish and practical option for autumn and winter – here's how to choose the best vegan ankle boot for your need!
Vegan winter boots for women come in a range of styles, from Chelsea boots to knee high boots. Click here to see my full guide to all styles of vegan boots.
One enduring style that is always is fashion is ankle boots. Vegan ankle boots are indistinguishable from their leather counterparts these days. Vegan leather is made from a variety of materials, including polyurethane (what most people would call fake leather), plus innovative materials like leftover pineapple waste (Piñatex) and apple skins.
Read on to see the best vegan leather ankle boots.

These vegan black ankle boots will work with pretty much any outfit. The heels add height but are comfortable, and the vegan suede is made from eco-friendly microfiber. I love Nae's shoes, they're always really stylish and versatile.

These vegan ankle booties are perfect if you're looking for comfortable flat ankle boots. I haven't ever tried Matt & Nat's shoes but I've owned their bags and wallets in the past and my current wallet is a nearly ten-year-old Matt & Nat wallet. It's still going strong so I think their products are durable!

BC Footwear's off white vegan ankle boots are available on Amazon. They also come in brown, which you can find here.

Looking for vegan chunky boots? These safety boots are not just good for work where your feet need protection, but also for that chunky boot look.

These vegan fashion boots are made with Bhava's quality. If you're looking for lace up or combat boots, these are a modern take on them with a low heel and a comfortable cork interior.

Vegan short boots have never looked so stylish. These block heel booties have a fold down cuff in gold (the shoes also come in black with a black cuff) and perfect for a party look, or with the cuff up they'd look great with jeans. They're made with recycled faux leather and are PETA approved vegan.

The Dr Martens vegan 101 ankle boots are a classic Doc Martens shoe. These Dr Martens vegan ankle boots are built on the comfortable Doc Martens air-cushioned sole.

These vegan patent leather boots are the classic, original 1460 boots, made vegan. The vegan 1460 patent ankle boots are available in black patent vegan leather, cherry red patent vegan leather or iridescent glittery vegan leather.
Pin this for later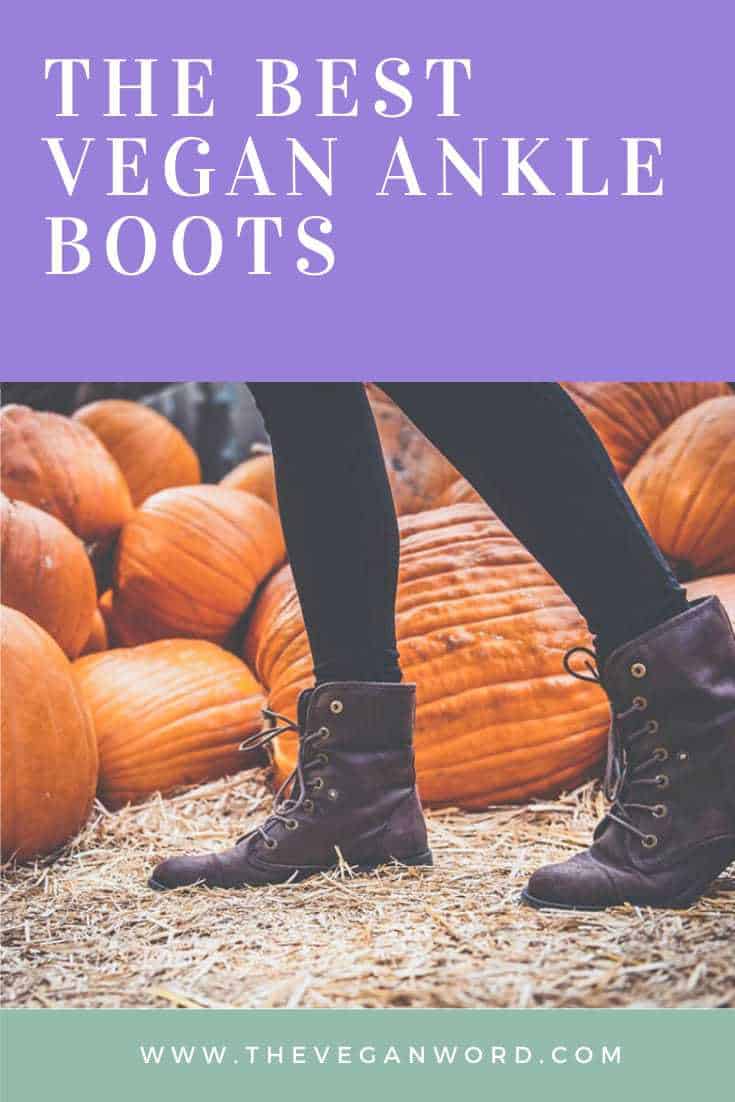 Looking for more vegan shoes? Check out my guide to all vegan boots here, vegan Chelsea boots here, vegan sneakers here and vegan sandals here. I've also got a guide to vegan knee high boots here.
Searching for smarter shoes? See my guide to vegan heels here.
You can find all my vegan beauty & fashion guides here.
What's your favourite vegan ankle boot style?