Read on to see the best vegan leather ankle boots.

These vegan black ankle boots will work with pretty much any outfit. The heels add height but are comfortable, and the vegan suede is made from eco-friendly microfiber. I love Nae's shoes, they're always really stylish and versatile.
Nae is a 100% vegan company, whose shoes at PETA certified vegan.
They're based in Portugal and aim to be eco-friendly, using as many sustainable materials as possible, like cork, organic cotton, recycled plastic bottles and pineapple leather, a sustainable vegan leather made with leftover waste from the pineapple industry.
These vegan booties have a stacked heel of 3.5 inches, and would look great with jeans or with a skirt.

These vegan ankle booties are perfect if you're looking for comfortable vegan flat ankle boots.
Matt & Nat started out making vegan bags but have since progressed to making shoes too!
I haven't ever tried Matt & Nat's shoes but I've owned their bags and wallets in the past and my current wallet is a nearly ten-year-old Matt & Nat wallet. It's still going strong so I think their products are durable!
The Tammy vegan leather boots have a 1 inch outsole and are made with a smooth vegan leather.

These Italian vegan leather ankle boots are made using AppleSkin leather, an innovative new vegan leather made from apple skin and core waste left from the food industry.
These non leather ankle boots have a breathable, antibacterial microfibre lining and the apple leather is already soft and supple and doesn't require breaking in. The Blaze boots are unisex and this on-trend style will look good with anything.
Good Guys Don't Wear Leather was the first entirely vegan shoe company in France. They are sweatshop-free and their shoes are fair trade and made in Portugal.
As a vegan shoe brand, they aim to be as sustainable as possible and use vegan leather made in a carbon neutral process in Italy, and they plan to be 100% recyclable by 2022.

These red vegan cowboy boots will make you stand out! They have elastics to fit better around the ankles and two strong pulls so you can get them on and off easily.
Made with a soft vegan microfibre suede upper, they come in black, brown and red. They have a breathable microfibre lining and a wooden heel, plus a thick elastomer sole for comfort.
Find more vegan cowboy boots in my guide here.

BC Footwear's vegan ankle boots are available on Amazon. They come in brown or black.


Looking for vegan chunky boots? These safety boots are not just good for work where your feet need protection, but also for that chunky boot look.

These vegan fashion boots are made with Bhava's quality. If you're looking for lace up or combat boots, these are a modern take on them with a low heel and a comfortable cork interior.

The Dr Martens vegan 101 ankle boots are a classic Doc Martens shoe. These Dr Martens vegan ankle boots are built on the comfortable Doc Martens air-cushioned sole.
Find my full guide to vegan Doc Martens boots here.

These vegan patent leather boots are the classic, original 1460 boots, made vegan. The vegan 1460 patent ankle boots are available in black patent vegan leather or cherry red patent vegan leather.
FAQ
How are boots vegan?
Vegan boots are just boots that are made without any animal products like leather, fur, wool or animal-based glues.
Instead, they are manufactured using vegan materials like canvas, rubber, cork and vegan leathers such as polyurethane (PU) leather, microfibre vegan suede or newer and innovative sustainable vegan leathers such as pineapple leather and apple leather.
Both of these are made from food industry waste that otherwise would have gone to landfill.
How are vegan boots made?
As mentioned above, vegan boots can be made from materials such as canvas or cork, but most are made from vegan leather.
They're also free of animal-based glue, which is sometimes (though less and less frequently) used in shoe manufacturing, and isn't required to be labelled, making finding vegan shoes a pain in shops.
Are vegan shoes comfortable?
For some reason (and I'm not quite sure why), there seems to be a rumour going round that vegan shoes aren't comfortable.
I've had many people remark to me over the years that they 'can't buy' vegan shoes because they aren't as comfortable as leather.
That's not true! And materials such as AppleSkin leather (such as the apple leather used in these Good Guys boots) are actually naturally soft and supple and don't require breaking in - making them more comfortable out of the box!
But what about breathability...aren't vegan shoes sweaty and smelly?
This is another one I've heard a lot from people - 'but pleather is sweaty'.
Now, this misconception probably stems from a time a few decades ago when most vegan footwear was made from pleather, or PVC, which IS really sweaty - as well as being an environmental nightmare.
I recommend avoiding PVC at all costs, and thankfully very few manufacturers use it these days because it's so bad for the environment.
Most vegan shoes these days are made from polyurethane/PU leather, canvas, pineapple leather, apple leather etc. - which are breathable.
In fact, this footwear site states that synthetic materials are MORE breathable and lighter weight than leather shoes, making you more comfortable.
One key thing you can do to improve your comfort, prolong the life of your shoes AND make them smell less is rotating your shoes. Most experts recommend this.
So, don't wear the same pair every day and be sure to put them on a shoe rack or hanging rack so they can air out in between uses.
Are vegan boots eco-friendly? Aren't they made out of plastic and therefore terrible for the environment?
Another misconception is that vegan shoes aren't eco-friendly...and that leather is.
Nothing could be further from the truth - the Higgs Index ranks vegan PU leather far above leather. just like the meat industry, leather production is responsible for the same environmental destruction, from greenhouse gas emission to destruction of the Amazon rainforest.
Many people mistakenly believe leather is biodegradable and therefore more eco-friendly, but that's also untrue. Most leather is treated using chromium, which makes it non-biodegradable.
Chromium is highly damaging to workers who have to use it, and 90% of leather is treated with it. Chromium causes throat irritation and increases cancer risk, and workers in the industry are as young as 10 years old.
Why buy vegan?
For the animals - contrary to some misconceptions, leather is not a 'harmless byproduct' - it IS a byproduct of the meat industry, but is therefore cause of all the same cruelty. (See more from the Vegan Society here.)
For the environment - in the Higgs Index, leather was ranked as the second worst material for the environment, after alpaca wool (also not vegan)
For people - chromium used in 90% of leather tanning is detrimental to the health of workers in the industry, causing permanent airway damage and increasing cancer risk for workers, some of whom are as young as 10 years old.
What about workers?
As mentioned above, chromium used in leather production is extremely bad for the workers involved in the leather tanning industry.
But beyond that, sweatshops are a major concern in the fashion industry.
Therefore, buying secondhand or from sweatshop-free brands is the best choice.
I recommend checking out sweatshop-free vegan shoe brand Good Guys Don't Wear Leather and fair trade shoe brand Allkind.
How long do vegan boots last? Are they durable?
I've found the durability of shoes to vary greatly. Of course, it depends on how frequently you wear them and what you do (I tend to walk a lot, so the soles of my boots wear out fairly quickly).
It's not a strictly linear relationship (and even individual styles can vary), but generally speaking of course you get what you pay for, and more expensive shoes tend to be made using longer-lasting, higher-quality materials.
Whatever you buy, I highly recommend finding a good cobbler/shoe repair store near you. You can greatly prolong the life of your boots by having them re-soled as needed.
I have a pair of vegan boots I wear for walking a LOT every winter and they wear out fast - however by having them resoled every year, they've lasted five years and counting in spite of my heavy use. And taking good care of your shoes - by rotating and letting them breathe - will also make them last longer.
Where can I buy vegan boots?
Unless you're lucky enough to have a vegan shoe store near you (few of us are so lucky!), your best bet is online.
You can also look in department stores or discount shoe stores near you, but as animal-based glues aren't labelled it can be tricky unless you contact the manufacturer.
eBay and secondhand apps like Depop and Vinted are also great for finding vegan shoes on sale at a good price point.
What can you wear ankle boots with?
Ankle boots are really versatile and can be styled with pretty much anything, from jeans to dresses with tights in the winter or lightweight dresses without tights in spring or autumn.
What color ankle boots are best?
It's a personal call but for pairing with more things, you might prefer a neutral tone like brown, grey, black or white.
Personally, I usually go for black boots which I pair with most things.
However, you might also want a pop of color, like Good Guys Don't Wear Leather's bright red cowboy boots. They'd look great with jeans or even a dress and black tights.
Pin this for later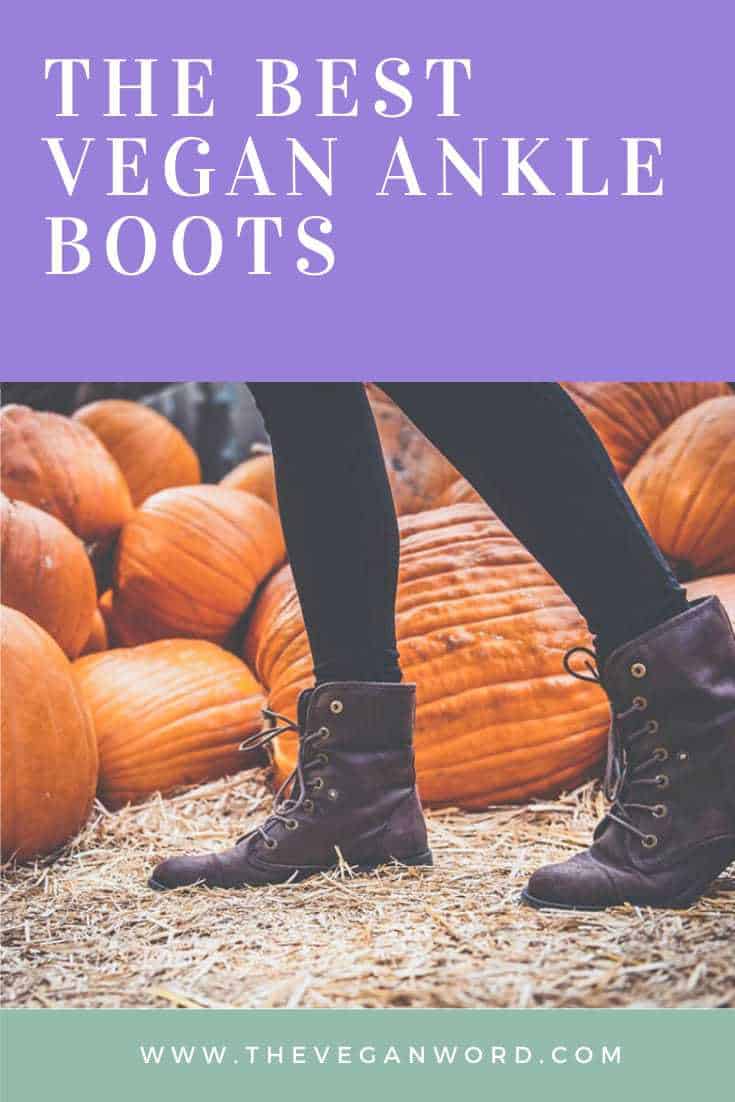 Looking for more vegan boots? Find my guide to vegan Uggs, vegan Doc Martens and vegan Doc Marten Chelsea boots.
Looking for more vegan shoes? Check out my guide vegan womens shoes and mens shoes, and my guide to all vegan boots here, vegan leather Chelsea boots here, vegan sneakers here and vegan sandals here. I've also got a guide to vegan knee high and over the knee vegan boots here.
You can also find my guides to the best vegan loafers, vegan flats and vegan Reebok style sneakers.
Searching for smarter shoes? See my guide to vegan heels here, vegan dress shoes here and vegan designer shoes here.
If on the other hand, you're dressing for comfort, check out my list of the best vegan clogs here and vegan slippers for around the house.
Want to veganise the rest of your closet? Find my guide to vegan leather jackets here.
You can find all my vegan beauty & fashion guides here.
What's your favourite vegan ankle boot style?