Can you get your hands on (or toes in) vegan Timberlands? The answer is yes, but not from the Timberland brand!
It seems Timberland at one point made a small selection of canvas boots, but they've stopped. However, plenty of all-vegan shoe companies have filled the void with their takes on vegan Timberland boots. Better yet, they're made of eco-friendly materials as well as being cruelty-free.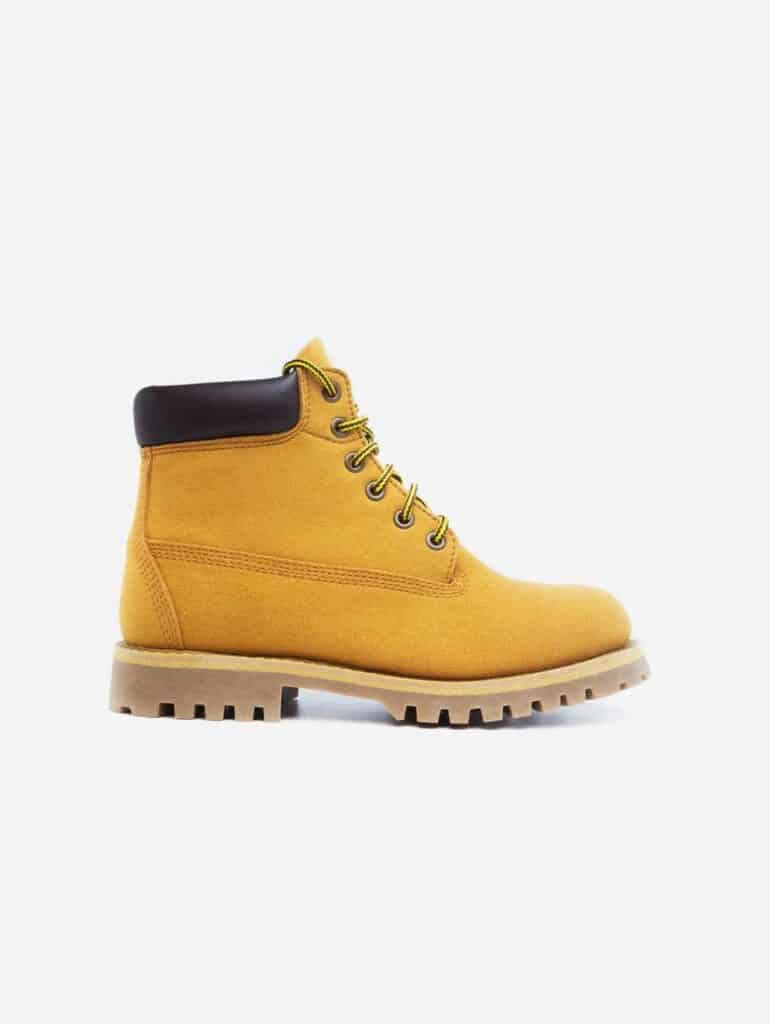 While Timberlands don't make any vegan versions of their boots at present, it doesn't matter when you can find vegan boots like Timberlands from all-vegan brands like NAE!
NAE is a vegan footwear brand that makes all their shoes in ethical factories in Portugal.
Their Timberland-style boots are made from eco-friendly, water-resistant vegan microfibre leather and have a breathable microfibre lining.
The outsole is made of rubber, and the boots are constructed using the Goodyear welt construction method. The Goodyear construction method is the gold standard of boot construction – because of the way they're made, it's easy to re-sole them, which is critical in making boots last longer.
I have a pair of vegan winter boots from another brand that I've been re-soling since 2015!
These boots look so similar to Timberlands, from the colour to the sole and the colour of the cuff on the heel. They're my top pick if you want a vegan version of classic Timberlands.
---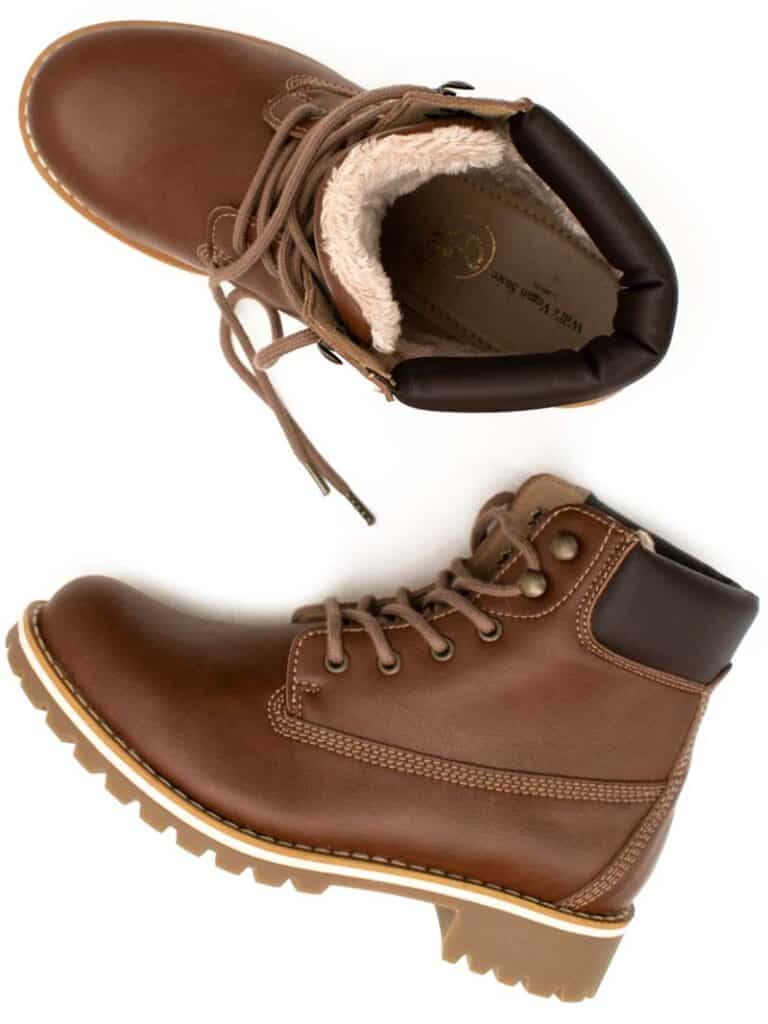 Vegan Timberland boots alternative: Will's vegan insulated dock boots (men's + women's)
These vegan leather Timberlands style boots are my top pick of Timberland-style boots for winter, since they're insulated.
These Timberland vegan leather alternative boots come in both men's and women's sizes (though the boots are the same otherwise).
The Dock boots are Will's bestselling boots, and this version has added insulation to keep your toes toasty in wintertime. They're warm and also breathable and water-resistant.
The uppers are made of a soft vegan suede in grey, or vegan bio-based leather in dark brown or black.
The insulation is Primaloft, made in 90% recycled content, and will keep your feet warm down to freezing conditions.
The outsoles are thick and have flexible grip/traction.
These boots are popular, with a rating of 4.5/5 stars with 75 reviews, with reviewers stating they kept their feet warm and dry in autumn and winter conditions..
---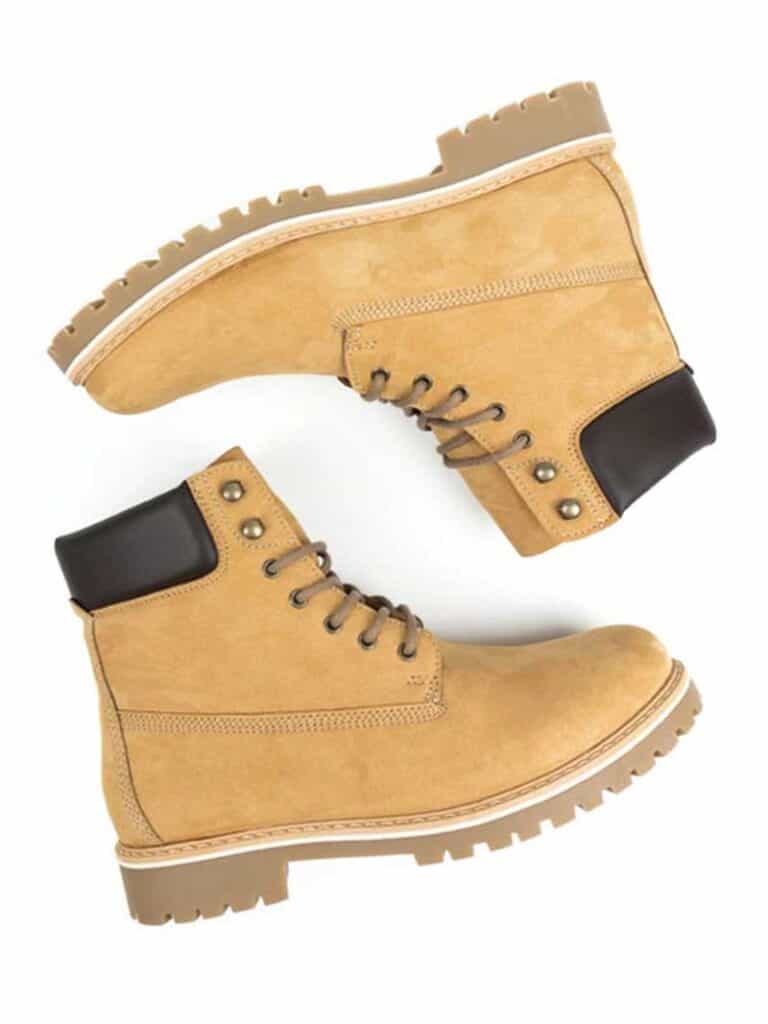 These popular vegan boots from Will's come in seven different colours, some of which are made from vegan suede and some of which are bio-based vegan leather.
Similar to the insulated dock boots above but without insulation, these are a great choice if you live in a climate that doesn't get as cold, or for autumn.
They have extra-strong laces and good ankle support with padding round the collar.
They also have generally good reviews, with 4.5/5 stars with over 80 reviews.
---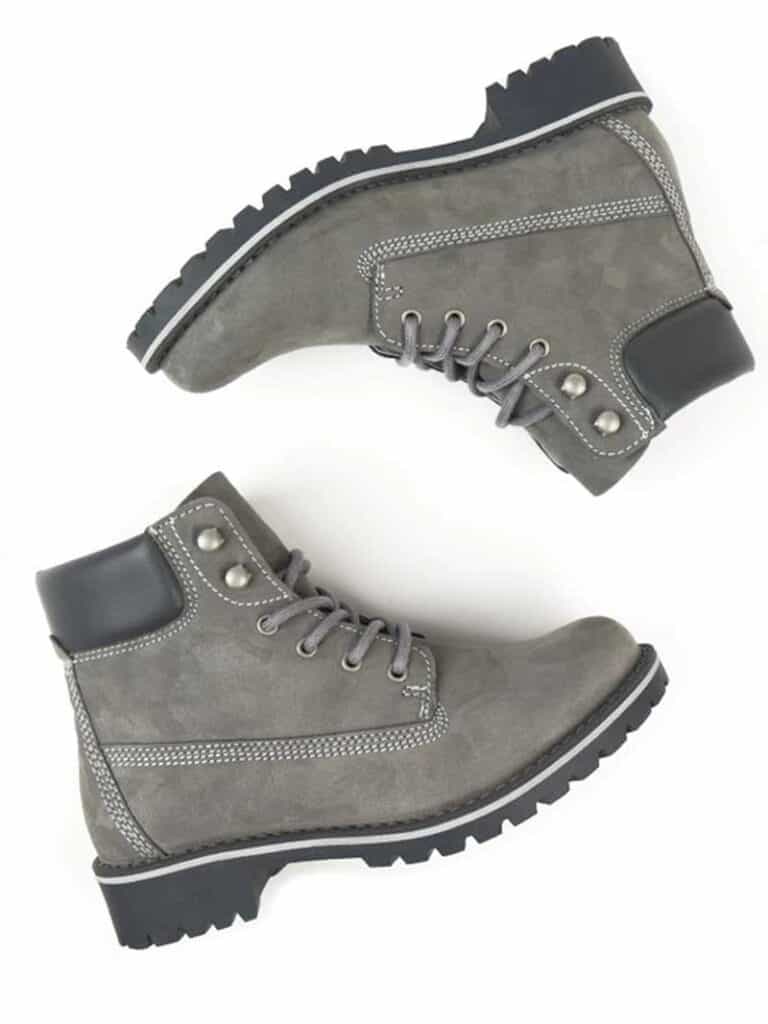 Made in the style of Timberland vegan shoes, these best-selling boots from Will's are the men's sizes of the dock boots above.
They come in six different colours, and are otherwise identical to the women's dock boots above.
These are the uninsulated version – they also sell insulated dock boots if you want warm boots for winter!
---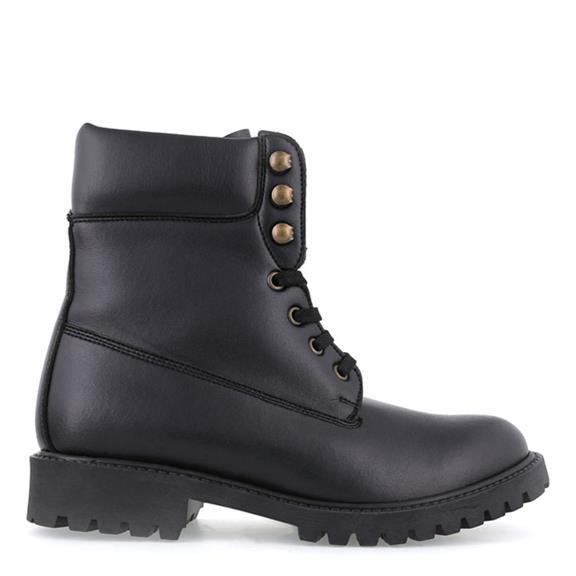 These non leather Timberlands style boots from vegan brand Noah are comfy hiking boots.
They use a vegan microsuede leather for these vegan Timberlands. Black is always a classic colour for boots, as it works with everything.
They're water-resistant and breathable, and have a non-slip sole with a thick tread.
Unlike other boots on this list, they also have a removable insole, if you need to use your own.
---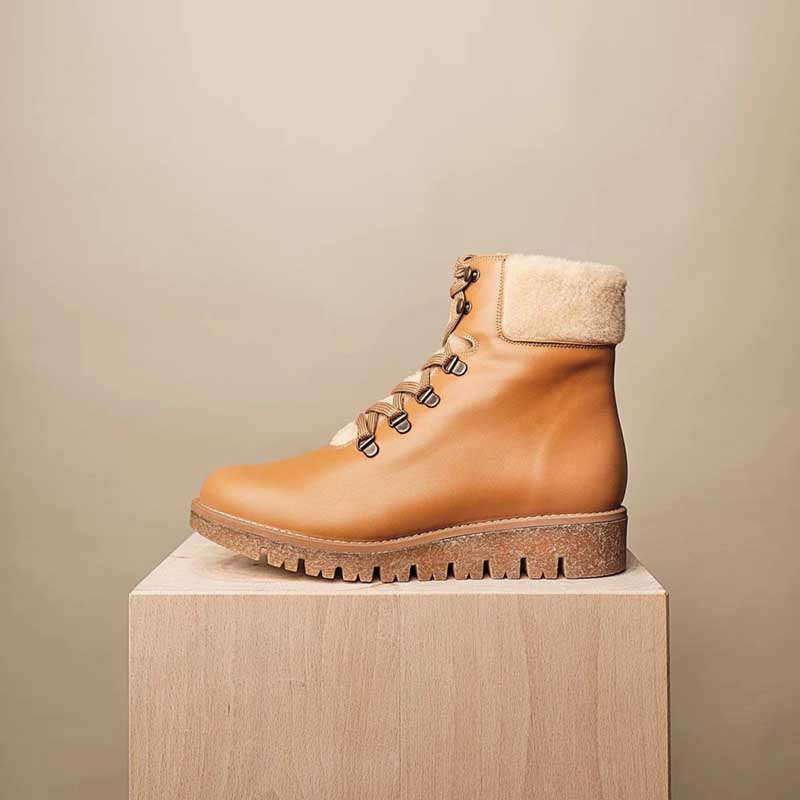 These vegan winter hiking boots from Bhava as described by many reviewers as incredibly comfortable – in fact that's one of the strong points of Bhava boots, in general!
As winter boots, they come with two removable insoles – cork insoles and vegan organic cotton shearling insoles for extra cosiness.
These boots are handmade in Alicante, Spain, just as generations of artisans have made shoes before.
With nearly 50 reviews, it has 5/5 stars overall from customers. Click here to read the reviews.
---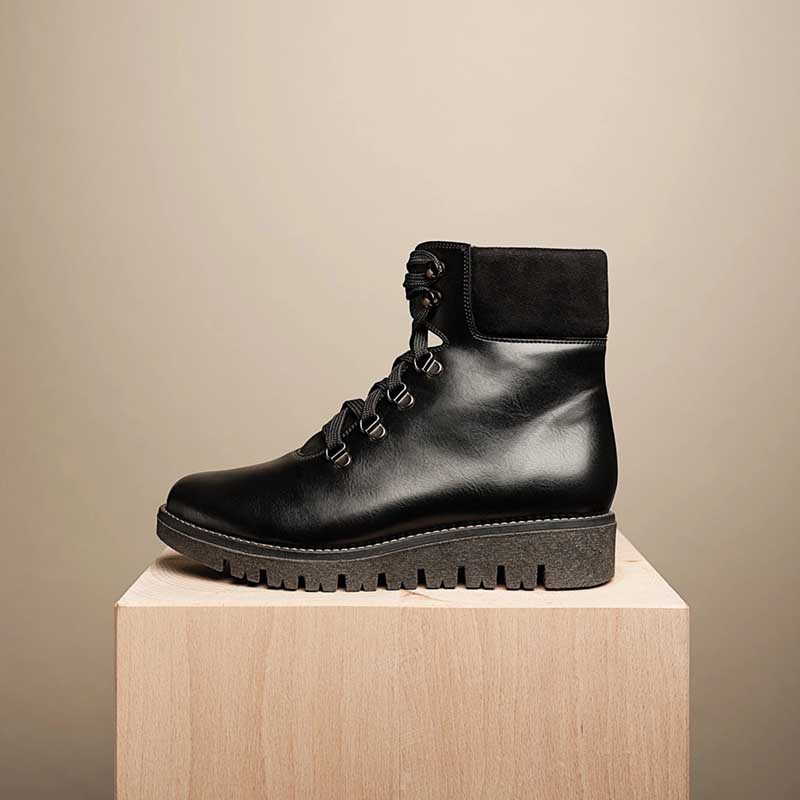 These Bhava hiking boots are perfect if you want all-black boots.
Like all Bhava boots, they're made in Alicante, Spain, where generations of artisans have made footwear using the same handmade skills.
With over thirty reviews, these boots have 5/5 stars from customers, with many praising their comfort and style. Click here to see the reviews.
---
These Timberland-esque unisex boots are made from eco-friendly vegan microfibre leather. It's also water-resistant.
They're made in ethical conditions in Portugal in a CO2-free manufacturing process.
They're also made using the Goodyear method, which results in durable boots that can be repaired many times.
---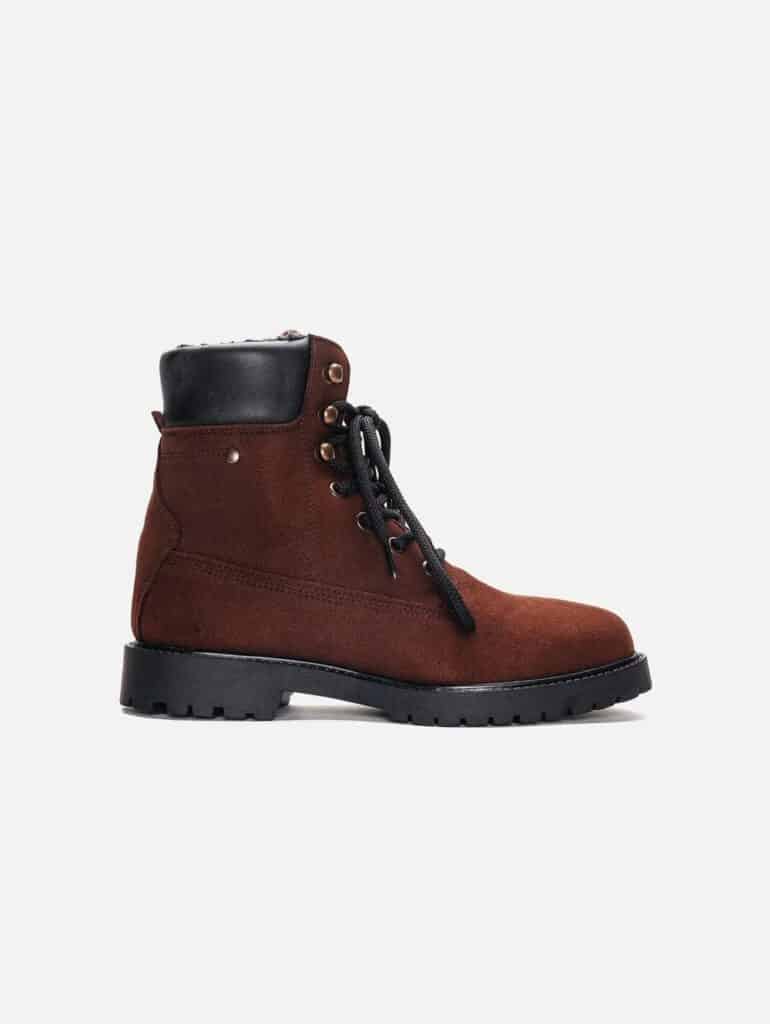 These mountain boots are made of vegan microsuede, and have a warm, padded fur-like lining made of organic cotton.
They also feature a secure lace-up system and are breathable, antimicrobial and antibacterial. They also have arch support and a moisture-wicking footbed.
Like all NAE shoes, they're made in fair working conditions in Portugal.
FAQ
Is Timberland cruelty free?
In short, no! Timberland is NOT a cruelty free brand – in fact, they don't even offer vegan shoes at all anymore!
Their boots are made from animal leather, and while they used to offer some canvas shoes, they no longer do at the time of writing.
Are Timberland boots vegan?
As above…no! They used to have a small selection of vegan canvas boots, but no longer sell them.
So whether you're looking for Timberland vegan work boots or boots for casual wear, you're better off going with an all-vegan brand that makes Timberland style boots…hence why I put together this article!
See my list above for the best vegan alternatives to Timberland boots. Some of them look exactly like Timberlands, but are made from 100% vegan materials and are more eco friendly to boot (pun intended).
What to look for in boots?
There are a few things you might want to look for in a pair of boots, such as:
Comfort
Whether they're fit for purpose (eg insulated if you plan to wear them in winter, waterproof in you live in a rainy climate etc)
Style
Durability
Eco-friendliness (and of course, that they're vegan, but that's a given)
Price
Surely most important is whether they're comfortable (Bhava shoes get good reviews for comfort), though of course this depends slightly on the shape of your foot.
Whether they're fit for purpose is also important. For example, if you plan to wear them in winter and you live in a colder climate you'll likely want insulated boots such as Will's insulated dock boots.
Style is also important. For example, if you plan to wear your boots to work you might prefer a dressier boot (such as these ankle boots or knee high boots). On the other hand, if you are going to wear them for running errands, something casual and comfortable like the Timberland-style boots above, is most appropriate.
Durability is critical, too. I think it's best to buy the most durable boots you can afford, as it saves money in the long-run and is more eco-friendly. Look for boots made using Goodyear welted construction (like the NAE boots), which makes them more durable as they can be re-soled many times.
Eco-friendliness, too, is an important consideration. Durability can play into this, but also you might want to look for sustainable materials, such as vegan microfibre leather.
And, of course, price is critical. Be sure to set your budget before shopping, whether online or in-person!
Pin this for later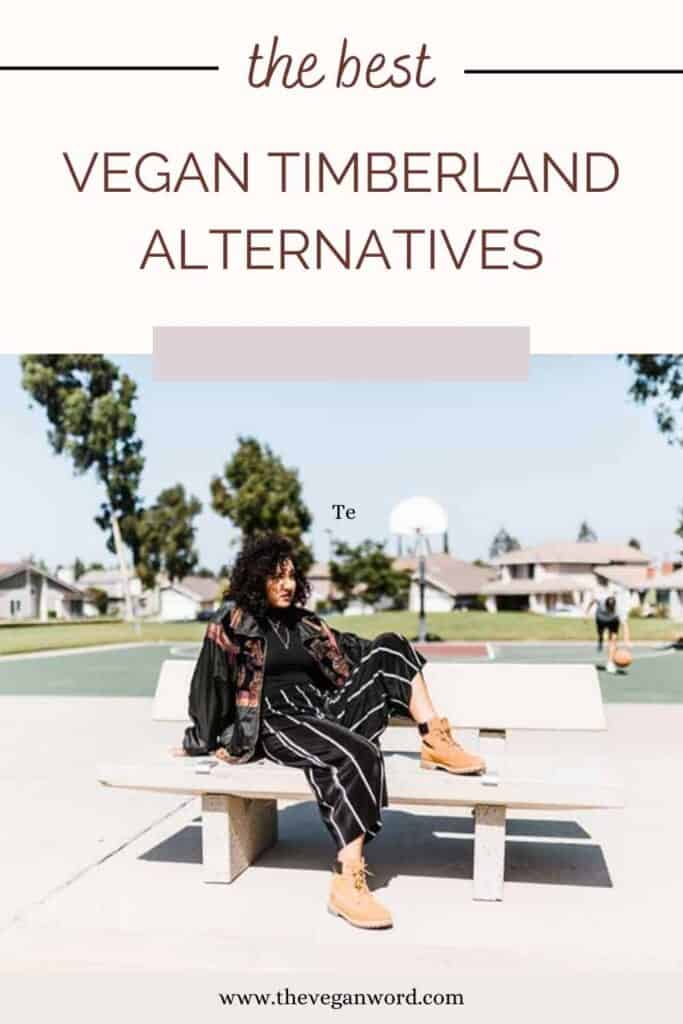 Look for more vegan boots? Check out my full guide to vegan leather boots, as well as vegan Doc Martens, vegan DM Chelsea boots, vegan winter boots, vegan knee high boots, vegan Chelsea boots, mens vegan boots, vegan ankle boots, vegan cowboy boots and vegan combat boots.
I also have further guides to vegan shoe brands, vegan sandals, vegan designer shoes and more.