Desperate for Doc Martens but not sure what to do now you've gone vegan? Don't fear – vegan Doc Martens are a thing! Yes, Dr Martens make vegan versions of their bestsellers. The vegan Dr Martens range includes boots and sandals.
Here are my top picks of vegan Docs and Doc Marten style shoes from 100% vegan brands.
Find the full vegan Dr Martens range here. Dr Martens have a long history of making quality footwear, and have become a countercultural icon, but traditionally their shoes were made using animal skin. The company was founded by Dr. Klaus Maertens, who invented the air cushioned sole to help himself recover from a broken foot.
It was later given a new life when a British shoe manufacturer purchased rights to make the shoes in the UK and gave it its iconic look and on the boot's birthday (1 April 1960), and taking its name from the date, the iconic 1460 style was born. The following years saw iconic new arrivals, the 1461, created the following April.
The good news is in recent years, many of their shoe styles, from the design classic DM Chelsea boots, to their classic unisex 8-eye boots, and newer styles like the Jaden Mono Vegan, or cherry red boots with a two tone finish, have become available in a vegan version, made with DM's premium feel vegan leather as opposed to real leather.
You can tell which shoes are vegan as they have a yellow and white version of the DM heel tab.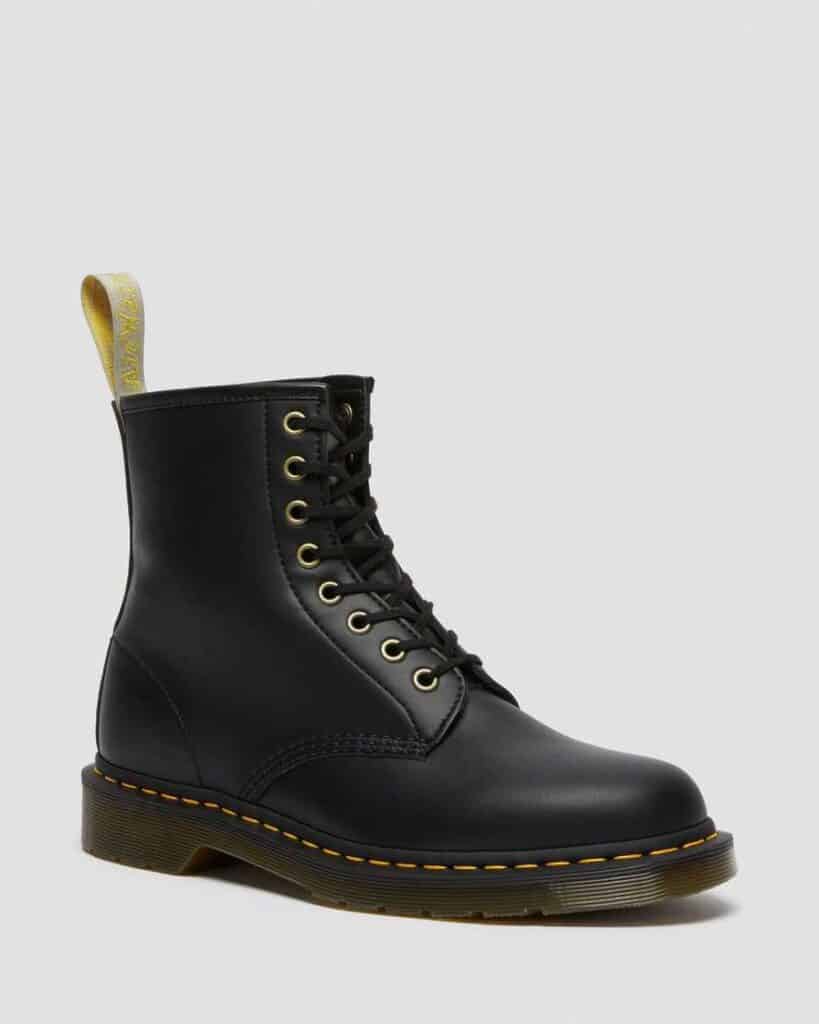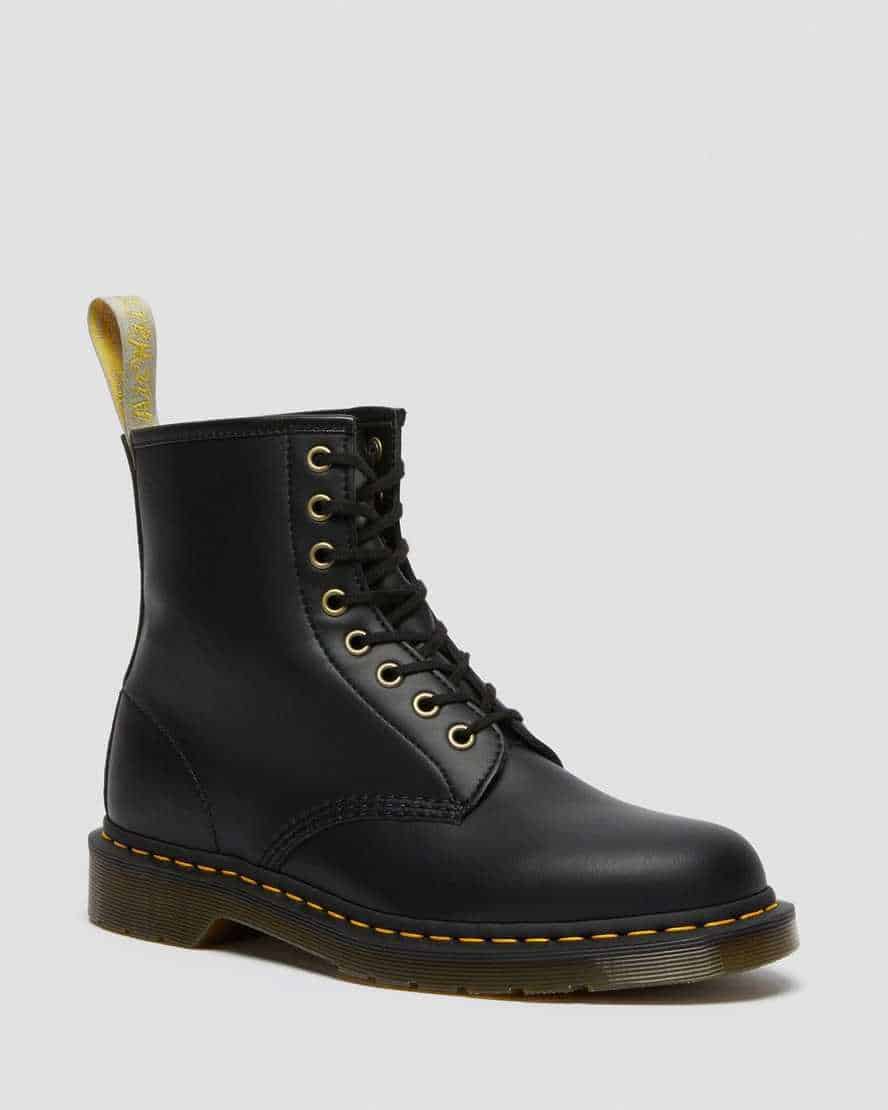 The Dr. Martens – 1460 vegan 8-eye boot is a classic look made with a high quality vegan synthetic material rather than animal leather. If you're looking for chunky lace up 8-eye boots, these beauties go with everything. They pair well with jeans, or add a bit of edge to a dress.
The vegan 1460 Doc Martens come in men's and women's sizing, and come with their classic air-cushioned sole for comfort. The vegan leather Doc Martens' leather is a high-shine vegan leather material.
The shoe sole of this 8-eye vegan boot is constructed using the Goodyear Welt, which is the gold standard of boot construction. So, they're more durable than boots with glued-on soles, and the soles are easier to repair and means that with care, your boots will last much longer!
These Doc Martens vegan 1460 boots have the classic yellow DM stitching and a yellow and white pull tab (all the vegan versions of their shoes have this yellow pull tab, making them easy to spot – so if you're ever shopping in store you can look for it), and are made of the color black Felix rub off vegan leather. They're available on Amazon with free shipping for Prime customers.
---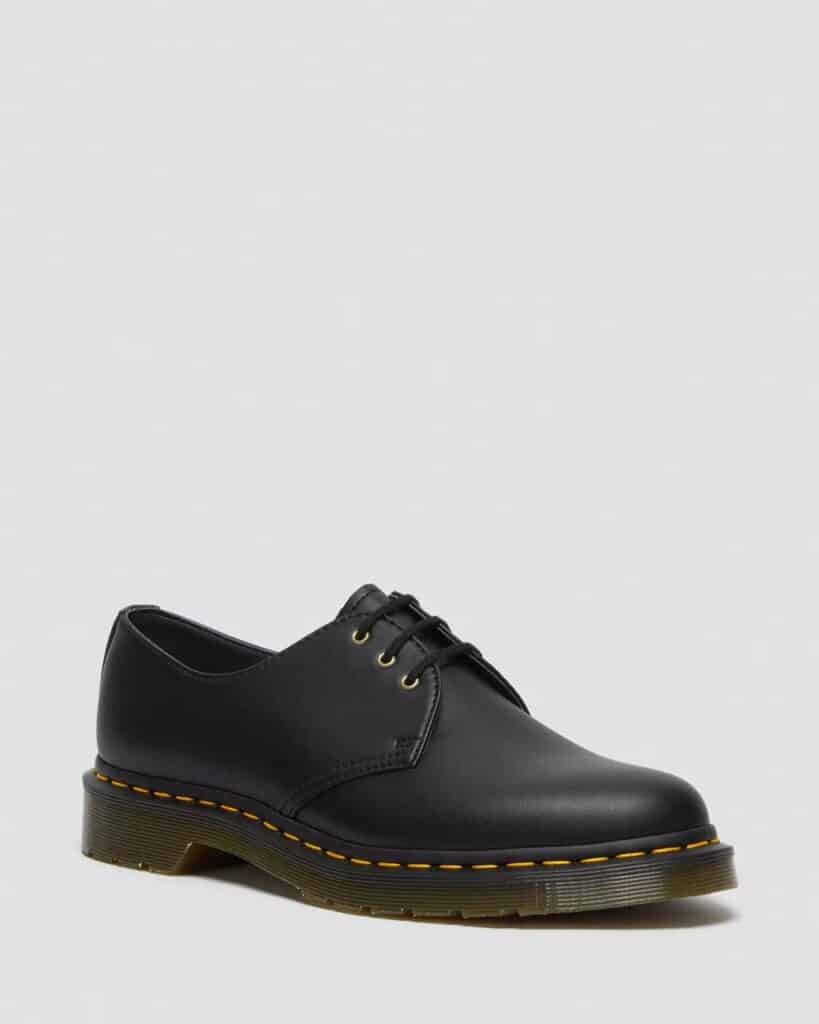 The vegan Dr Martens 1461 is a vegan take on their classic Oxford brogues.
If you're after an Oxford brogue but with an edge, the Dr Martens vegan Oxford shoes are for you. DM's take on Oxfords come with their iconic yellow stitching, laces with three eyelets and their air-cushioned soles, which are also slip-resistant.
The Dr Martens vegan brogues are made from their high-shine vegan leather.
---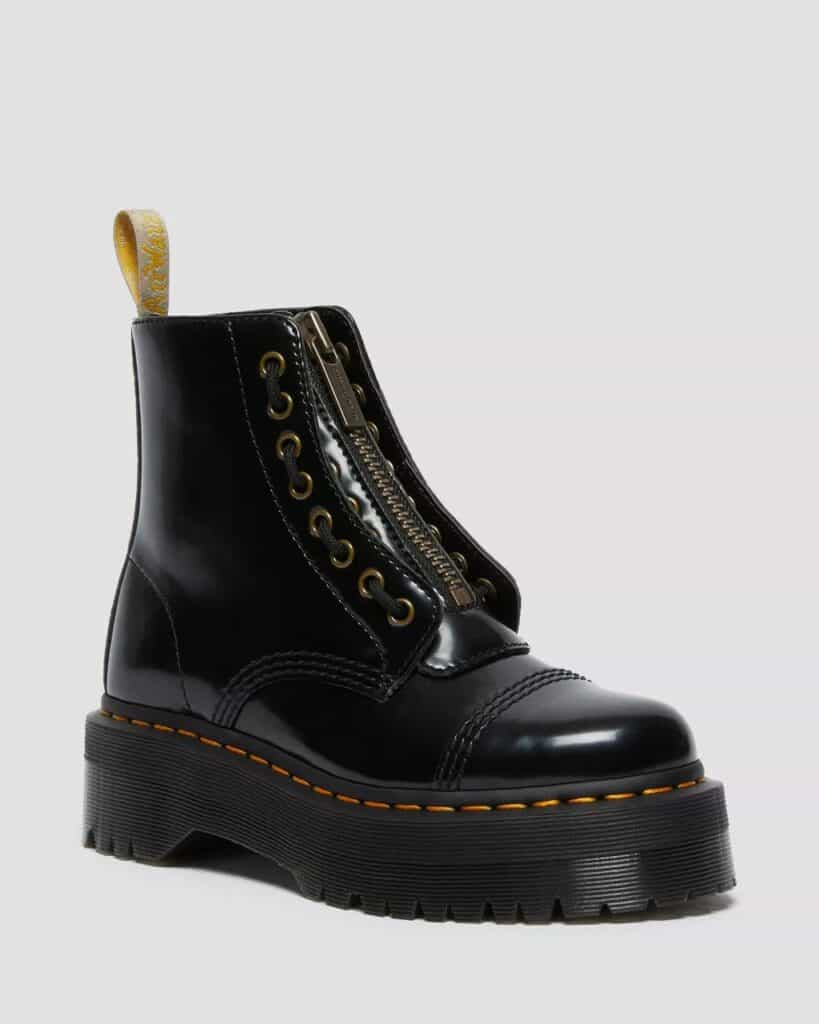 The Dr Martens Sinclair vegan boots are the boots for you if you'd like this take on combat boots with a platform sole.
These vegan platform Doc Martens are built on a 1 1/2-inch (3.8cm) platform with a 1 7/8-inch (4.8cm) heel. There's a front zip on this combat boot, and like all Doc Martens boots, have a Goodyear welted sole.
---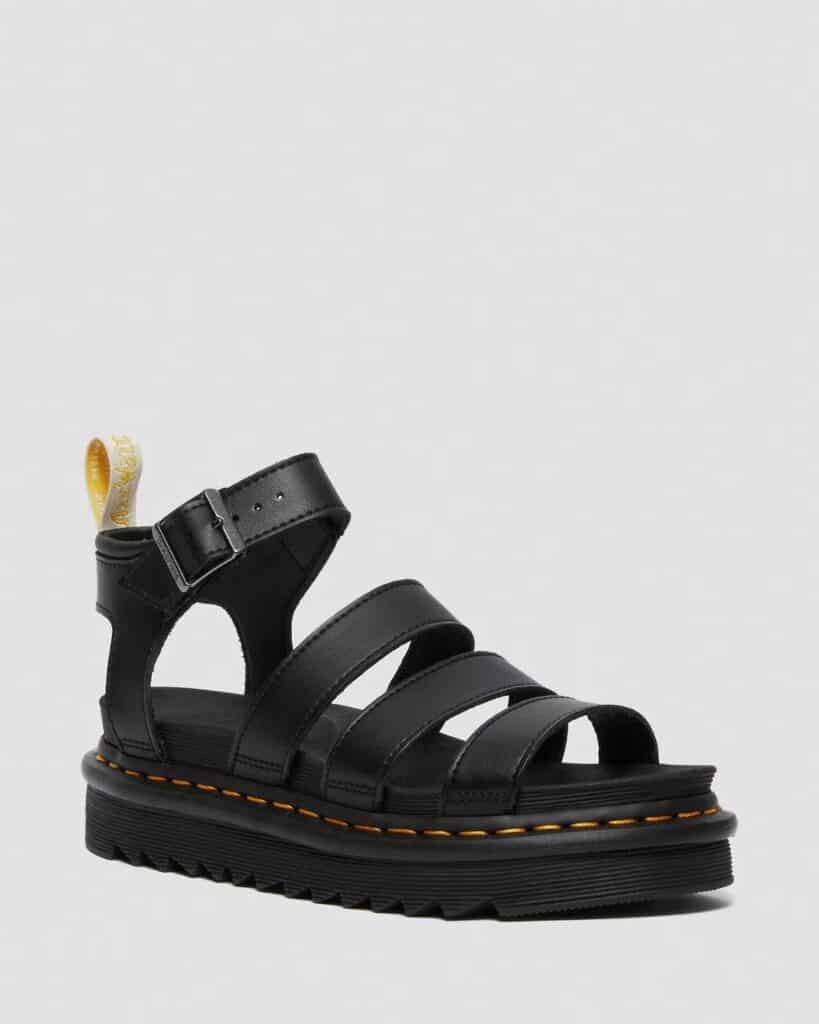 The Doc Martens vegan Blaire sandals are DM's take on gladiator sandals, with a wedge and their iconic yellow stitching.
If you're looking for DM sandals with a bit of added height, these feature a 1 1/2 (3.8cm) inch platform with a heel height of 1 7/8 inches (4.8cm).
They have adjustable ankle straps and a padded collar and unusually for sandals, they have Goodyear welted soles (as mentioned above, these are the creme de la creme of soles, because they are more durable and easier to replace than glued shoe soles).
Most reviewers state they're comfortable (although it depends on your feet!) and quite a few people mention they run large so if you're between sizes you might want to size down. They have 4 out of 5 stars with over 400 reviews.
---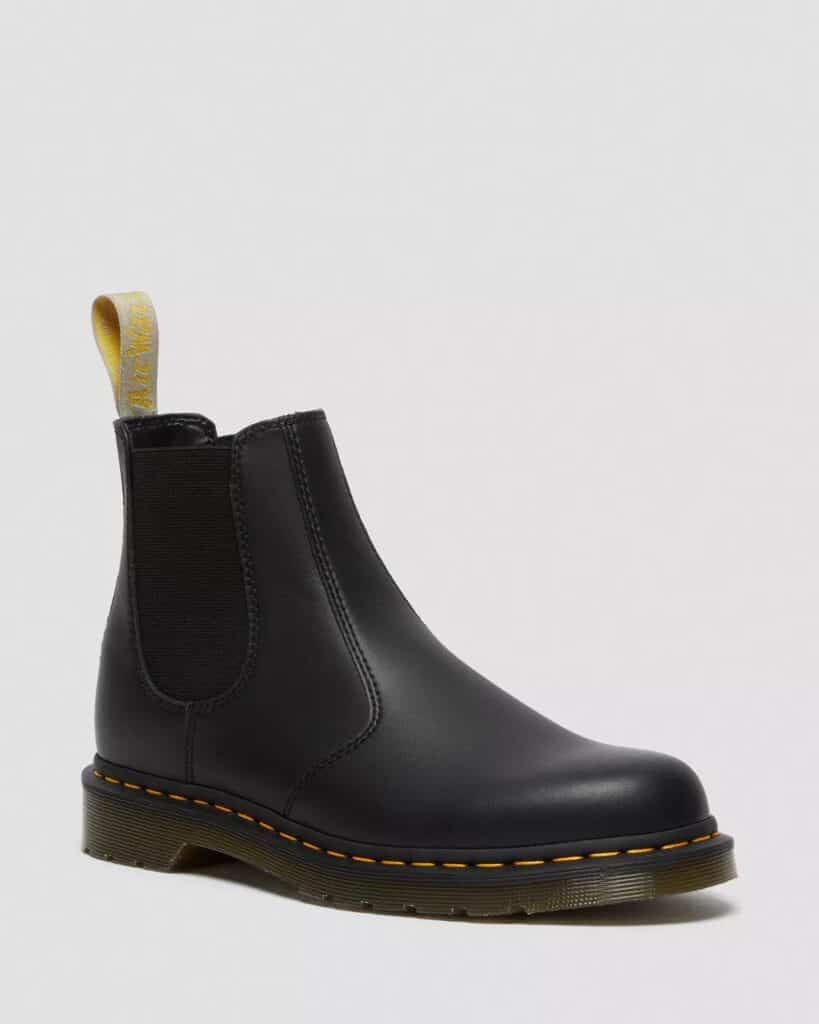 You can't get much more classic than a Chelsea boot! The Doc Martens vegan Chelsea boots combine the quintessential Chelsea boot silhouette with Doc Marten visible stitching.
This vegan version of the iconic style has synthetic leather uppers made from DM's vegan leather, with a slip-resistant air-cushioned sole and Goodyear welting, which as we've discussed previously, is durable and easier to replace than glued soles.
Reviewers praise their sturdiness and style, and they have 4.5 out of 5 stars with more than 300 reviews.
If you want a bit of boost, Doc Martens also have platform vegan Chelsea boots.
---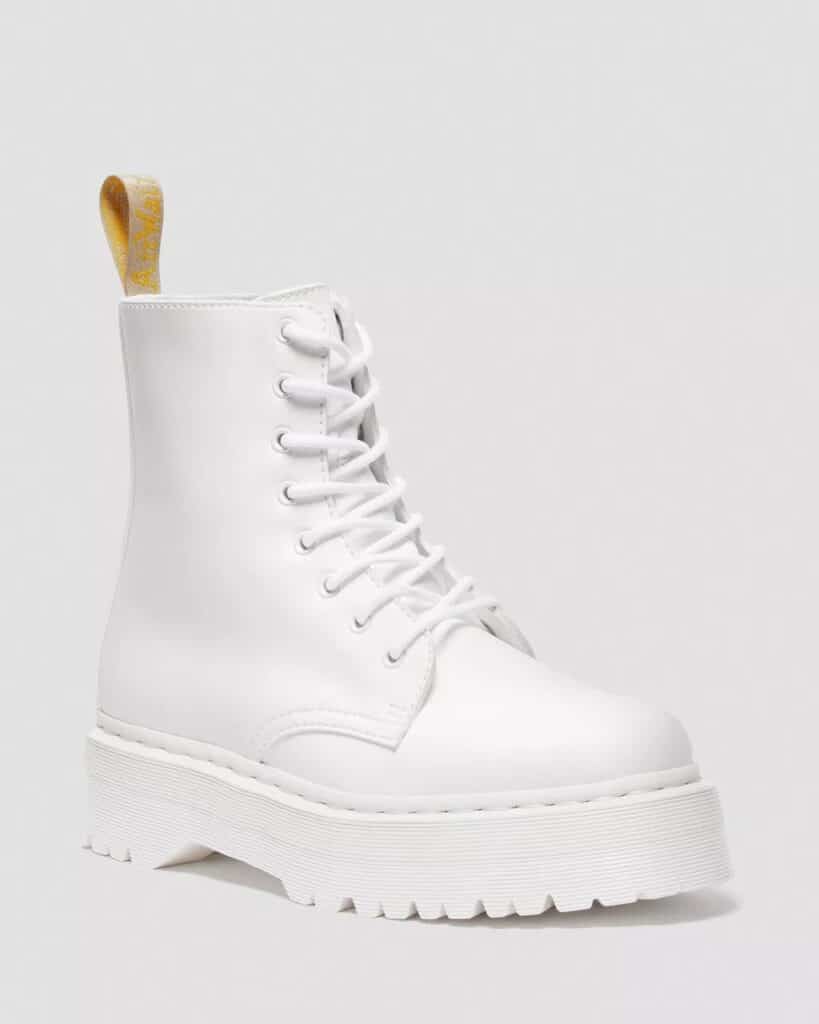 Sometimes only white will do – if you're after white vegan Doc Martens to switch up from black, these Jadon platform boots will do the trick.
Doc martens vegan range only includes one white boot, these, although I found several other white DM-style boots, from Good Guys Don't Wear Leather (their white mens Chelsea boots) and V.gan (their white women's biker boots), both fully vegan brands.
The Jadon II have eight eyelets, a 2-inch (5cm) heel and close with a side zipper.
---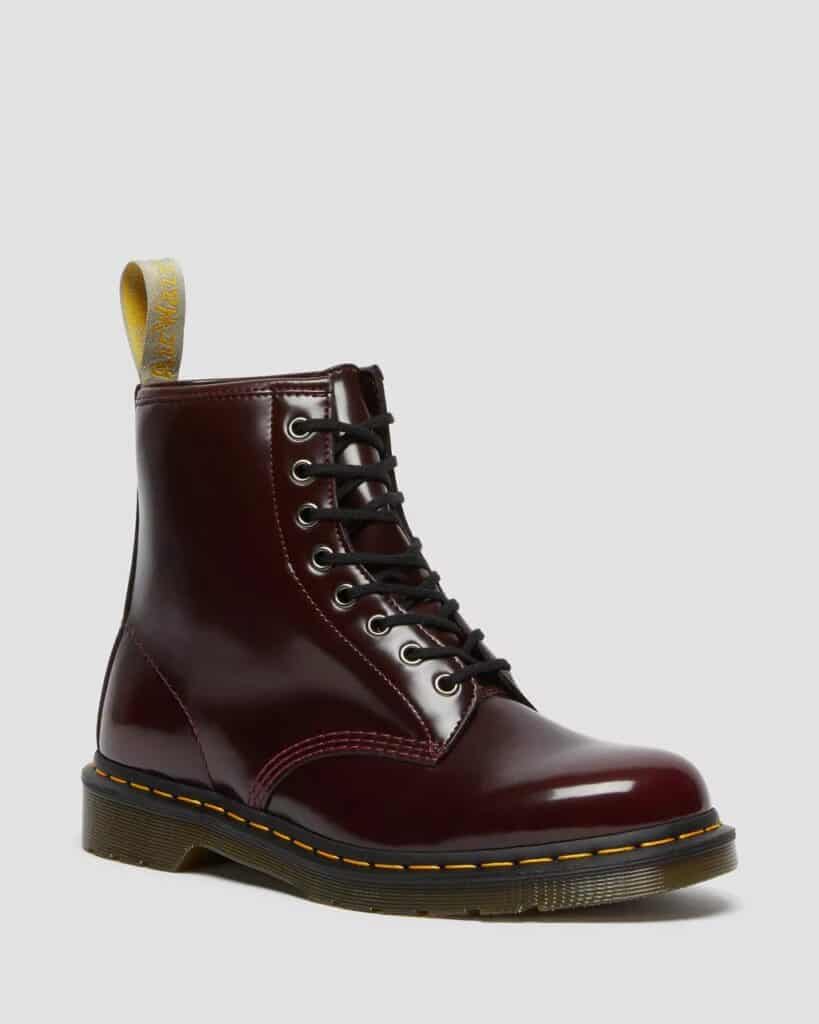 I love these vegan cherry red Doc Martens – the red is subtle enough to go with lots of different outfit choices, but still a fun alternative to your classic black or brown boots.
The Doc Martens 1460 vegan in cherry red is the classic DM boot, but made vegan (and red!). But just like all DM boots, these have air-cushioned soles for comfort and Goodyear welted soles.
Alternative brands
Looking for DM-style shoes, but from an all-vegan brand? There are lots of vegan shoe brands these days, and some make Doc Martens style boots. The big plus is you're supporting a vegan business. Plus, some of them use more sustainable versions of vegan leather such as vegan apple leather and vegan cactus leather, and ensure better treatment of workers and are sweatshop-free.
Here are some of my favourite DM alternatives.
Good Guys Don't Wear Leather unisex vegan apple leather lace up boots
Bohema vegan men's cactus leather lace up boots
Good Guys Don't Wear Leather women's Chelsea boots
Good Guys Don't Wear Leather men's white Chelsea boots
Pin this for later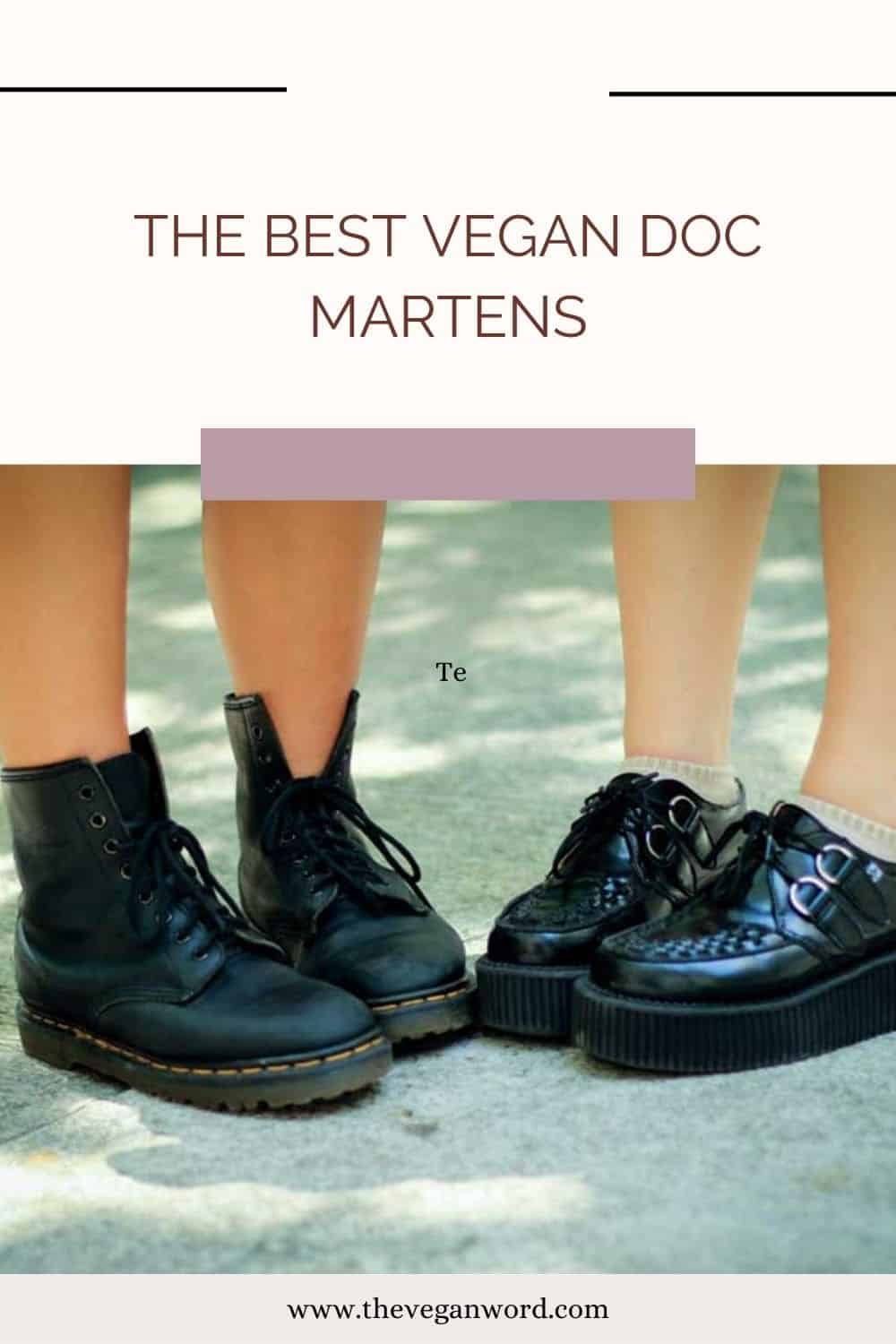 Looking for more Doc Martens inspiration? I have guides to vegan Doc Martens sandals, vegan Doc Martens boots and vegan Doc Martens Chelsea boots too.
I also have lots more shoe guides:
and much more. Find all my vegan fashion guides here.