Are you trying to find a vegan messenger bag to take to the office or to work meetings? Messenger bags are a practical and stylish solution to toting your laptop, notebook and work documents while still looking smart (unlike a backpack, which while practical, doesn't always look dressy).
There are plenty of options for nylon or fabric bags, but often they come with leather trim, rendering them non-vegan. After over a decade being vegan, I know how tricky it can be to hunt out vegan options, so that's why I put together this list of 100% vegan messenger bags (most are sustainable, too!).
This post is about messenger bags, but if you're looking for a vegan laptop bag, I have a list here.
Best vegan messenger bags
Top vegan messenger bag styles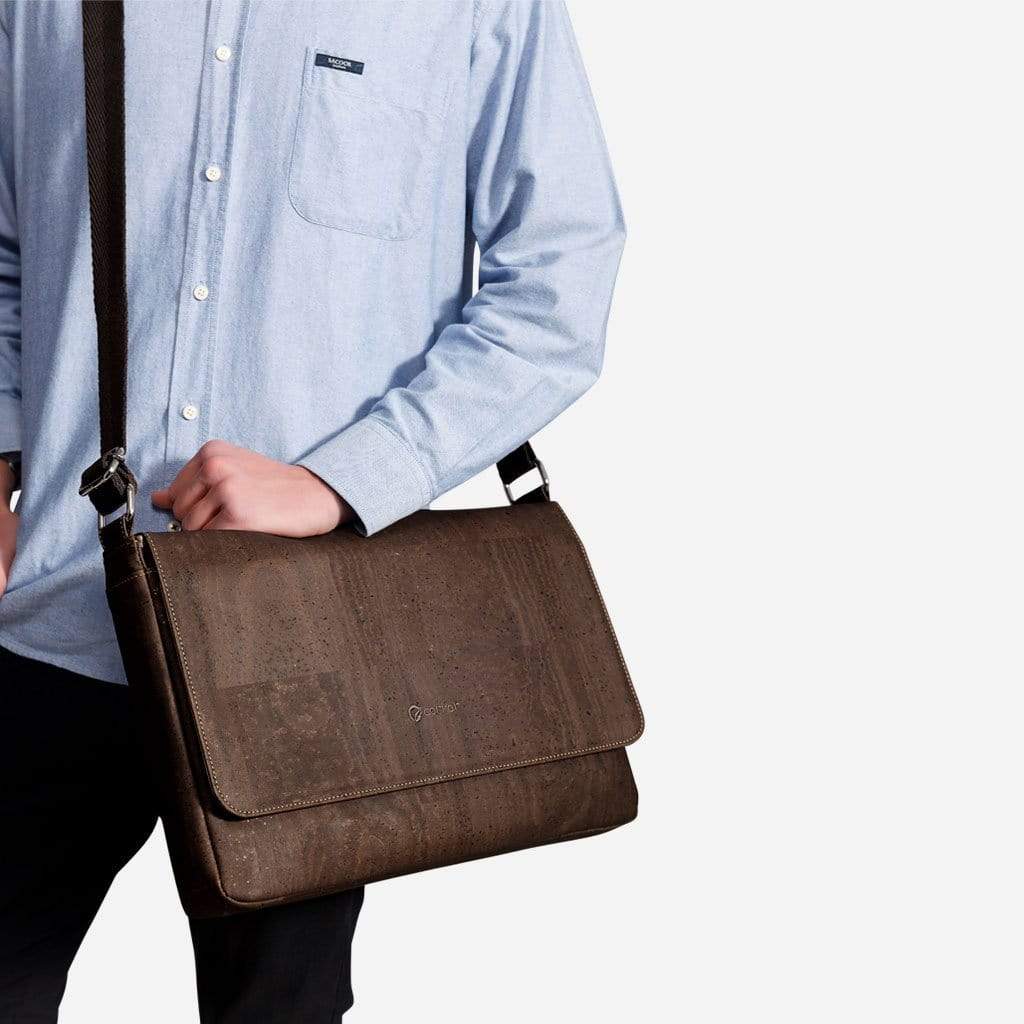 The Corkor messenger bag is my top pick, combining functionality, classic style and sustainability.
The vegan crossbody messenger bag has space for a laptop up to 15.6″ in a padded laptop compartment, plus a 10″ tablet pocket, two smaller pockets, pen loops, a keyring holder, front slip pocket and a trolley sleeve on the back to easily slip it onto luggage handles.
Made from cork, one of the most eco-friendly materials, which is also durable, biodegradable and as an industry treats its workers fairly.
Cork trees are not cut down in harvesting cork, and cork harvesting is done by skilled workers. Corkor bags come from Portugal, where most cork forests are (along with Spain). Cork trees require little input in the way of water or fertiliser.
Cork is naturally lightweight, soft and water resistant, making it an excellent material to use in bags and wallets.
Of course, cork doesn't look exactly like leather, so you need to like the look, but in dark brown and black it's very similar in look to a vegan leather bag.
One of the benefits of using cork for this vegan flap messenger bag is that because it's water-resistant it's ideal for commuting with your laptop even on rainy days.
It is a fairly slim bag, so it won't suit anyone who needs to take a lot of books or documents in addition to a laptop. It's for you if you just need to bring your laptop, tablet, phone and a few necessities.
This is my top pick of vegan messenger bag.
---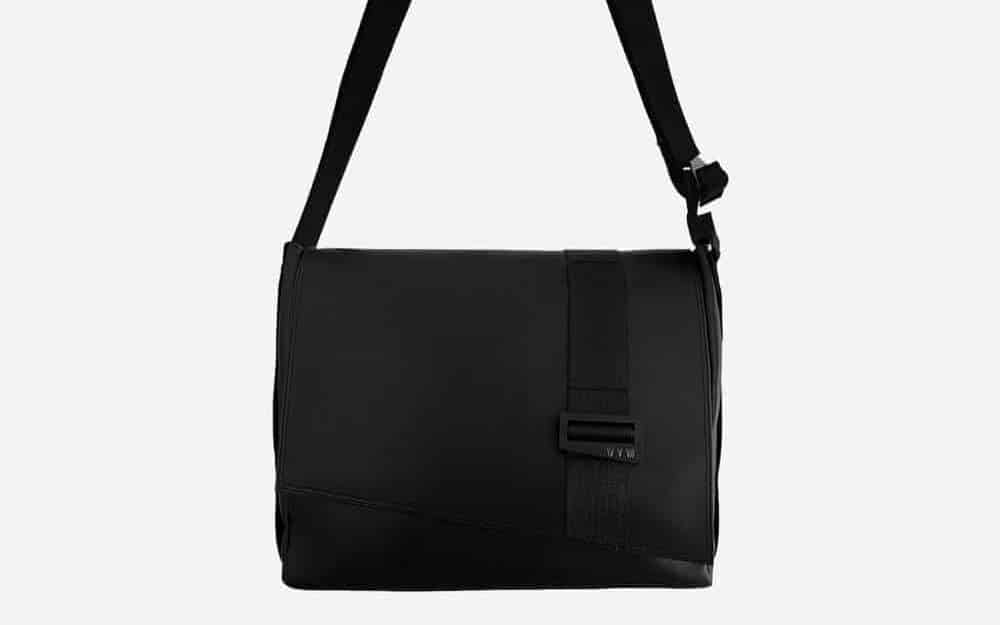 This vegan leather messenger bag from 457 Anew is made of vegan cactus leather, a new, sustainable alternative to leather made from the leaves of the nopal cactus.
Cactus leather is one of the many kinds of vegan leathers that have been invented in recent years, often using waste from the food industry, such as pineapple leather or apple leather. While they're not biodegradable due to plastic content, they are more eco-friendly than animal leather and make use of waste that would otherwise go to landfill.
Cacti of course require little irrigation, therefore saving on water!
Cactus leather is soft and durable and expected to last 10 years.
457 Anew is a new sustainable vegan brand started by the founder of Matt & Nat, who created this new brand to be eco-friendly and to use as many local materials as possible (they're based in Canada).
The strap of these vegan leather messenger bags is made with material upcycled from the car and airplane industries in Canada, while the hardware is made from Quebec metal.
The inner lining of the bag is lined with recycled polyester waste.
The vegan messenger bag's straps are adjustable, so it can be worn crossbody, over-the-shoulder or held in the hand.
The Hawken bag is also available in Econyl, a regenerated nylon, rather than cactus leather.
One downside to this bag is that it doesn't have a dedicated padded laptop pocket, so if you're looking for a bag that will protect and transport your laptop, this might not be it, though you can use your own laptop case or sleeve with the bag.
---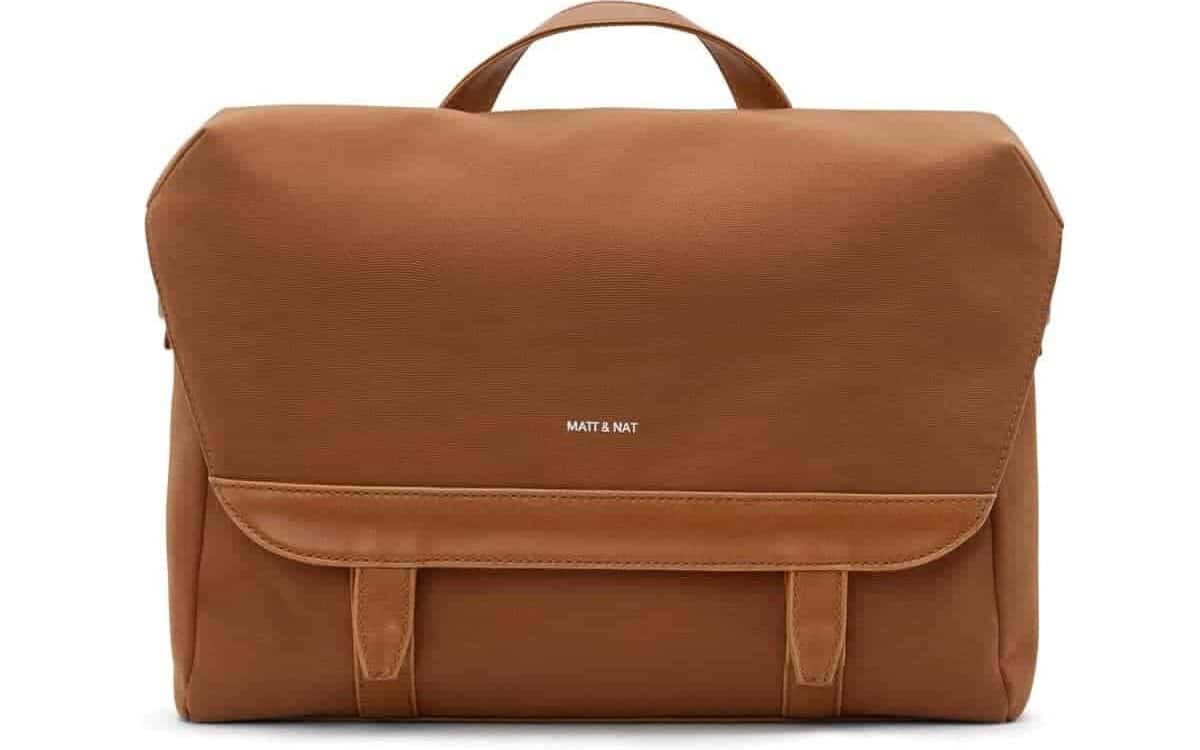 This vegan canvas messenger bag has vegan leather trim. It's a classic style, in brown canvas fabric with brown faux leather accents.
Longstanding vegan brand Matt and Nat has decades of experience, as one of the first 100% vegan bag brands.
The bag's lining is made of recycled plastic water bottles.
The non leather messenger bag will fit a 13″ laptop and has a separate laptop compartment and smartphone pocket.
The bag shuts with Velcro and snap closure, which I like the sound of for extra security from pickpockets (depending where you travel, it may not impact you but I'v always lived in cities to buy secure bags!).
The shoulder strap is adjustable and has clips so you can change out the strap for a guitar strap, for example, if you've always wanted a vegan messenger bag with guitar strap.
One negative is that it is fairly basic in terms of pockets and interior organisation. Apart from the laptop compartment and phone pocket, it doesn't have extra pockets, which means your belongings might get jumbled up inside the bag and be hard to find. In contrast, this vegan messenger bag, which I recommend, has a keyring holder (so you'll never lose your keys at the bottom of the bag), pen holders, several small interior pockets to organise your things and a trolley sleeve to attach the bag to your luggage handle.
---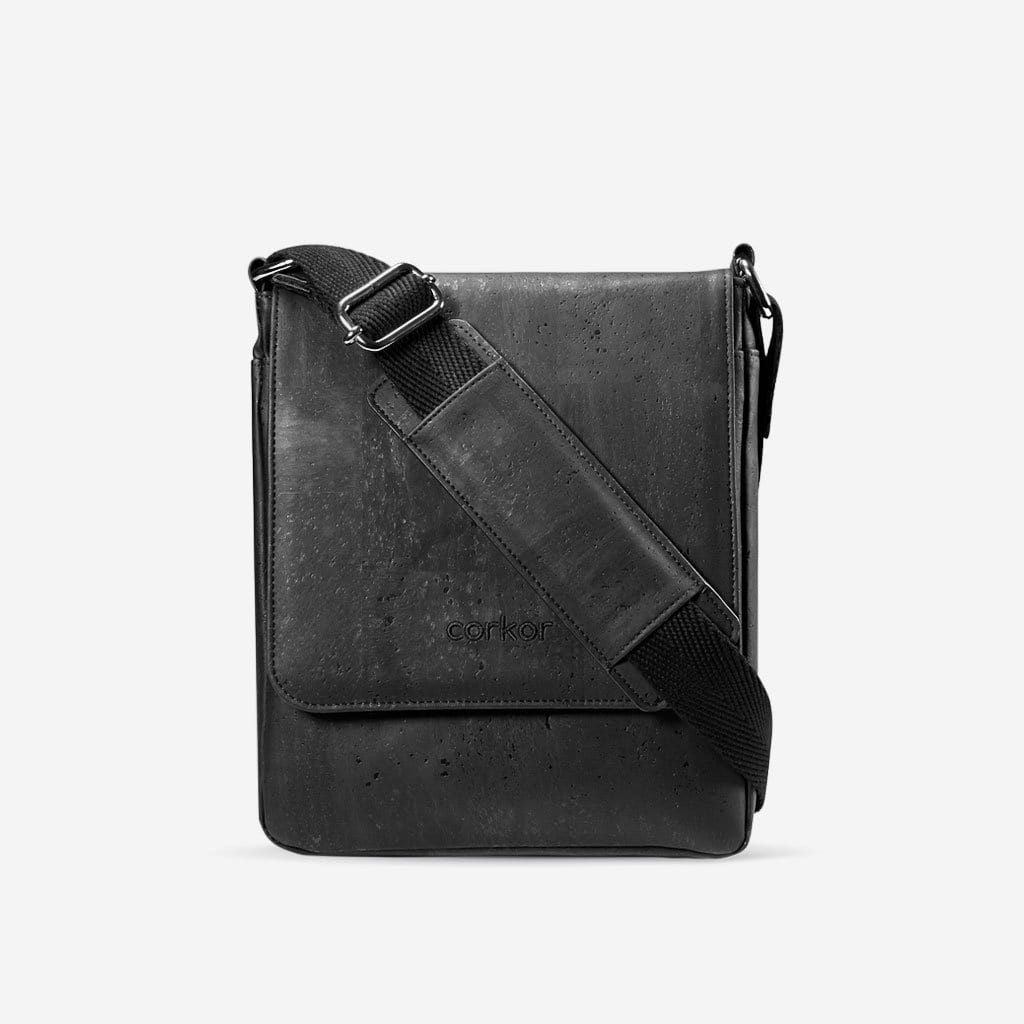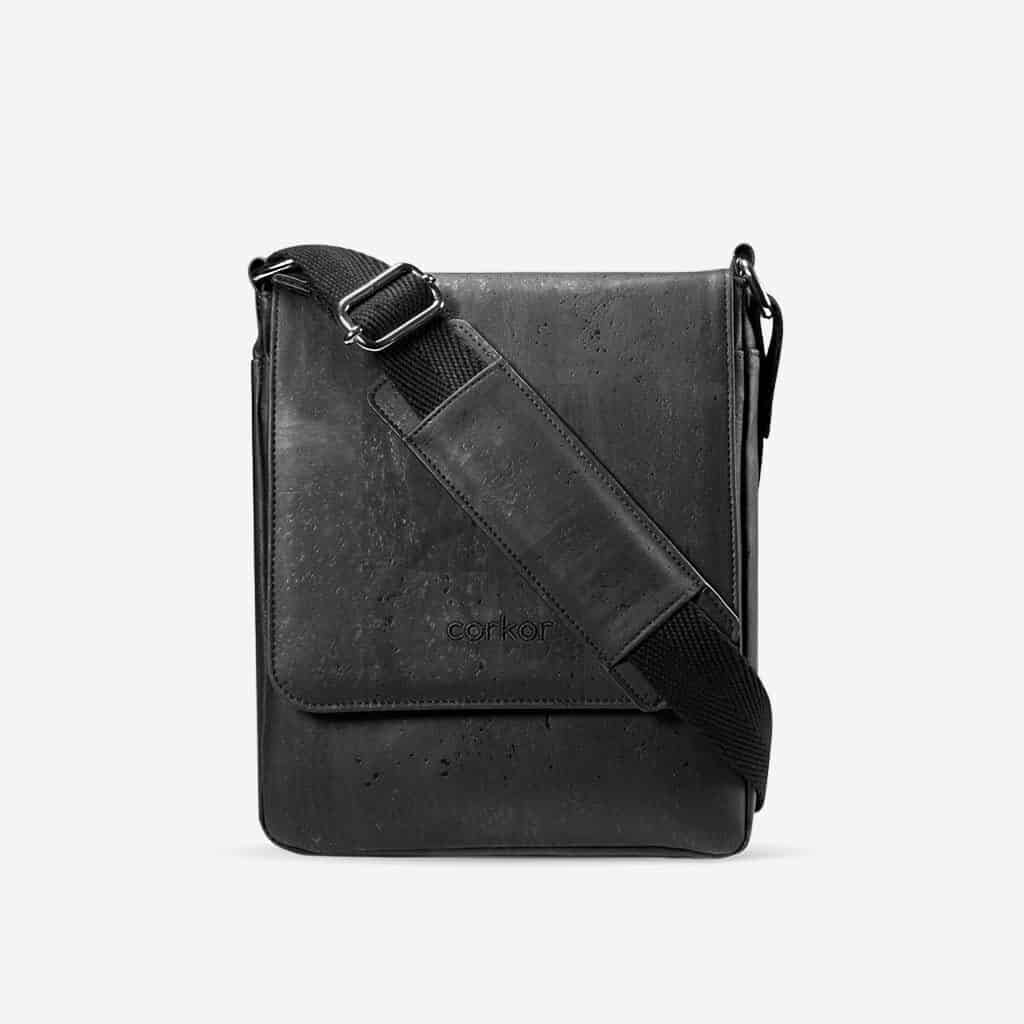 If you're looking for a smaller messenger bag to carry your essentials, but not your laptop, then this is the bag for you.
The black vegan messenger bag has a padded tablet pocket, plus two smaller pockets, a keyring holder and pen loops to keep your belongings organised.
It's made of eco-friendly cork, a natural vegan alternative to leather made from the cork tree. The trees aren't cut down during harvesting, and it's one of the most sustainable materials. Cork is naturally water-repellent, stain-resistant and scratch-resistant.
As I mentioned before, this vegan friendly messenger bag is smaller in size than a standard messenger bag so it isn't a good match if you need a laptop bag, but you're looking for a lightweight, mid-sized bag for everyday use and to carry your essentials, this is a good fit.
---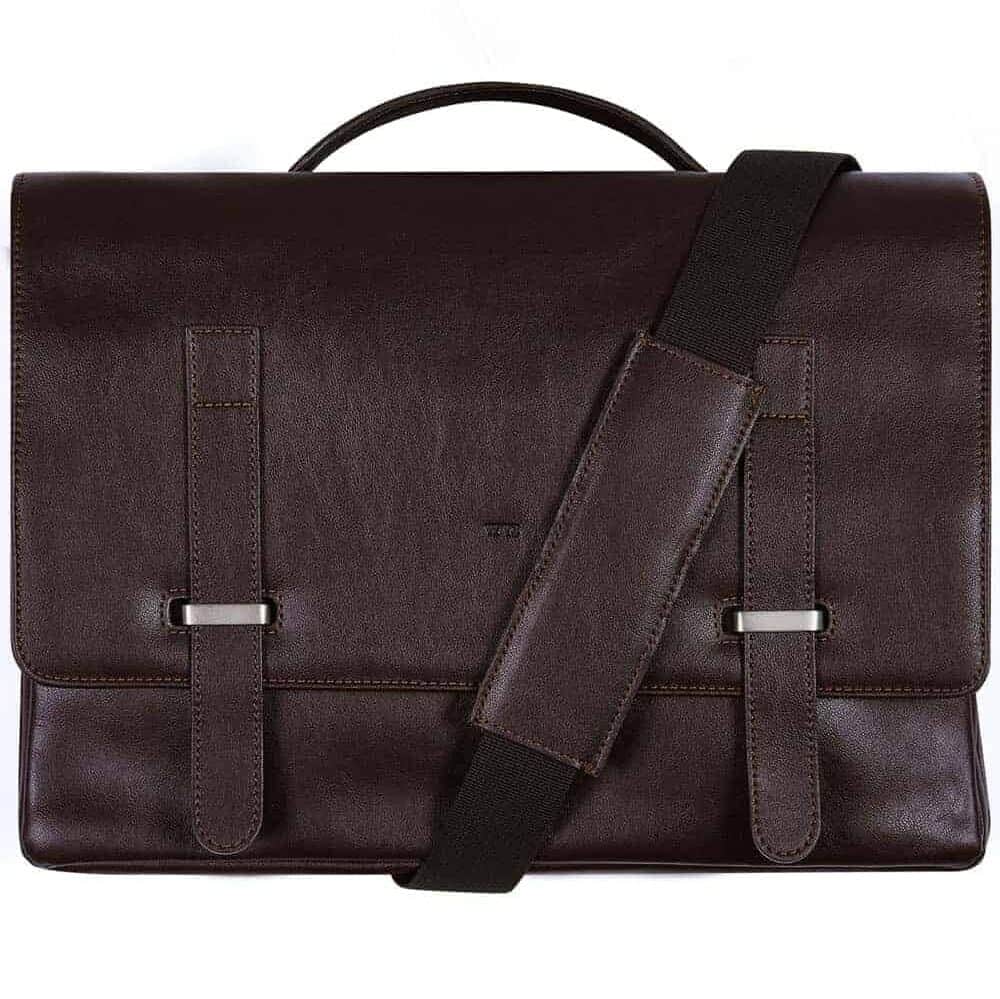 This brown faux leather messenger bag also comes in black and grey. With its classic style, it's sure to go with everything.
It's handmade with Italian vegan leather and lined with vegan suede. It has a top carry handle so you can carry it like a briefcase, as well as an adjustable strap to wear it crossbody or over the shoulder.
It's spacious and the main compartment has room for a laptop up to 15 inches, a long wallet, umbrella, notebooks, your tablet and hardback books. It also has an inside zippered compartment for your personal things like your glasses, wallet and keys.
One downside is it doesn't have many pockets (unlike this bag), meaning your things could get jumbled up, and it doesn't have a padded laptop compartment so you'll need a case for your laptop.
The good thing about the bag is it's roomy and has space for a 15-inch laptop, unlike many other messenger bags on this list which only fit a 13-inch laptop.
---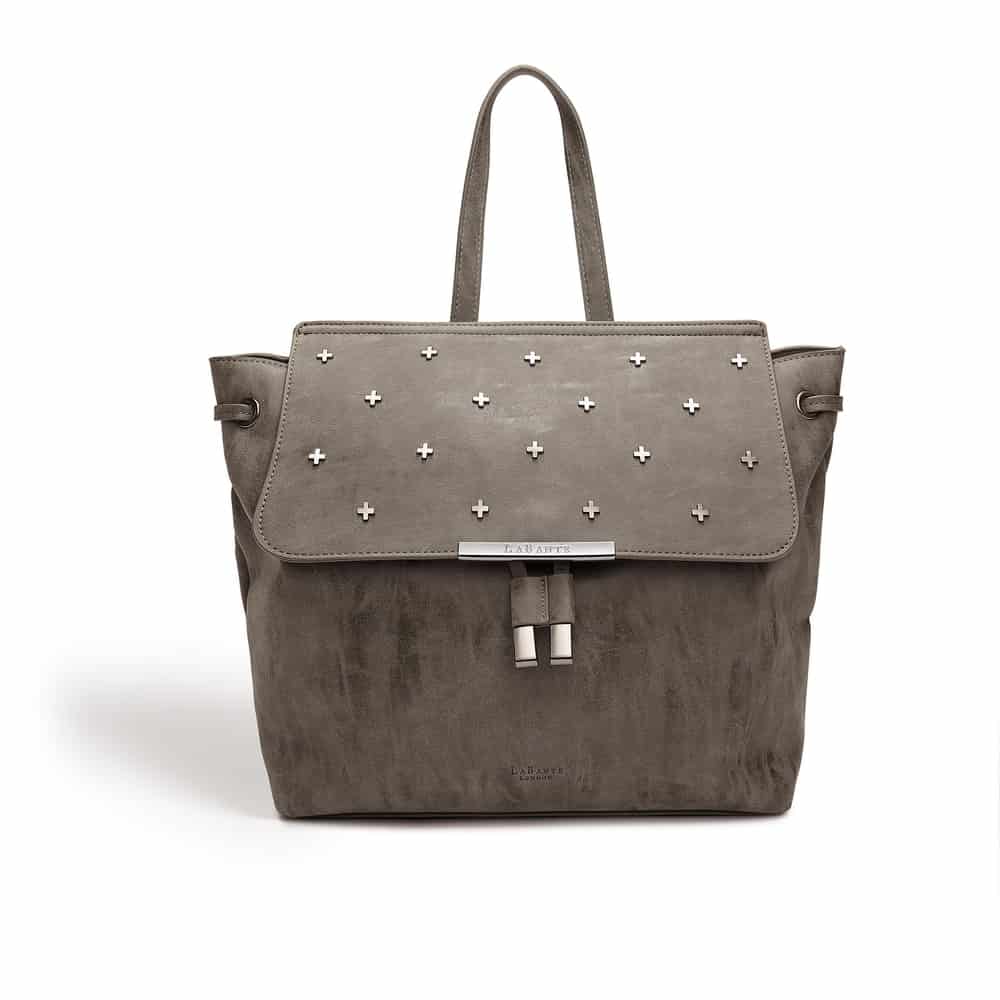 I have this multiway bag and I always wear it as a messenger bag, though it's designed to also be worn as a backpack or should bag. Vegan bag maker Labante makes high-quality and sweatshop-free bags and they're durable, according to my friend who's had hers a couple of years.
Personally, I don't find it very comfortable when converted into a backpack if it's full (the straps are thin and cut into my shoulders), though it is less of an issue if it's not heavy.
As a messenger bag, I find it brilliant. It has an interior zip pocket plus extra pockets to organise your things, and closes with both a magnetic snap and drawstring.
It's made of grey vegan suede and has got a fun look that's different to your usual messenger bag, with its silver cross studs.
---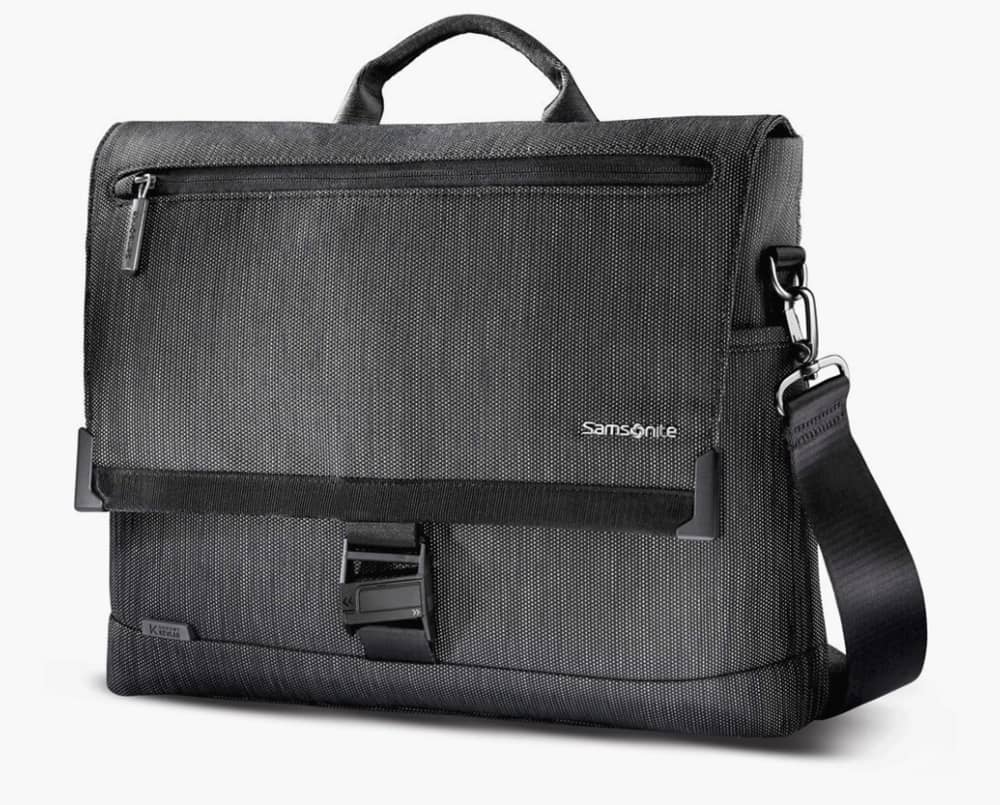 This messenger bag from Samsonite is ideal for travel (as you'd expect from a travel luggage brand like Samsonite!).
It has RFID protection so you can safely stow your passports and cards, dedicated tablet and laptop compartments (fits laptop up to 13″), and a SmartSleeve to fit over most luggage handles.
The magnetic release closure is designed so you can open the bag with just one hand, and it has multiple interior and exterior pockets to quickly access your belongings.
It's made of Kevlar, so it's rugged and durable, though that does give it more of a functional look than vegan leather, so you may not want to tote it into meetings, depending on dress code in your industry.
---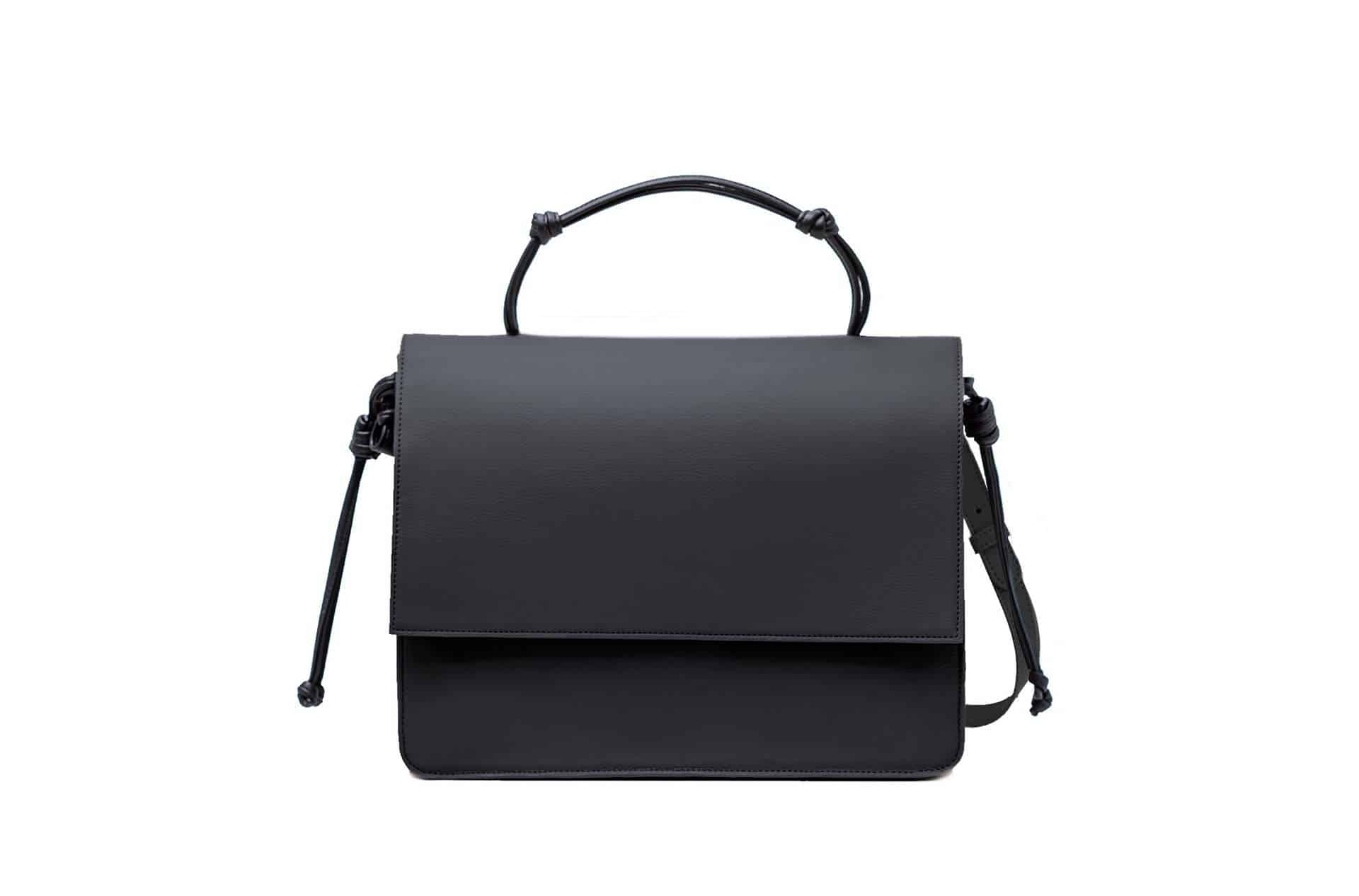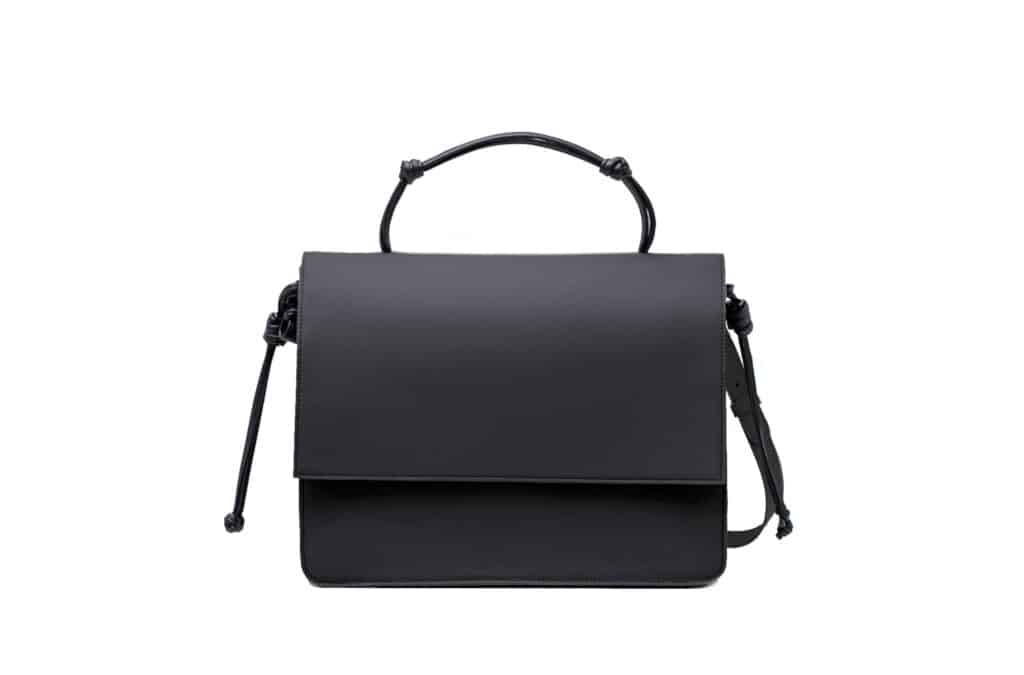 Von Holzhausen make luxury vegan bags and are known for their quality (a friend of mine has one and has been impressed with its quality and durability).
The Handheld bag is a messenger-style bag made with their Technik vegan leather that is water-resistant and crack-resistant. It's also half the weight of animal leather and easy to care for and clean (just use soap and water). Like all vegan leather, it's more eco-friendly than leather, and they say this bag saves 13,589 gallons of water and 2.7 acres of land, and has a carbon footprint 33% lower than a leather bag.
It won't fit your laptop but it's a generous size for carrying your everyday essentials (and would probably fit your tablet).
It closes with a magnetic clasp and has an outer pocket (which also closes with a magnet) for easy-to-reach access.
---
If you're looking for vegan laptop messenger bags from a mainstream brand, you can get this vegan messenger bag on Amazon.
The vegan leather computer bag has a pebbled texture faux leather exterior, a 15-inch padded laptop compartment and tablet compartment, and a hidden zippered pocket under the flap to organise your things. It also has an open pocket on the rear exterior.
This classic style fake leather messenger bag would work for your commute as well as day-to-day.
Click here to see more information.
Pin this for later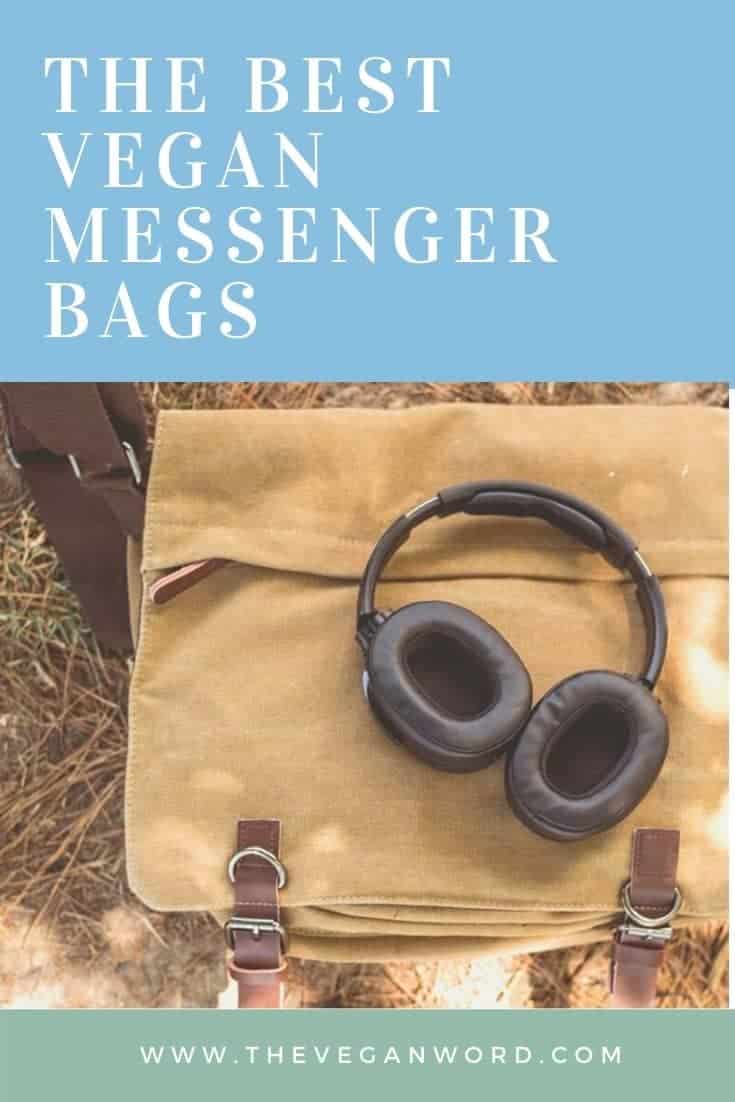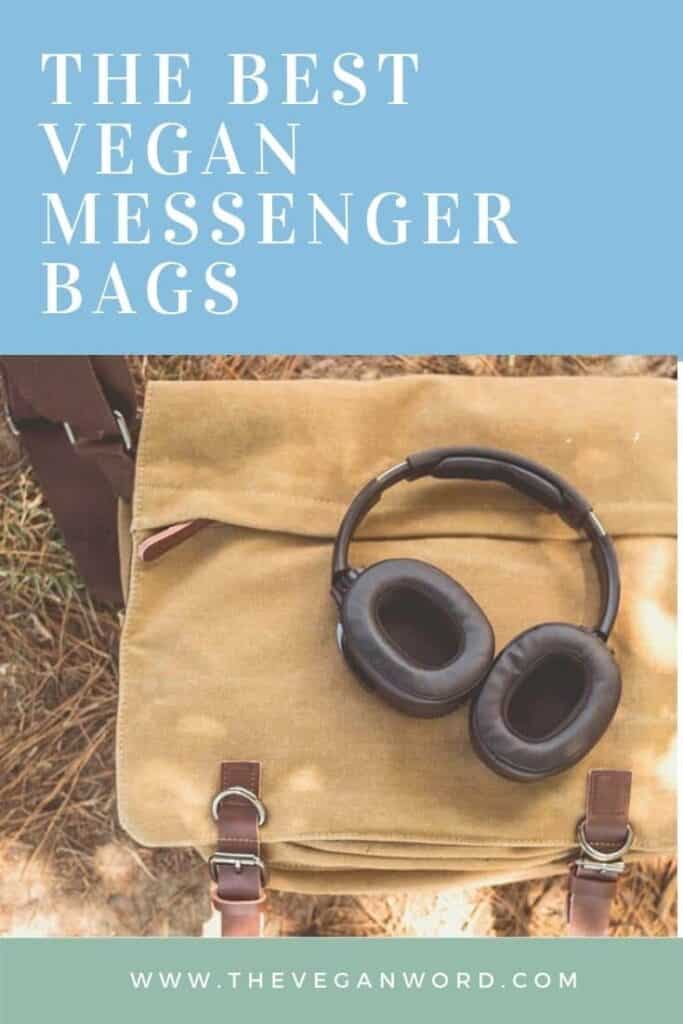 You may also enjoy reading…
If you're looking for more vegan purses and handbags, check out my full guide to the best vegan bag brands here.
I also have guides to specific styles of bags: vegan crossbody bags, vegan shoulder bags, vegan backpacks, vegan clutches, vegan satchels, bucket bags and vegan tote bags.
If you're looking specifically for a laptop bag, rather than just faux leather messenger bags, check out my guide to vegan laptop bags.
I also have a guide to vegan designer bags, if you're looking for a luxury label.
You can find all my vegan fashion & beauty guides here.