Sometimes for special events you need a bag that won't detract from your amazing outfit: enter the vegan clutch. A clutch is a perfect way to take all your essentials and carry them in your hand. And the right clutch can add to your outfit.
How can you find vegan clutches? Unfortunately it can be tricky finding a non-leather bag. Most stores don't label their vegan bags, and while sometimes budget brands use non leather materials to save money, it's not always to find a high-quality vegan bag.
As a vegan since 2008, I've been shopping for vegan bags for a long time (and spent many an hour poring over bags in a store trying to work out what the trim is made of) and I know how tricky it can be.
That's why I put together this list of vegan leather clutches!
Special discounts:
Read on to see further details of the best vegan clutch bags.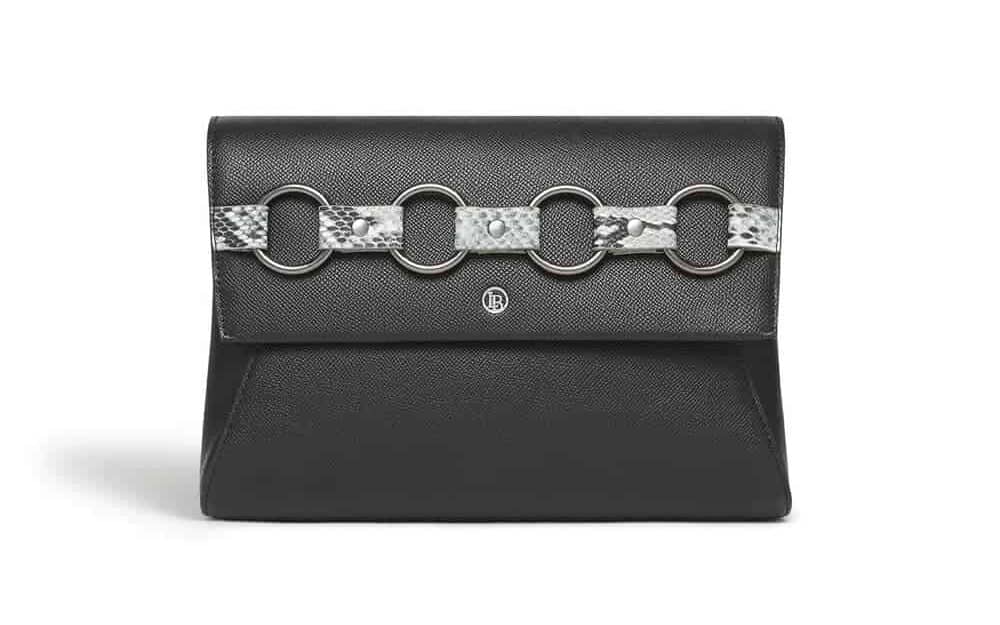 This vegan leather clutch from Labante is made of black vegan leather with vegan snakeskin print trim and silver hardware, so it would match any outfit.
It has a detachable strap so you can choose whether to carry it as a clutch or crossbody bag.
Like all Labante bags, it's PETA approved vegan and lined with recycled polyester made from recycled plastic bottles. Their bags are also all sweatshop free and made in ethical working conditions.
What I love about this bag is that the colours would match any outfit. One downside of the bag is that it consists of only one large section, so if you need to separate items in your bag it wouldn't work.
---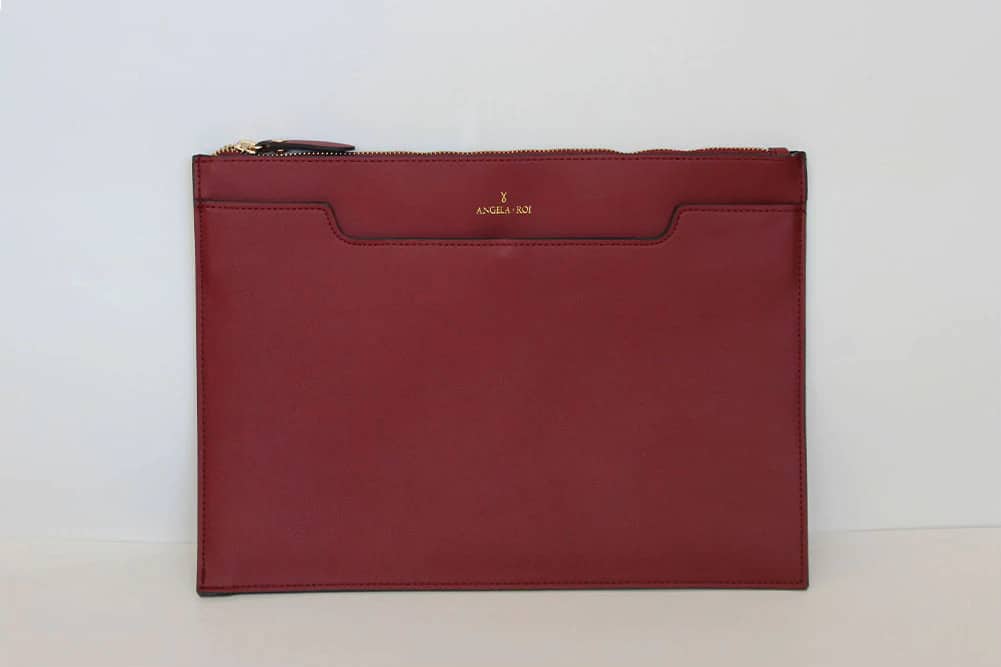 This wine coloured vegan pouch is the ideal minimalist vegan clutch bag. It's made of vegan polyurethane leather and has gold tone hardware.
The faux leather clutch has a front pocket which closes with a magnetic clasp and a large zippered section.
It has 5/5 stars with 6 reviews.
---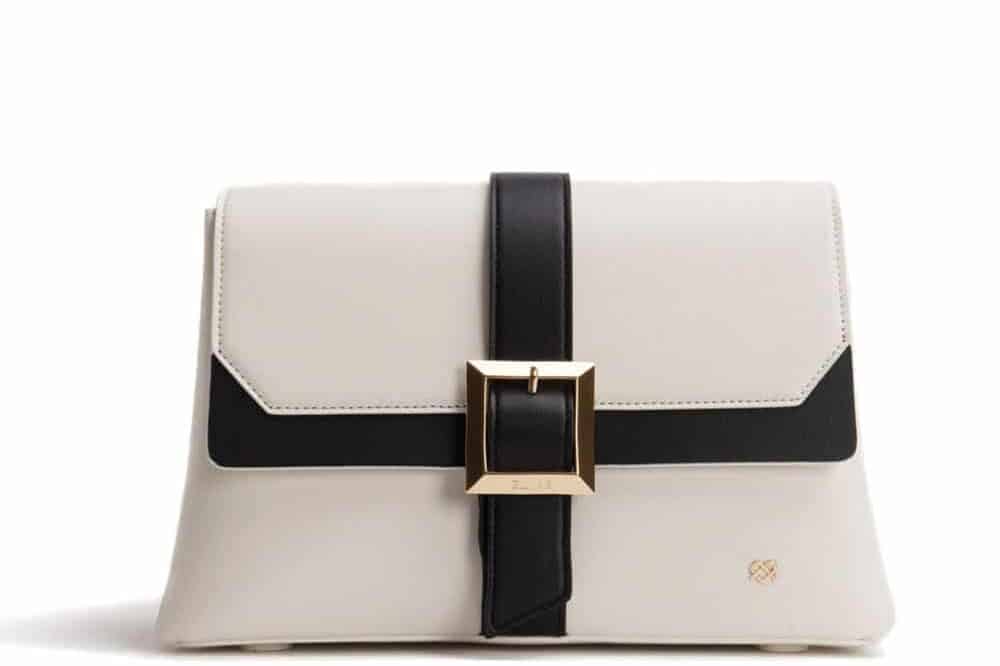 If you're looking for a vegan clutch purse that has multiple compartments and pockets to keep you organised, the Emily bag from GUNAS is perfect.
The black-and-white vegan leather bag will work with most clothes, and it can be worn as a crossbody or used as a clutch.
Inside, it has two zippered pockets, plus an internal slip pocket. The brass hardware is plated in 22 karat gold.
The exterior is made of coated canvas and the lining is made from recycled bottles. Like all GUNAS bags, it's made sweatshop-free.
---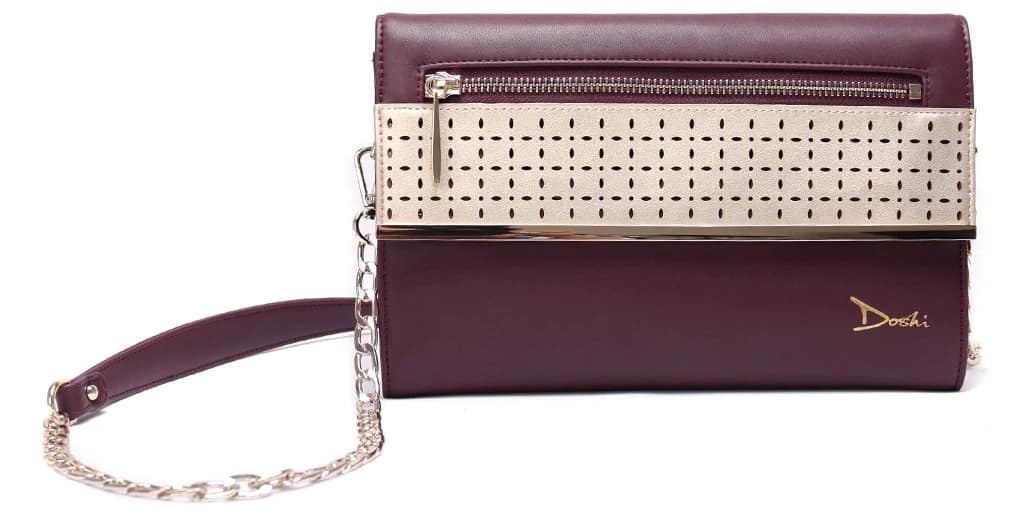 The vegan leather clutch bag works from day to evening. It's made of a dark red microfiber vegan leather with gold tone hardware, a hand cut pattern on the flap and metal bar over the flap.
It comes with both a detachable wristlet and detachable crossbody strap so you can choose to wear it as a a crossbody, wristlet or clutch. Inside there are both zippered pockets and open pockets plus card slots.
---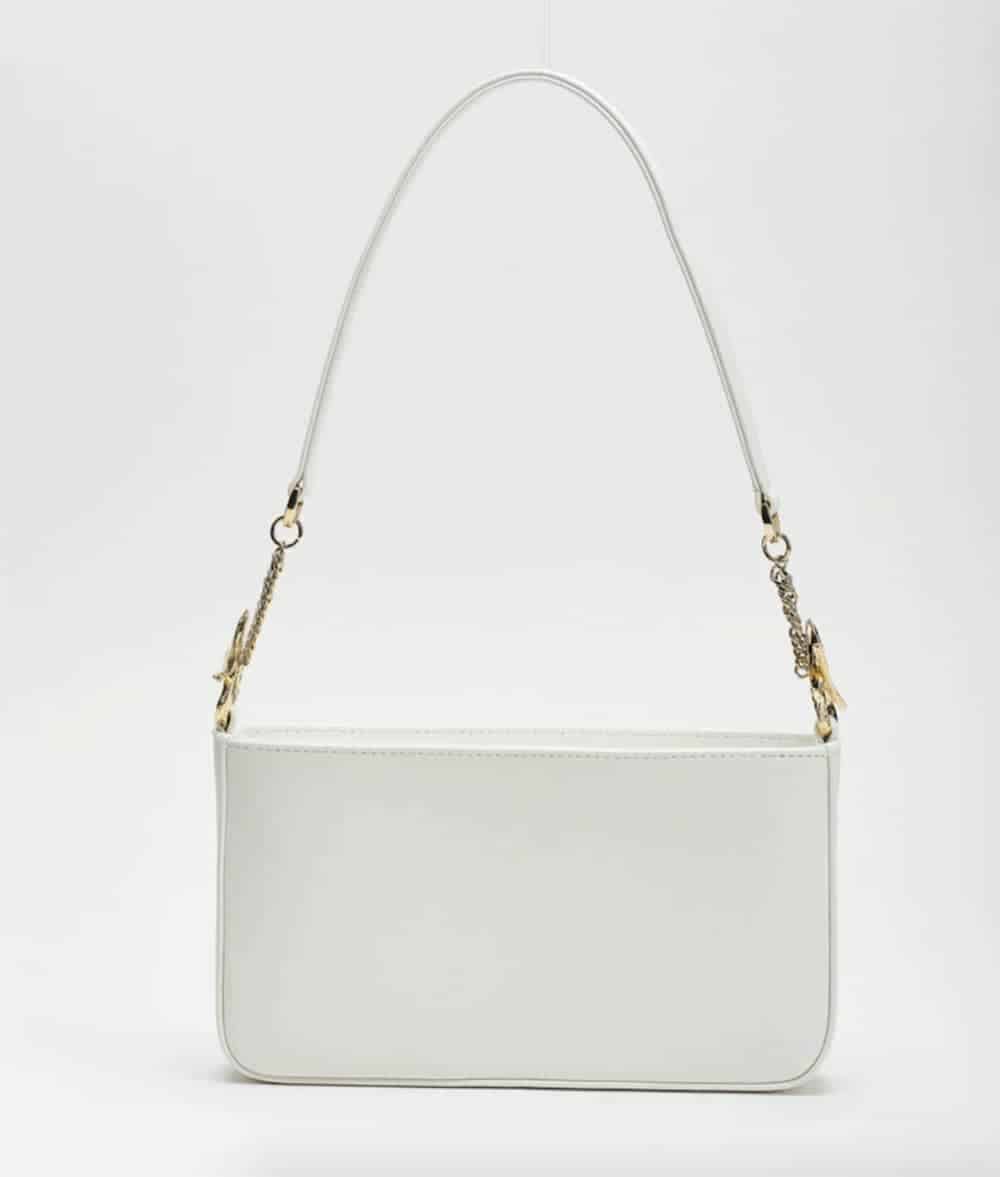 This vegan bag can be worn three different ways – you can remove the strap to use as a clutch, add the shoulder strap or attach the long chain to wear as a crossbody bag.
The bag is made of Desserto, a vegan cactus leather made from the leaves of Nopales cacti (find my full guide to bags made of vegan cactus leather here). The interior is lined with vegan suede made from 100% recycled polyester.
The hardware is plated in gold and made in Greece. Like all their bags, it's handcrafted in Athens.
---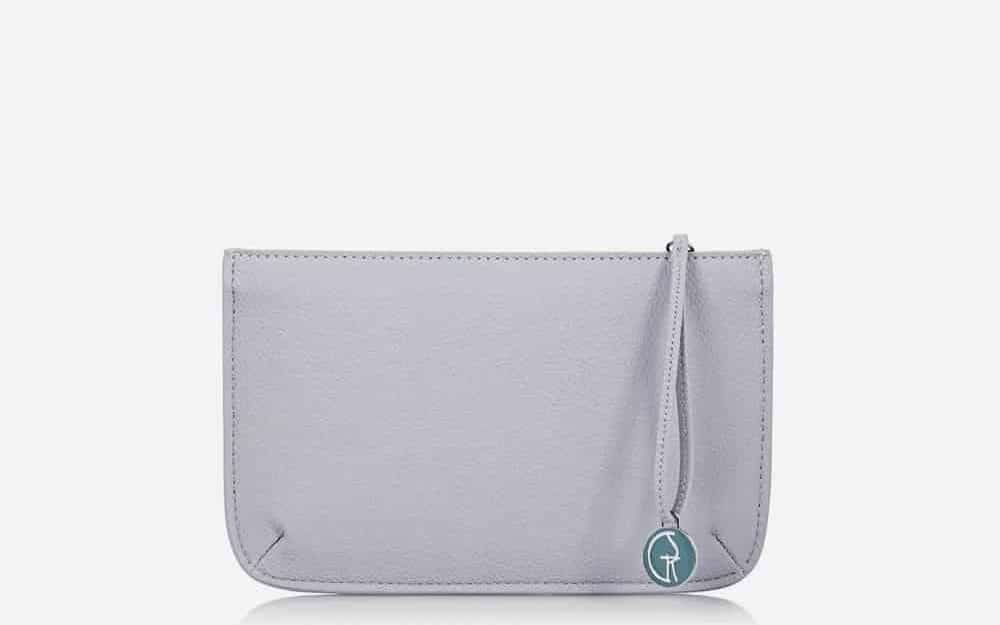 This vegan clutch can be purchased alone or as part of the GSK by Morphbag set, which includes a matching reversible tote bag and crossbody bag.
The clutch can be used as either a wallet or evening bag, and has a wristlet so you can easily hold a glass of champagne.
It's made of coated recycled vegan PU leather and is waterproof and easy to wipe clean. Inside it has a secure zippered pocket for your cards.
---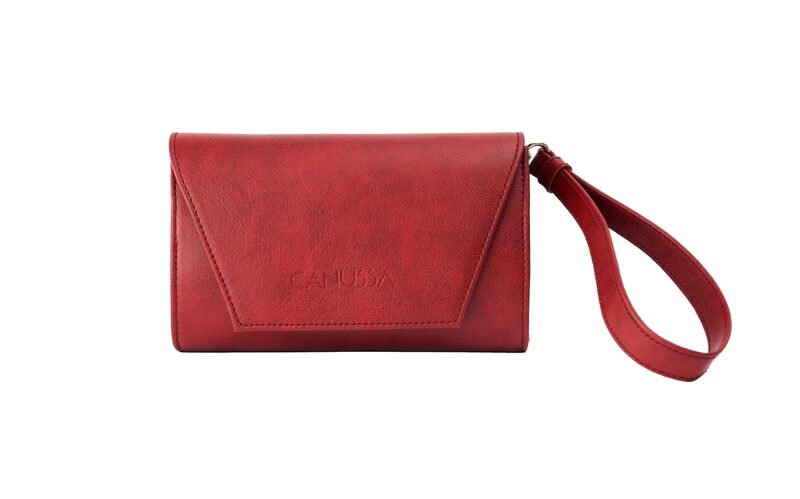 This vegan leather wristlet is in fact a hybrid bag, which can be used as a wallet, carried as a belt bag or carried as a clutch.
The vegan clutch wallet comes in black, red and tan and has multiple compartments for cards, coins and your phone.
This vegan wristlet is made of a durable, high-quality vegan microfiber leather and the lining is made of SEQUAL, a 100% recycled material made of plastic captured from the ocean.
---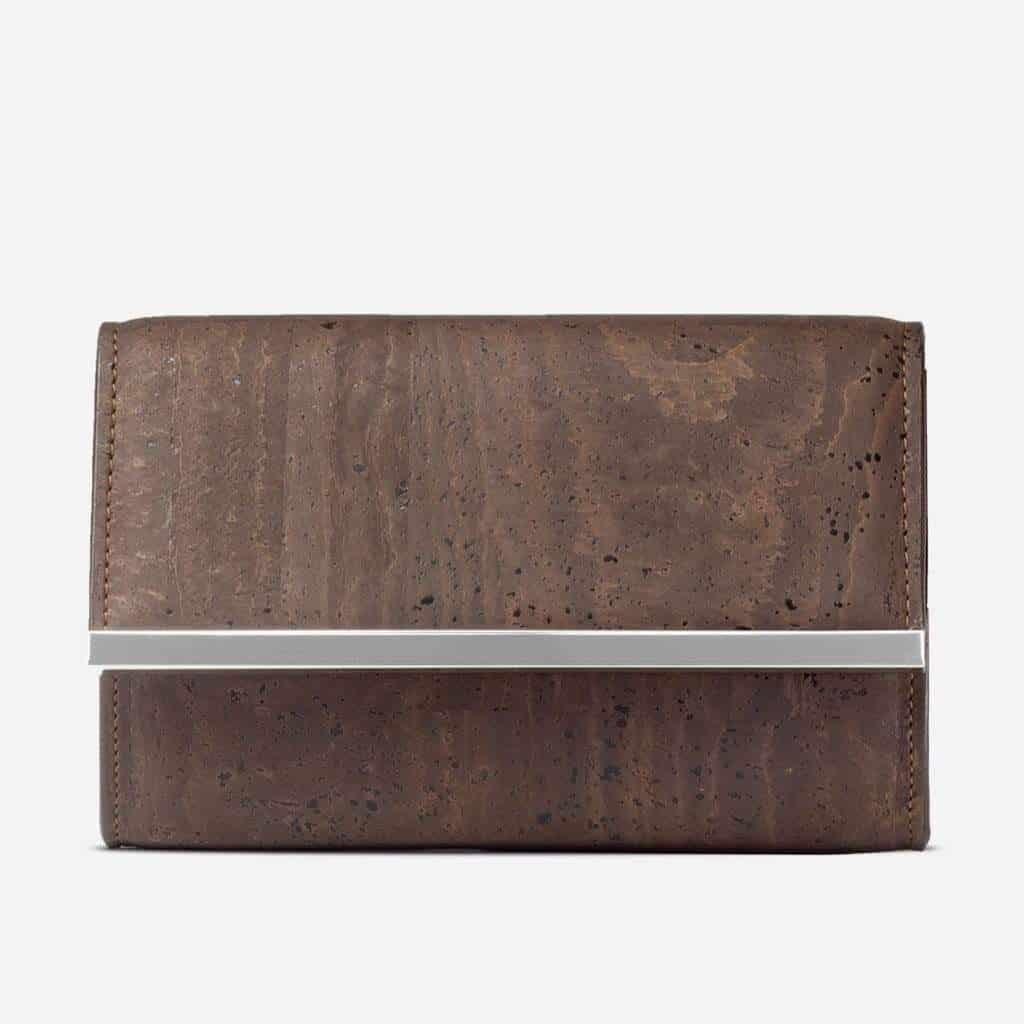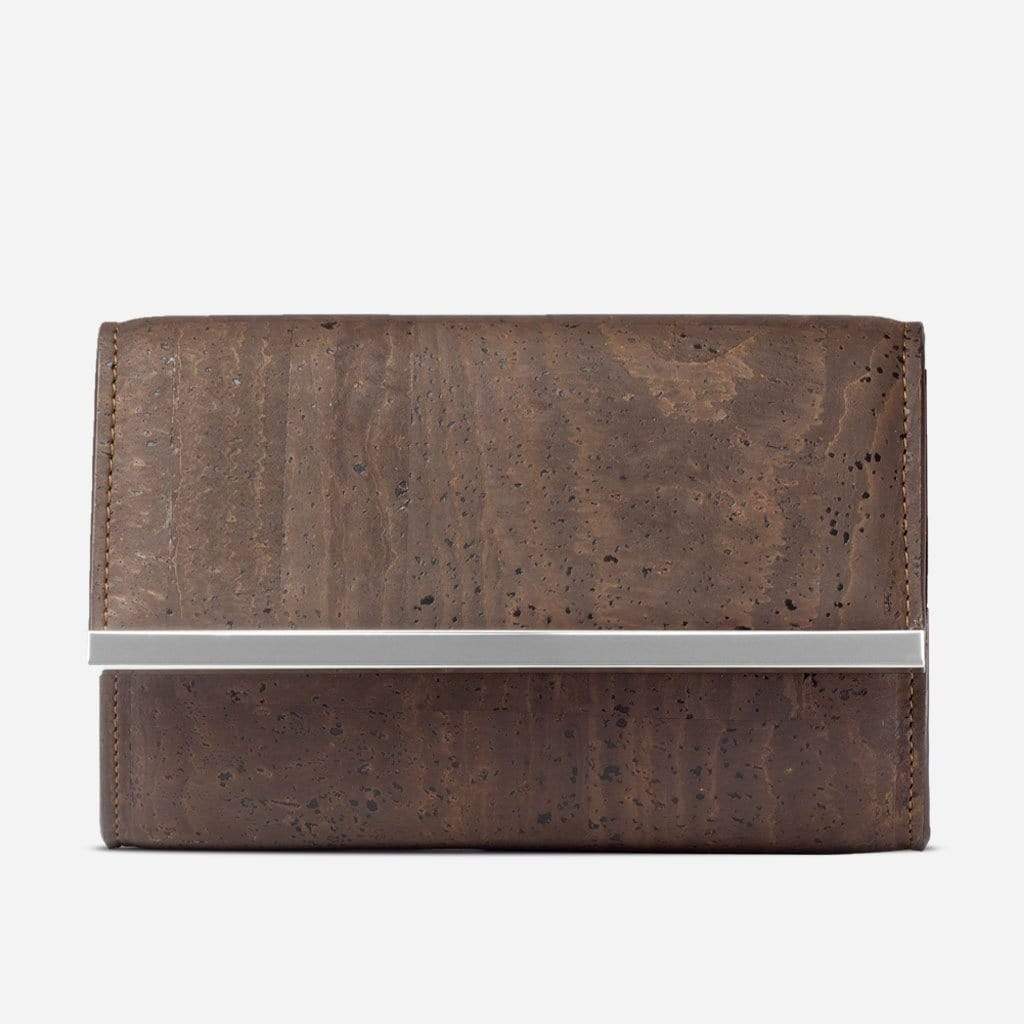 This eco-friendly clutch can be carried as a clutch or as a shoulder bag with its removable chain strap.
It's made of cork, a sustainable material that's naturally lightweight, durable and water-resistant.
The clutch has a back slip pocket.
---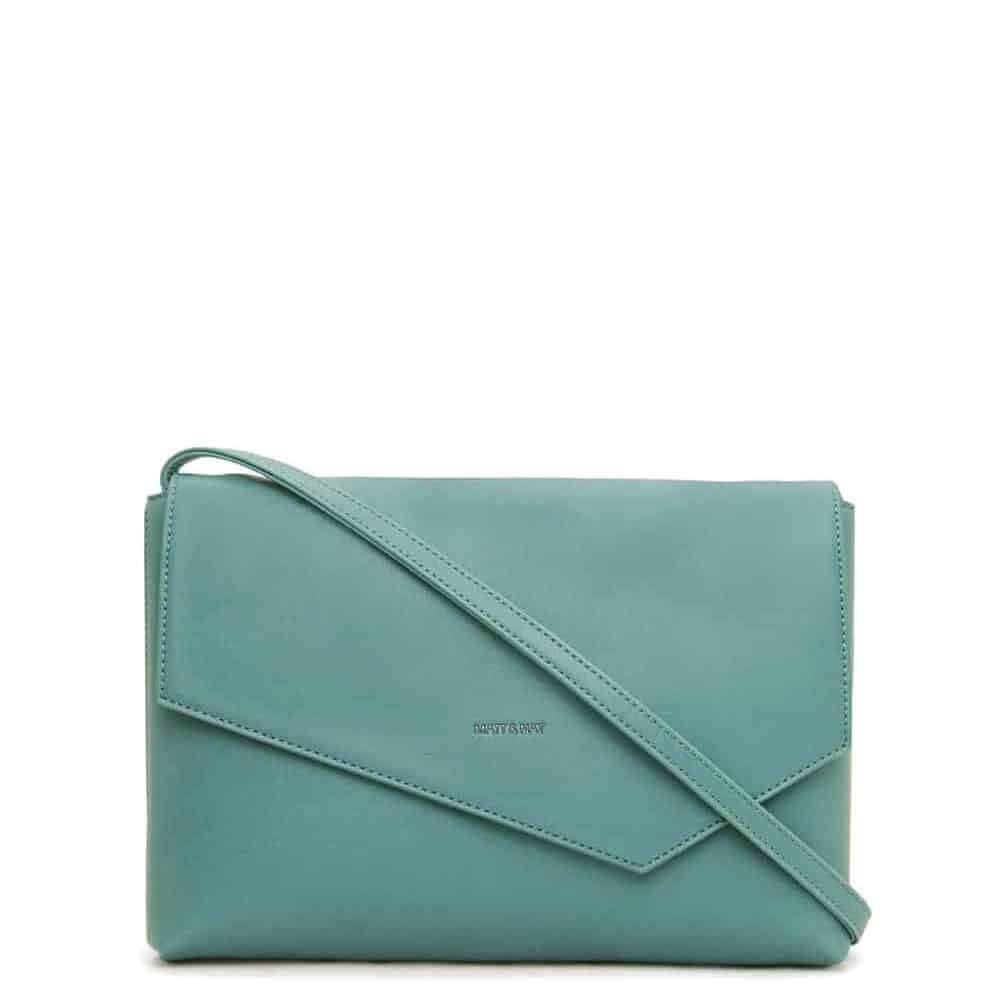 This Matt and Nat clutch bag has a zippered main compartment for security, which I like (living in a city I like carrying a zippered bag to deter pickpockets).
The Matt and Nat envelope purse also has a phone compartment and an interior zippered pocket.
It closes with an asymmetrical flap with a magnetic snap closure and has a removable, adjustable shoulder strap so you can carry it as a clutch or over the shoulder.
---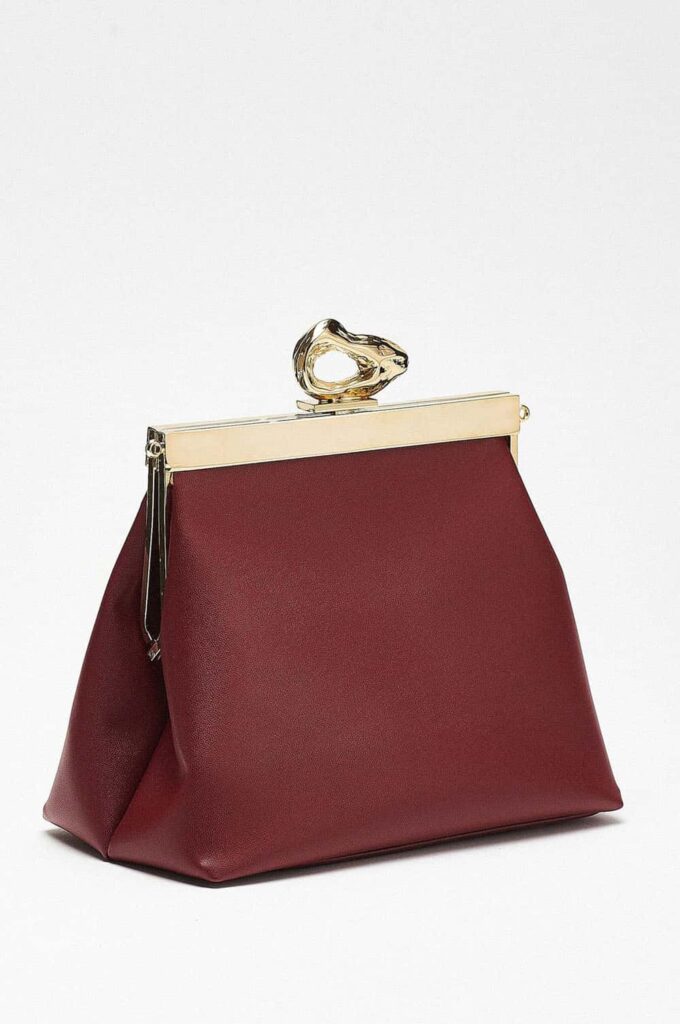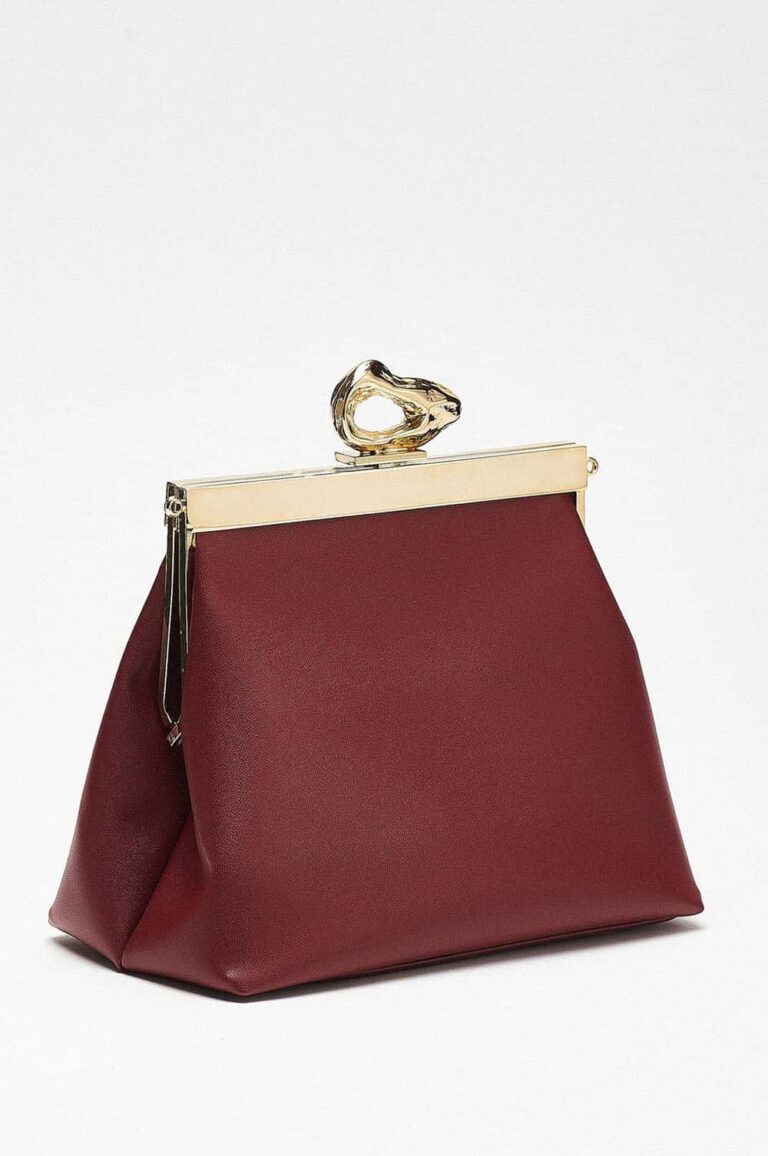 This eye-catching vegan evening bag is inspired by vintage bags, but given a twist with Mashu's signature nature-inspired clasp, made from plated brass.
The burgundy vegan leather exterior is made with 73% bio mass content and the interior lining is a vegan suede made from 100% recycled polyester.
It comes with a detachable white shoulder strap and a detachable gold-coloured chain for crossbody wear.
---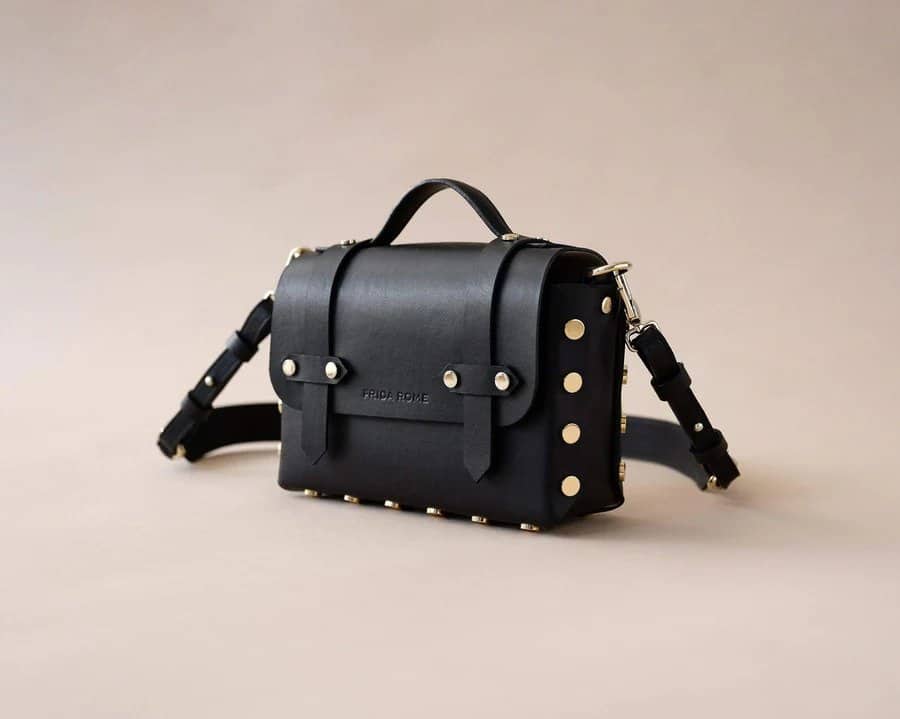 This versatile vegan cactus leather bag from Frida Rome can be carried as a clutch or a crossbody thanks to the detachable strap.
Featured on Dragons Den, this bag completely deconstruct (allowing you to change out the front panel) and packs flat when you're travelling.
It's made from Desserto vegan cactus leather, an innovative and sustainable new fabric made from the leaves of the Nopales cactus.
By using leftovers from the cactus industry, it's an eco-friendly material (not to mention since cacti don't require much water to grow).
The bags are made to order, further increasing sustainability, though it does mean you'll have to wait for your bag to ship to you.
---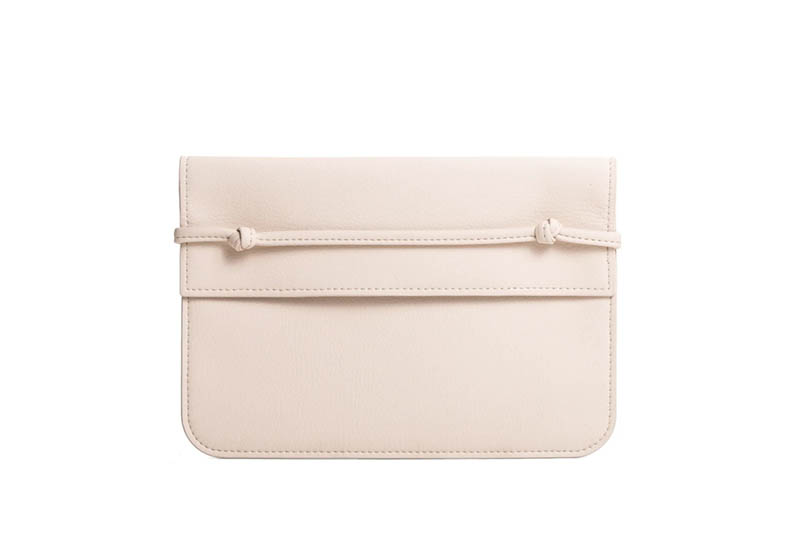 Best for: vegan clutch bag UK
This minimalist vegan clutch from von Holzhausen can be monogrammed if you want.
von Holzhausen is not just a vegan bag company — they specialise in designing their own high-performing vegan leathers (their aim is to outperform animal leather).
This bag is made from their signature material, Technik-Leather, which is vegan and biodegradable. It's also water- and scratch-resistant and lighter weight than animal leather.
---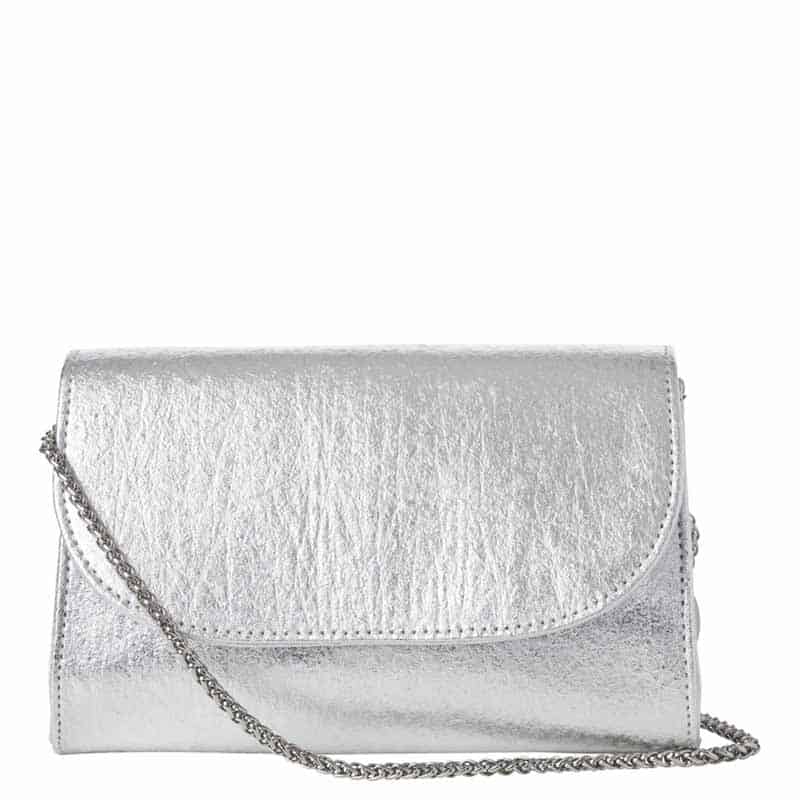 This clutch from Svala is made of silver vegan pineapple leather and lined with recycled plastic bottles mixed with organic cotton to create the black lining.
Inside, it has a pocket to store credit cards and ID, and it closes with a magnetic snap.
It comes with a detachable silver chain strap so you can wear it as a shoulder bag or carry as a clutch.
Like all Svala bags, it's made in Los Angeles.
Pin this for later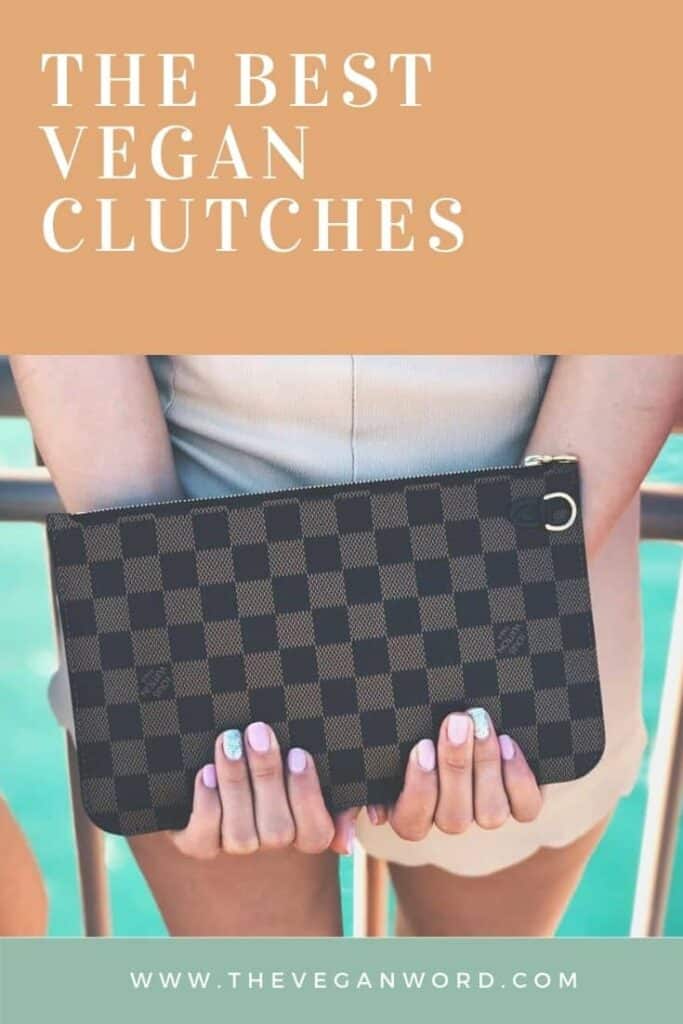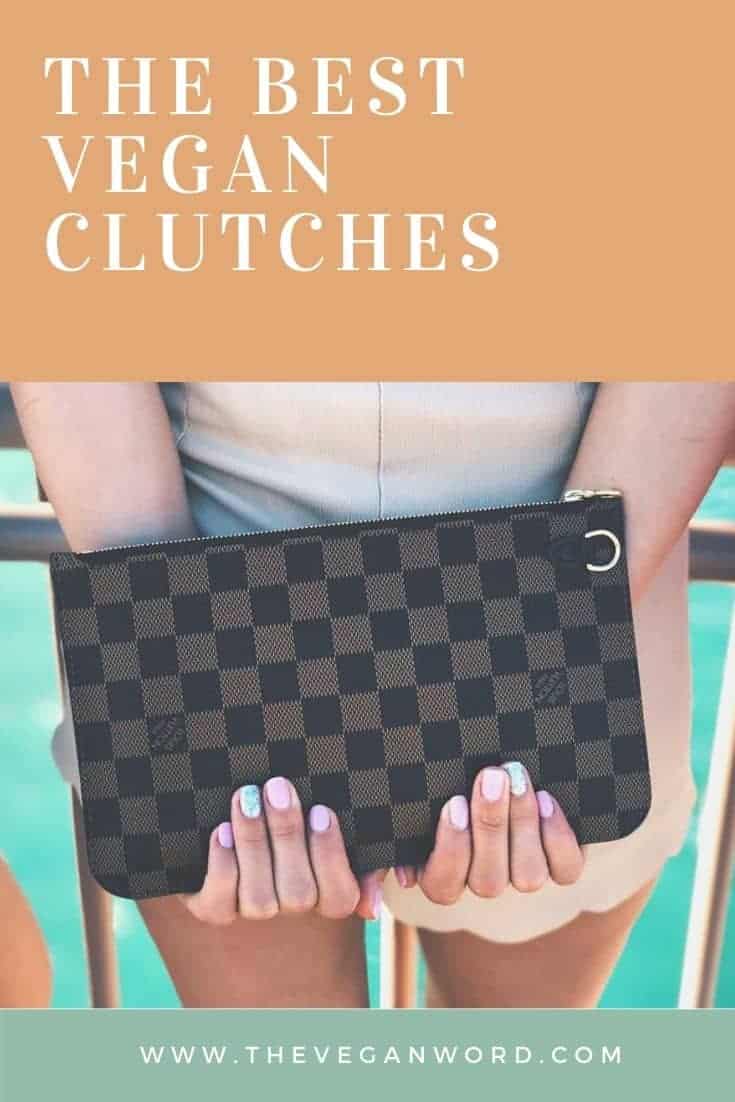 Looking for more vegan bags? Find my full guide to vegan handbags, plus specific guides for vegan crossbodies, vegan totes, vegan satchels, vegan bucket bags and vegan messenger bags.
If you're after a bag for work, I have guides to vegan backpacks and vegan briefcases.
I also have a guide to vegan designer bags and a guide to vegan luggage.
Find all my vegan fashion guides.
Main Image: Photo by Zeny Rosalina on Unsplash