My Vegan Mofo theme is Suitable for Non-Vegans: delicious, non-scary food you can feed your non-vegan friends and family — food that will show them that you're not crazy (well, not crazy for being vegan!). Like my page on Facebook to get the latest Mofo/Suitable for Non Vegans posts.

When I mentioned I'd be making quintessential Spanish tapas dish patatas bravas to serve alongside broccoli cheddar soup, my boyfriend (aka my official non vegan Taste Tester for the month) was really excited — he said he ate patatas bravas nearly every night when he was in Spain! Patatas bravas are normally fried or roasted potatoes served in a somewhat spicy tomato sauce. These have the addition of mayonnaise (not included in traditional dishes), a sort of mash-up of patatas bravas and patatas aioli, which makes the sauce creamy and I think takes the dish just one step above, but feel free to leave it out if you want and make a more traditional version.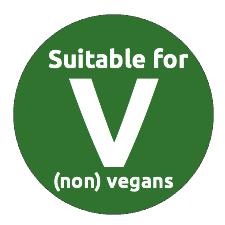 Patatas Bravas
Makes 4-6 tapas size portions/side dishes

Ingredients
1 kg potatoes, chopped into 1cm cubes
4 tbsp olive oil, divided
4 tsp paprika or smoked paprika, divided in half
1 onion, chopped finely
1-2 cloves of garlic, minced
4 tbsp tomato puree (tomato paste)
salt and pepper
2 tsp hot sauce
3 tbsp vegan mayonnaise
3 tbsp parsley, chopped
Instructions
Preheat the oven to 205 C (400 F)
Put the chopped potatoes in a large greased baking tin and coat with 3 tbsp oil and 2 tsp of the paprika. and bake at 205 C (400 F) for 30 to 40 minutes, stirring halfway through, until slightly browned and you can easily pierce the potatoes with a fork.
While the potatoes are baking, prepare the sauce. Heat 1 tbsp of olive oil in a small saucepan on medium heat. Add the onions and fry until translucent, then add the garlic and fry for 2-3 minutes, until they begin to brown. Add the remaining 2 tsp of paprika and fry, stirring, for another 2 minutes.
Add the tomato paste to the saucepan and cook for another 3-4 minutes, stirring occasionally. Stir in the hot sauce and remove from heat. Add the vegan mayonnaise and stir into the sauce.
Once the potatoes are done, remove from oven and toss with the sauce to coat, then top with chopped parsley.
Serve on small plates, tapas style, along with other tapas dishes, or as a side dish to dinner.