My Vegan Mofo theme is Suitable for Non-Vegans: delicious, non-scary food you can feed your non-vegan friends and family — food that will show them that you're not crazy (well, not crazy for being vegan!). Like my page on Facebook to get the latest Mofo/Suitable for Non Vegans posts.

Today's post will be short (as I had a really long day!), much like the recipe for this soup, which is pretty simple.  You just need to get some broccoli, potato, and your favourite vegan Cheddar cheese.  I used the pub cheddar from Artisan Vegan Cheese for mine, which has beer and chives in it — what more can you ask for than a boozy broccoli cheddar soup?
This went down a treat with my official Taste Tester (my non-vegan boyfriend).  I wouldn't feed this to a broccoli-phobe, but any other non-vegan will probably like it.  Serve with some crusty bread or a salad.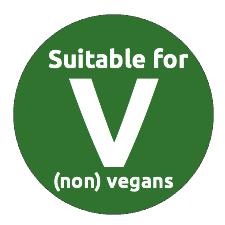 Broccoli Cheddar Soup
Makes 3-4 servings

Ingredients
2 tbsp vegetable oil
1 onion, chopped finely
1 clove of garlic, minced
1 head of broccoli, chopped
1 large potato, peeled and chopped
3 cups (750 ml) vegetable stock
6 oz (175 g) vegan Cheddar cheese, grated
Salt and pepper
Instructions
Heat the oil in a large pot over medium heat.  Add the chopped onion and fry until translucent, then add the minced garlic and fry until browned.
Once the garlic starts to brown, add the potato, broccoli, and stock, and cook for 15-20 minutes, until the potato is soft.  Stir in the grated cheese until melted, then puree in batches in the blender (be careful not to put too much hot liquid in your blender at once).
Return the pureed mixture to the pot and cook for another 1-2 minutes over medium heat.  Season with salt and pepper to taste.