A couple of years ago, before I went to Santorini, my Greek friend told me about kolokithokeftedes (courgette fritters). They're a popular Cretan dish. Kolokithokeftedes are usually made with feta and egg to bind them, and I didn't find any vegan versions in Greece, but when a recipe recently popped up on a blog I was browsing, I decided it was time to veganise them and make them.
After all, how can you go wrong with courgette (zucchini) and feta, mashed together and fried (or baked) to a crisp?
I tested these for you, and made both baked and fried versions and you know what? They tasted exactly the same!! (I was shocked.) So we're going to go with a healthier option here and bake them. And then I think you should reward yourself with some ice cream.
I made these for my Vegan Greek Feast, which also included fattoush salad with loquats, Greek salad with feta and tzatziki, a yoghurt, cucumber and dill dip which goes so well on the fritters I've included the tzatziki recipe again below.
Stay tuned next week because I have one more surprise bonus vegan Greek recipe for you!
I made the whole feast in under two hours and it would make a great dinner party menu. If you want to make something less involved I'd suggest the fritters with tzatziki and a side of Greek salad with feta. A lot of the ingredients are the same and if you're making vegan feta you might as well use it in both the Greek salad and courgette fritters.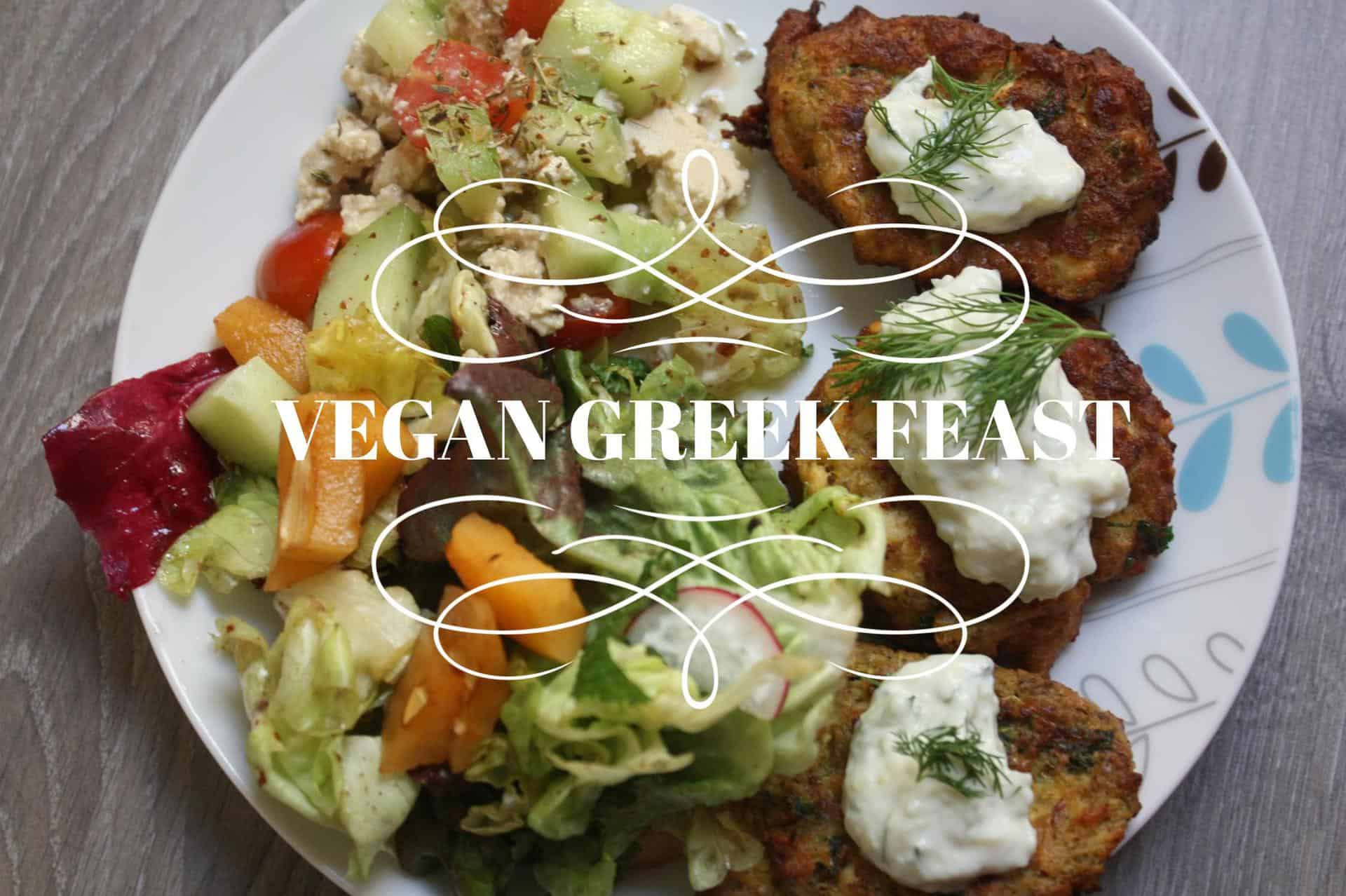 Want to get your hands on a copy of the Vegan Greek Feast recipes? Click on the button below to get your FREE mini cookbook, Vegan Greek Feast!

Anyway, back to these courgette and feta fritters!  We're going to whip up some vegan feta first using the same recipe we used for our Greek salad, then mash it together with courgette and bake the whole lot and top with tzatziki, a refreshing cucumber-dill yoghurt sauce!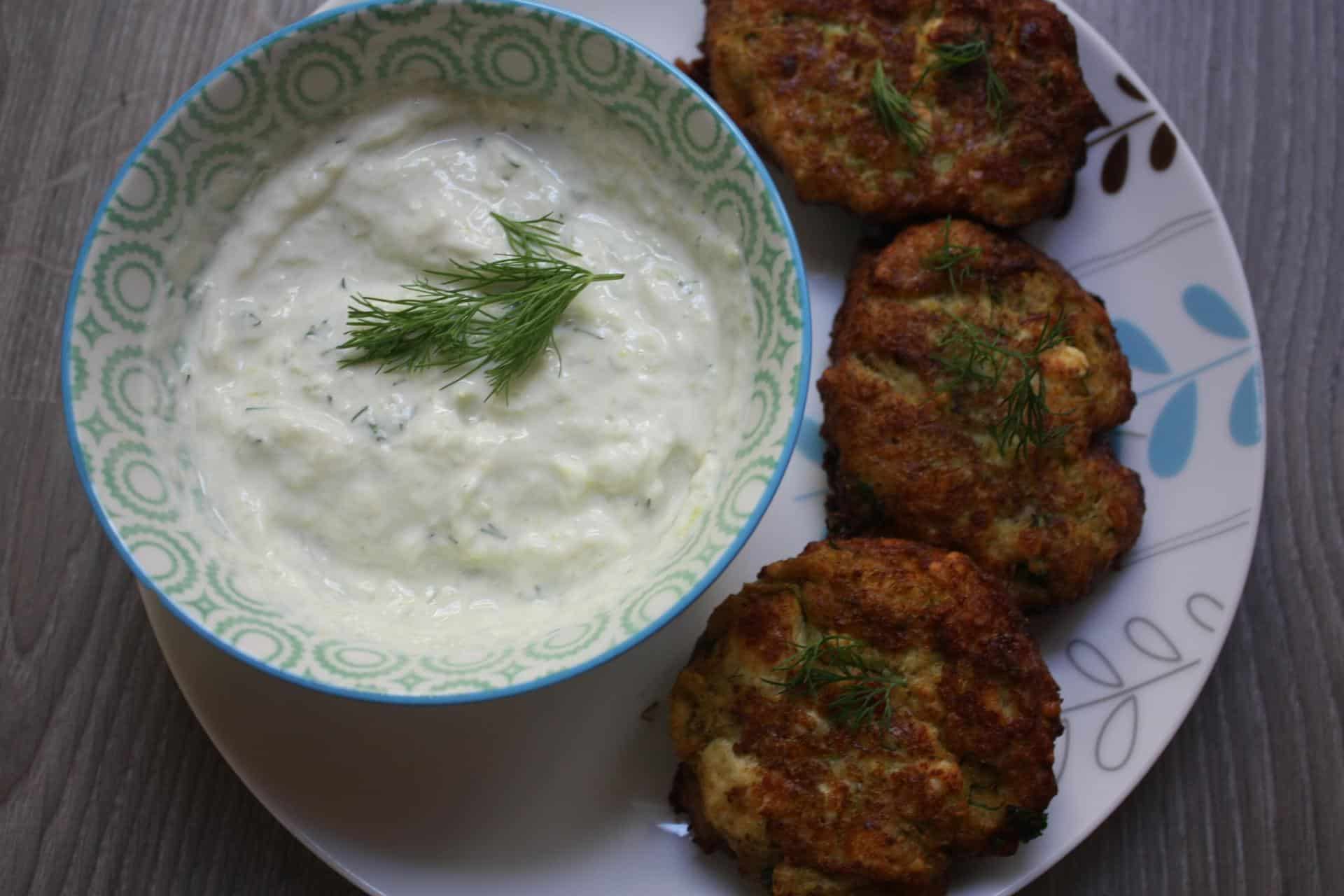 Vegan Courgette and Feta Fritters (Kolokithokeftedes) with Tzatziki Sauce
Makes around 6 fritters, enough as a starter for 2-3 people
Traditionally breadcrumbs are used but I've used chickpea flour here to make them gluten-free and give them a slightly more eggy flavour (along with kala namak)
Courgette (Zucchini) and Feta Fritters
Ingredients
1 courgette (zucchini), peeled, grated and drained
½ onion, grated and drained
1/2 recipe vegan feta (recipe below)
2 tablespoons mint
2 tablespoons dill
2 tablespoons parsley
¼ cup chickpea flour (or breadcrumbs)
¼ tsp kala namak/black salt (optional, for eggy flavour)
1 flax egg (1 tbsp ground flax mixed with 2.5 tbsp water)
½ tsp baking powder
Salt & pepper
Instructions
Preheat the oven to 200 C (390 F).
Peel the courgette and then grate it.  Squeeze excess water (there's a lot!) from the grated courgette by pressing it with your hands over the sink.
Grate the onion and squeeze the excess water out over the sink.
In a large mixing bowl, mix the grated courgette, grated onion and other ingredients.
Line a baking tray with parchment paper. Form small golf ball-sized patties with the mixture and place on the tray. Smush down.
Drizzle a bit of olive oil over the patties (optional, but makes them crispier) and bake for 10 minutes.  Flip them over and bake for another 10 minutes, or until browned on each side.
Feta
Ingredients
200 g firm tofu, crumbled roughly to feta-size chunks
1 tbsp white miso
1 tbsp white wine vinegar
1 tbsp lemon juice
pinch of salt
1-2 tsp dried Italian herb blend
3 tbsp nutritional yeast
1 tsp tahini
2 tbsp water
Instructions
Crumble tofu roughly into a bowl.
In a separate bowl, mix the miso, vinegar, lemon juice, salt, Italian herb blend, nutritional yeast, tahini and water until thoroughly combined.  Pour this mixture of the tofu and mix thoroughly.
Tzatziki
Ingredients
½ cup vegan yoghurt
½ cucumber, peeled and grated, water squeezed out
¼ teaspoon garlic powder
1 tablespoon fresh-squeezed lemon juice
1 tablespoon chopped mint
1 tablespoon chopped dill
½ teaspoon lemon zest
Instructions
(Optional) For a thicker, Greek-style yoghurt, put your yoghurt in a cheesecloth and hang over the sink for a few hours to let excess water drain out.
Peel the cucumber, grate it and squeeze excess water out over the sink. Add the other ingredients and mix everything together.
Want to get your hands on an advance copy of the Vegan Greek Feast recipes before anyone else? Get your FREE mini cookbook, Vegan Greek Feast, now before the rest of the recipes even go live!