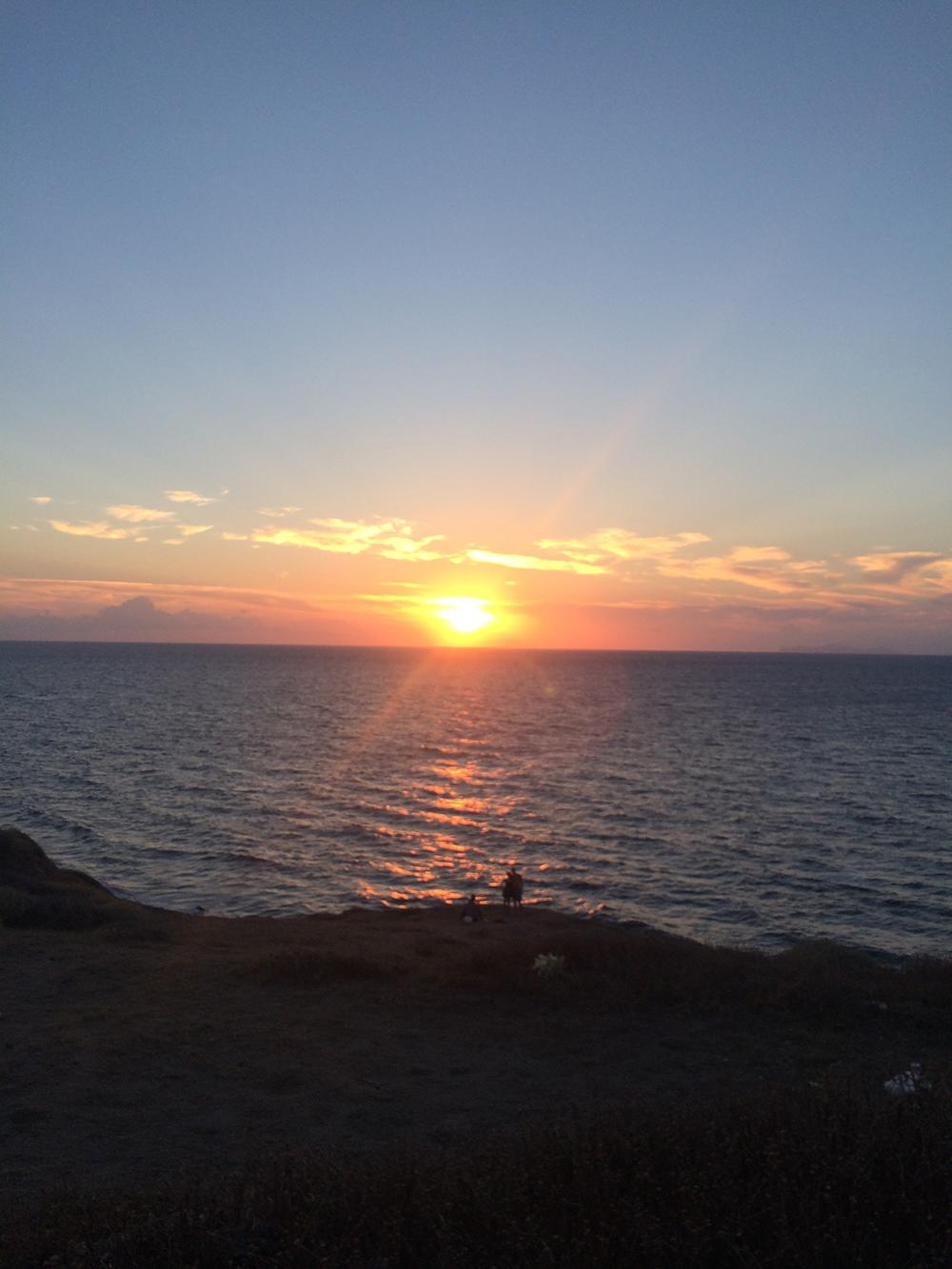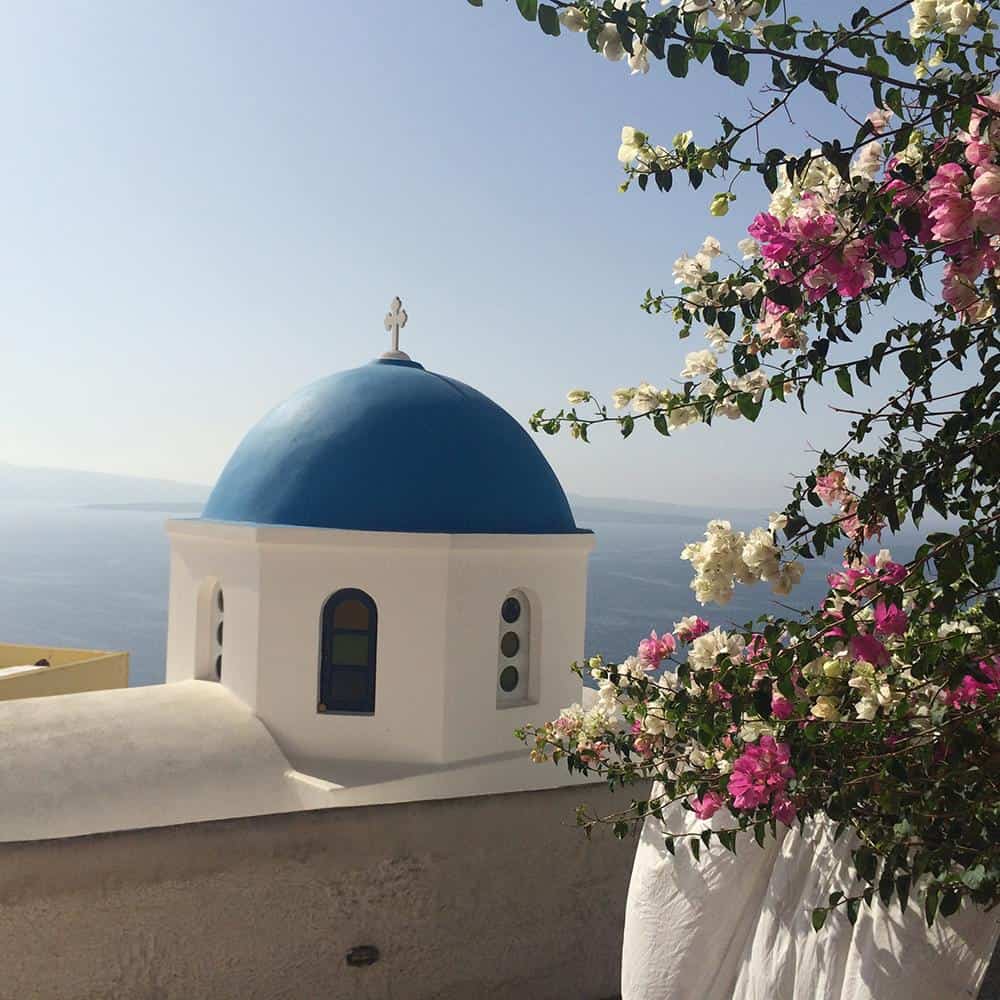 Santorini: land of jaw-dropping sunsets, picturesque whitewashed villages perched so high on clifftops you're surprised they don't fall off and tumble down into the sea, and food doused seemingly in litres of golden-green olive oil. Oh yes, and surprisingly vegan-friendly cuisine. I chose Santorini after a trip to the hairdresser earlier this year where she reignited a long-lost desire to go there (fuelled by countless photos of white houses, blue-domed church roofs and mile upon mile of endless sea, stretching out towards the horizon and meeting the sky in a fuzzy blue line). She also regaled me with tales of vegan food and friendly Santorinians who were always willing to make something vegan for you (yes, my hairdresser is vegan too!). It only took a few photos on Google image search to convince my boyfriend that he wanted to go, too.
In fact, Santorini was even more beautiful than the pictures, and much more vegan friendly than I'd anticipated even based on many people telling me I wouldn't have a problem finding vegan stuff there. I wasn't quite prepared to be able to go into just about any restaurant and order a vegan meal. This is helped by the fact that food is usually cooked in olive oil (not butter), so you can order a lot of vegetable side dishes, and pretty much all restaurants have fava (a hummus-like puree of split peas) and Greek salad (tomato, cucumbers and olives, sometimes with the addition of pepper and capers – just ask them to hold the cheese, which is not a problem since they usually add it at the end). One word of warning though: a lot of restaurants have very similar menus so it's quite common (for vegans and non-vegans) to get a bit sick of having the same dishes over and over! I heard there are a few Chinese, Indian and Italian restaurants in Fira, the biggest city on the island, but we weren't staying there (we stayed in Oia, famed for its sunsets and the town's nearly unreal beauty). Might be worth checking some of those out.
Where to Stay in Santorini
First things first, where should you stay in Santorini? I stayed in Oia, because I'd heard the sunsets were incredible here (some of the best in the world) but it was a fairly big town (in Santorini terms) so I'd be guaranteed a variety of restaurants. It's the town you've probably seen all those Santorini snapshots from. And I ate some of my favourite meals on the island in the beautiful whitewashed, clifftop village of Santorini at Candouni and Karma. So, I recommend staying in Oia. Here's where to stay:
Luxury: 1864 The Sea Captain's House
The 1864 Sea Captain's House is housed in a 2-storey mansion overlooking the sea on the cliffs. All the suites have four-poster king sized beds and open to furnished terraces with views of the sea and the caldera (the stunning volcanic mountains Santorini is set on). One suite has a courtyard, too. All have free wifi, TVs, minibars and espresso machines. Massages or body treatments can be arranged, to take place on your terrace. A perfect honeymoon spot. Click here to check the latest prices.
Mid-Range: Amaya Selection of Villas
The Amaya selection of villas is built on Oia's cliffs with beautiful views of the water and volcano. The property has a private entrance from the street and features year-round hot tubs. Click here to check the latest prices.
This is where I stayed and it was an amazing budget option; at these prices it's nearly impossible to get a sea (and sunset!) view, a gigantic garden and a hot tub but you'll find all these at Ecoxenia at very reasonable prices. Santorini can be a pricey destination so if you're looking for a good budget option I definitely recommend Ecoxenia. Also, you'll get a mini kitchen in your studio so if you get tired of eating the same dishes while eating out, you can cook up something in the studio. Cons: don't stay here if you have mobility issues as it's at the base of a large hill leading into town.
Click here to check the latest prices and availability.
Where to Eat Vegan in Santorini
Fira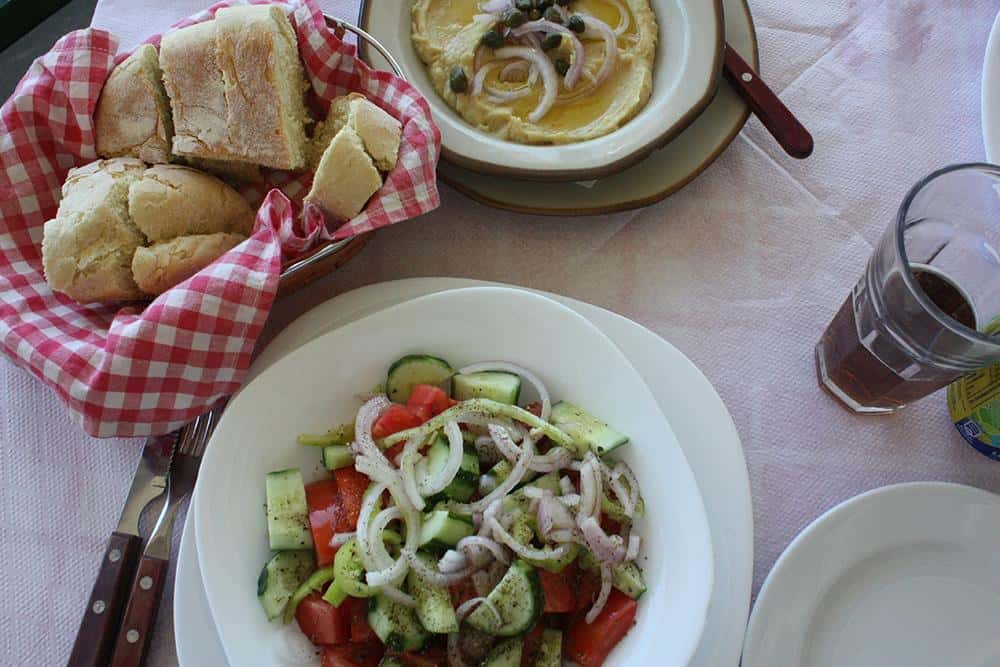 Fira is the largest city on Santorini (bearing in mind Santorini has a population of only around 15,000 on the whole island). Therefore, it has the most choice in terms of restaurants but it's also pretty busy. I preferred Oia, where we stayed – we actually stayed just outside Oia, near the coast, at a place called Ecoxenia, and it was so peaceful and quiet. However, you can't really avoid going to Fira – seriously, all roads on the island seem to lead to this place. If you are staying elsewhere and want to take the bus, you'll need to first get a bus in to Fira and then transfer to another. It also seems to be the only place on the island with mobile phone shops selling SIM cards.
We ate at a restaurant in Fira called Tsipouradiko, which is just a block away from the bus station. It certainly wasn't the best meal I had in Santorini (the Greek salad and the fava with both okay, but fairly plain), but I really liked the restaurant's front of house guy, who was unexpectedly thrilled that I don't eat meat. Now, Santorini might be vegan-friendly in terms of there being plenty of vegan options in restaurants, but most people don't know the word vegan or understand the concept of vegetarianism, let alone veganism. So I was pretty surprised when he exclaimed "you don't eat meat? Me neither! Go vegetarians!" and gave me a massive high five. He went on to explain that he eats fish, and seemed surprised that I don't eat dairy – but in a good way, like he was surprised I'm still alive (seemed like it planted a seed :)). It's always nice to meet a fellow non meat eater!
If you're staying in an apartment in Santorini and need to go grocery shopping, there's a large Carrefour in Fira, which sells most things. Right next to the Carrefour is a shop called Green Market, a whole foods market. Here you can find tofu, including Taifun basil-infused tofu (great for sandwiches or on top of pasta), a wide variety of plant-based milks, some chocolates and vegan margarine. Unfortunately the shop does smell quite fishy because they also sell fish and frozen meats there.
Perissa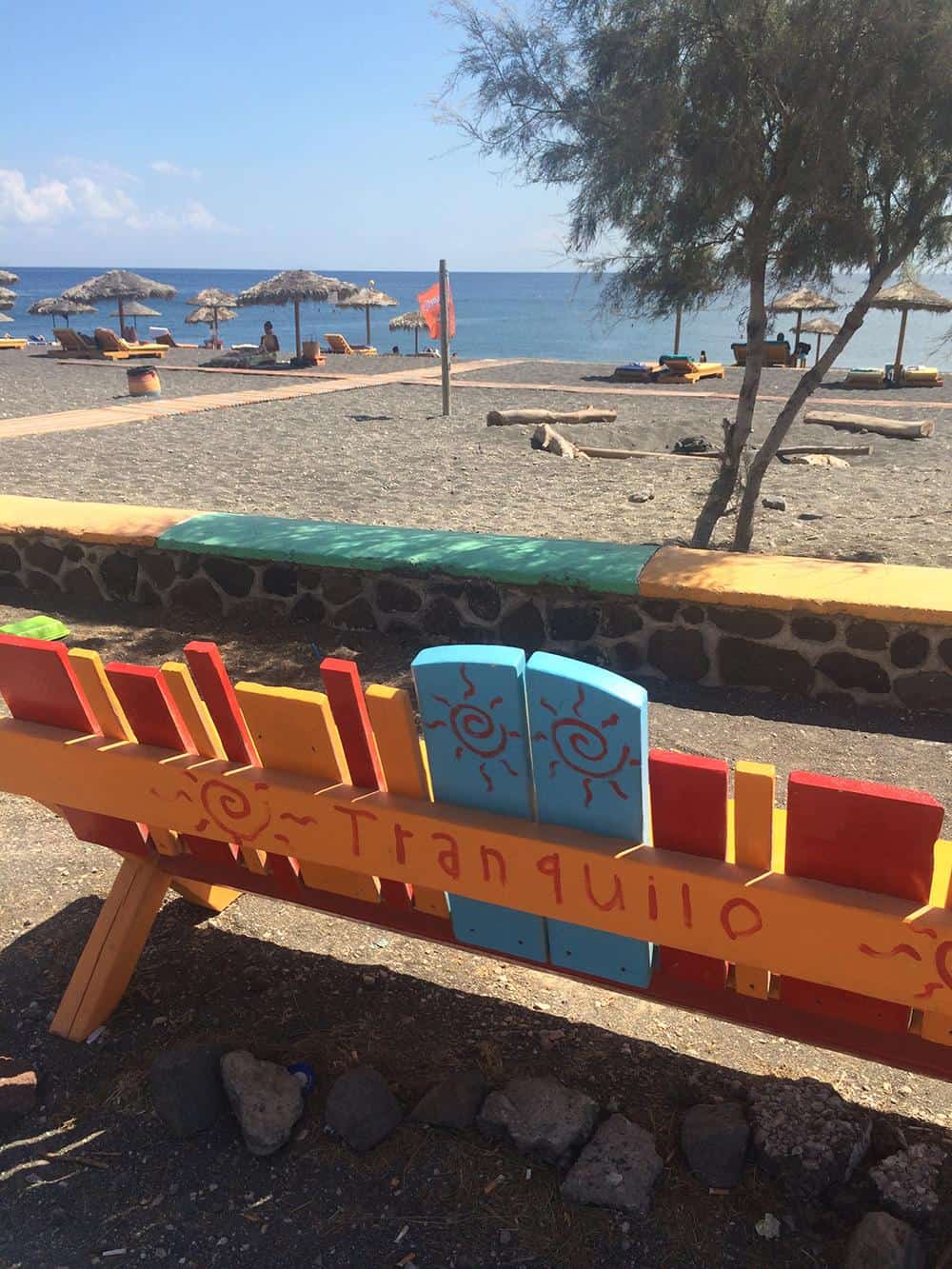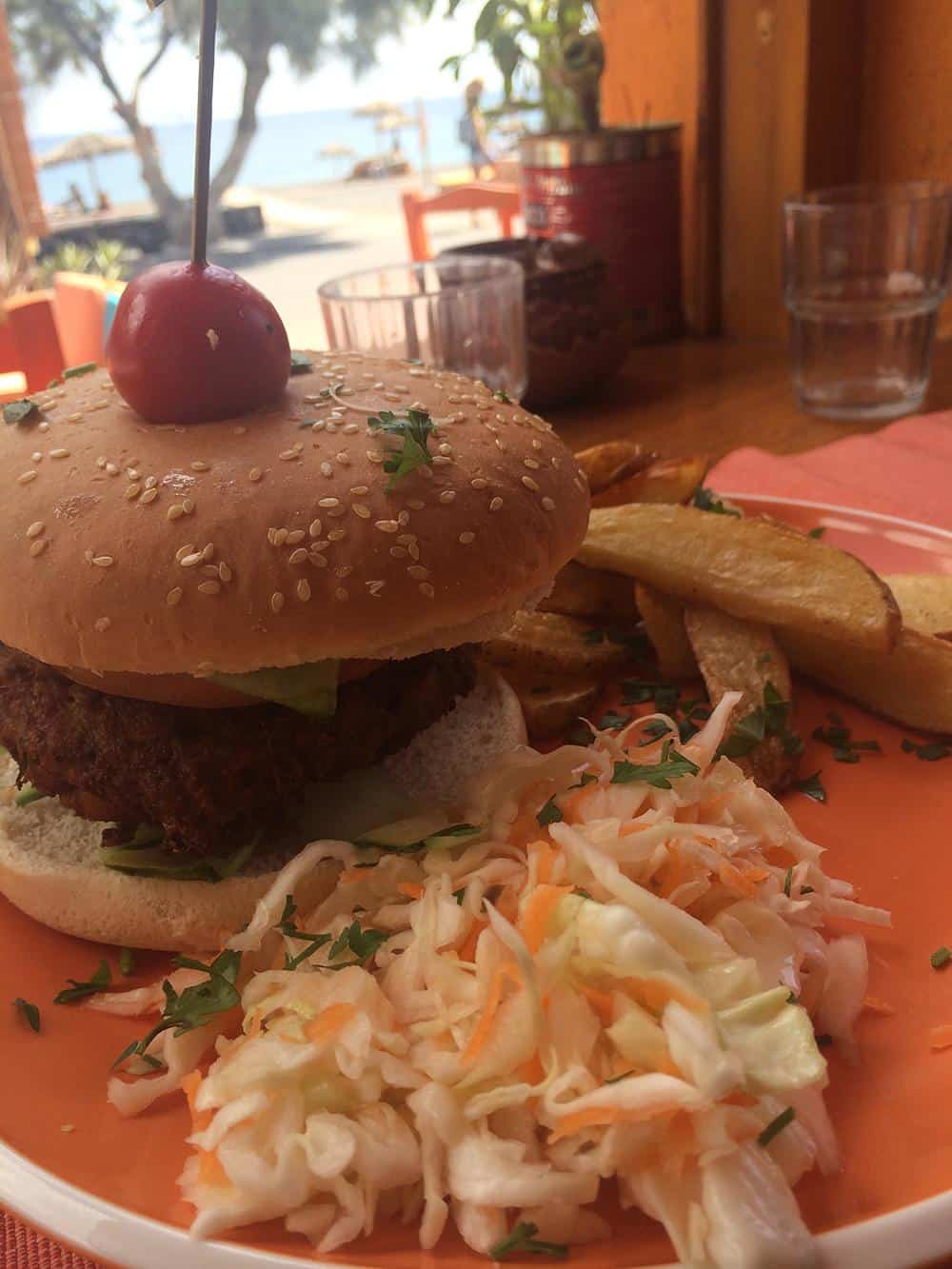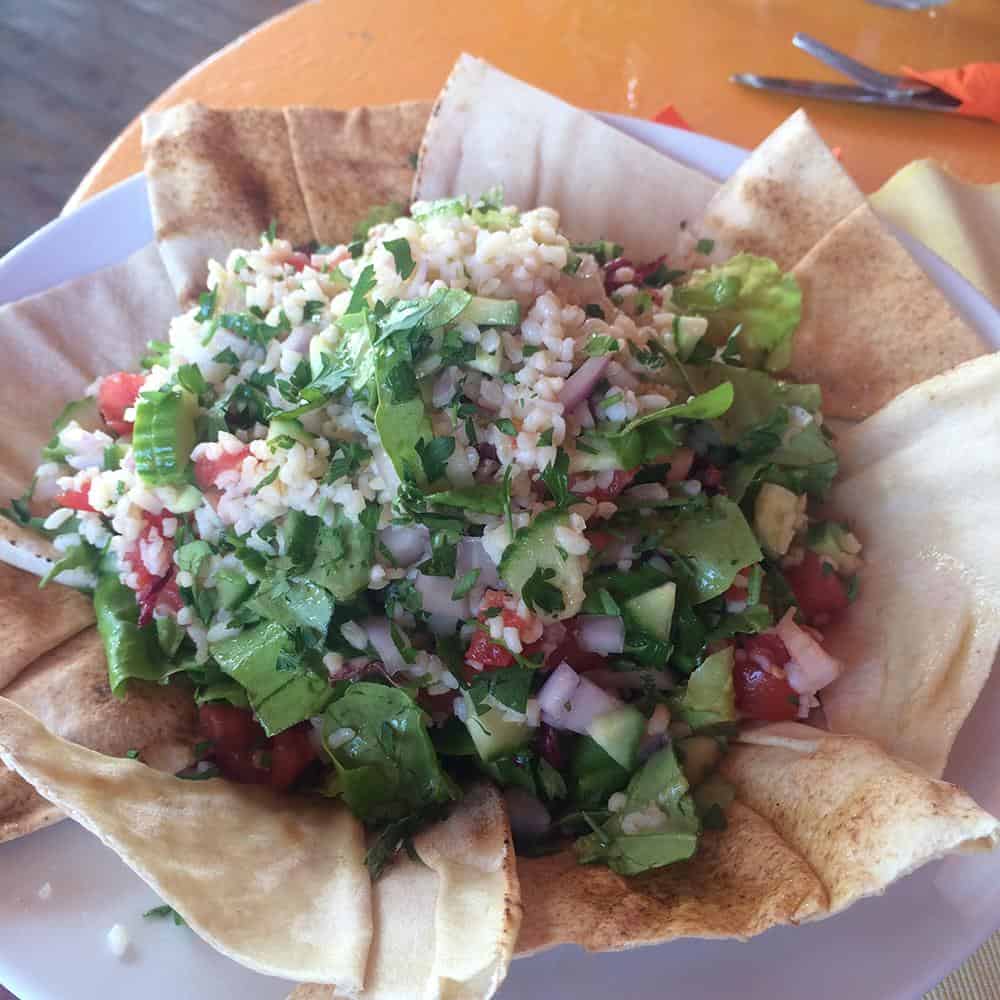 Apart from Oia, Perissa was my favourite place on the island. Famous for its black sand beach, Perissa has a really laid-back vibe. Or maybe it was Tranquilo, the restaurant we went to twice, that was so relaxed. Perissa has a long beach that stretches on for miles (actually, it's several beaches all connected). A bunch of restaurants and cafes have staked their claims along the beach, so the beach is lined with chairs/loungers and umbrellas, each section owned by a different restaurant or bar. You can bring your own towel and sit in front of the loungers, but not many people do, and with good reason – black sand gets incredibly hot, so you'll want an umbrella! You will want to spend minimal time with your feet touching the sand. In fact, you'll probably want to sprint from your umbrella to the water! The setup works quite well though – if you eat lunch at a restaurant, you can usually use their loungers and umbrellas free. Some of them also offer free wifi, and you can order drinks to be delivered to your umbrella and lounger from the restaurant.
We drove along the beach for awhile, trying to find Perissa restaurant, which I'd read had good vegan options. We couldn't find it but on the way down the beach I spotted a restaurant called Tranquilo, a hippie-ish place that had a big sign out front that said "vegetarian platters!!" I was sold. They have an international-inspired menu, with Greek dishes alongside tabbouli and veggie burgers. One day, I had the chickpea burger (hold the yoghurt dressing) with chips and a cole slaw-esque salad topped with olive oil dressing rather than mayo. Another time I had the tabbouli minus cheese (why on earth you'd put cheese on tabbouli anyway is beyond me!). I loved the vibe here – it was so laid-back, and their loungers were more spaced out on the beach than other restaurants, meaning it felt calmer and quieter. It was a really great treat getting soya frappes (a traditional Greek iced coffee – instant coffee, water, ice and milk blended up into a froth) and fresh juices delivered to our umbrellas.
Akrotiri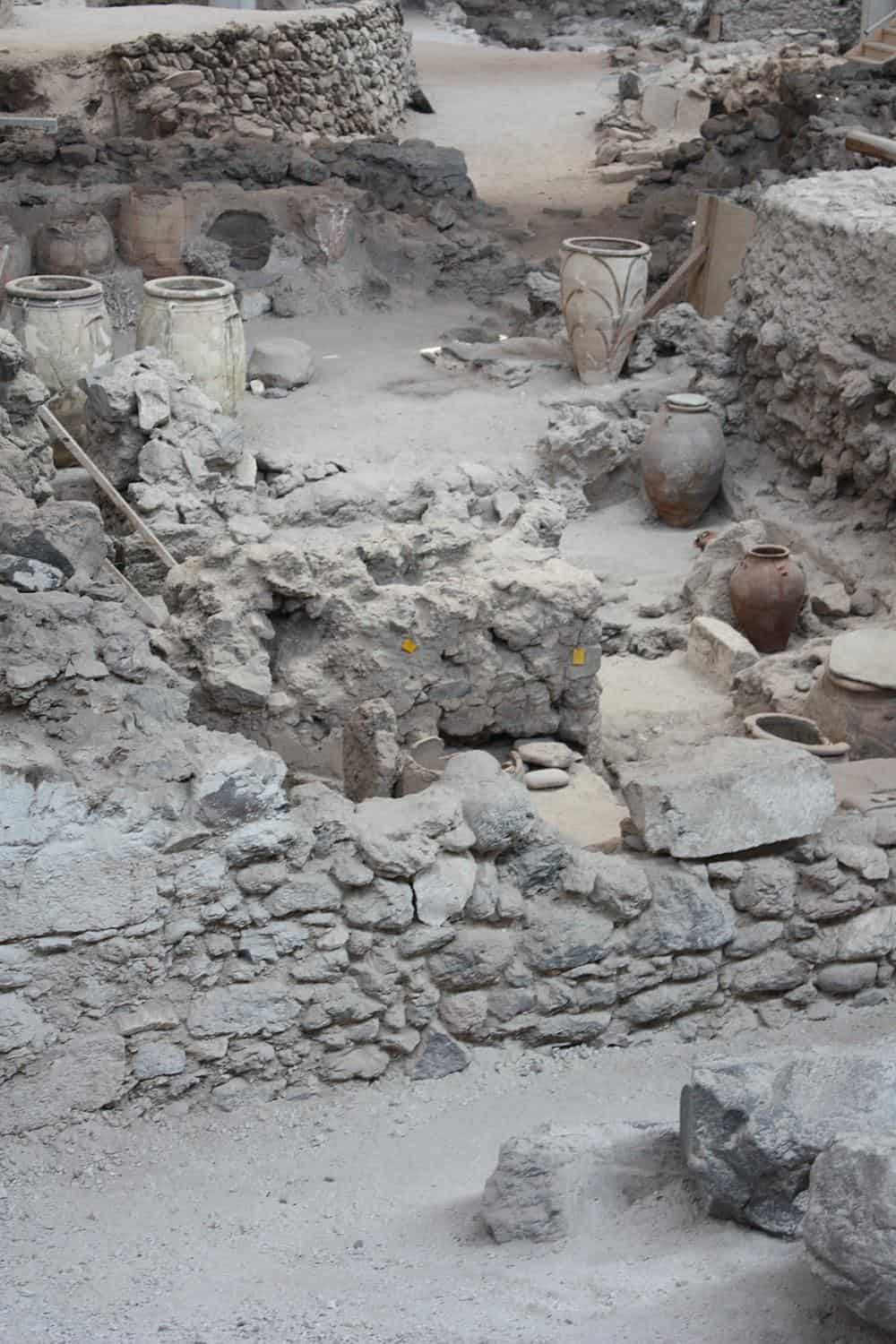 Akrotiri, a city on the southern tip of Santorini, is well worth a visit for the ruins. Aktrotiri is Santorini's Pompeii; after a volcanic eruption in the second millennium BC, it was preserved and you can visit the ruins, which are still under excavation, for 5 Euros per person. You can even walk through streets in part of the ruins, which was a really special experience. My only criticism is that I didn't feel like there was enough information at the exhibition. There were plenty of signs explaining what you were seeing but I found some of the wording and naming of structures confusing and I think I could have really benefitted from more visuals, like drawings, 3D models showing what the city looked like (there was one but it wasn't very detailed in labels), a movie showing a computer generated version of what it looked like, or something similar. Maybe if you're feeling flush enough to spring for the guided tour (we didn't) what you were looking at would make more sense. It's definitely worth a visit either way.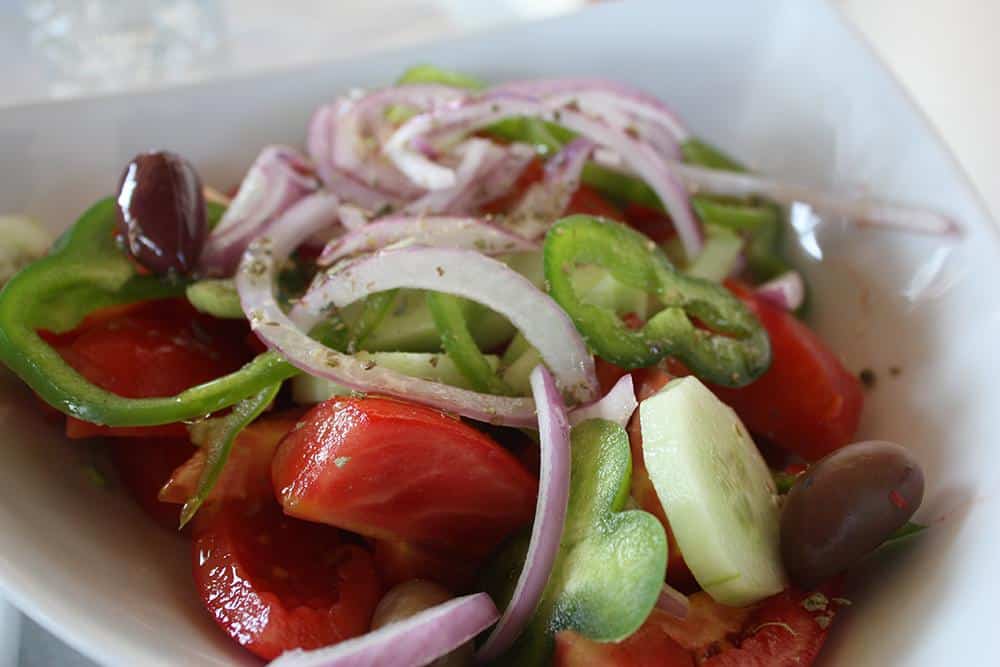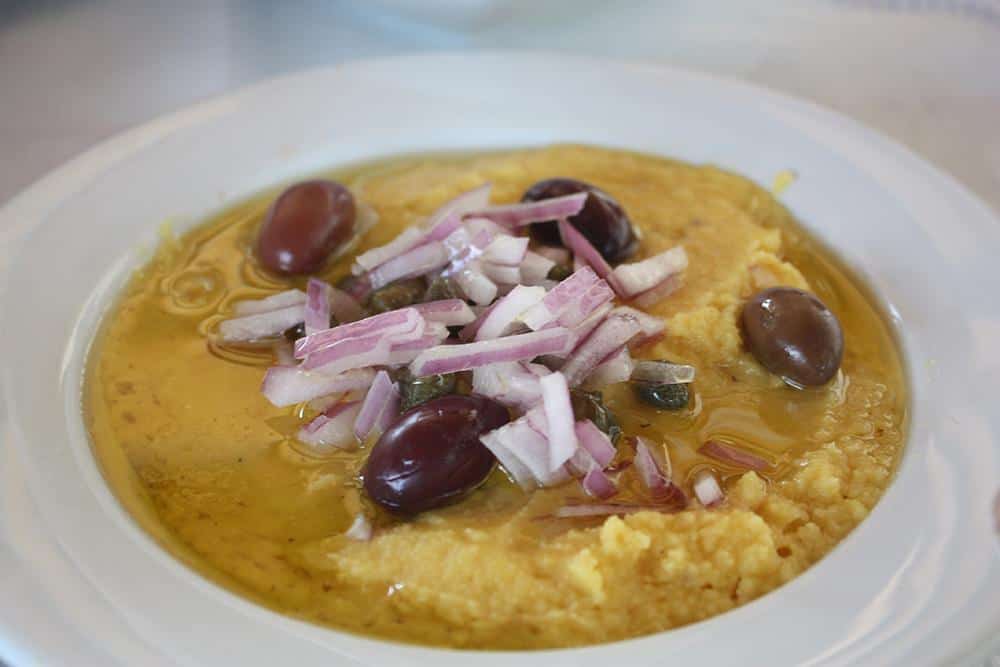 Just outside the Aktrotiri ruins on the way to the red beach (which by the way, isn't that red but does look like a nice beach, if somewhat difficult to reach via a rocky, mountainous path), there's a restaurant called Taverna Glaros, which I'd heard good things about. Despite its high ranking on Tripadvisor, I was pretty disappointed. Maybe I just didn't order well (I got the typical fava and Greek salad minus feta), or perhaps it was because at this point I was starting to get Greek salad-ed out. Greek salads usually have a dressing of olive oil and sometimes oregano. While I love olive oil (so much so that I've actually found myself reading the Olive Oil Times before), I can't eat that much olive oil (the salads in Greece are swimming in the stuff and they sell it by the 5 litre bottle in the supermarket) without an acidic counterpoint in the dressing like vinegar or lemon juice. It wasn't a bad meal, it was just a little disappointing compared to the raving reviews on Tripadvisor.
Thirassia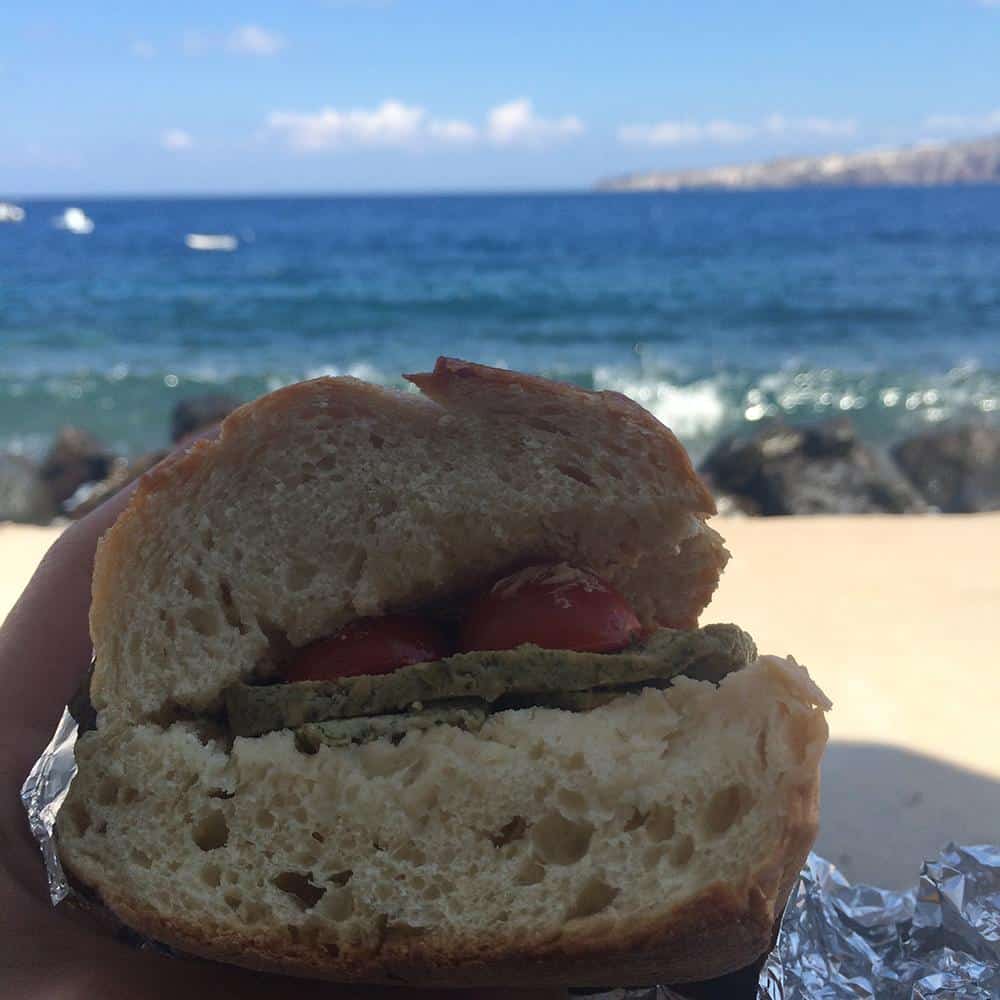 A small island off the coast of Santorini, Thirassia has a population of only 270 people. After reading about it on wikitravel, I really wanted to visit just to see what life on the island would be like. There are two ports on Thirassia. One, the Old Port, is frequented by tourist boats and cruises, and has a lot of (apparently overpriced) restaurants. If you visit any sort of travel agency or boat company in Santorini, they will try to convince you that you have to buy their 50 or 100 Euro excursion cruise to get to Thirassia, which makes stops at a hot springs island, a volcanic island and Thirassia. Don't fall for this! Apparently the hot springs aren't that hot, the volcanic island doesn't look as good close up as it does from Santorini, and the Old Port is overly touristy. You can easily get a local ferry for 1 Euro each way to Riva, or New Port, on Thirassia. Unfortunately there isn't much information on the timetable online. The cashier at the supermarket where I asked happened to be from Thirassia and told me there's a ferry at 8am, 12 noon, and 5pm every day from Ammoudi Bay just below Oia to Riva. It only takes 10 minutes. If you can't find a local who knows the current ferry times (which are seasonal, I believe), there was a timetable in the bus station in Oia – be warned that it's partly in Greek, and like all things in Oia the ferry might not run exactly on time. You can also go down to Ammoudi Bay and ask around for the ferry, which on the day we went pulled into the pier on the righthand side (the boat was called Thirassia JJ). Be sure to say hi to the boat captain's little white dog, who's very friendly and loves sitting next to you for a head scratch during the journey to the island.
Wikitravel makes it sound like there aren't any restaurants on Thirassia. This isn't strictly true, but I'd still recommend bringing a packed lunch (I brought sandwiches with tomatoes, vegan margarine and basil tofu I bought in Fira, plus some crisps and peaches). There are actually a lot of restaurants in Riva, if you can call them that. The day we were there, there were 3 other tourists in Riva that got off the ferry with us (everyone else was local on the ferry) – a middle-aged American couple and a guy from Santorini visiting for a day on the beach at Riva. We were far outnumbered by about 7 empty "restaurants" (actually just people's houses, but they'd put some tables and chairs out front and hand-painted signs on their houses that said "restaurant"). There were old men sitting in front of some of the houses, throwing bread to their dogs, staring at the sea and occasionally calling out "hello" in Greek to us. Only two of these restaurants looked like they actually had a kitchen, but even they didn't have a menu and they seemed to only sell fish. We ended up having coffees at one of them, which had a few beach chairs and umbrellas set on the beach in front of their house/restaurant. Thirassia's definitely worth a visit (just don't forget the sandwiches), it will make you feel like you discovered a secret beach and a hidden, sleepy town.
Oia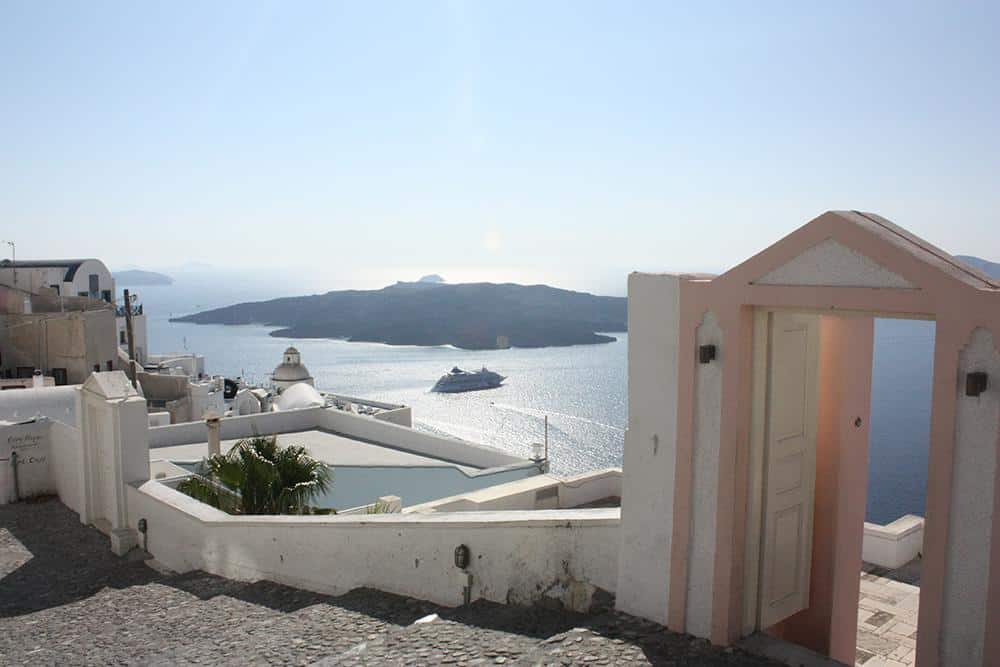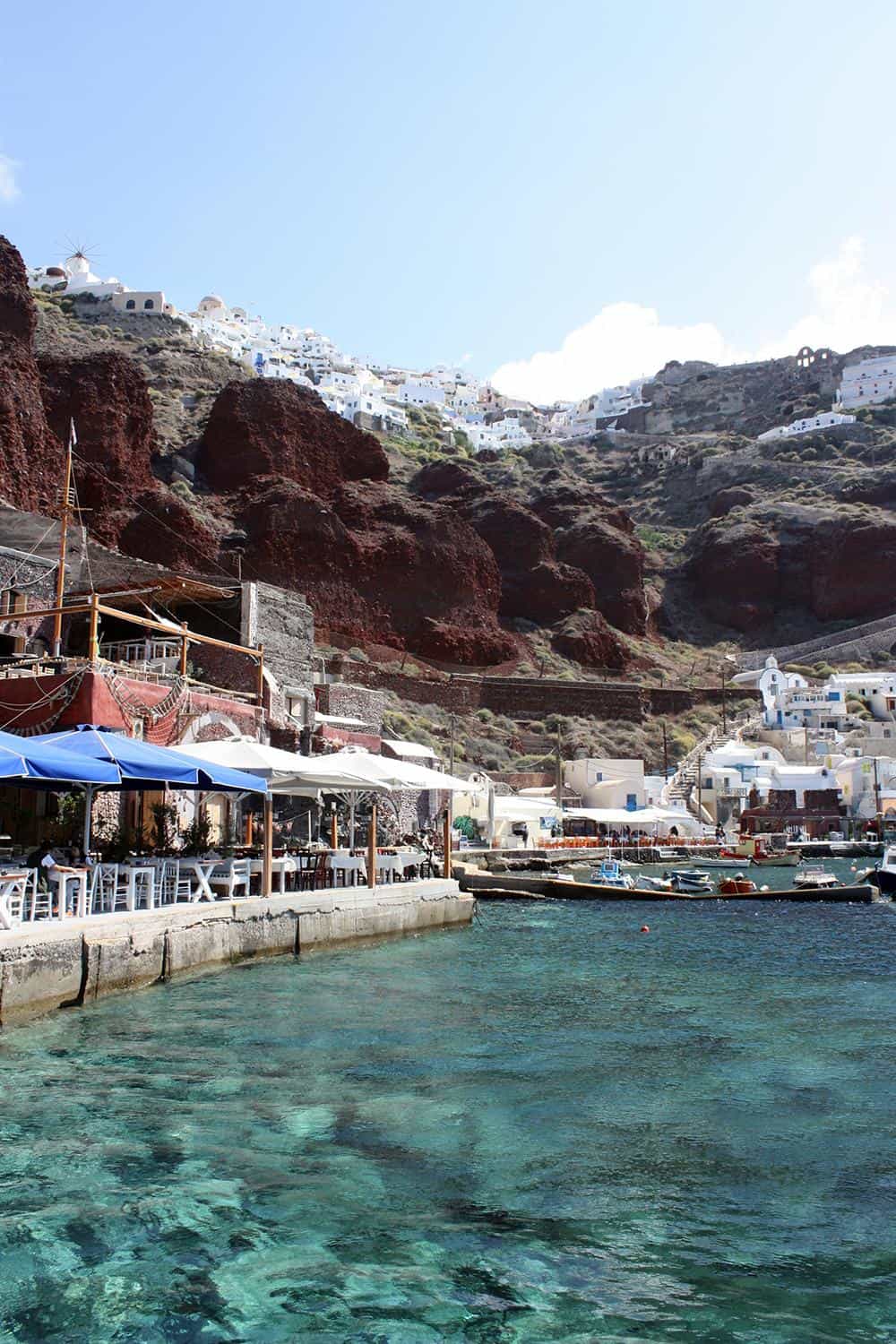 Oia is not to be missed. It's the most beautiful town on the island, in my opinion, and one of the most stunning places I've ever been. When you think Santorini (or maybe even when you think Greek island), this is the image that comes to mind. Whitewashed houses, blue-domed churches, all perched precariously on top of a cliff, tumbling down towards the sea. The houses are actually built into the cliff-face (many of them in caves, so part of the house is built on the outside and then when you walk in you're in a room built into a cave on the cliff). The main streets are all pedestrianised, narrow cobblestoned things jutting along the cliff so when you look over the walls you just see white buildings and endless sea dotted with islands. I don't know why, but the sunlight in Santorini seems incredibly white and bright, and the sea always seems to be shimmering and glittery. The streets leading off the main street of Oia lead down the cliff and the whole city is accessed by stairs (be prepared to do a lot of walking and climbing stairs!).
Oia has reputedly the best sunsets in the world, because you can watch the sun set right into the sea. The sunsets really are absolutely stunning. The food here is more expensive than on other parts of the island, because it's such a big attraction, and it can get very crowded during the day, but we found two of my favourite restaurants on the whole island here in Oia: Candouni and Karma. We ate at a few other decent restaurants, but the others were 'standard' Greek vegan fare of fava, Greek salads, etc. while at these two places we found some more unusual dishes. Both are situated on the same alleyway leading from the bus station to the main street (if you're on the main street, turn right just at the W.C. sign and you'll see some signs on the wall pointing the way down the alleyway to the restaurants). While they may not have the ocean/sunset views that keep restaurants on the main street in business (and charging a premium for often sub-standard fare), they both have cozy, romantic courtyards lit by candles and full of flowers.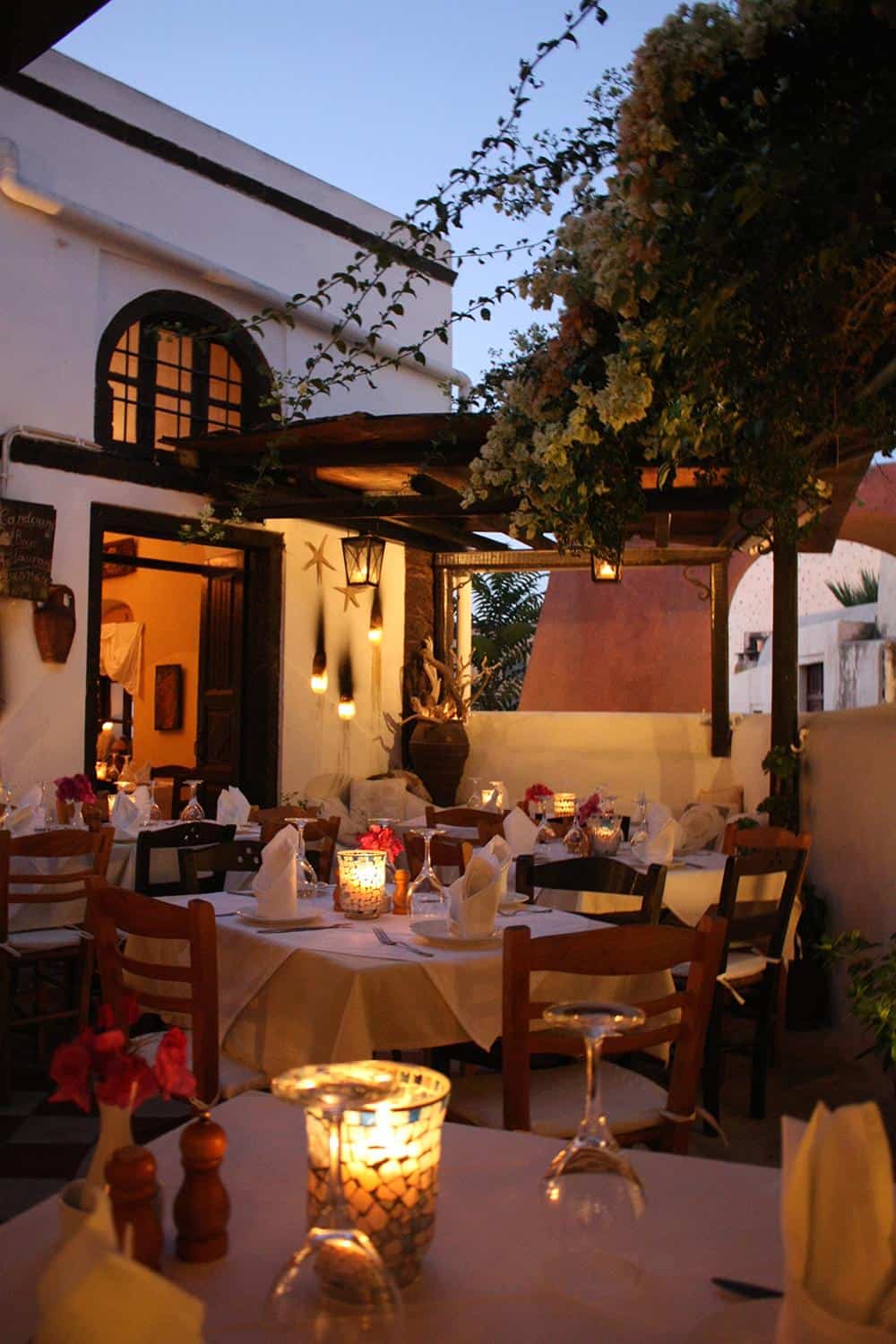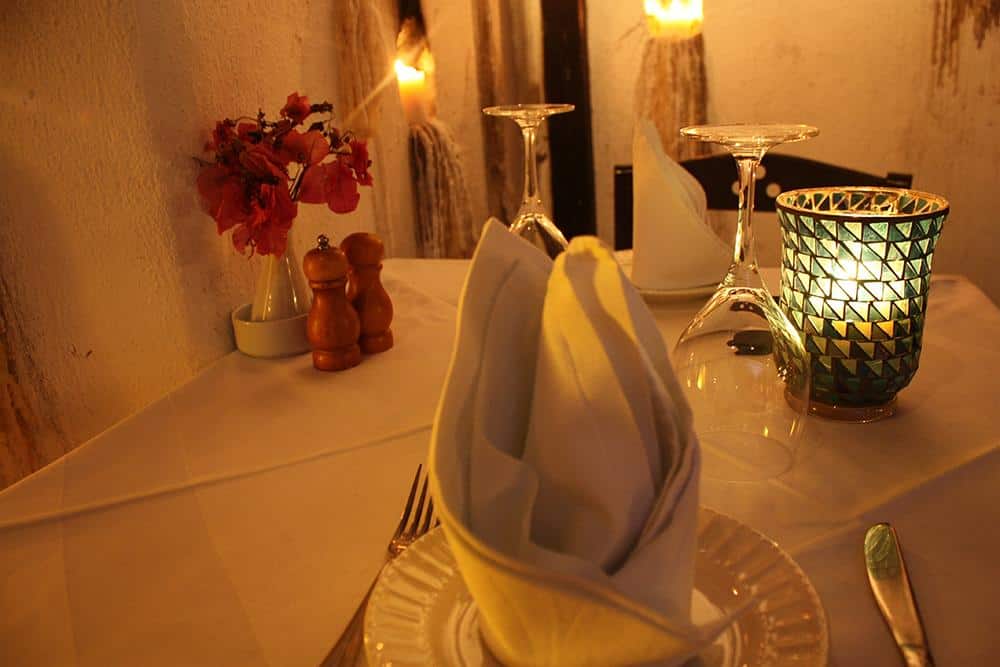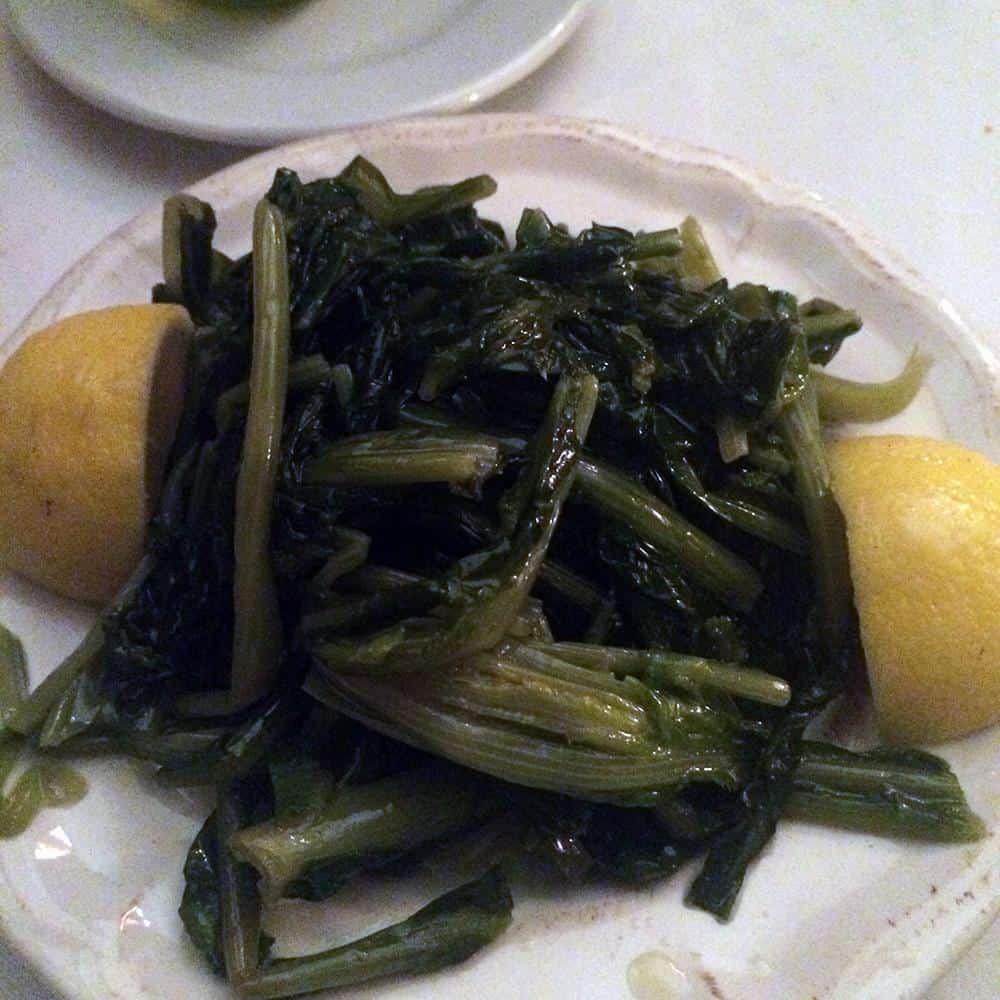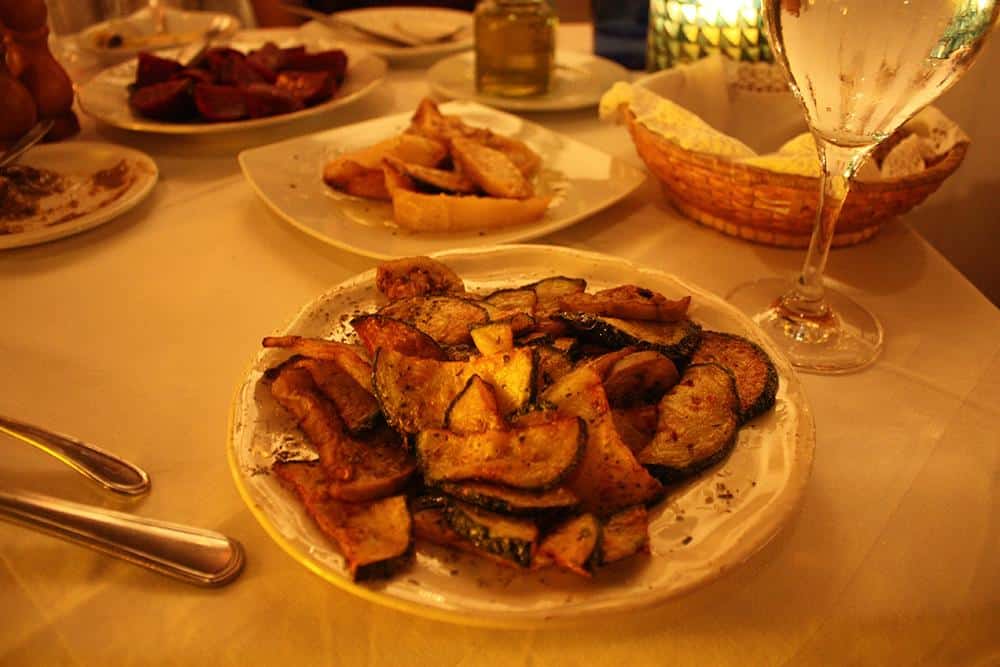 This was the only restaurant in Santorini where the word 'vegan' was known (although the owner was still very meticulous and asking what I do and don't eat, including fish – hope they haven't met others claiming to be vegan and eating fish!). The mezze, or small tapa-esque plates, section is often your best bet for vegan options, and here is no exception – but they have some dishes that I didn't find elsewhere! My two favourite dishes at Candouni were horta (which I'll discuss in a minute) and fried aubergines/eggplants and courgettes/zucchini, for which they used the unusual white aubergine that Santorini is famous for. They were thinly sliced and fried in olive oil with herbs and spices. The other standout dish is horta, or xorta, which the owner explained is very typical of the Santorini diet – but I didn't see it in any other restaurant (perhaps it's more of a home-style dish, which would make sense as we overheard the owner telling some other customers that his mum and dad are the chefs of the restaurant!). Horta is wild, bitter greens, foraged from the hills of Santorini, which are then boiled with olive oil and garlic and served with fresh lemon juice squeezed on top. This is one dish you definitely shouldn't miss!
As I mentioned, the restaurant has most of the tables arranged in its flower-filled courtyard (call ahead to book a table there!) and lit entirely by candles at night. It's really romantic and beautiful. They have built all these little alcoves into the walls of the courtyard for candles, which display years' worth of wax dripping down the walls.
Karma (Oia)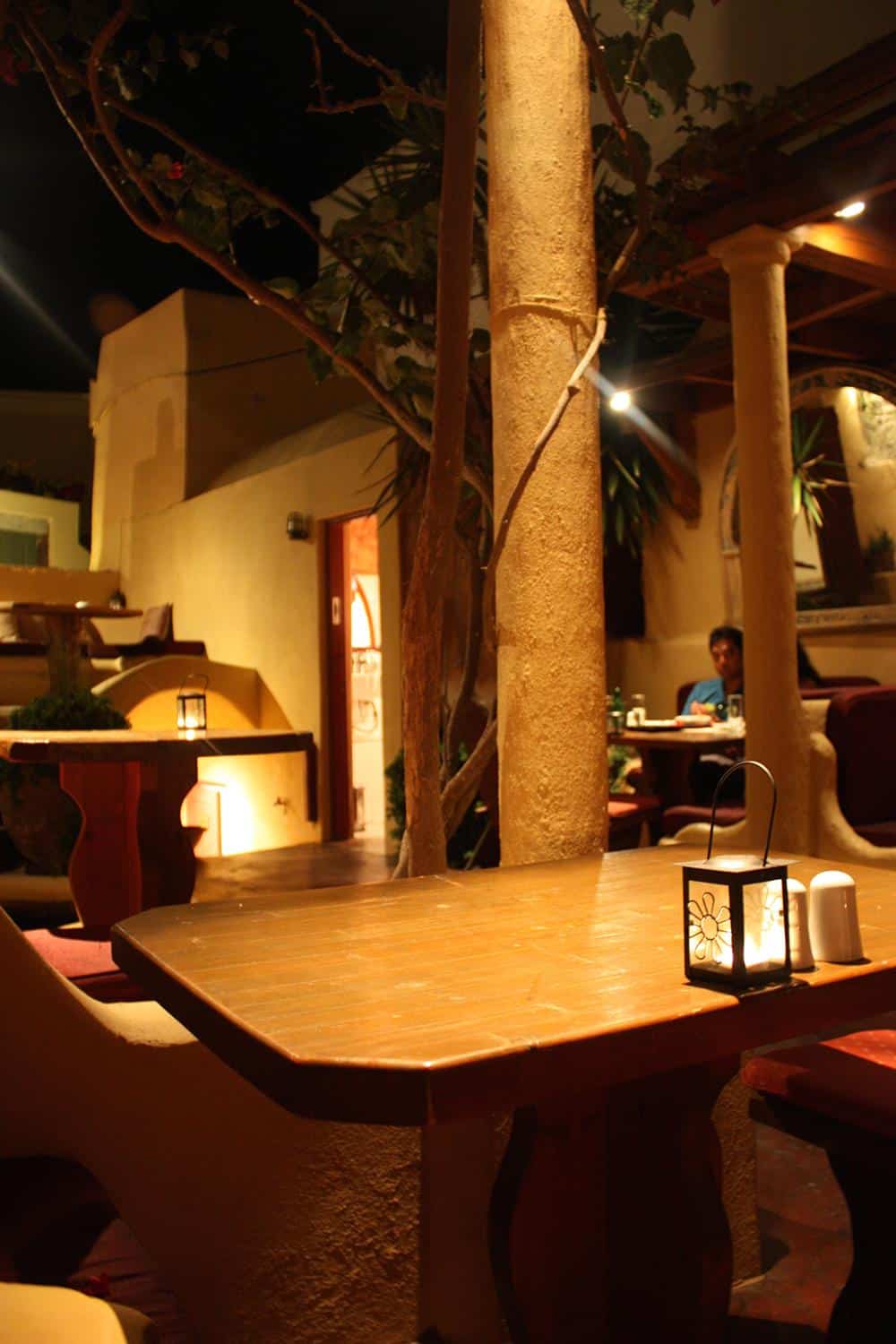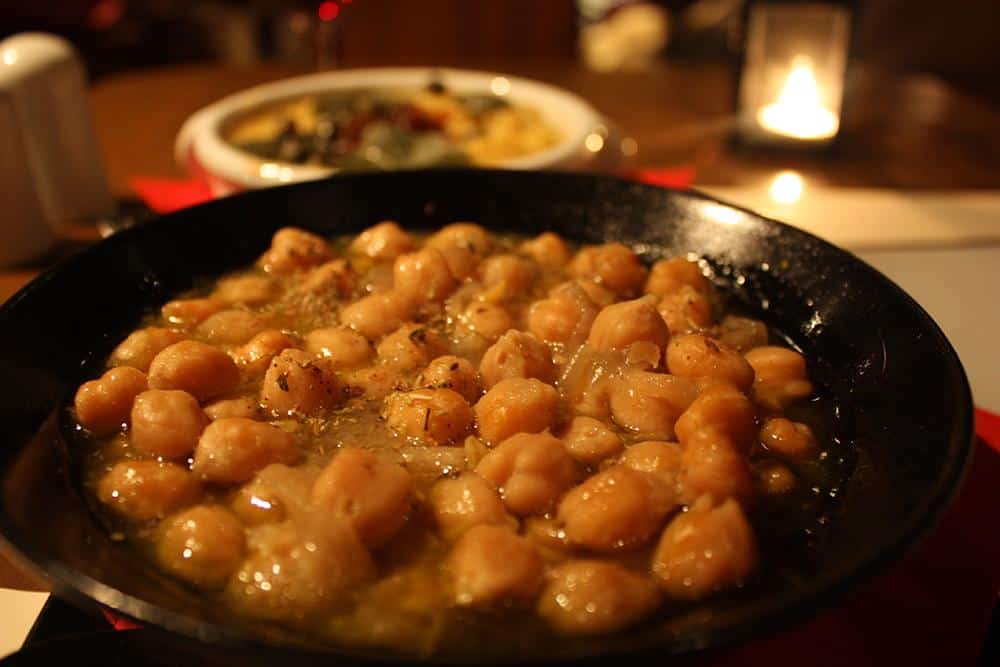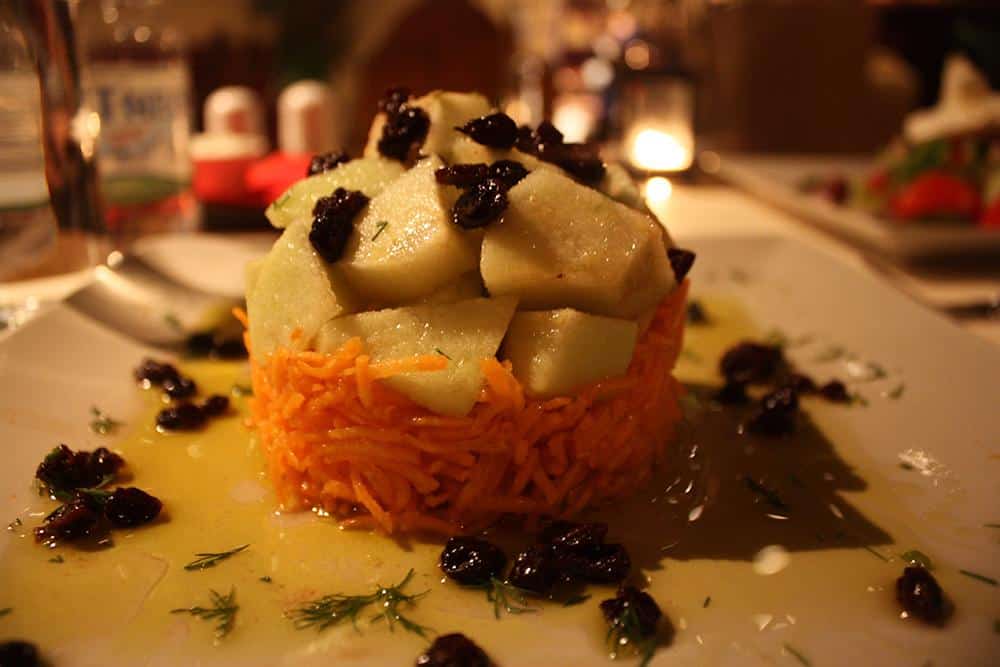 On our way to Candouni (which I'd seen recommended on Little Green Kettle's guide to Santorini), I spotted Karma – after looking at the menu, we decided to make our next meal after Candouni a Karma one. Mainly because they had a chickpea stew on the menu that intrigued me. The menu described it as 'Revithatha – a simple and rustic vegetarian stew made from chickpeas and onions cooked slowly for 5 hours in a lidded clay pot, a specialty from the island of Sifnos'. A stew cooked in a clay pot for 5 hours? That sounds pretty special. And it was. I've since read that it's typically the centrepiece of a Sunday meal in Sifnos (I can see why!) and usually people fill their clay pots with chickpeas, onion and rainwater (yes, rainwater!) and deliver it to the village baker, who puts it in the wood-fired oven alongside the bread, to slowly cook all day. This soup is so amazing that I knew I had to make it when I got home, so I bought giant chickpeas at the supermarket in Santorini before leaving (they seem to use a really massive variety of chickpea, rather than the smaller ones we get here in England or the US).
Along with the soup, I got a carrot salad. Which sounds slightly boring until you hear the menu's description of what it came with: 'traditional fine grated salad with fresh carrots, Corinthian raisins, chopped apple and cardamom-lemon vinaigrette'. Like I said, Greek salads are typically garnished with a dressing consisting of only olive oil, or olive oil and oregano. I much prefer a vinaigrette, and the cardamom-lemon vinaigrette was a really interesting flavour combination. I loved this salad, although it was on the sweet side so felt a bit more like a dessert after my chickpea stew than a main!
Proton supermarket & bus station snacks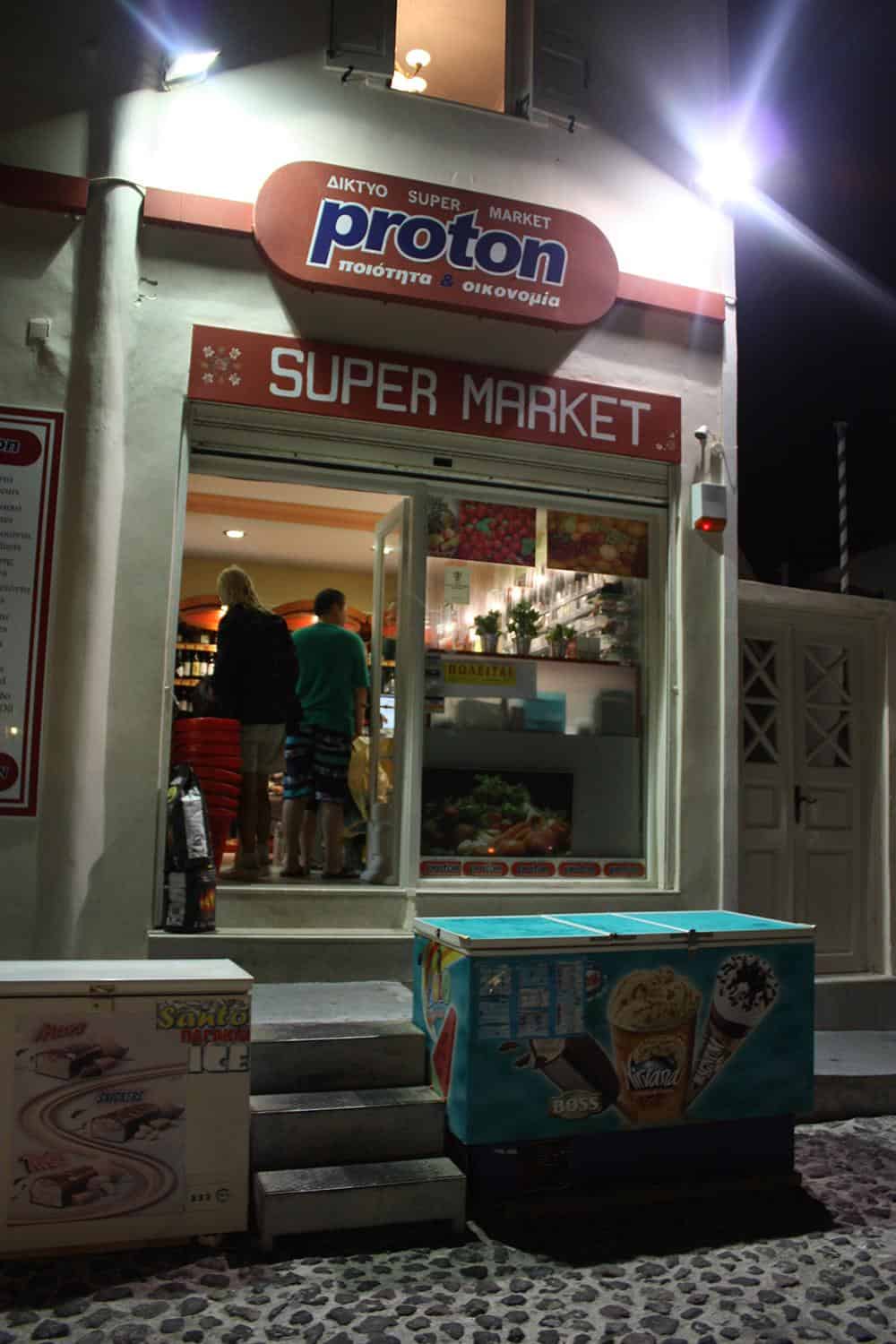 One last note about Oia – if you stay here in an apartment and need to by groceries, try Proton supermarket just near the bus station. We spent our entire 10 days in Santorini subsisting on soya milk we'd transported back from Fira, and it wasn't until the last night that I discovered this supermarket that sells soya milk, rice milk and oat milk, along with a good variety of spices and dried beans (including giant chickpeas).
Also near the bus station is a small stand selling freshly grilled sweetcorn, which they'll prepare on the spot (just ask them to hold the butter!). There are a few of these dotted around Santorini and they make a great snack!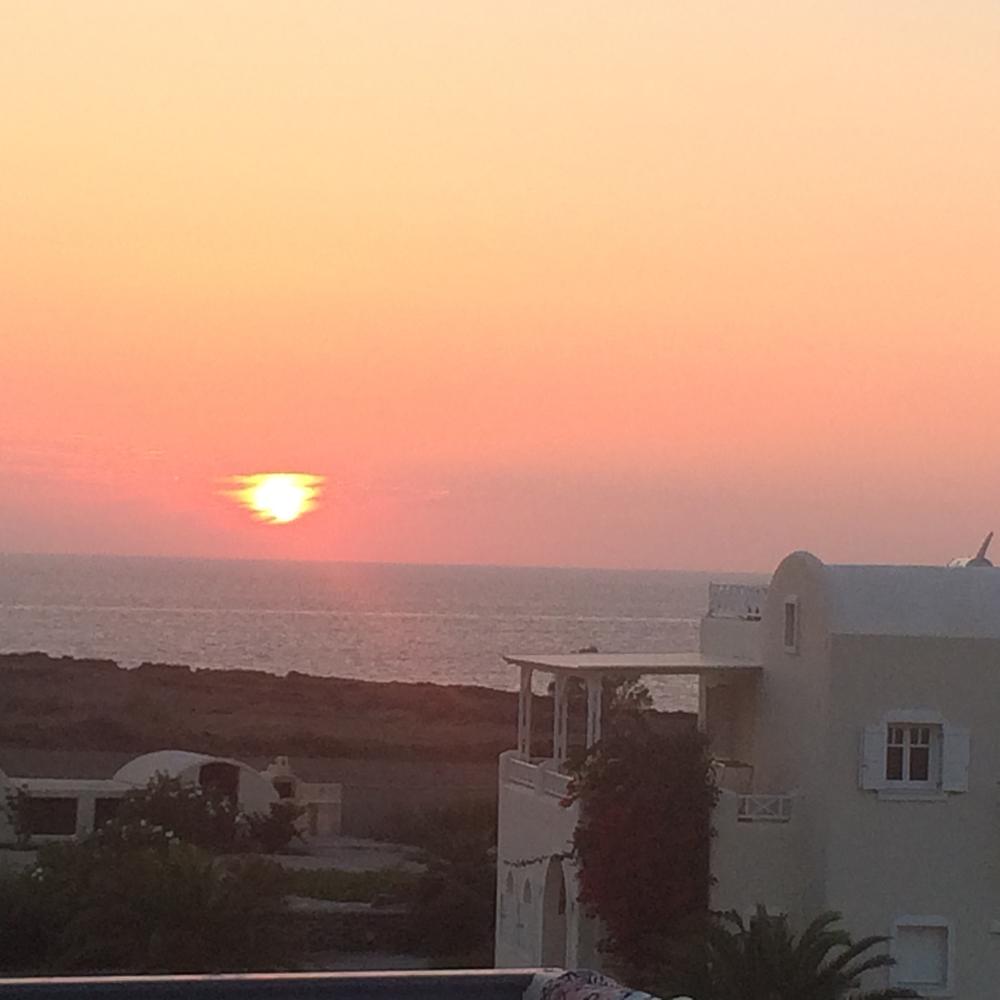 Santorini is definitely worth visiting. Don't miss the black sand beaches (they're black with volcanic ash!), the amazing sunsets or the picturesque cliffside towns. And don't worry about food, you'll be well fed as a vegan!
Planning a trip around Greece? Don't miss my vegan Athens guide (click here to read)!c