Looking for the best vegan magazine subscription for inspiration, lifestyle tips and more?
Have you been wondering "is there a vegan magazine?" The answer is yes — there are many! So many that in my list, I divide them between vegan lifestyle and vegan food magazines.
Looking for the best vegan magazine UK or vegan magazines USA? Whether you're a newbie vegan, just dipping your toe into the plant-based food scene or a long-term vegan, and wherever you're based, these are the best vegan magazines!
Among the vegan magazines I'll be reviewing are:
I've been vegan since 2008 and I've read my fair share of vegan magazines over the years, as well as contributed to (or had my books reviewed in) a number of them, so I've put together a list of the best vegetarian and vegan mags around.
Some of the magazines are strictly or mostly food and recipe-oriented whereas others cover more lifestyle (for example, vegan travel, fashion or advice on issues like dealing with non-vegan family at holidays) so I've divided the list into food-heavy magazines and lifestyle-oriented mags. However, there's still crossover and many of the food-leaning mags still cover some lifestyle features and most of the lifestyle mags have a few recipes.
Magazines make the perfect gift (if you need gift inspiration I've got a vegan gift guide here) so if you're trying to work out what to get a vegan friend for their birthday, a magazine subscription is perfect! Or, grab one and stick it in your suitcase and read it poolside at a vegan hotel on your next trip!
Whether you're looking for vegan magazines UK or vegan magazines US, almost every magazine, vegan or not, now offers a digital option or can ship internationally.
Full disclosure: I have contributed to, or had my books reviewed in, a number of the magazines below and have noted which ones I am writing for or previously wrote for (I can't remember exactly which publications reviewed my books). However I have highlighted as many vegan publications as I could find, and aimed to present them in as unbiased a light as possible.
The best vegan magazine: Vegan lifestyle magazine subscriptions
Which is the best vegan magazine? In addition to vegan cooking/food magazines, you'll find more than one vegan journal that covers a variety of lifestyle topics, from cruelty-free beauty to travel to advice columns.
After all, the vegan life encompasses far more than food, and the best plant based magazines reflect this. If you're looking for vegan magazine subscriptions to gift, these are great gift ideas.
Some of them are more heavily slanted towards ethical topics, while others are heavier on the lifestyle features (I've noted the topics covered in each magazine below). If you want to educate yourself on ethical issues such as factory farms, then the former will be perfect for you.
If, like me, you feel you know a lot about ethical issues and learn enough online, and prefer your magazine time to be reserved for more lighthearted topics, then I'd recommend picking a more lifestyle-oriented magazine. Vegan lifestyle magazines may include some ethical topics too, of course.

<h3id="vegnews">Veg News magazine
Veg News was the first vegan magazine I ever discovered many years ago when I was first going vegan, and it remains a firm favourite to today.
This award-winning, US based vegan news magazine covers everything vegan, and I mean everything. One reason I've always loved it is their reporting on a huge range of topics beyond recipes.
Inside the magazine, you'll also find travel features, interviews, reviews of the latest and greatest vegan products, cruelty-free fashion and beauty, health info, advice columns and tips, vegan wedding inspiration, their picks of the best books, blogs and podcasts, and much more.
Their online vegan magazine breaks the latest vegan news. However great the website, though, there's nothing like an actual magazine to browse through on the plane or in a bath.
You can buy a print subscription (or a digital subscription (digital also available outside the US)).
Click here for more information.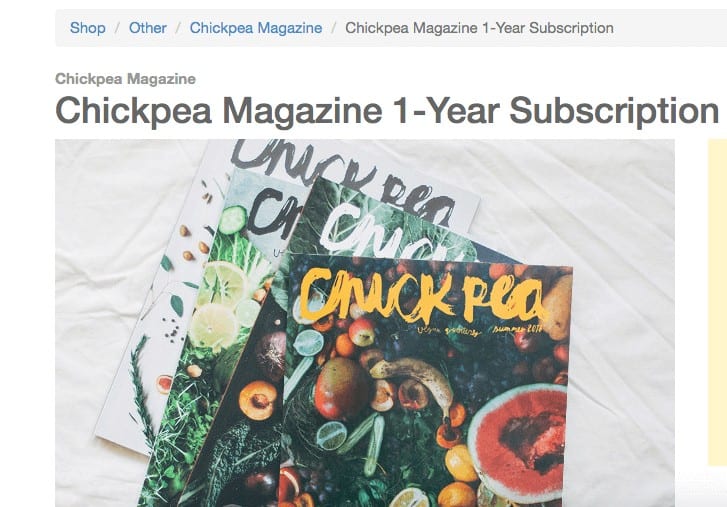 Chickpea magazine a quarterly ad-free publication, focusing on whole foods vegan recipes, DIY and vegan lifestyle. It is one of the few mags on this list I wasn't familiar with before researching this article, and I fell a bit in love with it and am going to subscribe myself as a result.
This vegan lifestyle magazine is completely ad-free and I LOVE their approach. Because it's ad-free, the magazine isn't trying to sell you stuff and that includes in their articles, too.
They aim to make issues timeless and beautiful, so you can refer back to them, display them proudly on your coffee table, gift them to a friend or donate them to the library.
Contributors come from all walks of life and within the community, and images are from independent artists, rather than stock photos.
Click here for more information.
Vegan Life is a cruelty-free vegan magazine. UK based, it covers all aspects of the vegan lifestyle, from food to environmental, ethical and sustainability issues. All contributors are vegan.
Although it's UK based, you can find a digital Vegan Life subscription online.
Click here for more information.
Full disclosure: I have contributed recipes to Vegan Food & Living
Vegan Food and Living is another UK vegan magazine. Each issue contains 75 or more vegan recipes, along with nutritional guides, features on ethical issues, the latest news and exclusive competitions.
Digital issues are available outside the country.
Click here for more information.

Vegan Health and Fitness is a vegan fitness magazine geared towards exploring plant-based nutrition, health and fitness.
This vegan health magazine covers health issues, from a science-based and plant-based perspective. Although one Amazon reviewer criticised it as being a vegan bodybuilding magazine, that's not a bad thing! Smashing through stereotypes of fitness on a plant-based diet, this magazine is perfect if you're looking for a fitness magazine that's vegan.
Click here for more information.
Nourish (formerly Natural Vegan magazine) is a plant-based magazine out of Australia. If you're looking for a plantbased magazine subscription in Australia, Nourish is a good choice.
In addition to vegan recipes, each issue contains articles about conscious living, with articles on health and wellbeing, sustainability, mindfulness, cruelty-free beauty and fashion and travel.
The Vegan Society magazine, called The Vegan, is a quarterly publication of The Vegan Society, and is one benefit of membership.
Membership benefits also include discounts, access to a vegan dietitian and access to The Vegan Society talks. The Vegan Society is based in the UK and is the oldest vegan society in the world; it was founded by Donald Watson, who coined the term vegan.
Click here for more information.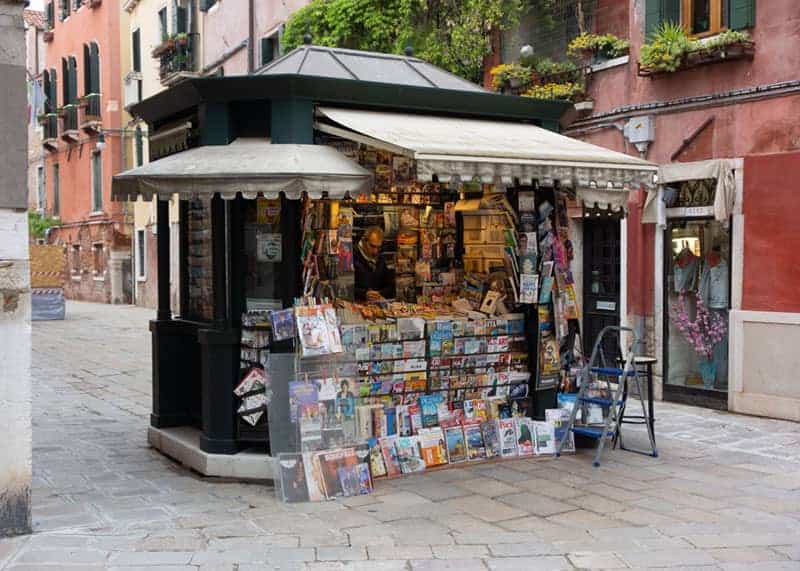 The American Vegan magazine is a free vegan magazine you receive with membership to the American Vegan society.
This USA vegan magazine is a little old-school in its fonts and design, but it supports the American Vegan Society, a nonprofit. Started in 1960, it's the longest-running vegan organisation in the United States.
Click here for more information.
Origin's tagline is 'Creatives. Recipes. Home. Travel', which gives you a good idea of where it stands. We've moved swiftly along the food spectrum from the plant based food magazine listings at the beginning of this post, which are entirely or mostly food, to magazines with little food.
My friend, who subscribed, said the recipes it does include have a strong emphasis on free from (like gluten free) so if you're not intolerant or allergic you may find the emphasis on these recipes too strong.
But I love the idea of a magazine that covers some topics usually left out of vegan publications, like interiors and design.
Click here for more information.
Full disclosure: I have contributed to T.O.F.U.
T.O.F.U. magazine was a pro-intersectional, anti-oppression vegan publication which doesn't seem to be in print any more – but you can still buy old issues.
The best foodie vegan magazines: Vegan cooking magazine subscriptions
If you're looking for vegan food websites and magazines read on for my vegan and vegetarian magazine reviews. Whether you're looking for a vegetarian magazine subscription for a gift or a vegan recipe magazine to browse for your own inspiration, I've selected the best food- and recipe-heavy magazines. Some are vegetarian and others fully vegan.
The vegetarian mags still contain plenty of vegan recipes (a lot more than mainstream food publications) and I find most of the other recipes easy to veganise (e.g. by substituting non-dairy milk or cheese) and often the authors note how to make them vegan.
A good vegan cookbook magazine provides a mix of inspiration, food features, ingredient spotlights and recipes, and these top vegan magazines provide just that.
Whether you're looking for a vegetarian cooking magazine subscriptions in the US or a vegetarian magazine UK side, I've got you covered. Some of the vegan publications listed below are from the US and others are UK based.
I'm based in the UK but travel back to the US every year to visit my family over the holidays and I'm always surprised by the number of UK vegan magazines for sale at Barnes & Noble; for some reason a lot of publications come out of the UK (last year I counted and at a Barnes & Noble in Chicago, 90% were UK vegan magazines!).
Nowadays it's easy to buy vegan food magazines (digitally or sometimes even in print) outside the country they're from but be aware that some of the products mentioned may not be available to you locally. Vegan magazine recipes, on the other hand, can be cooked anywhere and if it calls for a specific product you can find substitutes online.
Here are the best vegan cooking magazines.

Vegetarian Times was a staple of my (vegetarian) household growing up. It was the best vegetarian magazine (and perhaps the only one!) for many years.
Started in 1974, this vegetarian food magazine was printed until 2016 and is now an online-only vegetarian and vegan magazine, so you can no longer take out a Vegetarian Times subscription.
Like all of the best vegetarian magazines, it always features vegan recipes too, and many other recipes can easily be made vegan.
You can find Vegetarian Times magazine recipes and articles on their website and online magazine. While you can no longer buy a Vegetarian Times magazine subscription, you can still order Vegetarian Times back issues or their Vegetarian Times recipes cookbooks, collections of recipes from the print magazines.

Thrive: (mostly) raw vegan magazine
Thrive is a health and wellness plant based magazine with raw recipes, and keto and gluten free sections. This plant based diet magazine is heavily focused on healthy recipes.
I was asked by someone if there's a raw vegan magazine out there and I couldn't find a 100% raw magazine (do you know of one? Let me know) but I did find Thrive, a raw- and plant-based recipe heavy magazine.
A friend who subscribed said this vegan recipes magazine was very heavy on free-from recipes, whether that be gluten free, soy free or keto, so be aware of this emphasis on specialty recipes.
Click here for more information.
Pin this for later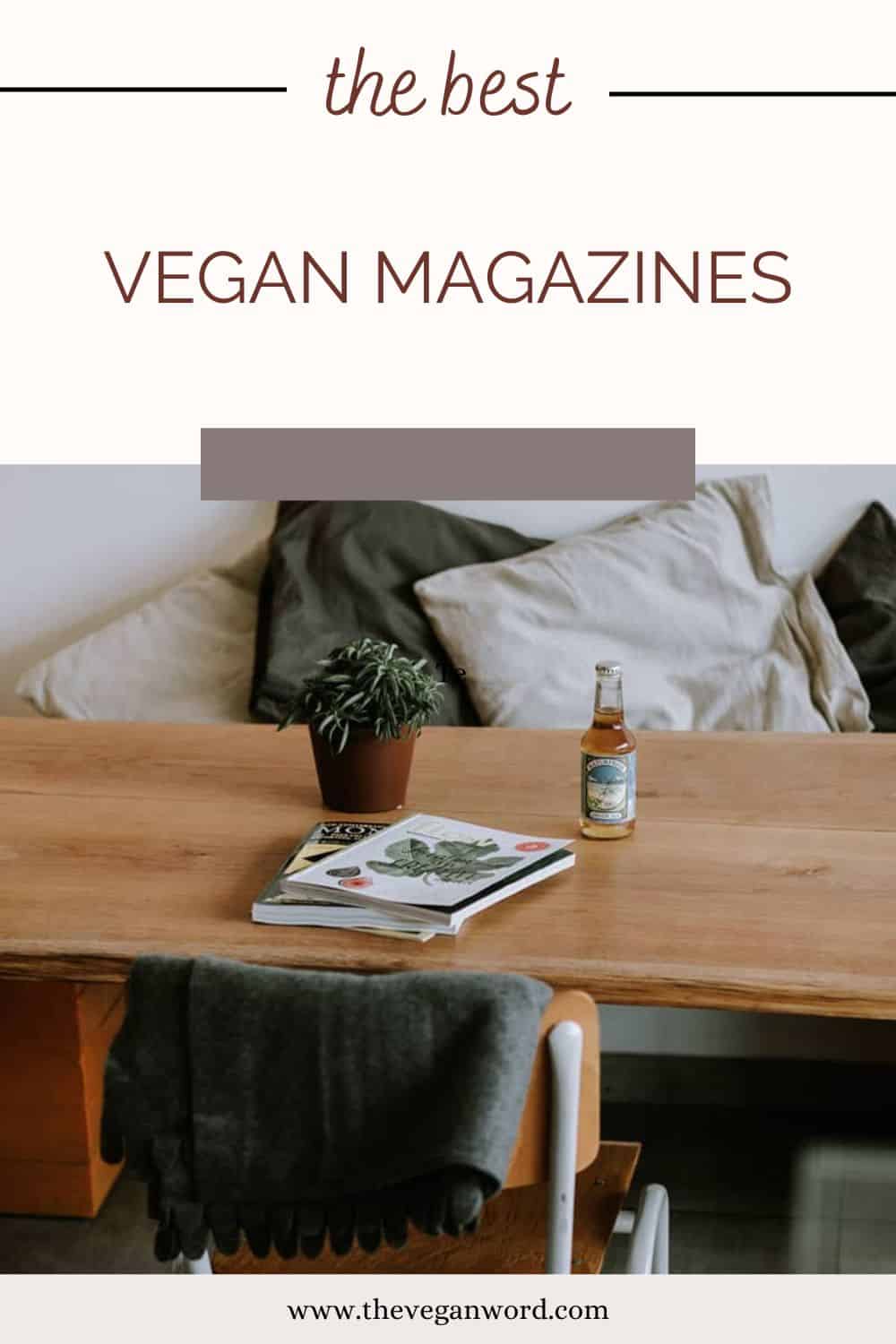 Looking for more inspiration? Check out my list of the best vegan cookbooks!
See my list of the best vegan books (on non-recipe topics, like ethics or the environment) here.
If you prefer audio, I've got a list of the best vegan podcasts here.
Want to veganise your life and your home? Check out my guide to vegan couches here.
Find more vegan product reviews here.