The best vegan cookbooks vary considerably in style of cuisine. I remember a time (when I first went vegan in 2008) when every new vegan recipe book that came out per year could have fit on a single bookshelf. Now there seems to be a new plant based cookbook out every other day.
But what are the best vegan books? I've selected the very best (from my personal favourites and the all-time bestsellers) so you can find some vegan recipe inspiration for yourself! Or, give them as a gift — they make the perfect present! (See my full vegan gift guide here.)
Bestsellers
Best selling vegan cookbooks
Looking for the best vegan recipe book? It's difficult to determine which are the best plant based cookbooks based on volume sold, as sales data isn't publicly available, so I've tried to compile a list based on a mix of previous Amazon bestseller lists, cookbooks that were in the news a lot and cookbooks I heard many, many vegan friends talk about buying. It's not scientific but it's the best I could do! For each, I've linked to local Amazon. Vegan cookbooks are continually coming out, so I've made my best effort to list both recent publications and older ones, based on all-time popularity.
If you find you need any specialty ingredients not available in local supermarkets, check out my directory of online vegan shops here.
Often called the 'Vegan Bible', this hefty tome, first published in 2007, is the essential vegan cookbook. Written by two of the best vegan cookbook authors out there, Veganomicon is a must for any new vegan. The essential vegan recipe cookbook for every kitchen.
Filled with more than 250 vegan recipes, the 10th anniversary edition published in 2017 also contains 25 new recipes no in the original. Meals include gluten-free, soy-free and low-fat options and dishes for every occasion. It also includes colour photos, menu ideas and tips for making your kitchen vegan.
Click here for more information.

The Forks Over Knives cookbook is based on the popular documentary of the same name, which extols the benefits of a whole foods, plant-based diet.
This whole food plant based cookbook does the same, so it's the perfect plant based diet cookbook if you're following a plant based diet for health reasons and enjoy a whole foods approach. On the other hand, it's not the right plant based recipe book for you if you're a fan of mock meats as it's based on vegetables, fruits, grains and legumes. Another downside is the lack of pictures.
Click here for more information.

Vegan Richa runs a popular vegan cooking blog by the same name, and has made a name for herself with her simple but delicious vegan Indian recipes. This Indian vegetarian cookbook is all-vegan, dispensing with ghee (clarified butter) and other non-vegan ingredients sometimes found in Indian vegetarian recipes.
This vegan Indian cookbook has recipes for dahls and curries, flatbreads, breakfasts and more.
Click here for more information.

Another popular vegan blogger turned cookbook author, Angela Liddon's Oh She Glows cookbook was a New York Times bestseller.
The cookbook contains over 100 recipes, all bursting with flavour and fresh ingredients. Plus, 90 of the recipes are gluten free, making this perhaps the best gluten free vegan cookbook. Many recipes are allergy-friendly, including recipes free of soy, sugar, nuts and grains.
Click here for more information.

From James Beard-winning chef Bryant Terry comes his first cookbook, Vegan Soul Kitchen. Inside you'll find his recipes, inspired by Southern, African American and Afro-Carribean cooking. The recipes are healthy–low in sugar and refined salt, and using fresh, healthy plant-based foods.
Click here for more information.

Another classic, Vegan with a Vengeance was Isa Chandra Moskowitz's first cookbook. First published in 2005, prior to her most popular cookbook, Veganomicon (which she wrote with Terry Hope Romero), a 10th anniversary edition was released in 2015.
You can't go wrong with any of Isa's cookbooks but this one's definitely a winner. As one reviewer on Amazon stated, she's not even vegan and considers this cookbook an essential part of her collection (and her non-vegan husband requests the chocolate raspberry cake from the book for his birthday every year).
This best selling vegan cookbook is perfect for beginners, with an introduction that will set you up for success in the kitchen.
Click here for more information.

Ella Woodward's success began with her plant-based and healthy eating blog, Deliciously, Ella, then spun off into cookbooks and restaurants in London. Ella's style of cooking is heavily influenced by the fact that she came to plant-based eating due to health issues, and therefore her recipes are whole foods based, gluten-free, free of processed foods and often lean towards raw food or 'superfood' ingredients (so some dishes can be pricey to make).
Click here for more information.

Chloe Coscarelli, who won the Food Network's TV Show Cupcake Wars with her vegan cakes, delves into her roots with this vegan Italian cookbook. Inside the Italian vegetarian cookbook you'll find recipes for classics made vegan, like eggplant parmigiana, lasagne, chocolate-dipped biscotti and tiramisu.
Click here for more information.

Bosh! is an incredibly popular social media/Facebook channel with over a million fans. They release videos showcasing quick and simple vegan dishes (mostly comfort food classics) and now they've got a cookbook, too. This easy vegan book has over 100 of their favourite recipes.
Click here for more information.
my picks
The best vegan cookbooks: my top picks
My top vegan cookbooks are the cookbooks that have moved with me to multiple flats and even between different countries. I've used them time and time again, over many years, and they've become classics in my kitchen. Here are my choices of the best plant based diet cookbooks.

My fave recipes: vegan omelettes, cinnamon rolls, crepes
It might be a specific cookbook (for breakfast/brunch foods) but I use Vegan Brunch one over and over, and have recommended it to many other people!
I've lost count of the number of times I've recommended the vegan omelette recipe, the best I've ever tried. It combines both chickpea flour and silken tofu with black salt to create a perfectly fluffy, savoury and slightly eggy (thanks to the black salt) omelette. I've also made them countless times for non-vegans, who love them too. Whether they're exactly like an egg-based omelette I'm not sure, but they're incredibly delicious in their own right.
Years ago, when I was a fairly new vegan, I nervously brought the crepe recipe to a crepe party being thrown by some non-vegan friends. Not only did they love them, they said they were better than non-vegan crepes because they were easier to make AND delicious!
This cookbook is by vegan author Isa Chandra Moskowitz, whose cookbooks I always recommend. If you're ever unsure of what cookbook to buy, I recommend Isa's book. She's truly the queen of vegan cookbooks.
Click here for more information.
My fave recipes: laksa
This vegan Asian cookbook became an unexpected favourite of mine after I picked it up on a whim from a vegan festival years ago.
A great introduction to a range of different Asian cuisines, including less-familiar cuisines like Burmese or Malaysian cuisine. It contains basic recipes for some of the most popular vegetarian dishes in each cuisine. Unlike other top vegetarian cookbooks, it doesn't use any replacement ingredients; all dishes are naturally vegetarian and vegan.
The only downside to this book is some recipes call for harder-to-find ingredients like burdock root. However, you should be able to find them at an Asian supermarket or online.
Click here for more information.
My fave recipes: vegan butter, cashew milk, mac & cheese mix, stock
A slightly more advanced cookbook, Miyoko Schinner's Artisan Vegan Pantry is not the vegan cookbook to get if you're just starting out cooking, but if you're ready to take things in your kitchen to the next level, I highly recommend it.
The book is entirely dedicated to recipes for pantry staples, and is one of my favourite healthy vegan cookbooks — by making your own staples, you can make healthier versions and sometimes save money. It's surprisingly how long some of them last too, even without preservatives!
The only trouble is once you've known the joy of homemade vegan butter, the storebought stuff won't cut it anymore. Although if you live in the US, you can buy the vegan butter, among other products, from Miyoko's Creamery.
Another favourite is the vegan stock, which will add a lot of oumph to homemade soups, and the mac & cheese mix, which lasts for months in the cupboard and is much tastier than the boxed versions.
You'll even find recipes for homemade ketchup, mustard and vegan oyster sauce in here.
Click here for more information.

My fave recipes: vegan parmesan, pub cheese (cheddar with beer)
An advanced cookbook but well worth the trouble, Miyoko Schinner's Artisan Vegan Cheese revolutionised vegan cheese-making and caused an explosion of fermented cheeses on the vegan market.
If you've ever enjoyed any of the Miyoko's Creamery cheeses but wanted to make them at home, this book is your best bet. The only downside is some of them take quite awhile to make (my hands-down favourite, the vegan parmesan, takes several weeks to age) and they are expensive (though cheaper to make than buy in most cases) since they're mainly nut-based and cashews are expensive!
Parmesan was my favourite cheese in my pre-vegan days and the vegan parmesan in this book, which starts as homemade yoghurt and is then aged and dried, is the best vegan parm I've ever had. I ALWAYS have some in the fridge — I just make a batch every few months or when I run out (and it lasts about a year in the fridge, getting harder and more pungent over time, just like the dairy version).
But pretty much every recipe I've tried from the book has been a winner–when they've worked. The trouble is rejuvelac (a liquid made from sprouted grains that serves as the fermenting base of many vegan nut cheeses) can be finicky to make. It's frustrating having to throw away a batch of cheese but it happens so prepare yourself for that possibility if you go down the vegan cheese-making path. However, when they work, they're the best vegan cheese I've had and well worth the effort to make.
Click here for more information.
My fave recipes: basic chocolate cupcake, banana split cupcakes, coconut lime cupcakes
This vegan baking cookbook from Isa Chandra Moskowitz and Terry Hope Romero is actually responsible for me going vegan. Convinced I would have to give up cakes and desserts if I went vegan, I was scared to go vegan.
Then, I received a copy of Vegan Cupcakes Take Over the World as a present, and it changed my life. I made a cupcake recipe from it, and realised the dry, bland vegan cakes I'd had previously were not representative of what vegan cakes could be.
Thanks to this cookbook, I realised it was possible to be vegan, and have your cake too.
Like all Isa cookbooks, every recipe in here is a winner. I've made these cupcakes countless times for non-vegans, and my grandparents said the chocolate cupcakes were the best chocolate cake they'd ever tasted, vegan or not.
Click here for more information.

This James Beard winnning cookbook was one of the first vegan cookbooks I regularly cooked from, and I cooked from it for years (although I left it behind in a move and have since moved on to more complicated recipe books). This and my next choice are vegetarian, rather than vegan, cookbooks, but both are primarily vegan and most of the non-vegan recipes are easily veganisable.
I belive it's one of the best vegetarian cookbooks for beginners, particularly because of the way it's organised. Rather than being organised into typical cookbook chapters like appetizers, entrees/mains and desserts, it's organised by ingredient: beans, vegetables, grains.
It's a great beginner cookbook because you can find ingredients that are in season, or ingredients you alreayd have in your pantry, and then find recipes that feature those ingredients. This helps you learn to cook with what's available. Plus, it draws on a range of culinary traditions, with recipes from Asia, the Caribbean and the Middle East.
Most recipes are fairly simple and use few ingredients, and can be made quickly.
Click here for more information.

Another vegetarian cookbook, most of the recipes in this cookbook are vegan or easily made vegan (she usually notes how recipes could be veganised in those easy-to-veganise recipes). It's fast become a favourite as I try to cook more seasonal and local food. This is the best veggie cookbook for seasonal food, because it's arranged by season.
In this book, Anna Jones divides the year into 6 seasons (each 2 months long) and provides recipes using fresh, seasonal vegetables and fruits from each season. I've used it nearly one year and can confirm the recipes align very nicely with what I see at the local farmer's market. One thing to note is that she's based in London, meaning the seasons align with what is available in the UK; seasonal produce may vary depending on your location.
Each chapter/season opens with a list of seasonal produce available, which I often use as inspiration. I'll look at this list and then look online for additional recipes using each item. As you'd expect from a food photographer, the book is also filled with stunning photographs of each recipe.
Click here for more information.
Best of each category
Best of: category specific (e.g. best for beginners, students etc.)
Whether you're looking for the best vegan cookbooks for beginners, easy vegetarian cookbooks or the best vegan baking cookbook, here are the best vegan cookbooks in each category.
Beginners

Vegan with a Vengeance, Isa Chandra Moskowitz's first book, is often cited as one of the best vegetarian cookbooks for beginners. The recipes are easy to prepare but packed full of flavour and the instructions are clear. Plus, the intro to the book lays out what you need to do to set up your vegan kitchen for success. You can't go wrong with any Isa cookbook, but get this easy vegan book if you're a beginner! Think of it as your vegan 101 cookbook.
Click here for more information.
Indian

This best selling vegetarian cookbook is popular for a reason: Richa's recipes are easy to follow, quick to prepare and filling. If you want to prepare plant-based curries, flatbreads and more, this is the book for you.
Click here for more information.
Instant pot

Bestselling vegan author and slow cooking expert Kathy Hester writes the blog Healthy Slow Cooking, so she's the perfect person to author a vegan instant pot book! If you're looking to cook more and eat more healthfully, but don't have a lot of time to prepare, an instant pot can save a lot of time. Once you've got your instant pot (see my top pick for the instant pot and other essential kitchen tools here), you'll need this cookbook to inspire you with plant-based instant pot recipes.
Click here for more information.
easy

Looking for an easy vegan recipe book? I realise that by the end of this post, I'll likely have recommended every cookbook Isa Chandra Moskowitz has ever authored, but I can't stress enough that I find her recipes to be the most reliable I've come across: they turn out perfect dishes, every time, and ones popular with vegans and non-vegans alike. As easy vegetarian cookbooks go, Isa Does It is the perfect choice, since it is filled with recipes that can mostly be made in 30 minutes or less, any day of the week. Pick up a copy of this easy vegetarian cookbook to learn how to make supermarket friendly vegan meals in a snap.
Click here for more information.
student
This healthy vegan cookbook is aimed firmly at students who want to learn quick, inexpensive and healthy plant-based recipes. Inside, you'll find 145 fast, easy and budget-friendly meals, plus tips on supplementing your pantry from the cafeteria.
Click here for more information.
student

Best vegan and vegetarian cookbook for kids
The top rated vegan cookbooks for children can be divided into two categories: kid-friendly recipes, and cookbooks aimed at children to learn to cook. I've got you covered for both.
Best family-friendly cookbook: Plant-Powered Families
This cookbook by Dreena Burton is full of healthy, kid-friendly recipes. The cookbook contains over 100 whole foods, plant-based recipes that were all tested and approved by her three children.
Click here for more information.
Best cookbook aimed at children who cook: The Help Yourself Cookbook
This cookbook by veteran vegan children's author Ruby Roth is aimed squarely at kids who want to learn to cook. Filled with simple, fun and appealing recipes and cute animal characters, it's sure to capture the attention of any budding cook.
Click here for more information.
student
Best vegan and vegetarian cookbooks UK
Looking for the best vegan cookbook UK? A number of popular UK-based bloggers and online content creators have come out with vegan cookbooks recently. Here are some of the most popular:
Bosh!
The popular video creators behind Bosh! are well-known for their simple and easy-to-prepare vegan comfort food videos. Their bestselling cookbook is a collection of some of their most popular recipes.
Click here for more information.
Deliciously Ella
Gluten-free, plant-based healthy recipes from the author behind Delicious Ella, the blog, the restaurants in London and the snack range (sold in health food shops).
Click here for more information.
raw

Raw. Vegan. Not Gross. is a popular YouTube channel, and now cookbook, from Laura Miller. Featuring mostly raw, and all whole food plant-based recipes, this is the best raw vegan cookbook to come out in recent years. Featuring over 100 completely vegan and mostly raw recipes.
Click here for more information.
Baking
This vegan dessert book came out in 2008, won the VegNews award for Cookbook of the Year that year, and was one of the first cookbooks I bought after going vegan. It's a classic vegan cake book, and an essential for anyone who loves to bake. This revised edition of the book came out in 2017 with new photography and the latest techniques and ingredients. Learn how to make vegan takes on classic desserts like cheesecake, crepes, scones and cobbler. I highly recommend the lemon bars!
Click here for more information.
Pin this for later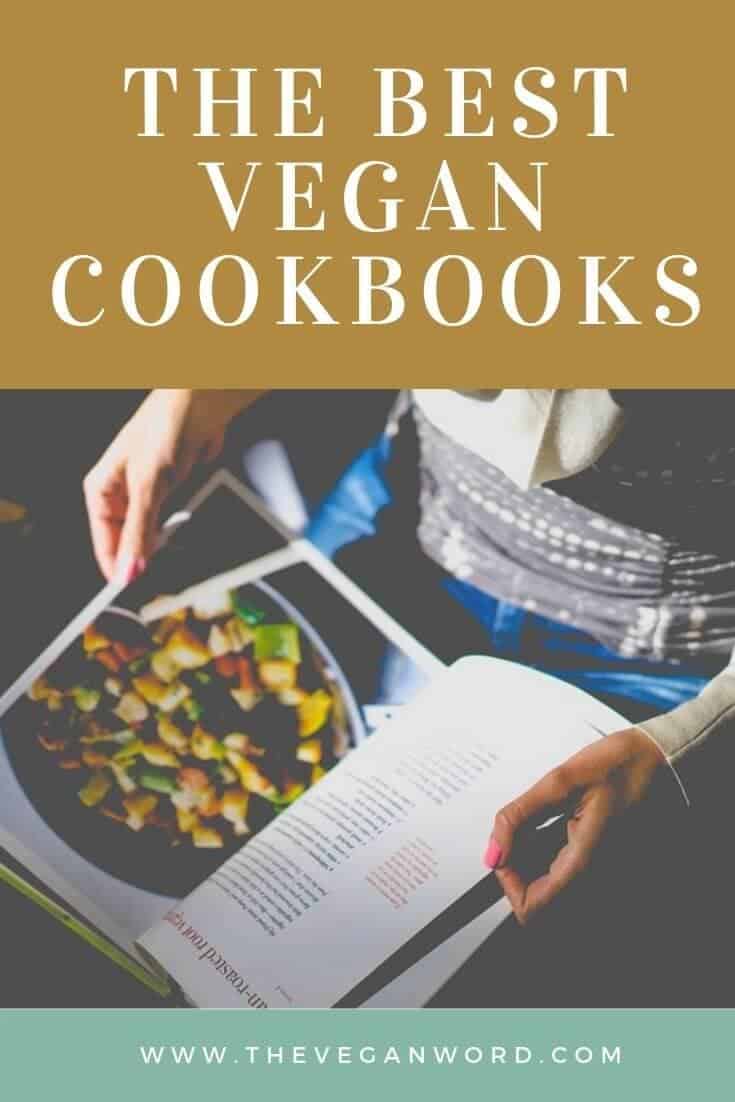 Looking for more recipe inspiration? I've put together a guide to the best vegan magazines here!
Want to read about vegan topics, not just recipes? Click here to see my guide to the best vegan books (not recipe books)! Covering everything from ethics to vegan childrens books and travel.
Please note: this post contains affiliate links, meaning if you make a purchase through one of these links, I'll receive a small percentage commission, at no extra cost to you. Thanks for supporting my blog!